30 Creative Golf Course Marketing Ideas to Try This Year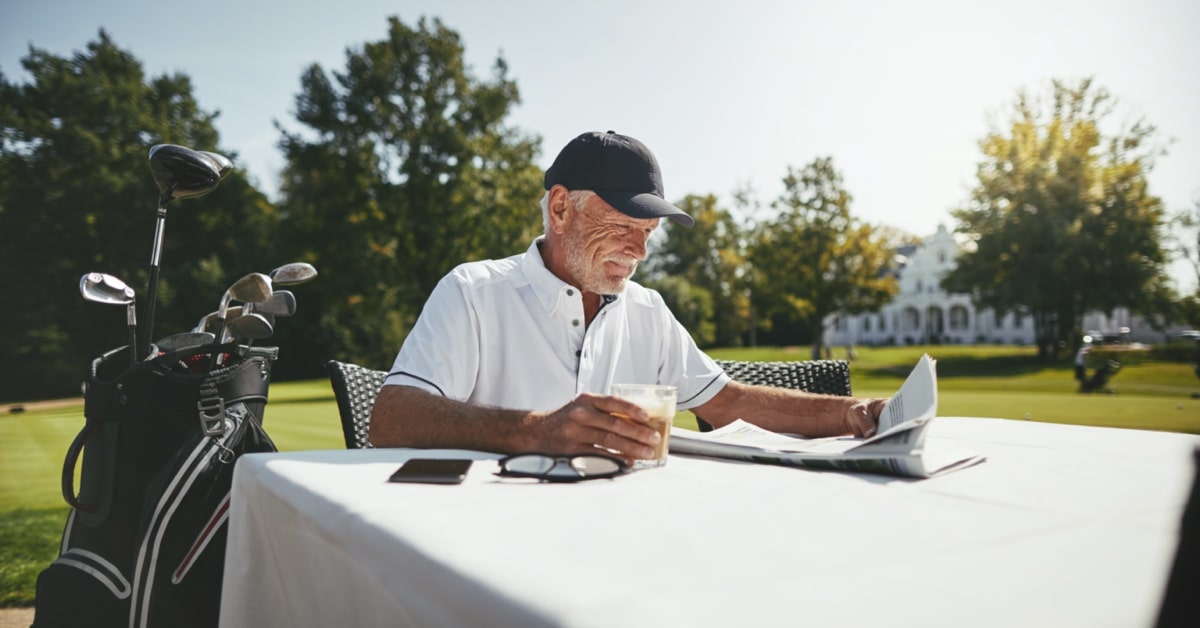 Is your golf course marketing strategy getting stale? With a little bit of creativity and out of the box thinking, you can generate more interest and rounds at your golf course. Here's a list of fresh ideas that incorporate new technology, modern thinking, and the human desire to share. We're certain you'll find something new to try. Now, let's dive into these 30 Golf Course Marketing Ideas.
1. Optimize your website
Everything you do online will ultimately drive visitors to your site. Once they get there what will they see? What is the goal when someone gets there?
Ideally, you want visitors to book a round of golf or inquire about a new membership. Be ready for visitors with appealing images, well-considered copy, and a smart design that makes scheduling a round of golf as easy and straightforward as possible.
2. Use an online booking tool
Making it easy to book a round of golf means embedding a user-friendly interface that is easy to navigate, clearly displays when tee times are available, and instills confidence in the user when entering personal details and payment information.
The booking tool should also feature a clear call to action that entices anyone who lands on your website to click and book a game. And ideally, this call to action should exist on every page of your website.
3. Run a social media contest
Social media contests are an excellent strategy for generating interest in your golf course through Facebook. There are many strategies you can use to run a social media contest, but no matter what you do make sure the contest encourages people to like, share, and comment.
Contests are an overlooked method of engaging new audiences while delighting existing customers. Best of all you will establish your brand on social media and generate more interest in your golf course. Executing a contest is easy, try one this year!
4. Host a charity event
Charity events are important because they support important causes. Show your community that you care while simultaneously drawing in new faces in and engaging your audience.
Charity events offer a significant opportunity to promote your operation and get the word about playing golf at your course. Raise money for a local charity this year and increase the value of your brand.
5. Use smart promotions
The days of lazily slapping tee time promotions on a website, newsletter, email, or print ad are over. Modern technology offers the opportunity to understand exactly how well promotions are working. Know whether you got a good ROI and which customers and player types used each promotion.
Tee sheet software makes it simple to promote tee times directly from the tee sheet. Plus, business intelligence platforms that come standard with modern golf management software aid the process of determining timing, pricing, and promotions for your entire inventory.
6. Send nicer looking emails
Email marketing is a staple marketing channel in the golf industry. Nearly all of the golf courses we've encountered use email marketing in some form or another. Most courses, send newsletters or blast their customer databases with the occasional promotion.
No matter what you send, you are guaranteed to see better engagement and conversions if you use nice looking templates, clear copy, with a clear call-to-action. I recommend checking out these free email templates we developed to help operators send better emails.
7. Automate your email marketing
Newsletters can be useful, but untargeted email blasts risk missing the mark. Some customers just aren't as likely to respond to a promotional email as others are.
Automated email marketing helps to alleviate this problem by segmenting your email list and sending specific emails written for specific actions a customer can take. A few examples could be an email sent to a customer who's birthday is coming up, or an email sent to customers who haven't played a round of golf in 90 days.
8. Remarket your customer list on Facebook
Did you know that you can upload your email list to Facebook and actively promote your golf course to your exists database of customer emails? This remarketing strategy helps re-engage customers who already know your brand. These lists are the perfect target for promotions and blog posts.
The key here is developing an effective email capture strategy. User-friendly tee sheet software, staff training, and online booking tools are known to help the process of email capture.
9. Start Blogging
Blogging has the dual benefit of being extremely good for your website's rankings on Google search results and being an excellent conduit for communicating about your brand.
There are many kinds of posts that golf courses can create such as golf course history, tips and tricks from the pros, event announcements, or updates about course happenings and tournament results.
10. Embed a remarketing pixel on your website
Have you ever visited a website and then noticed the website's advertisements followed you around on the internet after leaving? That's because a pixel on the site captured your data and put you in a remarketing list.
Embedding a pixel allows you to capture information and build a list of visitors to your website, so you can place advertisements around the web after they leave. Learn more about remarketing with our Golf Marketers Toolbox Ebook!
11. Develop your Instagram with nice looking posts
To be successful on Instagram, your feed must be full of eye-catching posts that make your operation look like an attractive and fun place to play.
The good news is that creating decent looking images is not as difficult as you may think. With modern smartphones, most of us carry high-quality cameras in our pockets!
Not sure how to get a good picture? Check out our mobile phone photography guide for best practices!
12. Host a 1Putt event
1Putt are experts in driving engagement with young people and getting them interested in the game and your golf course. The typical 1Putt event is a boozy afternoon of simplified golf games that anyone can enjoy, followed by an aprés golf bar where young people can enjoy themselves to DJs and fun cocktails.
1Putt is currently a growing hit in the UK. However, if you aren't located in their market, you should still consider hosting a millennial-friendly tournament complete with DJs and drinking at your own operation
13. Use distribution partners
While distribution remains a slightly controversial topic within the industry, the reality is that it can put your golf course in front of a lot of people. The key is making sure you are getting a fair return for the tee times you will give up.
Conducting this analysis is not difficult if you have the right tools for measuring ROI. Make sure to evaluate all the different distribution partners that exist, since many platforms exist today and have different methods of promoting you on their websites.
14. Implement a customer loyalty program
Customer loyalty is becoming critically important in the golf industry. Implementing a rewards points system gives customers many more incentives to spend and goes far beyond the paper punch cards of the past.
Give customers a goal to work towards and the status of maintaining a certain balance. There are many ways to effectively implement a loyalty points program.
15. Leverage your pros on social media
Your team of pro golfers represents a treasure trove of useful golf related information and tips. Encourage them to showcase this on social media and draw more attention to your operation.
Creating influencer personas within your organization will generate excitement about your operation and demonstrate that your pros are the go-to source for great lessons and a better game. Encourage your pros to use Twitter and as I mentioned earlier, consider having them write golf related blog posts.
16. Sell business packages
Do you actively seek out and market to businesses that are looking to host a company event? Even if you are new to the game, golf is a fun sport to play in groups.
With the right tournament format and amenities that everyone can enjoy, everyone from the office can have a fun afternoon at the golf course. This year, why not try developing a business package strategy and actively marketing your operation as a fun place for offices to spend some quality time.
17. Create a referral campaign
Referrals are known as one of the cheapest marketing strategies because you put your best salespeople in charge: your customers! Word of mouth is still considered the most influential method of generating new customers since humans have the intrinsic quality of trusting their friends and wanting to share experiences.
Instituting a referral program will help incentivize customers to spread the word about you. One strategy to implement a referral program is to use loyalty software that permits members to refer their friends through their customer profile
18. Reward your top spenders
Retaining valuable customers and generating as much revenue as possible from your top spenders is a proven strategy for boosting the bottom line. Consider introducing extra programs designed to reward your highest spenders such as VIP rewards for those who maintain high loyalty point balances.
Loyalty programs are particularly useful for this because they collect robust data and can help you identify exactly who your top spenders are and who could become a top spender if nurtured correctly.
19. Host school trips
To ensure the growth of the game long into the future, we need to introduce people to the game at a young age. One way to give young people more chances to play is to partner with your local school's physical education program to provide lessons and give kids a chance to try out the game.
Consider reaching out to your local school board and offer a fair price. Once the students have been to the course, you can win them and their families back by offering deals and discounts for rounds played with a parent. See why this strategy worked at Sun City Golf Course in Phoenix, AZ!
20. Host family-friendly specials and events
Families are a lucrative demographic to focus your marketing efforts. Many people associate their best memories of the game to those times spent playing with family on a beautiful Saturday morning. Golf is a game that bonds those who play it together, and family bonds are the strongest.
Consider offering family discounts and encourage the entire family to get into the game by providing group lessons. For those who are less golf inclined, introduce games the entire family can enjoy like footgolf or frisbee golf can make an afternoon at your golf course very attractive.
21. Celebrate Women's Golf Day
Women's Golf Day happens every year in the first week of June. In 2018 over 900 golf courses held events on their premises with over 100,000 participants. Hosting an event shows the women in your community that you care about developing the participation of women in the sport.
Register to host an event and receive a listing on the Women's Golf Day website, promotional materials, and training tools to host a successful event. Women in your area will be looking to play a round of golf on Women's Golf Day this year so make sure your course is fully visible and ready to accommodate this special event.
22. Take advantage of seasonal holidays
Seasonal holidays are the perfect excuse to host a special event and generate extra visits to your golf course. Do you have a plan for this year's 4th of July? What about labor day?
These holidays typically involve time off work which represents an opportunity to get people playing on your golf course. There are many ways to take advantage of the holidays, so consider promoting a special on food and drink or host a themed party to cap off the day.
23. Implement a Mobile App
Mobile applications are growing in popularity at many golf courses. They provide an elevated level of service and represent a direct marketing channel that sits in the pockets of your audience. Mobile apps give you the opportunity to market your course by sending a variety of push notifications. Plus, they make reserving and paying for tee times quick and easy.
24. Use text message marketing
Text message marketing requires some strategic thinking. You can't just blast anyone with a text. Instead, there has to be some context as to why you are sending them a message. One great example is sending text messages to people who are actively playing a round on the golf course.
If your software permits you to send text messages to players directly from the tee sheet, sending these promotions is very simple. Make sure any text message you send has clear and immediate value.
25. Pick a signature hole
An important branding strategy for your course is to develop at least one hole that is memorable and special. This hole will be the most memorable part of a player's golf round and should be front and center in your course marketing.
Consider how many courses have built their names on one specific hole. I'm confident out of the all the holes on your course one stands out as unique, so put some extra marketing emphasis on this extra special hole.
26. Host a podcast
Podcasts are growing in popularity across every industry. Your operation employs key people with deep insights about swing technique, strategy, and even horticulture.
Setting up a podcast and hosting it on your website is dirt cheap, and people who visit your site are sure to be interested in the topics you discuss. Even the appearance having high-value content like podcasts (and blog posts) gives your audience the impression that you are a well-respected thought leader and a source of useful information.
27. Update your review profiles
Do you actively monitor and curate your review profiles on Yelp, Google My Business, or The Yellow Pages? Over time customers will leave their opinions of your business on these pages.
With about 90% of people consulting online reviews before visiting a business, you need to make sure are putting your best foot forward. Thank any customers who have left a positive note, and if any negative reviews have been posted try to write a positive response that attempts to resolve the problem.
28. Encourage customers to post about your golf course
When your golfers share how much fun they have at your operation with with their followers it is powerful for encouraging others to come and play. There are many ways to do encourage social shares: Instagram friendly design, reminders to post with a specific hashtag to be featured on the golf course instagram, or interactions with customers online can all encourage customers to post about your operation.
Customer loyalty software can stimulate online posting by offering loyalty points to anyone shares pictures and posts about your operation with their followers. Hosting a best Instagram trick shot contest is another useful tactic.
29. Make use of data and business intelligence reporting
Data is crucial for informing your marketing decisions. You need collect detailed data for each customer to be able to build a meaningful customer data profile. Once you can segment your customers based on data, you can understand their behaviour much better and determine what messaging and campaign is necessary for each group.
Business intelligence reporting is useful for benchmarking the success of campaigns and initiative. For example, if you wish to encourage more online bookings, reporting will tell you the spread between phone and online reservations in real time. Another example, could be increasing the number of days in advance that players book on average.
30. Advertise Your Course Layout With a Drone Video
Drone flyover videos are the absolute best way to give anyone who visits your website a feel for what your course looks like, its size, and its layout. You can even use your video show case each specific hole, so golfers can understand the layout of each specific hole.
These video make for excellent promotional pieces on your website and can help with selling the overall experience of your course and the value of your brand.
Conclusion
Are your brain juices flowing yet? The truth is, even beyond these ideas there are many, many ways to bring a fresh marketing angle to your golf operation. Putting effort into improving your strategy demonstrates the value of your brand to your customers and will leave them wanting to come back over and over again.
This season, put technology to use and boost your marketing strategy. Just make sure to pair any technology you use with good strategy, well timed campaigns, and clear messaging.