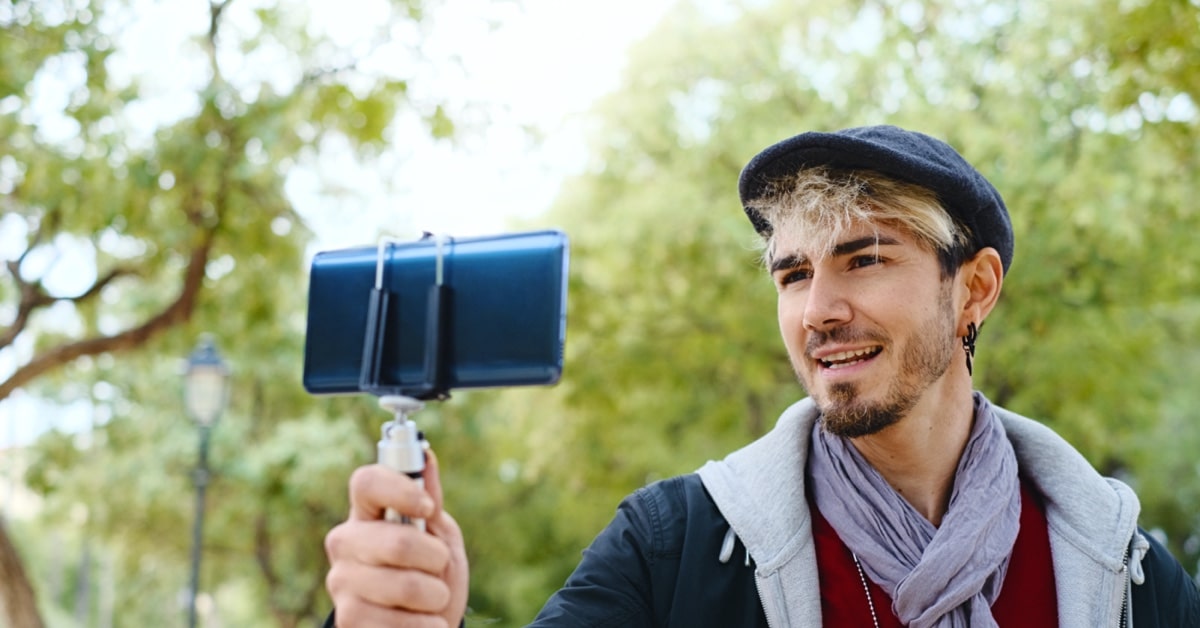 Online marketing has driven sales through the roof for many businesses, but as advertising space and inboxes become more crowded, marketers have to turn to other methods of getting the word out. One of the most cost-effective methods of promotion is to use is social media influencers. According to a Tomson study, businesses make an average of $6.50 for every $1.00 spent on this marketing channel.
Influencers are social media users with a large audience and the ability to persuade people to purchase products or services using their reach and authenticity. The key to their success is in creating a message similar to word-of-mouth marketing, without the company relying on regular customers making suggestions to their friends.
A post on social media showcasing a business can often times have the same effect on people as an online review, one of the most trusted sources of information when making purchase decisions. In fact, 74% of consumers trust opinions they find on social media from friends, family and influencers.
So, how can golf courses take advantage of this new way to market? For starters, most golf courses can't afford the sky-high prices that many professional golfers would charge. Instead, you can turn to avid golfers in your area or to your own head pro. In this article, we'll cover what you need to do in order to step up your online marketing strategy and get more people onto your fairways.
Reach out to local golfers
Local golfers that have a sizeable following can be the perfect candidates for social media influencer marketing. They're a great way to reach your target market as many of their friends and followers will be golfers in the same area. It'll also be much easier to get them out onto your fairways to create some content since they won't have to travel far.
You'll be much more successful with your campaign if you build a relationship with influencers before reaching out. Begin interacting with them on their social media platforms, that way they'll be much more likely to pay attention and partner with you once you ask them. Leaving likes and comments are the perfect way to introduce yourself to an influencer. Make sure that the comments you leave don't sound generic, take the time to actually think of an insightful or interesting comment. Don't just leave "wow" or "great pic," instead opt for a comment like "love the colors in this picture!"
Once you've interacted with a page a couple of times, you can then send them a message with your offer.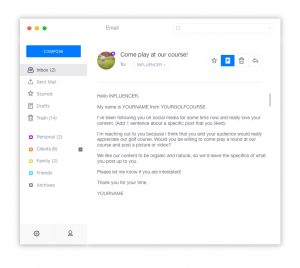 Deciding what to offer is often case by case, and knowing what works best will come with time. If you're reaching out to someone with a relatively small follower base (1500 followers or fewer) you might want to offer them a free round and some merchandise.
If you're reaching out to someone with a larger base, you need to offer something more valuable, like a free driver. You'll also want to check out all of their posts to see if they've partnered with another company in the past. If they have, they might be more selective and have bigger demands than a first-timer, so keep that in mind when deciding what to give away.
You also need to decide what kind of post you would like the influencer to make. One of the most easy and effective ways is to have them come play a round at your facility and have them take pictures or videos of themselves. You'll be able to show off the beauty of your course in a more natural way, and the content will feel much less forced than a pure advertisement.
If the influencer has a large follower base on a platform that allows for long-form videos, like Facebook and YouTube, you may want them to review your course. Make sure you go over the video before they post it, but leave in any negative comments that they may have. No golf course is perfect, so a spotless review won't be trusted.
It is imperative that the influencer you partner with makes it clear in their posts that they are being sponsored by you. One of the easiest and most discrete ways to do this is to include #ad or #sponsored in the caption on the post. Trying to hide a partnership can lead to distrust from golfers and even to legal ramifications. You're much better off being transparent about your marketing actions than trying to hide them.
Get your head pro to make great content
Reaching out to influencers is great, but you've got a great marketing channel that you're already paying for at your course. Your head pro has a wealth of knowledge on the sport of golf, and chances are they're willing to spread that knowledge with others. Golf is a highly technical sport, meaning that players are always looking for tips and advice on how to improve their game.
The point of this golf marketing strategy is to get golfers who aren't currently your clients to find these videos and learn about your golf course through them instead of through advertisements. This is the perfect way to begin building customer relationships as you start out by providing value to those potential customers without asking for anything in return. You're building up a great attitude towards your operation, so people will be much more likely to choose your course for their next round.
Tutorial videos are both extremely helpful and easy to make. Help your head pro out as much as possible by giving them the resources that they need. Provide them with a good camera (a sound investment as it can be used for your entire social media strategy), the time to make the videos, and another employee to help record. Keep in mind that your social media strategy is not specifically tailored for sales messages, you need to use the platforms as a way to build relationships and create a community around your business. Doing so will build loyalty and ensure that your golf course will thrive for years to come, instead of bombarding people with one time deals that will only serve to fill up your tee sheet for an upcoming weekend.
What's more, there are thousands of small tips that can be turned into videos so you'll never run out of content to make. Your head pro's Instagram, Facebook, and YouTube pages should be the home for the videos, but they can also continue to share their own personal content as well. Make sure that your golf course's social media pages are tagged in all of the content to drive traffic back to you.
You can also take some of these videos and post them to your golf course's social media pages as well. This kind of content is highly engaging and will help your pages, while also sending traffic back to your head pro's pages. Sharing content between these two channels will build both audiences and lead to a higher number of quality posts.
Don't be afraid to get creative with the types of content that your head pro posts. If they've got a cool trick shot they want to capture, that can definitely lead to more eyes on their profile. They're also the perfect source of information for blog posts about the golf world. Articles that show off opinions or insights are often interesting and can help vary the content on your blog, which is usually mostly filled with news or information about events at your course.
Start Your Influencer Campaign Today
Influencer marketing is rarely used by golf courses, if you want to stand out from the crowd and take your operation to new heights you need to implement a great social media strategy. Make sure that you use influencers in a more organic way, not just as another channel to blast people with promotions. In an industry where many golf managers are struggling to keep the doors open, the importance of a well-rounded marketing strategy can't be overstated.
News you care about. Tips you can use.
Everything your business needs to grow, delivered straight to your inbox.