Fast, secure, integrated POS payments—right out of the box.
Lightspeed Payments gives you everything you need to process sales and get paid, all in one place.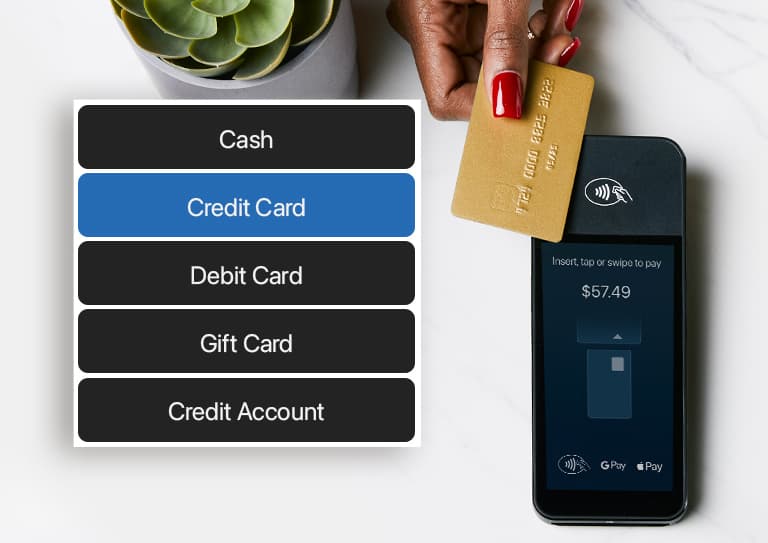 Easily take payments online and in-store.
Get paid quickly no matter where they shop with fully-integrated payments that work with all your sales channels.

Get up and running quickly with our easy and intuitive setup process

Save money with simple pricing and no hidden fees (2.6% + 10¢)

Work smarter with payments hardware, software and customer support in one place.

Rest easy with PCI compliance, end-to-end encryption and unlimited fraud monitoring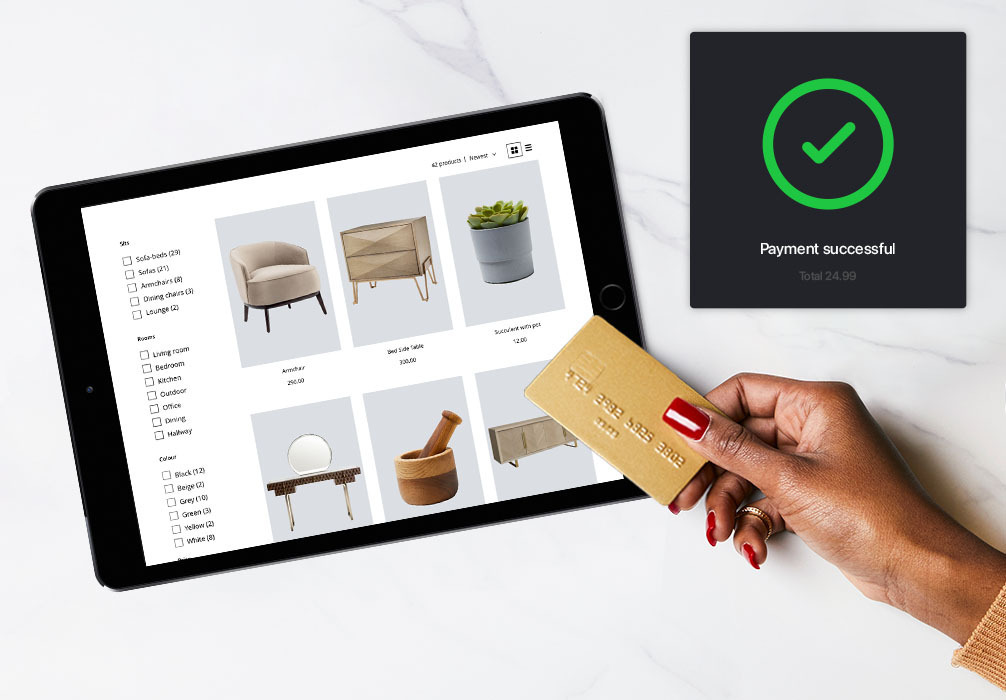 A fully integrated payments solution
Integrated payments means automated payments. You focus on selling—we'll take care of the rest.
Speed up check-out with automated amounts
Simplify bookkeeping with integrated accounting tools
Report faster with batch reports and settlements right in your POS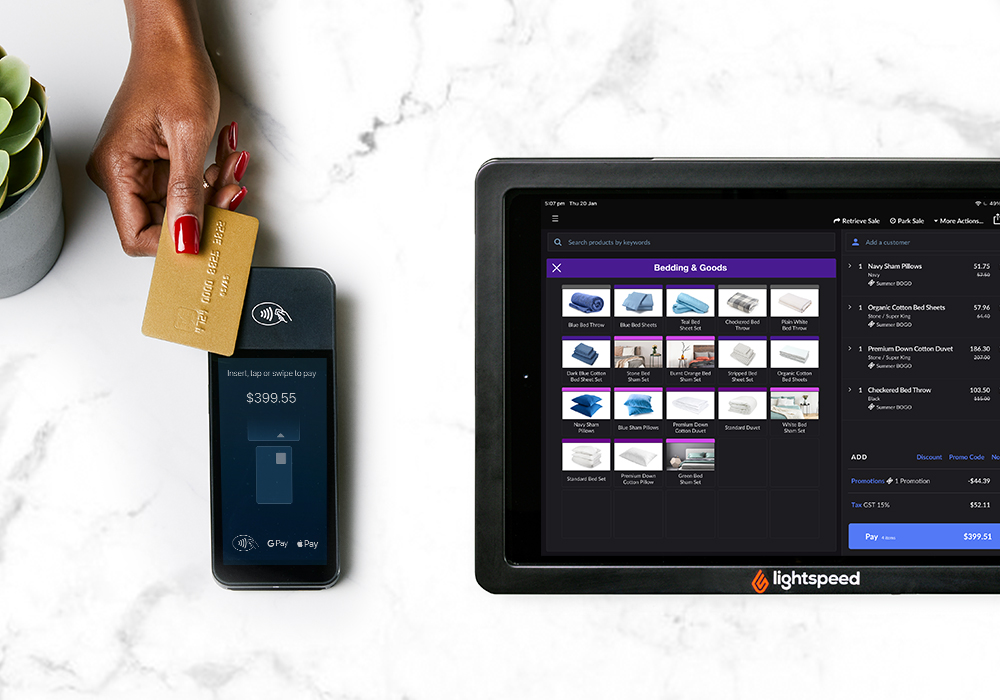 Cost-effective and transparent payment processing fees
With Lightspeed Payments, your processing fees are always simple and predictable, so you can accept payments with confidence.
Simple pricing (2.6% + 10¢)
No hidden fees or markups
Free chargeback assistance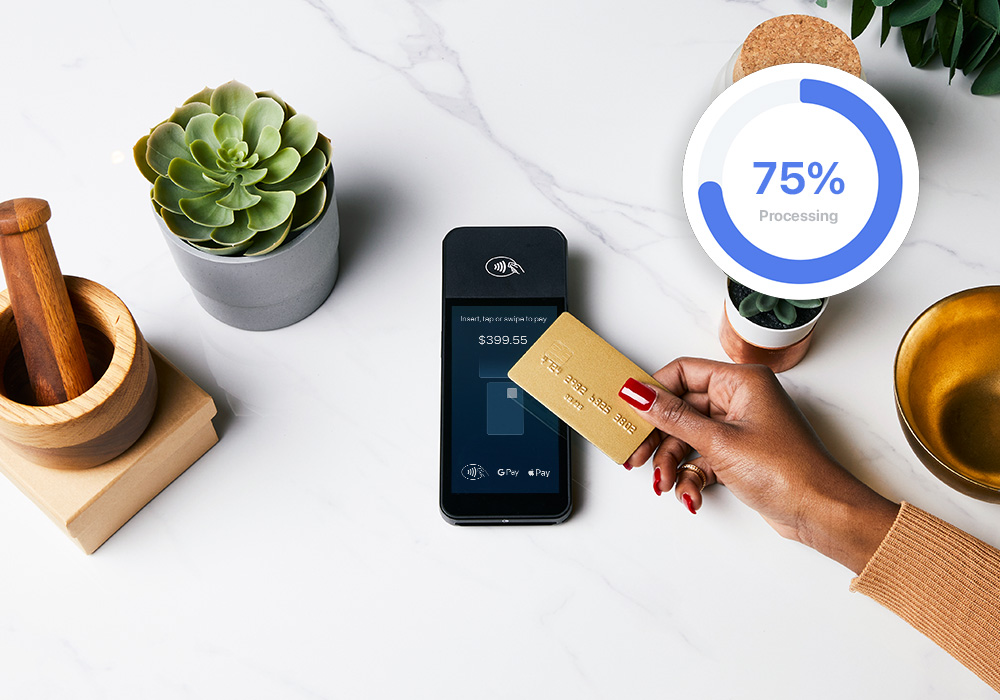 Get up and running faster.
Whether it's hardware or software, getting set up is easy with Lightspeed Payments. Do it yourself with our simple guided setup or have our support team walk you through the process step-by-step.
Get transactional fast with a plug-and-play setup
Take advantage of personalized one-on-one training
Need extra help? Access detailed resources like guides, videos and more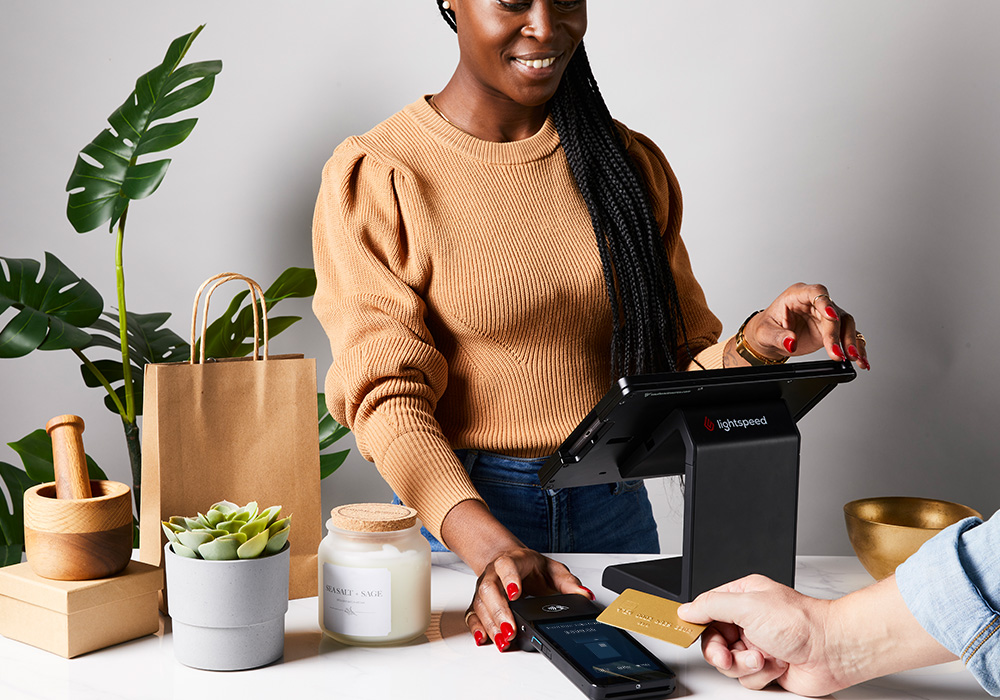 Premium security comes standard.
Security is our top priority. Lightspeed Payments comes with premium security features built-in, so you'll have peace of mind from day one.
Protect their data with PCI DSS validated Level 1 Service compliance
Secure your data with end-to-end encryption for all transactions, in-store and online
Get 24/7 server security monitoring by our in-house team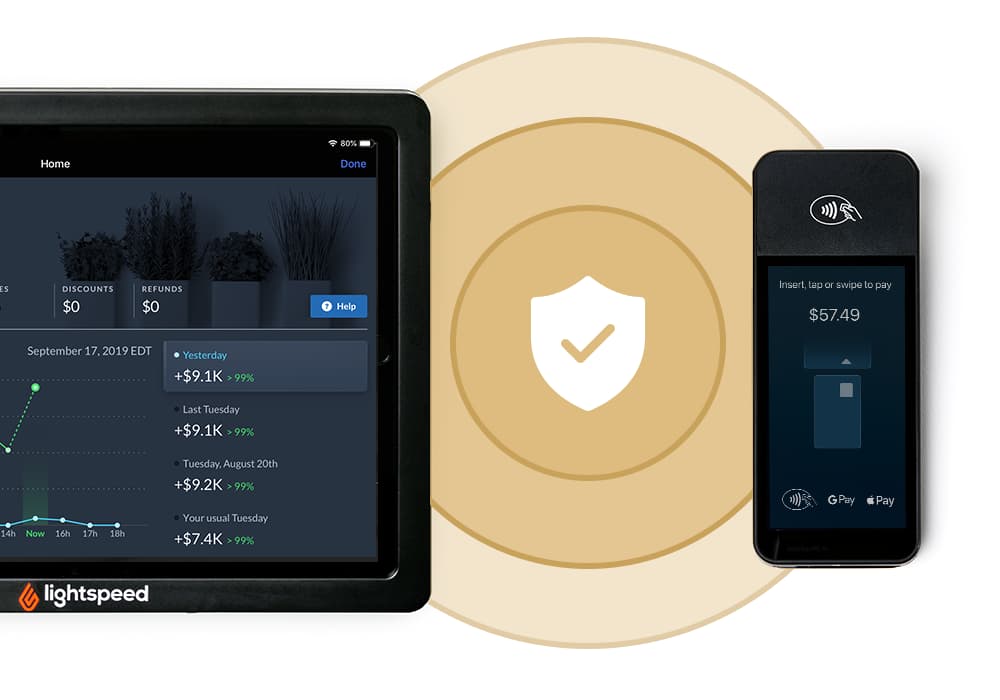 Accept any payment, anytime.
Lightspeed Payments works with leading terminals and equipment, so you can accept any mobile payment with ease.
Keep things simple with a sleek and intuitive design that's retailer and customer-friendly
Enjoy increased mobility to accept payments anywhere in-store or curbside
Accept payments from all major credit and debit cards, Apple Pay and Google Pay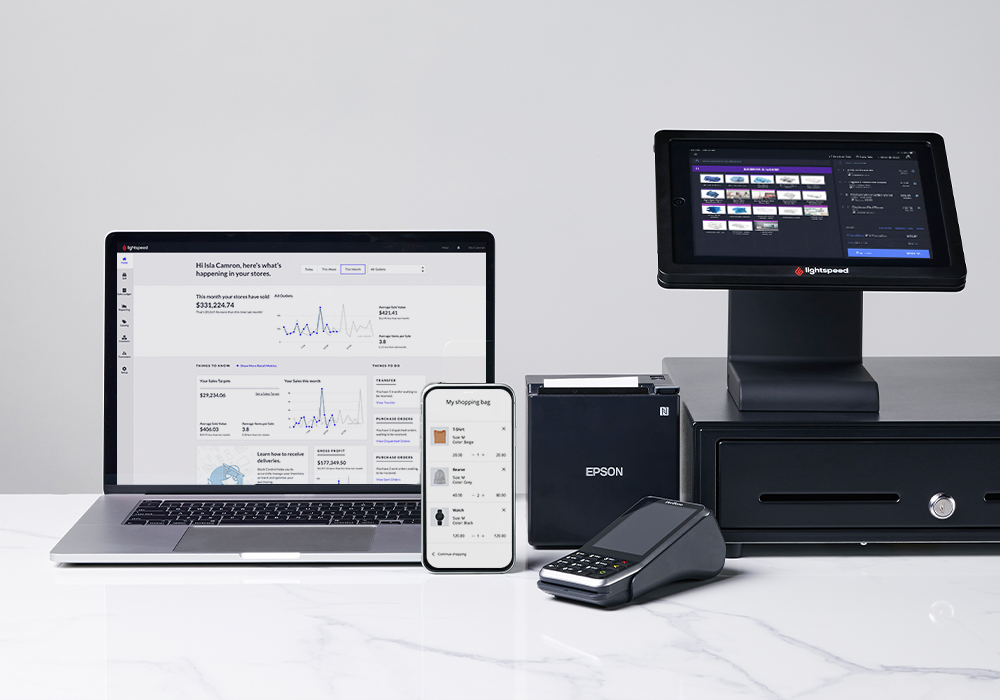 All the answers you're looking for.
Does Lightspeed offer a complete solution?

Lightspeed proudly offers a 360° integrated solution. Having only one provider for your point of sale technology, payment services, hardware and support team saves you countless time and money. Plus, it makes running your business so much easier.
I currently have a contract with another payment provider. How can I switch?

Depending on which provider you currently have a contract with and what your terms are, the cancellations fees they impose will differ. Thankfully, the switch process to Lightspeed Payments is smooth sailing. Our friendly support agents take you from start to finish and make sure you're running without a hitch before you go live.
Is hardware included?

Lightspeed hardware is sold separately. For security purposes, you cannot use any existing terminal hardware you might already have as these have not been injected with the certified firmware. Safety first!
What is the average deposit time for funds?

You can expect to see money deposited into your account within 2 business days after a transaction is made. Please note, that a number of circumstances may affect this timeline, including delays caused by bank systems or risk monitoring. For further details on when to expect your funds, please refer to our documentation on getting paid.
Are there hidden fees?

Never. With Lightspeed you'll never find a complicated or cryptic fee on your statement. The only thing you can expect is a $15 chargeback fee, should one even occur at all. We offer competitive rates and our experts are happy to tailor the right solution to fit your business. No monkey business here.
What happens if I get a chargeback?

Sadly, chargebacks can happen and they are a reality no retailer can escape. Luckily, we make it so much easier for you to deal with. You will be charged a single $15 fee and we will fight tooth and nail to dispute the claim on your behalf. We'll assist you from start to finish and keep you updated on the status as the dispute progresses.
Where can I find all my payment related reports?

Your transaction and settlement reports are all in your Lightspeed POS, in the same place you run all your other standard reports from. Your deposits and batches are tracked in real-time, which makes reconciliation much faster and easier.
Can I use Lightspeed Payments for my Lightspeed eCom store?

Absolutely. In fact, you really should. It'll save you lots of time, headaches, and money. The second you turn on Lightspeed Payments, you instantly have both in-store and online processing. It's that simple.
What card types can I accept with Lightspeed Payments?

Lightspeed Payments accepts all major credit and debit cards. And the rate is always the same no matter what card your customer chooses to pay with. No surprises.
More questions?