Our Guide To Attending The PGA Merchandise Show In Orlando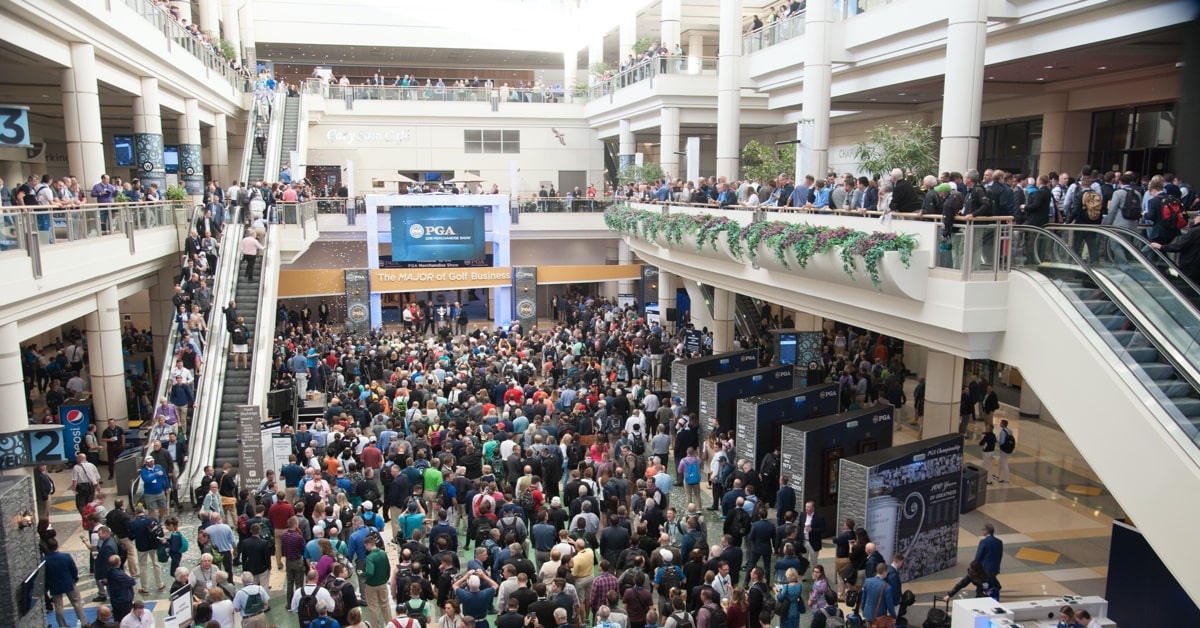 What Is The PGA Merchandise Show?
The PGA Merchandise Show exhibit takes place between the 22nd and 24th of January 2020, however a demonstration day where professionals can test new equipment occur the day before the exhibition opens on the 21st of January.
The show is a perennial cornucopia of golf industry innovation. Each year, more than 1000 exhibitors and nearly 40,000 attendees descend upon the convention. Consistently overwhelming and little bit chaotic, the trade show is the perfect place to see all the new technology and products the golf industry has to offer.
Golf course operators also get the opportunity to network with a variety of suppliers, innovators, and thought leaders. All while getting an opportunity to get their hands on new golf gear, apparel, and of course a few useless inventions (think toilet golf, or the UroClub).
With such a massive event coming and going each year, it's easy for operators to get overwhelmed. That's why we put together this handy guide to help you get the most out of the show!
Where is the PGA Merchandise Show?
The convention is held at the Orange County Convention Centre in Orlando, Florida. You may register here to be an attendee of the show. There are many hotels near the area since the convention centre plays host to many conferences and is located close to Disney World and Universal Studios.
What To Expect?
The PGA Merchandise Show is a sensory overload. It is the place to go if you want to see what's new and exciting in the golf industry. With over 1000 booths, you can expect to find anything you want or any person you want in the industry.
Compare products and find new categories to introduce to your pro shop floor, attend education sessions with respected keynote speakers, and network with industry professionals. Make sure to take your time to walk the 600,000+ square foot floor and take in the sights and sounds.
What's New at Lightspeed Golf?
This year, once again, Lightspeed Golf will bring to the PGA show some new exciting features. Drop by booth #4015 to have a sneak peak of our newest technologies that will once again revolutionize the golf industry. PGA show attendees will be witnessing the very first demos of the Self Check-in app, a new module that is now available to automate the check-in process and cut down the wait time in the pro shop.
Interesting Booths To Visit
Top Tracer
Toptracer is revolutionizing the driving range experience with its top-of-the-line ball-tracking technology. Facilities equipped with Toptracer provide golfers of all ages and skill levels with an engaging experience with statistical feedback and interactive screens. For more information on how to bring your driving range into the 21st century and encourage millennials to adopt the game of golf, we encourage you to pay them a visit at booth 5043A.
1-2-1 Marketing
1-2-1 Marketing provides a wind range of digital marketing tools and services perfect for anyone in the golf industry. Services include high quality websites, email marketing, SEO and Search Engine Marketing management, social media and e-commerce tools. Get data driven results to help maximize profitability with the best technology and golf marketing strategies. For more information and a chance to meet the team, you can find them at booth 4022.
Tagmarshal
Tagmarshal is a business to business golf course intelligence software that enhances golfer experience through on-course optimization and pace-of-play management. Utilizing data provided by Tagmarshal can help golf courses significantly optimize pace which in turn increases overall profitability. Swing by booth 3023 for more information on how their technology can help your facility.
New Exhibitors That Caught Our Attention
eSwing Golf Technologies
eSwing Golf Technologies provides powerful golf swing analysis hardware and cloud-based software. Most solutions on the market use laser and light-based technologies that are less effective in outdoor environments; eSwing is perfecting the use of infrared, ultrasonic and high-speed digital camera technology to solve this problem effectively while keeping costs low. To learn more, we encourage you to pay them a visit at booth 4408.
FLAGD Golf
FlagD provides devices that make it easy for golfers to accurately gauge their distance at the driving range and in turn, efficiently improve their game. Distances are measured by determining GPS coordinates of the targets on the range and providing that information back to each individual FlagD unit. Pay them a visit at booth 3627 during the PGA Show.
Ikonik Golf
Ikonik is a digital academy building tool designed for coaches to assess students, deliver customized instructions, and track progress inside a software platform and mobile app. This is done by using data to create a blueprint that helps coaches identify the type of training that will bring the best results. To learn more, visit them at booth 1491.
Klean Kanteen
With consumers increasingly seeking health-conscious and environmentally friendly products, it's important for golf courses to have these types of offerings at their facility. Klean Kanteen's reusable and BPA-free product line will give you exactly that with insulated water bottles, mugs, cups, tumblers, food containers and steel straws perfect for a day at the course. To learn more, we encourage you to pay them a visit at booth 3884.
Echo Robotics
ECHO Robotics, a division of ECHO Incorporated, provides automated lawn mowers and range pickers to make your facility management more efficient. ECHO Robotic's benefits stem from its time-saving capabilities which will allow you to spend less time on maintenance and shift your energy towards profit-generating activities. To learn more, pay them a visit at booth 2957.
Show Up With A Plan
Trade shows are fun but they involve some hard work. You attend them because you are a professional so you should have some goals in mind before you show up. If you are making purchase decisions, make a list of vendors you need to meet. If you are looking at a new software system, book a demo with a product representative. Or, make a list of influencers you would like to meet to bring more attention to your operation.
Of course, it always helps if you can leave your bulky purchase order binder at home and use a cloud based iPad POS that can automatically create purchase orders, track inventory, and provide inventory analytics instantaneously. Make sure your analysis prior to the show is thorough and complete, it will help to know product category performance, margins, and inventory levels before walking into a vendor meeting.
Learn Something New
The best thing about attending the PGA Merchandise Show is the learning opportunities. Over the course of the event, many seminars will be held. Get valuable insights from well respected keynote speakers from the golf industry. Chances are you'll hear something you haven't heard before and you might meet someone new.