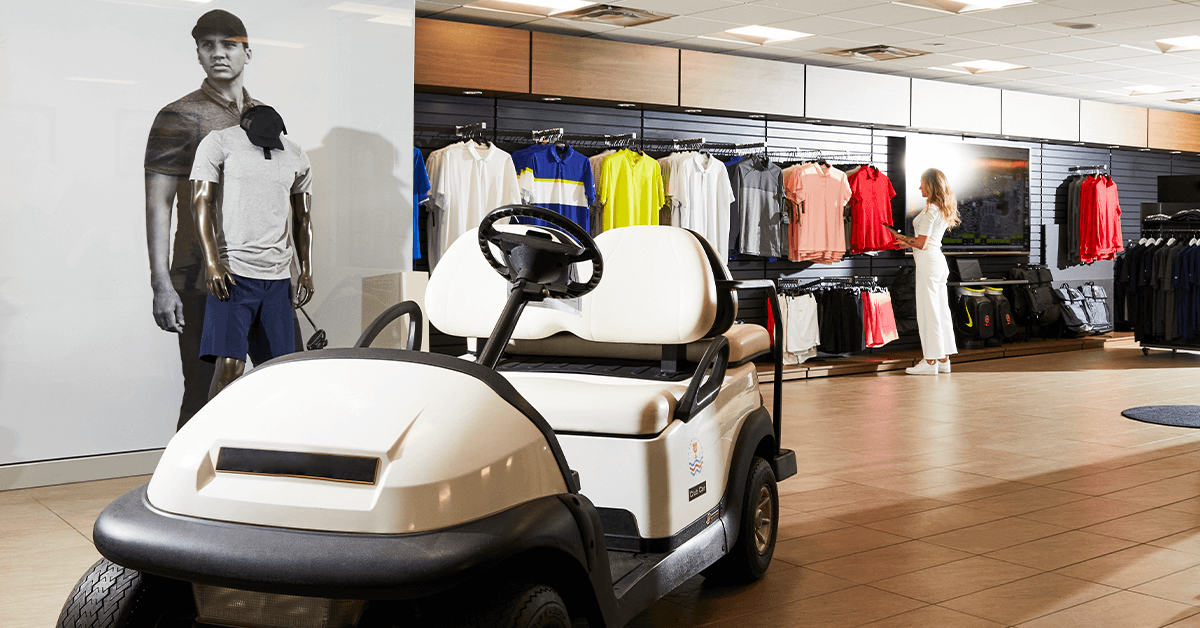 The golf pro shop is often the centerpiece of a golf club. In addition to being the retail hub of the facility, it is a meeting place for conversation, a destination to initiate custom fittings and new club purchases and a place to sign up for that next big club event.
To most-effectively drive golf shop sales, golf shop owners, head professionals and retail merchandisers must have product in the golf shop that members and customers will want to buy – that means desired merchandise at a good price. This understanding of what to carry is derived from conversation and getting to know your clientele.
In addition, the golf shop should be neat, clean, attractive and easy to navigate. Properly utilizing one's open-to-buy will ensure you don't overstock your shelves or under-deliver on your members' expectations.
Here are some golf shop layout and design tips to help boost your golf shop sales:
Manage inventory like a pro
Use our free inventory spreadsheet template to keep on top of your items, purchases and sales.
Put the most desired items in the back to encourage more sales
Have you ever gone to the supermarket for a gallon of milk, and left with three bags of groceries? Don't feel bad, we've all been there. Putting those most desired items in the rear of the golf shop forces customers to walk through your maze of golf goodies.
Is Peter Millar your big seller? Is headwear the go-to gift in your shop? Perhaps you require all golfers to check in before playing? Set these destinations far from the entrance. After all, even if your members are laser focused on checking in and getting out to the range ASAP, their walk to the rear of the shop will plant the seeds for a return visit after 18 holes of golf.
Mollie Plocher, the owner of 2Hemispheres in Oregon City, Oregon, says it's wise to put destination categories within your shop. She has spent more than two decades helping golf shop owners and merchandise managers maximize the member experience through golf shop strategy, design, execution and training.
Rotate visual merchandising displays often
Many of your members are on the property three, four, even five days per week. It could be a challenge to entice them into your retail space with every visit, but with creative visual merchandising techniques, done frequently and with a planned strategy, you could attract your most active members to browse your wares every time they're at the club.
The golf shops at most clubs are located within foot traffic of members and their guests. Whether between the locker room and practice range, or en route from the golf course to the restaurant or pub, members usually have to walk by your shop. It is incumbent upon the golf shop manager to create eye-catching displays that stop these individuals in their tracks, drawing them inside the golf shop to check out a new layout they haven't seen before.
The golf shop entry should be open for rotating different products – gifts during the holiday season, a new men's line or women's apparel to coincide with your big women's events.
There should be destination locations for shoes, headwear, women's apparel and your best-selling men's lines. Of course, these departments should be moved around frequently. Some shops do it weekly, others monthly. But, as you step outside your golf shop walls to see what members see from the outside, consider what might draw you in: vibrant colors, great logos and creative displays.
Jim Schouller, the PGA Head Professional and golf shop owner at Abenaqui Country Club in New Hampshire, aims to "visually stimulate his consumers as soon as they walk through the door." He wants them to be so enthralled by the merchandise, the displays and the very vibe of the golf shop that they will be "eagerly awaiting what might be around the next corner" as they browse his aisles.
Completely overhaul the golf shop to create a new member experience
It's important to know the hot and cold zones in a golf shop. Every retail space has them. Your top selling merchandise will sell no matter where you put it in the shop. That's why you should put them in the rear as a destination, or in a cold zone where nothing seems to sell.
In addition to simply changing displays, moving apparel lines from one area to another or even altering those destination locations we mentioned earlier, you should completely overhaul your golf shop at least twice per year. Move shelving units, racks, nesting tables, mannequins and fixtures around your golf shop to create an entirely new look that members won't be able to resist.
Rob Jarvis of Bangor Municipal Golf Course in Maine gets input from his vendors. After all, these individuals see many golf shops in their travels and they know what works and what doesn't. In fact, Jarvis says that he's had sales reps actually roll up their sleeves and help him move tables and fixtures from one part of the shop to another. Those relationships are literally priceless.
If your golf shop woodwork, counter or displays are outdated or antiquated, it might be time for a complete golf shop renovation. Consider your budget, your goals and what you can accomplish with a renovation. Take it to the Board and see what they say. It worked at Wynlakes Golf & Country Club in Alabama and Dunwoody Country Club in Georgia. Renovations have led to huge sales increases and a completely new experience in their golf shops.
Let customers touch and feel
Chip King lets members sample demo apparel items before placing his orders at Grandfather Golf and Country Club. He gets feedback on fit, style, fabric, quality and comfort, and brings in what he knows members will buy.
Most other pros have made it their policy to let members touch and feel the fabrics. In fact, Haggin Oaks in Sacramento has personal shoppers who help consumers find the right merchandise mix for them one-on-one.
It is true that some golf shops will keep their golf shirts in the plastic it was shipped in. Notice the dust the next time you pick up one of these packages. You can't sell apparel out of a plastic bag. If you display it prominently, it will sell before shop wear has a chance to infiltrate the item.
Plocher from 2Hemispheres calls them member shops, rather than golf shops. The shop at a club is just another service you're providing your members. After all, members dictate what you carry in your shop, because they dictate what you sell. Let them feel valued and provide an exemplary shopping experience every time they come through your doors.
Seal the deal with product knowledge
Piggybacking off the previous section, creating an experience is a huge driver of golf shop sales. In addition to providing that personal shopping experience, your staff should be experts in the field.
Just as PGA Professionals have to fight through the minutiae of this driver versus that driver, selling apparel is no different. Different fabrics, fits and colors make learning the pros and cons of each brand a full time job for sales associates.
Consider a member who puts his or her time and money into the word of your associate. If they go home and love the garments, you've earned a long-term customer. If, however, they get the items home, try them on in their own environment, and hate them, you have a trust problem on your hands, and the customer's shopping experience is sullied.
Golf course management software like Lightspeed Golf can help you take things one step further by giving your sales associates the ability to view customer profiles and histories. Armed with this knowledge, your staff will be able to recommend products that directly complement what your customers have previously purchased.
Set your pro shop up for success
If you're looking to increase your pro shop sales, take these points into consideration. Follow Merchandising 101 best practices and create an interactive and exciting customer experience.
Take payments, special orders and more with Lightspeed Golf's one-stop golf course management platform. Talk to our industry experts to learn more about how you can seal the deal with your customers each time they step into your store.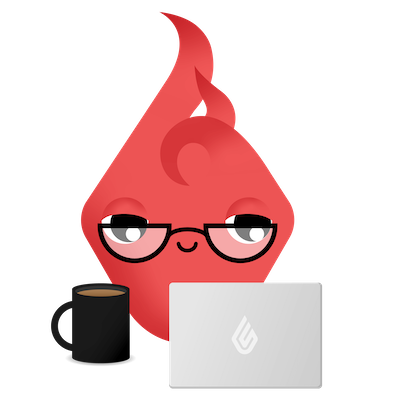 News you care about. Tips you can use.
Everything your business needs to grow, delivered straight to your inbox.