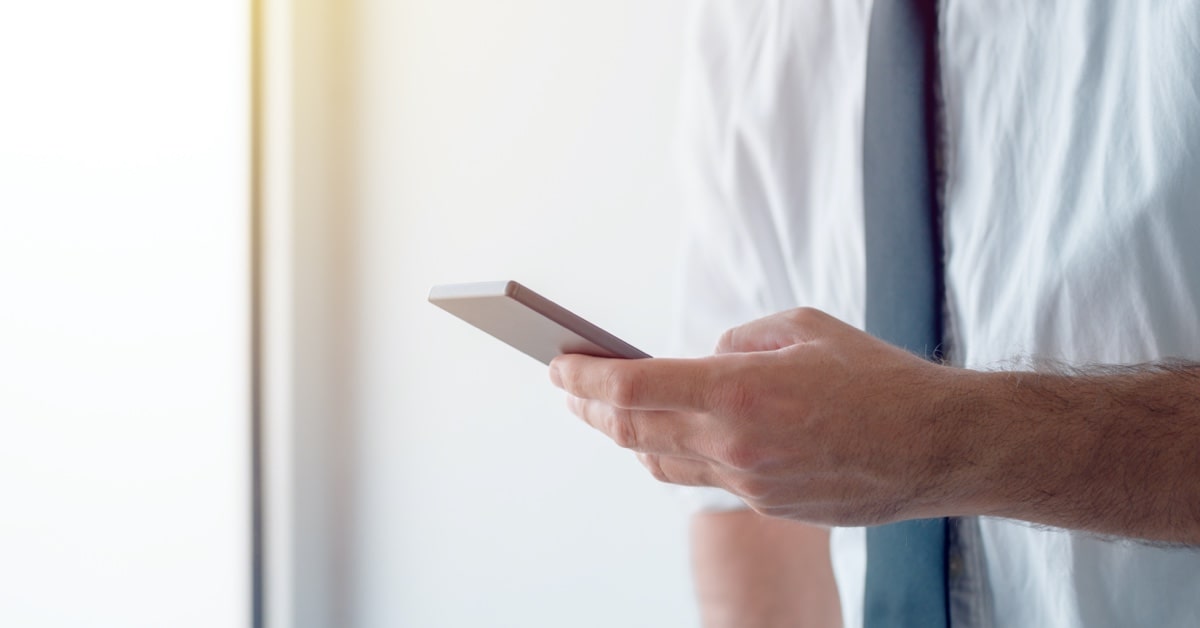 Text message marketing is working at many golf courses. When the right message is sent at the right time, it can be a powerful tool for elevating the customer experience and generating more revenue.
The research backs this up, text messages on average receive a 90% open rate, and response rates are 7.5x higher than email. We've heard reports from golf courses that within weeks of introducing a text message strategy, food and beverage revenue increased by 8%.
With 75% of consumers saying they don't mind receiving text messages from a brand, it makes sense to consider a text message strategy at your golf course.
The key is using text messages in the right way. Otherwise, you risk frustrating your audience or worse getting blocked by cell phone carriers.
In this guide, we'll discuss the critical differences between text message marketing and other marketing channels. We'll also outline a variety of text messages you can send and strategies that are proven to increase revenue. Finally, we'll wrap up by describing procedures for collecting phone numbers and look at any applicable rules for sending text messages.
Text Messages Vs. Email Marketing
Some course operators get confused about the difference. So, let's dedicate this section to clearing up any confusion about the difference between email and text messages.
Emails and text messages are entirely different, they couldn't be farther apart. Text messages are short, they can't have more than 160 characters in the United States. They should immediately provide value and only be sent for a contextually relevant reason.
Emails are longer, they have more information and they drive addressees to your webpage. In my opinion, there is a wider variety in the kinds of emails that you can send, but that doesn't mean that texts are one dimensional. You might be sending newsletters, announcements, and even promotions. If you're brilliant, you automate your email send outs too.
Text message marketing doesn't work like that. You absolutely should not be blasting the same text to your entire list of phone numbers. (You really shouldn't do this with email either.)
What you should be doing with text messages is sending small bits of marketing information to people that are actively using your course.
What Kinds of Texts Can I Send and When Should They Be Sent?
As I've already stressed, text messages work best when they are sent to someone who is actively engaged with your operation. An ideal person to send a text is someone on your property and using your facility.
Here are nine kinds of text messages you should be sending.
1. The Welcome Text
One way to welcome players to your club is by sending out a welcome text to anyone who is arriving to play their round. The text could be timed to send about 15 minutes before the round starts. The content itself could be used to promote a deal or just say hello, it's up to you.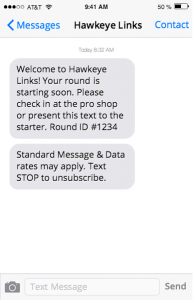 2. The 19th-Hole Invitation
Golfers spend anywhere from 2 to 5 hours at your facility, and there's a good chance that many of them will get hungry. Sending a text to players who are ending their round that promotes a drink special or new menu item can be very influential and generate more restaurant sales.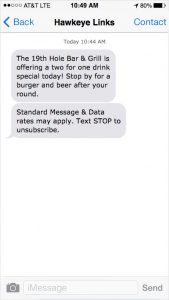 3. How Was Your Experience?
Do you know what your customers think of your facility? Are you prepared to find out? Text messages can be easily set up to link customers to a web-based customer satisfaction survey. Even asking for a reply with a 1-10 rating of their experience is valuable.
Understanding where you did well and where you can improve is extremely useful, and text messages can help with generating responses.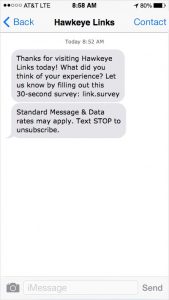 4. Event Invites
These can be a little tricky, you don't want to blast your entire list of phone numbers with an event invite. That would be a nuisance.
However, you should let players who are at the course know about an upcoming event. If you choose to send a text to people who aren't on your property make sure the list is segmented, so only relevant people get the text. For example, you might send a text to past tournament participants.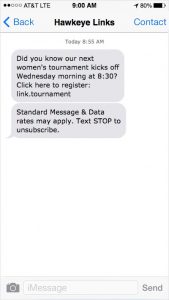 5. New Products
Again, don't send a mass text to your entire database announcing that you have the new TaylorMade M6's in stock. Instead, short reminders attached to your existing messages is a better method. Create added value and measure results by offering a discount if the promo code sent in the text is used.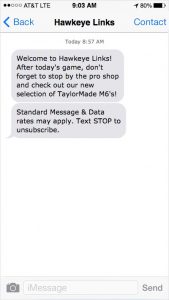 6. Pro Tips
Why not include a pro tip in your welcome message? This is a wonderful way to remind players that a pro works at your course and is more than capable of helping someone improve their game if they sign up for a lesson. Ask your pros for small morsels of helpful golf related swing and strategy tips to include in your welcome texts.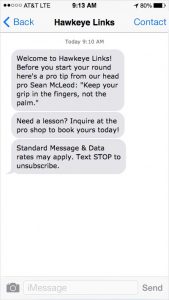 7. Updates and Reminders
While these texts are more practical and less geared towards marketing, they can help with improving the guest experience. Text messages are a speedy way to let customers know that the course is closing on short notice due to a thunderstorm or to remind a player that their tee time is coming up in a half hour.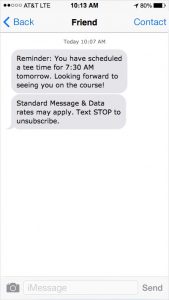 8. The Loyalty Program Text
Do you have a loyalty program at your golf course? If so, there are a few methods to encourage more sign-ups and engagement with your loyalty program. For the uninitiated, send a reminder to register for the loyalty program. This kind of text works exceptionally well for players that come often.
For customers that are already registered, offer special deals that are exclusive to loyalty members or just remind them to spend their loyalty points balance at the pro shop.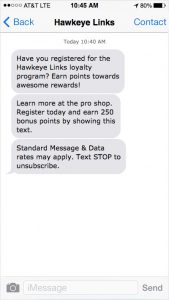 9. Request a review
This kind of text is very similar to the survey text message, except that it asks your customers to publicly review your golf course on websites like GolfAdvisor, Yelp, GoogleMyBusiness, and more. Make sure to provide a link in the text that brings them to a landing page where they can quickly fill in their review.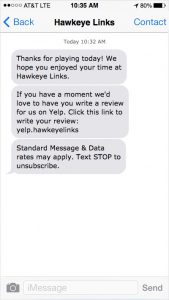 Laws and Best Practices for SMS Marketing
Using a text message marketing strategy comes with some important caveats. For one, there are laws and rules that you need to follow to ensure you don't run into problems down the road. To get the most of your text marketing strategy here are nine important best practices to abide by.
1. Use Rich Media
When you send a YouTube video via a smartphone and the video is embedded directly in the chat, this is called a rich media text. These messages are more colorful and dynamic, aiding your goal of creating more value. To send your own rich media texts, you'll need to attach a short link URL that is optimized to attach an embedded image or video.
2. Measure Results
Knowing whether your marketing strategy was effective is critical for finding a successful formula. Use promo codes that are trackable within your tee sheet and POS to understand whether your text messages are converting.
If your text message service provider offers reporting and analytics, use open rates, click through rates, and unsubscribe rates to watch how customers react to different messages.
3. Create Value
Every time you send a message, it must contain something of value. Otherwise, you aren't providing anything useful that will incite the receiver to take action. This doesn't mean you have to offer a discount every time you text. It means you have to review your messages and ensure everything that you send will make the customer say "wow, interesting!".
4. Be Consistent
Once you start sending texts, customers will come to expect them. To ensure success, make sure you are consistently providing relevant and timely information to your customers. A text message strategy requires commitment, otherwise you might not see any results.
5. Get Permission
Before you start sending texts to your customer, you must obtain consent. For your text message marketing campaigns to be legal, customers need to agree that their phone number can be used to relay marketing communications. This is easily the most important best practice. Fortunately, there are a couple of ways to get consent.
Keyword consent is when you send a text that requires a keyword reply to opt in for marketing texts. Once a customer replies to the keyword, they will have opted in and can expect to receive promotional texts from you.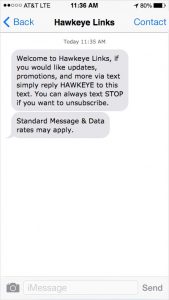 Written consent is your second option. This can be done when a player checks in for a round at the pro shop, books online, or signs up for a membership. You can include a clause or checkbox for these interactions that opt customers in when they provide their phone number for text-based marketing.
6. Provide an Opt-out Option
For your non-marketing messages, such as reminders and course closures you don't need consent. However, all text communications require an Opt-out option, whether they are marketing or not. This is a legal requirement.
Usually, opt-out messages come in the form of a message that reminds receivers that they can unsubscribe by replying STOP.
7. Include a Disclaimer
Rules put in place by the CTIA require you to include "Message & Data rates may apply" to your text message communication. Now, most people have unlimited text plans, so this disclaimer usually has no real meaning. But, you are legally required to do so, and customers have come to expect it, so make sure it's in there.
8. Language
Since texts are limited to 160 characters, managers sometimes like to cut corners with the words and use text style lingo. Sometimes it may be appropriate, but generally, we recommend sticking to proper grammar and spelling.
Of course, you need to take the medium into account. Text messages are more intimate than emails. So, use fun and informal language to keep the message as simple and clear as possible. Emoji are entirely appropriate to use in this medium too 🙂
9. Timing
Getting a text at the wrong time can be extremely annoying and will ensure that your audience will unsubscribe at a high rate. So, if you plan on texting anyone who's not actively engaged or using your golf course, at least send the text at a reasonable hour.
10. Customization
Including a first name in your text message is a powerful way to increase engagement and personalize your strategy. Branded texts can seem impersonal, so adding a first name is an excellent strategy for creating a friendly and welcoming brand image.
11. Create Awareness
Make sure customers know about your text message marketing campaign by including all the relevant details on signage around the golf course. A sign on the golf course, by the pro shop POS, in the parking lot, or the restaurant can remind a customer to text the opt-in keyword to a specific number to keep them in the loop.
Text Message Laws in The United States
In the US there are three organization the manage text message regulations: The Federal Communications Commission, Cellular Telecommunications Industry Association, and the Mobile Marketing Association.
The main pieces of legislation that businesses must respect is laid out in the Telephone Consumer Protection Act and CAN-SPAM, which were developed by the FCC.
According to the act businesses must obtain written consent before sending any marketing messages. Even if you already possess the phone number or if you have a pre-existing relationship, you still need written consent. Additionally, texts must be sent between 8 AM and 9 PM, and must contain clear opt-out instructions.
Not complying could run the risk of being fined $500 to $1,500 per illegal text, so make sure you only send to consenting customers. This can be done by including tick boxes and clauses that obtain consent when a player checks in or books online.
Laws and Regulations in Canada
Canada's anti spam laws went into effect on July 1st, 2014. Known as CASL, the laws govern commercial use of text, email, and any electronic message. While we aren't lawyers, here's what we know about the laws as of 2019.
For text messages CASL requires texts to have a valid unsubscribe option, and an additional way to contact the sender, this could be a phone number, email address, or mailing address.
Since text messages are limited to only 135 characters in Canada, remaining CASL compliant can be a little bit tricky. Fortunately, there are some concessions in the law the make it easier to be compliant.
The law permits you to provide a short link in the text that directs you to a web page that contains the required phone number, mailing addresses, or contact forms. CASL compliant messages look like this: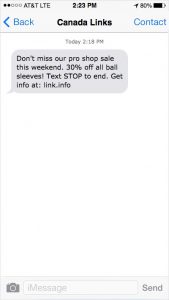 To legally send marketing texts in Canada you need to have either express consent, or implicit consent. For branding reasons we don't recommend messaging anyone who is unknown to your business. So, for the purposes of this article, we will look solely at implicit consent.
Implicit consent is given when you have an existing business relationship with the person you are messaging. This implicit consent carries on for 2 years after a transaction, and renews whenever new transaction is made. Implicit consent gives a giant green light for texting your existing database of customers who are actively using your course.
Text Messaging Laws in Europe
The General Data Protection Regulation (or GDPR) came into effect in Europe last year. GDPR requires a lawful basis for processing all data. In the case of text messaging, the data regarding the phone numbers you will text must be obtained, held, and recorded lawfully.
Whether you send an email or text message you need to answer three questions:
Legitimate Interest – is there a legitimate interest for the communication you are sending? Cross selling products and promoting wider use of services and products qualifies under legitimate interest
Does a message need to be sent? – to further your legitimate interest is it necessary to send a message? Is there a less intrusive way to get your message across?
Is the act of sending a message fair considering the individual's rights and freedoms? This usually is closely related to the legitimate interest question.
This may seem over complicated, but the good news is legitimate interest is enough to give you the right to text your existing customer database. Since you already have a business relationship with them, you may send promotions to them.
However, we recommend only texting people that are actively using your course. Once your customers lapse, you may not have the legitimate interest to market to them through text.
Remember, according to the Information Commissioner's Office your messages should be sent to customers in "ways they would reasonably expect and which have a minimal privacy impact, or where there is compelling justification for the processing."
How to Start Your SMS Marketing Campaign
There are a number of text message marketing providers on the market. But, for golf courses, the best solutions come from companies who have built their text message marketing services for the golf industry specifically.
These solutions typically integrate directly with the golf course management system, which allows golf operators to see who is currently using the course and quickly send messages from the tee sheet.
Best of all, when your text message services integrate directly with the golf management platform, data including phone numbers and customer information flows seamlessly between your customer database, online booking tool, tee sheet, and POS. This directly feeds your list of phone numbers and customer names, if you choose to customize your texts.
Chronogolf by Lightspeed offers text message marketing services as part of its cloud-based golf course management system. Some of our customers have seen a 6% to 8% uptick in food and beverage revenue after one season that can be directly attributed to text message marketing.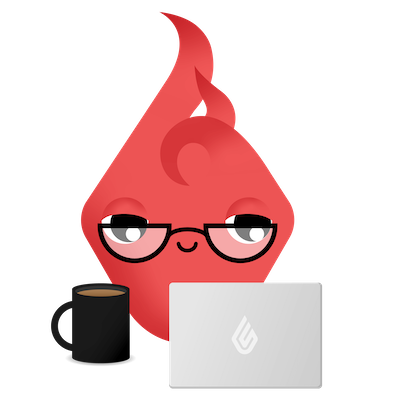 News you care about. Tips you can use.
Everything your business needs to grow, delivered straight to your inbox.