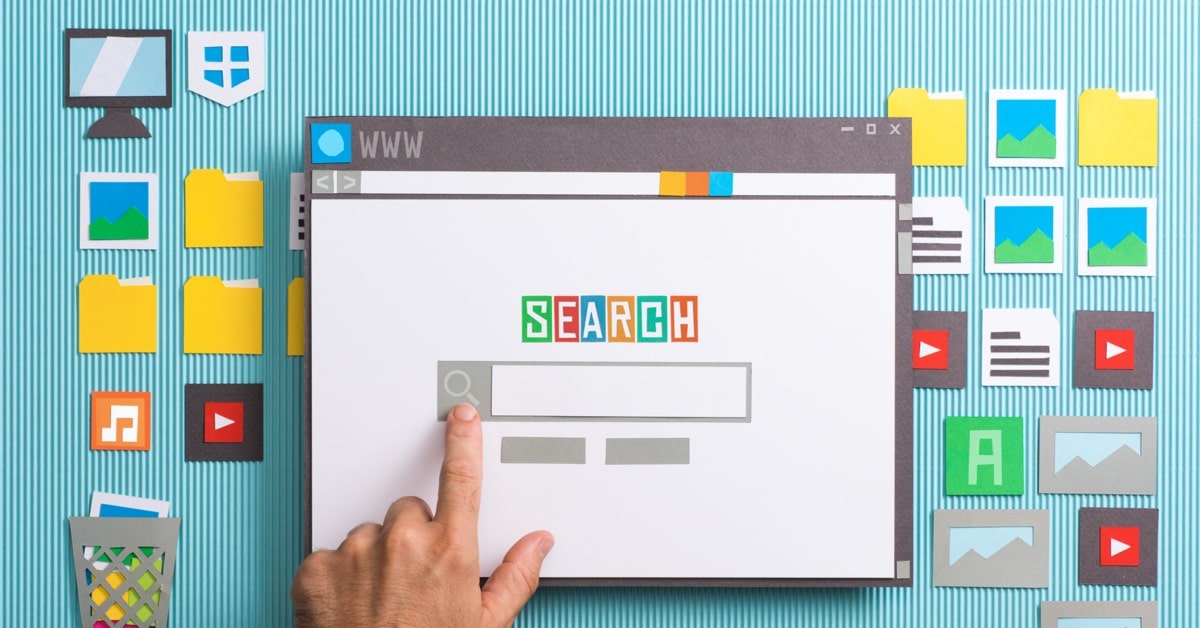 Have you put an SEO strategy into place at your golf course?
Are you worried that your website is not showing up when prospective golfers search for tee times in your area? Golf operators are noticing that when it comes to search results, online tee time distributors are very good at getting their websites near the top of every golf-related query.
What is Golf Course SEO?
Search Engine Optimization (SEO) is the process of increasing the quality and quantity of a website's traffic through techniques aimed at improving organic (non-paid) positioning on search engines.
Why SEO is important for your website
There are finite ways to acquire traffic to your golf course's website. For years and it's been pretty consistent, Google is the number one referral driver, by far. Generating almost 60% of all traffic across the Web.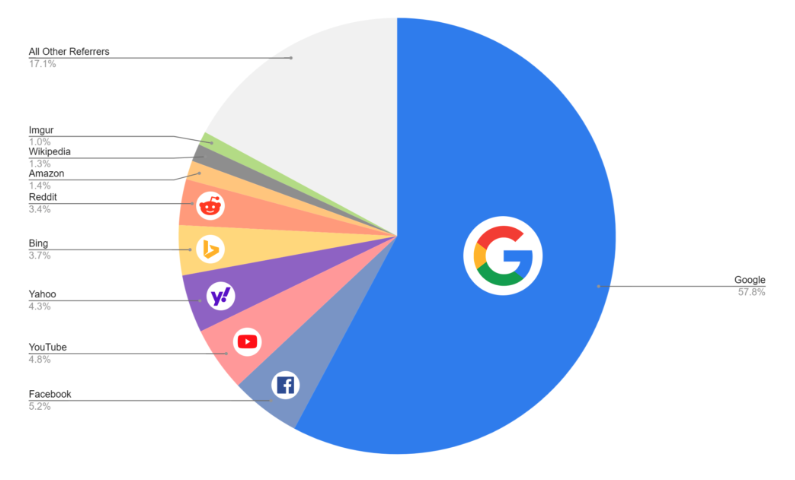 Source: The Search & SEO World in 2018
A lot of courses are battling for real estate on Google, they too want to rank for the keywords golfers typically use to search for tee times in your area. So, between the online tee time aggregators and all the local operators, there is a ton of competition to rank higher on Google searches. If you want to rank higher, now is the time to develop golf SEO strategies that will finally get your website ranking better than the competition.
Help your customers and they will help you
Research and find your customer's needs
Understanding your customers is the baseline for your SEO strategy.
Before writing any new content, you need to first understand:
Who's your audience?
What kind of information do they need?
Why do they need that information?
Which terms are they using to find it?
Performing Google searches around topics of interest to your potential customers is an essential way to understand these terms.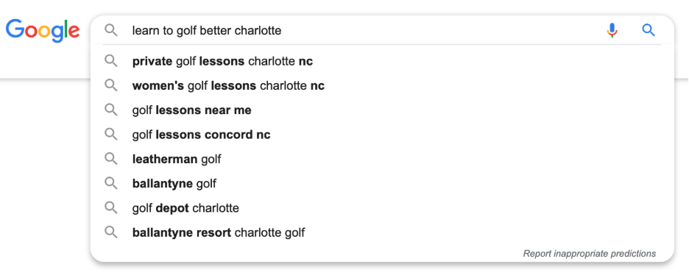 When you perform a Google search, wait to see the suggestion, these are ordered by demand.
Also, look at Searches related to your search for inspiration of relevant related topics, these are found at the bottom of Google's Search Result Page.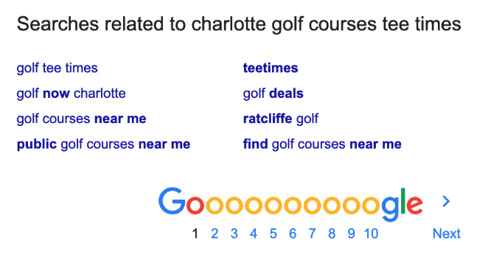 Publish great content that answers your customer's questions
To improve rankings on Google your golf course needs to publish regularly. Investing in creating a blog can engage your audience with content, attract new visitors, develop a larger following and increase your brand visibility. Proving that your website is a credible source of meaningful content will tell Google's search engine algorithms to put your website in front of more people when they search for greens in your area.
Use tools to optimize your online presence
Make sure your website is well structured and designed
Google can tell whether your website is designed according to best practices and standards. If your website does not adhere, you're telling Google that your operation is inferior to other websites that sell tee times online. Use simple web design tools such as WordPress and you'll be able to ensure that the content on your website adheres to current SEO standards.
We understand that optimizing websites and making sure modern web design standards are being respected is difficult and time-consuming. Thankfully there are golf marketing agencies out there that can bring your website into the 21st century for a reasonable price.
Register with Google Search Console
Google Search Console (formerly Google Webmaster Tools) is a free platform for anyone with a website to monitor how Google views their site and optimize its organic presence. Its reports will help you measure your site's Search traffic and performance and find and fix issues.
Register and manage your golf course on Google My Business
Okay this one's pretty easy. You just have claimed the business through Google My Business (formerly Google Local), chances are they already have your course listed with limited information. You might even find multiple existing profiles, if so, make sure to take ownership of all the duplicates and merge or remove them.
All you have to do is prove you are the owner of the business and then provide detailed information about the course, opening hours, and a few pictures. Now your golf course is much more likely to show up when people search for tee times in your area and when you do show up they'll find detailed information about your facility.
Take this a step further and make sure your business is registered on Bing Local, Apple Maps and Yelp too.
Get social by engaging with brands and customers
Encourage golfers to leave online reviews
This one seems pretty obvious but many golf operators are not actively pushing for more online reviews of their facilities. Google can tell if your course is receiving favourable reviews on Yelp and other entertainment websites. These reviews will help determine how Google ranks your course in search queries on Google Maps. Getting favourable reviews on these websites can get you a ton of visibility and credibility.
A few ways to generate reviews of your operation are to encourage your most loyal customers to post a review of your operation. You can also put up advertising displays that encourage online reviews around the pro shop and restaurant. Online, you can promote reviews from your social media and blog channels. Once you get a few customer reviews on your golf course don't forget to reply to their comments!
Get online mentions and backlinks to your website
Backlinks are incoming hyperlinks from a web page to your website. Backlinks from more trusted websites will make Google trust your website more. Gaining these links is a highly effective golf course marketing strategy that most golf courses in your area are not taking advantage of.
One way to do this is by getting blogs to talk about your golf course in a "Best Courses in Location X" article. The first step is to do some research to see if these articles already exist for your area. If they do, see if your course is listed. If it is listed, make sure that there is a link pointing to your website in the section about you. If there is no link, you can send an email to the writer of the blog post to kindly ask them to place that link in their article. If your course is not on the list, you can contact the writer with some information and images on your operation, and ask them if they'll add you to the list.
A more creative way to get backlinks is to collaborate with blog writers. If you're a golf manager, then you're definitely a good resource for blog writers to gain information. You can offer to write an article for them about the golf industry or even to let them conduct an interview with you about what it's like to run a golf course.
You should also check if any companies that you make purchases from have blogs or customer testimonials sections. These companies are usually looking for customers who are willing to say good things about them or provide insight, and would be happy to include a backlink in exchange.
Take advantage of your head pro's knowledge
Your head pro knows a lot about the game of golf, getting them to write blog posts or make videos about golf fundamentals can drive a lot of traffic to your website. This kind of content is essential in your golf course's marketing strategy as it will increase social media interaction, search traffic, and brand awareness (all things that can help you gain more traffic from search engines).
Your golfers will definitely be looking for ways to improve their game. Helpful videos and articles are quality content that will keep people coming back. Most golf courses post about upcoming deals or a recap of a recent tournament, but you can also add a bunch of interesting, original content for people to consume. More people will read, share and interact on your posts, so ultimately Google will rank your page higher than your competitors.
If your golf course doesn't have the means to hire contractors to support these initiatives, there are many resources online that can help educate you on SEO and Golf Marketing Strategies.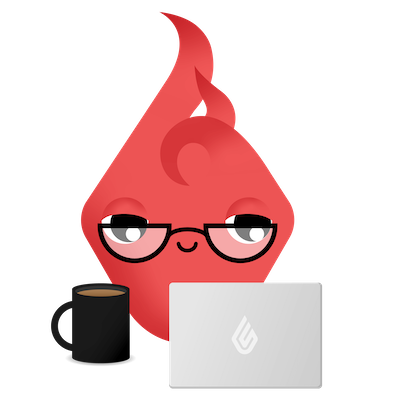 News you care about. Tips you can use.
Everything your business needs to grow, delivered straight to your inbox.