What you need to know to find the best POS for your business
Step one: understand what tools you need to grow.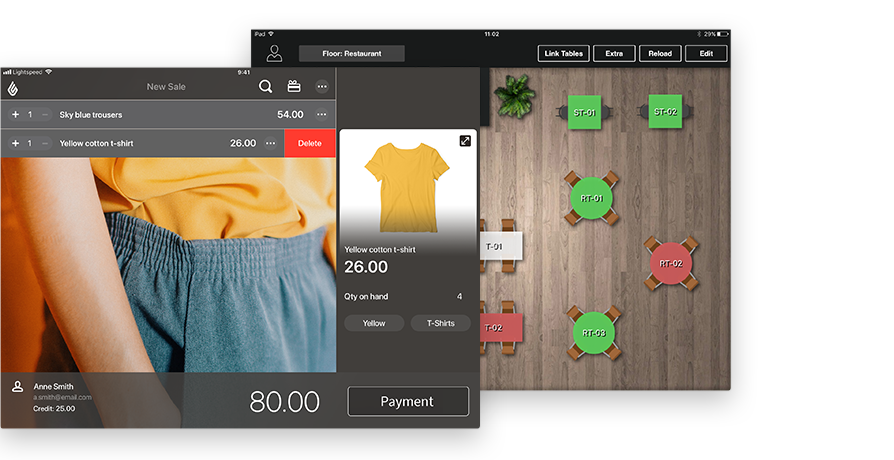 Lightspeed's point of sale systems
Whether you run a retail store or a restaurant, you should be using a POS system that does more than simply process transactions. Our cloud-based iPad POS systems are specifically tailored to meet the needs of today's independent retailers and restaurateurs, while keeping the customer experience at the core of its design. Offering features such as a powerful accounting integration, robust inventory management software, detailed reporting dashboards, advanced purchase ordering, integrated payments and eCom, and customer relationship management tools, you'll find everything you need to run a successful business and make your life easier. Whether you're opening your first business or expanding your current one, find out how Lightspeed's retail and hospitality POS solutions can simplify your job while helping you grow your bottom line.
What is a POS or EPOS?
The term "POS" or "EPOS" stands for point of sale or electronic point of sale (commonly used in the UK) which, in general, is defined by any location where a sale or transaction may take place. By this definition, you could easily associate it with a market, a mall or even a city since these are all places where products or services can be bought or sold. Traditionally, POS refers to the area surrounding the cashier or counter where payment is accepted during checkout. The term point of purchase is another way to put it.

A POS System refers to the combination of software and hardware that retailers and restaurants use to conduct sales and manage inventory, employees, reporting, and analytics. It saves store owners, bookkeepers and sales staff time by taking care of repetitive tasks and automating manual processes. Typically, a POS system consists of a computer or mobile device, such as an iPad, a receipt printer, a barcode scanner and an EMV-compliant credit card reader. The difference between on-site and cloud-based POS's, is the server. Cloud-based POS systems don't need an on-site server because all your data can be accessed, saved and synced online, wherever you are.
What is a cash register?
Simply put, a cash register manages your transactions. It typically has a compartmental drawer for cash, and it totals, displays, and records the amount of each sale. It is important to note that technically, cash registers only transact with cash. If a business wishes to offer the option to pay debit or credit to its patrons, they then need to integrate a separate piece of hardware. On the other hand, a POS system not only comes with all these payment methods to begin with, but also tracks gift cards, split bills and split payments.
What is the difference between a POS and a cash register?
Your cash counter can be so much more than just a place where you keep...well, cash. Upgrading to a POS system turns that counter into the hub of your business. Manage your inventory, track customer preferences, manage loyalty programs, create personalized customer experiences, track employee performance, run the reports you need to guide your business decisions and so much more.

Need to head out for a meeting? Grab your tablet, phone or laptop and access all your data at the touch of a button with your mPOS (mobile point of sale). Try doing that with a cash register.
What is POS software?
POS software is the brain of your system; it's your command center. Essentially, the software is what enables you and your staff to ring up sales, manage your inventory, access reports and so much more. Watch a demo
What is POS hardware?
POS hardware are the physical objects you use to download the software onto and/or the add-ons that give you full access to what the POS software can offer your business; this could be the desktop computer, iPad, receipt printers, cash drawers or even bar code scanners, should your business require it. When shopping for your new POS system, make sure it comes with all the necessary hardware you need to accept all forms of payment including cash, credit cards (especially chip cards or even paypass), and mobile payments. Start your free trial
When do you need a POS system?
When you start wanting to be able to do more than simply ring up sales, that is when you know you're ready to upgrade your cash register to a cloud-based POS system. We think, and you'll agree, you can never have too much data or insight into your your business as these are essential to your decision making. Any business, big or small (or even tiny), will benefit from a good POS system. In fact, small businesses can benefit from it simply by appearing much more legitimate. That extra boost is vital, especially when you're just starting out. Talk to an expert
---
Best POS system for retail
A single cloud-based POS solution is all you need to enhance the shopping experience you provide your customers. No matter how many locations you operate, our easy-to-use retail POS system provides retailers with a robust set of business management tools that help both managers and staff work more efficiently, increase customer satisfaction and boost sales.

Easily add products to inventory and track them from the vendor's warehouse to your sales floor. Save time while going the extra mile for customers using over 3,000 integrated catalogues to satisfy special requests, maintain inventory levels and manage transfers. Empower your employees with the knowledge they need to sell by arming them with an iPad point of sale. They can quickly look up product details and inventory levels, and take payments anywhere in your store, speeding up the checkout process.

Looking to boost loyalty and build stronger ties with your customers? Our suite of customer relationship management tools provide you with the intel you need to offer first-class service. As for business performance, our easy-to-read dashboards generate the detailed reports you need to track trends, manage employee performance and align purchasing decisions with customer demand.

Join the hundreds of businesses that make the switch to Lightspeed everyday!
---
Best POS system for bike
If you own a bike shop, you're in luck. You've just stumbled upon the #1 POS system for your industry. In fact, more than half of bike shops in all of Canada use Lightspeed. Why? Because our system is tailored to integrate seamlessly to your business.

You can select from over 200 vendors, including some of the world's biggest like QBP and Giant & Hawley. Effortlessly order products, create special orders or work orders with the click of a button. Track progress to better manage your workload and keep your customers informed. Lightspeed offers a wide range for retailers to choose from through our integrated catalogs.

We understand that bikes don't come in one piece. Our POS system efficiently manages all of your serial numbers and makes it easier to track sales and warranties for all those extra pieces.

Get the POS system all bike shops are raving about!

---
Best POS system for bars and restaurants
A restaurant POS accelerates and improves the entire ordering process for servers and guests. Whether using the POS to take orders tableside and send the order directly to the kitchen or bar, creating a self-order station where guests can place their own order, or using it to ring through orders at a counter, a POS makes running a restaurant business more efficient.

From the front to back-of-house, your staff needs to be able to provide patrons with an unforgettable experience — from the moment they walk in, to the moment they pay their bill. The right technology can help you and your staff; refining your internal processes and ensuring customer expectations are always met.

Create a mouth-watering menu complete with high-res pictures. Accommodate any group by rearranging your floor plan on the fly. Increase table turnover, eliminate order errors and boost both satisfaction and profits. Gain control of your stock and ensure your most popular menu items never run out with reliable inventory tracking. We've tailored our hospitality POS software to fit a multitude of different restaurant models. Whether you're on the lookout for a restaurant, bar, cafe or fast food iPad POS system, our feature-packed product is an affordable solution that's both simple to setup and easy to use.

Join the hundreds of businesses that make the switch to Lightspeed everyday!

Benefits of using a POS system for credit card processing
Taking credit card payments on a standard payment processor does the trick, but by now you know that conventional methods don't typically do much to improve and grow your business. A POS transaction not only collects payments but also tracks and records the data for every transaction and reflects it in your inventory, reports and customer profiles. Of course, a PIN number or signature is still required, giving you and your customers the banking security you expect, and the convenience they need.
---
Free Trial
Try our product for free — and see how it can change your business