Lightspeed Restaurant POS hardware
Made for the greasy hands and high pressure of peak hours, our hardware is exactly what your restaurant needs to steal the show.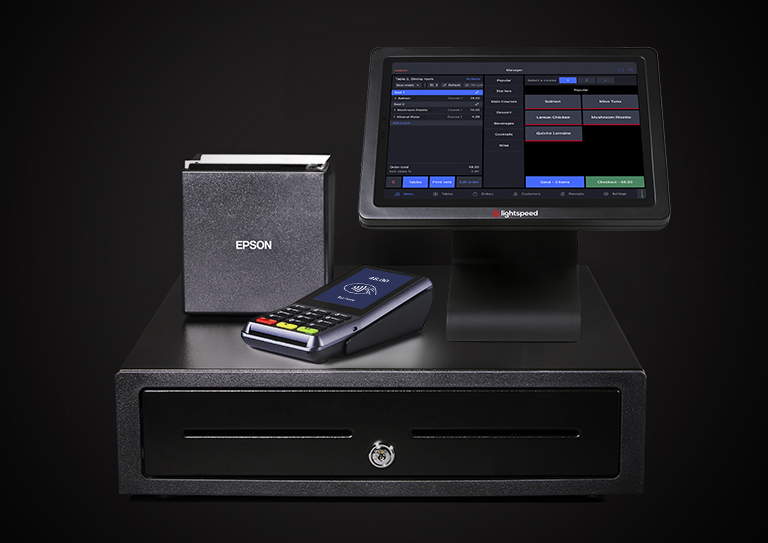 iPad hardware kit
Master any style of service with hardware built to keep you out of the weeds.
Receipt printer
Cash drawer
Lightspeed iPad stand
Kitchen printer
* * iPad and payment terminal not included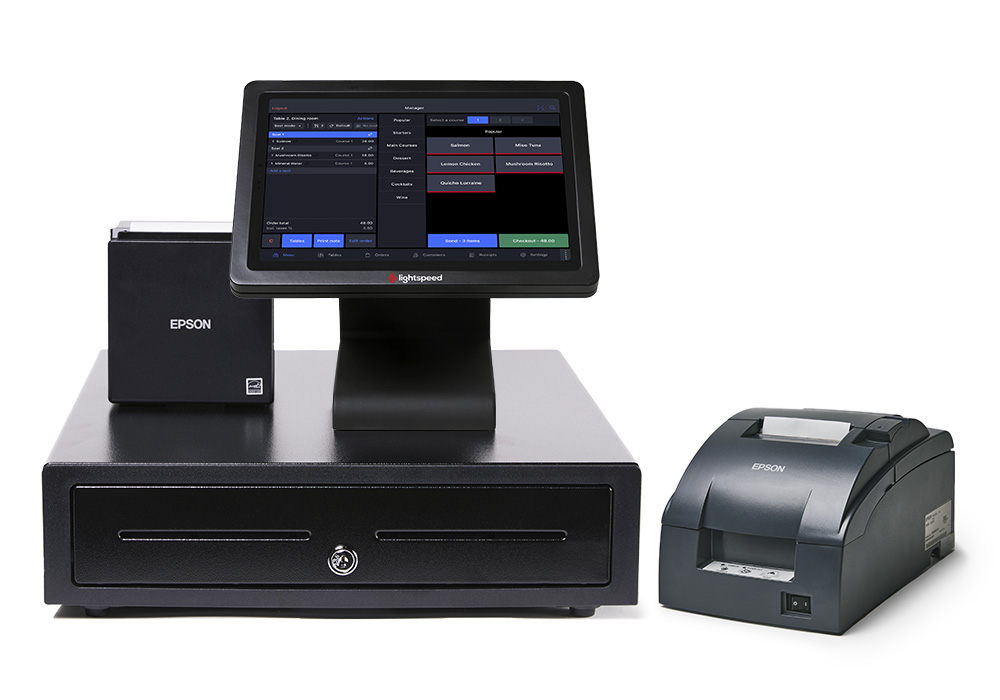 Customize your bundle with the options below. All of our payment terminals are fully PCI compliant.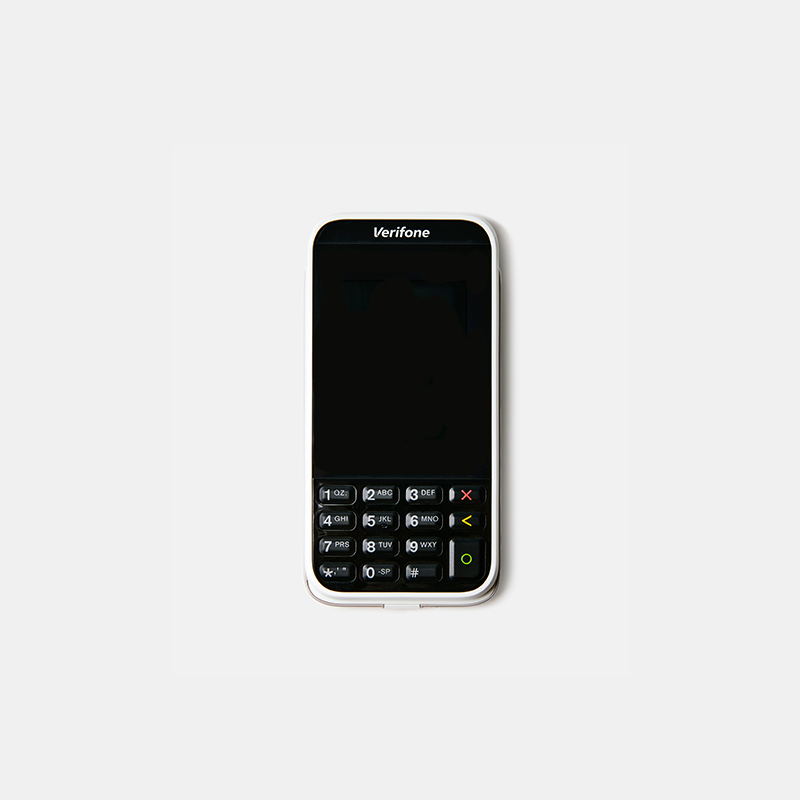 Verifone e285
Take payments from anywhere in your restaurant. Featuring a compact and versatile touch screen supporting tip entry and signature capture.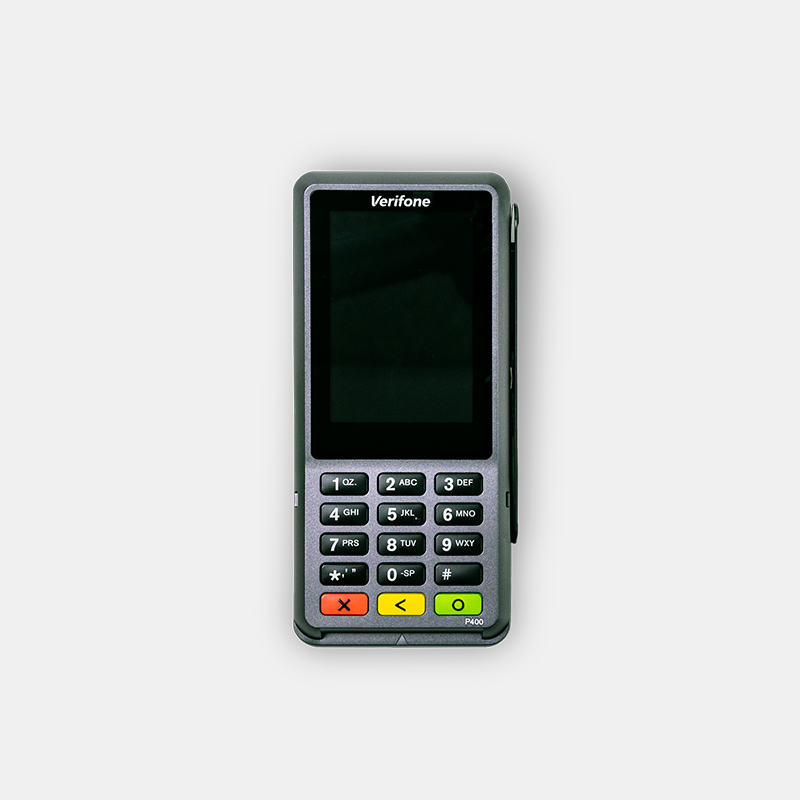 Verifone P400
Your trusty sidekick. Take payments faster with tap, swipe and dip.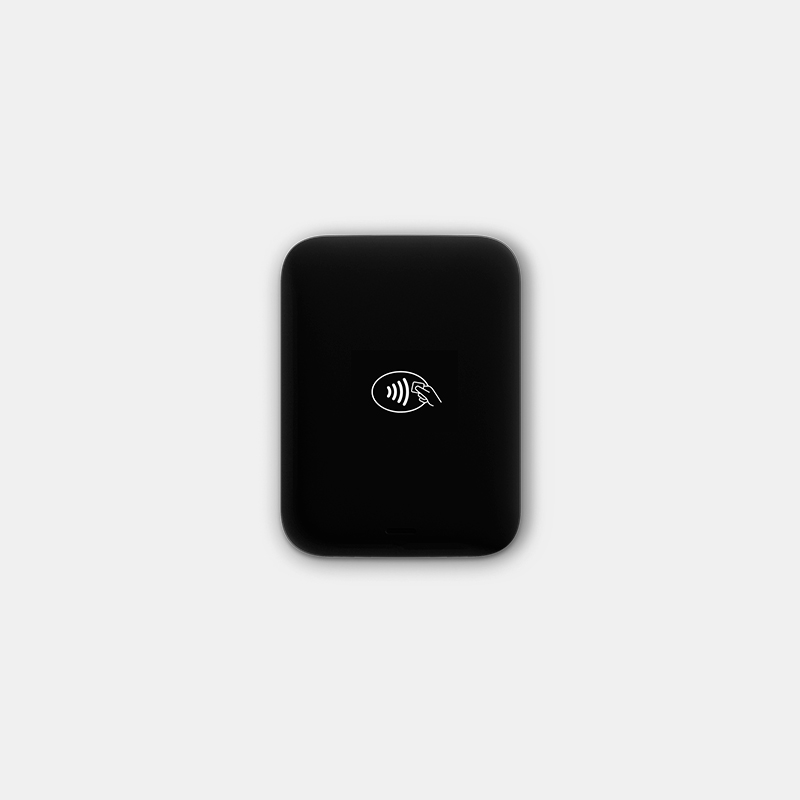 Mobile Tap
Take more payments, from anywhere in your restaurant. Turn your iPhone or iPad into a powerful, portable and affordable payment and POS terminal with the Mobile Tap. Available in the U.S. only.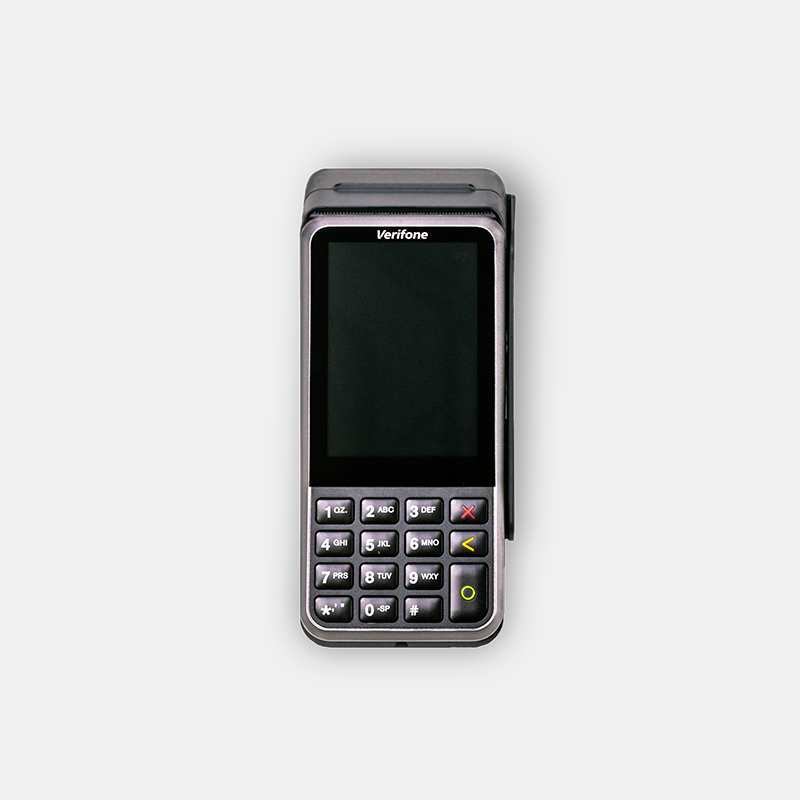 Verifone 400m
For your floor or on the go, take payments and print receipts with this LTE-enabled mobile payment terminal.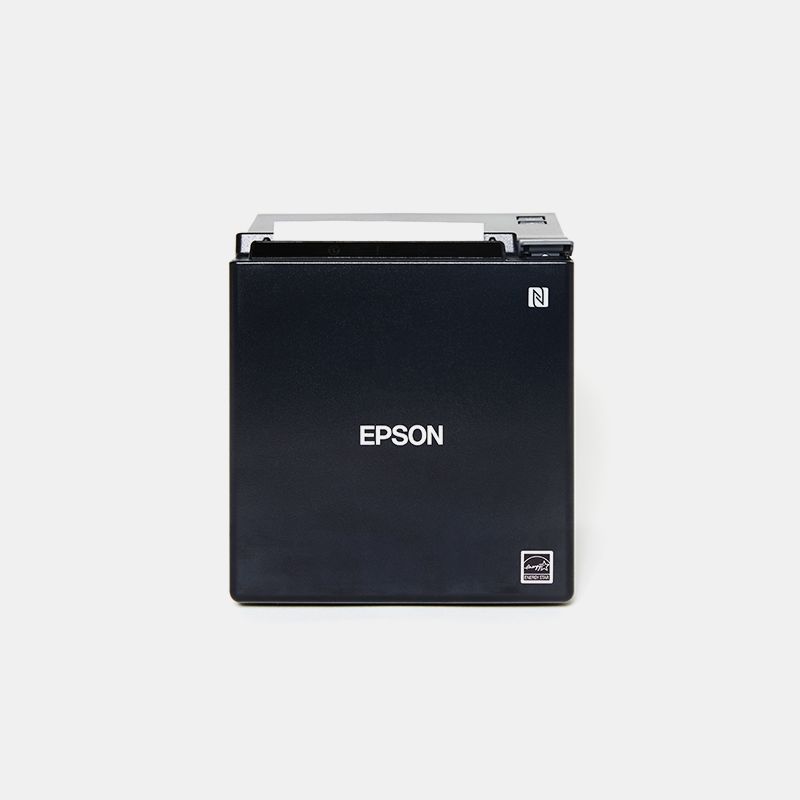 Epson TM-M30II-NT Receipt Printer
Print customer receipts without the hassle. Simple and compact with versatile connectivity.
Epson TM-T88V Thermal receipt printer
Print at 300mm/sec to keep up with the demands of a fast-paced work environment with the Epson TM-T88V thermal receipt printer.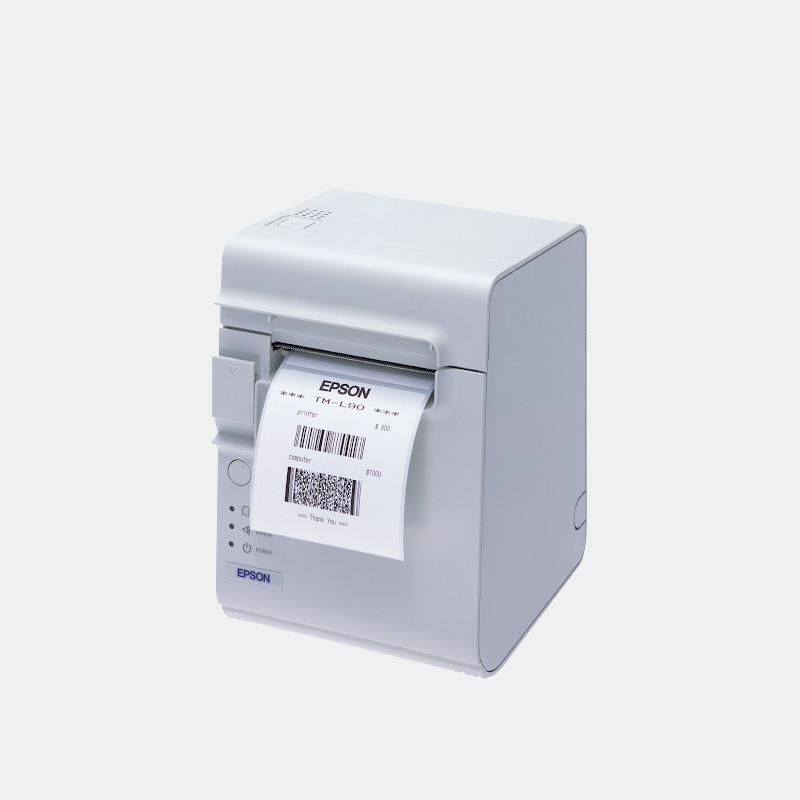 Epson TM-L90II LFC Thermal label printer
This versatile, liner-free Epson TM-L90II LFC printer comes with a label sensor, back-feed functionality and up to 47% usage reduction.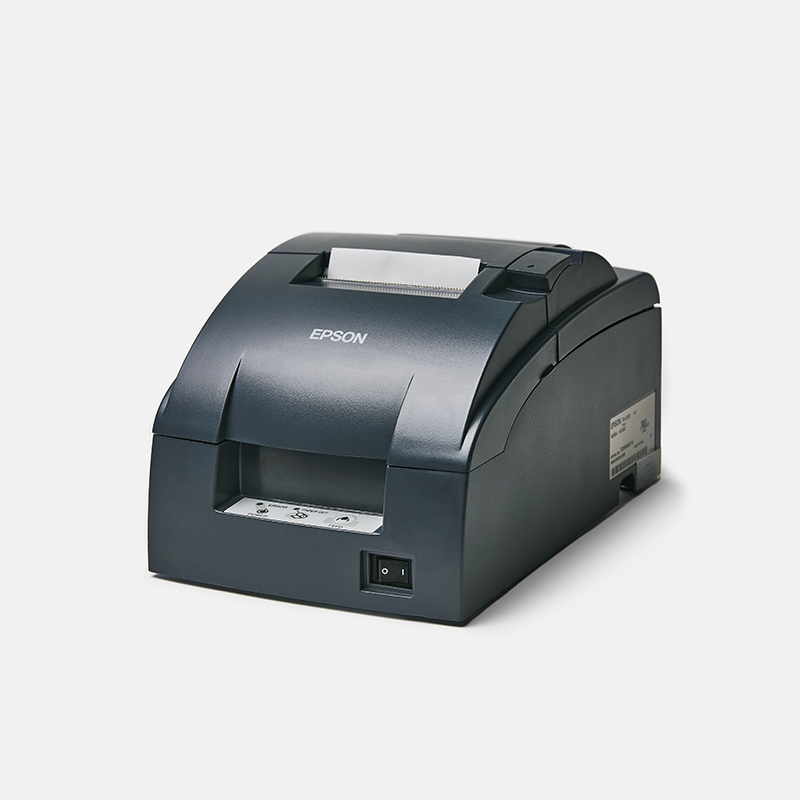 Epson TM-U220B LAN Kitchen Printer
Specifically designed for fast-paced and humid kitchen environments, Epson TM-U220B LAN Kitchen Printer prints at high speed and is resistant to heat and grease.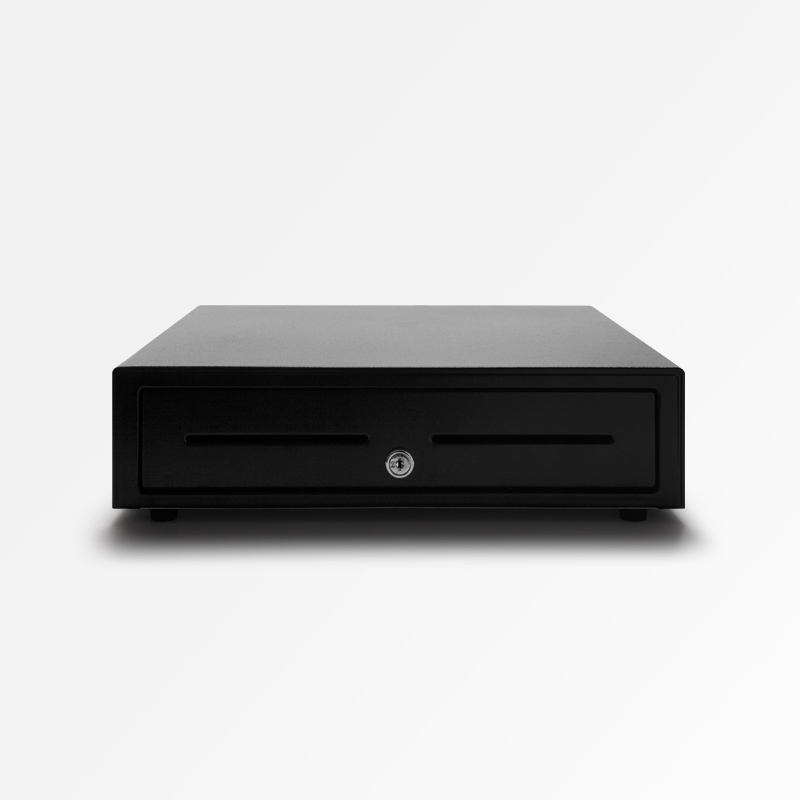 Cash Drawer
Save time making change with a cash drawer featuring a sleek design, built-in till, and enhanced security locks.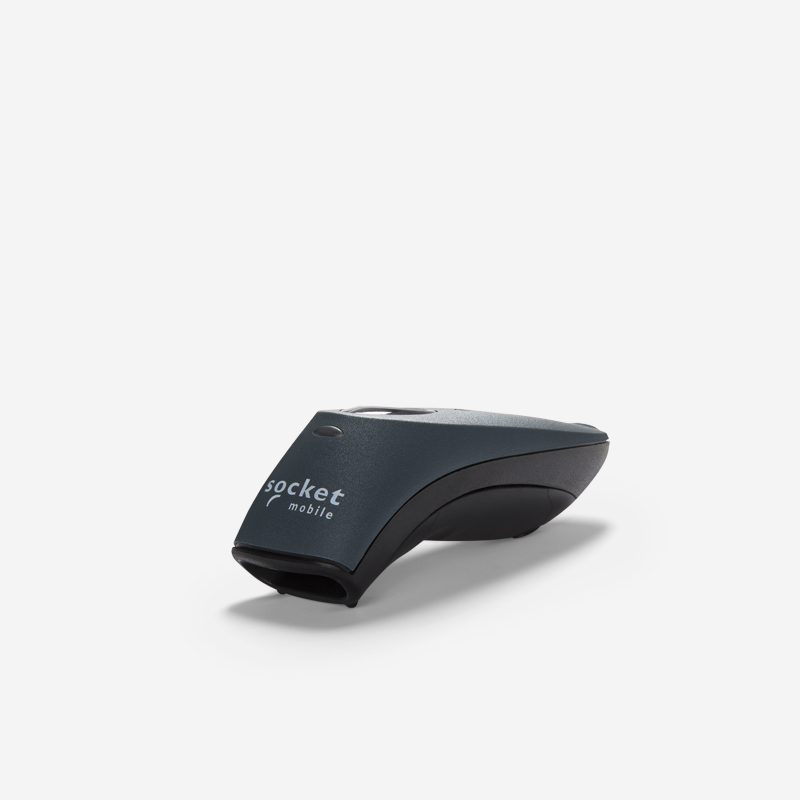 Barcode Scanner
Perfect for grab-and-go orders. Get low-cost 1D wireless barcode scanning without sacrificing performance.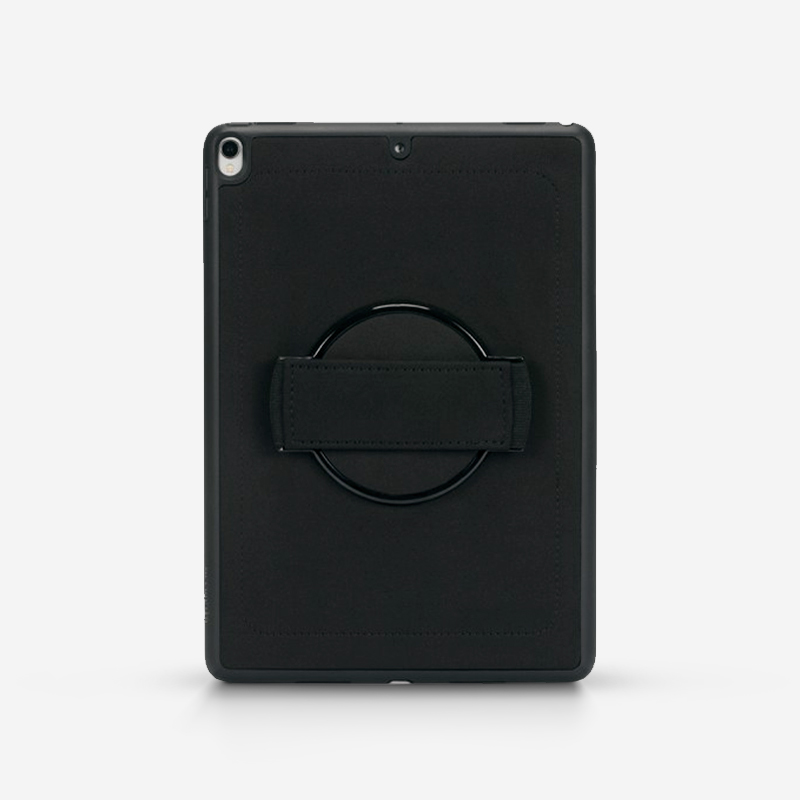 iPad Mobile Case
Protect your gear from the daily spills and falls with this iPad case designed for restaurant staff.
Lightspeed iPad Stand by Vault
Mount your iPad hardware securely with our restaurant-grade iPad stand.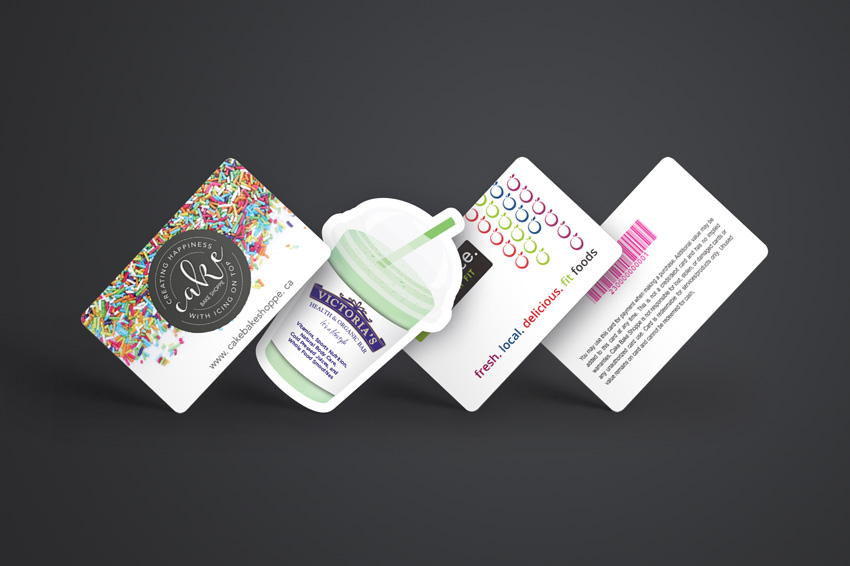 Looking for branded gift cards?
Design your own and get them shipped straight to your door.
What hardware do I need for a POS?

Every restaurant is different and should be set up to match the layout. A full hardware setup includes an iPad, an iPad stand, printers (receipt or kitchen), a payment terminal and a cash drawer, plus any additional pieces you need.
Can I use my existing hardware with Lightspeed Restaurant POS?

In some cases you might be able to use your existing hardware with Lightspeed. Chat with one of our experts to check on compatibility and support regarding your existing hardware.
Can I mix and match different hardware brands?

Of course! Certain brands are industry leaders in a particular piece of hardware, and Lightspeed works with major partners like Epson.
Are Lightspeed's terminals and accessories durable?

Restaurant hardware needs to be able to handle the hustle and bustle of a kitchen—our hardware can take the heat. Plus, after you've bought any of our hardware, Lightspeed offers technical support about setup or functionability to all customers.
Will Lightspeed provide support for my hardware-related questions?

Absolutely. Our technical support representatives are available 24/7 to answer questions about our supported hardware.
Can I use the same hardware for both my bar or restaurant and my retail store?

Some devices yes, other devices will depend on your workflows. Kitchen printers are recommended for restaurants as they operate under extreme heat and print kitchen tickets instead of customer receipts. Talk to one of our representatives today and see if your current hardware is compatible.