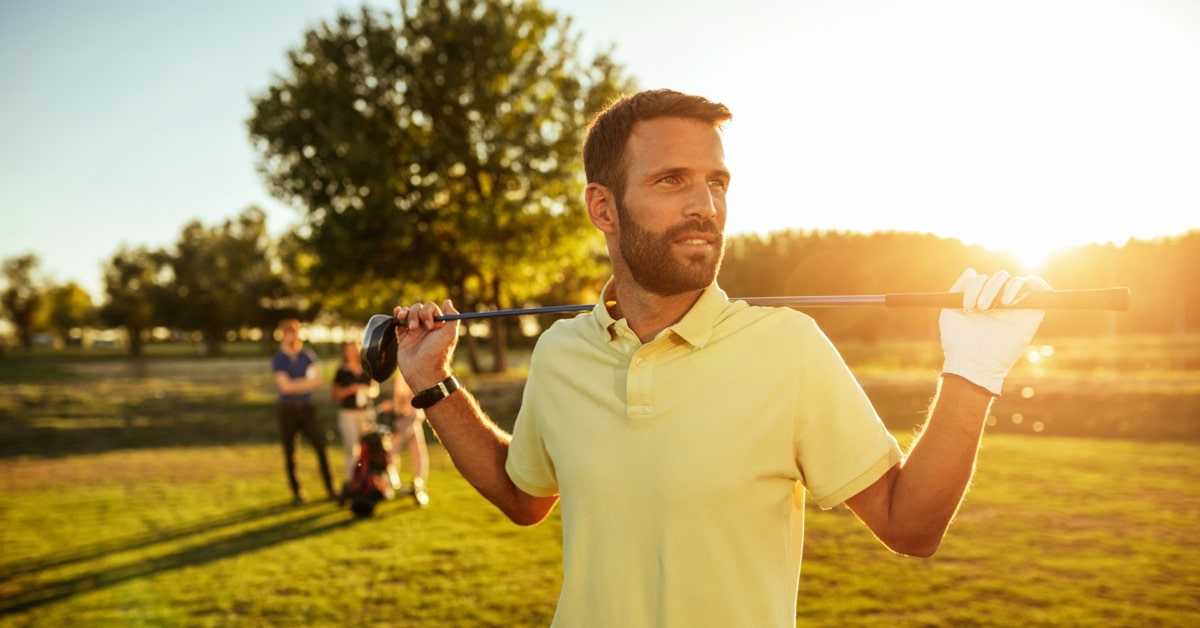 This Father's Day, thousands of families will be eagerly looking to treat their dads. Fathers and golf go together like alcohol and triple bogeys—no wonder it's one of the busiest days of the seasons at facilities around the world.
Not only is this a great way for families to form lifelong memories with the world's #1 Dad it's also a great way to promote everything your golf course has to offer. It's a can't-miss holiday, 77% of Americans are planning to celebrate it in some fashion, and the average person will spend $133.
With a few clever ideas and the help of innovative tools, you'll be sure to make the most of your packed Tee Sheet.
Market your golf course promotions
Implementing a well-thought-out promotional campaign is crucial to make your golf course a hot destination this Father's Day. One of the simplest ways you can get more people to spend their day at your golf course is through marketing. No matter what type of promotion you'll be running, make sure your golfers are aware and that your offerings are appealing to them. While social media and email marketing are two of the best promotional channels to use for Father's Day, sending a general email and publishing a single post on Facebook just won't cut it.
As a manager, email marketing provides by far the highest ROI of any method in your marketing toolbox. People are inundated with interruptions, pitches, and advertisements everywhere they look. That's why we need to create a Father's Day email campaign that stands out. By leveraging modern email marketing systems, you can easily send targeted emails to segmented email lists. Studies show that utilizing segmented customer lists increases email revenues by 760%. Personalized subject lines are also very powerful and can help you get 50% more people to open your emails and view your promotions.
This Father's Day, instead of sending the same promotion to your entire contact base, sit down with your team and figure out the best way to attract different golfer types, age groups, spending habits, and more. Members who already have green fees paid for could be targeted with an email promotion focused on discounts on hard goods such as items from your pro shop or restaurant.
Another great way to get people on the golf course for Father's Day is by including promo codes in your targeted mailouts. Customers can use them when booking online to apply discounts to rounds of golf, cart rentals, pro shop items, etc.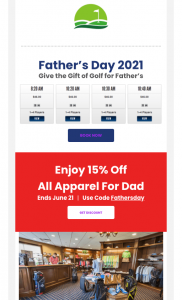 Social media is also a great way to get the word out about your Father's Day deals. The bonus of social media is the ability to spread the word beyond your customer base and running contests that will drive awareness to your club. Take advantage of your golfers' network by having them share and tag their friends on your posts. This will help exponentially grow your outreach and attract golfers who aren't necessarily familiar with your club. Make sure you plan a series of thought-out posts that will shine the best light possible on your facility.
The perfect gift is in your pro shop
The world of golf equipment is not the most straightforward one. Unless your dad or husband has been eyeing the latest TaylorMade and won't stop talking about it, even the head golf pro might not know what's right for him, and nobody wants to give a gift that won't be enjoyed.
Gift cards are the perfect promotion ideas to ensure that dad loves his father's day present. In fact, they account for the third most popular category of Father's Day gifts. Don't miss out on the thousands of gift cards that will be purchased in the weeks leading up to the holiday. By ensuring that your golf course offers them, you can capitalize on non-golf-savvy family members who want to treat their dad to the perfect gift.
Pair this with a sale at the pro shop, and you have a recipe for success. Americans will spend almost a billion dollars on sporting goods this Father's Day, and way more on clothing, including golf wearables. Remind your audience that the pro shop is the best place to get great golf gifts, gear, and advice! We recommend sharing your best gift ideas to showcase the most popular and newest golf gear available at the pro shop. You could include a link to this in your Father's Day promotional email and social posts.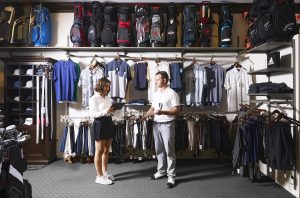 Getting the word out online about your must-haves is one of the best ways to generate interest. Over one-third of people will shop for their Father's Day gift online, with young people being the majority in this category. Google Searches for "Golf" hit their highest point the week right before Father's Day, so make sure you're using quality eCommerce software to be seen in the search results. Modern eCommerce systems also allow you to sell gift cards and packages online directly to your consumer, and unlike physical goods, you don't need to worry about shipping.
Make it fun, make it memorable!
For someone who has never played before, golf is a bit intimidating to pick up. Father's Day is the perfect time to get new players into the sport, whether it's dads looking to introduce their kid, kids looking to introduce their dad, or a family looking to try a new sport altogether.
Make it an event! Aside from a killer promotional campaign, you could host a family-oriented day including a tournament for dads to compete in with (or against!) their kids. Offer prizes to win, especially ones that appeal to new golfers, like a family golf lesson. Cap off the event with a BBQ complete with live music to cap off the day once the sun sets.
Nowadays, a lot of golfers, especially in the younger crowd, value the course and the culture in the clubhouse. A wide variety of food and drink options, as well as a more casual atmosphere, will go a long way with millennial golfers. It'll prove to them that your course isn't only for khaki-clad executives—it's open for golfers of all ages and backgrounds.
The idea, at its core, is to show that a golf course is a place for people of all ages, skill levels, and backgrounds to practice an amazing sport surrounded by great people. Father's Day is your opportunity to create lifelong memories and cement your golf course as the place to spend quality time with dad.
What about my clubhouse restaurant and snack bar?
We've spoken a lot about tee times, pro shop gear, and events but what about your F&B operation? With so many players on your course, you're sure to get a lot of demand. Golfers want to treat themselves on this special day, and the best way to that than by getting a delicious meal accompanied by a refreshing drink. Take advantage of this opportunity and ensure to maximize your revenues by promoting special deals that are sure to catch your hungry golfer's attention.
A great way to promote food and beverage deals is through SMS marketing—on average marketing text messages get a 90% open rate. What better way to get golfers to buy from your clubhouse restaurant and snack bar than reaching out to them when hunger strikes on the course. With modern systems, you can easily schedule promotions in advance and have them sent to golfers whenever you see fit.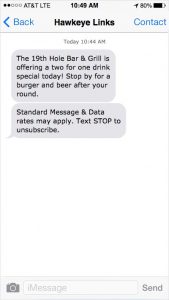 However, when attempting to create such high demand, you need to be careful not to harm the pace of play. Your golf course is going to be packed with golfers looking to enjoy their day with family and friends. Make sure you don't harm their customer experience by letting golfers preorder no matter where they are on the course. Doing so will spread demand and make sure your kitchen staff doesn't face any unmanageable rushes. With systems such as Lightspeed Order Ahead, you can let golfers order directly from their phones by displaying QR codes across your facility. This will allow you to create a seamless experience by having their food ready for them at the turn of the front 9 or once they finish their round.
Final thoughts
Father's day is one of the best days of the year for the golf industry. Families all across North America are looking to please their dads, so you need to make sure they consider your golf course as an option. Offer sweet discounts through a strong marketing campaign and you'll without a doubt make your golf course a hot destination this Father's Day.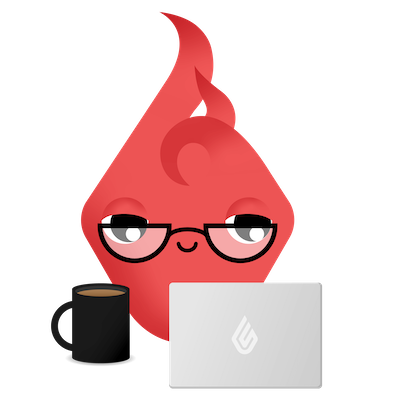 News you care about. Tips you can use.
Everything your business needs to grow, delivered straight to your inbox.