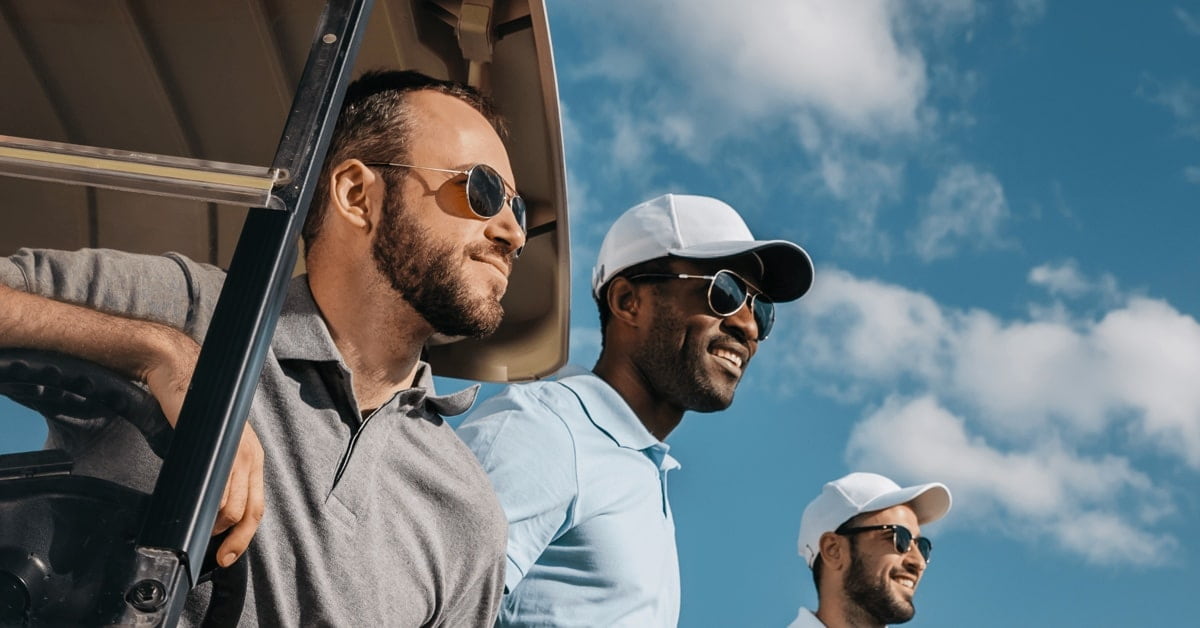 Golf operators are struggling to attract millennial golfers to their courses. This not a new challenge: changes in technology, millennial culture, and the internet have left directors scratching their heads when trying to understand how to target the young marketing golf.
Attracting millennial golfers means looking at your golf operation a little bit differently. To understand what young players want, it comes down to updating technological features, rethinking course culture, and choosing better product offerings. So, what golf marketing actions can you take to get millennials to golf? Here's a helpful breakdown of 12 simple things millennial golfers are looking for when choosing a golf course to play at.
1. A smart mobile application
Millennials want to easily book tee times online through their smart phones. Encourage your golfers to book more rounds by making use of an accessible app that shows their golf history and seamlessly connects them with preferred playing partners. With a mobile app, you also get an incredibly powerful marketing platform that allows you to send push notifications, discount green fees, and promote offers directly to the user's smartphone. Millennials live on their phones so don't sleep on the opportunity to truly engage your younger clients where they're most comfortable.
2. Automatic mobile check-in
Let's take the mobile app concept one step further with curb side mobile check-in. This feature allows a golfer to check in from the parking lot upon arrival, walk on the course and tee off without speaking to even one employee.
This is an opportunity to cut frontline staff costs, but it also effectively addresses how millennial golfers want to experience customer service. It's not that millennials don't like customer service, they simply prefer to receive it when required rather than being forced to deal with a clerk upon arriving at the golf course.
3. Gym style membership subscriptions
Whether it be Netflix, Spotify, or Amazon Prime, Millennials love subscribing to low commitment memberships that charge monthly fees. This trend is growing very quickly amongst young people, and golf courses should consider looking into offering this kind of service. Charging initiation fees and F&B minimums is too much of a barrier for generating new members, instead it's time to considered a tiered membership strategy that includes a monthly subscription option.
Much like gym memberships, golf courses can generate interest from young people by offering a monthly subscription option that is billed automatically, provides a certain level of access to the course, and can be cancelled at any time. Managing these kinds of subscriptions used to be very complicated, but with modern technology tracking, billing, managing, and selling subscriptions is very simple.
4. Self serve POS in the restaurant
While we're talking about the restaurant side of your operation, it's worth pointing out the many benefits of using a self service kiosk. Empowering customers to enter their own orders eliminates the risk of miscommunication with staff, and the kitchen receives more accurate tickets. Streamlining the ordering process will help to cut frontline staff costs, but it will also give servers more time to master the menu and better inform all customers.
It's well known that Millennials like the efficiency of self serve kiosk ordering, one study showed that 96% of 18-34 year olds say that having a self serve kiosk at a restaurant is a benefit. With modern advances in cloud based POS systems, golf operators can now access technology that once was only available to airports and big box retailers.
5. Craft Beer
Here's a quick and easy one: millennials love craft beer! Stocking a few household beer brands just doesn't cut it any more. Offer a better of selection of beers and make sure your staff are connoisseurs of the new options. We're sure that customers will love testing your new selection!
Again, when trying new items at the bar we recommend tracking sales and purchases with a good POS. You should make sure that the new beers you are introducing are actually selling, so make sure you track every possible data point.
6. Offer a member for day program
Many private clubs are seeing membership levels decline. As their core demographics are age, they aren't seeing the same interest in their younger audiences. The problem is that private clubs are private for a reason, the exclusivity and premium level of service is what their brands are built upon. To rebuild interest in purchasing a membership, private clubs need to find ways to welcome young, non members, into their community. One way to do this is to offer member for a day passes.
Some private clubs are beginning to sell these kinds of packages. Typically member for a day packages are sold on days where the tee sheet is not very full, and the course could benefit from additional revenue. Modern technology makes selling these packages quickly online very easy and have helped private clubs generate new interest in joining their membership with young people.
7. Ditch the formal attire
Stuffy, outdated dress codes imposed by many courses will only continue to put off millennial golfers. Millennials are all about self expression and when you limit them, you risk alienating them. Moreover, golf fashion has evolved! It's ok to ditch the "no slacks, no play" mentality – Air Jordan golf shoes are worn by multiple PGA Tour players, so you can loosen restrictions, too.
Of course, your older members can continue to dress in the manner to which they are accustomed, but the younger generation should be allowed to feel comfortable at the course. Adopting a fresh policy on golf attire will also allow you to stock your pro shop with new threads from the game's growing brands, building your credibility (and sales numbers) amongst your millennial clientele!
8. Let your golfers play music on the course
Sharing music with your friends is fun, and young people do this all the time through Spotify and Apple Music. With music streaming so prevalent these days, it's not a bad idea to allow clients to play music (at a reasonable volume) on the course!
Not only will it help your players create memorable experiences, but it can be used as a marketing opportunity – your course could be the first to have an official Spotify playlist, perfectly curated for the links!
9. Stop selling only 9 and 18 hole rounds
Millennials have short attention spans, they might not have 4-5 hours to spend golfing on their precious days off. But that doesn't mean they don't like the sport! They would just prefer to play fewer holes and then head to the bar for a drink. Depending on your hole configuration and relative distance to the clubhouse or halfway house, sell "rounds" in 1, 2, or 3 hole packages! You'll see people coming multiple times a week to play their favourite stretches of the course and to hang out at the lounge, increasing enjoyability and helping your bottom line.
10. Empower millennial golfers to play with their ideal partner
Golf is a game that was designed to be played with friends, young people especially value this. You can encourage more bookings by using software that tells millennial golfers when their ideal playing partners are available to play. When you collect good data and apply simple artificial intelligence software in combination with mobile and online booking, it's suddenly possible to promote optimal tee times through mobile app and email marketing.
11. See your golf course as an interactive experience
Every part of your operation should be designed to create an experience. Ideally, everything at your course should reflect each other in terms of ambience and atmosphere. Golf is a form of entertainment and that's why clients come to your club house! By creating a complete experience you'll leave an important and real memory of what visiting your golf course is like.
One way to increase your course's interactive appeal is to add more entertainment options in the clubhouse. People love using golf simulators at the bar (especially in the off-season), attending events like glow in the dark golf night, and using fun amenities like golf boards. There are several options that can make your facility the go-to choice for fun both on and off the course!
12. Drive online sales by using the Pro Shop as a testing centre
Millennial golfers like trying out products in person but often they are more inclined to buy online. Many courses are losing to internet giants like Amazon or used golf equipment resellers. One way to fight this is to introduce an e-commerce platform for your pro shop. Launching an online retail presence for your pro shop allows younger customers to try out products in person and then, when they're ready, purchase online.
Plus, if you collect good data on your customers you can capture their product and brand preferences. By capturing that data your e-commerce can provide smart, well timed, preference specific advertisements that are much more likely to close a sale. When it comes to competing with online giants like Amazon, quality data will serve as your principal advantage – you will know know your audience far better than they do.
13. Interesting restaurant options
Complete experiences are crucially important for marketing to millennials. An amazing round can be quickly tarnished by a mediocre experience at the restaurant. If your golf course is truly awesome, and we're sure it is, your restaurant better reflect that. Look for ways to test new menu items: hire a chef who understands what millennials desire and look to internet culture to understand what kind of food trends they're talking about.
Once you've tested some new ideas, you'll be able to measure what items were hits and which ones got the thumbs down. To do all this you'll definitely need a good restaurant POS that can track data, link purchases to customer profiles, and provide detailed reporting.
14. Make club house culture more fun
Unfortunately, golf is still seen as an activity for old people; the sport has an air of seriousness which can push younger clients away. We recognize that golf is rooted in tradition, but you can certainly try and freshen up the atmosphere at the club!
Put some real thought into the way your facility presents itself to younger groups, and put yourself in their shoes in order to understand what they might want out of an experience at your course. Look no further than the Waste Management Phoenix Open (and the raucous coliseum atmosphere of the 16th hole) for an example of how catering to the younger sensibilities of millennial golfers can be incredibly profitable.
15. Offer an easier, more accessible version of the game
Golf can be a difficult sport to get into, the game is challenging and has a steep learning curve. Why not make it easier? Young people don't have as much experience as seasoned players, and they need a hand with getting into the game, especially after a few beers.
Consider hosting events with larger holes, or offer the option to play fun golf course related games like frisbee golf, foot golf, or fling golf. These fun options are great for getting young people out on the course to enjoy a more accessible version of golf that serves as the perfect gateway for getting into the game.
16. Personalize your communications strategy
Young people can tell when they are part of an email blast list. Generic messages don't cut through the noise in our over crowded inboxes anymore, to truly target the young marketing golf you need to personalize your communications.
Personalization can be done through a few channels: mobile apps which we already discussed, but also through text message marketing and automated email marketing. These marketing channels open up the ability to send much more timely messages that are much more contextually relevant to the receivers immediate situation.
News you care about. Tips you can use.
Everything your business needs to grow, delivered straight to your inbox.