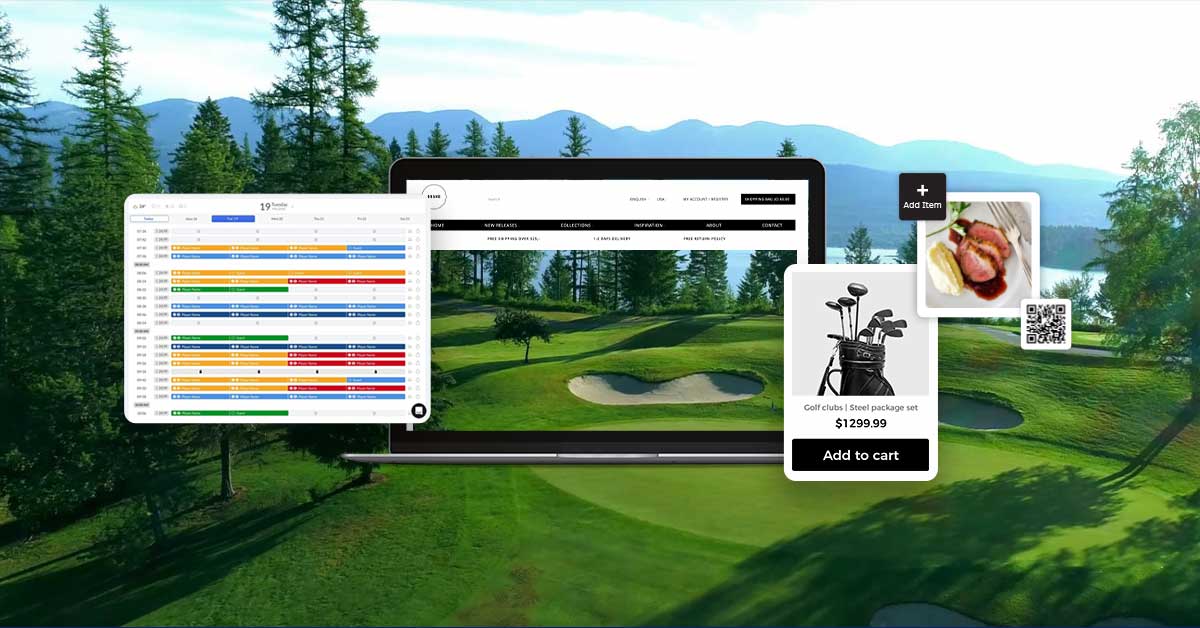 Changing the way you manage and operate your golf course is never an easy task. Implementing modern technology at your facility will not only affect your staff members but your regular customers as well.
New technologies are often daunting for unfamiliar users, but with modern advances in technology, modernizing is not as difficult as it once was. The quicker you realize that short-term inconveniences lead to long-term gains in efficiency, customer experience, and revenues, the quicker you'll be able to stand out from your competitors.
The Golf Course's Software Onboarding Guide
Whether you're switching from a pen and paper system or changing software providers, implementing Lightspeed at your facility is a seamless process.
Why should you embrace a cloud-based management platform?
What is a cloud-based technology?
Many operators have changed the way they manage their golf courses thanks to the emergence of cloud-based technology. In a nutshell, the difference between traditional and cloud platforms is that the latter is web-based; it can be accessed through the internet on any device across the globe. There's no need to install the platform on a physical computer, phone, or tablet.
Switching to a cloud-based club management platform can give you an edge over the competition while simplifying day-to-day operations. Here's how.
Online Booking
With a pen and paper reservation system, golf course managers spend a large amount of their time taking hundreds of phone calls from players looking to schedule, cancel, or reschedule their tee times. If there's one thing we now know, online tee sheet bookings have simplified the golf industry.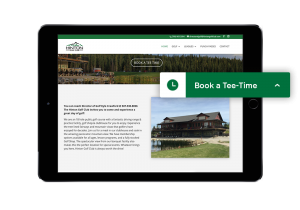 With the advent of the internet, tee time reservation has migrated to the online sphere. This isn't the end for phone reservations, but more golf courses than ever offer tee times through their website or on marketplaces. Having your tee times online means that you spend less time on the phone and more time improving their customer experience.
Operators are often reluctant to impose online bookings on their golfers for fear of how they would react. However, as many facilities that have made the switch can testify, it doesn't take long before players of all ages adapt to the new booking system.
Increase visibility
Having an online presence not only gives you an advantage in attracting younger golfers but also means that you have the possibility of reaching a larger pool of golfers.
Players who don't know about your course or aren't familiar with your operation now have the opportunity of finding your course online and easily book a tee time. Even without creating ads or developing advanced marketing tactics, merely having an online presence will organically bring higher demand to your facility. Your geographical location no longer limits you, players across the country can now discover your facility and what it has to offer.
Improve Flexibility
Things can change quickly at your operation. Golf courses experience demand fluctuations, and mother nature doesn't always cooperate. Sometimes you just need better tools to get the word out about your facility. Cloud-based golf management platforms are flexible enough to allow golf managers to scale up changes to the tee sheet in the blink of an eye.
One of the main questions people have regarding the cloud is: What if my internet goes down? While this may be an issue for certain providers, properly designed cloud-based systems such as Lightspeed can function off cellular reception or even a WiFi hotspot from your phone. This means that your employees can access the platform anywhere on the course which brings us to our next point: boundless access.
Access from anywhere
Being internet-based means that cloud systems are mobile—you're not limited to your clubhouse.
For cloud-based management platform users, this means anytime you leave the grounds and need access to your system; it's there. Want to look at your daily sales from home or the number of bookings you have on any given day? No problem. Going to a tradeshow and want your inventory to come along with you? You got it. A cloud-based system is a mobile system that lets you run your business your way wherever you are.
What should you consider when adopting a modern platform?
Select the right time of year
One of the most critical elements to consider when shopping for a new management solution is timing; depending on where your golf course's location is, certain months are more favorable to make the switch.
It might seem obvious, but making the switch mid-season is rarely the best idea. Learning the new system takes time and practice; you shouldn't have to handle the pressure of a golf course running at full capacity at the same time.
It's also imperative to take into consideration that implementing a new solution is not immediate. You will have to take some time to shop around for a solution, get demos, and make a choice. Even once that's done, you have to go through your onboarding and training, which will take you more than just a few hours—if you want it to be done properly.
Identify Your Needs
To know what to look for in a golf course management solution, you should take a moment and map out your operation's workflows.
Start by determining what features you need to cover your base operations. Then, it's time to be critical and look at things you are not currently doing that would significantly improve your staff and golfers' experiences. You might be surprised at how easily and cheaply you can fix a recurring headache. The last step here would be to think ahead and reflect on what the golf industry will look like in a few years and how you want your golf course to position itself in that new reality.
Listen to your staff
You're not the only one using the solution; your staff members will be using the solution you choose every day—they're the frontline workers of your operation. They're the ones who have direct relations with your golfers and your day-to-day operations.
You're more likely to make the best choice for your everyday operations if you listen to what your staff has to say. Ask them what they would like to have in a management platform–who knows, they might think of a feature that would have never crossed your mind.
Determine your budget
Determining your budget is always a tricky task. If you're coming from a pen and paper system, it might be difficult to benchmark pricing in the industry. To make matters worse, the golf industry has two standard payment practices: cash and barter.
Under the barter method, you obtain the system, and in exchange, you provide some of your tee times to the solution provider, which they can sell themselves on a golf marketplace. This method is very prevalent in today's golf industry, and it is challenging for golf courses to calculate actual costs with this method.
Nevertheless, when looking for a provider, keep a cash amount in mind when attending the demos and then compare the different quotes you've received. Keep in mind that the price is not nearly as important as having a solution that fits your exact needs. Having the right solution will allow you to improve your operations considerably and, in turn, increase revenues.
How to select a provider
If you are considering embracing technology, there are many things to look for in your next solution. Operating your golf course through modern platforms does not necessarily translate into higher efficiency on its own merit—you need to make sure you choose a solution that works for your facility.
Do your research
The first step is to do your research.
Take a good hard look at your operation and get an idea of your needs and wants. What aspects of your operation handle well, and where could the system improve? Ask yourself what you absolutely need in a system, and what the perfect solution would look like for your golf course.
Get a demo
Once you know your needs and wants, book an appointment with a representative. They'll give you an in-depth walkthrough of the product's features and integrations; the goal here is to initially focus on your needs and then explain how the system fulfills your wants.
From your computer screen, you'll be able to watch an expert give you an in-depth tour of the platform without pressuring you into making a purchase decision. This step will provide you with a great idea of just how modern technology can help you and what kind of features you'll need at your course.
Finalize your needs and get a quote
In this step, an expert will help you make the final decision on what features you would like to integrate into your package and what hardware you will need. They'll take care of helping you get everything you need to hit the ground running.
Conclusion
Whether you're switching from a pen and paper system or upgrading from a basic management platform, implementing new technology at your golf course can be daunting. Not only are you changing the way you operate your facility, but you're also facing a lot of uncertainty which can be frightening. However, it's important to remember that once you get a solution that satisfies your needs, whether they are complex or simple, your life as a golf course operator will become much easier.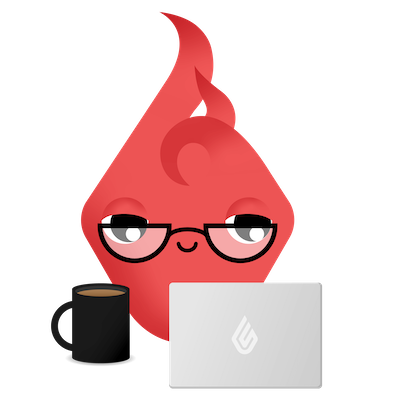 News you care about. Tips you can use.
Everything your business needs to grow, delivered straight to your inbox.