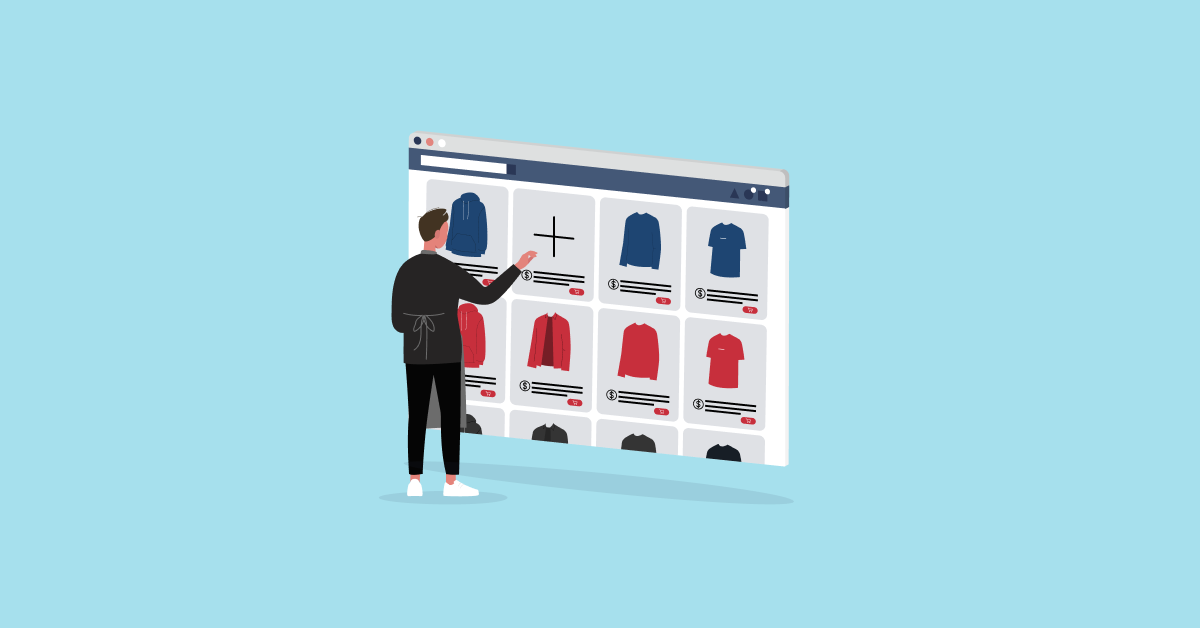 If you run a brick-and-mortar store but haven't explored selling online yet, what are you waiting for? There's no time like the present to make the foray into ecommerce for retailers. If a global pandemic and an impending recession have taught us anything, it's that having multiple revenue streams can help businesses stay afloat—and even thrive—during uncertain times.
In this guide to ecommerce for retailers, you'll learn:
Searching for the right POS system?
Our free guide will help you understand the kind of point-of-sale system you need to run your business efficiently.
Pros of selling online
When you introduce an ecommerce element to your business, you're adding a new revenue stream and making your shop accessible to customers all over the world without much additional effort. You're also making shopping more convenient for customers who expect to be able to purchase products in-store and online.
New revenue stream
By expanding to sell online, you're giving the business new ways to make money beyond in-store purchases. Diversifying where retail sales come from is critical to the longevity of any business. During the lockdown days of the pandemic, for example, stores that also sold online could continue business as usual, while brick-and-mortar-only businesses had to pivot to survive.
Unlimited customer base
When you sell online, you're not limiting your business to local customers. Instead, you can reach customers anywhere. Ecommerce for retailers expands your market size, and therefore leads to more sales opportunities.
Easy lift
Unlike starting an ecommerce business from scratch, adding an ecommerce revenue stream to an existing retail business doesn't take a lot of extra effort. With your brand developed and your products sourced and already in stock, all you have to do to sell online is find an ecommerce platform and invest in shipping materials.
Increased demand for online shopping
Pre-2020, ecommerce sales in the US and Canada were $552 billion and $36 billion, respectively. Between 2019 and 2022, ecommerce retail sales grew by 64% in the US and 87% in Canada. In other words, pandemic-induced lockdowns led to a massive increase in demand for online shopping. Even with lockdowns behind us, consumers have become accustomed to the convenience of shopping without leaving the comfort and safety of their homes. By offering ecommerce, your business can meet customers where they are.
Cons of selling online
Consider the challenges of selling online before taking the plunge. You'll encounter competition in the ecommerce space, lose control over certain aspects of the customer experience, and need to put in some work to get your ecommerce channel up and running.
Increased competition
There is a lot of competition in the ecommerce space. As demand for ecommerce shopping has increased, so has the number of online retailers out there. Between 2019 and 2022, the number of online shops in the world almost tripled—growing from 9.2 million to 26.2 million. What this means for your business is that you'll need to invest in marketing to stand out and attract new customers as you enter the ecommerce market.
Less control over the customer experience
Shopping online doesn't give your customers the same experience as shopping in your store. Customizing your website to reflect your brand can only take you so far. And, you have no control over what happens after you drop a package off with a postal service. Even if FedEx loses your package, customers will hold you accountable for rectifying the situation.
Another thing on your to-do list
While adding an ecommerce arm to your business isn't as much of a lift as starting from scratch, launching an online store takes time and requires tasks that you haven't had to do before, such as photographing products and writing product descriptions.
How to sell online as a retailer
Here's an overview of what it takes to add an ecommerce channel to your existing retail business.
1. Make sure your POS supports omnichannel selling
Ensure your point of sale (POS) system supports selling both online and in-store. The right tool will make omnichannel selling seamless. Inventory will update automatically and you'll be able to access data about every aspect of your business. A POS with omnichannel selling capabilities will also let customers order online and pick up in store or browse in-store and finish a purchase online if something is out of stock.
If your current POS doesn't support omnichannel selling, you'll need to find one that does.
2. Find an ecommerce platform that works with your POS
Next, look for an ecommerce platform that integrates with your POS. When your ecommerce platform and POS can share data, you'll be able to understand your business more deeply and run it more easily.
3. Upload inventory to your ecommerce website
Getting inventory up on your ecommerce site is a multistep process. First, you'll need to take photos of all of your products. Don't forget to take close-up shots of details and photos that show products in context.
Then, you'll need to write product descriptions that both describe items in technical detail and help sell them.
Finally, you can upload inventory to your website and publish it.
4. Write shipping and return policies
Find a shipping vendor whose services suit your needs and your customers' needs. Find a postal service that offers multiple shipping speeds and is located close to your store or fulfillment center.
If you decide to accept returns for online orders, decide whether you'll charge fees (a return shipping fee, restocking fee, etc.), and if you'll offer refunds to the original form of payment or as store credit.
Put your shipping and return policies in writing and publish them to your website.
5. Buy packing materials
Stock up on packing materials like boxes, sleeves, labels, a label printer, packing tape, branded inserts, cushioning materials and more. Consider getting custom-branded mailers or stickers to make the online shopping experience more like your in-person shopping experience.
6. Let customers know you sell online
When you're ready to launch your ecommerce website, let existing customers know about it. Make an announcement via store signage, your email list, social media and anywhere else customers keep up with you.
7. Continue marketing
You'll need to continuously market to attract new customers to your ecommerce website. Learn SEO tactics to help your products land on the first page of Google search results pages. Give customers incentives for referring friends. Partner with influencers to spread the word. Host pop-up events. Tell email subscribers to pass your newsletter along to friends. Try various tactics to reach new people.
Considerations for new online merchants
There are a number of things you'll need to think about as an omnichannel retailer that you didn't have to consider as a brick-and-mortar retailer.
Ecommerce platform
The first is setting up your ecommerce platform. You'll need to find one that works with your existing website or start from scratch through an ecommerce partner. Next, you'll need to write product descriptions and take photos of new items to sell them online. Finally, you'll need to set your business up to take payments online. A trusted ecommerce platform makes it easy to accept online payments securely.
Shipping
You'll also need to think about shipping. Consider which postal service you'll use: USPS, UPS, FedEx, etc. Look for one that offers the best service at a decent price. Make sure to get tracking information from carriers so customers will know when to expect shipments.
You'll also need to invest in shipping materials. You may need to experiment with several options before you find packaging that both fits your brand and transports goods safely.
Costs of starting to sell online
Adding an ecommerce revenue stream to your retail business is an investment. Here's a look at what this investment might cost you:
Omnichannel POS

: If your current POS system doesn't support ecommerce, you'll need to find one that does. Lightspeed's omnichannel POS starts at

$119 per month

.

Ecommerce platform

: You'll also need an

ecommerce platform

, a.k.a. a website for selling online. When you license an omnichannel POS, it'll come with ecommerce capabilities built in.

Packing materials

: Stock up on shipping boxes and parcels, cushioning materials, branded inserts and packing tape. You'll get better deals for buying in bulk, so stock up and save. Set aside several hundred dollars for your first batch of packing supplies.

Shipping scale and label printer

: Save yourself from waiting in long lines at the post office by weighing, purchasing and printing shipping labels at your shop or warehouse. Scales typically cost between $30 and $50, while label printers start at $200.

Photography equipment

: Although you can start out taking photos of products with your smartphone, it's a good idea to invest in a DSLR camera eventually. These cost anywhere between $300 to several thousand dollars.

Advertising

: Advertising can help you gain new customers quickly. Budget several hundred to several thousand dollars for

social media ads

. Learn how to do them yourself to save money or hire an experienced freelancer.
Wrapping up: ecommerce for retailers
There's no time like the present to get your store online. When you add an ecommerce revenue stream to your business, you can reach customers all around the world and safeguard your store from uncertainty. By investing in a few key pieces of tech and some shipping supplies, you can get your ecommerce store up and running in a matter of days.
Learn how Lightspeed can support your omnichannel business. Start your free trial today.
News you care about. Tips you can use.
Everything your business needs to grow, delivered straight to your inbox.