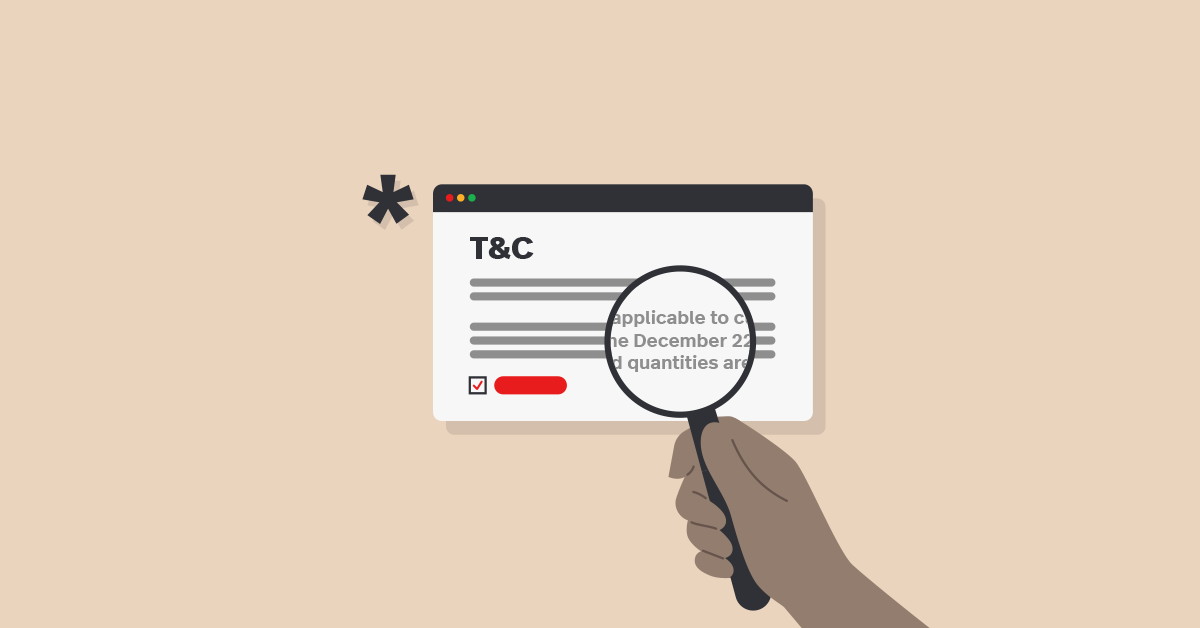 Are you tired of customers who try to return products they've clearly used or broken? Maybe you're frustrated by shoppers who refuse to follow your store's policies?
If so, it might be time to take a look at your retail terms and conditions.
In this blog post, we will share the key elements of retail terms and conditions and offer tips for crafting effective terms that serve your business and your customers. We'll describe:
See what Lightspeed can do for retailers
Discover how we can help you grow your store.
What are terms and conditions?
Terms and conditions explain the rules and regulations that apply to your store and website visitors, software users and customers.
Why retailers need terms and conditions
You need them because consumers and governments have expectations about how businesses should treat customers. As a business owner or senior manager, it's important you make sure those expectations are well communicated and aligned with your own policies and procedures.
"A clear policy about returns, refunds, defective products and shipping rules is a must for just about any business. If you operate on a subscription or service-based model, it's important to include a cancellation policy as well," said Ben Michael, an attorney at Michael & Associates.
What to do before you start
Yes, terms and conditions aren't as interesting as chatting with your customers, securing some great new products or preparing to open a new brick-and-mortar store in a great location. But that doesn't mean you should treat them as an afterthought.
Take the time to get them right. Consider taking the following steps before you create your terms and conditions.
Look at other retailers.

This will help you understand the elements that are included in most terms and conditions. It can also help you identify any areas where you may need to provide additional information or clarification.

Consider customer experience.

The language will need to meet all the legal requirements, but that doesn't mean you can't find ways to present the information in a clear and concise manner. (Here's how we balance the legal stuff in

our T&Cs

).

Ask teams for information.

They may have valuable input or insights that can help you create a document that works for everyone. For example, store staff may be able to tell you the common issues they see with returns or complaints.
Next, save some time by avoiding a common mistake.
Avoid using templates for terms and conditions
Donata Stroink-Skillrud is a corporate and data privacy attorney and the president of Termageddon, a software company that automatically generates website policies and updates them as laws change. Retailers often mistakenly use templates when creating their terms and conditions, said Stroink-Skillrud, and she advises against this.
"Templates frequently exclude ecommerce terms, fail to include consumer protection law requirements, fail to include adequate protections for the business and fail to accurately reflect the business's practices," she said.
"They also require multiple hours of editing," she added. "And retailers often make mistakes when filling out or editing templates that leave them out of compliance, or that fail to adequately protect their business."
Get legal advice for your terms and conditions
Stroink-Skillrud believes it's a good idea for retailers to involve an attorney early on in the process too. "Many retailers do not realize terms and conditions need to be written a certain way to be enforceable. For example, warranty paragraphs should be in all caps and, if there is a class action waiver, that needs to be in all caps too for it to be enforceable," she said.
Lawyers can also help you understand any country-specific consumer laws, around areas like sales tax, data privacy and small claims.
Related: Terms and conditions are only part of it. Learn more about starting online stores.
Ten suggested terms and conditions for retailers
Whether you're selling online or in-person, what should you include in your store's terms and conditions document? Here are 10 areas to get you started:
Terms of sale:

Include details on how customers can place an order. You can detail the process for adding items to a shopping cart, and mention how long these items will remain in the cart, if the customer leaves your site. This can help avoid misunderstandings and make the shopping experience smoother for your customers.

Payment terms:

Provide all the payment methods you accept and be clear about any associated processing fees. List the debit and credit cards you accept here, and mention if you accept any third-party payment methods that require a credit check—such as

buy now, pay later

.

Shipping and delivery:

Here, you

could

include details about how and when orders will be shipped and delivered, the geographic regions you can and can't ship to, and your typical time frames for standard, express or-same day shipping options.

Refunds and returns

: You might explain your

returns and refunds policy

in the same section as your shipping information, Or, you can break it out under a separate heading. Be sure to explain any fees and policies for returns and refunds, especially around sale items. For example, if you're a clothing retailer, you might mention here that you do not permit returns after a specific time period.

Intellectual property (IP):

IP is all about who owns what, and who else is permitted to use it

.

This can cover most of

your website

, including text, images, video, audio and any other content you own or have a license to use.

Information accuracy:

You could also include a section with a disclaimer about the accuracy of the information on your website—such as product descriptions, offers, and standard and sale pricing. This may help protect your business if there is a dispute over product information.

External links:

If your website includes links to external websites, your T&Cs should include a statement that your business is not responsible for the content of these external websites. This can help protect your business from potential legal disputes.

Disclaimer of liability:

Some retailers also include a disclaimer mentioning they are not responsible for any losses or damages incurred by customers as a result of using their website or purchasing their products.

Loyalty programs and promotions:

Loyalty programs and promotions may come with their own set of terms and conditions. Your T&Cs should outline the terms and conditions for these programs and promotions. This can help avoid misunderstandings and ensure that customers are aware of the rules and restrictions that apply.

Terms of use: Your T&Cs should include a statement outlining the rules for using your website, such as prohibited activities and limitations of use. This can help protect your business from potential legal liability.
Doing business on your terms
By having a well-written set of terms and conditions, you can avoid many potential customer service issues.
This is especially true in the case of ecommerce, where a potential customer could be anyone from anywhere, said Michael. "Establishing clear terms and conditions governing purchases from your online storefront is essential to avoid legal conflicts, bad reviews, scams and generally dissatisfied customers."
In other words, when customers know what to expect from your store policies, they are more likely to be satisfied shoppers who will return in the future.
Looking for an ecommerce platform for your business? Talk to an expert today to see if Lightspeed is right for you.
News you care about. Tips you can use.
Everything your business needs to grow, delivered straight to your inbox.