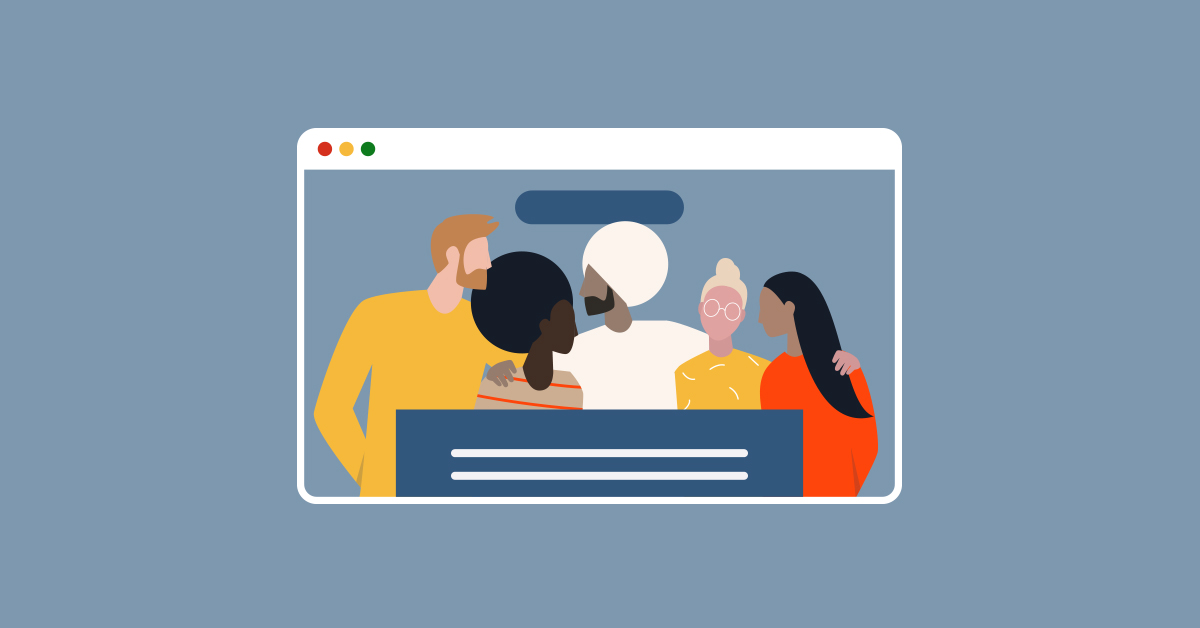 With millions of ecommerce websites on the internet, it can be difficult for online retailers to stand out. An "About Us" page can help by adding a personal touch and making it easier for shoppers to connect with your story and brand.
So, what should you include in this critical webpage? In this guide on how to write an "About Us" page, you'll learn:
What an "About Us" page is

Why you need an "About Us" page for your online store

How to write an "About Us" page

What customers look for on an "About Us" page

Examples of strong "About Us" pages
Get your free guide to launch a thriving online store
Use this easy-to-follow resource for planning, starting and running a successful ecommerce business.
What is an "About Us" page?
In an ecommerce context, an "About Us" page is a page on your website that gives customers information about your business. This page usually includes things like a background on how the business got started and why, what it's known for, who is involved and anything that makes it stand out.
Your ecommerce website builder should make it easy to add an "About Us" page to your site.
Why do you need an "About Us" page for your online store?
If a customer lands on your website for the first time and has never heard of your shop, your "About Us" page can orient them. It explains who you are, what your business does and what it stands for.
When you tell your brand's story on your "About Us" page, you make your business more memorable and relatable. Your story helps you connect with customers and stand out, especially when you're competing with so many faceless dropshipping companies. Sharing your mission and roots humanizes your business.
An "About Us" page can also help you attract investors. By highlighting your business's successes and explaining who is involved and their backgrounds, you're providing valuable information investors may be interested in.
How to write an "About Us" page
If you're trying to find the formula for how to write an "About Us" page, look no further. Here's what you should include.
About the company
First things first, provide an overview of the business. Briefly describe what it does, what it sells, why it sells these things and where it's based.
Origin story
After an overview, go in depth into the company's story. How did you get started? Why did you start the company? What inspired you?
Did you start the business in your mom's basement with just $5 to your name and grow it into a recognizable brand? Share your story to make your online shop memorable.
People in the company
Humanize your ecommerce website by putting a face (or faces) to the business's name. Explain who started the company, who is involved now, and provide bios. Add photos of yourself and the team to help customers see that there are real people behind the business.
Biggest selling points of the brand
Share your company's unique value proposition. What makes you different? What are you known for? Did you create the first collapsible water bottle? Did you go viral on TikTok? Share what you're good at.
Mission
Does your business have a mission? Do you donate part of your profits to charity? Let customers know! Supporting a mission makes them feel good and spend more. According to Inc. Magazine, 71% of consumers spend more money when supporting a cause.
What do customers look for on an "About Us" page?
If a customer is unfamiliar with your products or brand, they may visit your "About Us" page simply to get oriented or learn more about the business. With a compelling story, this often leads to creating a connection that resonates with customers.
Most importantly, however, people read an "About Us" page to check a company's credibility and gauge how safe it is to place an order. Even with secure payment solutions, consumers can still be wary of sharing payment information with businesses they've never heard of.
Customers also want to know why they should buy something from your business when they can get something similar elsewhere, and maybe even for less money. By putting a face to the name and sharing your company's expertise, you can sway customers away from major online retailers and towards your small business.
Examples of strong "About Us" pages
If you have writer's block or need some inspiration before attempting to write your own "About Us" page, check out these strong examples from real businesses.
The Herbivore Clothing Company
We don't need to tell you what the Herbivore Clothing Company is all about, because they do a great job of explaining it on their "About" page. We're highlighting some of the best parts of this page and explaining why they're effective.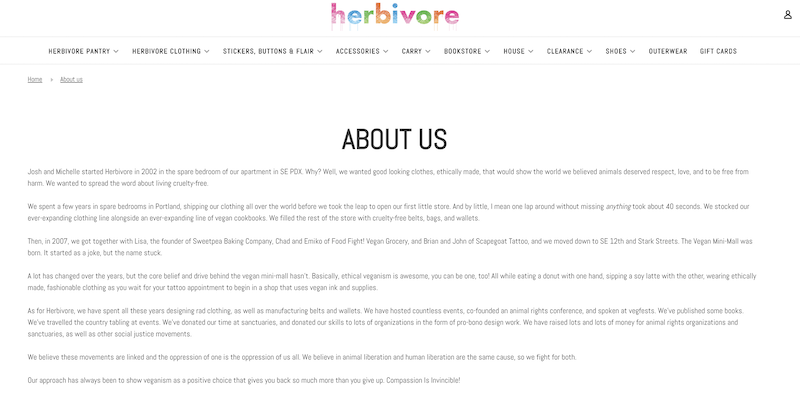 "Josh and Michelle started Herbivore in 2002 in the spare bedroom of our apartment in SE PDX. Why? Well, we wanted good looking clothes, ethically made, that would show the world we believed animals deserved respect, love, and to be free from harm. We wanted to spread the word about living cruelty-free."
The company overview does a fantastic job of quickly explaining who is involved, when and how the business began and why it exists.
"We spent a few years in spare bedrooms in Portland, shipping our clothing all over the world before we took the leap to open our first little store. And by little, I mean one lap around without missing anything took about 40 seconds. We stocked our ever-expanding clothing line alongside an ever-expanding line of vegan cookbooks. We filled the rest of the store with cruelty-free belts, bags, and wallets.
Then, in 2007, we got together with Lisa, the founder of Sweetpea Baking Company, Chad and Emiko of Food Fight! Vegan Grocery, and Brian and John of Scapegoat Tattoo, and we moved down to SE 12th and Stark Streets. The Vegan Mini-Mall was born. It started as a joke, but the name stuck."
Everyone loves a success story. Here we learn about Herbivore's humble beginnings and how it quickly transformed.
"We've donated our time at sanctuaries, and donated our skills to lots of organizations in the form of pro-bono design work. We have raised lots and lots of money for animal rights organizations and sanctuaries, as well as other social justice movements.
We believe these movements are linked and the oppression of one is the oppression of us all. We believe in animal liberation and human liberation are the same cause, so we fight for both.
Our approach has always been to show veganism as a positive choice that gives you back so much more than you give up. Compassion Is Invincible!"
The "About Us" page ends with a deeper dive into the brand's mission. This section is both educational and inspirational. To customers visiting the website who don't know it's a vegan-driven company, they'll learn a lot about the lifestyle. And to customers who come here knowingly, this section helps them connect to the brand and its mission.
Hamboards
Sports equipment brand Hamboards has the "About Us" page down to a science. This is what makes it so strong.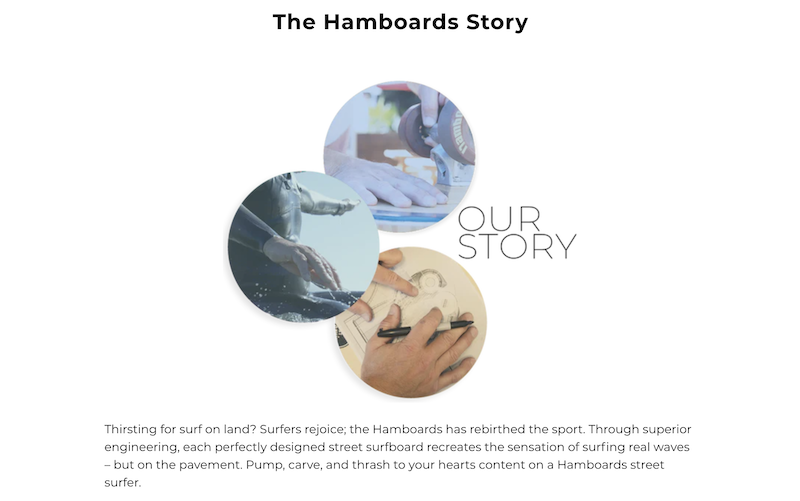 "Thirsting for surf on land? Surfers rejoice; the Hamboards has rebirthed the sport. Through superior engineering, each perfectly designed street surfboard recreates the sensation of surfing real waves – but on the pavement. Pump, carve, and thrash to your hearts content on a Hamboards street surfer."
Hamboards are street boards that stimulate surfing. Because this type of device isn't well known yet, it's important that the "About Us" page begins with a brief explanation of what the product is used for.
Next, we learn about who is involved in Hamboards.
"The Originator: Peter Hamborg
On days when the surf was flat or blown over, Peter Hamborg, a surfing fireman and father to five sons, wanted to teach his boys how to surf with skateboards. Nothing he could buy felt quite right. From 1997 on, he tinkered with components he could find locally and shaped his own decks in the garage, to limited success…
The current Hamboards company was born in 2012 through the hard work of Pete and his cousin Donnie. The brand blew up. Surfers loved how the Hamboard simulated longboarding. Deciding to focus on his growing brood of grandkids, Pete left Hamboards in 2016, entrusting the company in Donnie's capable hands."
Here we connect with the founder's story. The "About Us" page also tells the story of the engineer and surf instructor who are involved in the business, which adds credibility.
"Elite surfer Cory Lopez is a super fan. He attests, 'Hamboards has created the best platform to learn surfing while on land.'"
A testimonial from a professional surfer adds even more credibility, and shows that the brand has a celebrity following.
"Today, Hamboards and its patented HST carving truck stands alone as the only true rail-to-rail surfing simulator. The Hamboard carving trucks are stable when cruising (in neutral) but can instantly make deep gouging (30 degree) carves, with rail-to-rail engagement, so that you can truly trim and turn on a dime."
The page ends with an explanation of what makes Hamboards unique. Investors reading this would be delighted to learn about the patent.
Wrapping up: How to write an "About Us" page
Your ecommerce store's "About Us" page tells your business's story, builds credibility and helps you stand out among the millions of other online businesses.
By including an overview of the company, its origins story, your team, your value proposition and mission, you can write an effective "About Us" page that will make your company memorable.
And, with an ecommerce platform from Lightspeed, you can ensure your business runs smoothly. Watch a demo here.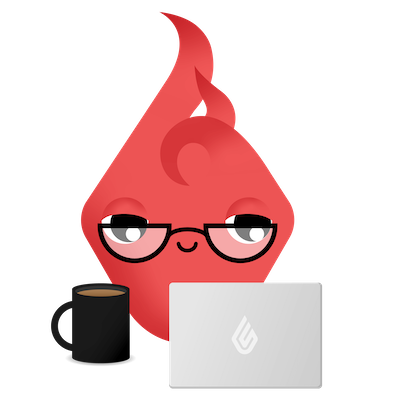 News you care about. Tips you can use.
Everything your business needs to grow, delivered straight to your inbox.