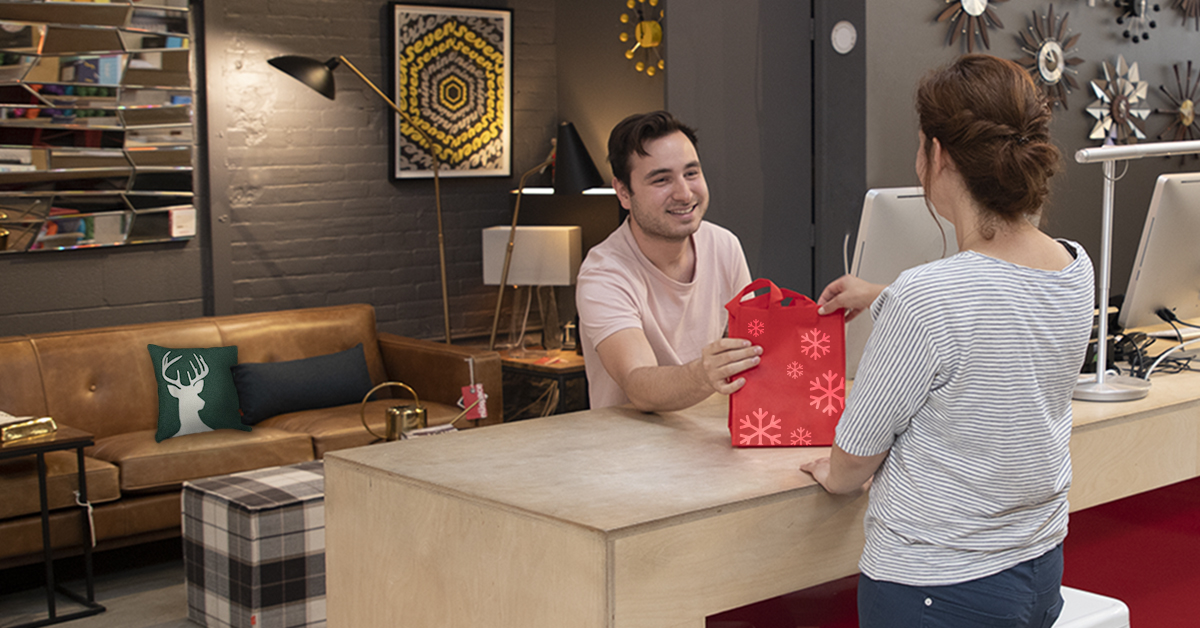 While we (rightfully) associate the holidays with a surge in sales, retailers also need to prepare for the influx of post-holiday gift returns and exchanges with a customer-focused return policy.
Approximately two-thirds of holiday shoppers made at least one return or exchange in previous holiday seasons. While you might be thinking to yourself, "that's a lost sale!", returns aren't bad for business.
Shopping for a new POS system?
Improve your search with our free POS Buyer's Guide. Discover how to plan your store's growth and choose a POS system that can support your business now and in the future.
What is a return policy?
A return policy is a set of rules that merchants establish to manage how customers return or exchange unwanted or defective products that they've previously purchased or received as a gift. Return policies are considered an extension of the customer service that a merchant provides–the best ones are customer-centric and flexible to each case's unique circumstances.
How to write a return policy
Each retailer's return policy should be unique to their business and the products they sell, but there are several things that any return policy should include to ensure that it's clear and easy for customers to understand:
The number of days or deadline to return the product.

The type of refund they will receive (store credit, exchange, full refund).

The information they need to bring in-store or send online for the refund (receipts, credit card, etc).

Conditions the product must be in to be valid for return.

Where to return the product (if you purchased it through an eCommerce site) and who will pay for the shipping.
The importance of a customer-focused return policy
If you use the same positive, customer-focused service as you did the initial sale, in-store returns and exchanges are a golden opportunity for sales associates to build a relationship with that customer, gather valuable feedback and suggest alternative products.
If you don't, well, 64% of shoppers of customers who have a negative experience when returning or exchanging a product say they'd be hesitant to visit the store again.
Having a positive outlook when it comes to returns and exchanges is a must if you want to increase your customer retention rate and get more repeat customers.
4 tips for efficient returns and exchanges
Not all retailers handle returns and exchanges the same way, but there is definitely a right and a wrong way to treat them.
That's why we reached out to retail consultants to outline what makes a great return and exchange process. Here's what they had to say:
Make it simple
Use the right retail technology
Treat returns and exchanges as a sales opportunity

Collect (and use) product return data
1. Make it simple
Retailers need to make their process for returns and exchanges as frictionless as possible; the less steps, the better.
According to Baron Christopher Hanson, lead consultant and owner of RedBaronUSA, retailers should aim for returns and exchanges to take no more than three steps.
"From the time that a customer walks in the store to the when the sales associate processes their return in the POS system, returns and exchanges shouldn't be an exhaustive process," he says.
Part of making your returns process as frictionless as possible is implementing the right tech to help you out.
2. Use the right technology
Finding a POS system that's user-friendly and can process returns quickly will go a long way when you have a lineup of customers arriving at your store.
With Lightspeed, retailers can process returns, refunds and exchanges either by searching the system for the original transaction (either by date of purchase, item name, payment type or by the name of the sales associate who completed the transaction) or by creating a new sale and converting it into a refund. For customers that don't have their receipt, you also have the option of refunding without a receipt.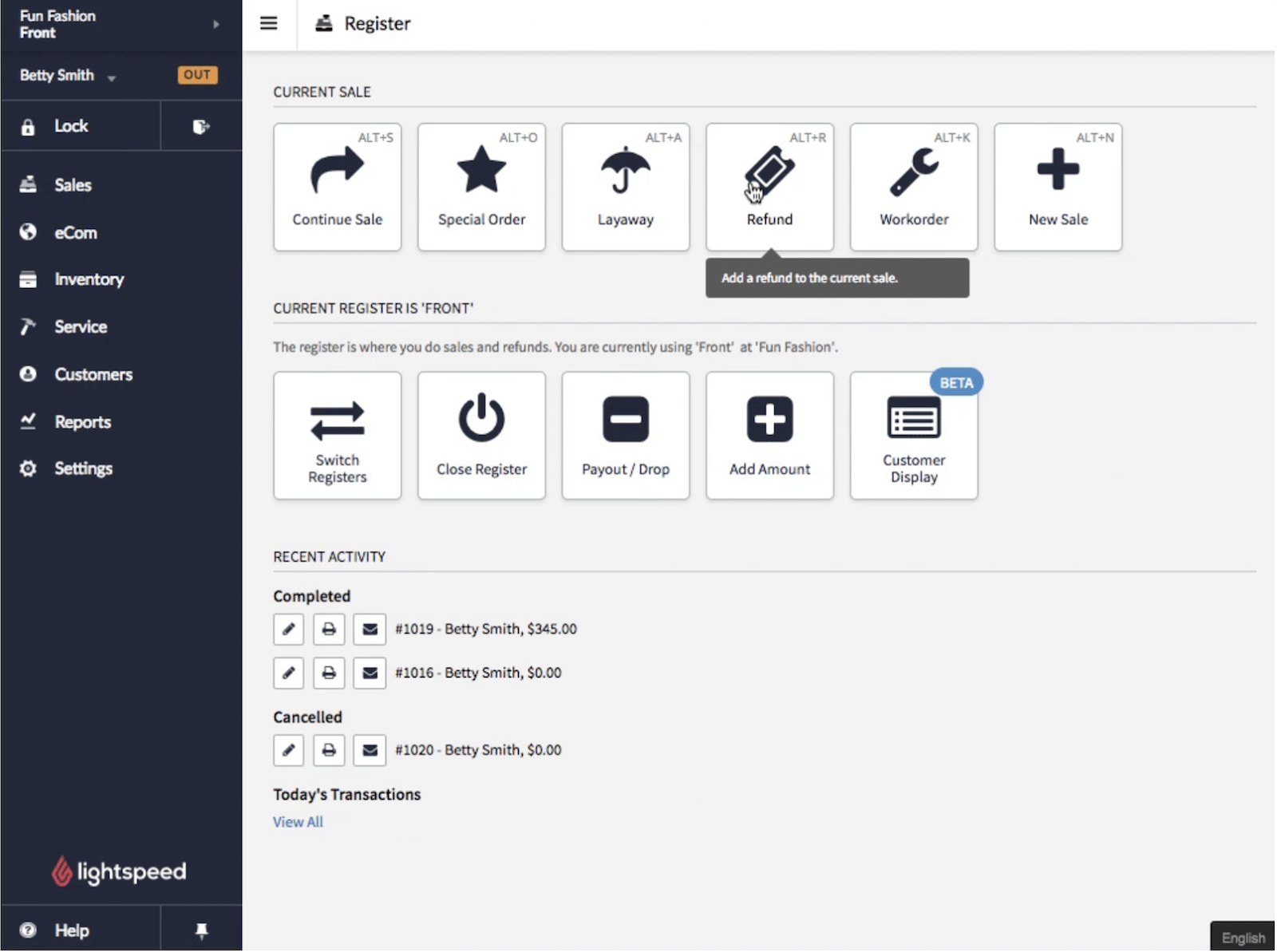 Having these options makes it easy to find a transaction and process a refund or exchange, no matter the circumstances.
3. Treat returns and exchanges as a sales opportunity
Some retailers regard returns as a necessary evil of doing business, but the truth is that returns are an opportunity to create new customers—this is especially true during the holidays, where the purchaser and the returner aren't necessarily the same person. A return can literally bring a new customer to your doors.
This is an opportunity to wow them with your customer service and leave a positive first impression. Maybe they weren't a fan of what they were initially gifted, but with your sales associate's help, they may find something they fancy.
According to Hanson, "the idea is to try and upsell each return into an exchange, a store credit, or some other attractive transaction that helps your overall sales numbers." While some customers will only want to return their gifts and nothing else, make sure you "get them in and out as fast as you can, so your associates can tend to actual patrons worth wooing as new customers."
4. Collect (and use) product return data
Whenever a customer returns a product, sales associates should ask questions that help you understand why they wanted to return the product in the first place.
Hanson's tip is to "have your sales associates ask a few questions that help you understand why they are returning the product." That can be as simple as including a short survey in your return confirmation email that asks questions like this:
Why are you returning this product?
Wrong size

Didn't like the style

Changed my mind

Other
Another benefit of gathering data around returns and exchanges is that retailers can get a better idea of which products aren't living up to their customers' expectations.
Sean Clancy, SEO Director of Edge Marketing, says that "retailers need to look at their returned and exchanged product data from previous years and identify particular products or categories with above-average return rates. This will help them with their inventory purchasing."
If the retailer is producing its own products, then return and exchange data can help them fine-tune their products.
5 tips for smoother post-holiday returns
Sometimes, your regular return policy just won't cut it during the holiday season. Here are five things retailers can do to have a customer-focused holiday returns policy:
Extend your deadline for returns and exchanges
Inform your customers about your new policy

Set up a dedicated area for returns and exchanges

Keep your returned items organized

Schedule enough staff to support the rush
1. Extend your deadline for returns and exchanges
Because of the high volume of purchases made leading up to the holidays, retailers should extend their return policy until the end of January.
Whether the gift was purchased in early November or at the last minute, the person receiving the gift should have a long enough window to return or exchange their gift.
2. Inform your customers about your policy
If you change your usual return policy for the holidays, customers need to know about it. John Moss, CEO of English Blinds knows this all too well. "If you're offering a longer period for returns than normal, if a gift receipt can only be used for an exchange or store credit rather than a refund, or even if your policy is exactly the same as normal; make sure every shopper knows."
But how do you let customers know about your holiday return policy?
Moss suggests having large signs at the point of purchase, printing the return policy on the back of receipts and having sales associates inform each customer of the store return policy at checkout.
For online stores, Moss suggests featuring your return policy on your FAQ page, on the checkout page and on shipment invoices and email order confirmations.
For example, Allbirds dedicates a section of their website to the different types of returns and exchanges during the holiday season, which helps customers easily figure out what to do without needing to call support.

3. Set up a dedicated area for returns and exchanges
To process returns and exchanges as quickly and efficiently as possible, Hanson suggests scheduling a sales associate, equipped with a mobile POS system, to exclusively handle them.
This helps retailers maintain efficient customer service while reducing lineups to pay for, return or exchange products.
4. Keep returned items organized
While processing returns and exchanges are important, according to Moss, it's equally important to keep returned items organized so that sales associates know what to do with them afterward.
"Simply throwing all returned items into a cart or behind the counter for expediency's sake takes up tons of time later on. Have dedicated bins so that employees can categorize defective items, items with tags that are ready to go right back onto the shop floor, and so on."
Having a system for organizing returned items will make your post-returns process much faster. Whether an item can go back on the sales floor, needs a tag or be shipped back to the supplier because it was defective, you'll be happy everything is organized from the start.
5. Staff up for the rush
Offering the best customer service, whether you're making a sale or handling a return, is key for keeping all your customers happy.
To do that, you need enough staff (and the right tech) to support each customer quickly and effectively.
According to Moss, "understaffing is perhaps the worst issue when it comes to managing seasonal returns, when you factor in how busy stores are with both sales shoppers and those returning items purchased before the holidays."
A great way to keep your returns process running smoothly? Authorize several sales associates to handle refunds and make sure that several are scheduled per shift.
Make the most of returns and exchanges
A flexible return policy with the right customer service can help you create and retain more customers long-term. Rather than see it as a lost sale, see it as an opportunity to build a relationship.
Approximately 90% of adult shoppers say that a convenient returns policy is important when deciding to make a purchase; it provides them with the assurance that, if they aren't satisfied, their money isn't lost.
A solid returns and exchange policy gives customers confidence in your business and clearly demonstrates that they're customer-centric and care about their happiness. When retailers take care of their customers, those customers are more likely to keep coming back, refer the store to their friends and family and act as a brand ambassador.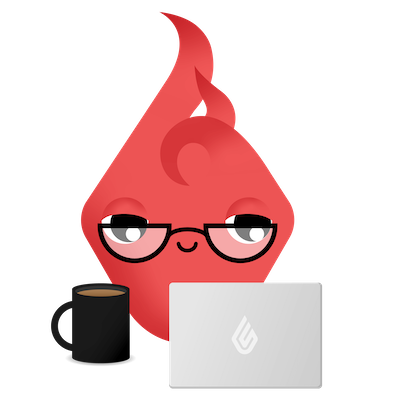 News you care about. Tips you can use.
Everything your business needs to grow, delivered straight to your inbox.