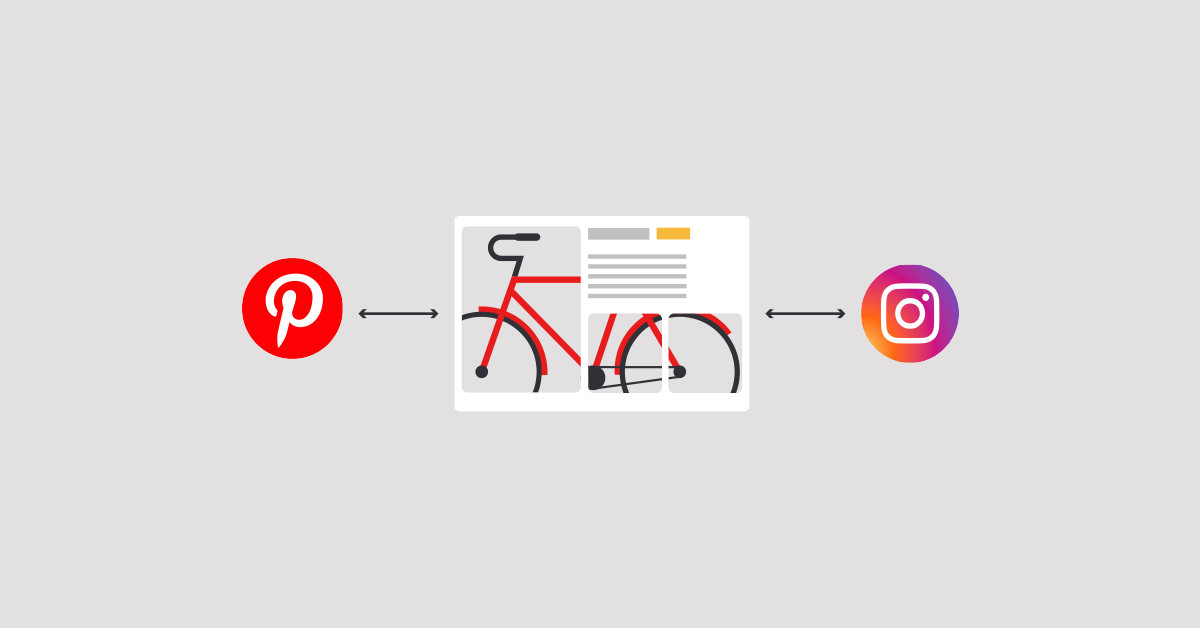 Social media marketing is crucial for retailers. Your customers are on social media every day—if you're not posting, you're missing out. Advertising and promoting posts goes one step further than organic engagement and gives you the power to reach out to potentially interested customers instead of waiting for them to come to you.
In this post, we'll go over:
Get found online by more customers
This is your content
Which social media platform is best for advertising retail businesses?
Whichever one you want to be on.
Alright, it's a little more complicated than that. You need to follow your customers—if your business specializes in custom clothing for pets, you're not likely to find your target audience primed to buy on LinkedIn. You're much more likely to find them on Instagram. (If you're having trouble figuring out where your audience is, check out up-to-date statistics on social media demographics.)
There's no singular answer to this question. We'd like to put forth two platforms as having particular potential, though: Instagram and Pinterest.
Why Instagram and Pinterest?
Instagram and Pinterest are heavily image and lifestyle focused. Unlike Twitter and Facebook, there are no options to create posts without images.
For a retailer, that means everything you put out on those platforms can be an eye-catching, inspiring showcase of your products or your brand. Honing your Instagram and Pinterest social media marketing game puts you in front of potential customers who are often looking to be inspired. With the right ad targeting, you can match your products with the receptive customers.
What makes a good retail Instagram
Instagram's photo-focused feed is good for two key reasons:
Customers are primed to see images

. Your ads won't stick out like a store thumb in the middle of a bunch of text—and that's definitely a good thing. Whether you invest in Stories or promoted posts, your ad format will blend in with everything else Instagram browsers are seeing so they just take in the

content

in the ad, not the fact that it

is

an ad.

You can use imagery to sell the lifestyle of your products.

How do your products make people

feel?

What kind of

lifestyle

does your store's brand promote? Sell it! Entice people! You can get creative on Instagram.
A good retail Instagram blends advertising and organic social posts to showcase products, engage with customers, show off reviews and promote the kind of lifestyle your store fits into. Between stories, posts and ads, you have the chance to become more than just a business to browsers.
But even better than that, with Instagram's shoppable posts, once you get established you can sell to customers right from Instagram. That means if a potential customer is really excited by an ad you place, they can make a purchase right away. With fewer barriers to checkout and more choice for customers in where they want to shop, you become less of a store and more of a go-to brand that slots neatly into your customers' lives.
Why Pinterest is good for online retail
Pinterest is a unique social platform, especially for social media marketing. It's even more image-focused than Instagram—in fact, you can't make text-only posts at all (though relevant text on your Pins in the form of titles, descriptions and image alt text is still important). It might be more accurate to call Pinterest an advanced search engine than a social network.
And that means Pinterest is good for online retail, because its users want to discover things. 98% of Pinterest users say they've tried new things they've found on Pinterest. They're on the hunt for products to finish up their kitchen renovation, inspiration for their next DIY, cute clothes to build their next summer wardrobe around… and so on.
Posting and advertising on Pinterest is like putting your store directly in the line of sight of customers who really want to buy. You've jumped the first barrier in advertising—convincing customers to spend money—and gone right to the next step: convincing them to spend money on you.
Pinterest is aware of how effective their platform is for retailers, too; they're investing in expanding their shoppable pins capabilities, so like Instagram, you can potentially sell to customers right from the site or app.
How does Instagram advertising work?
Because Instagram is owned by Facebook, you'll need a Facebook account to manage your Instagram ads. You can choose to advertise on Instagram only, or both Instagram and Facebook. Luckily, if you do decide to advertise on both platforms, you'll just need to adjust the aspect ratio for your images and videos—your content can otherwise stay the same.
According to Facebook's own statistics, over 200 million Instagram users visit at least one business profile daily, and 60% of people say they discover new products on Instagram. With Instagram's Shops feature, you can sell directly to these users by tagging your products in your posts. And to bring those users to your profile, you need to get good at advertising on Instagram.
To be one of the businesses captivating Instagram users, you have a wide selection of ads to choose from—for starting out, we suggest one or more of the following:
Stories ads:

Stories, the ephemeral pictures and videos Instagram users access at the top of their feed, are the perfect opportunity to get creative. Your

Stories ads

will show up in between Stories from customers' friends, creating a seamless flow between organic content and your promoted post. Customers enticed by your ad will swipe up to be taken to wherever you want them to land, so you can use them to easily send customers to your site.

Photo ads:

Photo ads will show up in Instagram users' feed, in between posts from people they follow. They'll be marked as sponsored, but otherwise look like a regular post. You

can't

put clickable links in these posts, so they're more for showcasing your brand or products and directing customers to follow your account.

Carousel ads:

Like photo ads, these will show up in users' feed. Unlike photo posts, you can use them to direct customers to your website through a call-to-action button. They're called carousel ads because they have a

carousel

of images attached. You can use them to showcase related products, a single product with multiple lifestyle images, the details of a sale you're holding or anything else you feel might entice browsers to become customers.

Collection ads:

Collection ads

can be formatted to show up in a user's stories

or

feed, and they're a bit special, because they allow customers to browse and purchase products right from Instagram. Like carousel ads, they can use multiple images, but unlike carousel ads, they should all be images of products if you want to boost sales.
Once you've decided on your desired ad type, you'll need to make some content—both image and text. Consult Facebook's design requirements for Stories and feed ads if you're not sure what size to make your images. Be sure they're high quality and eye-catching—you wouldn't want to click on something pixelated and boring, would you?
With your content in hand, head over to the Facebook Ads Manager. If you've never created ads through the Ads Manager before, good news—there's a guided creation mode that will help you through it. It will direct you to choose your objective, identify your audience, select your ad placement and choose your budget and schedule. Don't forget to install the Facebook Pixel to track what actions customers take after seeing your ads.
Advertising on Instagram to the right target audience
You don't want your ads to go out to just anyone—what if they're not remotely interested in what you're selling? If you're selling horse accessories for young riders, advertising to retirees in the middle of a city might not be the right fit. That's why targeted audiences are a cornerstone of social media marketing. You can get your ads in front of the people who are more likely to care about your product.
When you're building your audience, you'll be able to choose if you want to target specific locations, demographics, interests and behaviors (such as customers who have visited your site). You can target lookalikes—users who match customers that follow you, have clicked on your ads or bought from you before.
Here's the thing, though: it's cheaper to keep a customer than to make a new one. New customers are important, and the built-in targeting tools for Instagram will help you reach potentially interested users. But you can get even more targeted with platforms like Ascent360 and reach out to customers that you know like your brand and are likely to make another purchase with the right prompting.
Ascent360 allows you to use the customer data in your POS system to segment your customers into groups that you can target your ads towards for better results. Let's say you're a bicycle retailer, and you're looking to promote your new high-end electric bike and bike accessories.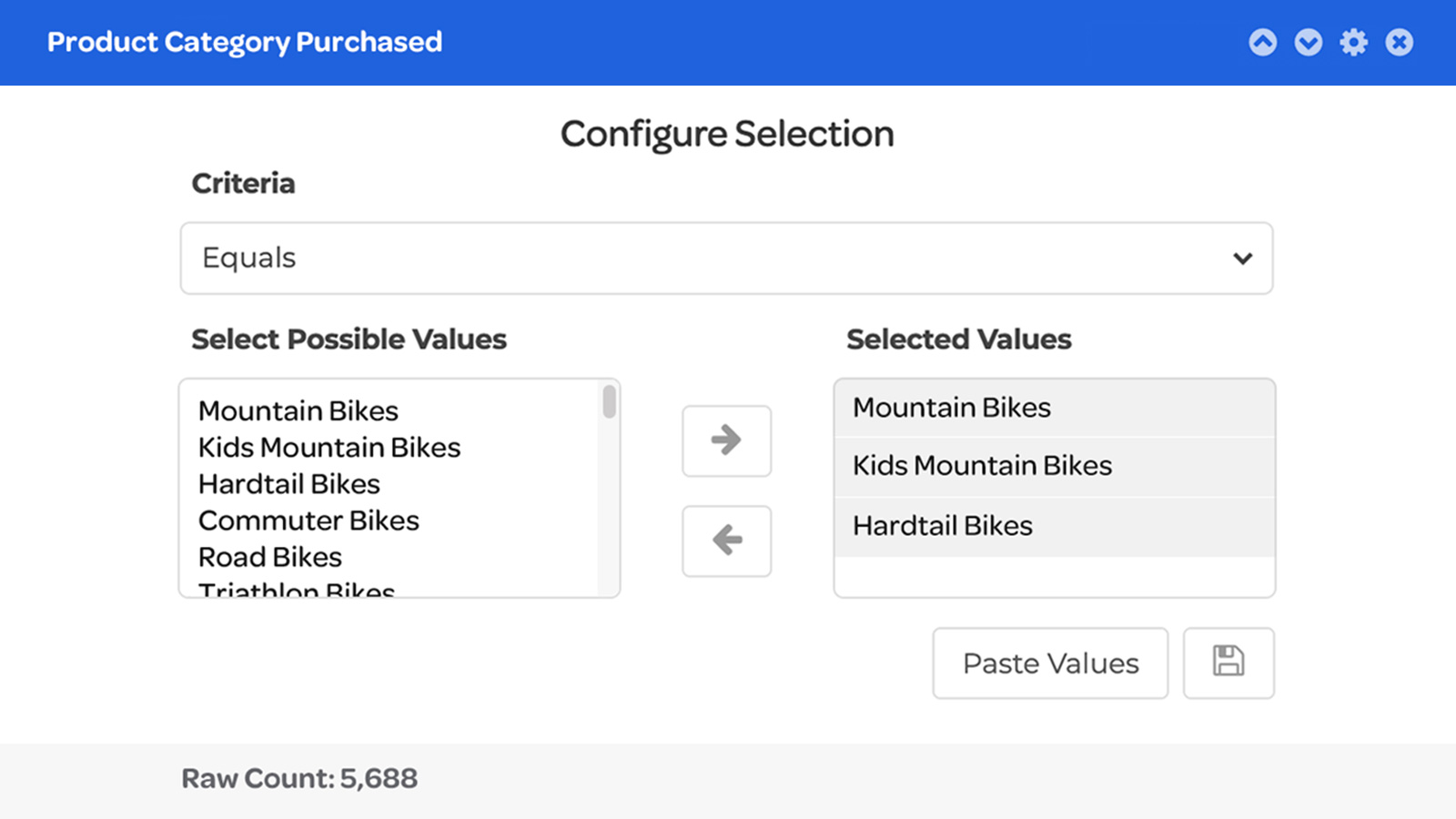 Building an audience based on product purchase history in Ascent360.
Using the customer data from your Lightspeed POS, you would be able to identify which customers active on Facebook and Instagram have previously spent over a specified amount—they're the ones who would be more likely to buy a high-end product, because they're high-value customers. Ascent360 would pull the contact information of those customers and send it to the Ads Manager, so when you run your ads, they end up in front of the people you want to see your content.
Or let's say, as another example, you're looking to advertise an upcoming sale. That's the perfect opportunity to target two potential customer groups: newsletter subscribers that haven't ever bought from you (or ever made a second purchase), and customers who have been dormant for a while. Ascent360 would help you tell Instagram those are the users who should see your Stories ad about your sale, which can help convert them into active customers.
By using Ascent360 for your social media marketing, you can really dig into nurturing your customers. You could start up an ad campaign that encourages repeat purchases by advertising to customers within 30 days of their first sale, set it live alongside an ad built in the Ads Manager for new customers and another ad with a high-value audience segment compiled in Ascent360, and then finish it off with an email marketing campaign.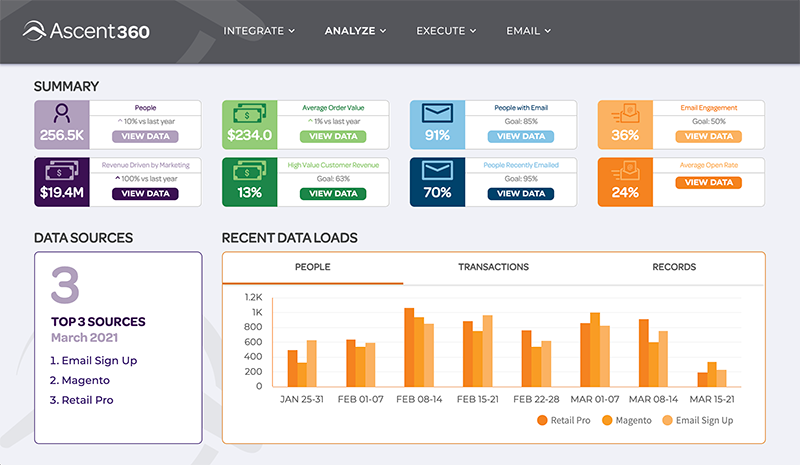 An Ascent360 dashboard.
How much does Instagram advertising cost?
There's no single set cost for Instagram advertising. AdEspresso says the average cost-per-click (CPC) for increasing traffic to your profile is $1.20, while WordStream pegs it between $0.50-$0.95 or $0.40-$0.70 depending on your goal. If you're looking to drive sales with your ads, your costs could start at $20 per conversion.
But you don't want just one click or conversion, so you need to spend more than the average to get multiple results.
Essentially, Instagram advertising costs as much as you want to spend to get results. You could set a budget of 100 dollars a week, or 1000 dollars—or more. There's no magic number you'll get results at; it all depends on the placement of your ads, how well you target them and how engaging your content is.
If this is your first time ever advertising on Instagram, it may be smartest to start with a modest budget and build up from there.
How does Pinterest advertising work?
When you advertise on Pinterest, your pins will show up in search results, on Pinterest users' home feeds and under related Pins. If a user re-Pins your Pin—as in, saves your Pin to one of their Pinboards—their followers have a chance to see it and re-Pin it.
The beauty of Pinterest advertising is that you don't need to pay for those re-Pins; users can organically spread your content for you, putting your ad in front of more potential customers without you needing to lift a finger.
For getting started with advertising on Pinterest, we recommend focusing on the following types of Pins:
Promoted Pins:

A Pin made like any other—with an interesting image and a link to your site's homepage or the product page—but boosted to reach a much larger audience. They'll show up anywhere regular Pins do, blending in with a user's feed or search results. When a user taps the pin, they'll be taken to where your link points them.

Promoted carousels:

These are like promoted Pins, except—similar to Instagram carousels—they contain more than one image. Each image in the carousel can take users to a different landing page, so they're great for showing off multiple products.

Promoted video Pins:

If you want to catch more eyes, you can use a video instead of a static image in your promoted Pin.

Video Pins

should be focused on the imagery you want to show off, not audio, as

not all users browse with sound on

.

Buyable Pins:

With

buyable Pins

, you can cut out the middleman—the link to your site—and let customers purchase products directly on Pinterest.
Pinterest Pins are less strict on their specs than Instagram ads, but Pinterest suggests a 2:3 aspect ratio (or 1000×1500 pixels) for static Pins. Video Pins can be 1:1, 2:3 or 9:16, or you can go up to 16:9 with max width video ads. You'll want to consult Pinterest's ad specs for specific dimensions, sizes and character limits if you've never created a Pinterest ad before.
Once you have your ad assets, you'll need to be sure your Pinterest account is a business account before you can start advertising on Pinterest. If you signed your retail business up for a personal account, not to worry—you can easily convert your account to a business account. Don't forget to connect your Instagram and website to your Pinterest account so your content is attributed to your account. You should probably install the Pinterest Tag, too; it will let you track what actions people take on your site after seeing your ads.
Then, head to Pinterest's ad manager and start setting up your ads. Pinterest will ask you to define your campaign objective (as a retailer, you'll be looking for increased traffic or brand awareness), budget and schedule, maximum bid, target audience, ad placement (go for all placements if you can) and keywords. Once you've defined those, your Pins can go live and start inspiring Pinterest users.
If you want to really get into Pinterest ads, you can play around with their new Dynamic Creative ad format. These ads will allow you to automate your targeting based on a user's activity. Different Pins are generated through a library of images and information you upload for personalized ads without manual input.
How much does Pinterest advertising cost?
Much like Instagram, there is no single set cost for advertising on Pinterest. Depending on your goal, you can average spending between $2.00-$5.00 per 1000 impressions (measured as CPM, or cost-per-mille) or $0.10-$1.50 per engagement on your pin or click through to your site, according to WebFX.
If you're looking to increase impressions—the number of people who see your promoted pin—your minimum bid will be $2; you'll be bidding to increase the visibility of your Pins, not to increase link clicks. If you're looking to get link clicks to your site, your minimum bid will be $0.10.
As you can see, the minimum bids aren't very high, so you're free to start low and increase your bid to see where you start getting the results you want. Like Instagram, there's no magic number here. You'll need to experiment with your content, budget and targeting to see what results you get.
Reach out and sell to your customers
Social media marketing helps retailers convince customers to come back, to browse, to make your store a part of their lives. By advertising on Instagram and Pinterest, you can reach customers who are primed to buy—and by using platforms like Ascent360, you can really define who you want to be advertising to.
But without an impressive eCommerce store for all those now-interested customers to land on, all your efforts are for naught. If you haven't yet started selling online with Lightspeed eCom, let's talk about how it could be right for you.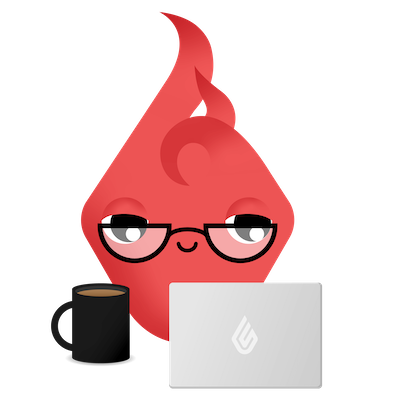 News you care about. Tips you can use.
Everything your business needs to grow, delivered straight to your inbox.