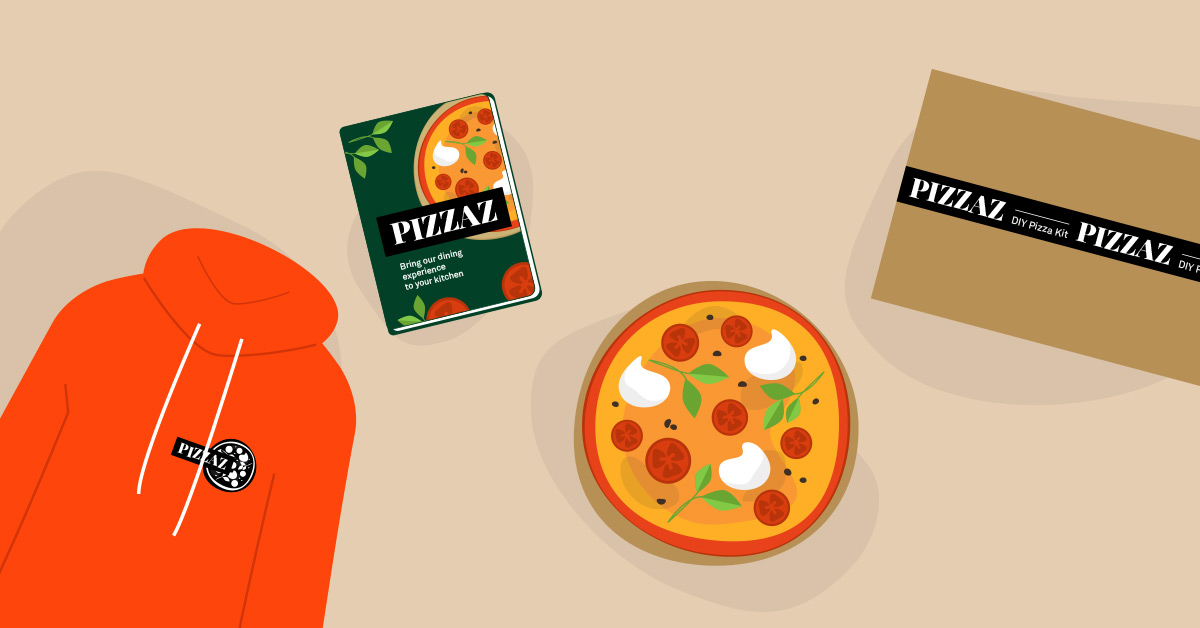 The coronavirus pandemic led to restaurants around the world temporarily shutting down their table service in an effort to flatten the curve. As many restaurants shifted to delivery and takeout as their primary revenue stream to survive, we've seen restaurants also branch out and explore alternative, non-traditional revenue streams.
While these additional revenue streams may have begun as temporary efforts, they're becoming permanent offerings at many restaurants because of their success.
We asked restaurateurs from all over North America what unconventional revenue streams they've launched as a result of COVID-19 and how they're working for them. Read on to discover how restaurateurs have recovered stability in their cash flow by:
Let's dive in!
Reinvent your business for short and long-term success
While the hospitality sector reopens across North America, owners and operators face a whole new set of challenges. Download our free playbook and learn how to build a more resilient business post-pandemic.
Merchandise
Selling branded merchandise is a great alternative way for restaurants to make money. Merchandise gives customers who don't live close enough to routinely buy your food an opportunity to purchase something from you.
"People who were far away but saw us on some kind of media started buying some merchandise just to support us," restaurateur Brittney Valles explained in a phone interview.
Her restaurant, Guerrilla Tacos in Los Angeles, sells t-shirts and hoodies on-premise and via their online store. During the pandemic, Valles said she noticed a spike in merchandise sales from outside of Los Angeles.
So what should you sell at your restaurant? T-shirts, hats, aprons and tote bags are popular merchandise ideas. If you put your logo on your merchandise, it can double as an advertisement for your restaurant.
Inspiration
Elena, an Italian restaurant in Montreal, has a vibrant online boutique that sells socks, sandals, water bottles, coloring books and more.
"Our merch has always been a pretty big part of our marketing," Ellen Eamon, Elena's General Manager, explained in a phone interview.
The restaurant released several new products during the COVID-19 lockdown. Eamon says that the team had more free time to create new items.
"It's really fun to see everybody buying stuff online and then [seeing] it on Instagram. [Our merch is] in all these corners of the world where you wouldn't necessarily expect it," she says.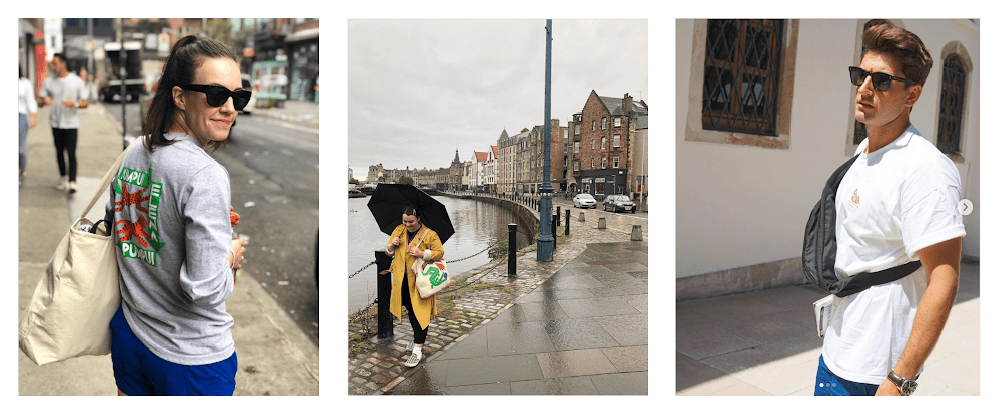 From left to right: An Elena/Pumpui collab t-shirt in New York City, a tote bag in Scotland, and a t-shirt in Istanbul
What's Eamon's advice for adding merchandise as a revenue stream during the pandemic?
"Make sure [the merchandise is] something that you'd be proud of if it wasn't COVID. Everything we've done is always in line with our values and our aesthetic. You still want to be you."
How to start selling merchandise at your restaurant
Selling products is different from making and selling food. First, you need to decide what kinds of products you want to sell: Apparel? Accessories? Household items?
Then you need to decide what you'll put on the merchandise. Will it be your restaurant's logo, its name, a catchphrase, or a custom design? Consider partnering with a local artist to make your merchandise less of a souvenir and more of a piece of collectible art.
Next, find a manufacturer to produce your merchandise. Then find a place to store your inventory and purchase shipping supplies. Assign a staff member to be responsible for shipping items out in a timely manner. To manage online orders, we recommend shipping integrations like ShipStation or EasyPost.
Sell your merchandise through your website and inside your restaurant. Promote the products through social media, email marketing and in-store signage.
Meal kits
Selling meal kits is another revenue stream that restaurants can introduce to earn more profits. Meal kits can come in various forms. You can bundle a recipe card with raw ingredients for customers to cook a meal from start to finish. Alternatively, you could put together semi-cooked ingredients so that customers have to do some cooking and some assembling. You could also sell cooked meals that customers can assemble themselves, like make-your-own-tacos or a pizza topping kit.
Inspiration
Restaurants from coast to coast are finding success in selling meal kits.
In Los Angeles, Mexican restaurant Holbox is offering customers make-your-own taco kits. These kits come with raw toppings and partially cooked tortillas that come out restaurant-fresh after some time in a pan.
The taco kits were originally a "fun thing for customers to buy and do at home if they were missing the Holbox menu," said Owner Gilberto Cetina in a phone interview.
What started as a way for the restaurant to survive until it was safe to offer takeout and reopen for dine-in is here to stay. Now that dine-in has reopened in Los Angeles, the taco kits are "something that we've continued to offer and it is a great additional revenue stream," says Cetina.
On the other coast, Jersey City's Whealth Kitchen cafe started offering its customers a meal kit delivery service several months before the pandemic. The kits, which are branded as "NYC's answer to overpriced takeout," consist of fully cooked meals made with ingredients from local farms.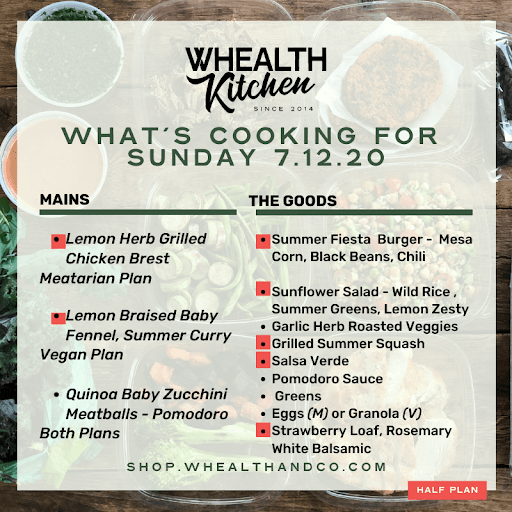 Whealth's meal kit menu
Why did Whealth introduce meal kits? "At the cafe, [we have] 30 seats and [can serve] however many people we can cram in in the 10, 12 hours we're there," Owner David Trotta explained in a phone interview. Naturally, with seating capacities being reduced in an effort to mitigate the spread of COVID-19, so, too, did the revenue from table service.
Meal kits helped Trotta make up for that lost revenue. "Meal delivery has unlimited potential. There's no ceiling to how many people we can serve."
Make your packaging picture perfect
Great packaging "is like what presentation is for dine-in," explains Holbox's Gilberto Cetina. "If the place is sloppy, you're losing the customer already even before they taste the food." Meal kit packaging is an extension of the dine-in experience.
Cetina and his team designed custom packaging for their make-your-own taco kits. The boxes, seen below, feature the restaurant's logo in multiple spots, its website URL, social media handles and home cooking instructions.

Photo credit: Gilberto Cetina
The packaging is not only functional, but it's also Instagrammable. "We were very excited to see somebody post an unboxing video," Cetina says. "We were going for that unveiling, revealing experience."
Cookbooks
Cookbooks let restaurants make additional revenue and expand their reach outside of the borders of their delivery radius. What should you include in your cookbook? Here are some ideas based on common cookbook themes:
A collection of your restaurant's most-loved recipes

A neighborhood anthology made in collaboration with other restaurants in your area

A coffee table book that shares the story of your restaurant and includes several recipes
Inspiration
Montreal restaurant Elena published two digital cookbooks during the lockdown. Elena and Friends is a collection of recipes from 20 Montreal restaurants, while Remember Skin Contact? shares make-at-home friendly recipes created by Elena's Chef Janice Tiefenbach. General Manager Ellen Eamon explained in a phone interview that creating the cookbooks was a collaborative effort between their chef, a writer, an illustrator and a designer.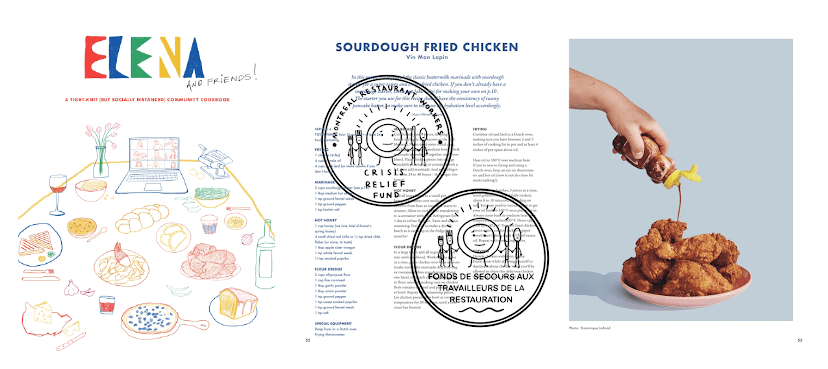 Photo credit: Elena
In just a few months, Elena has sold $50,000 in cookbooks. The restaurant is donating all of the proceeds from the cookbooks to the Montreal Restaurant Workers Relief Fund, which Eamon started with several friends to help restaurant employees who were affected by the lockdown.
How to publish your restaurant's cookbook
There are multiple routes you can take to publish a cookbook.
Traditional publishing involves getting a book deal and working with a publishing house. While this method can be very lucrative, it's very difficult to secure a book deal. It also takes a long time for a cookbook to be printed by a publisher after it's written, so this isn't a good option if you're in a hurry to start selling cookbooks.

Self-publishing is the alternative to traditional publishing and is the best method for restaurants that want to create something to sell quickly. The easiest way to self publish a cookbook is to write it, take photos for it, design its layout, turn the book into a PDF and sell it as a digital download through your website.
To promote your cookbook, send a digital copy to your best customers and ask them to share it with their social media followers. Send press releases to local food websites like Eater to encourage press coverage.
Groceries
Some restaurants doubled as convenience stores during the COVID-19 pandemic. They started selling everything from grocery staples like pasta, eggs and milk to emergency supplies like toilet paper. Vending necessities has become a lucrative revenue stream for restaurants across North America.
Inspiration
So, why did restaurants transform into bodegas? Some started selling groceries so that their customers wouldn't have to go to crowded grocery stores during the height of the pandemic.
"We were hearing from people that going to the grocery store wasn't the greatest time in the world," said restaurateur Rowen McDermott in a phone interview.
McDermott owns Frankie, an Australian-inspired restaurant in Jersey City. During the pandemic, his restaurant started selling produce, baked goods, bottles of wine and other staples online. Customers can place orders online and pick them up at the restaurant.
Guerrilla Tacos introduced a hard-to-come-by necessity as a takeout offering when their restaurant shut down: toilet paper. "We have five bathrooms here so we had a ton of toilet paper," explains owner Brittney Valles. The restaurant continues to sell toilet paper rolls, tortillas, and eggs as "emergency items" as add-on items to takeout and delivery orders.

Guerrilla Tacos' emergency items
Whealth Kitchen transformed their whole concept from a cafe into a bodega because of the pandemic. Owner David Trotta says that for his business, retail will be a brand touchpoint rather than a main revenue stream going forward.
"We're never going back to a cafe again," says Trotta. "Why would you want to reopen the least profitable part of your business? We're reopening as a farm stand." The farm stand will sell grocery staples like eggs, meats, and dairy and their meal kits.
Online ordering and takeout
If your restaurant already offers takeout and delivery options through various platforms, you'll be able to lean on this side of your business for support. If this isn't something you already offer, you can temporarily pivot your business model to help recover lost revenue from the dining room.
When it comes to online ordering for restaurants, you can use third party apps and websites, a native platform that is integrated into your website and POS or a combination of the two.
Third-party apps
Sign up for these services through the app website—there are a number to choose from including national sites like GrubHub, DoorDash and UberEats or regional delivery services.
The upside to this is that you'll have almost instant access to the company's network of delivery drivers and get your restaurant's name in front of the millions of potential customers who browse these apps daily. However, be mindful of the fees and other commission costs associated with these apps.
If you only plan to use online ordering as a temporary revenue booster, it's also important to ask the company about short-term contracts.
Native online ordering
An online ordering system that's built into your website gives you more control over the menu without all the fees. You will be in charge of handling your own delivery logistics if you choose to only use a native solution, but it's perfect for takeout or curbside pick-up.
Inspiration
Seattle fine dining restaurant Canlis did this when they brought the dining room outside and established their Canlis Drive On Thru concept.
This is something that we are seeing with fine dining establishments, especially those in areas with mandatory shutdowns for in-house service. In addition to recovering some of your revenue, FOH staff that may otherwise have been out of work can continue to receive an income by processing orders or acting as delivery drivers – just check with your local regulations and insurance provider before sending them out.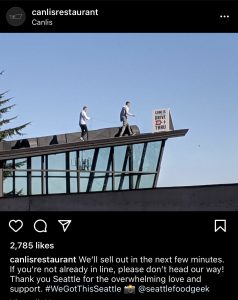 Gift cards
Many restaurants have already been promoting gift cards as a way fans can help support their favorite restaurant during this time of social distancing and self-isolation.
Make gift cards available to your guests by any means necessary. If you don't have a digital gift card option or online store, let them call the restaurant and place orders over the phone, then mail the gift cards to them or keep them on hand for their next visit.
Inspiration
Standard Gastropub got creative with their gift cards and started what they call "takeout roulette." They drop gift cards into random takeout orders as both a thank you for people who are supporting them through this time and a way to entice more people to order who have maybe been on the fence.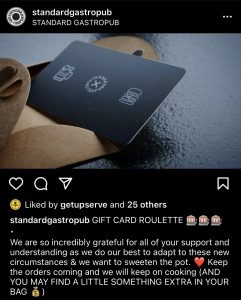 How restaurants can bring more to the table with new revenue streams
The coronavirus pandemic caused a lot of harm to the restaurant industry, but it also forced restaurateurs to get creative. In response to the challenges presented by the pandemic, restaurateurs started selling merchandise, writing cookbooks, creating meal kits and selling groceries to make it through.
Many restaurateurs who have added new revenue streams have seen success and plan to continue offering these products and services even after they're allowed to reopen dining rooms.
If you want to try something different, Trotta says, "stop thinking about it and just go for it. Try it. If it doesn't work, adjust it. If it still doesn't work, adjust it more. The feedback from your people is more important than the things we obsess over as entrepreneurs." Don't let fear or perfectionism get in the way of serving your customers in new ways.
Maximize your profits with technology
With Lightspeed's restaurant POS and management system, you can offer tableside ordering, start a loyalty program and view reports to see what's working. Chat with one of our restaurant experts to see how technology can help you streamline your operations and make informed decisions.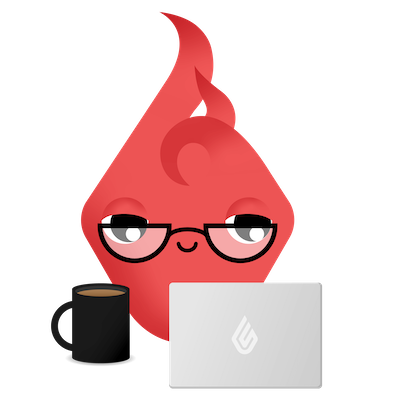 News you care about. Tips you can use.
Everything your business needs to grow, delivered straight to your inbox.