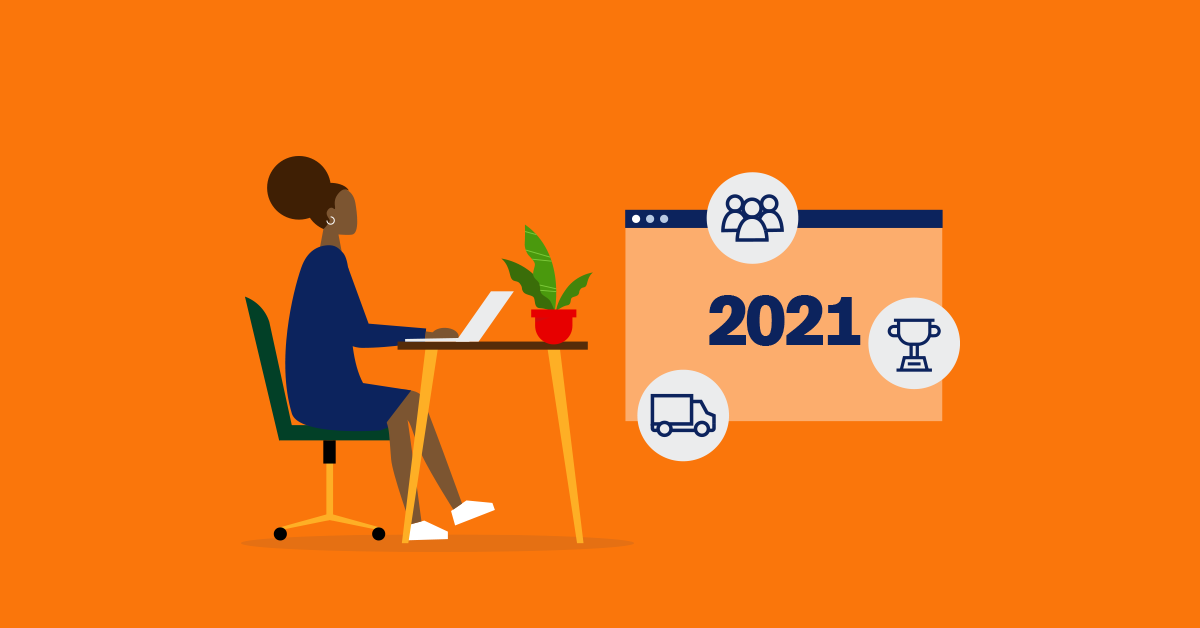 Running your store in 2021 means looking at a never-ending to-do list filled with twists and turns at every corner. From managing inventory and securing supply chains to analyzing data and getting creative with customer service, store owners are certified multi-taskers ready to take on a new challenge at the drop of a hat. But that's part of the fun, right?
With the future of retail constantly changing, staying up to date means you're always ready to act and adapt at a moment's notice.
What better time to learn than the post-holiday slowdown? We've compiled a list of resources to help you tackle all the ins and outs of running your store in 2021, with minimal headaches.
Step into the future of retail
It's time to break up with traditional retail and meet the future of commerce. Find out how you can get started with your omnichannel strategy with our free resource.
Take a deeper look at your inventory
Inventory is at the heart of everything you do in your business. Whether it's planning ahead or figuring out what to do with inventory that's been sitting on the shelves too long, staying on top of your products is essential to keeping your business running efficiently.
From forecasting to managing shrinkage, the resources below will help you take care of every step of your inventory needs.
Think about your margins
The way you price your products is almost as important as the product themselves. While pricing might seem like a simple enough formula to ensure you cover your costs and make a profit, it's a complex topic that can elicit different reactions from your customers.
Whether it's value, status or even gratification, a product's price is much more than just a number. And of course when it comes to the relationship between cost and sales, calculating and monitoring your profit margins must always go and in hand with your pricing.
The following resources will help you select from a range of different pricing strategies and learn how to calculate profit margins like a pro!
Secure your supply chains
Given recent history, it's never been more important to have a plan b (or even a plan c or d!) when it comes to your supply chains. With many retailers being caught off guard with sudden changes to supplier availability at the beginning of the pandemic, this year retailers should be thinking ahead and making contingency plans to avoid last-minute reactive measures and a disruption to their productions.
From basics like creating purchase orders to choosing the right supplier and managing them through unpredictability, check out our go-to reads below.
Step up your customer service
While in-store shopping has changed drastically in the last year, equipping your staff with the right tools and training still remains an important part of successfully connecting with customers in the new retail landscape. Even if your retail sales have transitioned into the online or ecommerce world, you can't lose track of the physical touch that your brick-and-mortar store brings and the role that your employees play in the day-to-day operations of your business.
Whether it's teaching your employees the nuts and bolts of cross-selling and upselling, new health guidelines or general skills to make customers feel comfortable and make the sale, read up on some of our most popular customer service posts.
Offer new ways of interacting
Many things have changed in the new age of commerce. Online shopping and new safety-focused trends—think curbside pickup and contactless solutions like Lightspeed's Mobile Tap—have become essentials for any store trying to accommodate changing customer needs.
What started as a trend in 2020 has now quickly become the norm in 2021. If you're looking to modernize your business by offering customer-centric services like appointment shopping, delivery, curbside pickup and contactless alternatives, check out the links below.
Jump into omnichannel retail
Omnichannel retail puts customers at the heart of the shopping experience. Instead of relying solely on traditional sales channels, the world of omnichannel shopping looks at the bigger picture by creating a seamless experience across multiple channels.
By combining your sales channels, whether that's a physical store, online shop or even adding social selling to the mix, you're able to connect with customers on multiple touchpoints, giving them the ease of convenience.
Find out how you can combine different channels to create one cohesive customers shopping experience with our resources below.
Add recurring revenue streams
When uncertainty hits, knowing that you have consistent revenue streams on a monthly or even weekly basis can help you plan ahead and give you some much-needed breathing room.
While businesses in the entertainment and educational industries have been taking advantage of offering subscription or memberships style services for years, this type of service has only recently started making a dent in the retail world.
Businesses can use subscription services to add an extra layer of value to their products and help build stronger relationships with their customers. So whether it's a monthly chocolate box, weekly guitar lessons or even creating a VIP club with monthly perks, subscriptions can take your business to the next level.
Dive into the data
Data can seem impenetrable for many in the retail world. While it's often described as the be-all and end-all for making decisions, few know how to actually dissect and gather insights from numbers on a screen.
Really understanding your shop's data goes beyond profits and means taking a deeper look at every angle of your business. But it doesn't have to be confusing. With tools like Analytics Core you can examine your stock, customer experience and staff performance in a digestible format and with suggestions for real business optimizations.
Whether it's making sure your accounting is in tip-top shape or running annual reports to assess the state of your business, working with data helps you manage your operation and make better decisions for the long-term. Check out our resource to find out how to dive into your data, manage your accounting and even run annual reports with Lightspeed.
Prepare for the unexpected
If we learned anything in 2020, it's to always expect the unexpected. While business owners are accustomed to uncertainty and being quick on their feet, it's still important to find a way to create contingency plans for the future.
Creating a business continuity plan means setting out processes to take on any major challenges your business might face and minimize the losses associated with it. For a shop, having a plan in place allows store owners to focus on execution rather than worrying about what to do next when the time comes.
Emergencies happen. Learn how to set up your business continuity plan so you're as ready as you can be.
Embrace ethical commerce
While it's easy to get stuck on the challenges at hand, we can't lose sight of the future. The new age of commerce is filled with advances that help retailers reduce the footprint they leave on our planet. Even if your shop doesn't offer eco-friendly products, there are still many ways to shift your business towards more sustainable commerce and also improve your day-to-day operations.
Whether it's using eco-friendly materials or reducing your waste by planning ahead, it's time to take the first step into a more sustainable future for your business.
Take on the future of retail with Lightspeed
From setting up recurring revenue streams to finding better ways to manage your inventory, there's no time like the present to set up your business for success.
Make sure you're always up to date on recent trends and business essentials by signing up to our blog. For more ways on how Lightspeed can help you face the new era of commerce in style, chat with one of our experts.
It's time to get reading!
News you care about. Tips you can use.
Everything your business needs to grow, delivered straight to your inbox.