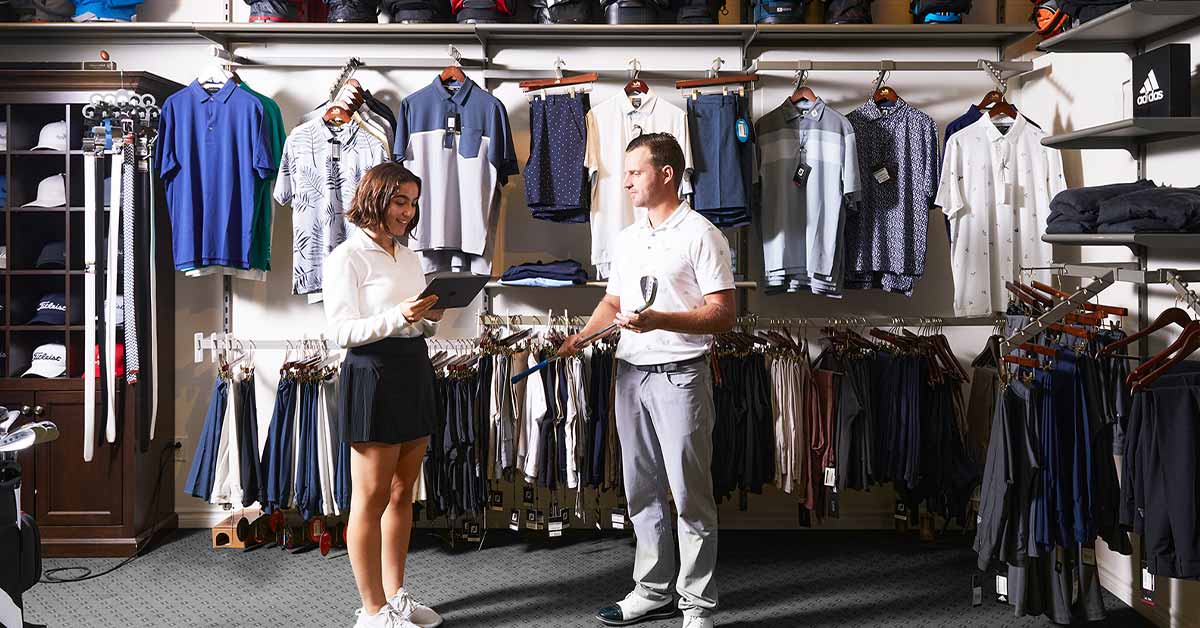 The precision of today's custom club fitting process makes buying new golf clubs a collaborative effort between club fitter and customer. There is a lot of data and analysis that goes into a proper club fitting. In fact, to be an effective fitter, one must have extensive training, education and gain the experience needed to earn the trust of the customer.
Here is what you need to know about custom club fitting:
The Golf Operator of the Future
Now is a better time than ever to bring your golf course to the next level and accelerate your progression towards becoming an industry leader with the help of technology.
What is a custom club fitting?
It wasn't long ago that golfers looking for new clubs would buy them right off the rack of their local golf shop or big-box retailer. In some cases, the golf professional would narrow the golfer's specifications by having the golfer hit golf balls off a plastic lie board with impact tape on the clubface and soul. The points of impact of as few as six swings would then be analyzed to make an immediate determination.
However, with the technology that is built into today's equipment and the innovation that is available within a custom fitting session, expert club fitters can determine which golf club best enables the player to hit the ball in the center of the clubface (affecting distance and direction), most often allows for a square clubface at impact (affecting direction) and results in the soul of the club being parallel to the ground (affecting direction).
Club fitters should be adept at determining the proper length, lie, loft, weight, swing weight, shaft material, flex and more. Today, technology from manufacturers such as TrackMan, Foresight Sports and FlightScope enable the fitter or PGA Professional to attain data such as carry distance, total distance, swing and ball speed, smash factor, shot dispersion and a plethora of other indicators. When the numbers are analyzed and plotted, the optimal set of clubs is determined.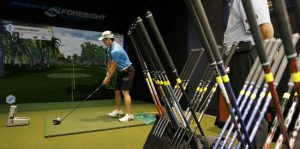 Why is Custom Club Fitting Important?
Golf instruction can sometimes take a golfer only so far in his or her development. After all, as important as it is to improve one's golf swing, the results of the golf shot will still be affected by the clubs being used. In this scenario, golfers will often make ill-advised swing adjustments to compensate for the deficiencies in their equipment.
Not enough loft and they'll have trouble getting the ball airborne. Shaft flex is not stiff enough and they won't be able to square the clubface at impact. Custom-fit clubs help the golfer hit straighter iron shots, longer tee shots and more accurate wedge shots while instilling greater confidence in the player.
It's also a valuable service that golf professionals and club fitters use to engage customers, forge new relationships and of course, sell golf clubs. Getting golfers to play better often triggers them to play more, a winning combination for any golf facility. This helps increase rounds at public courses and aids in member retention at private clubs.
Trent Maxwell started Windmill Golf Center with two partners in 2012. They specialize in private and group golf instruction and custom club fitting. Maxwell, the PGA Director of Club Fitting, said, "When I was hired as a club-fitter at a previous job, I really didn't know what that meant. I had to learn as I went." Today, Maxwell is fitting 6-7 students per day and is booked a month or more in advance.
What is the role of technology in custom club fitting?
Maxwell's fitting facility encompasses two very busy hitting bays that hit out onto the range. Windmill's many custom fittings are conducted using advanced technology for precise feedback and individualized data that ensures every golfer gets the clubs that suit him or her, regardless of skill level.
Another PGA Professional, Edwin Fuh, is a master club fitter at The Club at Carlton Woods in The Woodlands, Texas. Fuh says that everyone needs to at least speak with an expert about their equipment. "You can get lucky and pull a set of clubs off the rack," Fuh said. "It happens. But from my experience, very few people are perfectly fit to stock standard length and lie."
With the complexities and innovation of technology a huge part of the fitting process, he highlights TrackMan and Foresight Sports GCQuad as industry standards in attaining the vital data already mentioned above that is needed in a proper fitting. Of course, budgetary issues may prohibit a fitter from having access to one of these two systems, leaving the door open to a more cost-effective source of technology and feedback.
Fuh fits golfers of all skill levels and says it's easier to gain noticeable progress from a high handicap player than a highly skilled golfer. He says he'll go into a fitting with a high handicap player with a good idea of what's causing the undesired ball flight—impact position, swing path, etc. Better players are more individualized in their deficiencies, making a fitting session with a low handicap player more detailed and data-driven.
Why should you offer quality golf club fitting at your golf course?
Most green grass facilities and their PGA Professionals offer some iteration of a custom club fitting. Of course, some are more detailed than others based on their education, experience and technology used.
Club fitting has become the prime catalyst in the new club sales process. Like Fuh mentioned, the odds of having the perfect set of clubs fall in your lap are minuscule. If a business gives lessons or sells golf clubs, offering custom club fitting is the next logical service to provide, as it drives new club sales and can help increase one's lesson revenue.
With proper marketing and communication, you can also attract golfers who aren't familiar with your facility to make a purchase at your pro shop. Having new golfers become familiar with your golf course and trusting your golf professional to provide them with the best clubs possible drastically increases the chances of converting them into repeat customers.
Custom club fitting is an important process that can't be overlooked
We've highlighted what a custom fitting is and why it's important to the consumer, as well as the golf professional. Custom club fitting is just one of what Dr. Paul Callaway, of Cantigny Golf in Illinois, calls the four essential performance factors – professional instruction, physical fitness, mental game coaching and properly fit clubs.
It's a very individualized assessment, and with the hefty price tag on much of today's new equipment, who wouldn't want the security of knowing that the clubs in your bag are properly suited to your swing, your body and your skills? Most golf shop owners and PGA Professionals won't even sell a set of irons without a custom fitting—proving just how important the process is from both sides of the lesson tee.
Looking to bring your pro shop experience to the next level? Talk to one of our experts today to find out how Lightspeed can help your facility.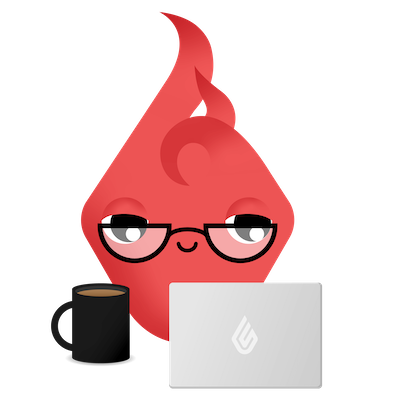 News you care about. Tips you can use.
Everything your business needs to grow, delivered straight to your inbox.