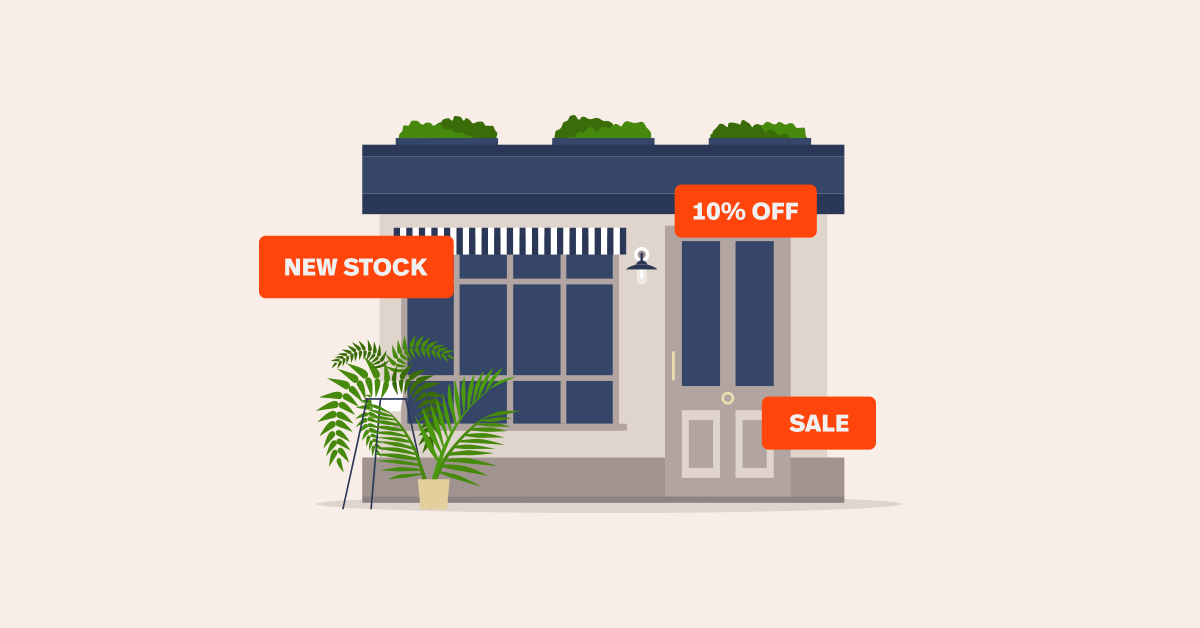 Retail marketing helps your business expand its reach, connect with customers, nurture relationships and tell your brand story. It can also be used to differentiate yourself from your competition.
Fortunately, marketing isn't just a luxury for large businesses with big budgets. There are tons of marketing options that can help retail businesses in every industry and size reach their audience, regardless of budget or experience.
In this article, we explain 8 different marketing strategies and promotion ideas for retail businesses and discuss how to choose which will be best for you:
What is retail marketing?
Retail marketing is marketing to promote your retail store. Marketing can mean organic content (for example, blog posts), paid content (for example, advertisements) or a mix of both.
Marketing includes both in-person and digital strategies, which can encompass everything from running giveaways on social media to having a sign outside your brick-and-mortar store detailing a special promotion.
In many cases, businesses benefit from using a combination of retail marketing strategies at once (which is sometimes referred to as a "marketing mix") to reach more people.

The 4 Ps
Retail marketing has 4 key components, also knows as the "4 Ps": Product, Price, Place, and Promotion.
Product.

First is the Product, which is the physical item that's being sold.

Price.

The second is Price, which refers to the pricing strategy that the merchant uses to sell the item. (Examples include "everyday low prices," implementing pricing psychology like using "$9.99" etc.)

Place.

Third is "Place" which refers to the location or platform used to sell products.

Promotion.

Finally, there's Promotion, which is what the retailer does to get the word out and entice sales.
Successfully executing your retail marketing strategies requires a solid handle on the 4 Ps. Tracking these componenents and ensuring that they're all working together is essential to any marketing initiative.
For best results, use a POS and retail management system that allows you to manage the 4 Ps with ease. With the right platform, you can keep your all your ducks in a row (i.e., your products, prices, places, and promotions) and focus on bringing your retail marketing ideas to life.
When you're considering which marketing strategy to use for your business, it's a good idea to look at a number of different options to see what would work best.
8 Marketing and Promotion Ideas for Retail Stores
1. Leverage social media
When it comes to retail and social media, there are three platforms you should seriously consider: Facebook, Instagram, Pinterest and TikTok. These are the most consumer-centric networks, making them ideal for merchants looking to reach new customers.
Facebook

Instagram

Pinterest

TikTok
Marketing on Facebook
Even with the rise of newer platforms like TikTok, Facebook is still the most popular social media platform in the world. On Facebook, you can share frequent updates with your customers, promote your products, create on-platform events thanks to a built-in event function and use features like live broadcasting to make meaningful connections.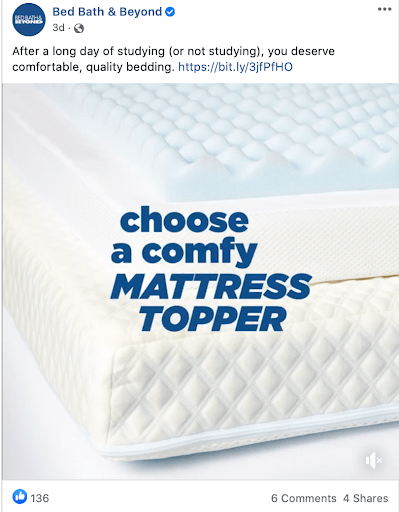 You can also provide direct links to your website in your posts, or connect your Facebook page to a shoppable catalog. Keep in mind that you'll need to create a Facebook account in order to manage ads on Instagram, because the ad software is shared between platforms.
Start a Facebook Group
Facebook lets you create Groups for your business or brand. Think of Facebook Groups as clubs or communities where your most engaged customers and fans can congregate.
One example of a company that's leveraging Facebook Groups is Peloton, an indoor cycling brand. The company established the Official Peloton Rider Page, which is "intended to be a community board for Peloton members to share their experiences on the Peloton bike and iOS app."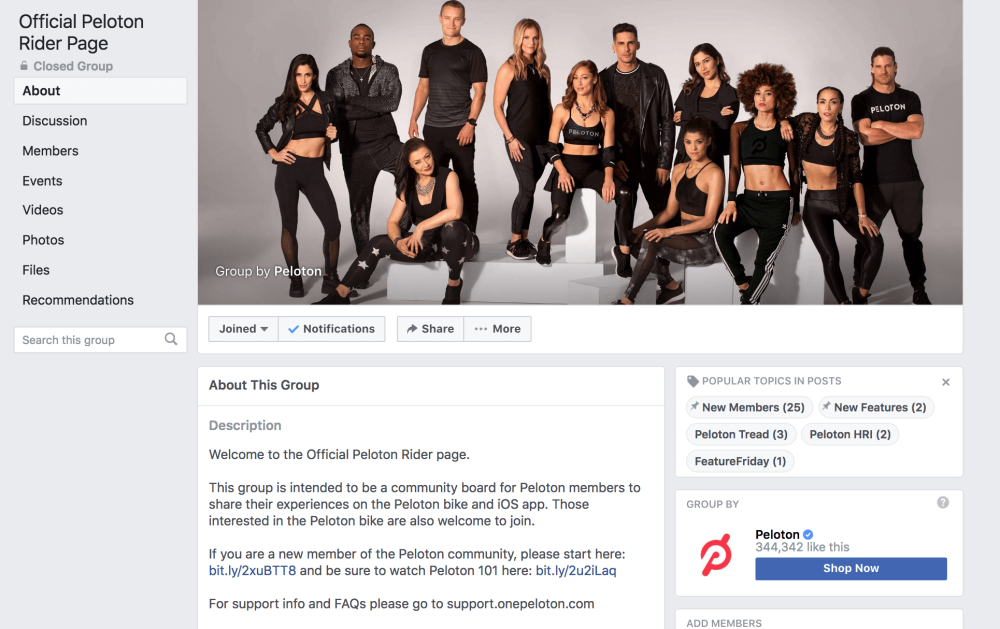 The Group is very active, and people use it to share their workouts, ask questions, dish out tips, and more.
See if you can do something similar for your Facebook presence. If you sell something that's centered around a particular lifestyle or interests (e.g. fitness, food, crafts), then consider creating a Facebook Group for your patrons and potential customers.
Run Facebook ads
If Groups aren't your cup of tea, or if you want even more brand visibility on Facebook, then you'll need to run Facebook ads to reach your target audience.

The good news is, Facebook has a variety of ad products with robust targeting capabilities that let you zero in on your specific audience.

The best thing to do is test different advertising solutions, then keep track of your metrics (e.g. clicks, engagement, sales, etc.) Take note of the numbers, then use those insights to determine your ROI. This will help you figure which ad types are right for you and how much to budget for Facebook advertising.

Marketing on
Instagram
Instagram is one of the most popular social platforms today, with over a billion monthly active users. What started as a photo sharing app in the early 2010s has now become a full-blown photo, video and shopping destination for consumers and businesses alike.
Your business can connect with your community by sharing short form video clips to Instagram Stories or Reels, posting product or in-store photos to the feed, hosting Live events through Instagram Lives or more long form through IGTV. Creating an Instagram Shop will let customers view and buy products directly from the app.

Carefully curate your visual content
Your Instagram posts should be anything but random. You need to create a clear brand aesthetic so when people visit your profile, they get a quick idea of who your brand is.
Check out Clad and Cloth's profile. You can see instantly from their collection of photos that their brand produces casual clothing items and likes a clean neutral palette with pops of color.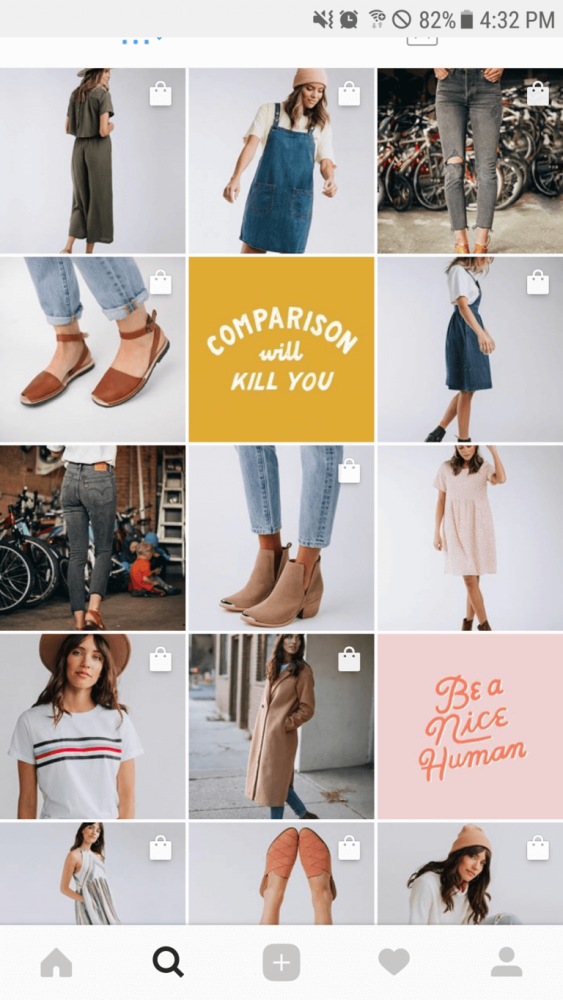 So, if you haven't done so yet, spend time thinking about your brand aesthetic. Ask yourself, what kind of first impression do you want people to have about your brand? Find the answer then figure out how to make it come to life on your Instagram page.
Use Instagram Stories
Instagram Stories allow you to be more informal with your aesthetic, as people expect Stories to be more spontaneous and less curated. You can use them to give people behind-the-scenes glimpses at your store or showcase new products.

A secondary feature of Instagram Stories is that you can create a few permanent ones to display on your profile, highlighting things you really want your potential customers to see. Check out what Peridot Decorative Homeware is doing. The retailer uses these permanent Story spots to make it easy for people to view interior designs, shop for items, and more. They even created custom Story cover images to make them look more attractive!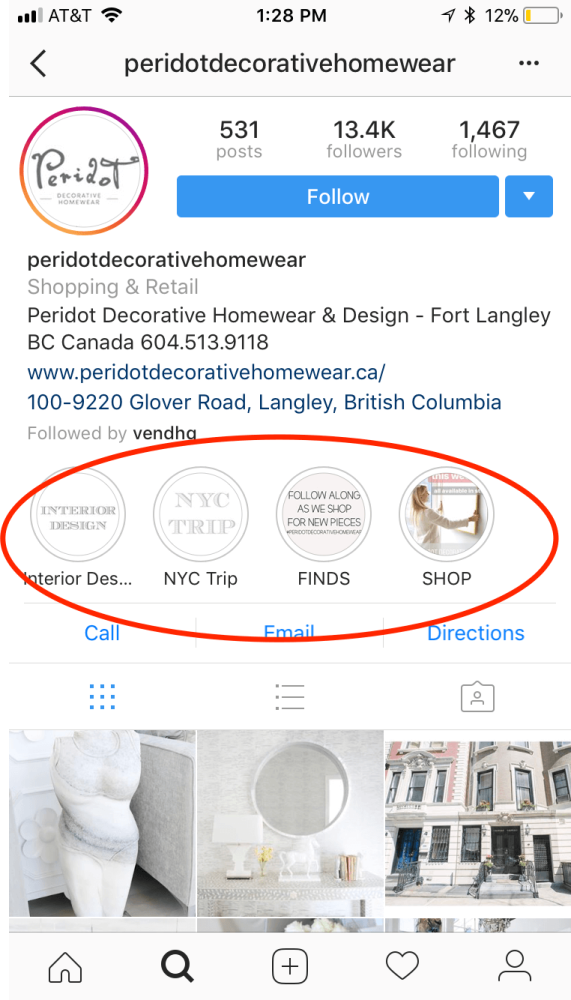 Marketing on Pinterest
If you have an eCommerce website, using Pinterest is a smart choice. Pinterest, like Google and YouTube, functions as a search engine. Over 450 million users flock to the platform to research buying decisions or find inspiration and how-to guides. If your business can be the answer they're looking for, you'll likely find success.
You can also work on creating content-focused pins with tutorials showing how to use a product. Here's a great example from Sephora's page: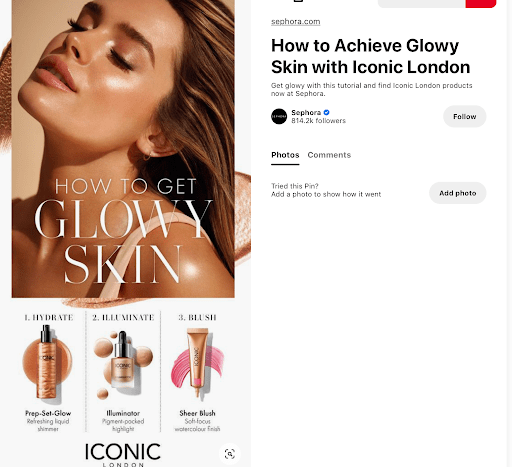 Pinterest also has shopping capabilities, so you can tag your products in certain pins for customers to shop directly from the platform. Advertising on Pinterest is another popular option. Promoted Pins can help you create targeted campaigns so that your ideal demographic will see your content.

Remember, curation is key
Like your Instagram profile, make sure that your Pinterest boards are carefully curated. You should create boards that make it simple for potential customers to navigate to things they're interested in.
J.Crew, as you can see, has boards that make it easy for you to look at their jeans, their prints, or their stripes.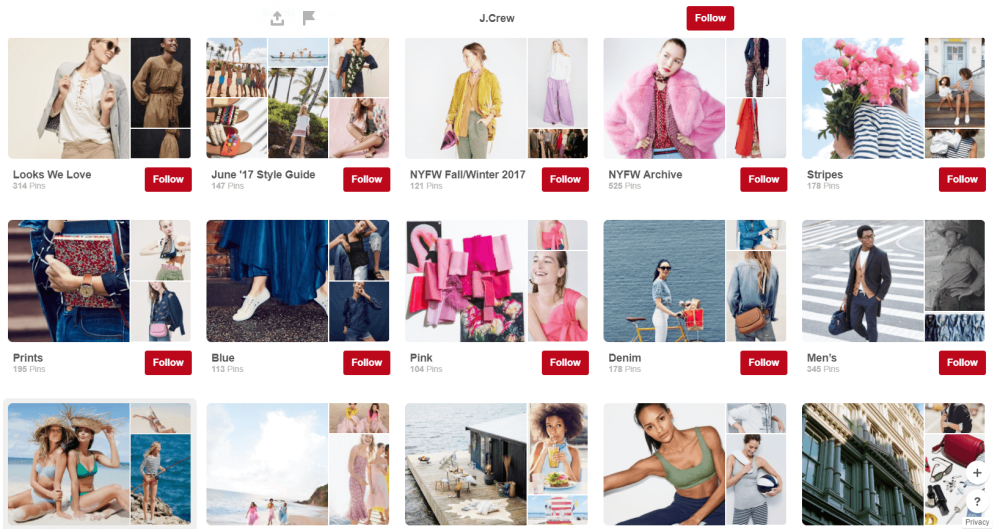 Be patient
The Pinterest algorithm doesn't necessarily surface your content quickly. It can often take up to 6 months for your content to really start appearing in people's feeds.
This means that, while you should be pinning your products, pages that will do best for you organically are likely to be links to your blog posts.

You can write blog posts specifically for Pinterest, such as gifting guides that help get your brand lift and will then direct your customers on to your correct pages all year round. As for products, they'll do great on Pinterest in ad form.
Marketing on TikTok
TikTok is taking the social media world by storm. As one of the world's fastest growing apps, TikTok became the first non-Facebook owned app to reach 3 billion installs globally.
The short form video format combined with TikTok's interest-based algorithm makes the platform very small-business friendly. If you're comfortable in front of the camera or have someone on your team who is, all you need is a smartphone and our tips and tricks to get your business seen by thousands.
2. Beef up your email marketing
Email marketing is still the most effective marketing channel, with a 4400% ROI. Taking advantage of email to acquire new customers just requires a little savvy-ness.

It will help you keep customers engaged without depending on an algorithm. With email marketing or loyalty software, you can send segmented campaigns based on your customers' past purchases and current behaviors, like abandoned carts or views of a specific product page.
This form of targeted marketing is powerful and a great way to remind customers that you're around.
Segment your non-customers
The best way to use email marketing for getting new customers is to segment your subscribers who haven't purchased yet into their own list. (For even more effective and personalized emails, you should further segment this list by other relevant pieces of information.
You can then send people who haven't purchased yet targeted campaigns with first-time buy offers or giveaways.
Showcase your story and values
Another great campaign idea is to send an email detailing your brand story. It'll get people engaged with your brand and excited about your values.
The Farmer's Dog is killing it on this front. Check out this gorgeous email I received after not purchasing. Their story is touching and the 20% off coupon is a solid CTA to end on. (And fun fact: their marketing automation software also served me a personalized 20% off CTA when I went to the website independently about 20 minutes later. Genius.)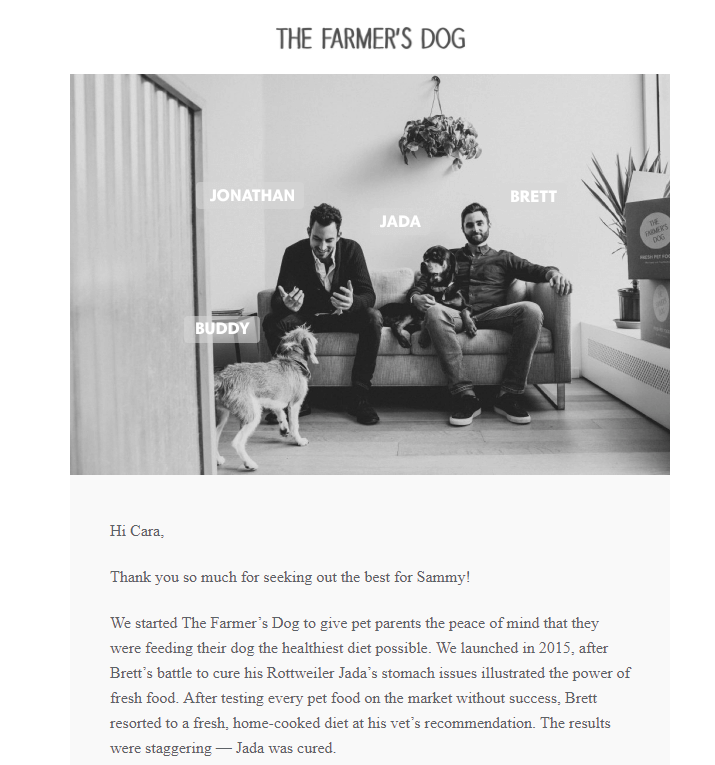 Provide value
Email promotions aren't the only way to acquire new customers.
You also have to think about the long game of email + content marketing, in which you send valuable content without any hard sells or strings attached. This builds trust and positions your brand as an authority, so when people are ready to buy, they'll think of you.
Check out what The Dollar Shave Club (DSC) is doing. While DSC sends promotional emails now and then, they also have DSC "Original Content" emails that contain informative (and entertaining) articles on grooming, health, style, work, and more.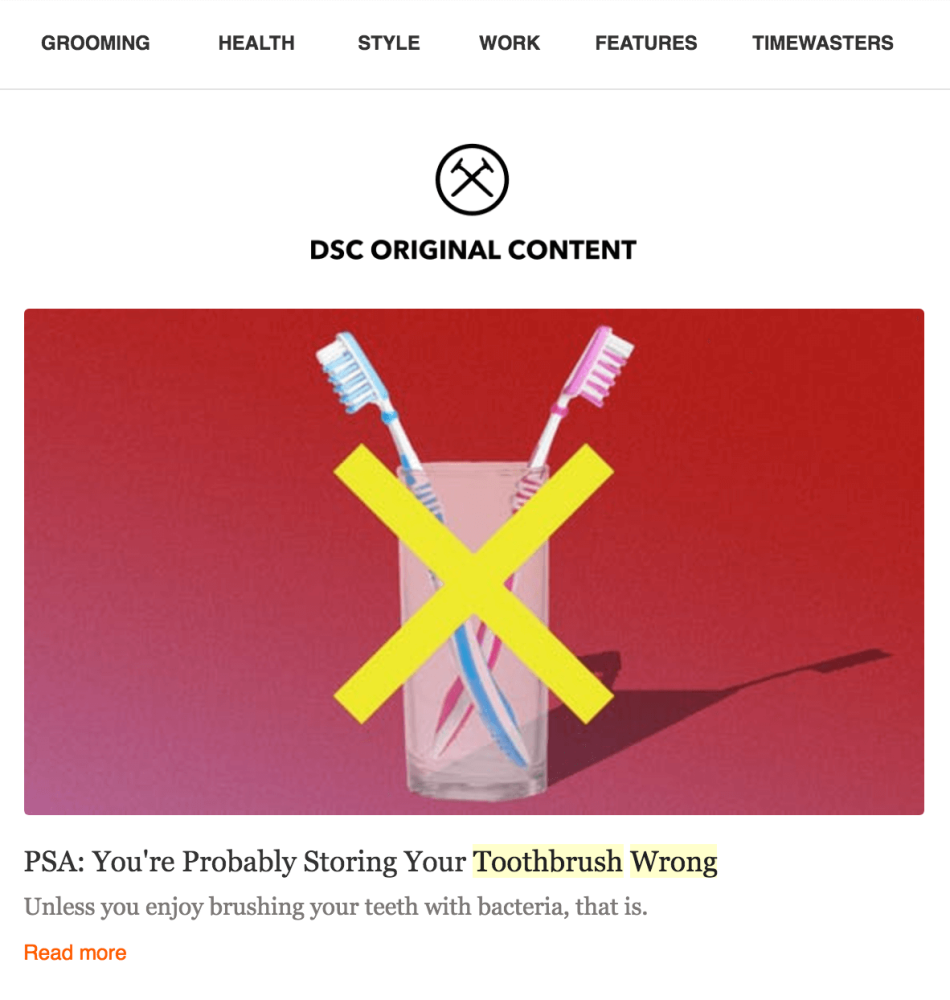 These content pieces are non-salesy and they're refreshing to read, especially when every other company out there keeps sending "SALE" or "BUY NOW!!" emails.
The bottom line? Your email marketing strategy should have a mix of promotional and valuable content. Find the balance that works for your subscribers and go from there.
3. Consider influencer marketing
Influencer marketing, if done well, can help your business reach its marketing goals. With influencers, follower count isn't everything. In fact, engagement rate is a better metric for determining whether or not an influencer is worth partnering with.
Influencers with relatively low follower counts (fewer than 10,000 followers) often have much higher engagement rates than their mega or macro counterparts. A high engagement rate signifies a high amount of trust, and therefore, a higher likelihood of conversion for your business.
Find influencers that create content for the same target audience as your business and see if they are interested in partnering with your brand. You can do this by searching through your tagged photos, relevant hashtags or even your competitors' accounts to create a shortlist of people to reach out to.
You can hire influencers to create photos or videos promoting the products in your store or specific event, like a grand opening.
How Morphe skyrocketed sales with influencer marketing

One brand, Morphe, used influencer marketing to become in less than a decade one of the most powerful names in the beauty industry. Morphe was founded in 2008 with the very intention of using beauty influencers, particularly those on Youtube, as their primary way to generate sales.
They have given many, many beauty influencers affiliate codes, but Morphe really refined the art of marketing by working very strategically with a certain few top influencers, whom they pay extra.

They also collaborated with these influencers to create customized beauty items, like eyeshadow palettes, which the influencers then encouraged their huge followings to purchase.
This strategy paid off in a big way when Morphe's top influencer, Jaclyn Hill, delivered Morphe 1 million sales of her palette in 6 months last year. At $38/palette, that's pretty life-changing for a brand.
4. Start a referral campaign
Capitalize on word-of-mouth marketing with a referral campaign. While there are many variations on referral campaigns, the core idea is that you provide some sort of incentive for your happy customers to share the word about you to their friends.
Stitch Fix, a fashion box company, has referral marketing down to an art. Their referral campaign is such a permanent part of their strategy that it actually has its own page on their website.
Each customer is provided with a unique link to Stitch Fix's home page. The customers can then share this link with their friends and social network. When someone purchases a box using that link, the original customer is given a $25 credit towards their next box. (And the new customer is enticed to make a purchase with their own $25 credit.)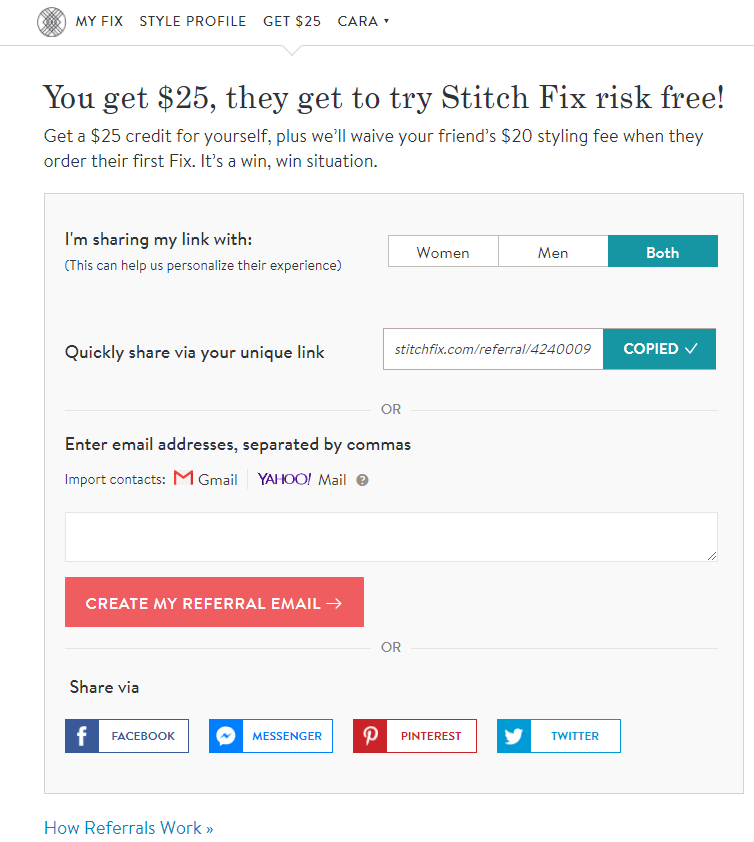 For stores looking to replicate Stitch Fix's success, consider testing out referral marketing with an initial campaign. Choose your incentive, set up goals and get cracking.

Referral programs are an incredibly effective retail marketing strategy, with 92% of customers trusting recommendations from people they know.
Creating incentives for customers to refer their friends can bring in high-value traffic and encourage repeat purchases from both. A popular way to do this is to offer a coupon for customers and their friends if they successfully refer someone. You can promote your referral and loyalty programs both online and in-store.
5. Use your in-store assets
In-store retail marketing focuses exclusively on leveraging the customer's in-store experience to promote brand and product awareness. Some of these strategies will also drive traffic into the store, too.
There are seven in-store retail marketing strategies you should think about using if you have a brick-and-mortar retail store.
In-store merchandising

Window displays

Curbside displays

Staff training

Partnerships and collaborations

In-store or virtual events

Referral and loyalty programs
In-store merchandising
The best way to attract and convert customers is to wow them with your amazing merch. See to it that you're always stocking the right products. Then once you have the right merchandise, come up with creative displays and arrangements to make them pop.

In-store visual merchandising includes everything from storefront displays and product displays to your cash wrap and retail POS system. The idea is to display your products in a way that draws attention to them and inspires customers to make a purchase.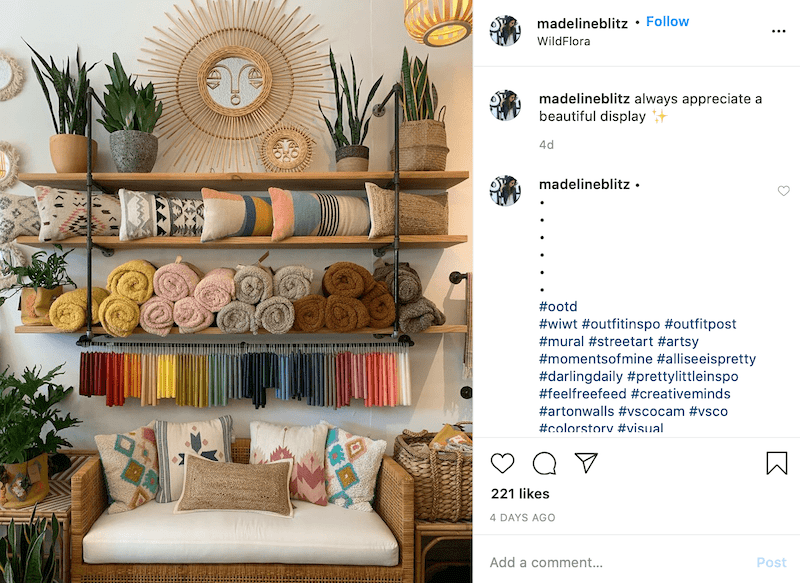 This can include any of the following:
Signs promoting your special deals, like a

buy-one-get-one offer

Putting your fastest-selling items on a mannequin in the center of the store

Displays near your register encourage users to add on last-minute "impulse purchases"

Identifying your "Lake Front Property." The area of your store that generates the most revenue.
Window displays
Window displays are a great way to capture people's attention as they're walking or driving by your retail store, hopefully drawing them in. You can show off some of your best selling merchandise and represent your brand in an exciting, creative way.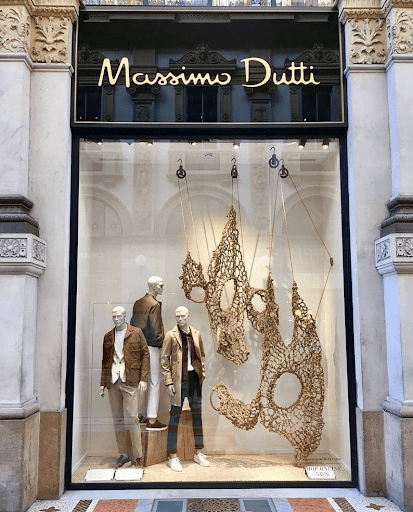 When creating window displays, use lighting, color and mood to your advantage.
Keep changing things up and try to update your displays at least once a month. For busy shopping seasons like the holidays, you want to do it every couple of weeks or even every week if possible.
Every retail store is different, so certain design tips may work better for others. The "best" design or look depends on your customers, so zero in on who you're targeting and craft your displays specifically for them.
Also, consider telling stories with your displays. You can do this by selecting a theme, and finding stories in line with it.
Check out what Anthropologie is doing. The apparel retailer changes the window displays of its stores depending on certain seasons or events. What makes their window displays great, though, is that Anthropologie always finds a unique angle or story within its chosen season theme.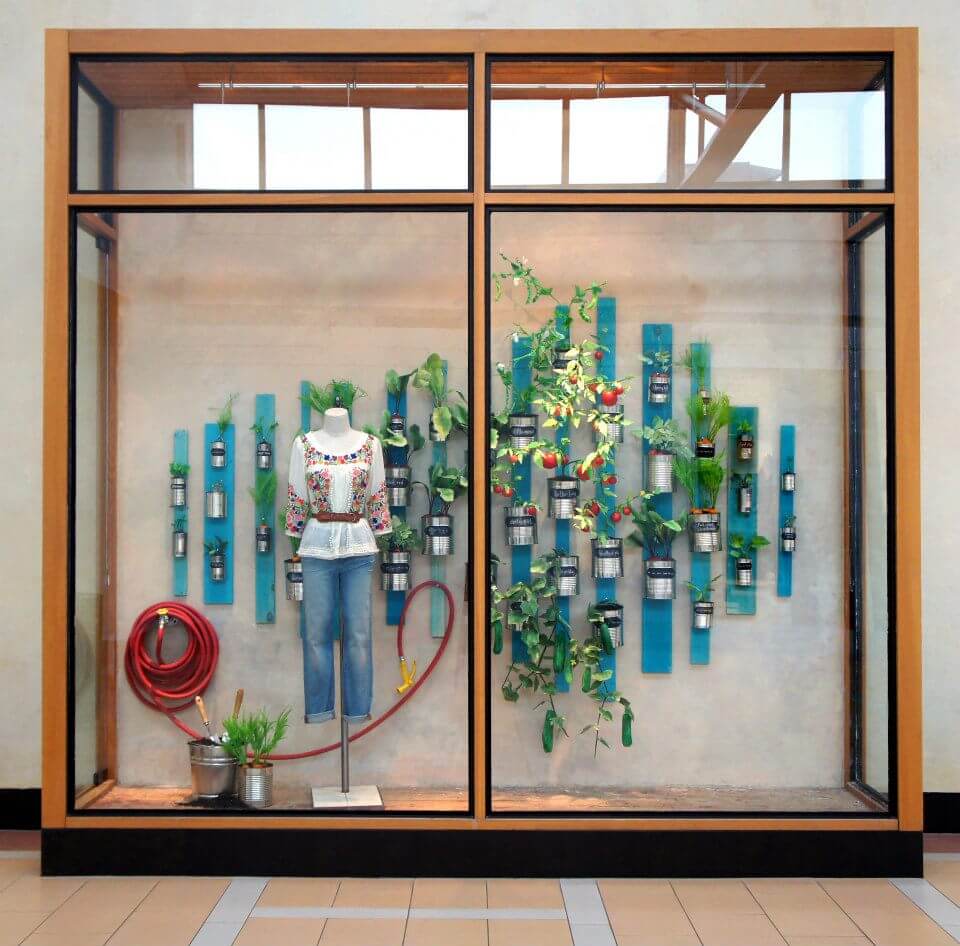 For instance, for Earth Day 2013, the retailer decided to "pay homage to the gifts of gardening with a variety of handcrafted fruits and veggies, and containers made from recycled cans, tires, bottles and more."
Curbside displays
Curbside displays are similar to window displays in that they also aim to capture foot traffic as people walk past your store.
This is a great place to mention any specials or ongoing promotions that you have. These are typically relatively low cost to create, especially if you've got standard evergreen options or are using a chalkboard display that can be changed up regularly.
So don't neglect your curbside. In addition to keeping this space clean and tidy, consider adding "curbside extras". For example, why not set up a sandwich board outside your shop with some eye-grabbing text or art? Doing so can make passers-by stop and pay attention.
Check out this great example from Covet Shoppe & Jewelry Bar in San Francisco.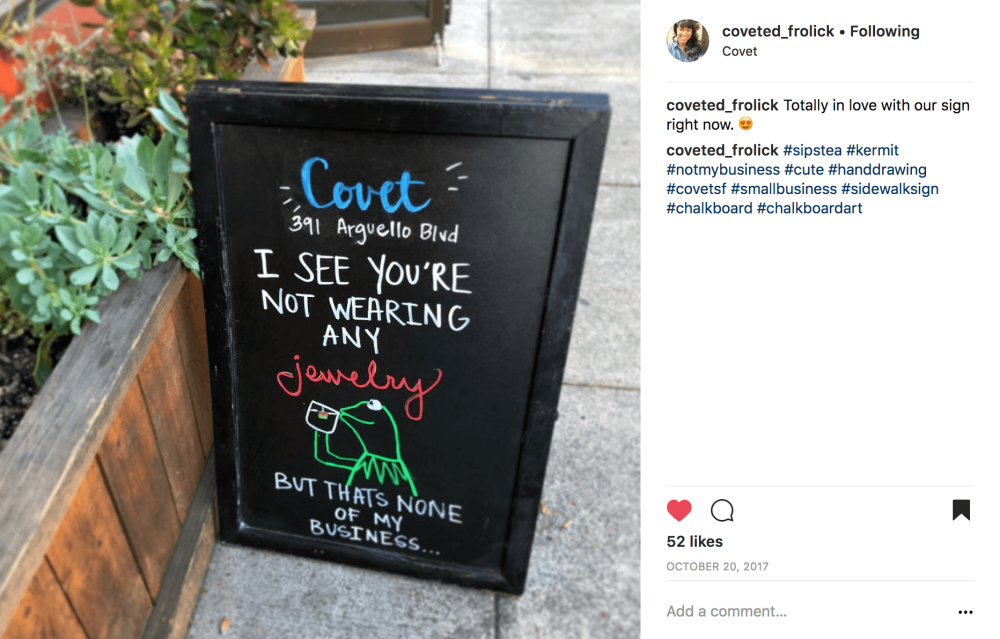 Staff
Your staff should all be trained in advanced sales techniques and know your inventory well. If they do, they'll be able to do the selling for you, guiding customers to products that they're looking for and even pointing out a few that they weren't.
Well-trained staff, especially if they have access to an advanced commerce platform that clearly displays information about customers, will be able to identify potential add-on purchases, leveraging cross-selling and upselling to boost the overall purchase value. They'll be excited about your brand and your products, so your customers will be, too.
Partnerships and collaborations
Establishing partnerships with other local businesses is an excellent way to expand your reach
and connect with new audience members.
One popular way to land a partnership is to pitch your products to be sold at complementary businesses. For example, if you own a pet store and produce your own line of dog shampoo, you might be able to partner with a local veterinary office to see if they would stock your products.
Establishing partnerships with other local businesses is an excellent way to expand your reach
and connect with new audience members.

One popular way to land a partnership is to pitch your products to be sold at complementary businesses.

Here are some more ideas:
Partner with the stores in the same location as you

– If you're in a strip mall or downtown area, you can ask the stores around you to offer your coupons to their customers (in return for you doing the same). The upside here is that you'll be directly reaching people who are perfectly positioned to just pop by. The downside is that your neighbors' clientele may not be your clientele.

Partner with stores in the general area whose clientele are your clientele

– If you have stores in the nearby area that service the same clientele as you, you can also ask them to offer your coupons. Alternately, if you worry that no one will be motivated to drive to you based on coupons, you can always take your business to your partner and set up a pop-up shop for a day.

Partner with a local charity to put on an event

– Customers these days are much more socially conscious and like to shop with brands who care. Partnering with a local charity offers you the chance to hit two birds with one stone: get your name out to a new set of people and show your customers you care about making a difference at the same time. Choose a charity whose values align with your own and set up an event!
In-store events
In-store events can do wonders when it comes to bringing more foot traffic into the store. There are plenty of in-store event ideas that you can take advantage of. A wine store could hold a tasting, a studio gym could have a healthy cooking class and an art store could host a painting class, to name a few examples.
To keep customers safe and to honor social distancing protocols, virtual events have become a popular way to get people together. You can host events through video conferencing software and invite people to see your latest products from the comfort of their own home.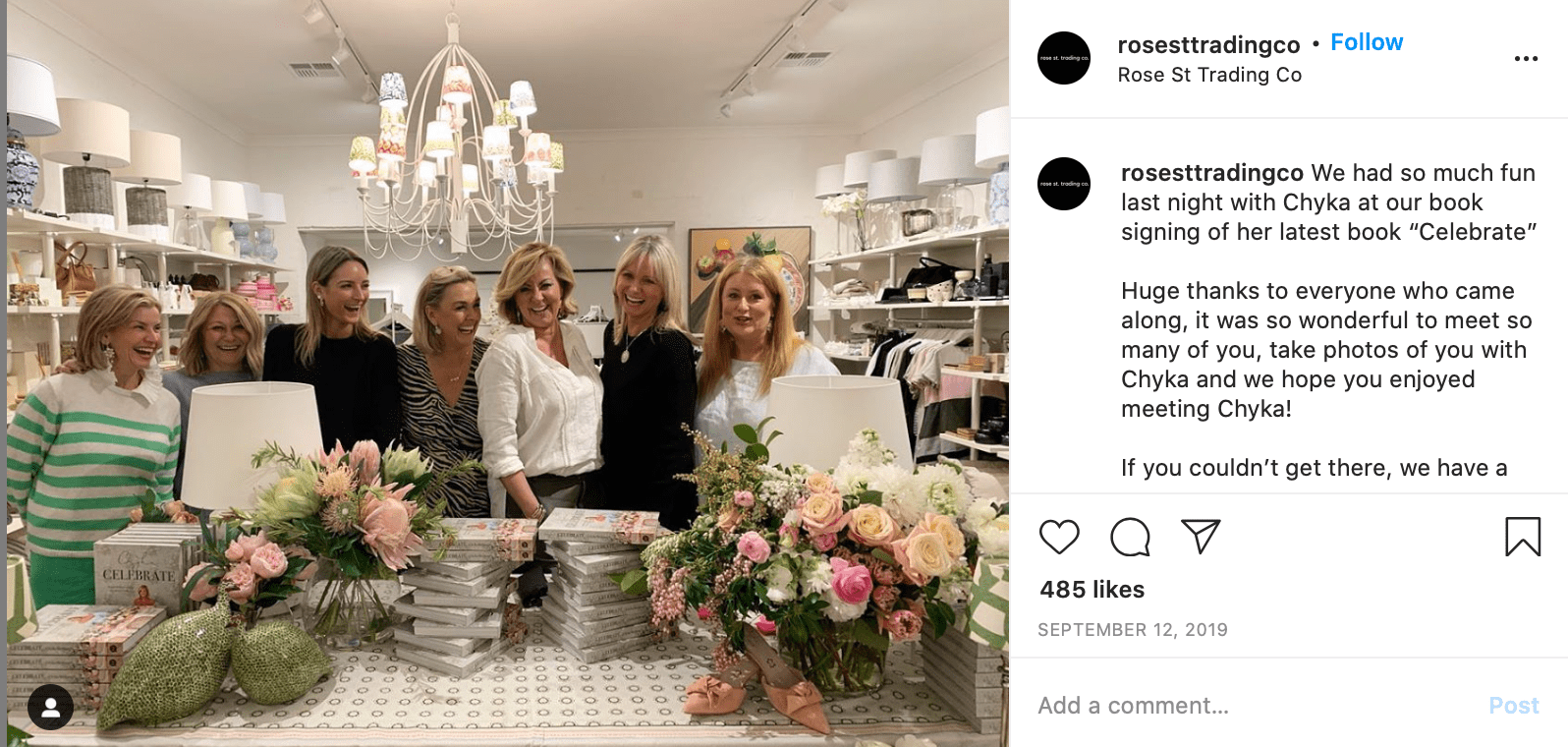 In addition to bringing traffic in and resulting in sales, events are also a great way to generate buzz on social media and nurture relationships with attendees.
You can connect your brand to both your community and a cause by hosting a charitable event that includes a donation. This is a powerful way to give back, while also reinforcing a positive reputation for your store. Showing that you care about doing good can impact how customers see you and your business.
Loyalty program
Loyalty programs are a great promotional idea for retail stores to show their appreciation of repeat customers. Pulling purchase history and customer data from your commerce platform can help you craft more personalized promotions. 72% of customers say they will only engage with personalized messaging.
You can also consider adopting different platforms for your loyalty programs including email, social media, and SMS text messaging. Giving customers choices on how they can be contacted also shows you're paying attention to their preferences.
6. Consider SMS marketing
\SMS marketing has been making waves, and for good reason: people love their phones. Research shows that US consumers check their phones 52 times a day and that text messages have a higher open rate (98%) compared to email (25%).
That's why if you haven't dipped your toes into SMS retail marketing, it may be time to do so. Start collecting your customers' mobile numbers and send — with their permissions — relevant marketing communications.
One retailer that's seen amazing results with SMS marketing is Federation +, a popular streetwear brand in New Zealand.
Federation + markets its brand on multiple channels, including SMS. One notable initiative is the brand's end of the year SMS campaign, in which customers were offered a 20% discount both in-store and online. To give people a sense of urgency, the offer ended at midnight that same day.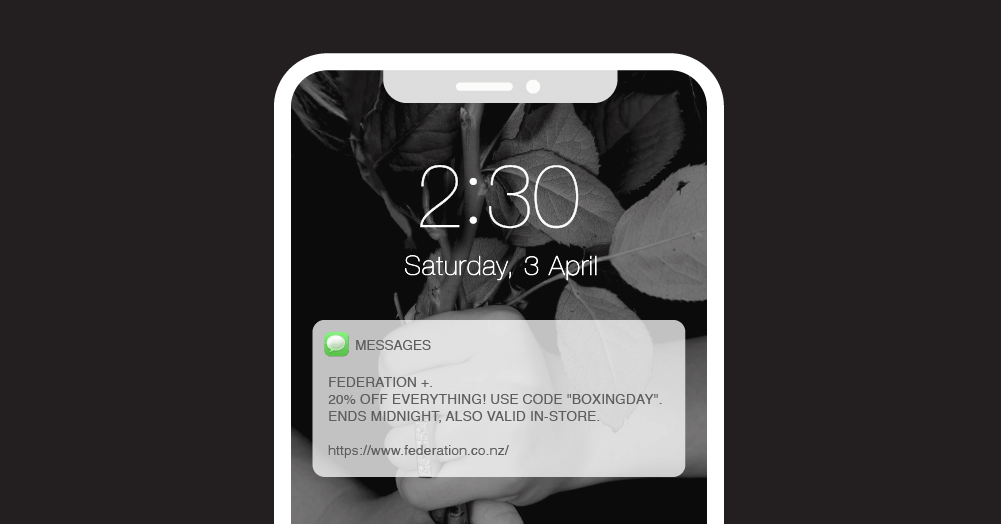 The initiative worked incredibly well. The campaign had a 95% delivery rate, an 8% click rate, and a conversion rate of 11%. Suffice it to say, Federation + ended the year strong!
7. Leverage video
In many cases, the best way to market your merchandise is to show your products in action. This is easily doable in-store, where shoppers can touch and feel products or even try them on. However, when marketing online, you need to get more creative with your visuals.
Enter video marketing. When leveraged correctly, video does an excellent job in showcasing the use cases and value proposition of your merchandise.
Here are some quick tips for using video in your marketing:
Make them relatable – You want viewers to connect with your brand when they watch your videos. You can do this by making the content as relatable as possible. Start by featuring people who look like your target customers. If you're targeting middle-aged moms, for example, then you'll want to feature that persona in your content.
Choose the right format and platforms – Determine the best platform for your videos. Is your target audience on YouTube? Do they prefer TikTok or Instagram? The answers to these questions will help inform your video strategy. Factors like the length of your videos, the content you'll produce, as well as the themes and and effects that you'll incorporate into the content, hinge on the platform on which your videos will live.
Have a clear CTA – Determine what you want viewers to do after watching your content. Do you want them to follow you online? Check out a specific product page? Get in touch with you? Mention the CTA in your video or add a link in the description. In some cases, you can embed a CTA link into the content and ask viewers to "click" or "swipe up."
One brand that's doing a top-notch job with video marketing is Rebecca Minkoff. Rebecca often posts Reels on her Instagram page to showcase different apparel pieces and accessories. Rebecca Minkoff herself embodies that trendy female persona of her brand, so she's the perfect subject to star in these videos.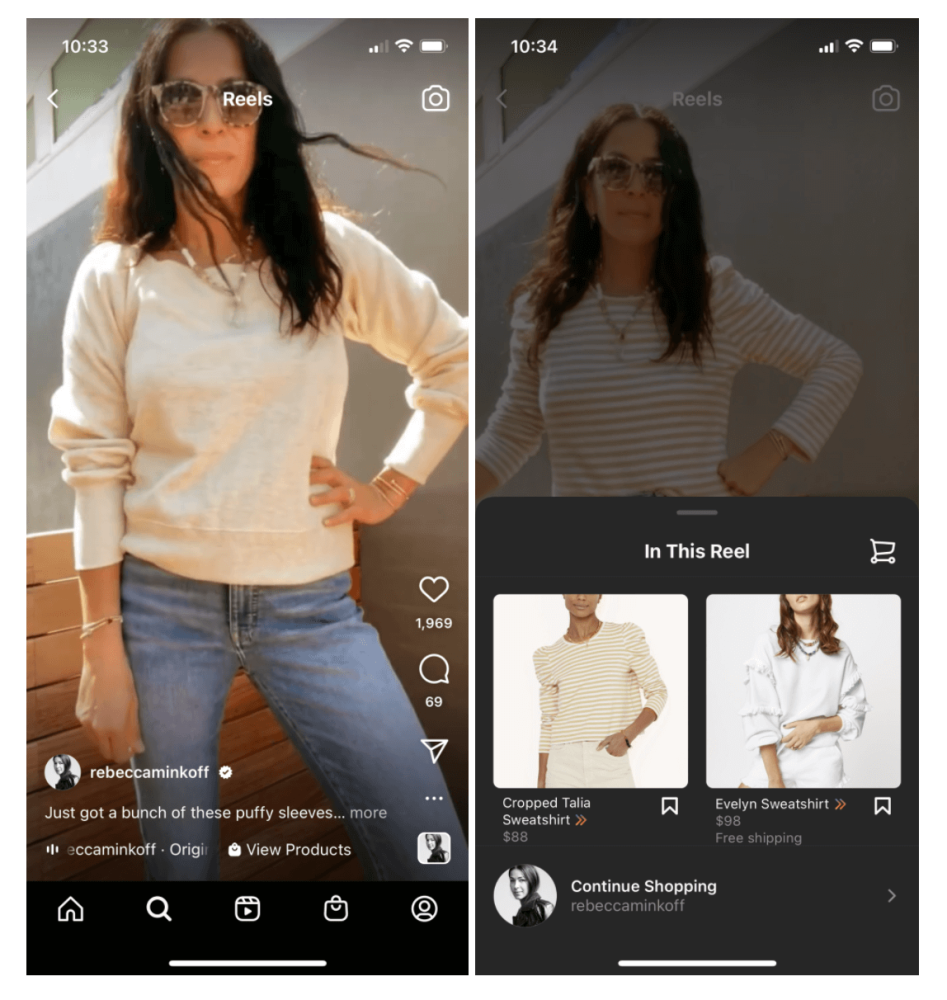 There's also a clear CTA on most of her Reels. Whenever a product is featured in a video, Rebecca Minkoff tags those products so customers can easily view and purchase them.
8. Run a win-back marketing campaign
Marketing to new shoppers is great, but what about your existing customers? I'm specifically referring to those who haven't shopped with you in a while. Identify inactive shoppers and win them back with a marketing campaign showing them what they're missing.
A good example of this in action comes from Our Bralette Club (OBC), a lingerie retailer based out of Singapore. OBC uses Marsello to automatically run "win-back" campaigns.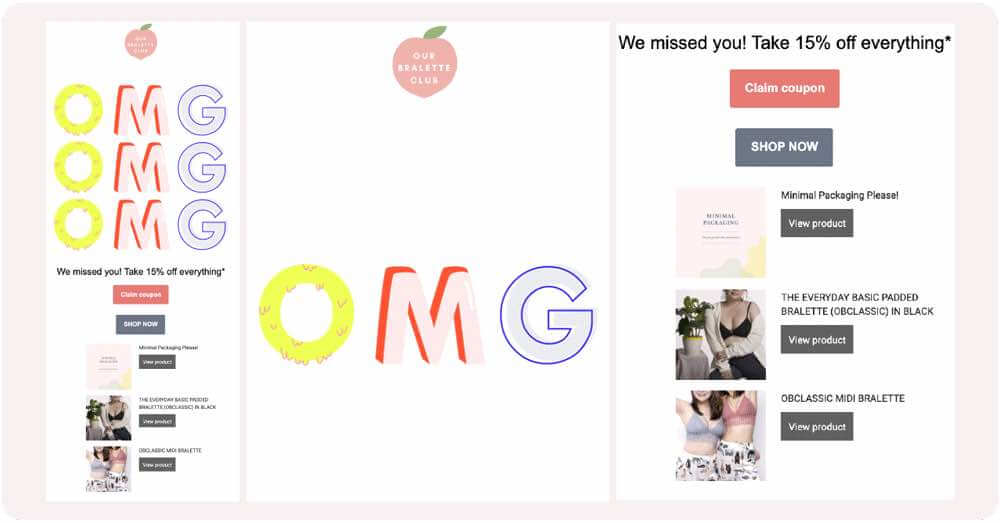 Using Marsello, OBC automatically identifies customers who haven't shopped with the brand in a while, and sends them a series of messages encouraging them to come back — complete with a 15% coupon. These messages have generated amazing results. OBC earned $4,000+ in revenue in just 4 months thanks to this automated email flow.

Find the right marketing mix for your retail store
Starting out with the right retail strategies for your campaigns can make a huge difference. When you're choosing a retail marketing strategy that makes sense for your brand, you'll be able to invest your budget wisely into in-store and online promotions that work well for you.
Remember, too, that all businesses can benefit from a strong marketing mix. Having different touch points allows you to be more discoverable and accessible to your customers.
As you're planning your overall marketing strategy, don't forget to optimize your employee scheduling for best results. All retail stores will have a select handful of sales staff that are top-performers. Use scheduling tools and store data to ensure that you always have at least one experienced, high-performer in your store at all times.
Need stronger tools to manage your marketing efforts? Watch a demo to see how Lightspeed can help you make smarter business decisions.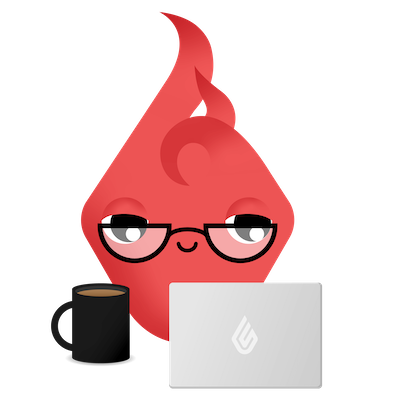 News you care about. Tips you can use.
Everything your business needs to grow, delivered straight to your inbox.