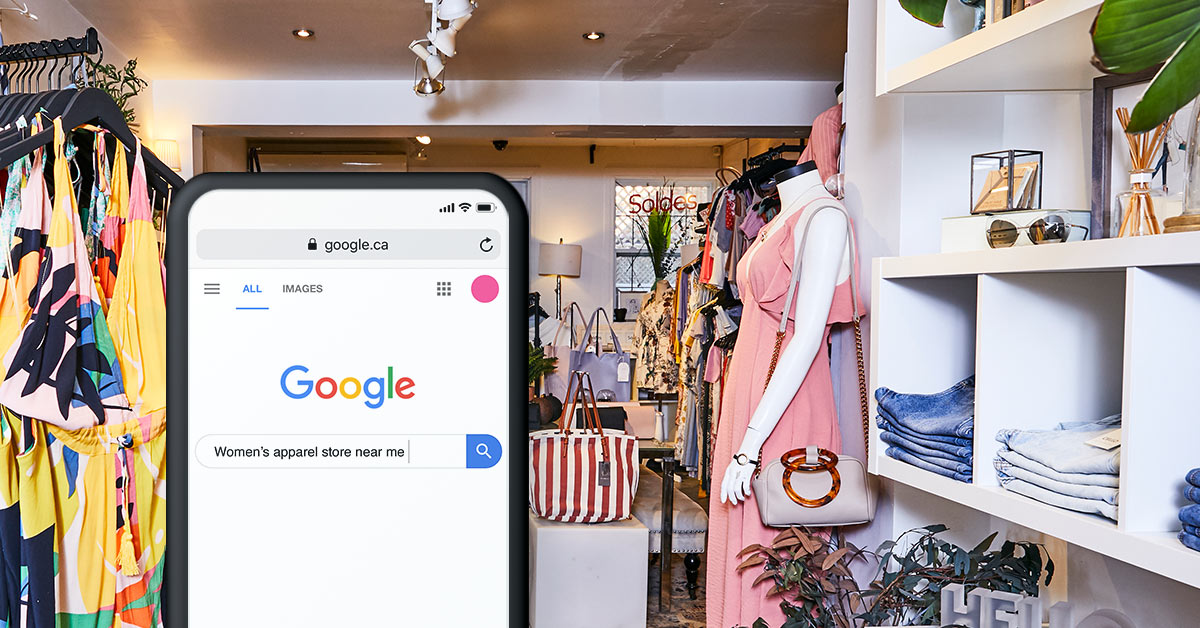 Bricks and clicks: it's not just a catchy line. Getting found online is vital to retailers boosting sales, even if they operate predominantly out of brick-and-mortar stores.
As of 2018, at least four out of every ten purchases were made only using an online channel to search, research and purchase, and 54% of all Millennial purchases were made online.
Multichannel shoppers will also spend an average of 3x more than single-channel shoppers.
But the competition for their attention is fierce.
In this post, we'll show you how to get your business found online and transactional with customers using the following tools:
Learn how to bring your business online
Becoming an omnichannel business means you're ready for whatever life throws at you—from extended store closures to evolving customer expectations. Learn how to bring your products online and start selling fast in our quickstart guide.
Use Google My Business to get found online
If you're wondering "how do I get my business found on Google?" Google My Business (GMB) is the answer.
What is Google my Business?
Google my Business is a "free and easy-to-use tool for businesses and organizations to manage their online presence across Google, including Search and Maps. By verifying and editing your business information, you can both help customers find you and tell them the story of your business."
88% of people who search for local businesses online either call or visit that business within 24 hours. Moreover, searches for local businesses result in a sale for 88% of people. GMB is the best platform to help your retail store get found by more local customers online and convert that visibility into sales.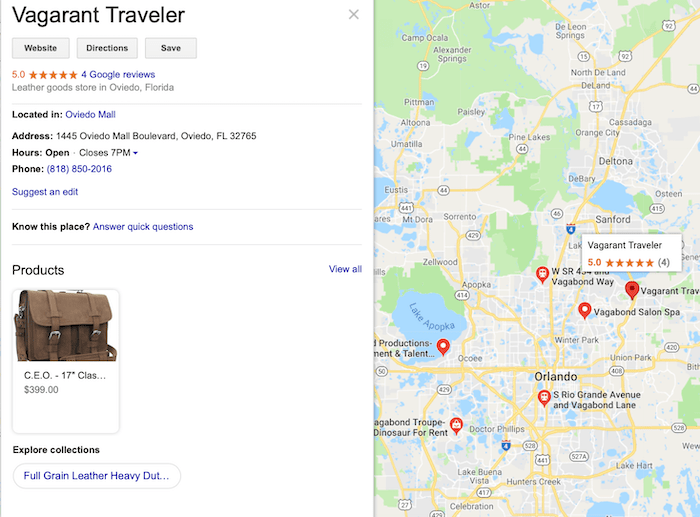 You can create your GMB profile here. It's easy to set up, you just need to have this information on hand:
Business name
Address
Domain (website URL)
Business category (apparel, home decor, sporting goods, etc)
Phone number
Why is Google my Business important?
According to Think with Google, 18% of local smartphone searches lead to a purchase within a day. Now, imagine if your store appeared at the top of just 18% of the 5.6 billion daily Google searches.
That's a lot of search traffic being directed to your store (and potential sales).
Setting up your business's GMB profile helps it appear near the top of related local searches and gives you a place to collect customer reviews, boost follow these guidelines and get more website traffic.
Google my Business best-practices
Fill out your profile completely
Use keywords in your business description
Choose a specific business category
1. Fill out your profile completely
Have a strong description, include your contact information (like your website, support email and phone number), showcase your products and answer any questions that come in.
Remember, people searching for local businesses online are looking for information above all else. Use your GMB profile to give them quick answers and increase the probability that they visit your website, view your products, call your store and make a purchase.

2. Use keywords in your business description
GMB now lets businesses feature a 750 character business description, but only 250 characters will be visible before being cut off by the Knowledge Panel. Make sure you write your business description thoughtfully. Put the most critical information (keywords specific to your business and the city where you're located) at the beginning of your business description to assure people see it.

Google reviews business descriptions to assure that they aren't spammy or deceiving, so make sure that you follow these guidelines: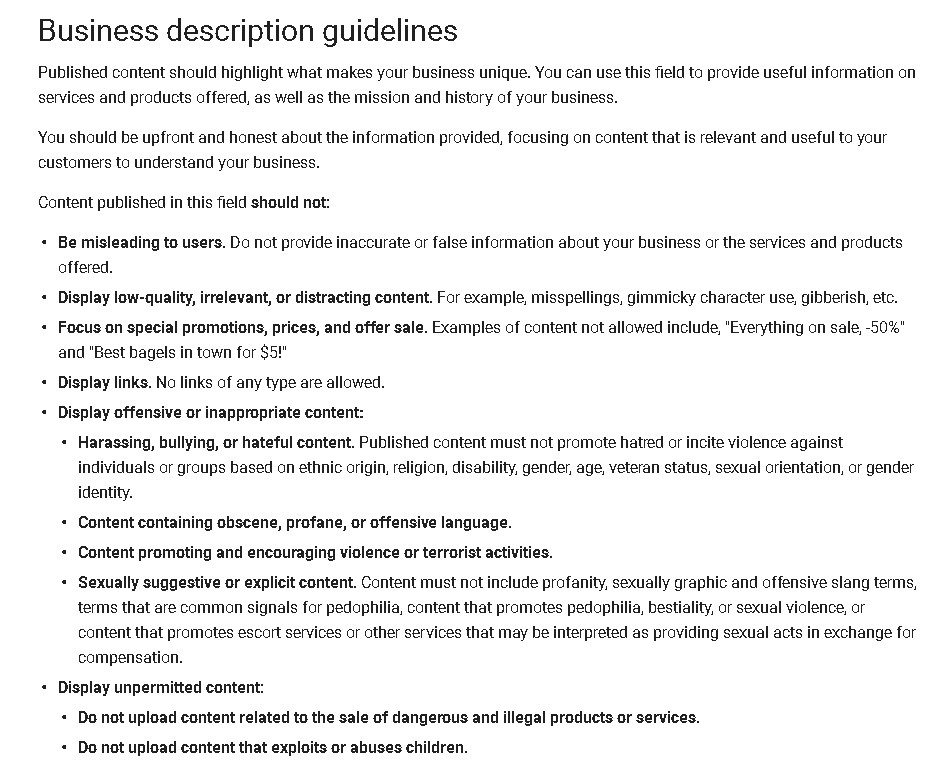 3. Choose a specific business category
When you choose a business category for your GMB profile, you can either stay generic with options like "retail" or get specific with something like "car stereo store."
Most businesses have the gut instinct to go general thinking they'll appear in more searches, but a specific business category is the way to go. There's less competition and you have a better shot of showing up in relevant searches.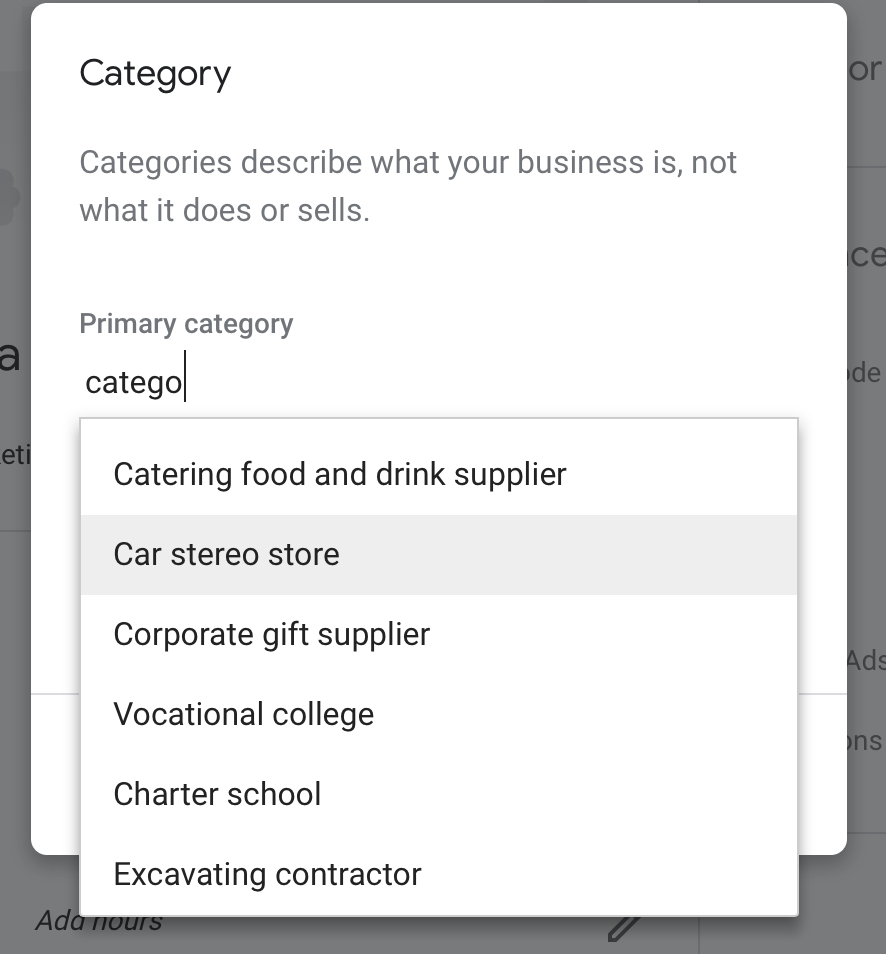 Think of it this way, if someone searches for "retail" on Google, they could be looking to buy something, they could be looking for retail industry news, you name it. It's such a broad term that it's difficult to know whether that person is interested specifically in what you sell.
On the other hand, if someone searches for "car stereo store", you know exactly what they're looking for and that you can offer it to them.
Choose a specific business category to assure that your store gets found by the right people—ones with high purchase intent. For more tips on how to optimize your GMB profile, check out this blog from Moz.
Use influencer marketing to get found online
When done right, influencer marketing boosts your business's credibility, helps you reach an audience with interests related to your business and convert them into sales. Businesses make an average of $6.50 in profit for every dollar they invest in influencer marketing.
70% of teens actually trust influencers more than traditional celebrities, and 40% of Millennials believe that their favorite influencer "understands them" more than their friends.
The key to influencer marketing for retail businesses isn't necessarily about getting celebrities on board. Instead, micro-influencers are often the better and more cost-effective choice. They're more trusted in their respective communities and can include local bloggers, Instagram or YouTube influencers, or other well-known people in your industry.
Micro-influencers usually have a niche and local notoriety. For that reason, the audience they've cultivated is highly-targeted.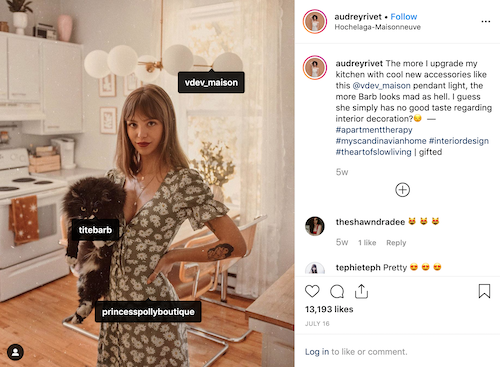 In this example, V de V, a Montreal-based vintage-style home decor retailer, partnered with Montreal-based blogger and influencer Audrey Rivet, who's well-known for her aesthetic and vintage-inspired fashion sense. V de V partnered with Audrey because her audience is their target consumer.
Note: Are you wondering to yourself "what is a micro-influencer?" We've got you covered. Learn all about micro and macro-influencers, the difference between the two and which influencers to choose to partner with in our deep-dive blog post on influencer marketing.
Influencer marketing best-practices
Do your research

Personalize your pitch

Nurture organic social media mentions
1. Do your research
Asides from scanning social media networks, tools like BuzzSumo help you identify influencers whose audience aligns with your business's target customer.
2. Personalize your pitch
Influencer outreach is an important part of the equation. When it comes to pitching a potential collaboration to influencers, you have two options: the shotgun or sniper approach.
The shotgun approach
In the shotgun approach, you send a generic email template to a large list of potential influencers, spending little to no time personalizing your message.
The goal behind this approach is that more emails equals more influencers and getting discovered by more customers online. The problem is that this approach can come off as spammy.
The sniper approach
In the sniper approach, you carefully "target" and send personalized emails to a small list of influencers you really align with.
Explain why you think working together is a good fit and make your pitch tailor-made to them. Make the email personalized and relevant.
The belief behind the sniper approach is to make a great first impression and build a working relationship (after all, you're trying to get them on-board with being a brand ambassador).
We suggest using the sniper approach. When it comes to partnering with influencers, quality beats quantity.
3. Nurture organic social media mentions
If someone mentions your business in a post, share it on your social accounts and give them a shoutout. If you see partnership potential, see if they'd be willing to partner with you in a sponsored ad campaign.
To see whose mentioning or tagging your store in their Instagram posts, just select the third tab from your profile page.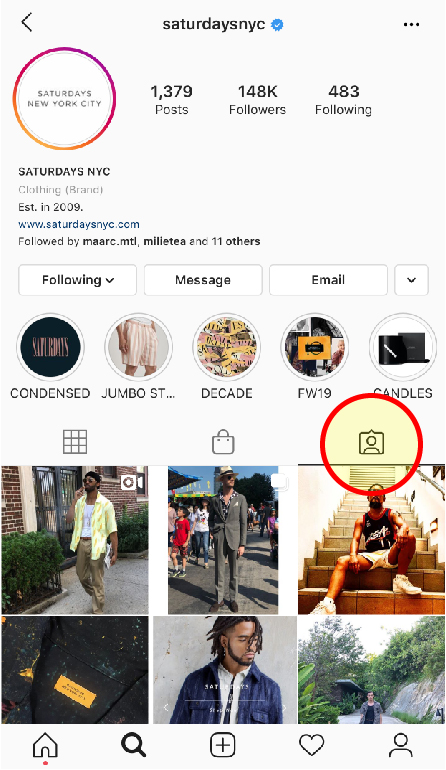 In this example, we're using Saturdays NYC, a New York-based retailer that specializes in premium surf-inspired apparel (it also doubles as a coffee shop).
When you find a photo that you want to feature, reach out to the person who posted it and ask for permission to reuse the image. If you get the green light, feature it!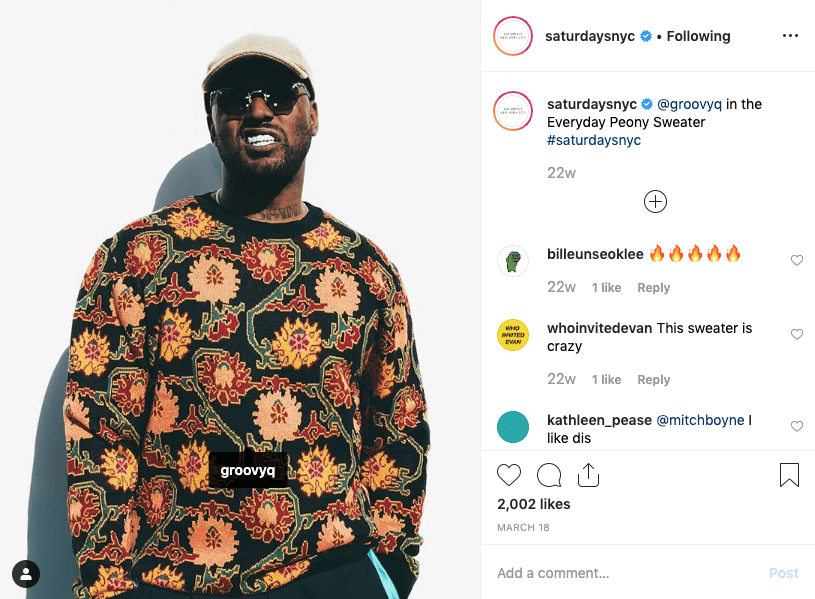 Here, Saturdays NYC reposted an image originally posted by hip-hop artist ScHoolboy Q. With his 2.5 million followers, that's some major social clout.
Keep tabs on your organic social media mentions and capitalize when an opportunity presents itself.
Use Facebook to get found online
With over 2 billion monthly active users and 68% of Americans using it daily, Facebook is one of the most-used social media platforms out there. Facebook also introduced a ton of features that transform the platform into a mini-eCommerce hub.
You can share content featuring your products, include links to purchase them from your online store all while consistently engaging with your audience.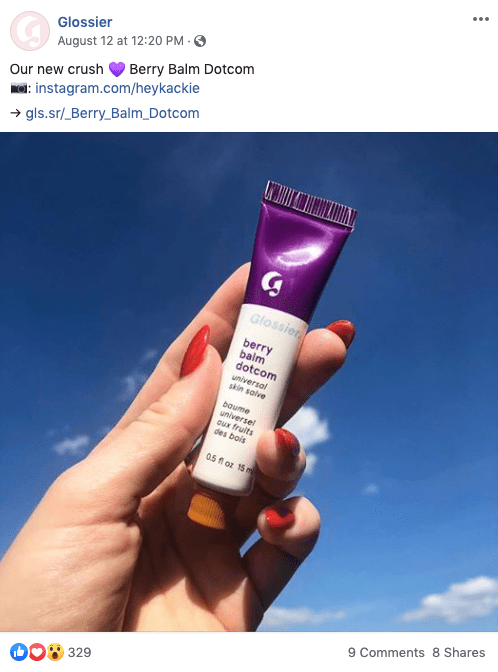 In this example, beauty product company Glossier is resharing an Instagram post that organically mentioned their product. They also included a link to their online store to generate some sales.
But when it comes to organic Facebook marketing, there are a few guidelines you should follow.
Facebook marketing best-practices
Follow the 60/30/10 rule

Have a keyword-optimized profile

Generate conversations in the comments section

Expand your reach with paid Facebook Ads
1. Follow the 60/30/10 rule
You shouldn't be selling all the time. Instead, you should follow the 60/30/10 rule.
What is the 60/30/10 rule?
The 60/30/10 rule states that:
60% of the posts you create should be engaging content

30% should be shared content (like influencer and user-generated content, insider tips and content from other brands that align with yours)

10% should promote your products and services, sales, events, etc.
Have you ever walked into a store and felt like a sales associate was too salesy?
Consumers can feel the same way for brands that push their products too much on Facebook—or any platform for that matter. The 60/30/10 rule assures that your brand's content is engaging, not annoying.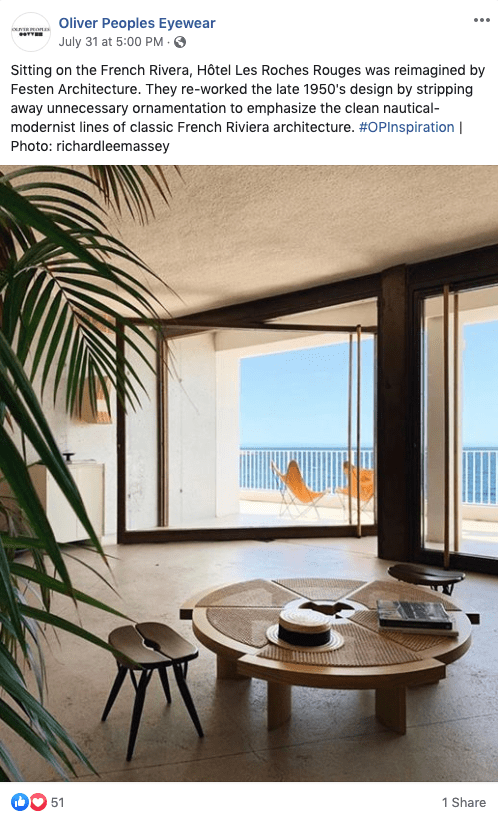 While Oliver Peoples sells eyewear, its social accounts don't only show their products. They also feature mid-century architecture, vintage cars and photography, and user-generated content.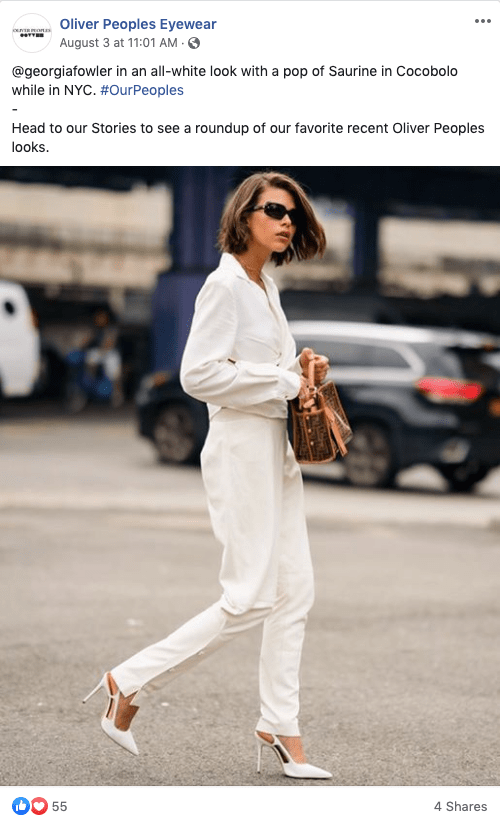 Oliver Peoples uses their social media accounts as a real-time mood board for their brand's aesthetic. The posts attract and engage with people who share their style sensibilities and are likely to buy their products.
2. Social media SEO for Facebook
A brand's social media profiles are often at the top of search engine results pages (SERPs). As a result, the keywords you use in your Facebook page's copy matter just as much as they do on your website.
Here are a few ways to improve your Facebook page's search engine optimization (SEO).
Choose a straightforward name
Be extremely careful with how you name your business's Facebook page. We suggest using a [company name + primary product category] naming format. We prefer this naming format because it's easy for people to know who you are and what you sell.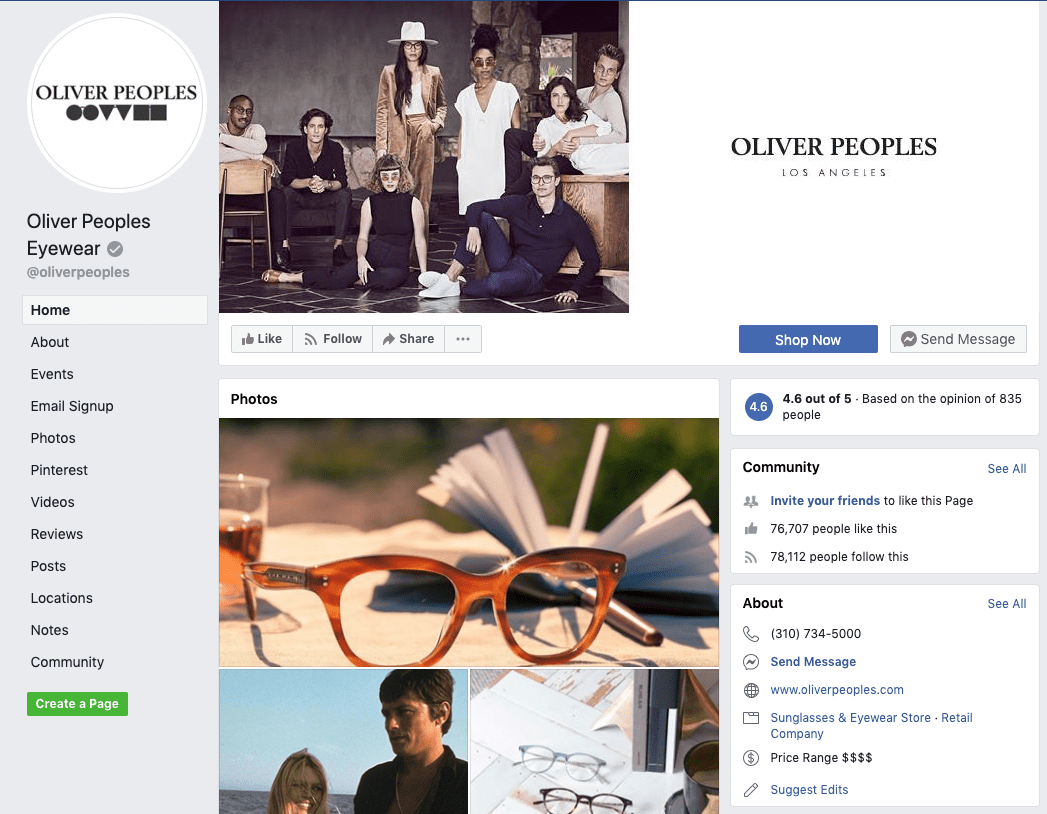 Use keywords throughout your page
Using the right keywords is essential for your Facebook page's SEO.
If you're already using an SEO tool like Ahrefs, you can pinpoint the long-tail keywords your business should use with its Site Explorer tool.
Use those keywords in your:
About section

Description section

Headline

Photo captions

Notes

Updates
But avoid keyword stuffing!
Here, we performed a general Facebook search for "eyewear". Not surprisingly, a keyword-optimized page like Oliver Peoples was one of the top hits.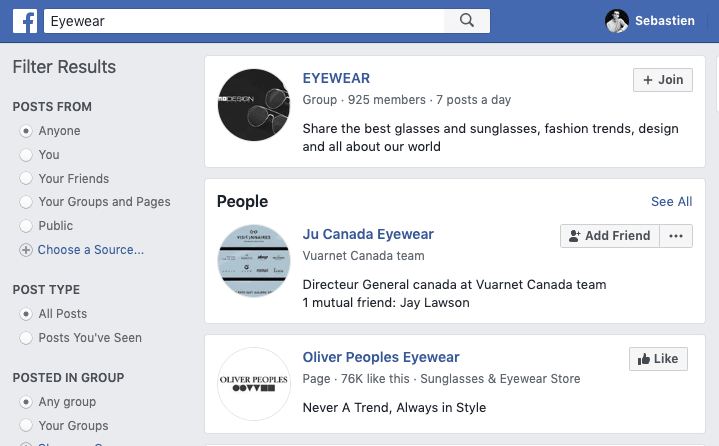 Include keywords people may search for in your description and about section. With the recent emergence of search ads, this could be even more useful soon.
Claim your vanity URL
When you create your Facebook business page, you're automatically given a dynamic URL that looks like a random set of letters and numbers.
By claiming your vanity URL, you can match your business's Facebook page URL to your company name, making it a lot easier for people to find both on search engines like Google as well as Facebook search.
How to claim your vanity URL
Click the dropdown menu next to "Page Name" and choose the page you'd like to claim the vanity URL for.
Enter your desired username. Make sure it's short and branded.
Click "Check Availability".
Try a different name or click "Confirm".
3. Generate discussions in the comments section
Conversation and interaction are key to successful social media.
Have some of your content designed for generating engagement. Content with high engagement (reactions, likes, comments, shares) gives your future content better visibility in Facebook's newsfeed. Ask for users opinions, share polls and always respond.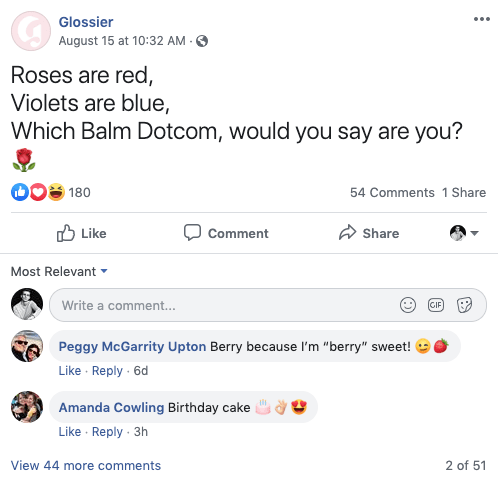 In this example, beauty product company Glossier asks its audience a question, which naturally leads to more comments and engagement on the post.
4. Expand your reach with Facebook Ads
Facebook Ads take your organic marketing efforts and give them a performance boost.
You can create personalized ads that reflect people's interests and previous interactions on your website.
This is thanks to Facebook Pixel, a small snippet of code you install on your website. It tracks your site visitor's behavior and enables you to retarget them with carousel ads and dynamic ads for products they previously viewed.
For example, let's say you were shopping for a pair of Mejuri earrings and saw these Cabochon Studs you really liked.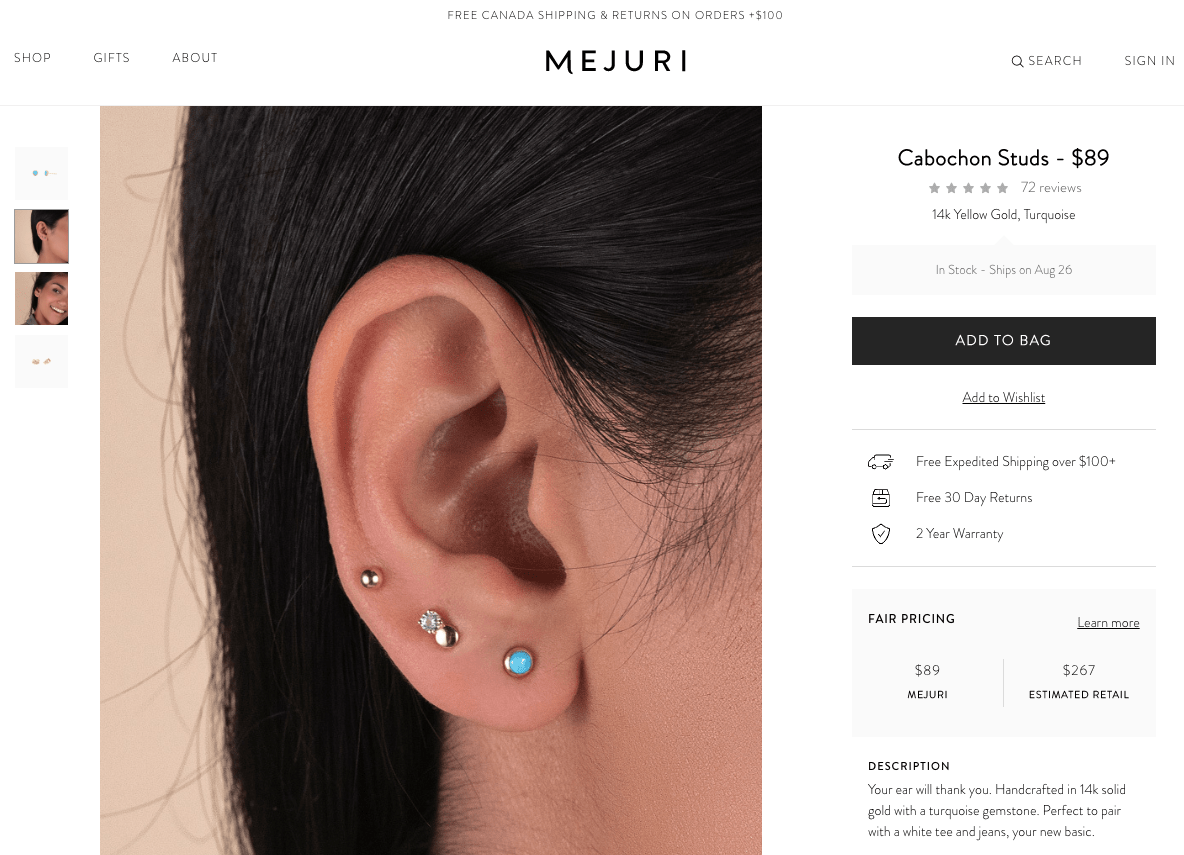 You don't buy them, but you did look at the product page to read its product description. Next thing you know, you see this carousel ad in your Facebook newsfeed.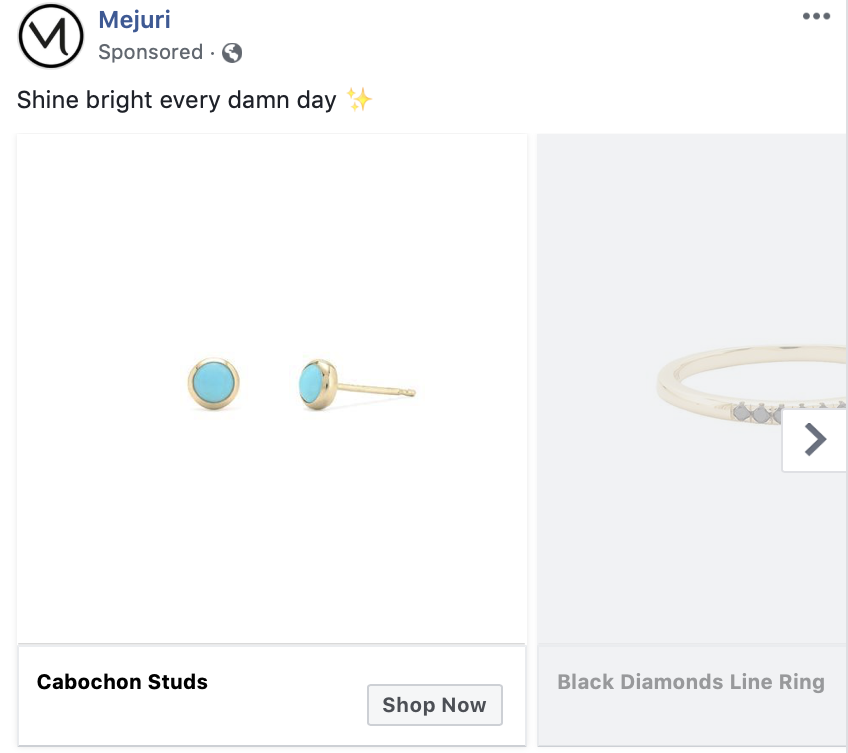 That personalized ad you're seeing is thanks to a Facebook Pixel. They're easy to create and install, and they work.
Note: To install your Facebook Pixel into your Lightspeed eCom online store, just log into your back office and go to Settings > Web Statistics > Facebook Pixel and paste your Pixel ID.
There's a lot to know about Facebook Ads, but this guide from Disruptive Advertising can help you get started.
Use Instagram to get found online
Along with Facebook, Instagram is currently one of the best platforms for eCommerce, with 70% of shoppers using it to discover new products. This is further strengthened by Shoppable Posts and Stories, which allow consumers to purchase tagged products directly within the app.
Here's how you can maximize your Instagram presence and start generating more sales.
Instagram best-practices for retailers
Use shoppable posts

Leverage Instagram Ads

Utilize user-generated content

Add hashtags to your posts
1. Use shoppable posts
Instagram allows retailers to tag their products in photos, videos and stories, turning any post into an opportunity to make a sale.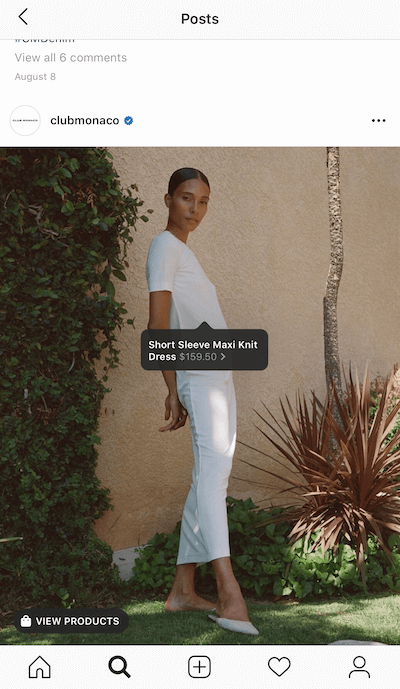 By tapping the View Products button, customers see product information, images and related items from your store.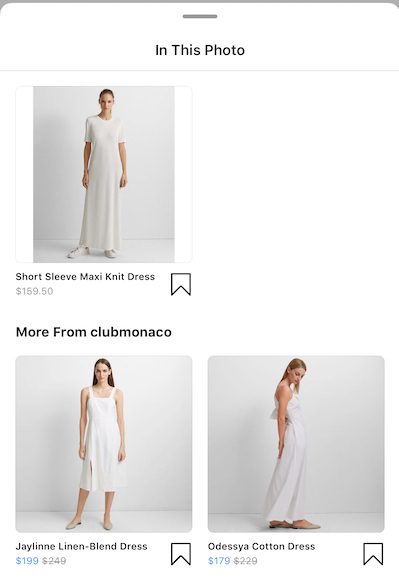 This increases your product's visibility, especially within Instagram's Shop tab where people can browse a feed of shoppable posts that's curated to their interests.

Once you set up shoppable posts, your posts are visible to any of the 200 million accounts that use Instagram's Explore tab daily.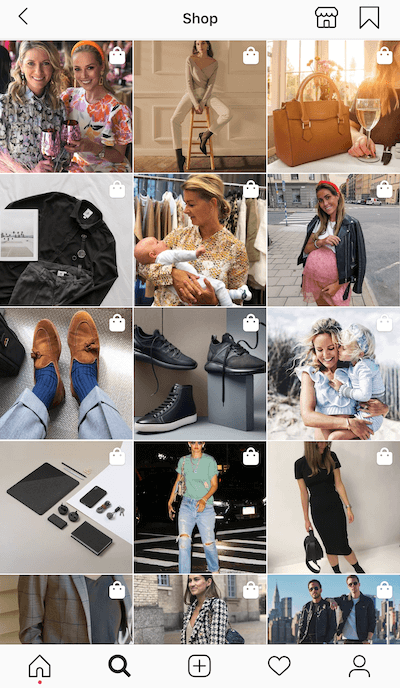 Instagram users don't even need to follow your business account to see your shoppable posts in the Explore tab. Setting up shoppable posts helps your target customer discover your products, follow your account and make a purchase.
2. Leverage Instagram Ads
While being discovered by customers organically is important, paid ads are necessary to get your business found online.
Instagram Ads are high-engaging and high-converting, and they come in a variety of formats. Test Instagram Story Ads, single image ads, video ads and carousel ads to see what works for you. You can create these ads through Facebook Business Manager.
3. Utilize user-generated content
Customers respond best to content that's authentic, and nothing is more authentic than User-generated content (UGC).
What is user-generated content?
UGC is photos, videos and stories customers create and share on social media that feature your brand, products or services.
User-generated content (UGC) is incredibly persuasive because other people are creating it about your brand. Consumers are more likely to believe what customers (people who aren't on your payroll) think of your brand than what you say about your brand. It's social proof on steroids.
In other words, it's authentic.
UCG falls into the 30% of your social content that's shared content. Saturdays NYC shares UGC that matches their brand's identity: surf and skate culture.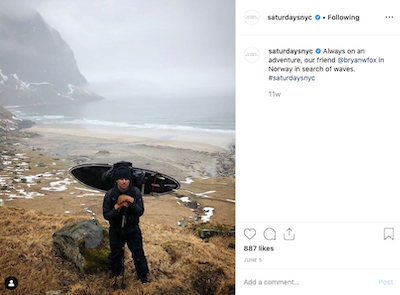 4. Add hashtags to your posts
Hashtags help your posts appear in Instagram searches results from the Explore tab. In fact, Instagram posts with hashtags generate 70% more likes than those that don't.
Best practices dictate to use 7 to 8 hashtags per post, ideally using a mix of general and branded hashtags. If Saturdays NYC were to use a general hashtag, #surfing would make sense and, as you can see, they already use the branded hashtag #saturdaysnyc.
Start a blog
When done right, a blog helps your business appear higher in SERPs, gain notoriety as an authority in its industry and—most importantly—get found online by more potential customers.
Your goal is to become a resource for information relating to your business's industry. A great example of a blog that achieves this while generating sales is Glossier's blog, Into the Gloss.
Glossier sells beauty products, and their blog covers beauty tips, trends, and product news. There's a strong alignment with the content they produce and their target consumer's interests.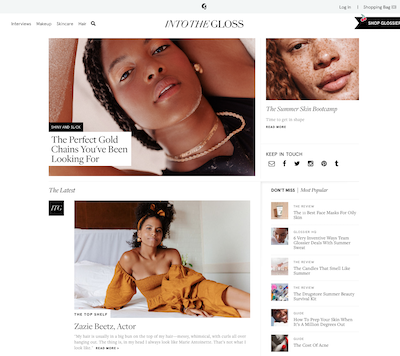 The main benefit of starting a blog is that you can reach non-customers who may have never heard of your brand but have an interest in things that are closely related to your brand. If the content is good, the likelihood that a reader becomes a customer is high.
Thoughtfully-written, SEO-friendly content helps you get found online and turn eyeballs into sales.
Write guest posts
You can also write blogs for other sites, too.
Guest posting is a great way to get featured on other sites that have more traffic than yours and getting discovered by their audience. This drives traffic to your website and also creates a valuable backlink that helps boost your domain authority. Google interprets backlinks from reputable websites as a vote of confidence for your website, which helps your content and product pages rank higher in SERPs and gets you found online by even more potential customers.
But not all content is created equal. If your content isn't thoughtfully-produced, you won't reap the rewards.
Blogging best-practices
Keep the content valuable
Use long-tail keywords
Select question-based keywords
Don't be salesy
1. Keep the content valuable
Everyone has a blog and is trying to pump out multiple posts a week—valuable posts separate your blog from the pack.
If your blogs are well-written, relates to the products you sell and helps your audience (teaches them something new, informs them on current industry events, etc), they'll choose to read yours. Quality over quantity definitely applies here.
For example, here at Lightspeed, our products include a retail point of sale and eCommerce platform. We know that retail and eCommerce merchants want to know how to get discovered online by more potential customers, which is why we're teaching you how to do just that. We want to make retail and eCommerce merchants' lives easier and the content we create supports that mission.
Always create content that solves a pain-point and is valuable for your audience.
2. Use long-tail keywords
Long-tail keywords increase the likelihood that whoever engages with your content is part of your target market; use them to inform the subjects you write about. There aren't as many people writing about those topics, so the blog covering that topic will rank higher in the SERPs as a result.
Plus, the topics are so specific that it's easier to write content that's relevant to a person's initial search query.
3. Select question-based keywords
Keyword research tools like SEMrush and Ahrefs let you find question-based keywords relevant to your business with ease. These are strong choices for blog post topics because your target audience is looking for answers and you have the unique opportunity to deliver that information.
Back to the example of Glossier's blog, a quick keyword search on Ahrefs shows us examples of question-based keywords that they've written content on with strong results.

Glossier wrote a blog that responds to the question "what is serum?", which is searched for over 3,000 times a month. Since they wrote a blog that's useful to people wondering what serum is and Glossier is as an authority in the beauty industry, their blog appears as the first search result when you write "what is serum?" into Google.

That one blog is generating almost $60,000 worth of free website traffic.

And, is that topic a random coincidence? Nope. Glossier also sells serum. While the article doesn't mention their product and doesn't read as salesy, its alignment with the products they sell is clear.
Which brings us to our final point…
4. Don't be salesy
Content can nurture relationships and drive sales, but never have your blog read like a sales pitch. Gentle mentions to your product or service are a better choice.
Get found online and boost retail sales
It's hard to make it in retail if you aren't making it online. Each of these tips will help you expand your reach, improve your visibility, and get found online by the people who are looking for information, products and services you offer.
Even if your retail store is currently thriving: the competition for people's attention on and offline is fierce. Every (well-executed) initiative makes a big difference in your business financials.
Looking for new ways to sell more online and in-store? We can help with that. See what Lightspeed can do for you here.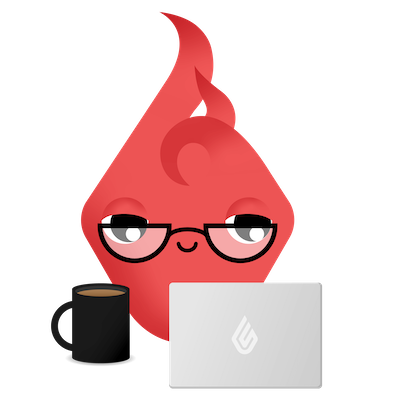 News you care about. Tips you can use.
Everything your business needs to grow, delivered straight to your inbox.