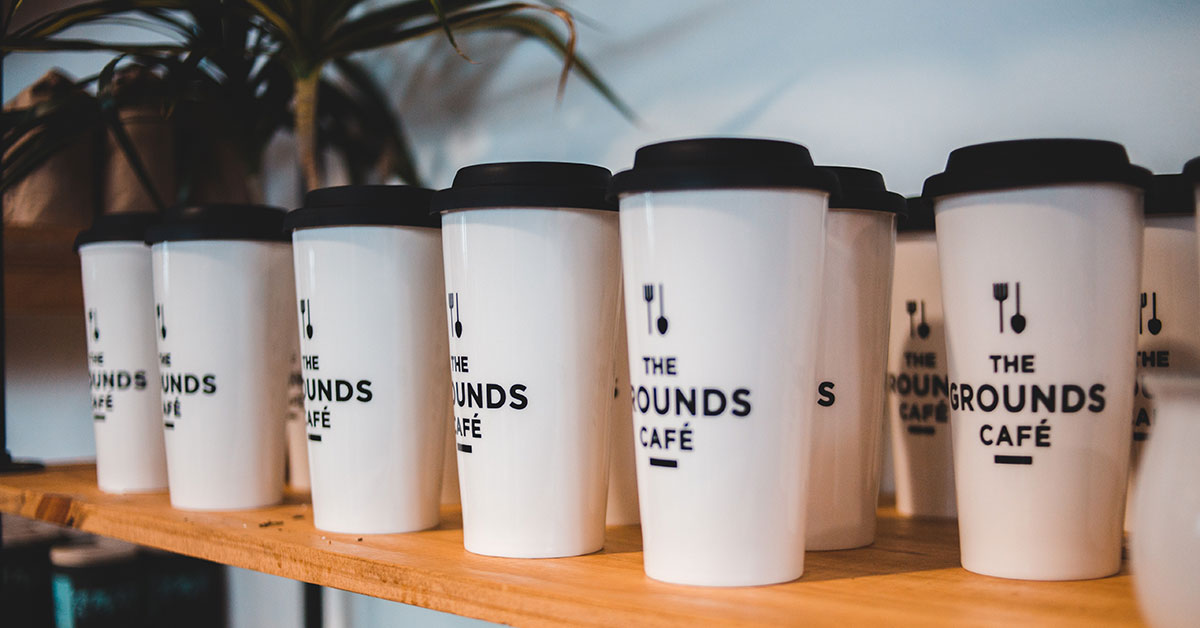 Selling branded restaurant merchandise is a fantastic way for eateries to strengthen their connection with customers and increase sales. A tote bag decorated with your restaurant's logo, for example, makes a great gift and helps your business stay top of mind whenever a customer reaches for it.
While creating branded apparel and accessories may sound intimidating, rest assured that it isn't. With so many custom merchandise manufacturers, design services and ecommerce platforms available, launching bespoke products has never been easier or more affordable.
This guide to restaurant merch breaks down:
Run a smarter restaurant this year
Use this guide to set your restaurant up for your most efficient and profitable year yet.
Benefits of creating branded restaurant merchandise
Not sure if you should invest the time, effort and funds into making and selling custom products at your restaurant? These benefits of branded merch will convince you that it's a worthwhile endeavor.
Additional revenue stream

: Selling customized products is a good way to generate passive revenue, which is especially useful during the

COVID-19 pandemic

when many restaurants have to

pause on-premise dining

periodically. "Passive" means that after the initial time investment in designing your products and choosing vendors to create them, the bulk of your work is done. All that's left to do is ship out orders and replenish your stock when it depletes.

Reach more customers

: Restaurants typically have limited audiences because their customer bases are restricted to locals or people visiting their areas. With merch that you can ship virtually anywhere, however, you can connect with – and earn revenue from – customers who wouldn't otherwise be able to dine with you because of distance.

Stay top of mind

: When someone owns a t-shirt with your restaurant's logo on it, they'll be reminded of your restaurant whenever they wear the shirt or even just see it in their closet, which could inspire them to dine with you.

Great upselling opportunity

:

Merchandise helps you increase guest spend. Let's say that your restaurant is a popular destination for celebrating anniversaries because of its romantic ambiance. If you create branded wine glasses or champagne flutes, you could sell them to your guests at the end of a meal as a keepsake souvenir.

Customers become your billboards

: Just like how shoppers serve as walking advertisements for stores when they carry logoed shopping bags, when your customers use or wear branded products from your restaurant in public, they become billboards for your business. A quirky design may inspire strangers to ask your customers where they got their picnic blanket or t-shirt. If your merch is really spectacular, customers may even include it in social media posts, which can draw even more attention – and customers – to your restaurant.

Opportunity to collaborate with other businesses

: If you partner with a complementary restaurant, local artist or business improvement district to create merchandise together, you'll gain exposure to your partner's audience. Take inspiration from Elena, an Italian restaurant in Montreal, which in addition to having incredible merch of its own, partnered with Thai restaurant Pumpui on a collectible line of co-branded apparel.
How much does it cost to make custom restaurant merchandise?
You can launch your own line of branded restaurant merch for a little more than $1,000.
You used to only be able to order custom products in very large quantities, but today, order minimums are much smaller than they've ever been before. In fact, some manufacturers even let you order just one unit. Keep in mind, however, that typically the greater the quantity of the order, the less each unit will cost.
Let's take a look at what merchandise costs to produce. Our research is based on prices quoted by Custom Ink, a popular promotional products manufacturer. We're showing you the average price per unit for four products and what it would cost to order 25 units to illustrate how much you might need to spend to have enough inventory to launch a merchandise line.
How much it costs to make custom restaurant merchandise
Item
Typical cost per unit
Cost for 25 units

Short sleeve t-shirt

$14

$350

Mug

$7

$175

Canvas tote bag

$9

$315

Face mask

$15

$525

Total
$1,365
How to make custom merchandise for your restaurant
Okay, so now that you know how much creating merch will cost you, it's time to get into the nitty gritty details of the production process. We're breaking it down step by step.
1. Decide what items to sell
Do competitive research and poll customers in person, on social media and via email to find out what types of products you should put out there. Popular restaurant merch items include:
Shirts

Sweatshirts

Aprons

Mugs

Wine glasses

Stickers

Water bottles

Tote bags

Face masks

Cookbooks
2. Research vendors
Next, find a company (or multiple vendors) to manufacture your merch. A quick Google search for "custom merchandise," "branded products" or "custom promotional products" will lead you to hundreds of printers and vendors.
Choose a manufacturer that can offer what you need. Make sure their products meet your quality standards, their website makes it easy to customize products and that they offer quick turnaround times and good customer support.
Many manufacturers will send you free samples of their products so that you can test out their quality or decide between several types of fabrics. Accept samples and take your time comparing products from various vendors.
While ordering all of your merchandise from one vendor is the simplest solution, don't be afraid to order different products from different manufacturers if one doesn't have all of the products you're looking for.
3. Design your merch – and have fun with it!
Most merchandise vendors have free templates you can use to customize designs or offer easy ways to upload your own images and graphics.
Using your restaurant's logo is an obvious starting point for customizing t-shirts, hats and mugs, but don't be afraid to have fun. Commission a local artist or a talented member of your team to create interesting designs or catchy slogans to print on your merch.
According to general manager Ellen Eamon, Elena hires local artist Mathieu Dionne to create most of the colorful, graphic designs that grace the restaurant's merchandise.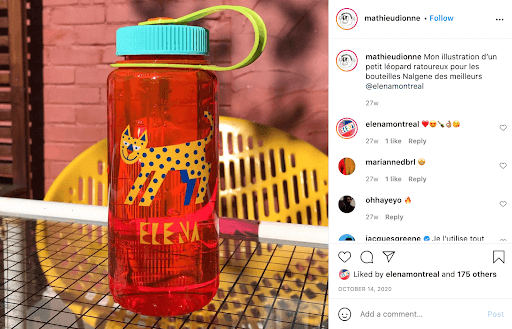 4. Check quality and order your custom products
Before you place bulk orders for your branded products, see if the manufacturer will let you order one proof of the finished item so you can conduct a quality check. Work with a vendor that guarantees quality, as sometimes larger manufacturers don't have the time to individually check each order before it's shipped.
5. Price your restaurant's merch appropriately
Decide how much to charge for your products. Don't forget to include all of the costs associated with creating, marketing and shipping your products into the price to ensure that your merch is profitable. Incorporate the cost of the item, design service fees, shipping material costs and advertising material costs into the price.
For example, if you spent $500 to manufacture 100 custom mugs, $500 for an artist to create an illustration for them, $100 on packing peanuts and boxes and $250 on an Instagram ad promoting the mugs, you've invested $1,350 total on 100 mugs. To make a profit, you'll need to charge more than $13.50 for each mug.
6. Set up your shop
First things first: make sure your restaurant's point of sale system can process both in-person and online sales.
Then get your merch ready to be sold at your restaurant and online. Incorporate visual merchandising best practices into your on-site display to drive sales.
For your online shop, you'll need to make sure your restaurant's website has ecommerce capabilities. Eamon has a word of advice for anyone thinking of taking the DIY approach: "Go with [a website platform] that's already established. If you try to code it yourself, it's going to be a nightmare."
Then, take high-quality photos of your products. Don't worry if you don't have a fancy camera or access to a photo studio. Philadelphia restaurateur, Shawn Darragh, who owns spots like Bing Bing Dim Sum and Nunu, says an iPhone will take you far.
You'll also need to write compelling item descriptions and add details like measurements and materials to each product page to make it as easy as possible for customers to make purchasing decisions.
Finally, Eamon says you should "make sure you have a return policy, [as] that's not something restaurants usually have to think about."
7. Promote your branded merch
Now it's time to let customers know that you sell merch!
Market your products via social media posts, announcements in email newsletters and by placing fliers into takeout order bags to drive your restaurant's ecommerce traffic. Display your merchandise in a prominent place in your dining room and train servers to tell guests about it to boost on-site sales.
6 Effective restaurant merchandise ideas
Need help getting in touch with your creative side? Take inspiration from these real-world examples of memorable merch from restaurants.
1. Show off your logo
A great place to start your creative journey is with custom products that display your restaurant's logo. Logoed merch is obvious and effective.
Philadelphia's Bar Bonbon sells logoed fleece blankets online and in person to help chilly diners stay warm during the COVID-19 winter patio dining season. They're both practical and chic!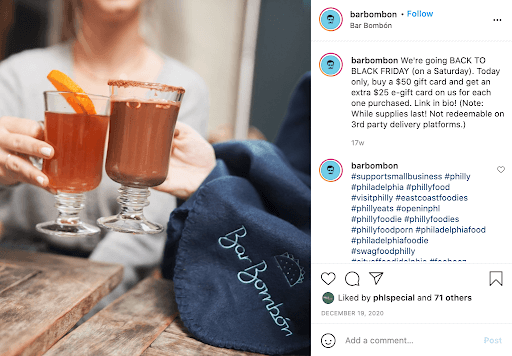 2. Use a memorable catchphrase
Humor sells! Create merch that features a funny or memorable phrase.
Take inspiration from Boston-based bakery and cafe Tatte which sells "But First, Coffee" tote bags and "BRUNCH" sweatshirts that mimics the collegiate apparel that's omnipresent in the cafe's hometown.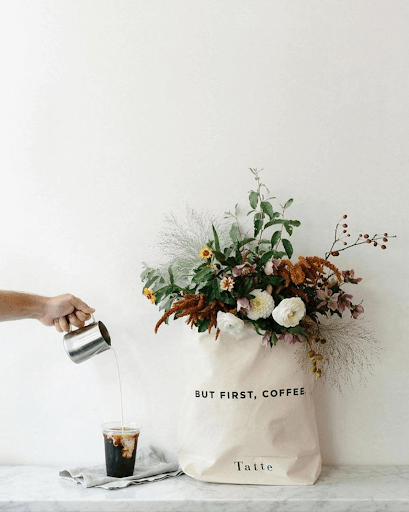 3. Write a cookbook
Why not self-publish a cookbook with some of your favorite recipes? Cookbooks make fantastic gifts, so ramp up your marketing efforts around holidays like Christmas and Mother's Day to encourage sales.
Montreal's Elena published a beautiful cookbook to raise money for Montreal's restaurant workers during the pandemic.
4. Let customers bring home the smell of your restaurant
Make sure your merch entices all the senses by creating custom-scented candles. Choose a scent that's relevant to your restaurant. If you run a diner, you could create a cheeky bacon-scented candle. If you run a bakery that's famous for its orange blossom cake, a citrus-scented candle would be a great addition to your custom merchandise lineup.
Legendary Katz's Deli lets fans bring a piece of the eatery home with them with their chocolate egg cream-scented candle. They collaborated with perfumer and candle company Joya Studio to bring this idea to life.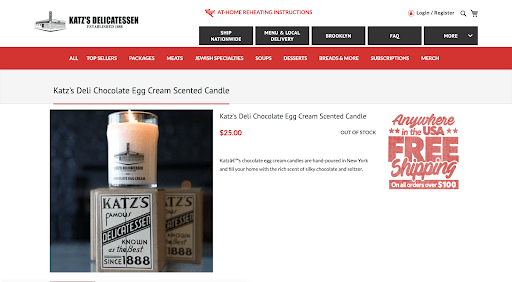 5. Help diners decorate with your merch
Branded posters, calendars and pennants are both aesthetically pleasing and useful.
We love Tatte's wall calendar, which features a beautiful illustration of Boston that shows where its cafes are located.

6. Sell your uniforms
Let customers dress like your team by selling apparel and accessories that your staff wear. Think logoed t-shirts, aprons, and hats.
Katz's Deli's signature aprons let customers "transform into bonafide pastrami chef[s]" as per their website.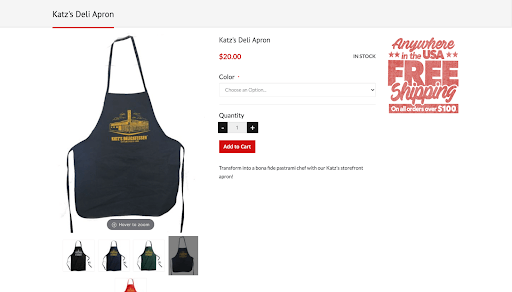 Pro tip: Aprons make great add-ons to make-at-home meal kits.
Bring more to the table with branded restaurant merchandise
Selling custom products at your restaurant is more than just a way to let your customers support you during the pandemic. It's a long-term strategy for increasing brand awareness, reaching more people and building a passive revenue stream.
You can launch a viable branded product line for just $1,000 by selecting products, designs, and vendors, setting up your in-person and ecommerce shops and marketing your merch.
By offering logoed apparel, unique home decor, and self-published cookbooks, you're letting customers take home, or order, a piece of your restaurant that will outlast their leftovers.
Watch a free demo to see how Lightspeed can help your restaurant start selling branded merch online.
News you care about. Tips you can use.
Everything your business needs to grow, delivered straight to your inbox.