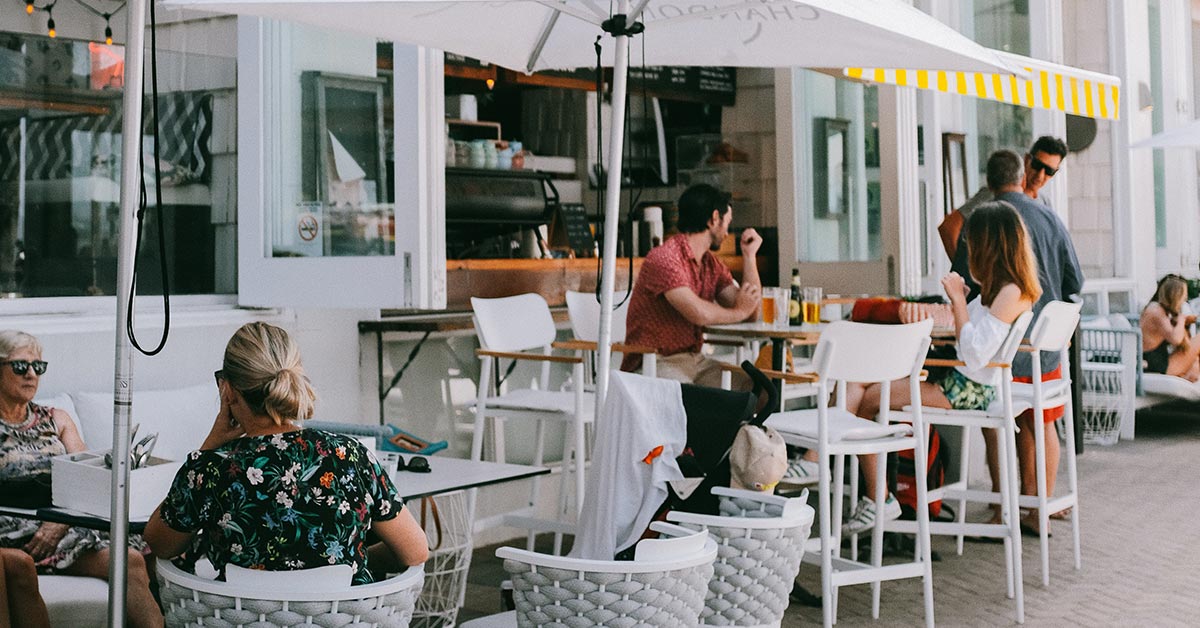 Restaurants typically see an increase in business over the summer, but it's only the restaurants that are prepared who keep those customers coming back again and again.
Preparing for patio season encompasses many things, from getting your seasonal menu ready and optimizing each dishes food costs to using your restaurant's positive online reviews to your advantage and, of course, setting up a killer patio.
There's a lot to do, but don't worry, we've got your back. Keep reading this restaurant guide to get your establishment ready for patio season.
1. Take spring cleaning seriously
Would you trust the food served at a visibly dirty restaurant?
Your establishment's cleanliness has a big impact on whether or not people want to eat your food. Certain online ordering platforms like Yelp now give consumers the ability to rate a restaurant's cleanliness. Low scores get flagged with a poor food safety score, which definitely makes people second guess eating there. In fact, a poor food safety score reduces a customer's likelihood of visiting by 21%.
Projecting a clean image to your guests is absolutely critical to your restaurant's sustained success. Consumers' perception of your food's quality is greatly affected by environmental factors like your restaurant's cleanliness — especially your bathroom. Over 80% of consumers will avoid a restaurant with a dirty bathroom.
At the very minimum, you should deep clean your entire restaurant, from your kitchen to your service area. If you want to step it up, consider revamping your washrooms while you have time.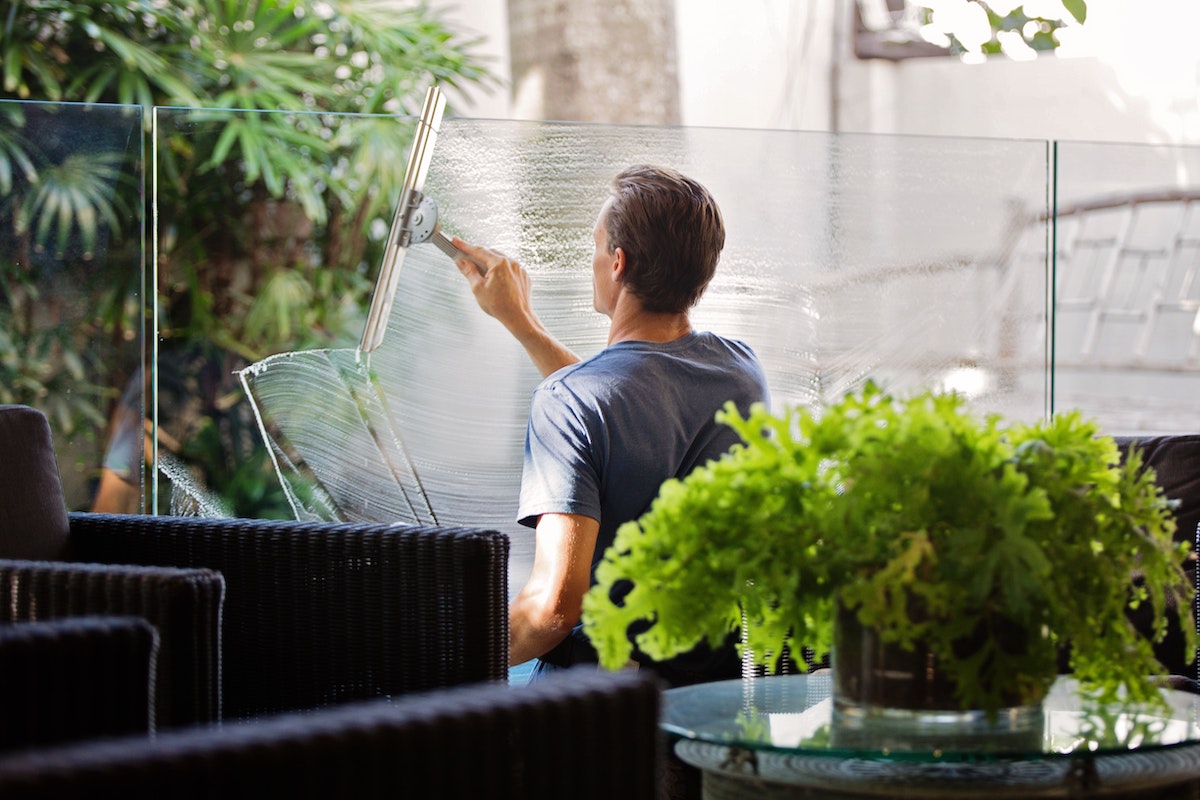 2. Update your menu with seasonal offerings
Not only will locally-sourced ingredients reduce your restaurant's carbon footprint, as Food Newsfeed notes, even just adding a few seasonal beverages to your menu can help drive sales and increase customer loyalty in the process.
But why stop there? When it comes to summertime, anything that helps customers beat the heat will do. Adding items ice cream dishes is easy and always a warm-weather favorite. If you're not up for doing it yourself, consider partnering with a local dessert food truck or ice cream cart for an evening each week and making an event out of it.
Updating your menu is a must for your summer prep. Be sure to read out the ultimate guide to restaurant menu design to build a profitable menu that your customers will love.

3. Prepare for warm weather deliveries
While delivering in the winter can be all about keeping food warm or dry depending on where you live, summer deliveries are all about keeping things from overcooking in a hot car while they're en route to your customer's doorstep.
When delivering items like salads, you need to make sure your packaging can accommodate ice or other cooling methods without making the contents soggy. To do that, you'll want to invest in the right type of packaging and consider non-automotive delivery methods like bike deliveries. Bonus: using bike delivery will make you more popular with eco-conscious tourists.
Want your restaurant to be more environmentally sustainable? Check out the top three things our restaurant experts recommend you do to get started.
4. Serve at summer events
From food truck festivities to outdoor movies and concerts, one thing is certain: summer is an event-filled season full of opportunities for restaurants. Whether you want to be a participant, vendor, or sponsor depending on the peculiars of the event, the key is to sign up early to participate in events in your area. From permits to licenses, there's a lot of planning that goes into selling at events and festivals. Research events in your area that are a good fit for your restaurant and reach out to the event organizers to see how you can get involved.
When you determine which events you'll participate in, use your social media accounts as your not-so-secret weapon to attract people to your kiosk. Also, reach out to the event's team to see if you can work out a promotion plan for your stand.
New to social media? Click here to read our social media beginner's guide.
5. Hire and train your seasonal staff
Whether you're adding a few tables on the sidewalk or opening a full-fledged patio, chances are you'll need some extra help to manage the crowds.
Not only will you have to find, hire and train your new staff members, but savvy restaurant owners will also take it one step further and actively connecting with and motivate them as well. As Forbes points out, it can be hard for employees to give it their all when they know that they're gone at the end of the season. Give them a shout out when they do a good job to boost their morale and assure that they're emotionally invested in their work.
One thing you won't need to teach them over time is how to use your restaurant POS. Invest in a system that's user-friendly to assure that your staff needs minimal technical training.
Reduce labor costs by leaving a positive impression
The restaurant industry is notorious for incredibly high employee turnover, with a 73% turnover rate. When the average cost of finding and hiring a new employee is $4,000, that means a lot of resources are lost due to employee turnover.
Even if you don't plan on keeping your seasonal hires on board full-time, you can reduce the costs associated with hiring by simply leaving a great impression on them. Make sure your employees love working at your establishment so that they re-apply next summer. Show them that you care.
6. Step up your marketing initiatives
Marketing is absolutely critical any time of the year. The good thing is that social media, the most powerful marketing platform, is free. Plan some Facebook, Twitter, and Instagram posts to generate more awareness of your summer initiatives. Here are a few other marketing tips:
Create some

awesome flyers

to promote your events and specials.

Consider branding your

employee merchandise

.

Teach your wait staff to spread the word about events and promotions with all the customers they serve.
For a list of other great ways to promote your restaurant, click here.
Get ready for patio season
Having a plan sets you up for summer success. To increase your probability of a lucrative summer, consider doing each of the following:
Assure that your establishment is always clean.

Prepare for warm-weather deliveries.

Serve at summer events and festivities.

Hire and train your seasonal staff

Update your menu with seasonal offerings

Promote, promote, promote through marketing initiatives
Good luck and happy spring cleaning!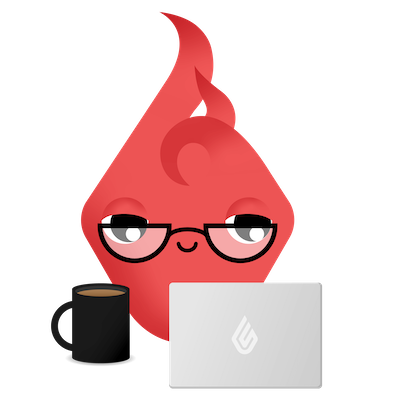 News you care about. Tips you can use.
Everything your business needs to grow, delivered straight to your inbox.