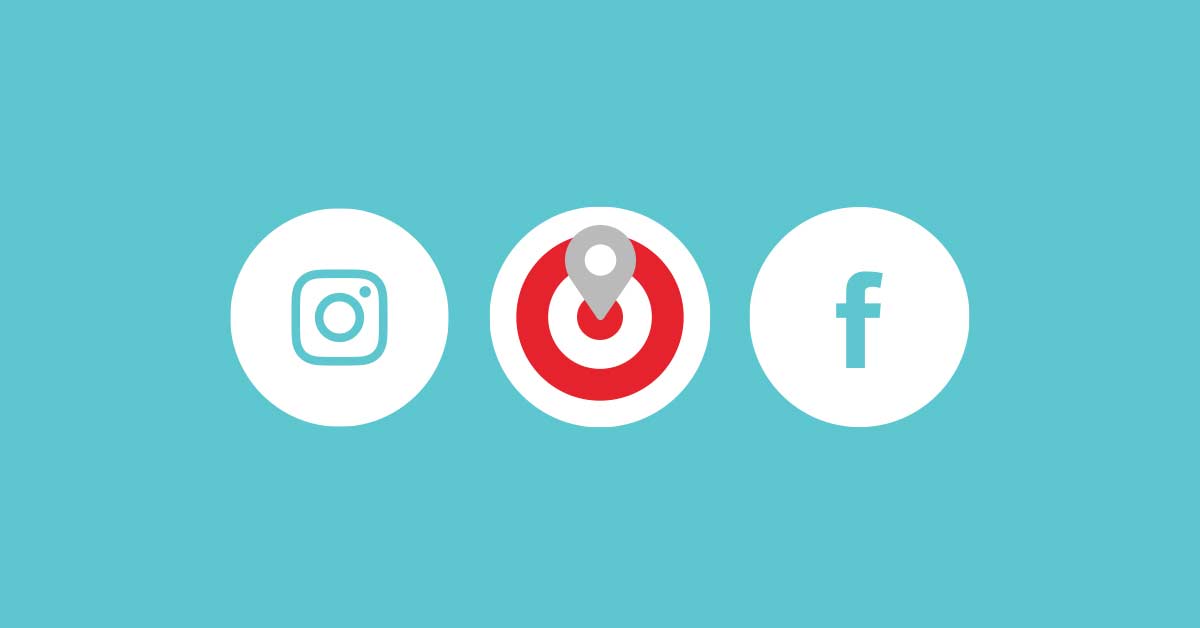 While it was once considered impolite to have your phone at the dinner table, nowadays, if you don't share your experience on social platforms, did you even dine out? Believe it or not, 69 percent of millennials take a photo or video of their food before eating. The act of sharing your dining experience with your friends and followers is as much a part of eating out as the food itself.
From how your establishment plates its food and the type of interior design you choose to how you leverage off-peak hours and participate in local events (online or off!), restaurant marketing takes many shapes.
Let's tackle this in two parts.
First, we'll cover how you can make it easier for local customers to find your restaurant's key information, book a reservation online and how to market your restaurant on social media.
Second, we'll cover some of the more traditional restaurant marketing tactics such as promoting special offers and adding a loyalty program.
Social media tactics
Restaurant marketing tactics
Get your restaurant ready for the future
With 2020 behind us, it's time to set your sights on making 2021 as successful as possible. In this guide, we give you 7 strategies for doing just that. Download the guide to learn more.
Make sure that key information is easy to find
Let's start with the basics. If you want to encourage the people who discover you on Facebook and Instagram to book a reservation, you need to make that process as easy as possible for them.
Start by adding the information customers need—your menu, address, price range, website, and opening hours—to the About section of your Facebook Business Page.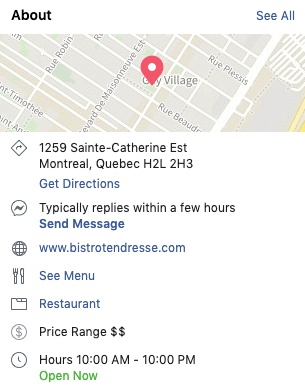 Be selective with the photos you upload
People eat with their eyes. By that, we mean that food presentation matters, a lot. When it comes to food photography, there are a lot of variables that go into taking a great shot. But the good news is that they're all in your control.
Shoot in natural light
Lighting is the key to taking beautiful photos. Whenever possible, try to shoot photos for your social media channels in natural daylight rather than using artificial lighting.
While natural light is neutral in color and assures that your photo looks bright and vibrant, artificial light tends to give your photos a tint of yellow or orange, which detracts from how desirable the image looks.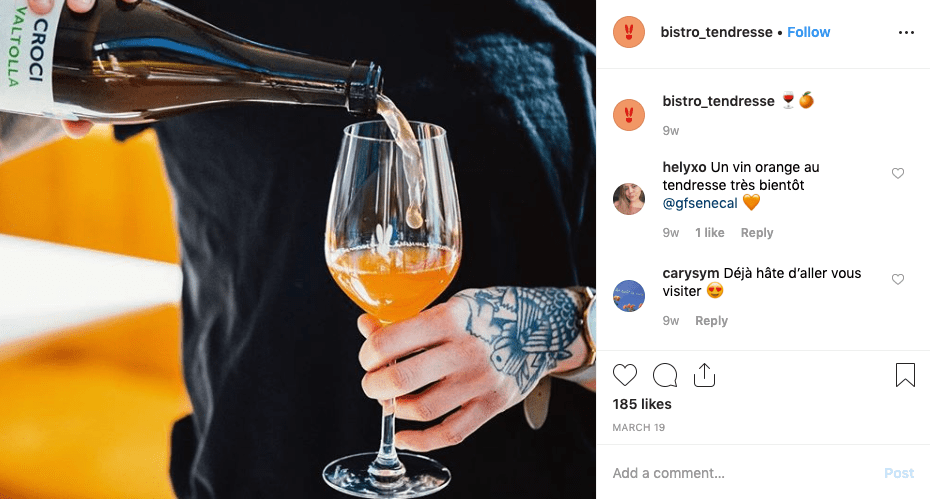 Image source: Bistro Tendresse
Play around with colors
Colors have a huge impact on a picture's look and feel. There are several tried and true routes you can take when it comes to your photo's featured colors.
Your first option is to use colors that play well with one another. In the example below, Bar Renard uses browns, yellows, greens and, of course, millennial pink. The star of the shot is clearly visible while blending nicely with the rest of the competing colors.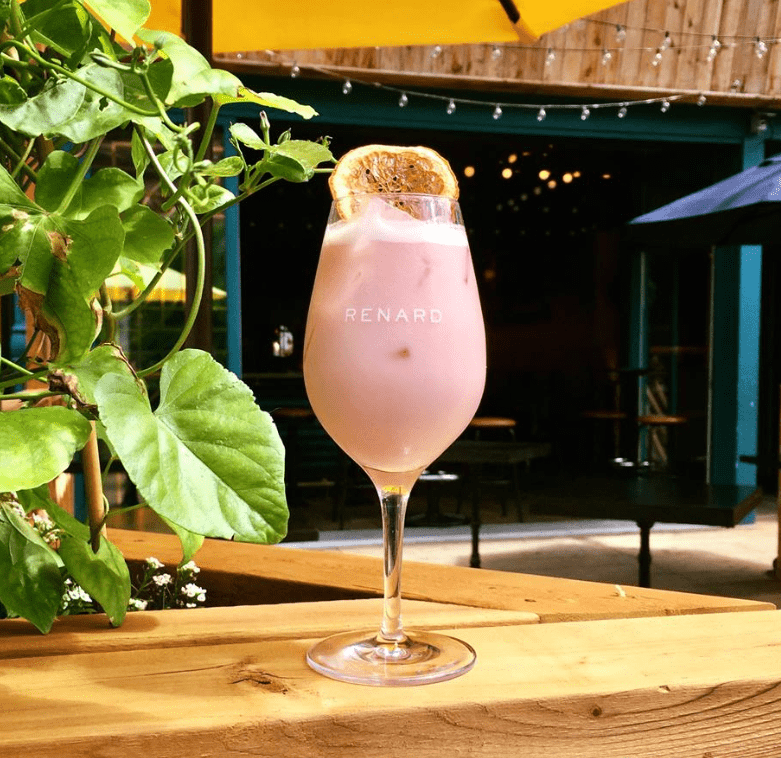 Another option is to use contrasting colors to give the photo a more dynamic, energetic feel. In the example below, Bistro Tendresse makes their cocktail pop by applying two colors that contrast well with one another.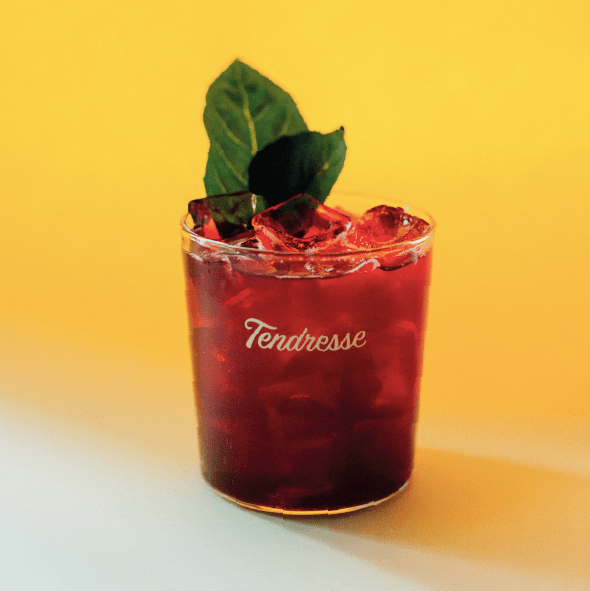 Image source: Bistro Tendresse
Arrange your food neatly
Even if you're using props and decorations in your shot (we'll cover that a little later), you want your photo to look organized.
Whether you take a minimalist approach like the example from Restaurant Pastel below or a controlled layout with multiple visual elements like the example from Trois fois par jour, your goal is to make each photo look clean.
Get your food presentation in order and assure that dishes aren't messy (unless that's your restaurant's thing) and that there are no spills or stains. Remember, this isn't just a photo, it's a representation of your establishment. Its sole function is to entice people to visit.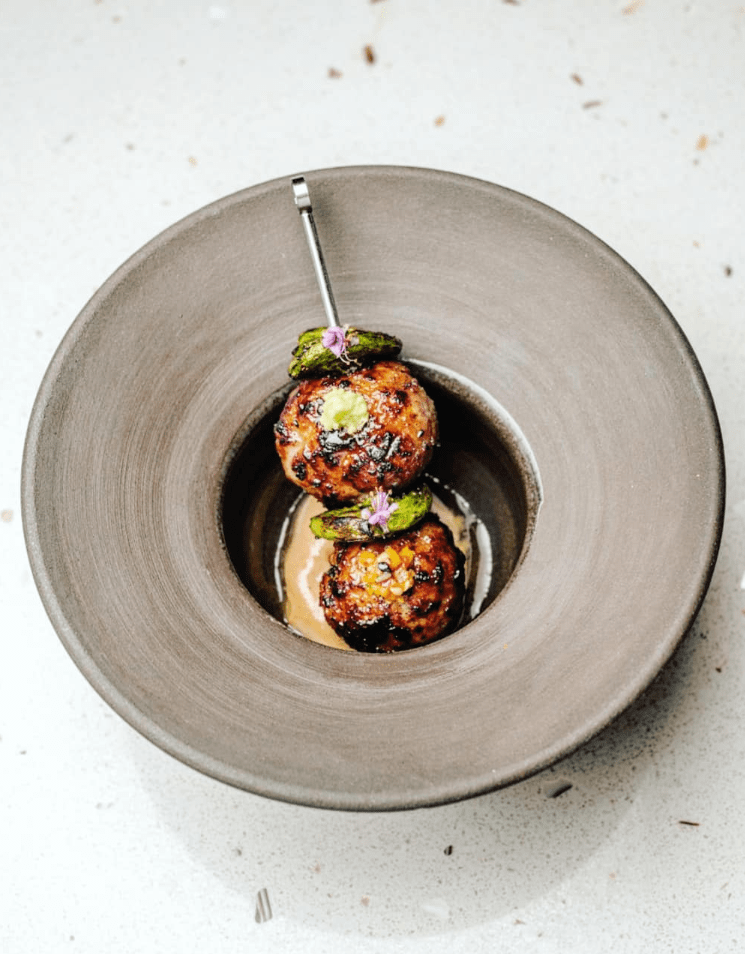 Image source: Restaurant Pastel
Use decorations
While the food and beverages that you're featuring are certainly the photo's stars, you can make a shot more interesting by decorating the scene with smaller, relevant items.
Consider how the decorations will complement your photo. Do you want them to blend in with the food or add contrast?
You can use almost anything as a prop. We suggest using cutlery, utensils, tablecloths, herbs, and spices, or the ingredients you used to prepare the dish. Additionally, you can use decorations that complement the dish's seasonality. If it's summer, perhaps some flowers are in order. Autumn? Maybe try some potpourri or dried leaves.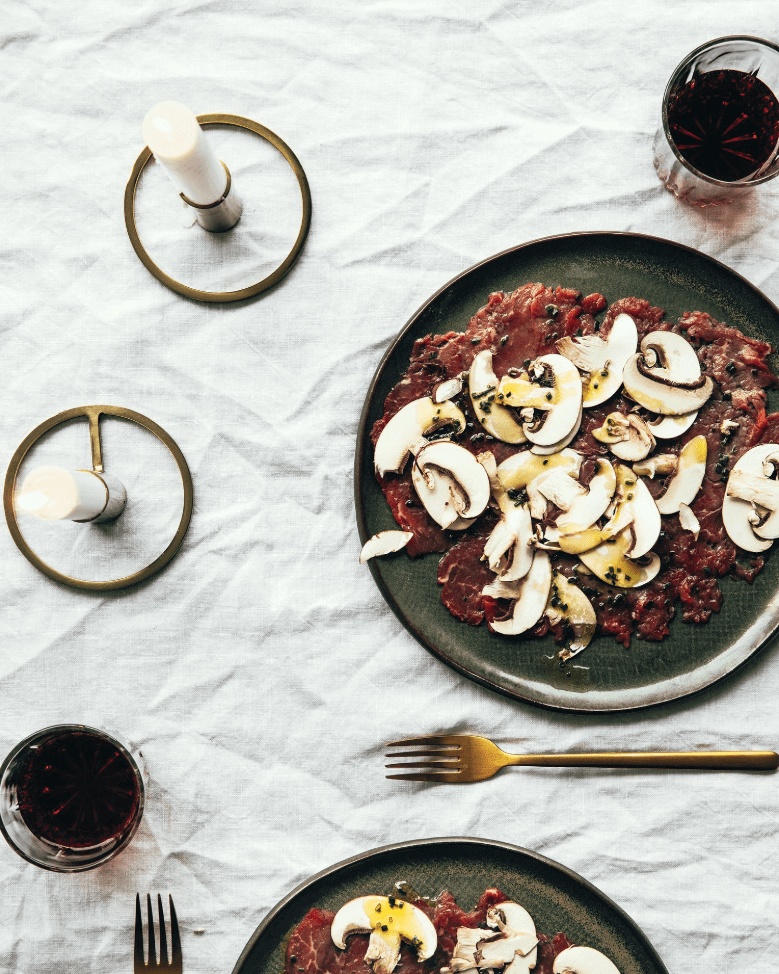 Image source: Trois fois par jour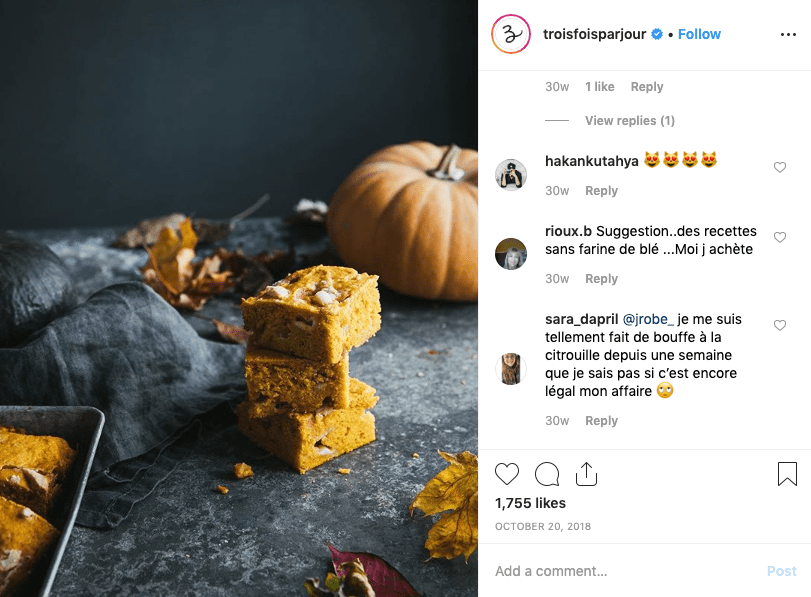 Image source: Trois fois par jour
Add a human element
Something as simple as including a human element to your food photos can add the illusion of movement to an otherwise static shot.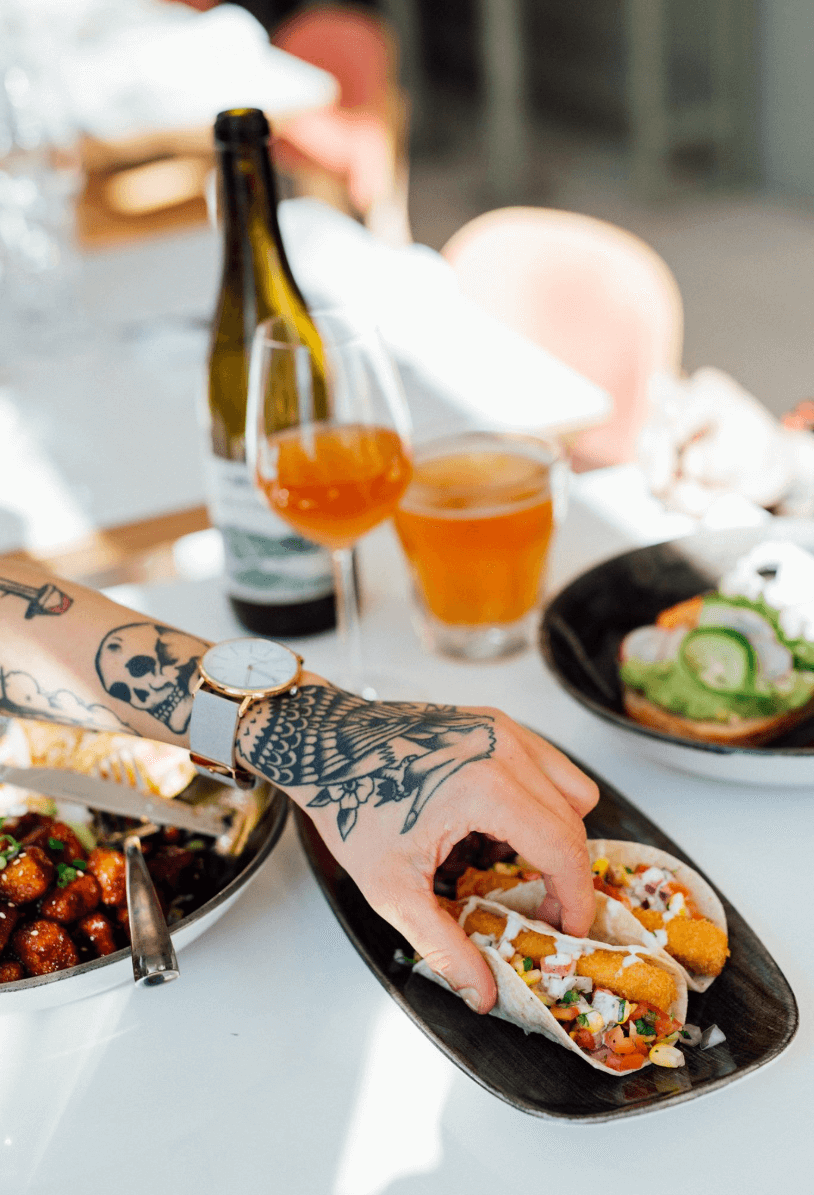 Image source: Bistro Tendresse
Edit each photo before you publish
Under all circumstances, you want to run your food photos through editing software before you publish them on social media.
Food comes in many colors, and editing software like VSCO or Adobe Lightroom are great, accessible tools to make them fit the aesthetic you're looking to accomplish. Whether that's making colors more vibrant, faded, muted, or sharper, either of these tools will do the trick.
VSCO comes with a ton of preset photo filters that make adjusting your images easy, but if you want more control, you can move your photos into Adobe Lightroom, create your own unique image filter and apply it to all your photos. While it's a little more time-intensive, this gives each photo you share a unique look that's undeniably "you".
If you don't want to use filters, either of these tools let you adjust photos settings like color saturation, temperature, tint, and fade individually.
Use branded and non-branded hashtags to get found
There are over 200 million posts shared on Facebook tagged with #food and at the time of this article, there are 338,558,910 posts on Instagram with the same tag. Hashtags like #food are what's known as non-branded hashtags since they're general and aren't unique to your establishment.
Branded hashtags are ones that your restaurant adopts and uses as a moniker. It's used specifically by your establishment, or by people in relation to your establishment. An example of this is Sweet Green's branded hashtag #sweetlife.

Don't forget to geotag your posts
Instagram has a feature that simplifies how you target local audiences called geotagging.
You can create a location for your restaurant's address, which allows anyone who visits your establishment to geotag the pictures they take. For each photo, you post on your restaurant's Facebook or Instagram, geotag your restaurant's location to build content around it.
The result is that if anyone searches for your establishment on either Facebook or Instagram, they'll find a nice mix of user-generated content, as well as the great photos you've posted.
Make use of Location and Hashtag Stickers
Once you create a location, anyone who visits your establishment can feature your business location prominently in their Facebook and Instagram Stories using Location and Hashtag Stickers. They create cool stories and share them with their followers, and your establishment gets organic visibility.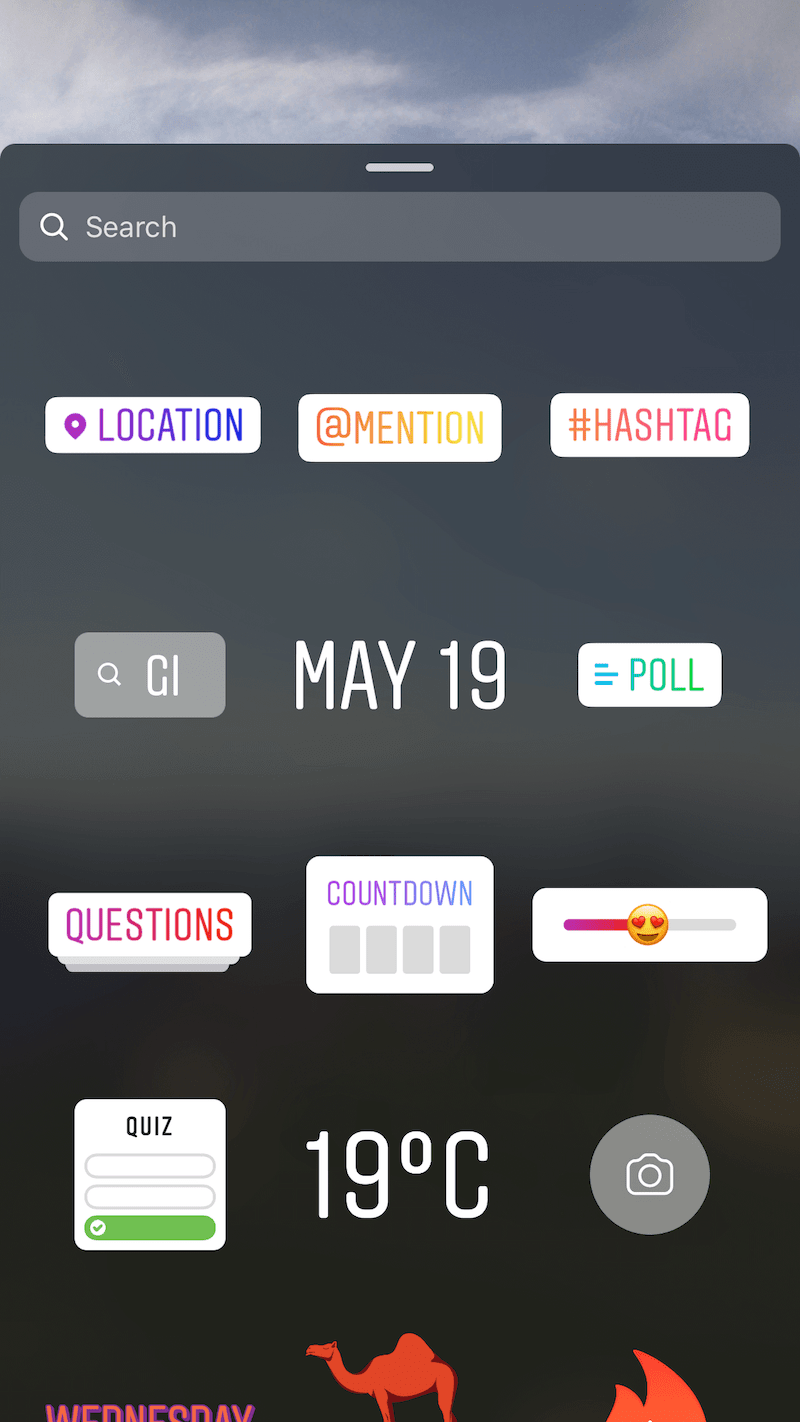 Feature your customer reviews
Yelp isn't the only platform where customers can rate their dining experience at your establishment.
Facebook Business Pages also include a rating feature, and they're an incredibly powerful form of social proof that can either encourage people to try your establishment or avoid it at all costs. In fact, according to Statistica, 88 percent of people trust what people say about a business on Facebook.
Consider these facts: a Harvard Business School study on the power of Yelp Reviews found that a business' average star rating translates into a 5 to 9 percent increase in revenue. This means that Yelp Reviews can make a significant impact on your ability to acquire new business. A report from Northwestern's Kellogg School of Business had similar findings.
Word-of-Mouth (WOM) marketing has an amplified influence in the age of social media. People can send these reviews out to hundreds, even thousands of followers almost instantly.
You can't control what your guests say about their experience at your place of business, the good or the bad, but you can use the negative comments as constructive criticism. Reach out to unhappy customers, and let them know that you take their feedback seriously. Make a habit of monitoring your reviews, and get creative to find solutions that will improve your customer's experience in the future.
People are inclined to copy other people's actions, so if you can demonstrate that a majority of people who visit your establishment enjoy their experience, you can use that to promote your positive reviews and maximize their value.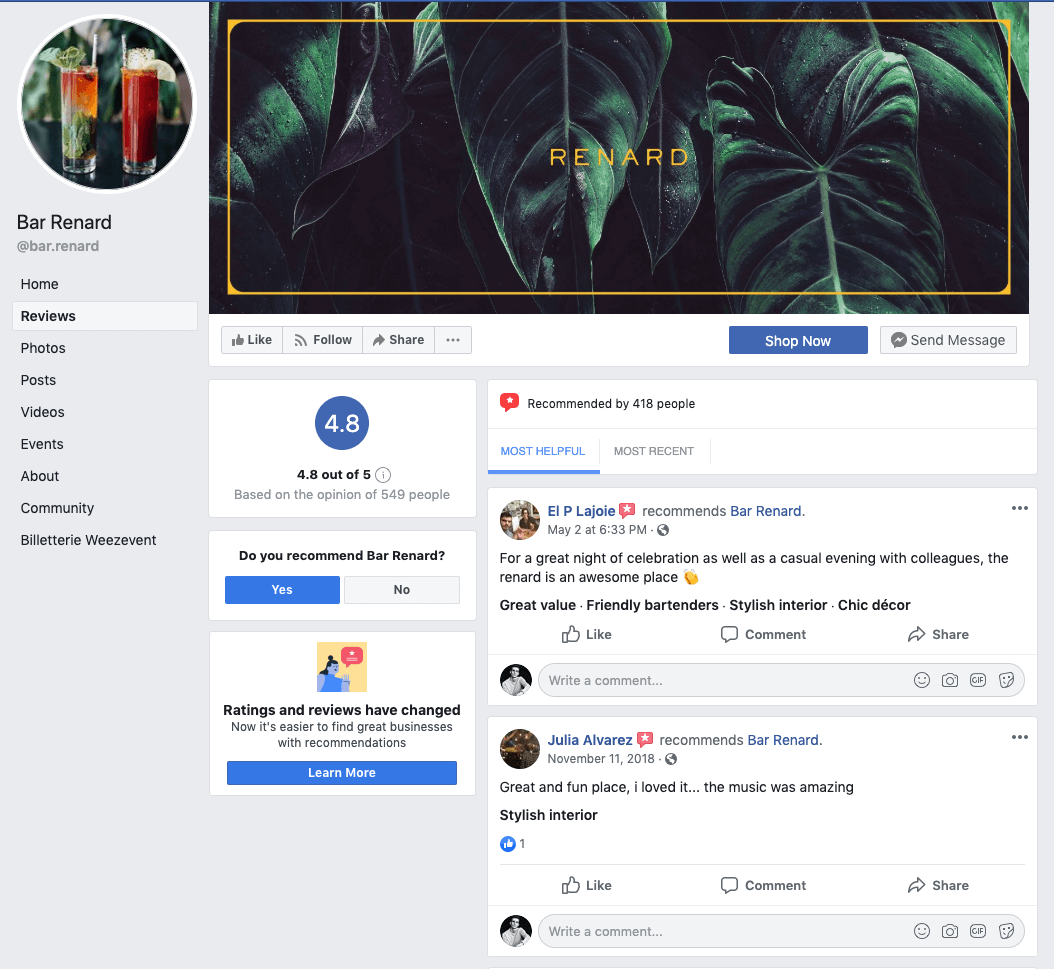 Image source: Bar Renard
Of course, the only way to generate positive reviews is by delivering consistently amazing guest experiences. Focus on great customer service and the positive reviews will start pouring in.
Leverage user-generated content
As your establishment starts attracting more people, you'll want to use your social accounts to turn your guests into superstars.
Assuming you created a location for your business on Facebook, you can bet that the people visiting your establishment or even just ordering meals through pick up, will start posting content using those geotags and hashtags, which makes it super easy for you to find great user-generated content and give them a shout out on your account. Accessing all the content your guests post using your geotag or hashtag is as easy as searching for your location like this:
When sharing user-generated content, it's important that you give photo credit to the customer. They'll appreciate the gesture and it will further solidify their positive feelings towards your establishment.
Promote special offers like LTOs
A significant key to bringing in new business to your restaurant is building a buzz around the food, service and atmosphere. Limited Time Offers (LTOs) are a common tactic to attract potential customers because they are regarded as rare and special. If you decide to serve a dish only one day of the week, you're building it up as something unique enough to draw crowds on that day, and new customers will want to come in and try it.
Leverage off-peak hours
Nearly every restaurant experiences lulls and slow periods throughout the day. For example, fast food restaurants typically don't do as well after dinner and before the late-night rush. Upscale restaurants tend to be slowest in the middle of the afternoon, while brunch restaurants typically slow down after 3 p.m. on the weekends.
As you know, it can be challenging to find new ways to turn a profit during the gap between peak hours. One way to keep business steady is by offering variable pricing that meets your decreased demand. On a small scale, happy hours, kids eat free specials and live entertainment can help restaurants ramp up business during slow times. Some restaurants are even dropping menu prices during slow periods to bring in new customers and offset labor costs. To get in on the trend, consider offering special, reduced-price menu options, exclusively available during your restaurant's slowest times.
Capitalize on local event marketing
The main reason restaurants participate in local event marketing is simple: getting your name out there. While in a pre-covid world you would likely hand out fliers, or host a sample stand at various local events, now the interaction might be a little more socially distanced. Even so, there are ways to participate in local events while keeping in mind local health guidelines. For example, you could cater an event with delivered meals or even offer cooking lessons at an online tradeshow. Even if people don't necessarily engage as much with your team, you're still building a presence in your community by participating.
Be proactive. Go to online or in-person restaurant trade shows and local events. You never know what will be the key action that brings in a new wave of business.
Engage with major events
It might seem like a hassle to do something special for New Year's Eve, the Super Bowl and other special days. But little things like acknowledging holidays and special events can make a huge difference in your restaurant's sales.
Over 100 million people watch the Super Bowl every year, according to Nielsen Ratings. New Year's Eve and St. Patrick's Day are also very profitable days for bars and restaurants. It's not enough to simply be open on these days when competition for guests is fierce—you have to plan events in accordance with these opportunities. Plan food offers and drink specials, offer special delivery options and meal boxes and make your establishment one that people will remember.
Participate in your local Restaurant Week
Find out how to become part of a local Restaurant Week. Typically, these events allow restaurants to offer a selection of courses for a prix fixe price as a way of letting new customers order or sample off-menu and highlighted items. Here is a schedule of such events nationwide.
It also helps to put yourself in the mindset of the customer. People don't just use the quality of the food or the cost of a meal to decide whether or not to go to a restaurant, though these are major factors. There are several different motives for trying a new restaurant, and you should be aware of the factors that will bring new faces into your dining room.
Strategically planning for holidays, significant sporting events and other major occasions can bring first-time customers through your doors. If the food is memorable, they're likely to recommend your business to their peers and become loyal customers themselves.
Start a loyalty program with email marketing
Formulating a customer loyalty program to tie in with your email marketing initiatives is a great way to keep new customers engaged and existing customers coming back.
A loyalty program is tied in with your POS system and allows you not only track customer buying habits but create campaigns around those habits. For example, let's say you have a lot of diners that come in and split an entree—one entree, two people. Unless you have a strict policy that enforces an additional charge for splitting an entree, this will undoubtedly drive your ticket averages down.
To remedy this, you might create a loyalty campaign when customers buy 10 entrees their next one is free. This can help encourage those creating their own two-for-one specials to get the reward faster and order two entrees the next time they dine with you.
Email marketing is known as one of the most cost-effective ways to spend your marketing budget.
The ROI from email is almost 30% more than direct mail.

It's estimated that every dollar you spend on email marketing brings you $38 in return.
This means that if you aren't using email to build customer loyalty, you're not attracting customers at the highest rate. Promotional emails for customer birthdays and other special events are tremendously successful in getting them to keep coming back to your establishment.
Open your restaurant doors to new customers
As with everything in the restaurant industry, don't lose sight of the fact that, at the end of the day, everything is contingent on the quality of your food and your customer experience.
If your food and customer experience are awesome, you can leverage social media and other tactics to attract local customers looking for trendy places to eat in or order from. Do that, and you're well on your way to turning your establishment into a local hotspot. To get started setting up your loyalty program, let's chat.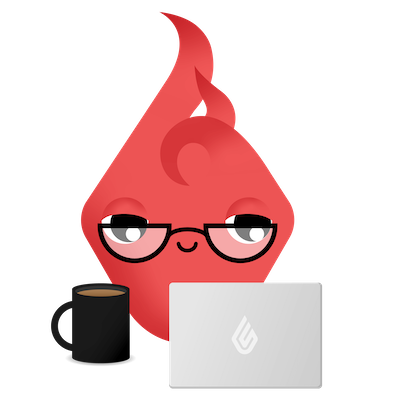 News you care about. Tips you can use.
Everything your business needs to grow, delivered straight to your inbox.