Restaurant
One Year of COVID: How Restaurants Have Survived and What the Future of the Industry Looks Like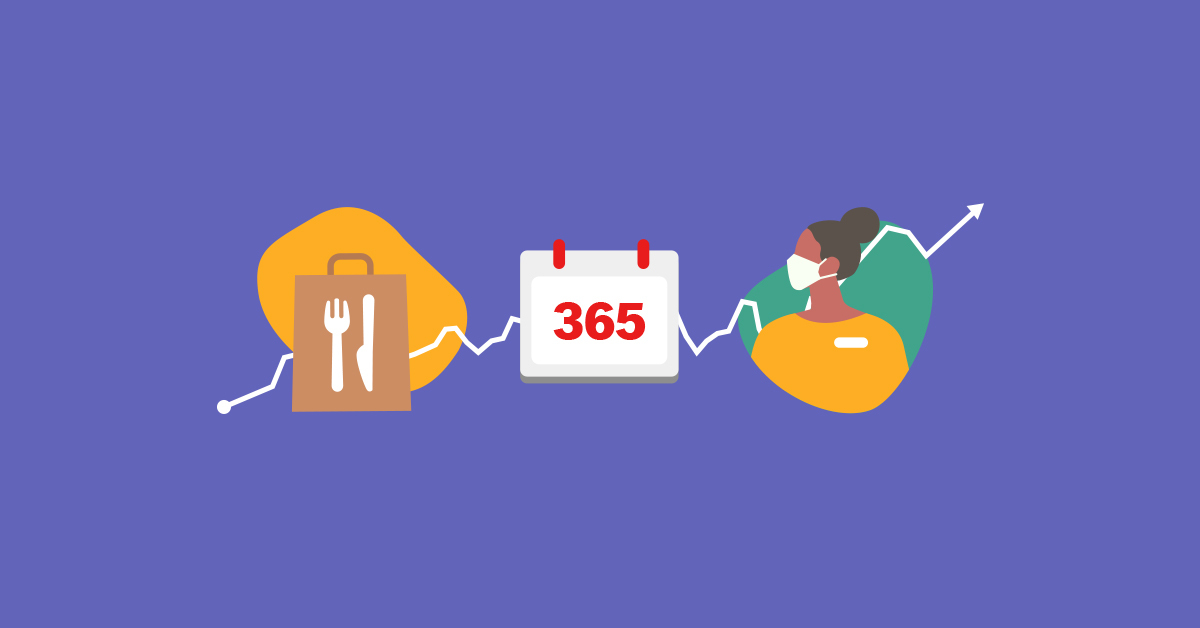 Anyone who has worked in the restaurant industry will tell you there's no such thing as a "typical" day in the business and the past year has amplified that sentiment. While restaurant owners and operators across the country have hustled and pivoted this past year to stay afloat, there are some promising trends that show better and more profitable days ahead for the industry.
Help your business thrive in the new era of hospitality
Download our guide, 7 Ways to Run your Restaurant Smarter to stay ahead of trends and adopt new digital strategies for your small business.
Lightspeed data: How North American sales trends and consumer behavior changed in restaurants during COVID
COVID restaurant sales volumes by locale: United States
From early to mid-March 2020, restaurants across the U.S. took a major hit as lockdowns and restrictions were put into place. With no benchmarks or examples on how to navigate their business through the crisis, restaurant owners, operators and their employees quickly adapted to these new rules with quick thinking, creativity and hard work.
While there have only been a handful of days this past year where restaurant sales averages have jumped above pre-pandemic numbers, namely New Year's Eve, restaurateurs have been able to steadily grow overall sales from that initial two-week dip when pandemic restrictions were first implemented. When we see the sales volumes broken down by locale, as in the graph below, those located in towns and rural areas are seeing the highest volume increases, followed by suburban restaurants and restaurants located in cities.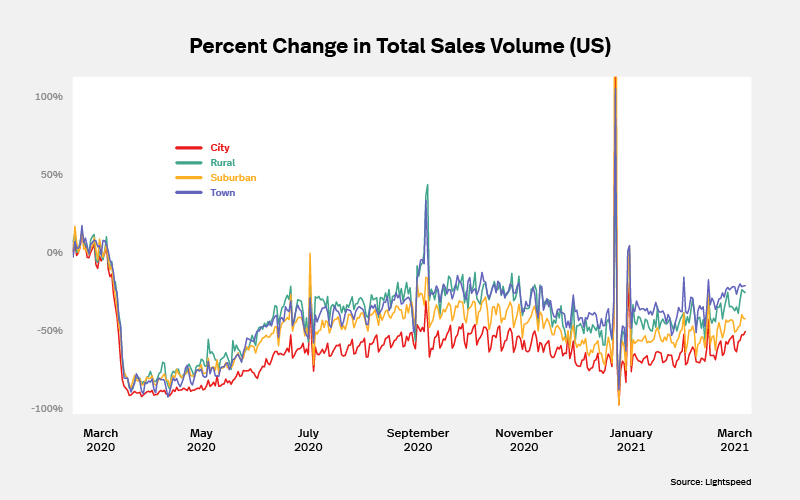 Average US online ordering check sizes during COVID
Online ordering (OLO) has been a lifeline for restaurants during the pandemic, as most of them are relying on takeout and delivery orders for the majority of sales.
The graph below shows that before COVID restrictions were first implemented, most online ordering ticket averages were below or equal to the dine-in averages. During the first few months of lockdown in the U.S., the average check size for online orders jumped from about $30-35 to about $40-55).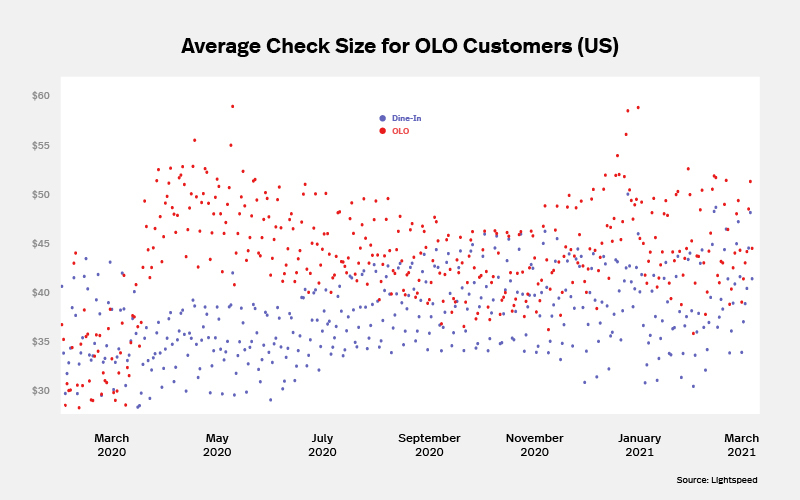 This massive change in online ordering check averages can be attributed to a few things:
Many states rushed to change their laws to allow for

alcohol delivery

and takeout sales in an effort to help small businesses bring in more revenue, helping increase ticket averages.

Restaurants and small businesses were adding retail merchandise, gift cards and donation items to their online ordering menus, and taking to social media asking their customers and communities to help support them in any way possible.

Restaurants located in large suburbs became the biggest new adopters of online ordering, growing by 3,868%

between February and April 2020. Following large suburbs, online ordering adoption grew the most in cities of all sizes.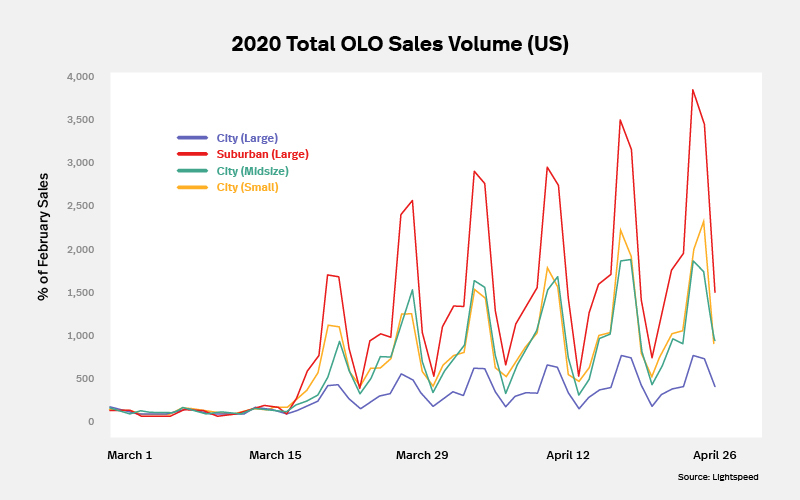 Newly opened restaurants during COVID-19: United States
During the pandemic over 15.9 million change of addresses were filed with the US Post Office, with over 14.1 million of those being permanent as people (Millennials especially) left densely populated cities to be closer to family, have more personal living space, avoid crowded areas and a number of other reasons.
So while cities are still the most popular location for restaurateurs to set up shop, we are seeing an increase in business owners expanding out to towns and suburban areas and meeting the wants and needs of these large numbers of young people now living in these areas.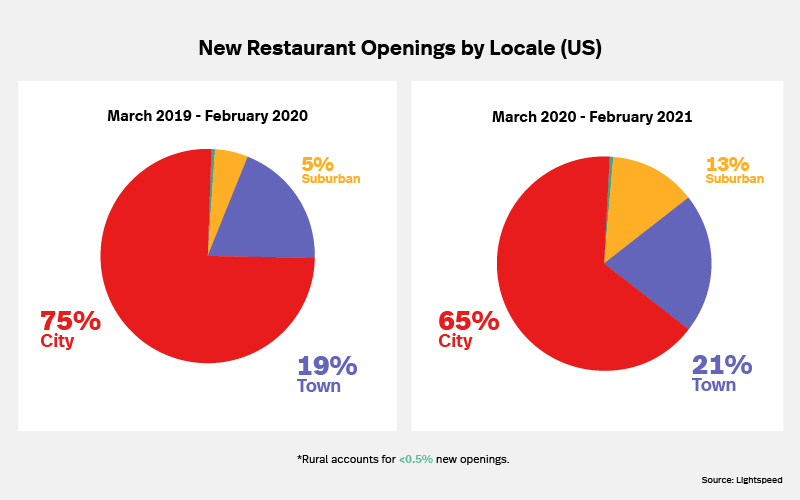 Newly opened restaurants during COVID-19: Canada
Canadian restaurateurs took to the challenge of opening a new restaurant during a pandemic head-on, with new restaurant openings up 29% from March 2020-February 2021 across the country. Depending on the province, the number of new restaurants opened is as high as 150% (in Newfoundland and Labrador), where in other regions like Prince Edward Island, Saskatchewan, New Brunswick and British Columbia, new restaurant openings dropped anywhere from 17-80% compared to the year prior.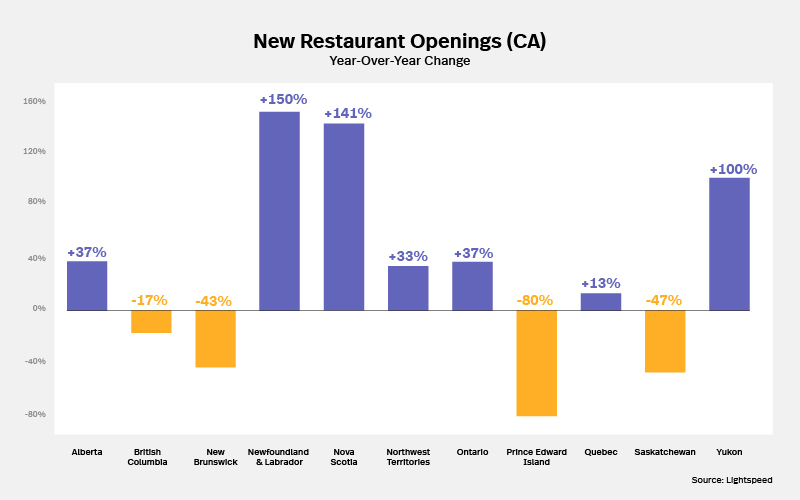 Restaurants and COVID: Lightspeed customer stories
Despite the difficult year, there were a few restaurants that managed to open, expand to additional locations, and even grow their year-over-year sales. We spoke to some of these restaurant owners and operators to find out their tactics for thriving during a pandemic.
Nathan Guggenheimer, Owner: The Old Black Forest in Lunenburg, Nova Scotia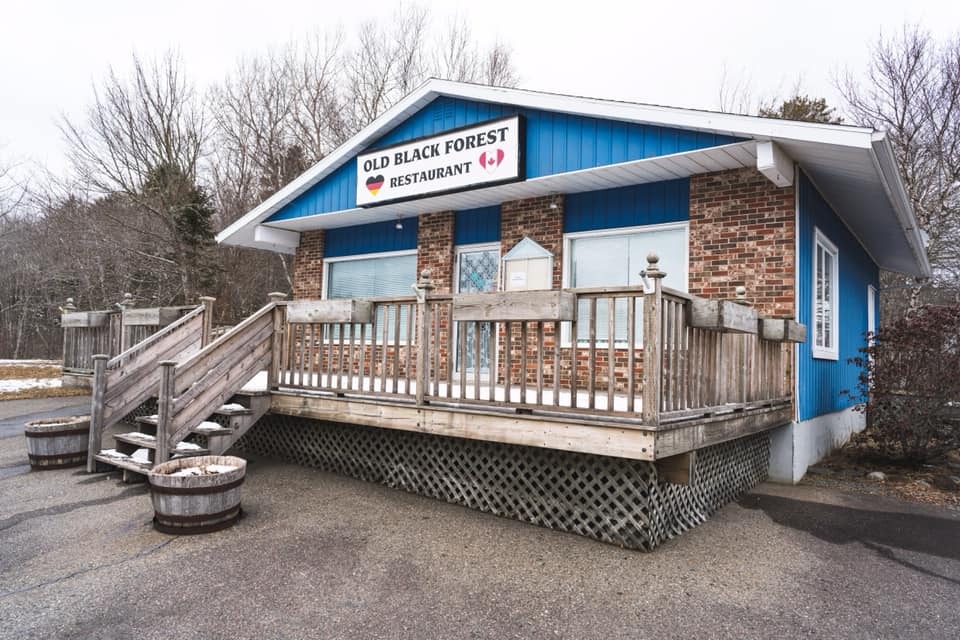 It was hard for any small business to hear they had to close or reduce operations due to COVID, but for Nathan Guggenheimer and his team at The Old Black Forest, having that news come just two days after opening their restaurant on March 11, 2020 was especially difficult. Guggenheimer says that his first priority is staff morale and safety. By keeping a positive outlook himself and leaning on the pillars of problem-solving and community service, he's instilled a sense of confidence in his team that has helped them get through the past year.
Second to his staff's comfort and confidence, Guggenheimer prioritized guest happiness and community service in his COVID pivot plan, so he focused on making things fun and finding a balance between modernizing the former cash-only restaurant and keeping its small-town mom-and-pop vibe. To accomplish this, they wrote positive messages on tags that they attached to takeout bags, partnered with a local brewery to offer make-at-home schnitzel kits, and are thinking about taking that make-at-home concept online with virtual cooking lessons. "If I'm making the guest happy then everything else is going to fall into place," Guggenheimer says.
Guggenheimer's strategy has always been to focus his staff on what they can control instead of what they can't and problem solve from there. The team has carried that ethos through growing sales and supporting and serving their community with the development of their "Four for Four" program. Incorporating the restaurant's German menu into the initiative and giving it a visual aspect in the dining room, they start by placing a beer stein on their stein wall for every four dollars in sales. Each stein represents a meal for four people. Each week the steins are counted, meals are cooked, and Guggenheimer and his staff deliver the meals to those in need. "If you have the heart, then you don't look at things the same way," Guggenheimer says of the past year's trials. "There's always a problem and you have to brainstorm the solution. But there's always a solution."
Sam Madden, General Manager: Eavesdrop Brewery in Manassas, Virginia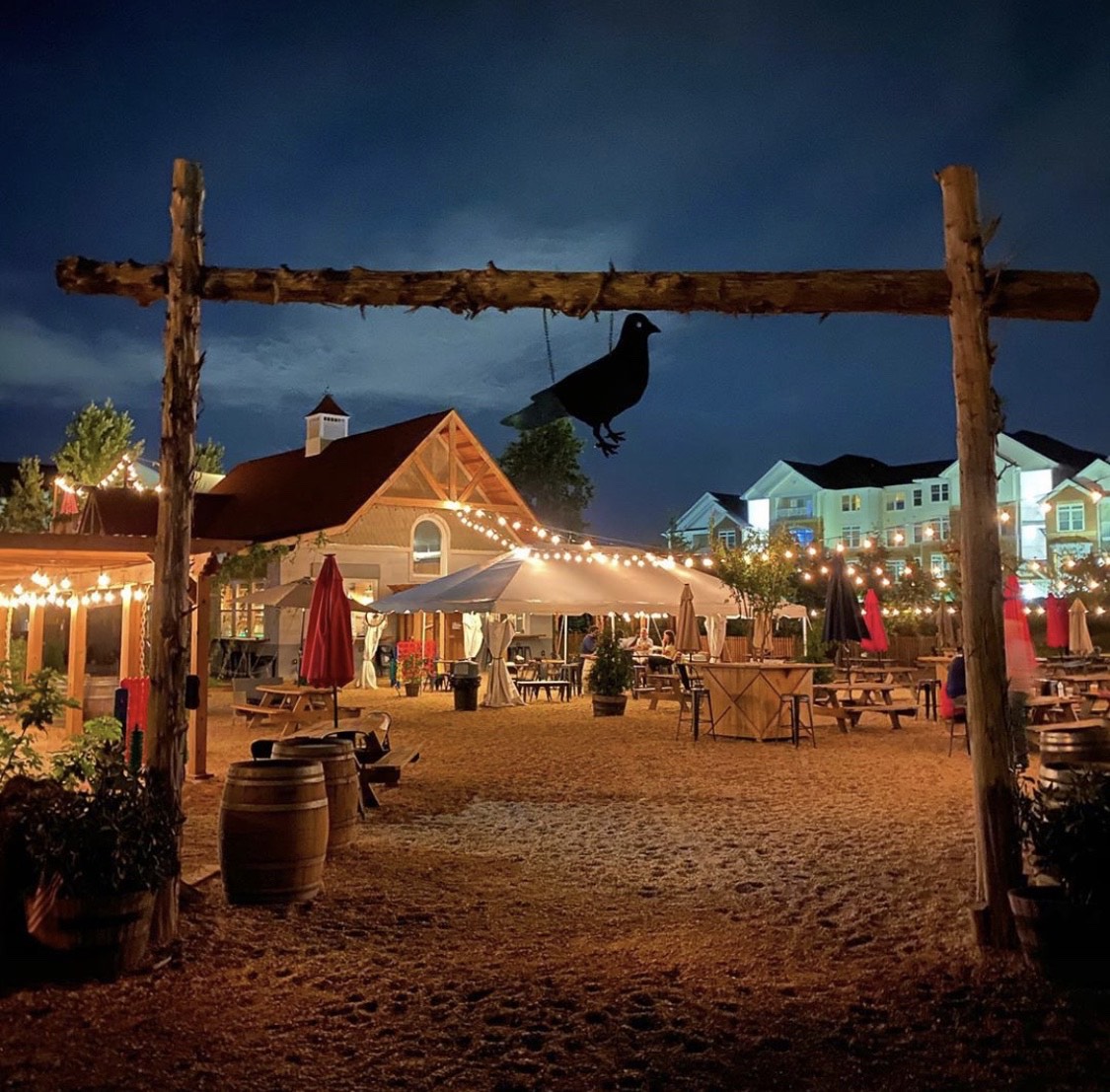 Eavesdrop Brewery is a craft microbrewery with a tasting room that seats about 80 people and ample outdoor space. General Manager Sam Madden credits their ability to keep the business up and running to their marketing efforts and outdoor activities.
During the first round of shutdowns, Eavesdrop survived on to-go sales of cans alone. During that time there were only two employees working Front of House—Madden and the taproom manager. "We were waking up super early, getting here and canning everything," he says. In addition to their social media manager ramping up posts to three times a day, they also made sure that the 60-70,000 cars that drive by the brewery daily knew that they were open. "We improved our signage in the front and made the brewery's logo a lot bigger so people would notice it."
Once they were able to open at 50% capacity, the Eavesdrop team utilized their large outdoor space with socially distanced events like trivia and rooftop yoga. However, once they reopened, they were selling out of beer faster than they could make it. Since reopening, they have decided to stop all to-go orders and only focus on in-house guests. "It definitely sucks when people are asking. It kind of tears my heart out when I have to say no, but it is what it is," says Madden. "We have to keep everything on-site or we would just run out of beer completely." This has created somewhat of a "good problem" for the Eavesdrop team who have been shopping around for a new brewhouse to keep up with the demand.
Osmin Sariles, Co-owner: Casa Mia Latin Cuisine in Lewisville, Texas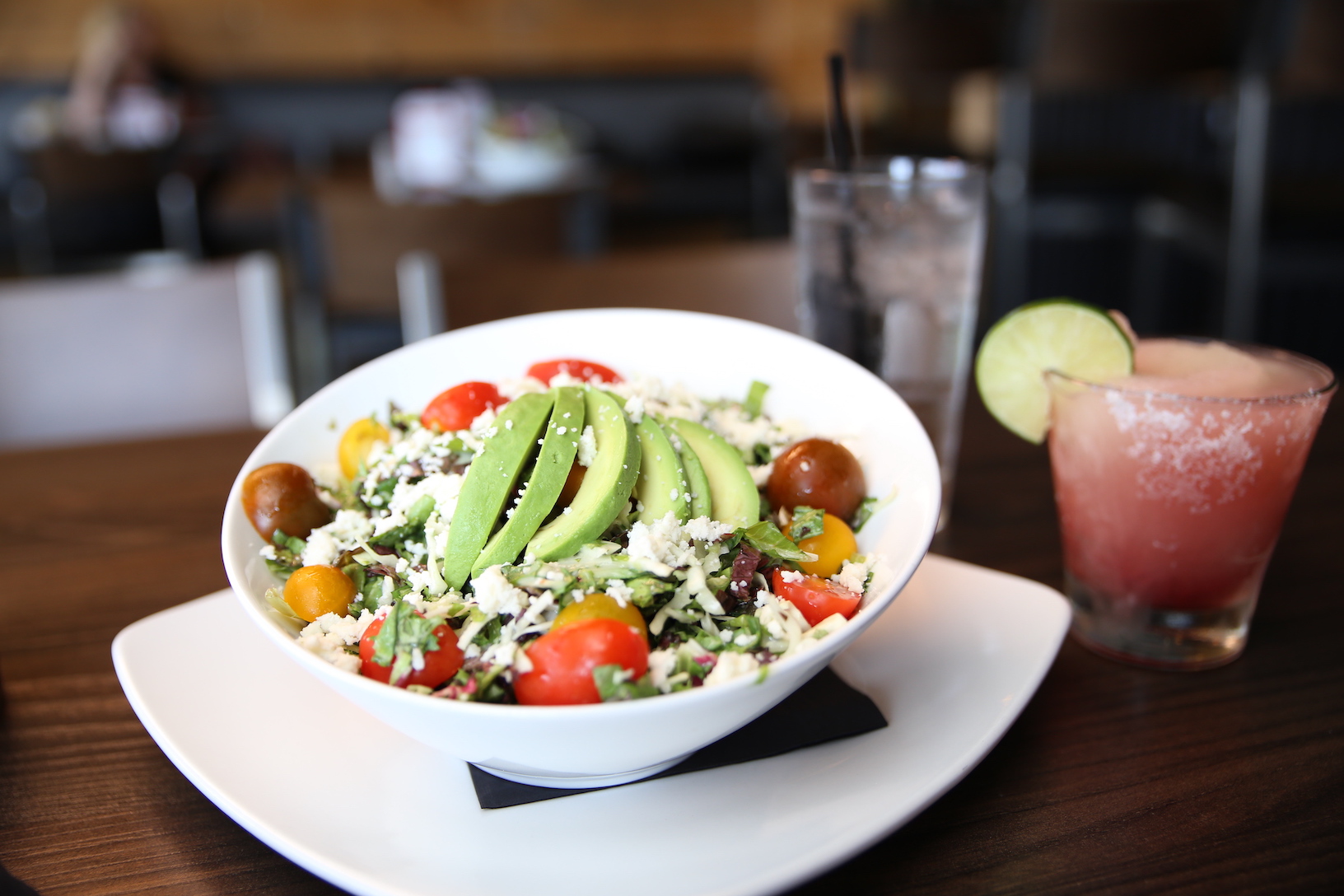 Osmin Sariles grew up in the restaurant industry under his parents, who owned three restaurants in the Dallas/Fort Worth area for over 25 years. He opened Casa Mia, which specializes in Salvadoran, Mexican and other types of Latin cuisines, in 2018 and credits his lifetime of experience to his success both before and during the pandemic, helping him to think creatively, adapt quickly and grow the restaurant's sales.
One way Sariles gets creative is by bringing his in-house hospitality into the online experience through guest reviews. While reviews on sites like Google, Yelp and third-party online ordering apps are the bane of many restaurant owners' existence, Sariles sees them as an opportunity to reach out to unhappy guests and convert them into repeat customers. "When we get a bad review, I reach out to the customer automatically. I want to know what happened," he says. By doing this, Sariles has earned Casa Mia an average 4.9-star rating across all major review and online ordering platforms. He also individually thanks every guest who posts a positive review. "I like to talk to each guest and make them feel welcome. Our customer service has been one thing that has really kept our business going, along with the quality of the food."
In addition to great food and outstanding customer service, Sariles relies on information from the mobile app to manage his restaurant, no matter where he is. "I always go in and look at the app to see how many tables we have, how many guests we have. Are we short-staffed? Should I go in and help out? That's very, very beneficial," he says. "I'm notorious for using that app. If I'm not at the restaurant, I'm looking at it."
Matthew Oliver, Owner: House of Oliver in Roseville, California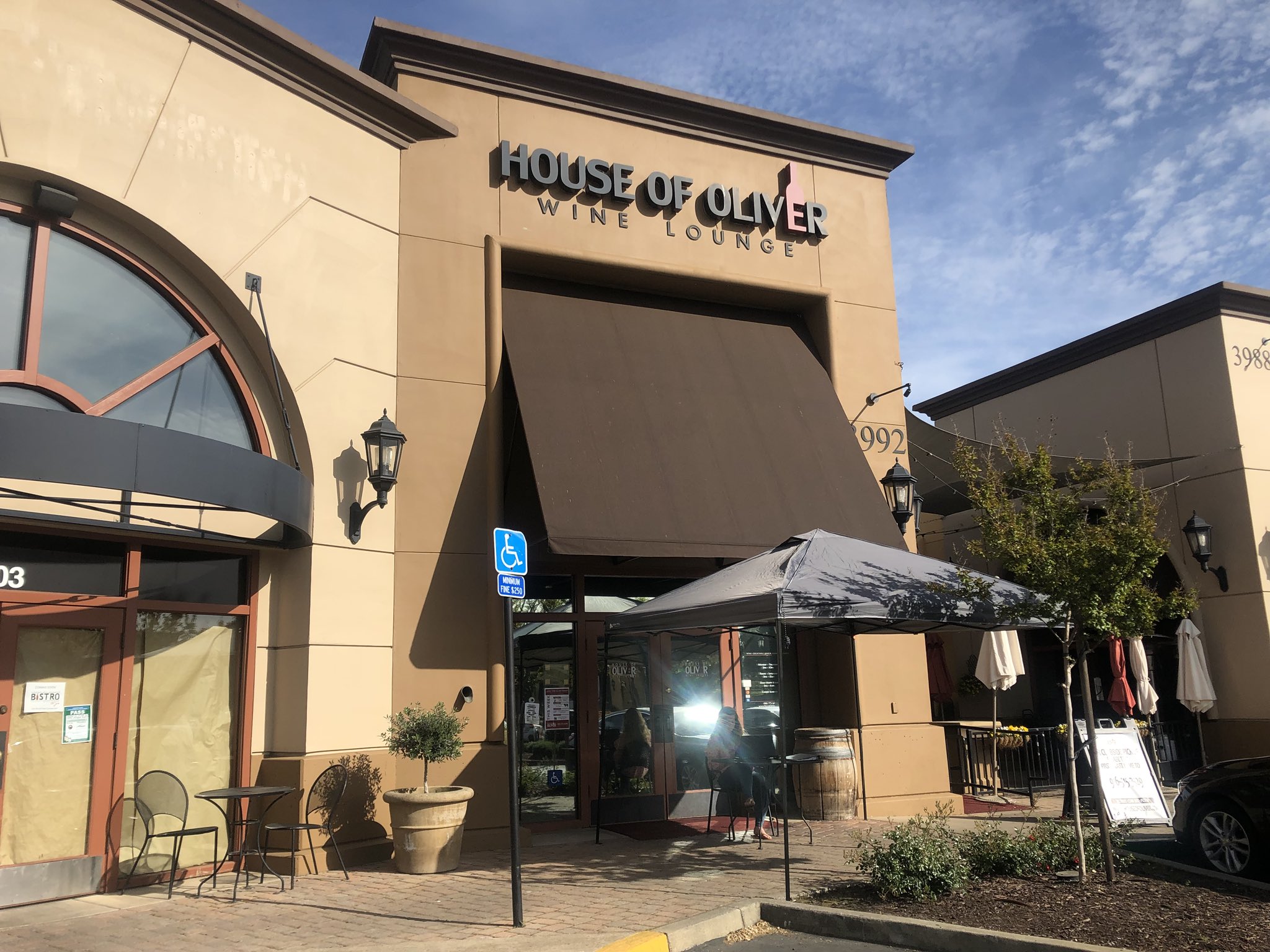 You could make the argument that a "wine lounge" is a difficult business model in the COVID era. Unless you're House of Oliver, where owner Matthew Oliver wakes up every day thinking, "How do I get my restaurant on TV today?"
With events, local partnerships and promotions, he's kept House of Oliver in the news and top of mind for hungry local customers. He also navigated COVID, and his local market, with genius precision. When restaurants could do take-out, but the local Starbucks was still closed, House of Oliver started offering to-go breakfast and coffee, quickly expanding to lunch. "We're still growing it. But the moment I opened up for breakfast, my lunches started doing better," says Oliver. "And I wasn't open for lunches before either, but need was driving it. The big restaurants in our area weren't open for lunch." Looking for new opportunities like this helped Oliver increase his year-over-year sales despite the pandemic.
His advice? "Stay innovative, get creative, stay relevant and grind. Come up with another idea. Make a reason to be on the news, not only is it free advertising, but it creates value to your local community." How do they get on the news? Partnerships with local businesses and other restaurants: special sushi roll delivery (sold out), pizza night with a local pizzeria (sold out), paint kits for at-home "paint and sip." These partnerships are particularly useful because they introduce House of Oliver to a new audience from another business (as well as TV viewers) without any food or advertising costs. His latest gambit: free yard signs for houses accepting trick-or-treaters. The local news ate it up.
"I don't think I've ever worked harder in my life than when the pandemic hit," says Oliver. But the key to successfully marketing your restaurant? "Make it personal, and make it more real. We're real people in your community. That mattered, and that was the selling point."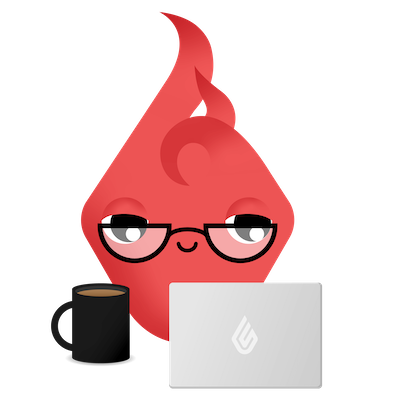 News you care about. Tips you can use.
Everything your business needs to grow, delivered straight to your inbox.