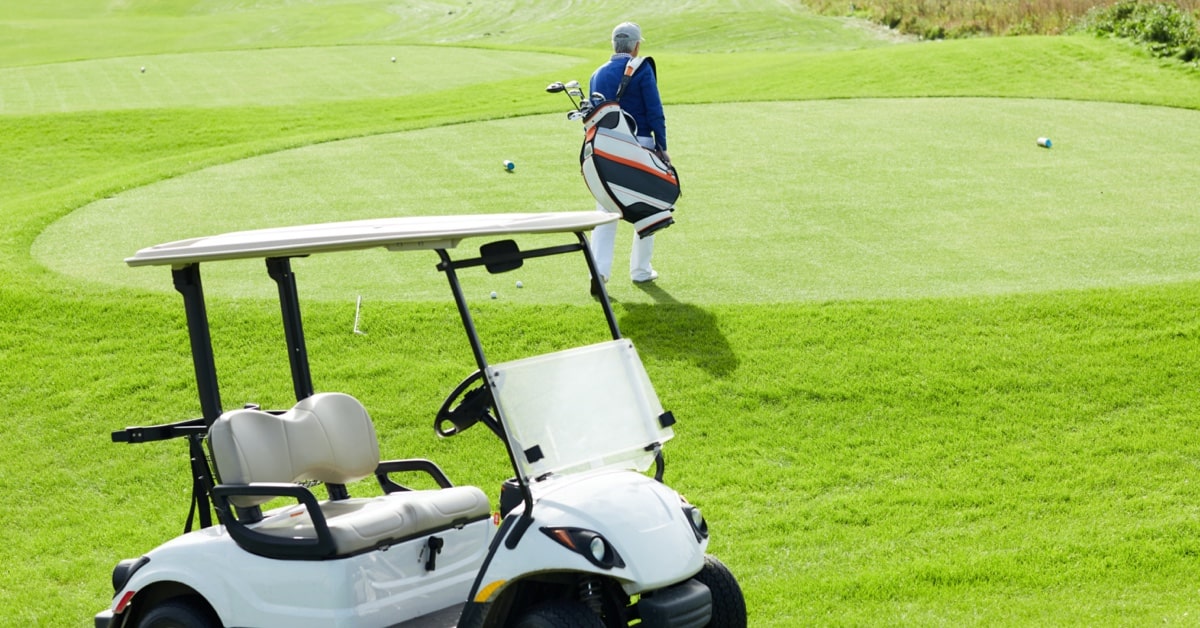 The narrative within some circles of the golf industry is "rounds are down across the board". If you believe this, you might want to rethink that.
Same goes for the debate about bartered placements on tee time markets. Whether you are in one camp or another, looking at the numbers will tell you whether you are getting good ROI out of this investment into marketing, or not.
Last month we had the privilege of teaming up with our friends at The ORCA Report to look at their numbers and put together a market study of the Phoenix, Arizona market. The results came back with some pretty interesting findings about occupancy, average rate, barter markets and more.
What is The ORCA Report?
For those who don't know already, The ORCA Report is an incredible organization that aggregates course data and helps operators understand their position within the market with benchmarks and key performance indicators. The ORCA Report is led by Mike Loustalot, a successful golf industry entrepreneur with whom we had the pleasure of unpacking ORCA's key insights about the Phoenix market.
Diving Into the Phoenix Market
Phoenix is known for being a golf mecca, the state is home to hundreds of world-renowned golf courses and has been a longstanding beacon for the rest of the industry. Where Phoenix goes, so goes the rest of the industry. This is the market that pioneered third-party time tee marketing, for example.
Currently, The ORCA report aggregates tee time data regarding occupancy, rates, booking channel, and more from over 700 golf courses, 70 of which are located in the Phoenix market. For this study, we looked at first quarterly data from 2016 to 2019 at 69 of these Phoenix area courses.
With such a robust data set for an important golf center, we sense this study is an excellent place to look for insights into where the industry is going as a whole, even if you operate outside of the Phoenix market. Here's a look at what we found:
1. Rounds Played and Average Rate Is Steadily Growing
If you aren't familiar with the Phoenix market, the first quarter represents the busy period of the year. On average, 41% of yearly revenue is generated between January and March.
Between 2016 and 2019 first quarter rounds played grew by 1.4%, but perhaps even more interestingly the average rate for these rounds grew by nearly 15%.
So, at a high level, this means that golf courses in Phoenix are not only increasing rounds played, they have been able to raise their rates without sacrificing RevPAR (revenue per available round). This development should be encouraging to operators that are afraid of flexing their pricing muscles.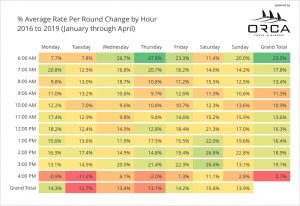 2. Golf Course Website Bookings Are Key
From 2016 to 2019 online bookings made directly through golf course websites, not tee time market places, grew by a whopping 49%. This finding indicates a shift towards web and mobile bookings away from phone calls and walk-ups. Phoenix golf courses are getting better at encouraging their customers to book through owned channels, instead of using third parties.
It's possible that the increased quality of golf course websites, the arrival of better booking engines, and the overall increase in popularity of online booking has likely affected this trend.
3. Mobile Bookings Are a Growing Channel
One of the most exciting findings from the study was an apparent increase in mobile bookings. The data set indicated that bookings made from web-connected smartphones have increased by 70% since 2016. This increase represents a mix of bookings from apps and smartphone web browsers.
While mobile bookings represented only represented 2.6% of all bookings, the trend is clear: we can only expect mobile bookings to increase as golf courses begin to realize the many benefits that come with implementing course branded mobile apps and optimized website booking.
4. Tee Time Market Places Lost Some Steam
Third party tee time markets have always held a somewhat controversial place in the market. However you choose to see them, there's no denying their ability to put your operation in front of a wider audience. The main question operators need to ask themselves is whether the ROI is worth it.
The data from the study shows that overall, paid rounds where the payment went to the golf course decreased by 31% between 2016 and 2019, while the average rate increased by 18%.
This trend appears to represent a shift in the market and mirrors the previously observed 49% increase in golf course website bookings and the overall increase in average rate. The data also tells us that golf courses seem to be getting better at retaining transient players by encouraging them to book rounds on their own websites, which is consequentially helping operators generate more revenue. Customer loyalty programs, better data retention, and smarter marketing tools are likely the key factors driving this trend.
5. Tee Time Market Places Are Still Earning Their Money
Don't count tee time market places out; they are still very profitable and will serve as an important marketing channel for the Phoenix market long into the future. The ORCA Report study showed that despite a significant decrease in paid rounds, barter rounds only decreased by 3% between 2016 and 2019.
6. Captive Golfers Are Still Calling to Book Rounds
Despite an increase in online booking, captive golfers, i.e., golfers that are "owned" by a golf course such as members or loyalty card holders, are still calling in to book their rounds.
The ORCA Report study showed that 30% of call center bookings came from these kinds of players, which is somewhat of a red flag given that these players often have much more convenient and personalized booking channels available to them.
This trend shows that golf courses could benefit from investing more resources into demonstrating how their captive and most loyal customers can make use of simple online booking interfaces that make tee time reservation that much easier.
Main Findings and Key Takeaways
The ORCA Report shows us some great statistics about the Phoenix market and can provide some interesting insights into what's happening in the industry as a whole. To recap, here are the main findings from the study.
Golf Industry Statistics for the Phoenix Market:
Rounds played increased by 1.6% in Q1 between 2016 and 2019
Average rates increased by 15% in Q1 between 2016 and 2019
Website bookings increased by 49% in Q1 between 2016 and 2019
Mobile bookings grew by 70% in Q1 between 2016 and 2019
Mobile bookings represented 2.6% of all bookings in Q1 between 2016 and 2019
Paid rounds from third party websites decreased by 31% in Q1 between 2016 and 2019
Average rates for paid shots from third party websites increase by 18% in Q1 between 2016 and 2019 (due to a shift from weekday to weekend rounds)
Bartered rounds for third-party websites decreased by only 3% between 2016 and 2019
30% of call center bookings came from card-holding players in Q1 between 2016 and 2019
While our report is limited to findings in the Phoenix market, the trends found by The ORCA Report may serve as a beacon to the rest of the industry. The data proves that in Phoenix, golf is still growing and will continue to grow as modern technology, and better strategy slowly makes its way into the broader market. For golf courses to remain competitive in the industry, it's up to operators who aren't up to date with current trends to implement better, modern solutions, and make data-driven decisions.
Join The ORCA Report for Free and Benefit From In-depth Market Analysis!
It was truly a pleasure to work with Mike Loustalot from The ORCA Report to put together this study. If your golf course is not part of The ORCA Report, you should consider joining. Confidentially sharing your data with The ORCA Report can help your golf course benchmark itself against the local market and develop better pricing, marketing, and barter strategies. Best of all, joining is free!
Head to The ORCA Report's website to learn how you can benefit from these free reports. At Lightspeed, we are proud to offer our customers easy and simple integration with the ORCA Report through our business intelligence reporting tools.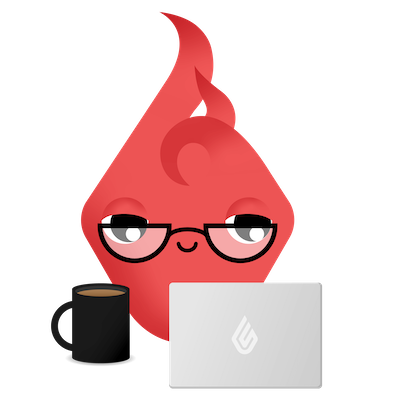 News you care about. Tips you can use.
Everything your business needs to grow, delivered straight to your inbox.