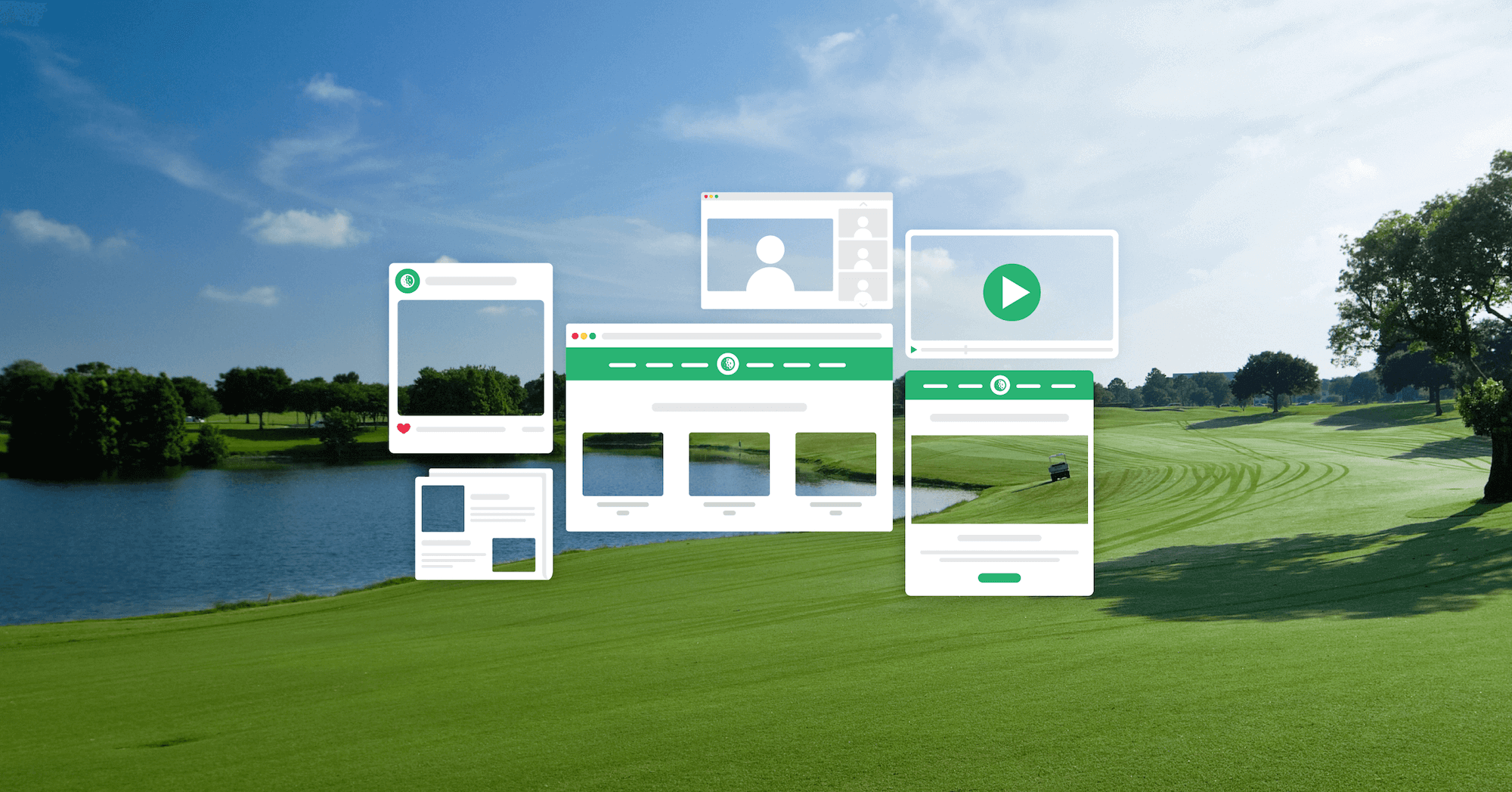 With millions of new golfers starting to play since the beginning of the pandemic, golf courses are busier than ever. Though there is some competition from course to course, most public facilities and private clubs are seeing spikes in participation numbers, including rounds, lessons and membership rolls.
This means that golf course marketing is even more important in shaping your brand and distinguishing yourself from others. There are a variety of ways of disseminating information about one's golf course, but the best ones for your course will depend on the type of facility you have, your target market and budget. Here are the top six golf course marketing tactics to look into:
Get the ultimate guide to marketing your course
Get actionable advice on how to ramp up your marketing efforts from course operations in our free playbook.
Email marketing
Email marketing remains a widely effective means of sharing information and building loyalty among private club members and broader public course golfers. Emails that target specific segments are an even more powerful way to market. Have a ladies' event to promote for this weekend? You can send a very clear and concise email to your Ladies Association members.
Fostering your relationships is easier than ever with email as well. Sending birthday wishes, congratulatory emails or "where have you been?" emails create personal engagement with members that usually doesn't go overlooked.
Automation software lets professionals create emails with less stress—you can set it and forget it. For example, PGA Professional Todd Hojnacki sends a Weekly Golf Shop News email to more than 800 Roxiticus Golf Club members every Sunday at 6:00. Members are conditioned to expect this weekly communication, and they can plan their leisure calendars based on the information provided. Hojnacki supplements his weekly newsletter with an additional email later in the week as a reminder and further opportunity to provide updates. He is keenly aware not to inundate his members with too many emails, because the more you send, the fewer they read.
Digital marketing
Considered a broader platform than just emails, digital marketing includes your website, social media channels, video content, and SMS marketing. Instagram is among the most popular platforms that PGA Professionals use to share video tips and promote new golf shop merchandise, special events and golfer achievements. The Instagram page of Cantigny Golf in Wheaton, Illinois, for instance, provides an excellent look inside this 27-hole facility. Whether touting their award-winning wedding services, recent achievements of their PGA Professional staff or the many smiling faces of their diverse clientele, Cantigny reaches almost 2,000 Instagram followers with each new post.
Courses that are implementing search engine optimization (SEO) strategies are making an investment in their future by driving additional traffic to their own website. Digital marketing methods call for more than simply stating the facts like one would in an email. Riveting content that catches the customer's eye and piques their interest enough to keep them engaged on your site is the goal. You should also encourage reviews on third-party sites like Golf Advisor, Google and Yelp.
It should be noted that SMS messages and other push notifications are quickly becoming the easiest and most effective means of connecting with your audience. Push notifications are hard to miss, as they pop up on the golfer's cell phone screen. Lightspeed Golf lets you send text messages directly to customers and our web team can help you create your own customized app.
Videos and content creation
Videos and content creation are very effective methods for golf instructors to share their expertise. Videos posted on social media and YouTube are also a powerful way to show your facility's pristine conditions and picturesque views.
Posting video tips on Instagram or lengthier clips on YouTube can help your professionals build name recognition and promote their brand. Some of the biggest names in PGA coaching circles–Trillium Rose, Todd Sones, Mike Malaska and Mike Bender, for example–are incredibly active on social media and become ambassadors for other products, in addition to their own teaching business. The number of followers and engagement, AKA "influence," one has often dictates the effectiveness of his or her online message.
Marketing to millennials
The three methods of marketing detailed thus far—email marketing, digital marketing and Video and content creation—are most-effective for reaching millennials. Whether they're looking for a coach, a place to play or a site for their wedding, digital marketing methods are more likely to reach a younger demographic.
The most common ways to reach a millennial customer are via social media and by staying mobile. When creating content, keep in mind that this is not your traditional golfing demographic, so you need to present them with a different brand of golf than their parents and grandparents enjoy. Be honest in your message and genuine in your intentions, as this generation doesn't respond well to anything forced or phony.
Events
The pandemic has altered in-person events marketing, so most webinars and workshops are now taking place on online platforms like Instagram Live and Zoom. These platforms not only provide an excellent opportunity to engage a larger group of individuals, but they can also lead to valuable Q&A sessions that are not available in most other forms of marketing.
Businesses of all kinds have also adopted virtual networking as a means to keep employees and clients engaged, and golf is no different. Courses can deliver Rule seminars, membership meetings or simple promotional seminars to communicate their message and remain relevant to their clientele.
Traditional marketing
When you research golf course marketing tactics, the buzzwords you'll see are: online, virtual, social media, websites, content creation, etc. You typically won't find TV commercials, newspaper ads or radio spots as suggested tactics to try. That's because paying for ads to be placed in older forms of marketing can be risky or ineffective in the current environment.
That being said, however, every golf facility is different. You might find that your audience actually does respond better to traditional marketing methods. For example, Trent Maxwell, a PGA Professional at Windmill Golf Center in Ohio, recently hired a marketing expert to handle that aspect of his business. With expert club fitting and instruction, a heated driving range and 27-hole short course, there is much to promote at this award-winning facility. Maxwell was able to run several highly effective TV commercials on the local Golf Channel broadcasts, delivering their message to a very focused audience. Just as targeted marketing words wonders online, it still has a niche in more traditional means of promotion.
See what sticks
These six types of golf course marketing tactics have a place in getting our message to the masses. Some of these tools may work better than others for your particular course—and we encourage you to explore new options and opportunities.
If you're looking for marketing help, whether that's email automation software, a new website, or social media marketing services, let us know. Talk to our golf experts to see how Lightspeed Golf can help you grow your business.
News you care about. Tips you can use.
Everything your business needs to grow, delivered straight to your inbox.