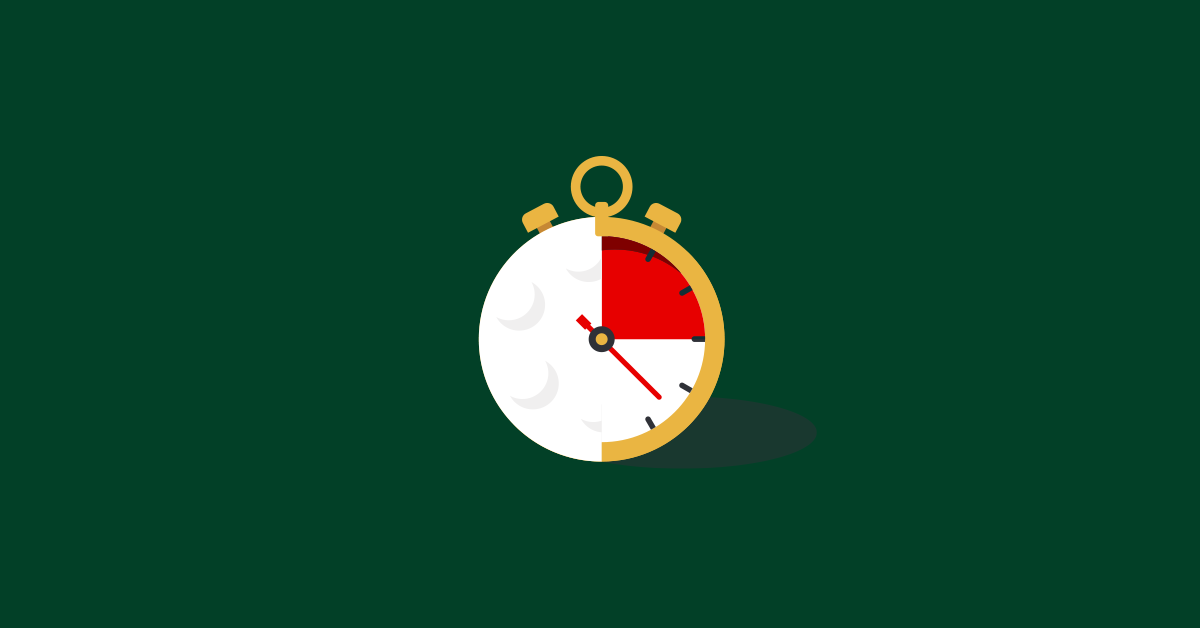 The past twelve months have been unprecedented in the golf industry. With an influx of new golfers coming to the game for its socially distanced engagement, the challenge for PGA Professionals will be to find ways to retain these new players for the long term, when the country comes out of the COVID-19 pandemic and all other forms of family entertainment and sports resume.
Barriers to the long-term retention of golfers have always existed, primarily due to time and money. The pace of play has long been cited as one of the top reasons that golfers get out of the game, as it often takes too much time to play 18 holes of golf. In addition, while on the course, golfers find little enjoyment in the start and stop of a slow round of golf. Most players perform better when they can "get into the flow" of a round.
Why is pace of play important?
Maintaining an acceptable pace of play is crucial because it has a direct effect on your facility's reputation, and thus the number of golfers playing your course. "Whether your tee sheet is full of golfers crossing your course off their bucket list or is a group of members who enjoy their club every day, ensuring they have a positive and memorable experience is vital to bringing them back, retaining their business, and growing the game of golf," says Eric Lippert, PGA Head Professional at Pebble Beach Golf Links. Leading organizations like the United States Golf Association, R&A, and National Golf Foundation conduct research and provide resources for golf facilities to implement that speed up play, ensuring the positive experience that all golfers should have at the end of the day.
What causes pace of play issues?
Whether caused by a decrease in available golf courses or an increase in golfers, the sheer volume of golfers is often the number one culprit in the slow pace of play conundrum. After all, public facilities are businesses like any other, striving to build their clientele, and thus their bottom line. With tee times sometimes as close as eight minutes apart, public facilities are putting as many bodies on their links as possible. As a result, it doesn't take much for a logjam to occur.
Other mistakes often made by golf course managers and superintendents have to do with course conditions. With unnecessarily high rough and fast, undulating greens, new and less-skilled golfers spend much of their time searching for their ball and dealing with four-putting greens.
The everyday golfer is also to blame for the slow pace of play by:
Playing from tees that don't match their skill level

Not being ready to hit when it's their turn or playing

ready golf

Lining up every putt like a major championship is on the line

Waiting for the green to clear when they surely have no chance of reaching it

Delaying their back nine by waiting for food orders

Not knowing the rules and etiquette by which they should abide

Not hitting provisional balls

Exceeding the three-minute search Rule

Not keeping an eye on each other's golf ball
Facilities must implement operational procedures that educate and inform the recreational golfer on the course's pace of play requirements and how those customers can ensure everyone's day is made better with a 4-4½-hour round of golf.
In discussing competitive play, tournament administrators should provide for longer intervals between tee times to allow for even more deliberate play. During tournaments, players give much more importance to their scorecard which translates into them taking significantly more time to play the ball. In addition, golfers take significantly more time on the green in particular as competitive play usually prohibits other golfers from conceding a hole and picking up the ball.
Strategies to improve pace of play
The causes of slow play, from the facility side, as well as that of the golfers, are widely acknowledged. When it comes down to it, it is up to facility operators to ensure an acceptable pace of play is turned in by everyone on their tee sheet. Education and awareness are vital on both sides of the counter.
The golfers' contribution to slow pace of play must be addressed and rectified through communication, awareness, and enforcement. Pace of play should also be a topic of every golf lesson given by PGA Professionals.
Golf facilities should weigh the pros and cons of overloading the course. The short-term revenue is great, but at what cost? Are they sending a message to their customers that says "We don't care about your experience once you've paid for your round of golf"? Increasing the minutes between tee times has proven effective in spreading golfers out on the course and improving the flow of the round. Of course, those backups still occur, but less frequently and are cleared most quickly.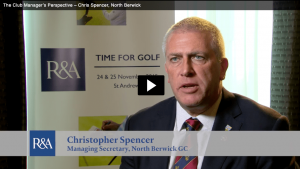 In addition, alleviating the difficulty of course setup would speed up play, but might also deter more skilled golfers from playing your course. There is talk within the industry of widening fairways, shortening rough, slowing greens, and reducing the severity of doglegs, among other significant course modifications. To truly cater to all calibers of golfer, some of these changes are unreasonable. The answer is to facilitate changes without affecting all golfers – course played, tees played, time of day played, and method of play. There are courses that are easier than others and novice golfers should be steered towards those facilities. If they are playing a considerably more difficult course, they must be directed to play forward tees, play later in the day and implement such rules as double par (pick up after reaching double par on a hole), dropping a ball outside a bunker rather than taking multiple swings at getting out and taking relief from penalty areas on the opposite side of the area.
Facilities can also incentivize faster play. Whether it's a drink, a sandwich, or a discount off their next round, rewarding players for the four-hour golf round could work at some courses, and they just might incorporate that ready golf concept into their next round.
Embracing technology to improve pace of play
After years of no improvement in pace of play, technology must be the answer in finally rectifying this problem. Solutions like Lightspeed's Order Ahead alleviate the delay in refueling at the turn, by enabling golfers to place their food and drink orders prior to completing their front nine and simply pick them up at the restaurant on the way to the 10th tee. Not only is there no wait for the golfers at the turn, but the residual benefit on the overall course pace of play is elevated.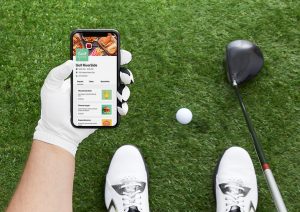 Another solution, courtesy of technology, is taking place at Bobby Jones Golf Course in Atlanta, Georgia, where their nine-hole reversible golf course has eight levels of tees on each hole. Golfers go to the practice range before their round and use their free warm-up bucket of balls to determine the appropriate set of tees for them based on the feedback from one of two Ernest Sports ES15 launch monitors.
Back at Pebble Beach, they're using Tagmarshal technology to combat slow play. By clipping a GPS tracking unit to one bag of each group, they are able to monitor pace of play and spacing of every group on the golf course. "This real-time information has fundamentally changed the role of our on-course player assistants, who now can dedicate nearly all of their time to solving issues as they develop, rather than trying to identify them," Lippert added.
Players get a friendly reminder when they fall more than two shots behind the group in front of them. After two holes of being behind, a forecaddie is sent to assist the group and get them back on track. To truly adhere to the pace of play policy, the group will be asked to move ahead into the proper position if they haven't closed the gap after three holes, a bold move for sure, but a necessary step to ensuring a positive experience for all players.
In addition, this technology generates thousands of data points each day that they analyze and use to inform their pace of play communications, expectations and policies. By studying the data analytics that are provided by this technology, facilities can determine the primary causes of trends in their pace of play and put procedures in play to counteract those factors. Whether based on days of the week, times of day, demographics of golfer, weather conditions or course setup and conditions, management can use this valuable information to set goals, track progress and make changes that might not have been apparent if not for such tools.
Conclusion
Lippert said it best when he highlighted the impact that technology has had on his operation at Pebble Beach, "The best way to promote a return visit from a guest is to exceed his or her expectations. Our biggest challenge has historically been pace of play. After all, it only takes one slow group in the morning to potentially ruin the experience for over 200 golfers who follow. Technology has now given us the tools and information to revamp the way we address these problem groups."
To create the best possible experience for their customers, golf facilities strive to present a pristine golf course, offer quality merchandise in the golf shop, and provide service with a smile every day. Being able to promise your customers the one thing that can truly steal the joy of a fun day on the course is a game-changer. Guaranteeing a four-hour round of golf by putting processes in place, and using today's innovative technology can differentiate your facility from the one with the five-hour round of golf. You don't want to be that facility.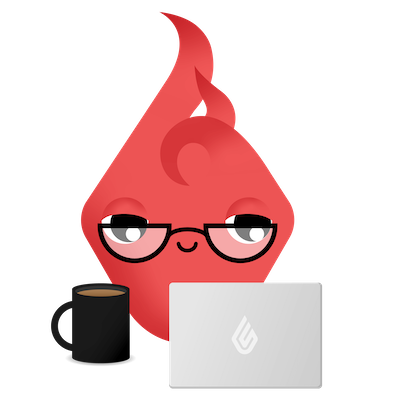 News you care about. Tips you can use.
Everything your business needs to grow, delivered straight to your inbox.