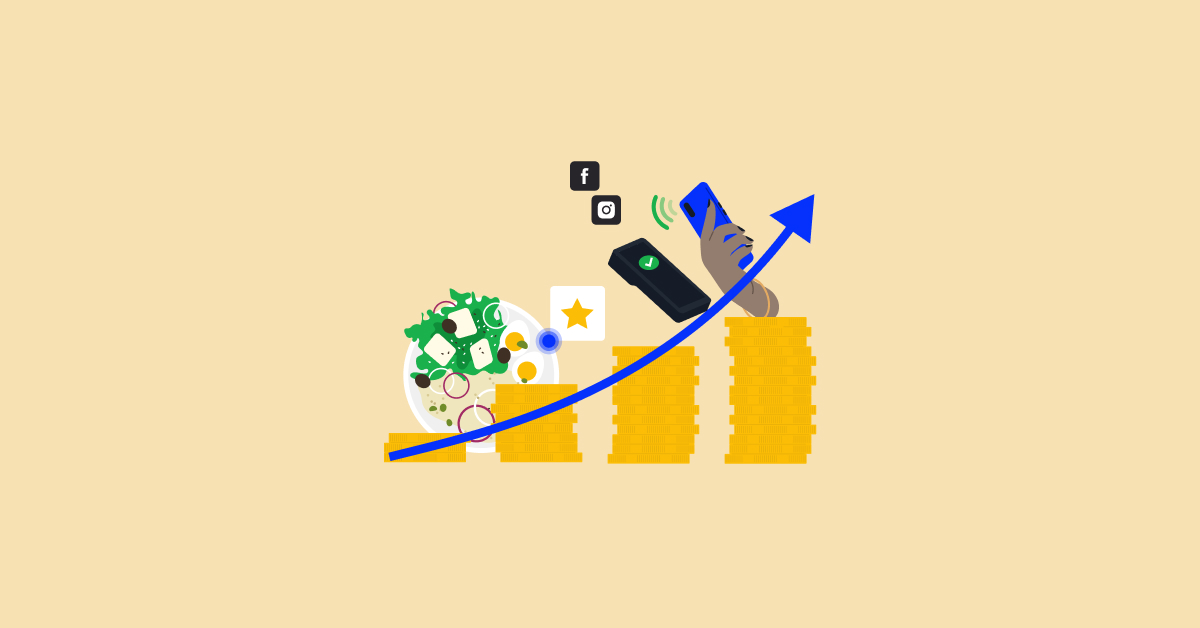 See that wine glass? Perfectly poured, right up to that almost undetectable horizontal line. We are choosing to see that wine glass on the table as half full. Not half empty. Sure, there are staffing shortages and inflation continues to rise but scrappiness and ingenuity is part of the hospitality DNA.
Today, restaurateurs have to be savvier than ever before. It's no longer just about that great idea or even superior food (unfortunately). To survive in the current economy, you must remain curious and evolve, making sound business decisions that lead to efficiency of time, money and resources.
To increase sales in your restaurant and diminish costs, there are a variety of approaches. Here we are exploring 25 ways to increase restaurants profits. From perfecting your marketing strategy and creating new avenues to attract clientele to improving the overall experience and offering your customers something new and exciting—you're guaranteed to find opportunities to help you succeed in the years ahead.
How to increase restaurant sales
Create your menu in minutes
You don't need to be a designer (or hire one) to create a beautiful menu. Download your free, easily-customizable menu templates today.
Increase restaurant revenue through unforgettable experiences
1. Pay at the table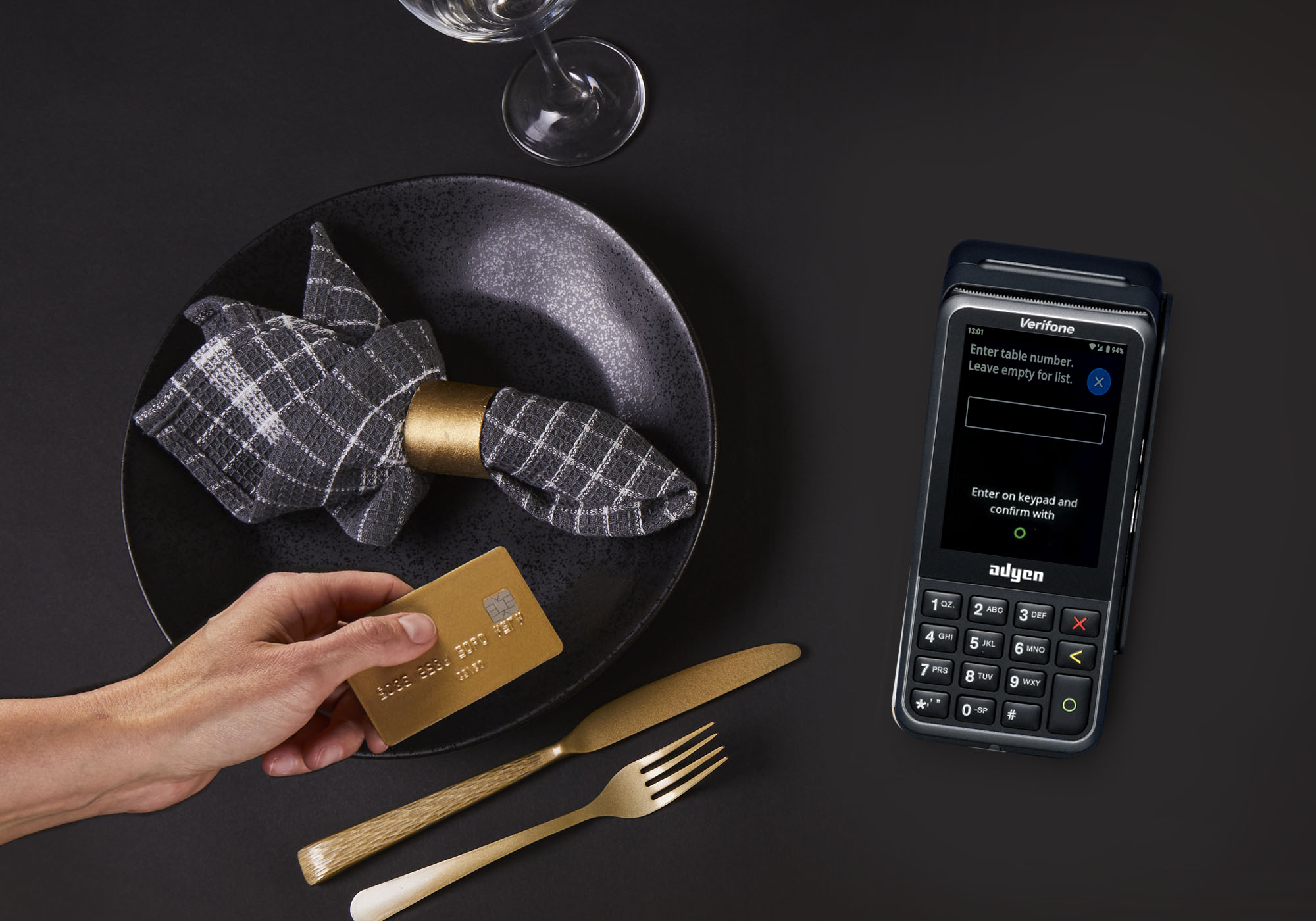 The waiting game is one aspect of an experience that can have an adverse effect on customer's returning to a restaurant. Certain elements can be out of your control but when it comes to a seamless billing experience, this is something worth investing in. Since the pandemic, most establishments have evolved to offer pay at the table solutions with portable terminals to expedite the process for their customers.
Using an integrated payments system, means in a few smooth steps customers can be billed, pay, tip and leave. Generally, clients prefer this method for the time-saving nature and the additional security of their credit cards staying within sight. Not only does this allow servers to turn tables faster but the sheer efficiency means an overall reduction in labor costs. A win-win scenario.
2. Plate to perfection
Generally speaking, we are visual creatures. We eat with our eyes almost as much as our mouths—taking in the colors, shapes and textures of food prior to it hitting our palette. Plating can be an overlooked element, especially in the warmer months as service is strained to accommodate crowds. But the devil is truly in the details, and putting that extra effort into plating actually impacts how people feel about the taste. From height, to textures, contrasting colors and even themes, putting your restaurant's personality on the plate is guaranteed to please.
3. Learn from the best
No matter where you are with your business, there's an express pass to improvement by examining what the best in the industry are doing differently. Setting yourself apart from the pack and making your space a go-to today, tomorrow and years from now means examining your operations and constantly evolving. Michelin star restaurants know what success takes and part of that is consistency in what you deliver— across your menu and with each dish. Dig into the stories of our very own Lightspeed Michelin Star chefs and their top takeaways.
4. Sell restaurant merchandise
Branded merchandise, or 'merch' as it's often referred to, continues to rise in popularity. Restaurant merchandise is another touch point to show off your business' personality. For those restaurants that have unique branding, this is the perfect way to celebrate and capitalize on it. From branded mugs to long sleeve tees and even dog clothes, let your customers show their support and do some (free!) advertising for you in their off hours.
5. Add experiences to the menu
Drive restaurant revenue and stand out from the crowd by adding an unexpected experience to your space. Maybe it's a musician that comes in once a month and elevates the dining experience or an opportunity to see the chef create their seasonal menu. Whatever it is, showcasing an alternative to the traditional dinner and drinks can bring in new clientele and impress long-standing customers.
Maximizing your menu & minimize waste to drive profitability
6. Reduce food waste
Food waste is a huge issue for restaurants and the environment. Luckily, through sustained efforts this is something that can be reduced and emerging technologies are central to this progress. There are a variety of applications and approaches to mitigating food waste all that lean into the truth of that what gets measured, gets managed.
Winnow Solutions is one example, allowing restaurants to monitor their waste. The system works two ways, with the monitoring aspect establishing and reinforcing behaviour changes and the tracking offering visibility to see reduction opportunities in preparation. For example, if the camera logs the majority of fries being discarded— it might be worth rethinking the portion per plate. These types of tools can make a serious impact on waste management.
Looking for inspiration for your waste management efforts? Take a look at Silo and Crate Brewery, the world's first zero-waste restaurant. The business' policy means that everything is reused, so no materials are wasted. As Tim Dennis, Silo's General Manager explains:
"Silo's Zero Waste Policy was a game changer for me coming into the business. Everything is reused. Everything comes back out into service, time and time again."
7. Optimize your menu pricing
There are a variety of components that go into menu pricing. If you find that inflation in food costs are getting the best of your profits—it might be time to reassess your pricing. You can review your costs in relation to a gross profit margin formula or total food costs over food sales.
However, there are nuances for every establishment including competition and market tendencies that can also offer insights. Reworking your menu design can also play a surprisingly important role in increasing profitability. Engineering your menu puts your star menu items, ones that are both popular and high profit, front and center. The design taps into the psychology of your customer and is a low effort way to emphasize and encourage the dishes guaranteed to sell.
8. Make reporting your right hand man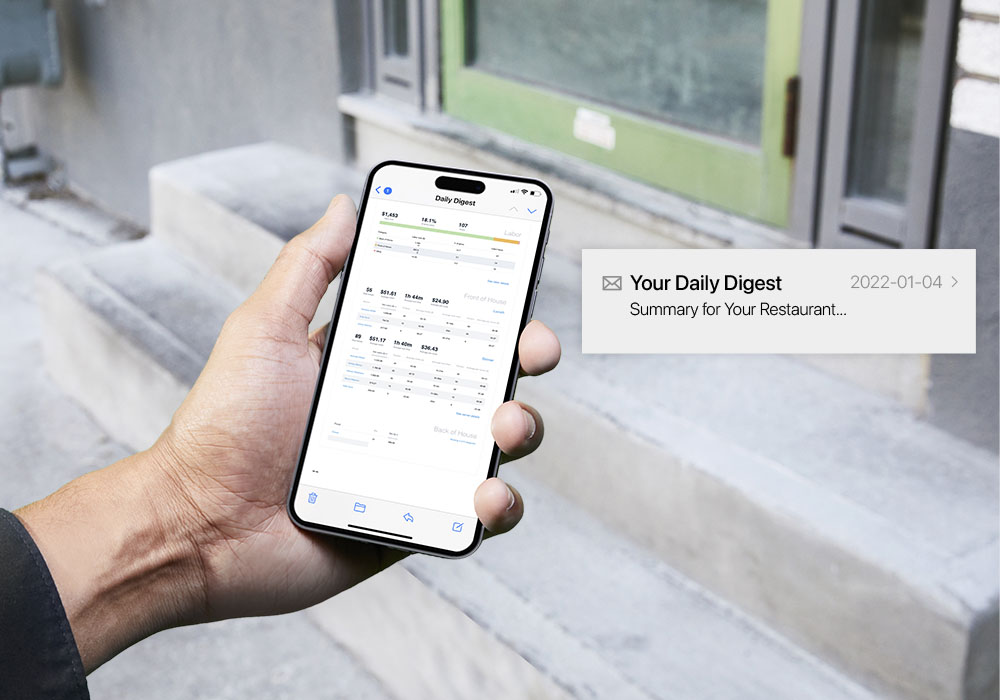 A sophisticated POS system is an irreplaceable resource for saving time and money. Advanced data can provide you with real-time information whether you are physically there or not. From the amount of bills, to what food needs to be reordered and your top selling items—the right decisions can be made faster with less room for error. With everything laid out in an easy to digest format, making menu adjustment is something that is no longer a guessing game.
9. Incorporate top trends into your menu
If there's one thing that is constant, that's change. A restaurant's success is a fine balance between digging into what you do best but also not discounting what is happening in the world and the new demands of customers coming through the door.
For example, vegetarianism used to be the rarity in a group but now more individuals than ever are opting for plant-based choices and veganism is on the rise. From mocktails to canned-fish, it's important to do your research and remain curious about the top trends in food and beverage. Try incorporating one a month into your specials to see if it resonates with your customers.
10. Offer 'mini-meals'
The new approach to how individuals are structuring their days, might account for the trend toward ordering smaller plates. Whether it's convenience, cost or an increase in consumption, the snacking trend is not slowing down. Although not ideal for family style service, many restaurants can benefit from offering a scaled down version of their typical fare at off-times of day or as an alternative for groups to share and experience more of the menu.
A strong advertising strategy can help increase restaurant sales
11. Establish a strong social media presence
With over 4.2 billion active users on social media, there are more brands than ever before vying for the public's attention. Establishing a presence can be daunting. But cultivating a consistent and authentic presence will lead your customers to you. Having even a simple strategy in place increases your brand's visibility and holds the potential for new people to share and discover. If you are struggling with where to start, begin by making some notes on your competition. Whether it's specific to your city, neighborhood or offering, dig into what others are capturing to see what's resonating with people (and what is not)—and go from there.
Lightspeed customer Table Rock Coffee Roasters has a signature yellow, taken from their logo, that they incorporate throughout their Instagram feed. This is a simple but impactful way to create cohesiveness across unrelated content.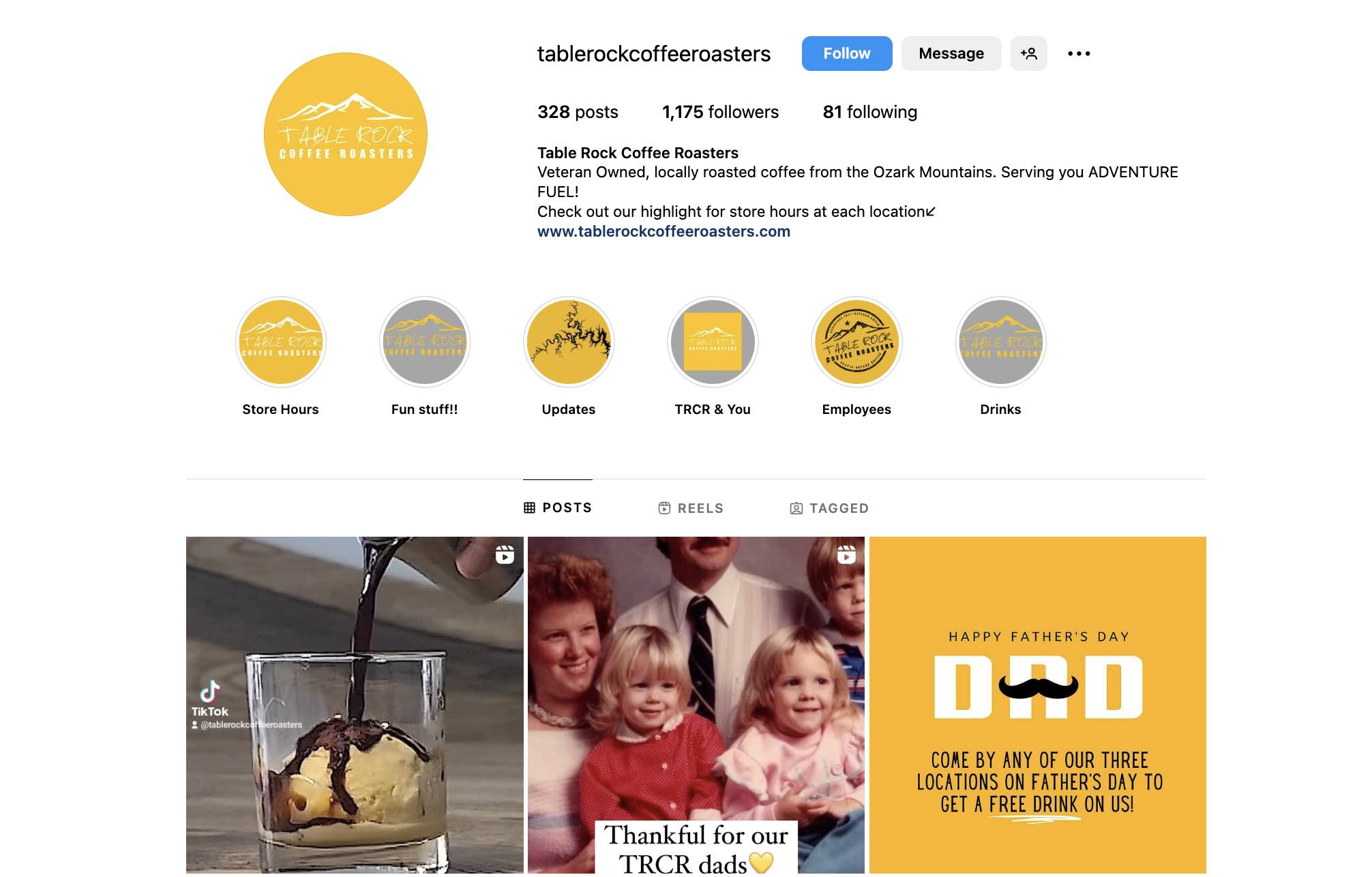 12. Run digital ads
Using Facebook and Instagram ads to target customers is a no-brainer for increasing your customer base. The most likely regulars will be those who live close to your business. There are lots of options whether static image, video, reels or stories and you can set your own budget to do tests. Using the demographic settings on these platforms, you can not only target by location but also by age, gender, and interests. Use keywords as hashtags to further drill down into those hunting for what you offer. Review what has done well and caught people's attention in previous posts to highlight the best of your business.
13. Boost your website's SEO ranking
Search engine optimization is one of the most significant "invisible" tools that can drive traffic to your business.
To understand the power of the search engine results page (SERP) consider, when you do a Google search, how often do you go to the second page? Ranking well for keywords that are highly relevant to your offering is essential to growing your customer base year over year.
Outside of your brand name, consider the specifics of your style of service, what's unique to your menu, and current culinary trends that you tap into.
There are two ways to drive up SERP: paid and organic. Paying for Google Ads is a powerful but costly way to improve your ranking. However, you can also create organic and local SEO, by creating content on your website that speaks to your specialties using your keywords. One way to do this is building blogs with user generated content and reviews.
14. Optimize user generated content (UGC)
User generated content is an often overlooked and untapped resource to businesses.It can not only increase your online presence and improve your feed aesthetic but in turn will champion and grow your community—and ultimately help you increase restaurant sales.
Searching your restaurant's brand name and relevant hashtags (neighborhood, city, style of food) you can review any customer photos and content. Curate the best images and after taking the necessary steps to request reposting the image you can shoot out the customer and show your most mouth-watering items.
If you are not seeing much activity, create a promotion or content to drive UGC. Get creative, make it fun and establish a unique hashtag. Think outside the UGC-box, for example customer reviews are a great source of content.
Lightspeed customer Freshwater Taverne has a highlight on their brand Instagram page just for reviews that people can check out. Consider all UGC useful in getting to know who your customers are, what menu items are selling and snag some ideas for presenting on your branded platforms.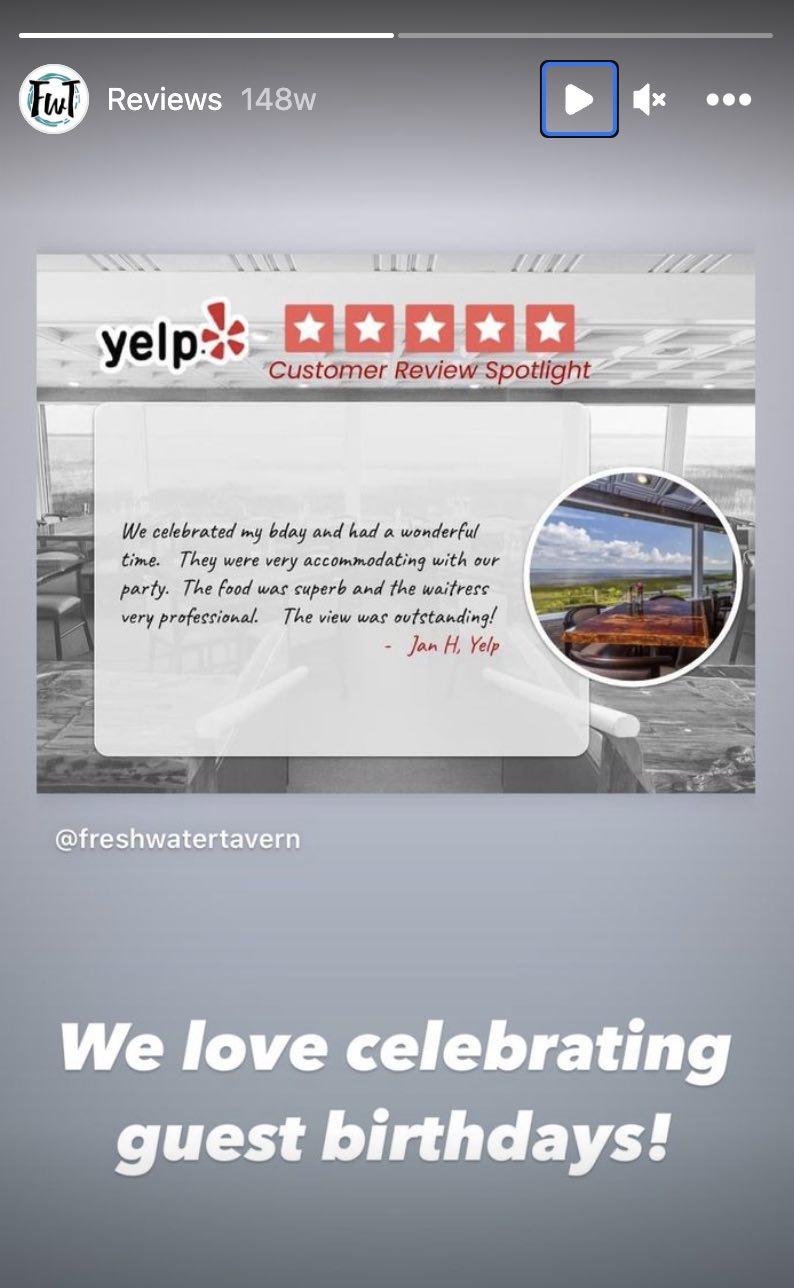 15. Create a restaurant newsletter
Restaurant newsletters are not yet common- and this alone gives the medium an edge. Thoughtful content tailored to your devoted customers and sharing quality information is an investment that has proven more effective than social media. From up-coming events, to new seasonal items, newsletters are an effective way to increase your sales and connect in a personal way with past, current and future customers.
16. Meet your customers where they are
If you are not making the most of delivery and reservation marketplaces, like Resy, you are missing an opportunity to connect with new customers. Using these platforms can expose your brand to new clientele but be aware there is typically a fee associated with their use and you will often be presented alongside the competition. But this can also be to your advantage…
Put your customers first
17. Make upselling easy
Use upselling to increase sales in your restaurant. Empower your staff with knowledge about new, rare or unusual items and get them excited to talk about it.
A big aspect of upselling is being able to speak about products in a way that feels natural and enthusiastic to an audience (your customers!). Provide seasonal training that gives your staff, both back and front of house, to talk about ingredients, dish pairings and complimentary drinks. Even if a customer doesn't order an item, they will feel the server is there supporting them and might be intrigued to return to try out a dish they missed!
18. Try prix fixe menus
Prix fixe menus are a great way to bring people through the door in seasonal slumps. It also entices new guests to come by and experience a cross-section of what you have to offer. Frequently used on peak holidays, such as Valentine's Day, New Years Eve and Mother's Day, they can assist in streamlining service and encourage customers to spend a bit more than average.
19. Consider a 'bottomless' menu item
This approach is not for every type of establishment. However, for those restaurants that choose this route, they offer customers a "bang for their buck"— and leave them feeling good returning or splurging on other aspects of their meal. From an unlimited bread basket, to salad refills, and bottomless mimosas or coffee at brunch, restaurants can present as a small upgrade charge for the premium.
20. Utilize underused spaces for parties
Does your restaurant have a covered patio that sits empty in the fall? Is there a back section that tends to be a dead zone mid-week? From birthday and bachelorette parties through to corporate events or just a cozy group dinner, booking private functions can be a way to increase restaurant sales. Combined with the aforementioned, prix fixe menu, create a section on your website that encourages patrons to book, knowing there's a spot for their special events all year long.
21. Adopt a loyalty program
Show your tried and true customers your appreciation with a loyalty program. These programs are also a great way to incentivize new customers to return. It can be a percentage of their tenth return or a free dessert, a round of mocktails. There are a range of approaches to take but two things to keep in mind is to ensure the program is easy to participate in and understand and to offer something that is truly a benefit to your customers to drive their desire to return.
22. Provide a Happy Hour
Happy Hour programs are perfect for restaurants situated near corporate businesses but one benefit of the past few years is the shift in the perception of what constitutes a Happy Hour. Many remote workers or WFH employees now enjoy the benefits of flexible hours. You might have noticed that patios are filling up earlier than ever before! Track your peak times, and create a Happy Hour that coincides with your slower days and time periods to drive customers to come enjoy a beer (or three!) and some eats at a discount.
23. Participate in local events
Don't shy away from participating in your city's events. From restaurant week to local events and festivals, getting your brand out there in the context of your greater community boosts your business profile and shows off a softer side. These events typically have a marketing strategy and budget that will give your brand exposure to different audiences. It is also a perfect opportunity to experiment with new dishes, hear about what other establishments are doing and do some old school word of mouth marketing of everything from your private events to your holiday menu.
24. Celebrate the holidays with your guests
When you know summer is on the horizon what comes to mind? For many it's barbeque, freshly picked strawberries or buttery corn on the cob. We have such a strong association with food for not just the seasons but specific holidays. Use these moments to your advantage, planning ahead to offer specialty items for holiday weekends.
Better still, is to capitalize on local ingredients whenever possible or special events and days unique to your community. Offering what people are craving can not only boost restaurant sales but you can charge a premium for these items. Timeliness elevates your menu and makes for memorable dishes people will talk about.
25. Listen to your people
Your employees and customers have a unique perspective. They are on the front lines of what is happening day to day in your business. Try and get the most from these invaluable resources. Distribute a customer suggestion card for your guests or even your most valued customers to hear what could be improved, updated or eliminated. Set up a log for your employees to record their ideas and suggestions as well as any customer feedback. Giving space to their voices makes everyone feel valued and will only benefit your business in the long run.
Leverage technology to increase restaurant sales
As we move into 2024, it's important to get creative when it comes to combating inflation, boosting restaurant sales and keeping up with guest expectations and demands. One key for running a hospitality business is using automation technology to do more with less.
Looking for a technology partner to help take you to the next level? Talk to one of our experts on how Lightspeed can help.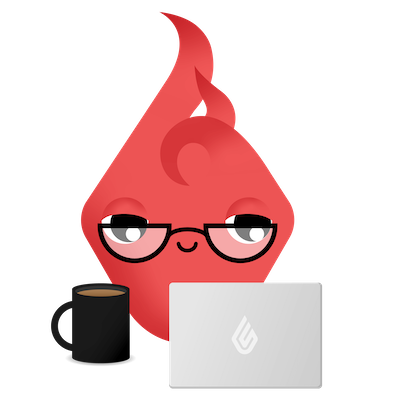 News you care about. Tips you can use.
Everything your business needs to grow, delivered straight to your inbox.