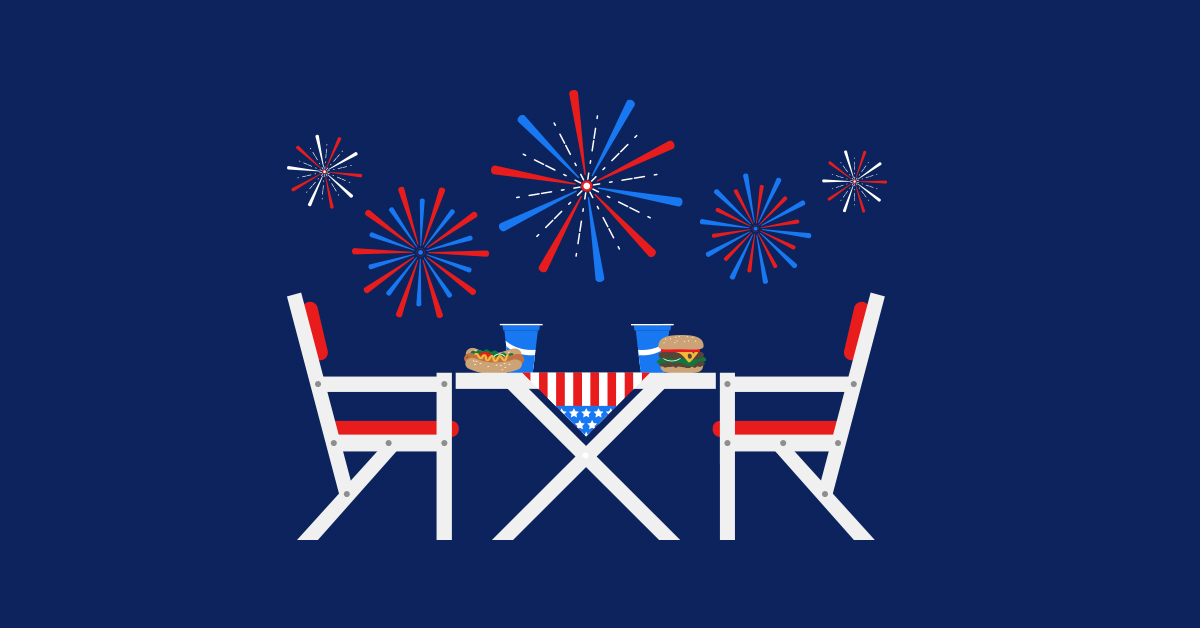 The Fourth of July is generally slower than other holidays for the restaurant industry with many guests opting for backyard BBQs and swimming pools instead of dining out. However, there will still be those who are looking to dine in on your patio or pick up some food to add to their cookout.
Here are a few tips for capturing those guests looking for some help with their July 4th plans, including:
Fourth of July restaurant staffing
Need help with food costing?
Lightspeed's food cost calculator breaks down your menu by dish and factors in each ingredient to find the desired margin for your restaurant.
4th of July restaurant statistics
With holidays like the 4th of July, which falls on a different day of the week each year, sometimes the biggest day for revenue isn't the actual holiday itself.
This year the fourth falls on a Tuesday and while most people will have that day off, Lightspeed data shows that on three-day weekend holidays, restaurants tend to see their highest sales on the Sunday of that weekend. This is likely due to the fact that people will want a day to recover from the festivities before returning to work on Tuesday.
However, everyone is different. So, to capture the most possible revenue, offer your 4th of July specials and promos all weekend long, but prepare for Sunday to be your biggest day by scheduling extra staff and ensuring you have enough inventory.
And if it makes sense for your business, consider offering food items that are most in demand during Independence Day. Data cited by Statista lists the following as America's top Fourth of July Foods:
Beef ($803.9 million in consumer spending)

Chicken ($371 million in consumer spending)

Pork ($217.5 million in consumer spending)

Berries ($199.6 million in consumer spending)

Processed

lunch meat ($161 million in consumer spending)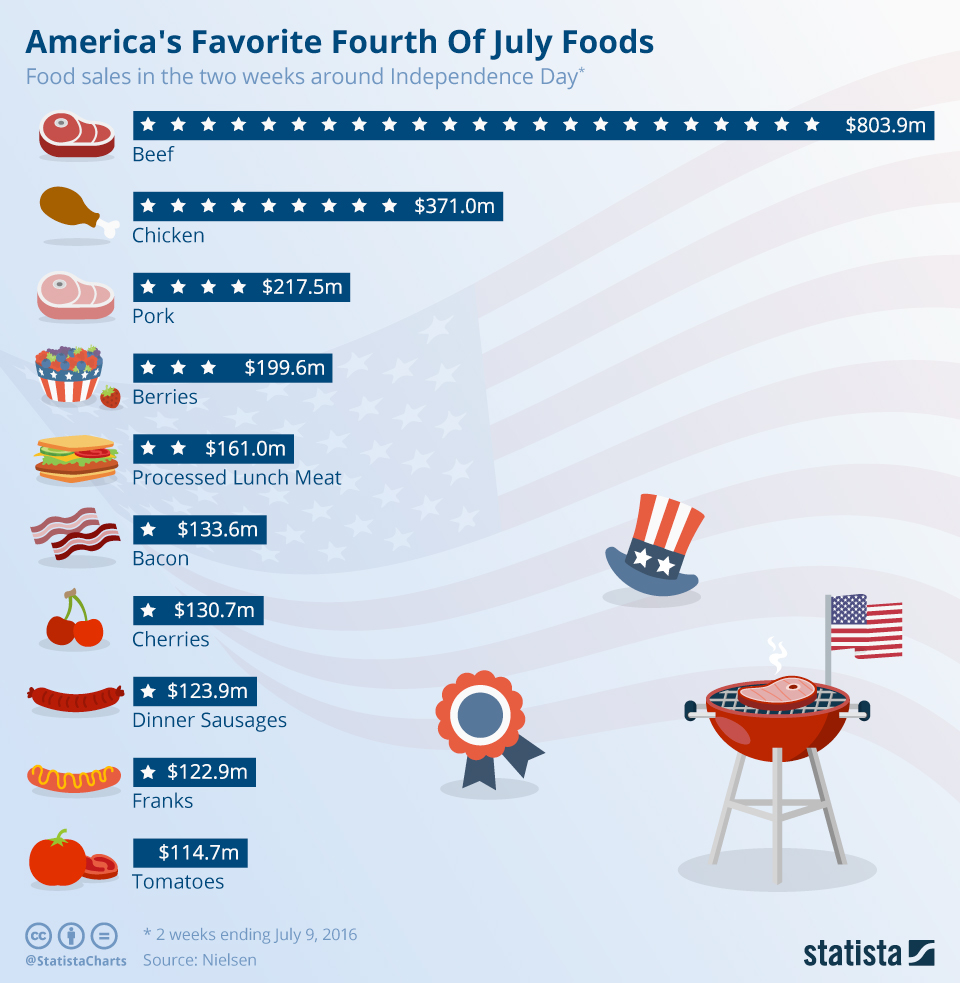 Creative 4th of July restaurant promotions
Deliver a party with the meal
This year, let your guests bring the party home when they order takeout or delivery by offering an add-on box with everything they'll need for a backyard bash. Think American flag paper plates and napkins, party hats, streamers, balloons and some sparklers (just make sure you check fireworks laws in your area!).
And of course, fill your box with grill-ready products that folks love during the 4th.
If possible, sell your boxes online to reach a wider audience. Check out this example from Daniel Boulud Kitchen, which offers a weekender box for 2-4 people.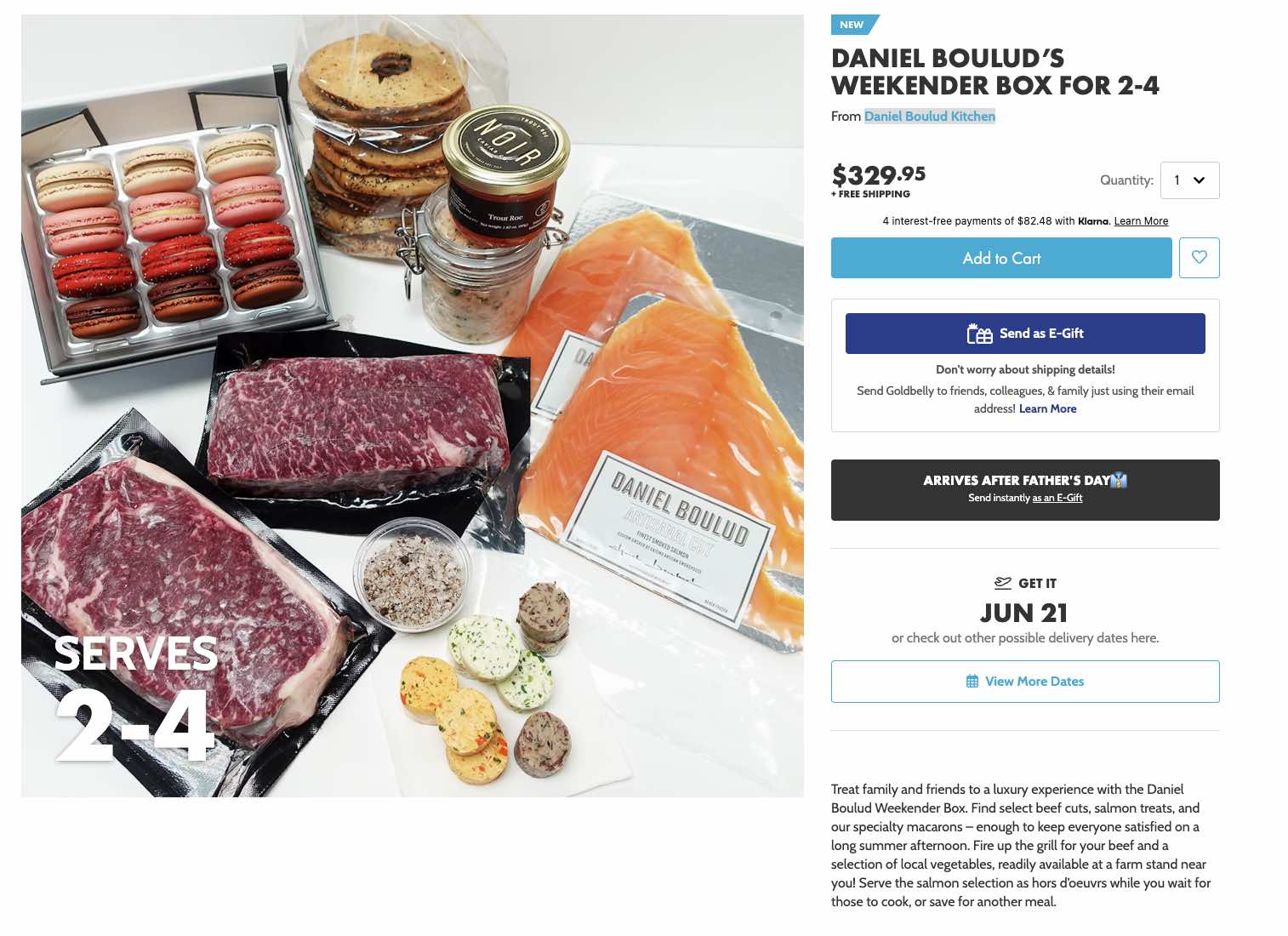 Packed with select beef cuts, salmon treats, seasonings, and macarons for dessert the kit is perfect for customers who want to uplevel their 4th of July experience at home.
Promote your cool drinks for the summer
Enhance your 4th of July offerings by promoting refreshing summer drinks that perfectly capture the spirit of the season. Craft a special menu featuring icy cold lemonades, fruity smoothies, and thirst-quenching iced teas that diners can enjoy while they're celebrating.
And be sure to market your unique offerings through social media, email campaigns, and targeted advertisements, emphasizing the refreshing nature of your drinks and their perfect fit for the Fourth of July.
Need inspiration? Check out this example from Island Burgers.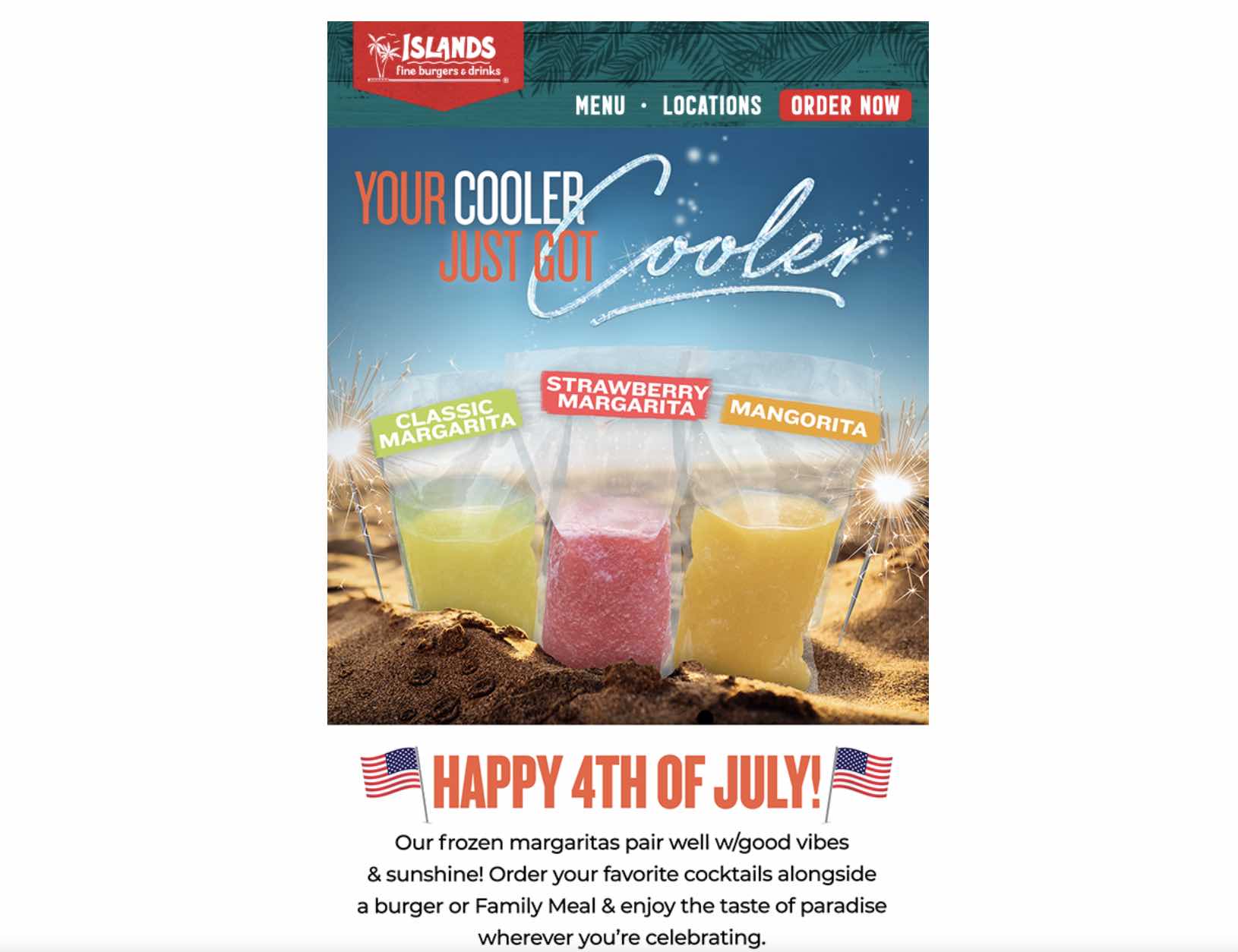 Start a 4th of July hot dog eating contest
Fourth of July isn't just for fireworks; it's also famous for barbecues and good food. That's why bold restaurants hold annual 4th of July hot dog eating contests, like Nathan's Hotdogs on Coney Island, whose televised hot dog-eating contest attracts about 40,000 viewers each year.
This year you can host your own scaled-down version of the contest in your restaurant to attract more guests or, if your restaurant has a good number of TVs, advertise your place as the go-to watch party for the Nathan's event.
Have a 4th of July promotion that pampers
Consider partnering with other businesses on a 4th of July-themed collaboration to spark sales. You could partner with a brewery on an Independence Day themed brew exclusive to your restaurant or team up with a salon or spa to offer some at-home pampering products for guests to enjoy over the long weekend with cocktails delivered from your restaurant.
Your competitors will all be trying out new 4th of July menu ideas, so adding another element will help set you apart from the competition. Holiday urgency and exclusivity will bring customers in to celebrate with you.
Make the most of your view
If your restaurant offers any type of view watching the fireworks, capitalize on your prime location by upping the ante on your celebration. Check with your town or city to confirm that the fireworks will be visible from your location this year and find out what time the show is set to begin. Then, you can offer VIP reservations with a view of the show during that time.
Do something for the anti-fireworks crowd
Not everybody is up for the crowds and loud bangs that come with 4th of July fireworks, so consider an anti-fireworks party where anybody wearing red, white and blue gets free admission or a free drink. Not into a dress code? Consider offering specials on red, white and blue Jell-O shots or specialty themed cocktails.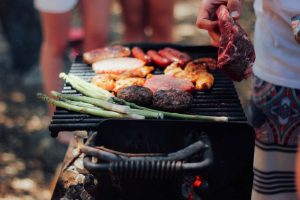 Ensure your restaurant decor is on point
Look, 4th of July may not be a huge traffic driver for restaurants, but you still want to make an impression on guests who do stop by.
You can do just that by our restaurant with patriotic colors, banners, and themed decorations. This will enhance the holiday atmosphere and make your restaurant more inviting for customers.
Don't forget to snap a photo and post it on your social media accounts—doing so can further drive traffic to your location.
Craft a prix fixe Fourth of July menu
Develop a limited-time Fourth of July menu featuring dishes inspired by traditional American favorites or incorporating red, white, and blue ingredients. Consider adding unique twists or themed names to make the offerings even more enticing.
On the other hand, if you don't carry menu items that are traditionally consumed during 4th of July, then look at your current inventory and put together a prix fixe menu anyway.
Check out this example from Morton's. As a high-end steakhouse, Morton's isn't exactly the place you'd go to for a casual BBQ. So, the restaurant stayed true to its roots and created a menu featuring dishes it's well-known for: steak, pork chops, salmon and lobster.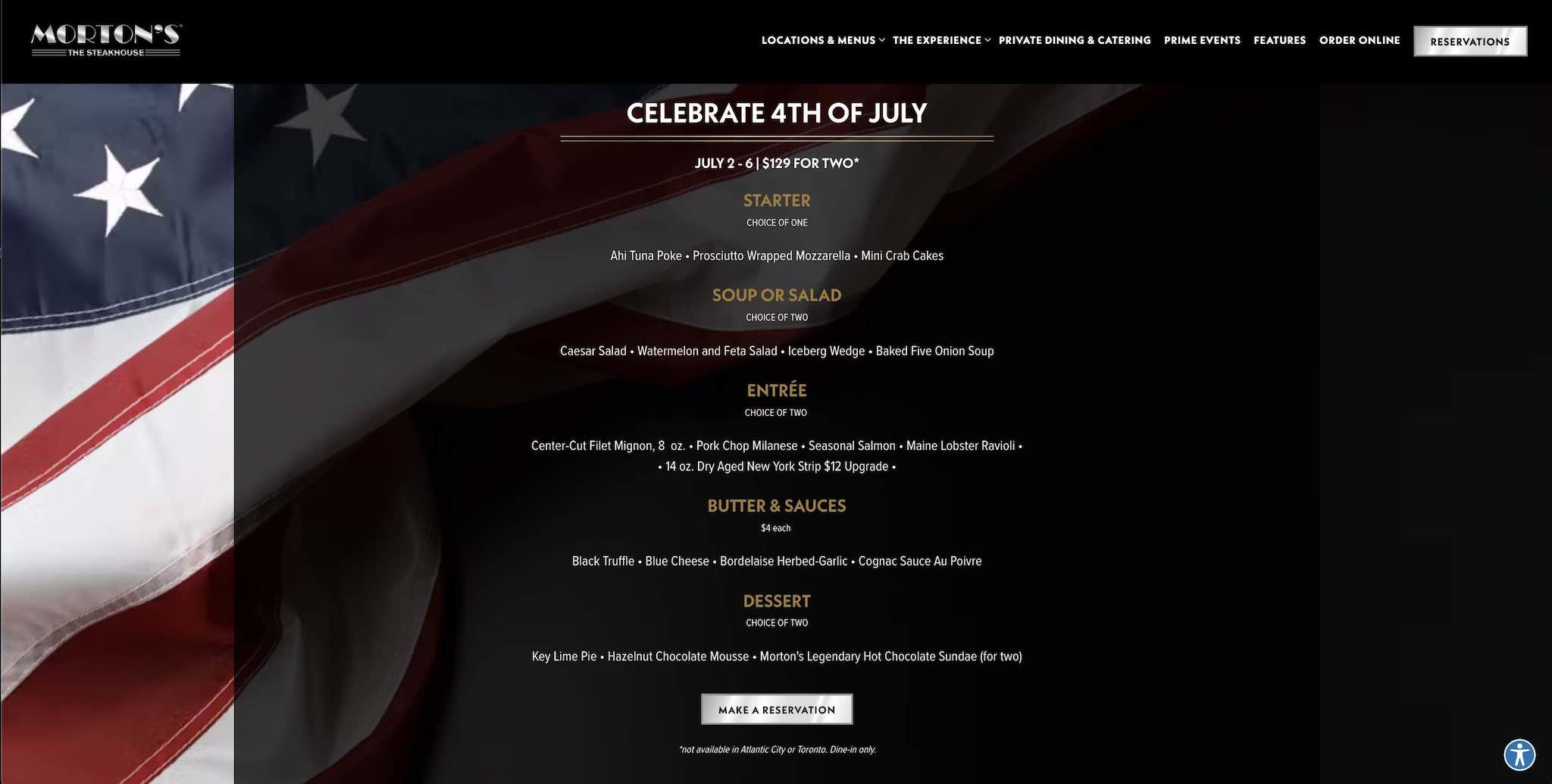 Consider 4th of July special events
If you have a great relationship with your community (and if you have the space for it), consider hosting a 4th of July event in your restaurant—bonus points if it's an outdoor affair.
Host live music performances, outdoor barbecues, or themed events to attract customers seeking entertainment on the holiday. Promote these activities in advance to generate excitement and encourage reservations or bookings.
Promote family-friend activities
If you cater to families, organize family-friendly activities or entertainment such as face painting, balloon artists, or live music suitable for all ages. This can attract families looking to celebrate the Fourth of July together.
Specialty 4th of July restaurant specials
If you don't run a full service restaurant, the ideas above may not work for you but don't worry—we've got you covered. Here are some 4th of July specials for quick service and catering businesses.
Coffee shop 4th of July promotions

. Create a unique coffee drink for one day only. Make it something special like a play on the Americano or, if you have the equipment, a frozen strawberry blueberry lemonade. In any case, give passersby a reason to buy a coffee from you and leave with a thoughtful impression of your business.

Catering 4th of July promotions.

Even if you have no intention of ever being a catering company, try to make an exception just on this one day of the year. Not everybody likes to cook, but almost everybody needs to bring something to their 4th of July barbecues. Offering tasty take-out trays that feed 20-30 people is a great idea. Ribs, chicken wings and salads are all must-haves for the holiday.

Deli 4th of July promotions.

An easy 4th of July menu idea for delis is finger sandwiches. You may already offer them, but it's important to get it on your customers' radars ahead of time. When your customers come in, make sure you have special 4th of July menus for them to bring home and reference. Buy some American flags toothpicks in bulk to add flair to your sandwiches. Try creating a tray beforehand and taking a photo for the flyer so that people can be inspired.

Bakery 4th of July promotions.

Everybody needs something to bring to their 4th of July party, but when it comes to pastries and cakes, not everybody knows where to go. Create a unique 4th of July dessert like red, white and blue cupcakes or a white icing cake topped with strawberries and blueberries. Whatever you create, make sure you promote it to your followers.
Advertising your 4th of July restaurant specials and promotions
Whatever you decide to do for 4th of July, make sure you get the word out. With all these once-a-year offers and red, white and blue promotions, that means making the most of photos and social media.
Here are some ideas to get you started:
Post a photo of a demo batch of your upcoming special on your Twitter, Instagram, Facebook and beyond.

Add holiday-themed recipes and pictures of your restaurant to your Pinterest page.

Send an

email newsletter

to your mailing list inviting subscribers to celebrate with you.

Use restaurant reservation websites to promote holiday-themed specials.

Online advertisements can be placed on Facebook or on Google. These can help target local web users who may be unfamiliar with your business currently.
And, if you're hosting a 4th of July event, make sure to take lots of pictures to use in promoting real-time—people will tag themselves in your Facebook albums—and in promotions for next year's event.
Fourth of July restaurant staffing
Your team plays a critical role in implementing your 4th of July restaurant specials, so see to it that your business is well-staffed (and employees are adequately trained) during this period.
Consider the following.
Plan ahead and consider time off requests
Anticipate traffic trends for July 4th, adjust your staffing levels accordingly. Use your POS system to analyze past data from previous Fourth of July celebrations to determine the busiest times and schedule more staff during those peak hours.
You'll likely get some time off requests around 4th of July, so take those into consideration as well. See to it that you have enough coverage for the day.
Tip: Want to learn to schedule your restaurant staff like a pro? Take a look at our guide on rotating schedules.
Train and engage your team
Train your staff to be knowledgeable about your Fourth of July specials, menu items, and promotions.
Also, remember that this is a time for celebration for a lot of people. So, encourage your employees to wear festive attire and create a welcoming and patriotic atmosphere for customers.
Cross-train your staff is needed
Depending on how busy you are and the types of 4th of July specials you're running, it may make sense to implement additional training.
Cross-train your employees in different roles and tasks to ensure flexibility and smooth operations during busy periods. This will allow you to easily reallocate staff as needed and provide coverage in all areas of the restaurant.
Stay on top of holiday operations
Looking for a technology partner to help you manage and streamline your operations through the day-to-day and beyond? Get in touch with one of our experts to see how Lightspeed can help.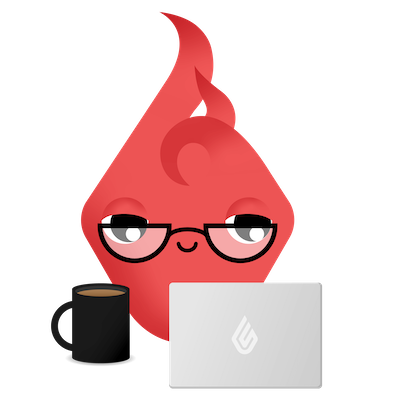 News you care about. Tips you can use.
Everything your business needs to grow, delivered straight to your inbox.