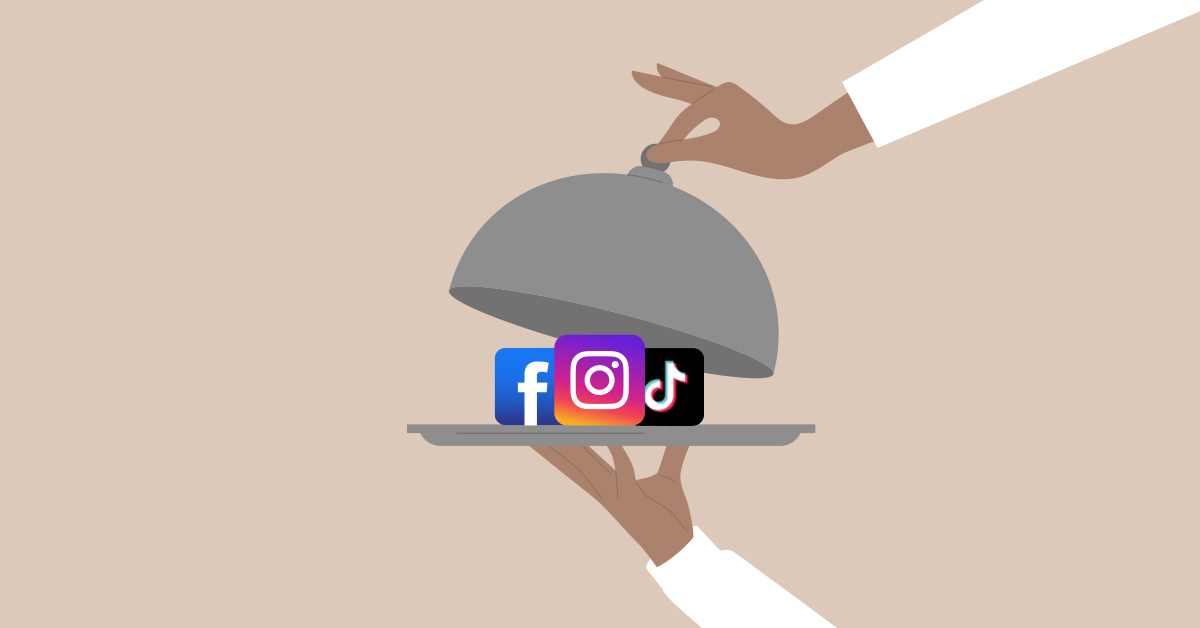 A solid restaurant social media marketing strategy is an essential part of a comprehensive marketing plan. Rounding out your digital presence with strong social accounts and quality content can make or break a sale. The best part? It's free.
In this article we'll cover:
Advanced Guide to Restaurant Marketing
From social media to discount websites, how are you marketing your restaurant? Read this free guide of effective tactics that you can start using today.
Restaurant social media marketing statistics
A 2019 survey by restaurant marketing agency MGH revealed a few insights into how diners use social media to choose their next dining destination:
36% of US diners follow restaurants on social media

45% of US diners said they've tried a restaurant for the first time because of a social media post made by the establishment itself

22% of US diners said a restaurant's social post enticed them to return
The basics of restaurant social media marketing
Before you can get started with restaurant social media marketing, you'll need to set up accounts if you don't have them. For restaurants, Facebook, Instagram and TikTok are the two platforms you definitely need to be on.
If you already have these accounts set up, go through the restaurant social media checklist below to make sure your profiles are set up for success.
Display names.

Keep your restaurant's name consistent across all social media platforms so that when guests look for you, they'll know they've come to the right place.

Social media handles.

Again, be consistent and identifiable with your handle. If your restaurant name is already taken, try adding your city name or abbreviation to the end. (ie: if @burgerbar is taken, try @burgerbar.nyc)

Profile photos.

Just like the two points above, keep this consistent across all platforms. Your restaurant's logo is the best bet to make sure your guests know it's you.

Your restaurant's location

. You guessed it—be consistent. If your restaurant has multiple locations, some social media sites only allow for one address, so use the address of your flagship location or most popular restaurant on those platforms.

Your restaurant's website URL.

Each social media platform has a website field, allowing you to direct your guests anywhere online. This space should go to your restaurant website so new followers can learn more about your business.

The "About Me" or "Bio" sections.

This should include a brief description of your restaurant that will entice potential customers into visiting your restaurant.
The importance of demographics
You also need to determine your demographic. Who is your target audience? Who do you want to dine at your restaurant? Who currently dines at your restaurant? For example, are you a family establishment, or do you cater to a more adult crowd? Do some research and keep that in mind when you're creating posts.
You could create amazing content but have it fall flat because it doesn't resonate with your target audience. Avoid wasting time and money by determining your desired audience before you start posting.
Most apps give you a view into analytics and who engages most in your content. They provide statistics such as breakdowns of locations and age groups. You can also change audience settings in targeted ads.
15 restaurant social media marketing tips
Unless you are only running paid ads (which is also a part of social media marketing, as we talk about later), restaurant social media marketing is all about organic and authentic content and conversations. It can feel like an extra full-time job just to manage your restaurant's social media, but here are some ideas to keep the conversation going and get current guests and prospective customers to engage.
1. Run a contest to boost engagement and gain followers
Instagram is the platform where restaurants see the most engagement, so try running a contest there to boost your reach. The Instagram algorithm loves it when people share, comment on and like your photo, and contests give your followers a reason to do just that.
In addition to gaining a following, an Instagram contest is a low-budget method to get the word out, whether you are trying to drive more people to your online ordering page or announce the opening of a new location.
To run a successful Instagram contest, keep the rules simple and clear. The most common criteria for entering are:
Save and like

the contest photo and follow your account.

Tag friends in the comments. You can offer people a higher chance of winning if they tag multiple people, but let them note that tags should be left in separate comments (this boosts your post up in the algorithm).

Offer an even higher chance of winning if folks share your post in their story and tag your account for visibility.

You can run a contest on your own or in partnership with another business. For example, pair up with a local theater for a "dinner and a show" package; the contest rules remain the same, but it's mutually beneficial because entrants must like and follow both accounts, giving you some cross-promotion perks.
2. Re-share user-generated restaurant social media content
Don't underestimate your customers. A little digging can reveal beautiful photos they take and stories shared on social media. With their permission, simply ask via a comment if they would allow you to share, retweet or repost their content from your page.
Here are a few places to look for user-generated content:
Look up your location on Instagram to find photos taken at your restaurant.

Conduct a hashtag search with your restaurant name.

Conduct a Facebook or Twitter search with the name of your restaurant to see if people mentioned it without using a hashtag.

If you have accounts on Facebook, Twitter and Instagram check out the photos and posts you've been tagged in.

Ask! Post signage in-store enticing guests to post on social media, offering a discount or free item in return.
3. Have someone new take over your restaurant's social media account
Give access to one of your social media accounts to one of your employees, a partner business or even an extremely loyal customer (or influencer, if you can afford it) to do an account "takeover" for a day.
This allows your audience to see your restaurant through the eyes of someone new. The fresh perspective is always interesting to hear. Make sure you outline specific instructions for running the accounts, like basic dos and don'ts, while giving that person enough creative freedom to showcase their individuality.
4. Post as often as possible
You don't have to post every day, but you should be posting consistently to keep your restaurant's name top of mind with guests and potential customers. At least three times a week is a good starting point with restaurant social media marketing.
It can be difficult to come up with content on a regular basis, especially on a visual medium like Instagram, but the key is not to overthink it too much. Here are some ideas for when you're having a creative block:
Remind guests about

gift cards and merchandise

you have for sale, especially around major holidays

Snap a picture of

the day's specials

for guests looking to try something new

Show a glimpse of the

behind-the-scenes

action in the kitchen, while shopping for ingredients at the farmer's market or setting up for an event

Promote community activities.

Show your community support for local events by helping to boost their attendance
Looking for a tech partner to help you boost your sales even further? Talk to one of our experts to find out how Lightspeed can help.
5. Feature staff members
Spotlight a staff member each week. Have them talk about their role and favorite dish, what college they go to if they're a student, a fun fact about themselves or something else to showcase their unique personality.
6. Create a strong brand voice
Does your restaurant have a cohesive brand? If not, now may be a great time to set out some brand guidelines to follow on socials. Your brand encapsulates how you're represented in the market, what sets you apart from other businesses and the way your target audience perceives you.
Create a voice and tone that's exclusive to your brand. Your voice is the way you communicate with your customers and audience, and social media is the perfect place to curate and perfect it. Customers will be more likely to recognize your brand when you have a strong brand voice. Your brand voice will come out in videos, captions and more.
If you scroll through fast-food chain Taco Bell's TikTok page, for example, you'll see very quickly that they adopt a lighthearted, comedic tone in their captions, videos and replies to customers. This is their brand voice, and it's consistent. They also take advantage of current trends and even memes to promote their offerings. Here's an example:
7. Curate a cohesive visual identity
Your restaurant's visual identity goes hand-in-hand with its voice. Also part of your official brand, your visual identity sets you apart from competitors. It's yours alone, and must be executed consistently across all your socials to optimize brand recognition and drive traffic to your pages. Your goal is for people to be eager to dine at your restaurant when they see what your pages look like.
Let's look at the visual identity of Kochi, a popular New York-based Korean restaurant. They have a curated theme and color story, and as a Michelin-star establishment, it's clear that they know who their target audience is. Their visual identity (at least on Instagram) is based around high-quality, beautifully shot photos of their food.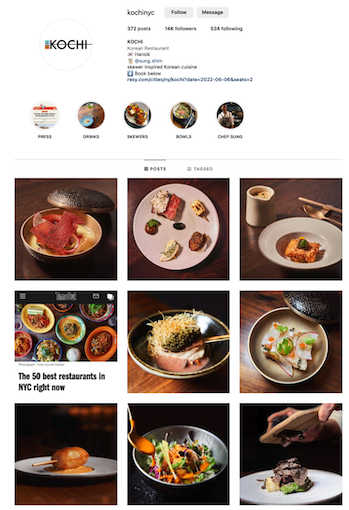 8. Operate on multiple platforms
These days, it's not enough to operate on one or two social media platforms: there are competitors and a new audience to tap into on every platform. Larger restaurants tend to use Instagram, TikTok, Facebook and even YouTube to market their business.
It's important to keep quality in mind, though—if it's not feasible for you to create content across all platforms, stick with a couple. The beauty of these platforms is the ability to repost—you don't have to create new content for each platform.
Plus, you can use a social media manager like Meta Business Suite to keep track of Facebook and Instagram at the same time. Restaurant owners can use Meta Business Suite to publish ads, post on feeds, track analytics, and utilize many other features to maximize traffic.
9. Engage with your following
It's as simple as it sounds: foster a relationship with your followers (and potential customers) by engaging with their content, responding to their comments, and answering questions they send you in direct messages.
If they post an Instagram story of the food at your restaurant, repost it in your business's story as well. Not only is this good practice, it endears your followers to your business because they can actively see you making an effort to engage with your audience.
Health-food chain Sweetgreen is a great example of a restaurant that engages with their following. If you scroll through their Instagram page, you'll see that they constantly repost content made by creators from across platforms and engage with comments.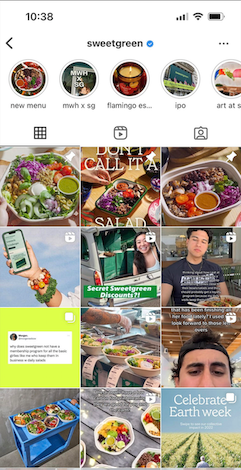 10. Invest in paid social ads
Although this isn't an organic form of marketing, it doesn't hurt to invest in advertising on social platforms. You can pay to boost certain posts so that they target larger audiences. We understand that some restaurants don't have the budget to invest in paid social ads, but for bigger businesses, this can be a great way to boost brand recognition and drive traffic to your social pages and website.
You can also partner with a food blogger or food influencer to reach a wider audience. Depending on their reach and influence, you could tap into an audience and potential customers that you otherwise wouldn't have.
Social ads aren't restricted to massive corporations like Starbucks and McDonalds. Any medium- to large-sized restaurant with the budget can utilize this tactic to boost engagement.
Check out our guide to choosing the best influencer for your brand.
11. Post a variety of mediums
Pictures aren't enough now to generate buzz for your restaurant. Short-form videos are very popular nowadays: Instagram Reels, TikTok videos, YouTube Shorts and videos, etc. Then there are short-term posts (photos and videos that disappear after a certain amount of time) like Instagram Stories. Finally, there are permanent photographs on your feed.
Algorithms nowadays tend to push short-form video content to the top of suggested pages, so incorporate a mix of mediums on your page for maximum engagement and traffic.
For example, you could post a photo on Facebook of a dish at your restaurant and then follow that with a short video of the same dish, perhaps featuring the behind-the-scenes of its creation.
A great example of this is Fresh, a Canadian restaurant brand with nine locations in Ontario. You can see that they use a mix of post types to engage their audience in different ways, maximize the algorithm and make their page versatile:
12. Talk about your brand story
What's the story behind your business? It doesn't have to be long-winded or particularly unique, just honest. It should speak to what your brand's about and how it started—it's meant to inspire an emotional response.
Brand stories help your audience relate to your business—and take greater interest in it—in a personal way. You could make a short video talking about your brand and post that to your feed, or weave in messaging related to your brand story in other relevant posts.
13. Take advantage of seasonal trends and holidays
Fluctuations in seasonal demand mean you have to change your social media marketing strategy from time to time. Here are a few ways you can take advantage of seasonal trends and holidays on your socials:
Promote your

seasonal menu

(if you have one).

Showcase popular seasonal ingredients and dishes.

In the summer, promote limited-time items.

Post pictures of your patio or outdoor space to entice customers to visit your restaurant.

Promote specials and deals on holidays like Canada Day, St. Patrick's Day, Independence Day, Valentine's Day and more.
14. Respond to customer reviews (the good and bad)
Unfortunately, not every customer will have a great experience at your restaurant—it happens. Respond to those who take to social media to review their experience, no matter if it's positive or negative. Replying to these comments and reviews shows customers that you care about them and want to fix any mistakes that contributed to a bad experience.
For less favorable reviews, reply to customers in an apologetic manner and give them an email they can contact to hear their feedback, or ask them to send you a direct message. For positive reviews, you can like comments, repost, and thank customers for dining with you. You can even reach out to reviewers with good things to say to ask if you can showcase their feedback on your website.
15. Post behind-the-scenes content
There's a reason food and recipe videos are so popular among audiences on Facebook, Instagram and TikTok. Capitalize on this widespread interest by showing behind-the-scenes content of your restaurant: that could include showing how your most popular menu items are made, highlighting where you source ingredients, interviewing the chef and other kitchen employees, and much more.
There are plenty of tips and tricks out there to make your videos look as professional and high-quality as possible without spending big bucks on equipment.
You want people to come eat your food: make these posts as inviting, exciting and above all, make sure the food looks amazing.
Make the most of your restaurant's socials
It's easy to feel overwhelmed when it comes to operating multiple social accounts. But it doesn't have to be—even following just a few tips we outlined in this article can boost your confidence (and hopefully your engagement!). Remember, there are many ways to reach your audience. Get creative and don't be afraid to take risks and have fun as you post and find your groove.
Running a restaurant isn't easy, and social media marketing adds to the balancing act—that's why having a great POS system is so important. Talk to an expert about Lightspeed Restaurant today.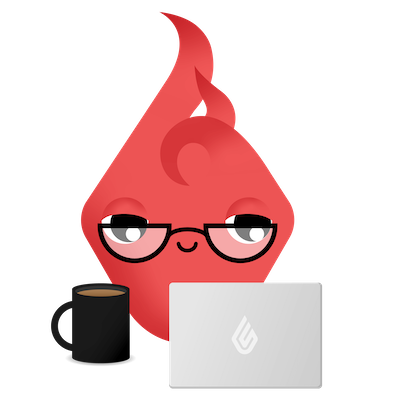 News you care about. Tips you can use.
Everything your business needs to grow, delivered straight to your inbox.