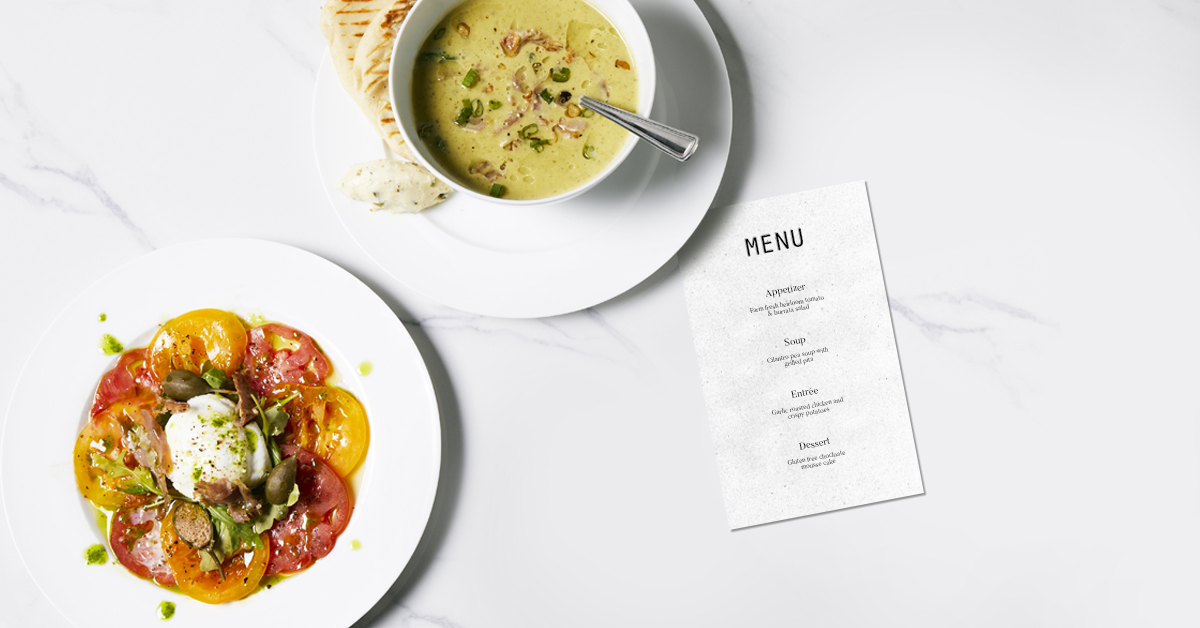 Prix fixe menus are a bit controversial. Because of the French name, the phrase can be difficult to pronounce. Which "X" is silent, and which is pronounced? How can an "X" be silent?! And, because of their association with fine dining establishments, prix fixe menus can be seen as exclusive and out of reach to the general public.
We're here to make set menus more accessible, teach you how to craft the perfect menu and more. Whether you're interested in introducing a fixed price menu at your restaurant or want to make the most of an existing one, you've come to the right place. In this guide to prix fixe menus we'll cover:
Don't let your restaurant become another statistic
Lightspeed's ebook, Top 5 Reasons Why Restaurants Fail, reveals the key factors behind restaurant failures and how to overcome them
What is a prix fixe menu?
A prix fixe menu is a fixed price, multi-course menu that some restaurants offer. "Prix fixe" means "fixed price" in French, and is pronounced "pree feeks." The opposite of ordering from a prix fixe menu is ordering "a la carte," which means "from the menu" in French and refers to choosing and paying for items individually.
Three- and five-course meals are some of the most common types of fixed price menus. Restaurants typically offer several options per course, such as three appetizers, four entrees, and two desserts, per menu. No matter which of the options customers choose, they'll pay a set price for their meal. For example, if a restaurant offers a three-course prix fixe menu for $50, guests pay that amount whether they order soup, steak, and ice cream or salad, pasta, and cake from the set menu.
While prix fixe menus are created to be a complete meal, many restaurants also offer upsells in the form of premium entrees, sides, and drinks.
Benefits of a prix fixe menu
Prix fixe menus are beneficial for restaurants for a number of reasons.
First, offering a limited number of options makes it easier to predict your needs and inform your restaurant inventory management decisions. When customers can only choose from several options, you have a better idea of what you'll need from each inventory order than if offered an a la carte menu. This predictability reduces food waste and excess spending on supplementary grocery store runs.
A fixed price menu also enables a better customer experience. With fewer dishes to focus on, your back-of-house team can really perfect recipes and ensure consistency with every plate.
Finally, prix fixe menus make revenue more predictable. A fixed price menu ensures all of your customers spend a minimum amount, which makes it easier for you to forecast revenue, especially if you offer reservations.
Considerations for creating your fixed price menu
Keep these factors in mind to design a prix fixe menu that will keep customers coming back for more.
Understand your target audience
Fixed price menus have traditionally been a pricy, elevated offering, which might keep some customers away. However, if you position your prix fixe menu strategically, it can work for your customers.
For example, if you run a casual restaurant, you might offer a two-course set lunch menu and call it a "lunch special" instead of a prix fixe menu.
Conversely, if you cater to a customer base with more disposable income, flaunting your prix fixe menu could help attract high-spending guests.
Incorporate seasonal ingredients and flavors
Changing your prix fixe menu regularly by incorporating seasonal flavors and ingredients makes your offerings exciting for customers and will keep them coming back for more as the seasons change.
Plus, when you use seasonal favorites on your menu, like pumpkin spice in the fall for example, you can make these flavors the stars of your restaurant's marketing strategy.
Price your menu appropriately
In order to make a prix fixe menu work for your business financially, you need to understand the cost of goods sold (COGS) for all of the options on the menu. Then, price the menu based on the most expensive combination to cushion your margins.
Let's say the most costly combination for your restaurant to make from its three-course fixed price menu is a spring roll appetizer, beef curry entree, and mango with sticky rice dessert. From your POS data you learn that the COGS for this combination is $9. If your ideal food cost percentage (FCP) is 30%, you'd divide the COGS by your FCP and get $9/30%=$30. Therefore, you'd set your prix fixe menu price at $30.
With this price setting strategy, you'll earn a greater profit margin when someone selects less costly menu items. Consider labeling these options as the most popular items to nudge customers towards them and maximize profits.
Balance taste, texture and flavor
Created a balanced prix fixe menu by giving customers options that differ in flavor profile, taste, texture, and temperature. For example, you shouldn't offer a soup appetizer, soup entree, and a liquid dessert.
For the first course, you can't go wrong by having a salad option, soup option, and something else. Entrees are usually easy to vary based on their protein. For dessert, create options that complement the flavors of the entrees.
Consider dietary restrictions and preferences
Beyond planning your menu around balanced flavors, it's important to also accommodate your customers' dietary needs to make your restaurant as accessible as possible. Consider dietary needs like plant-based diets, meat-free diets, gluten-free diets, nut allergies, and dairy intolerances.
Make sure there's at least one item in each course suitable for different dietary restrictions. You can double up by, for example, having your vegetarian options also be vegan. Label dietary considerations to make your menu easier to navigate.
Simple switches can often make your fixed price menu more accessible, without affecting the quality or flavor of a dish. Consider using dairy-free milk alternatives to accommodate customers with lactose intolerance or sensitivity. For gluten-free guests, use gluten-free flours, trade soy sauce for tamari, and consider purchasing a dedicated gluten-free fryer to avoid cross contamination.
Making sure your front-of-house staff is ServSafe Allergens certified can make your restaurant a safe space for diners with various needs.
When to offer a prix fixe menu
Consider these questions as you figure out what role a prix fixe menu will play in your restaurant.
Will your restaurant only offer a fixed price menu, or will it also offer an a la carte menu with additional options? The former will make it easier to predict revenue, but the latter could make your restaurant more accommodating to customers.
Will you offer a prix fixe menu all of the time, or only for certain days of the week or types of meals? Take inspiration from Suraya, a Lebanese restaurant in Philadelphia. This hot spot is busiest on Friday and Saturday nights, so it makes its prix fixe tasting menu obligatory for all guests, and its prix fixe brunch menu required for morning meals. This ensures the restaurant maximizes covers on its busiest days.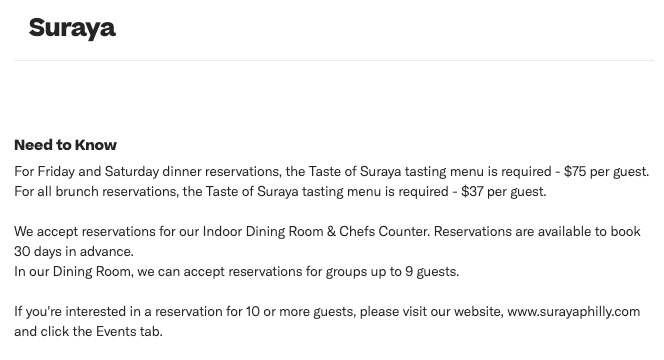 An excerpt from Suraya's reservations policy
Examples of prix fixe menus
Check out these real-world prix fixe menus for inspiration for your own menu.
3-course fixed price menu example
Philadelphia's Pumpkin has a three-course prix fixe menu that changes daily. For $55, customers can enjoy an appetizer, entree, and dessert. Guests can also add bread, olives, and oysters to their meals.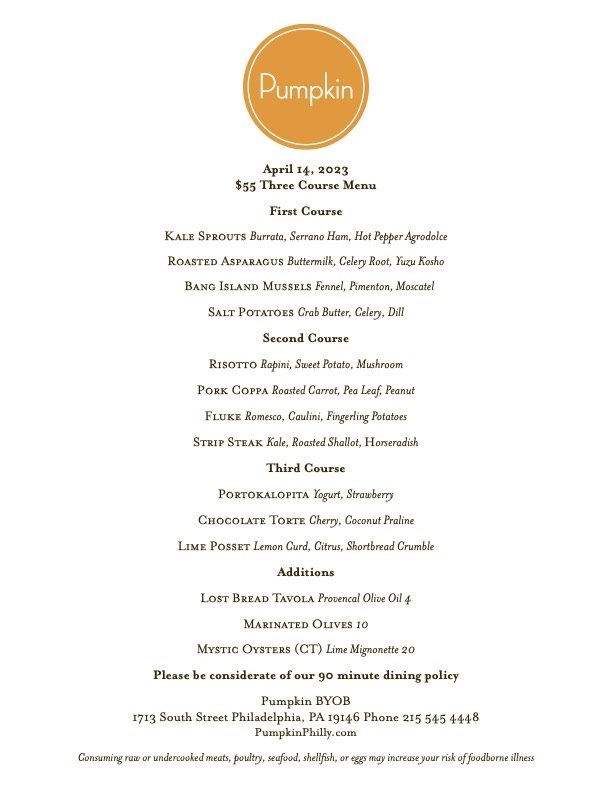 Pumpkin's three-course prix fixe menu from April 14, 2023
5-course prix fixe menu example
James Beard award-winner Zahav offers a five-course dinner menu consisting of bread and Israeli salads, mezze, grilled dishes, entrees, and a dessert. Unlike traditional prix fixe menus, which give one dish per course per person, this one is made for sharing. The menu is available for $75 per person, with an optional beverage pairing for $45, and additional 20% service charge.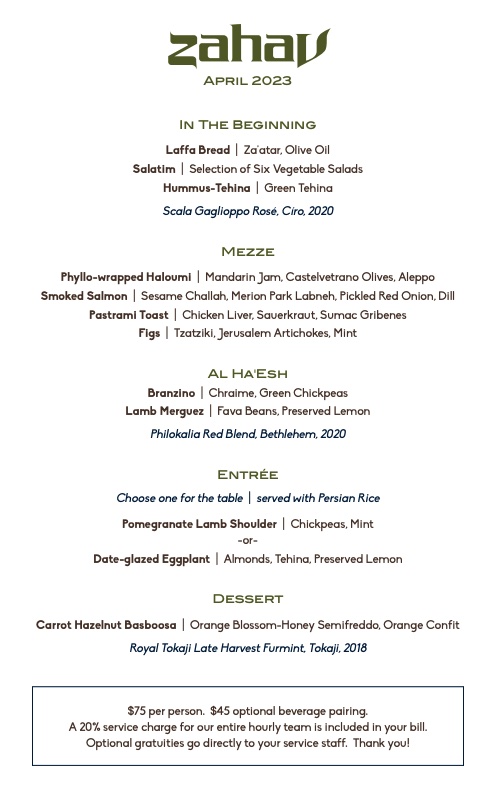 Zahav's five-course tasting menu from April 2023
Vegetarian fixed price menu example
New York City's Daniel has prix fixe menus catered towards different dietary restrictions. This vegetarian menu comes with three courses and three dishes per course, giving vegetarians plenty of options without compromise. This meal is available for $188 with an optional wine pairing for $125.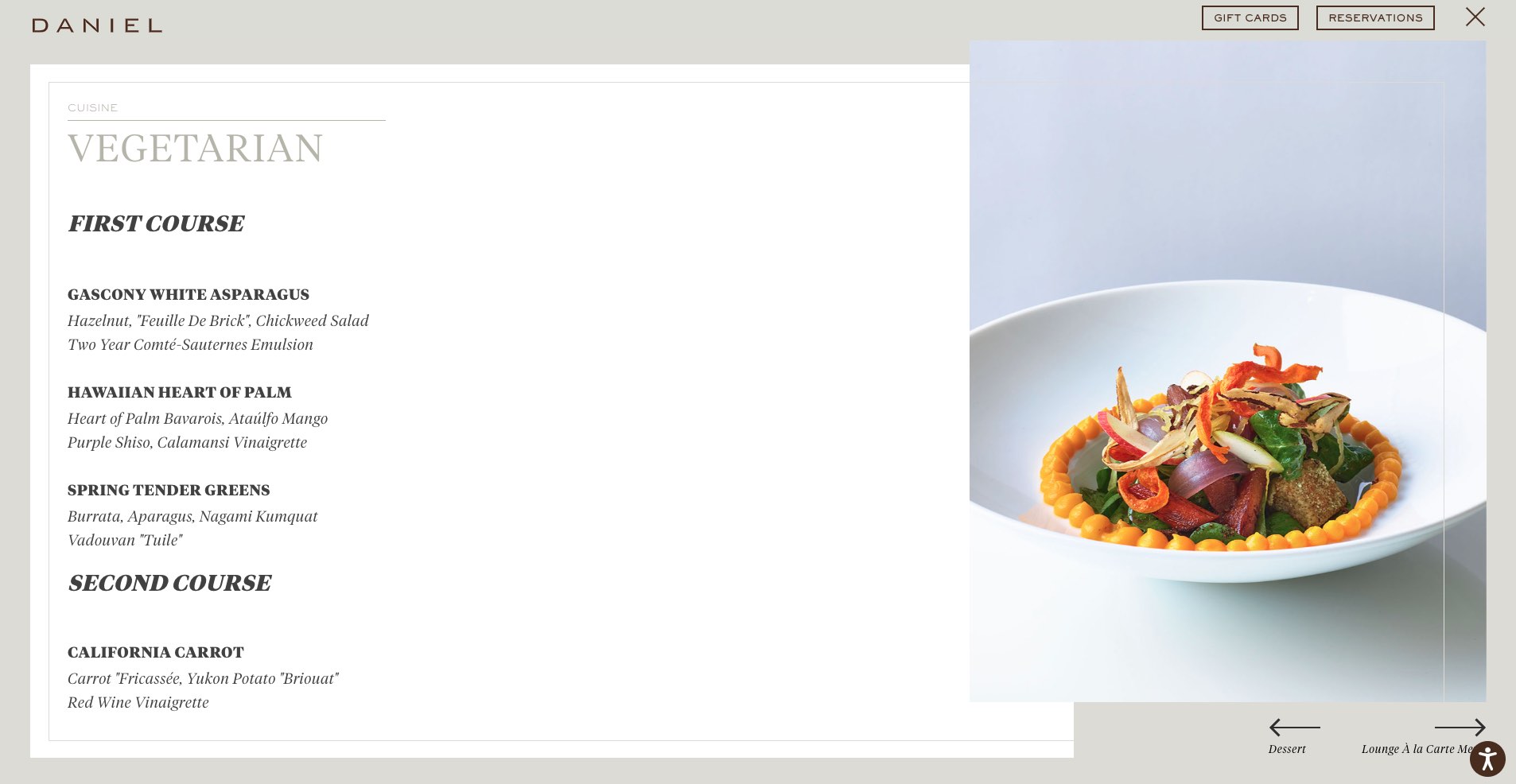 Daniel's vegetarian prix fixe menu
Holiday-themed prix fixe menu example
Holidays like New Year's Eve and Valentine's Day are popular dining out occasions, which is why many restaurants offer prix fixe menus to maximize revenue on these dates.
Mother's Day is also a popular day for prix fixe brunches. Philadelphia's Forsythia offers a three-course brunch to celebrate the holiday for $80.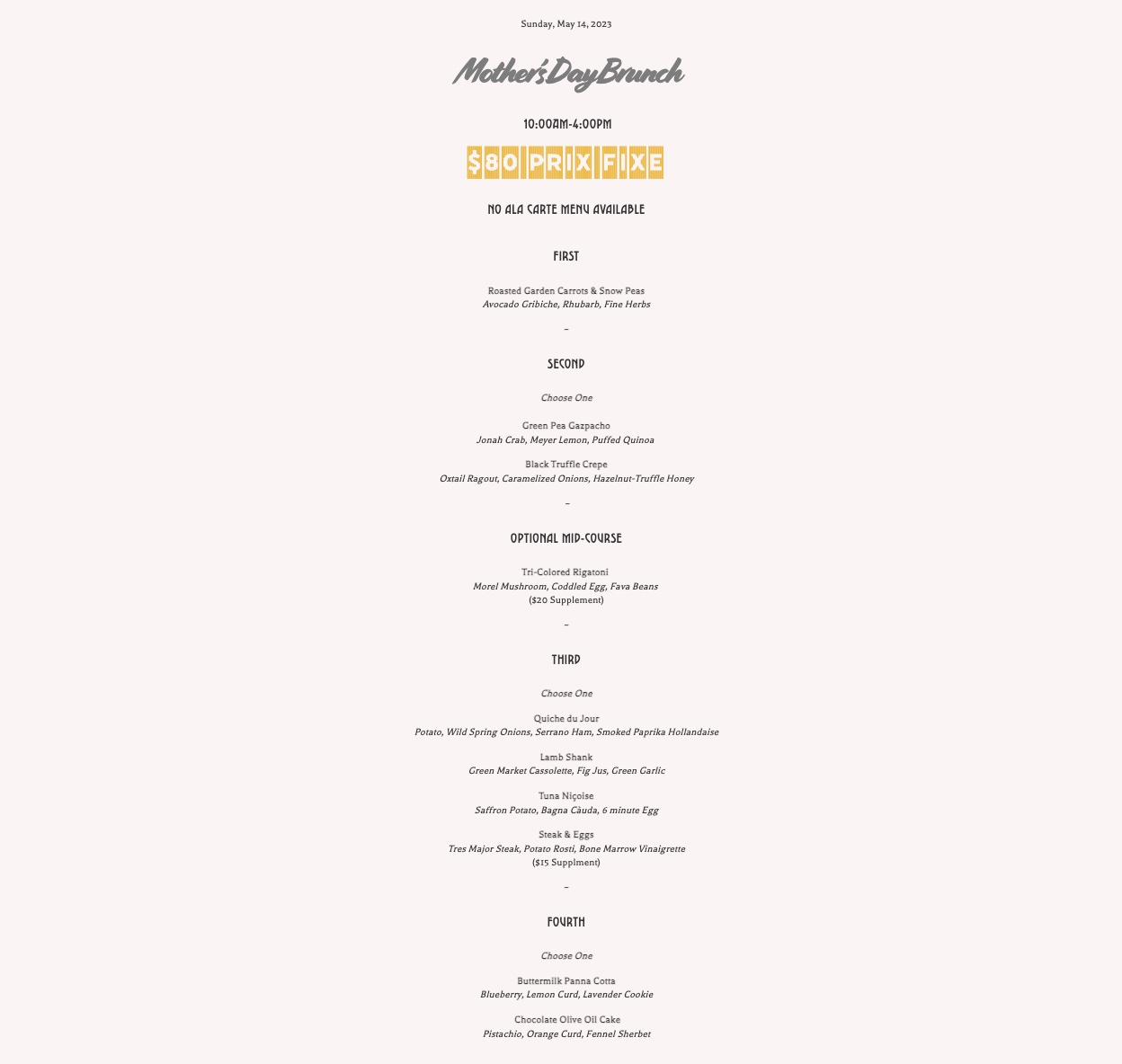 How to promote your fixed price menu
Creating a prix fixe menu is only half the key to success. Here's how to spread the word about your offering and fill seats.
Use social media to showcase your menu
Show off your menu options via social media marketing. You could dedicate an Instagram Story to each dish on your current fixed price menu. Or, you could create a series of TikToks highlighting your menu.
Another idea is to have customers vote on their favorite dish on the menu. A poll gives your business valuable data and gives customers a fun way to engage with you.
Offer promotions or discounts to customers who order the prix fixe menu
If your prix fixe menu is new, consider giving a discount or freebie to customers who order it. For example, you could give a free mimosa to the first 10 parties who make a prix fixe brunch reservation during an early brunch slot. Or, you could give prix fixe customers coupons to use on your a la carte menu during slower service times to keep them coming back.
Encourage customers to share their experiences
Ask customers to leave reviews of their prix fixe meals via a note in the check holder, post-reservation email, or on social media. You could also encourage user generated content by creating photo ops with eye-catching artwork in your restaurant or show-stopping dish plating.
Take control of your revenue with a prix fixe menu
When your restaurant offers a prix fixe menu, you can perfect each recipe for a great guest experience and better predict revenue and inventory needs. As you experiment with a fixed price menu of your own, make sure you create a balanced and exciting offering for your customers, while considering their dietary restrictions.
Learn how Lightspeed's restaurant POS can help you manage menu costs and more. Start a free trial today.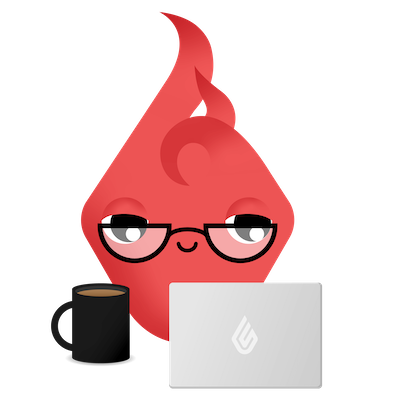 News you care about. Tips you can use.
Everything your business needs to grow, delivered straight to your inbox.