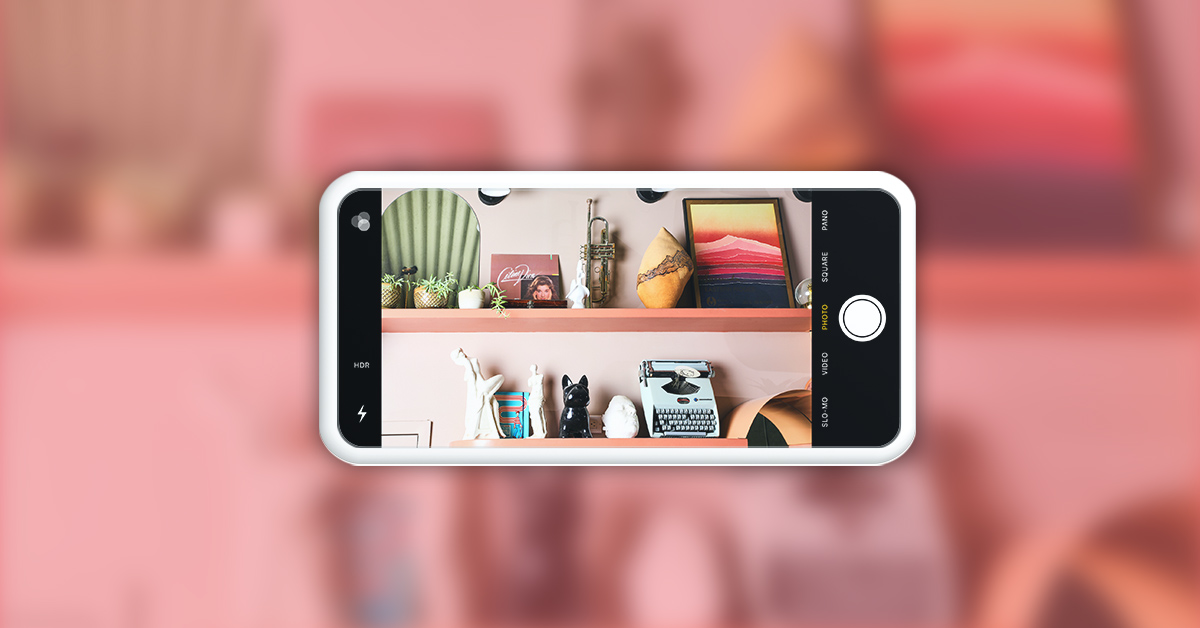 Consumers respond best to content that's authentic, and nothing is more authentic than user-generated content.
Authenticity is a word that gets used a lot in marketing, but there's a reason everyone is talking about it. Customers relate most to marketing content that seems genuine rather than salesy.
One of the easiest and most effective ways to create an authentic brand for your restaurant is to repurpose reviews, social media posts, and photos created by your customers—otherwise known as user-generated content.
In this article you'll learn:
What is user-generated content?
User-generated content (UGC) is media—photos, videos, testimonials, etc.—that customers create that features your restaurant. Examples include reviews on Yelp and posts about your food on Instagram.
So why should you incorporate user-generated content in your restaurant's marketing? Customers are more likely to believe what fellow customers say about your restaurant than what you say about your restaurant.
In fact, four in five customers trust customer recommendations more than they trust ads. Additionally, social media posts that use user-generated content receive 28% more engagement than other kinds of social media posts.
It's expected that you'll speak highly of your business in your branding efforts. Include user-generated content to add social validation (also known as social proof) to your claims.
Where can user-generated content be found?
Thanks to the digital era, curating user-generated content to boost your restaurant's brand is simple.
1. Review sites
Review sites are abundant sources for powerful user-generated content. Look up your restaurant's reviews on Yelp, TripAdvisor, Google, Facebook, and Foursquare. Create a Word or Google document to collect the best reviews to use in your branding efforts.
2. Social media
Social media networks are a treasure trove of user-generated content.
When you get notified that someone has tagged your restaurant on Facebook, Instagram, or Twitter, take screenshots of those posts or add their URLs to your UGC document. Don't forget to check hashtags related to your restaurant and location tags in case customers didn't tag your restaurant directly. Even if your restaurant isn't active on social media (it really should be!), your customers could be sharing photos of your food with friends online.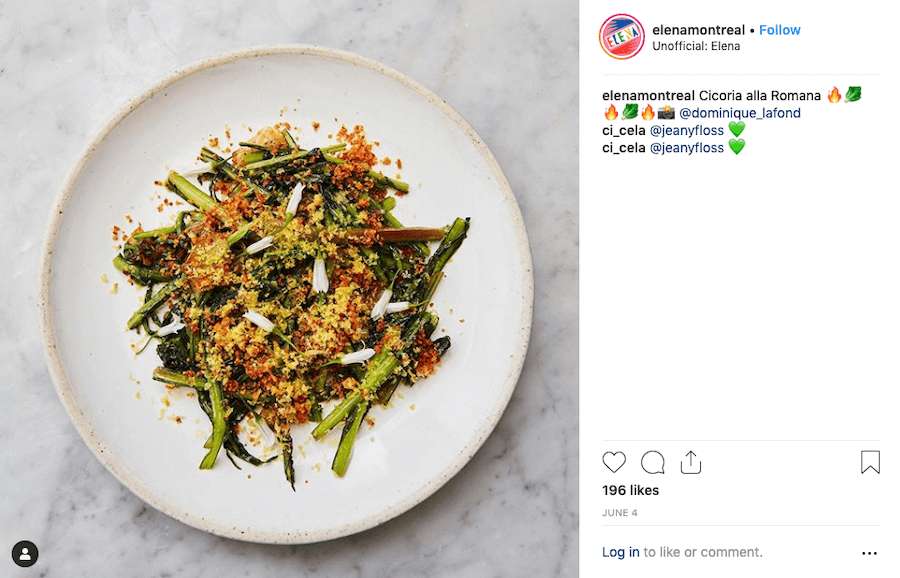 Montreal-based restaurant Elena loves to feature user-generated content on its Instagram
3. Blogs
You can also find great user-generated content on blogs. Bloggers who review restaurants tend to take great photos. Just make sure to ask for permission (more about this below) before repurposing any blog content for your branding efforts.
It's easy to find user-generated content for your restaurant online.
How to encourage customers to create user-generated content
Do you want to ensure a steady flow of user-generated content that you can use in your restaurant's marketing campaigns? Here are some things that you can do to incentivize customers to share a photo on social media or write a review:
1. Create a photo op at your restaurant
Put up a mural or cool sign that creates an iconic background for photos. Make sure to place your restaurant's social media details (which networks you're active on, what your handles are, and your restaurant's hashtag) near it so people know to tag your restaurant so that you can find and repurpose the posts.
As you can see below, Chicago restaurant Tuco and Blondie's colorful mural attracts a lot of social media attention. The restaurant turned UGC from their mural-loving customers into a fun Instagram post.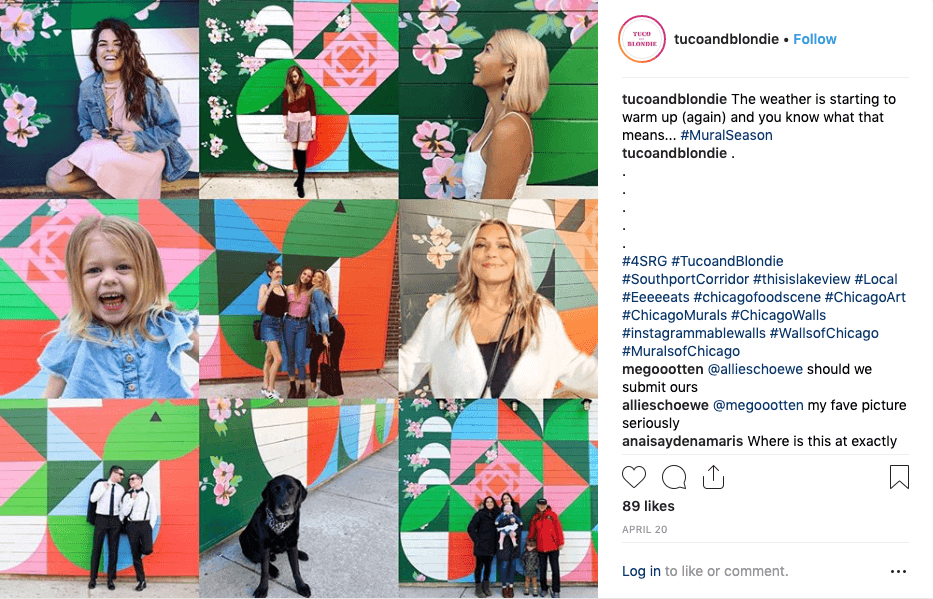 2. Give customers an incentive for sharing a photo or writing a review
Offer customers a discount or freebie for posting a photo of their dining experience on Instagram or writing a review on TripAdvisor. Let customers know about the offer by placing flyers at your check out counter, on tables, or in the check holder.
3. Give away a prize
If you repost user-generated content to your restaurant's social media (more on how to do this below), offer the customers whose content you shared prizes like free appetizers or gift card.
Incentives and photo opportunities encourage customers to share content about your restaurant online, which gives you more UGC to choose from and gets more people talking about your restaurant.
How to legally repurpose user-generated content
When it comes to repurposing user-generated content, one of the worst things you can do is share a customer's review or social media post and not give them credit.
Beyond potentially losing a customer, you could get into trouble with the law for not using user-generated content correctly. Here are some tips for staying on the right side of the law while recycling user-generated content for your restaurant's marketing efforts.
1. Review sites
While the rules for repurposing reviews about your restaurant from review sites will vary from site to site, Yelp has these guidelines:
Get permission from the reviewer

Don't use the quote out of context

Attribute the review to Yelp
2. Social media
When it comes to legally sharing UGC taken from social media, you have to ask your customers for permission.
A simple public comment along the lines of, "Hi, we'd like to share this great post on our social network! Do we have your permission to do so? Please let us know by replying 'Yes' and tagging us in your comment. Thanks!" will cover your bases. Getting permission in a public forum, versus in a direct message, will serve you better in case of a legal dispute.
3. Blogs
User-generated content published on a personal blog belongs to the blogger. This means that you can't use photos or text in your restaurant's marketing without explicit permission. Find the blogger's email address and reach out to get permission.
While we are experts in the restaurant and retail industries, we aren't lawyers. The above is not legal advice. Please consult your legal counsel if you are unsure about the legality of repurposing user-generated content.

8 Ideas for using user-generated content to boost your restaurant's brand
We've explained what user-generated content is, why it's important, and how to use it legally. Now we're sharing creative ideas for how to turn user-generated content into powerful marketing materials that will bolster your restaurant's brand.
1. Retweet tweets
We're starting you off with an easy one. If a customer tweets a photo from your restaurant or writes something great about your restaurant simply hit the "retweet" button (the one with the circular arrows) and the tweet will now be seen by your followers.
Presto! You've just repurposed your first piece of user-generated content.
2. Instagram Stories
This idea is a little bit more advanced. When a customer tags your restaurant in an Instagram Story, you'll be notified. Make sure to check out the story before it expires 24 hours after being published.
How can you leverage great Instagram Story content? First, add the story to your story. Your followers and other Instagram users who come across your profile will be able to watch the story before it expires.
Second, add it to your highlights. If you haven't done this already, create a highlight where you'll keep your best customer-created content. This way the user-generated content will be on your profile forever. Name the UGC highlights something like "Fans" or "Customer Love."
3. Customer photo series
Make sharing UGC a regular part of your social media content calendar.
Repost a customer photo every week or month and give the series a name like "#FanPhotoFriday" so that customers know to look out for it. We recommend finding content from Instagram, as this is where photo quality tends to be the best.
Search for your restaurant's hashtag or look at posts that your restaurant was tagged in and share the best photo on the same day each week.
You can quote the original caption in its entirety, write your own caption, or share an excerpt of the original caption. Whatever you decide, make sure to ask the customer for permission to share their photo and credit them by tagging them in the caption.
Since it can be tricky, here's a cheat sheet for how to download high-quality images from Instagram to your computer.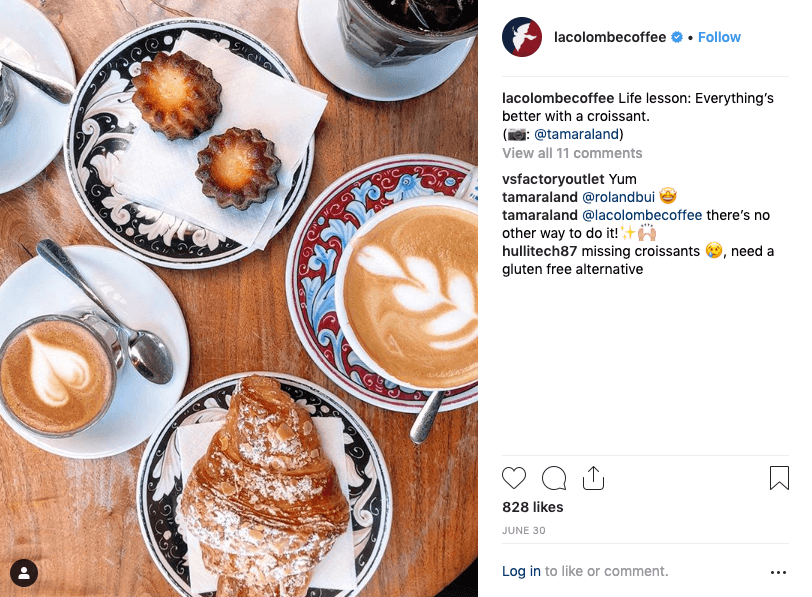 Just like La Colombe Coffee, give credit to the photographer whenever you feature user-generated content.
4. Embed user-generated content on your website
Diners are likely to check out your restaurant's online presence before deciding where to eat, so make sure that your website is peppered with user-generated content.
A simple way to do this is by embedding user-generated content onto your site. Include a section on your homepage with the best social media posts about and reviews of your restaurant. Avoid UGC overload by selecting just three or four pieces of content to serve as testimonials.
5. Use user-generated content on paper marketing materials
Add user-generated content to posters, fliers, and any other paper marketing materials you create for your restaurant.
Just like with your website, you don't want to overdo it with customer reviews so choose one or two to serve as testimonials. When you ask customers for permission to use their content in your pamphlets and posters, tell them where you plan on using their words and photos.
6. UPshow
UPshow is software that takes user-generated social media content and automatically displays it on a TV in your restaurant.
Customers can be featured by using specific hashtags on their posts. If a customer shares a photo of your bagel on their public Instagram account, they'll see their post pop up on the big screen at your restaurant. It's a win-win as customers get the thrill of seeing their content displayed in your restaurant and you have more user-generated content to repurpose in other ways.
7. Partner with another business
Social media is all about expanding your reach and engaging your followers. By working with a partner, you'll gain exposure to their entire audience and can build community. One thing you can try is a cross-promotional contest. Make the rules to the contest such that all entrants need to follow both your businesses, so that you both get a benefit from the contest.
8. Take part in an Instagram takeover
Try connecting with another business or a local influencer, and have that person takes over your restaurant's Instagram account for a short period of time. It's a fun way to shake things up and reach a whole new audience as your host posts about their experience with your restaurant.
How to use user-generated content for your restaurant menu
Have you ever considered using the best user-generated content for your point of sale's digital menu images?
Rather than hire a photographer to snap professional shots of your dishes, consider using some of the best user-generated you can find on Instagram to craft your restaurant menu.
There are four steps to uploading user-generated content to your menu using Lightspeed:
1. Find the right image
First, you need to find pictures that are share-worthy—ones that represent your restaurant's aesthetic well. To get started, we recommend checking your company's location page on Instagram.
For this example, we've chosen Montreal hotspot Lawrence.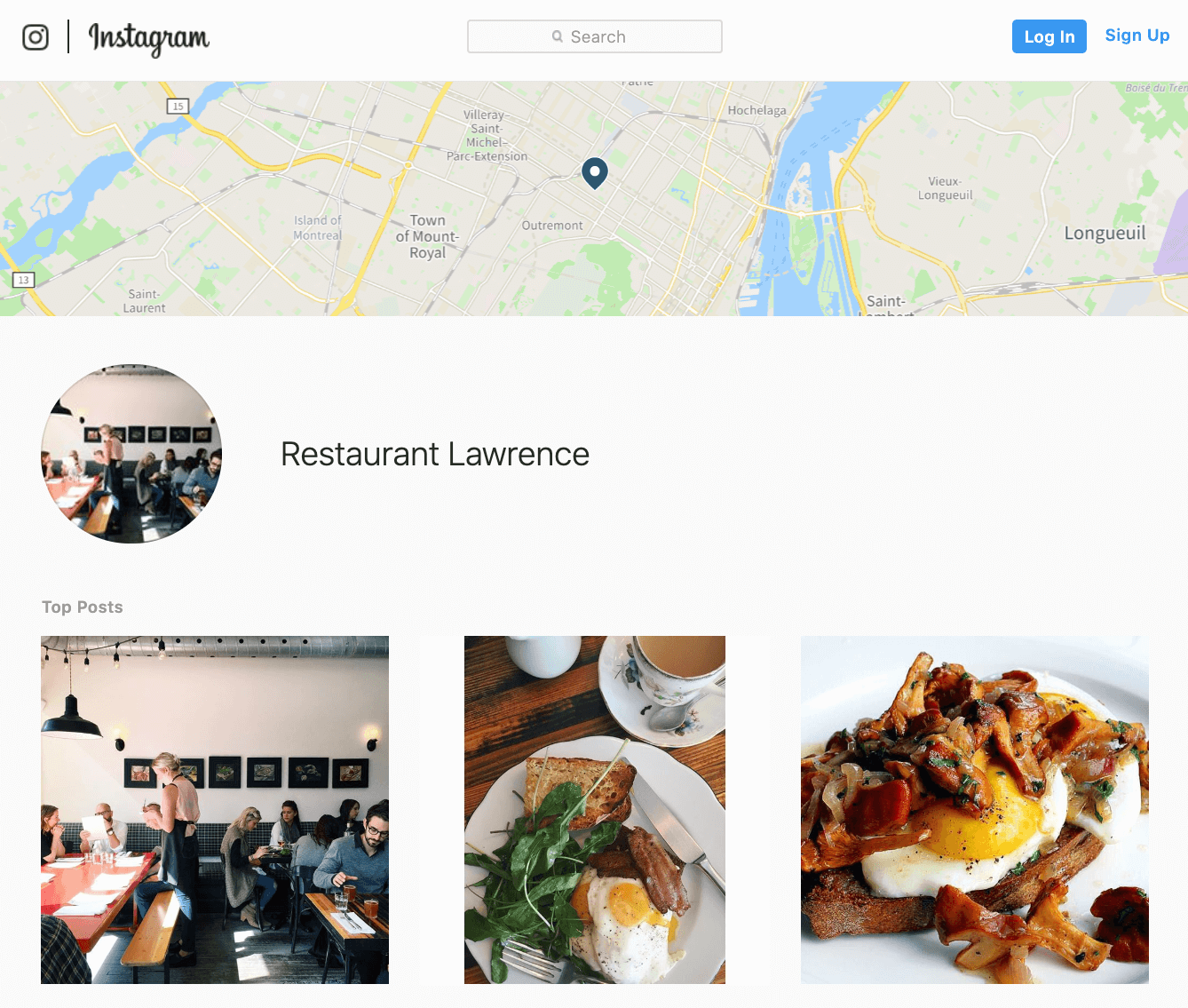 2. Search and save
Now that you're on your company's location page, it's time to start searching for a nice photo. Scroll until you find one that you like.
Once you find a picture you want to feature on your menu, you have two options: you can either screenshot the image (the best option if you're browsing on your smartphone) or use the page source code to save the image (the best option if you're browsing on a computer).
In this case, we're browsing on our computer, so let's save our image using the page source code.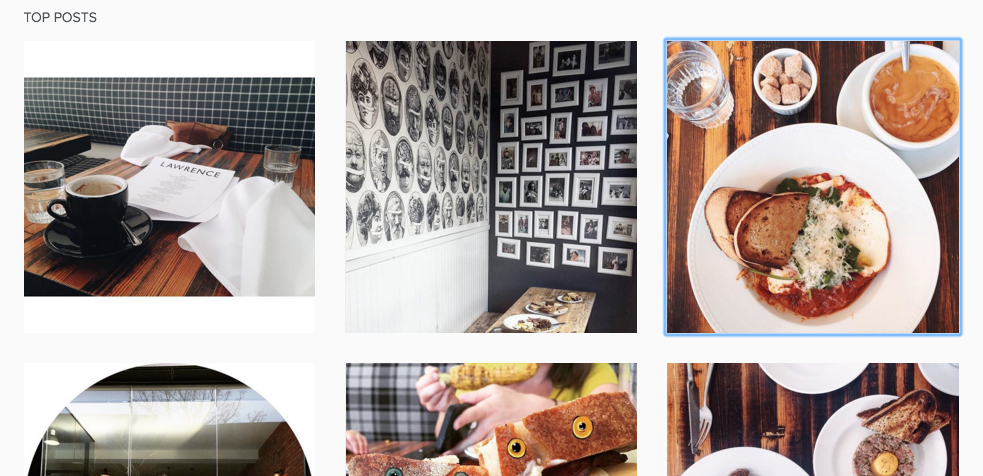 How to save an Instagram image by using page source code
First, Right-click on the image, then click "Inspect" from the list of options.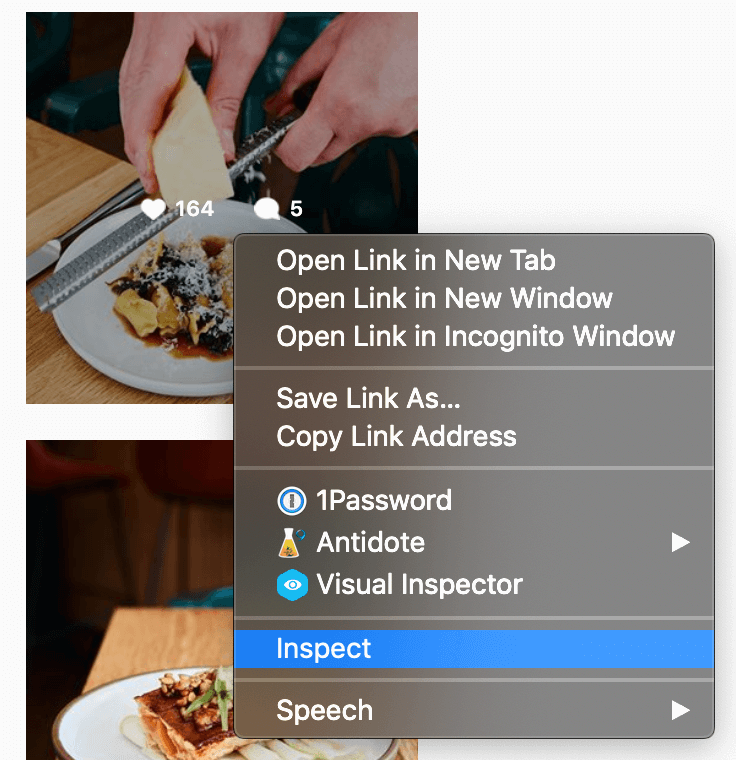 Next, type Command+F (CTRL+F on a PC), search for ".jpg", highlight the first result, and open the link in a new tab.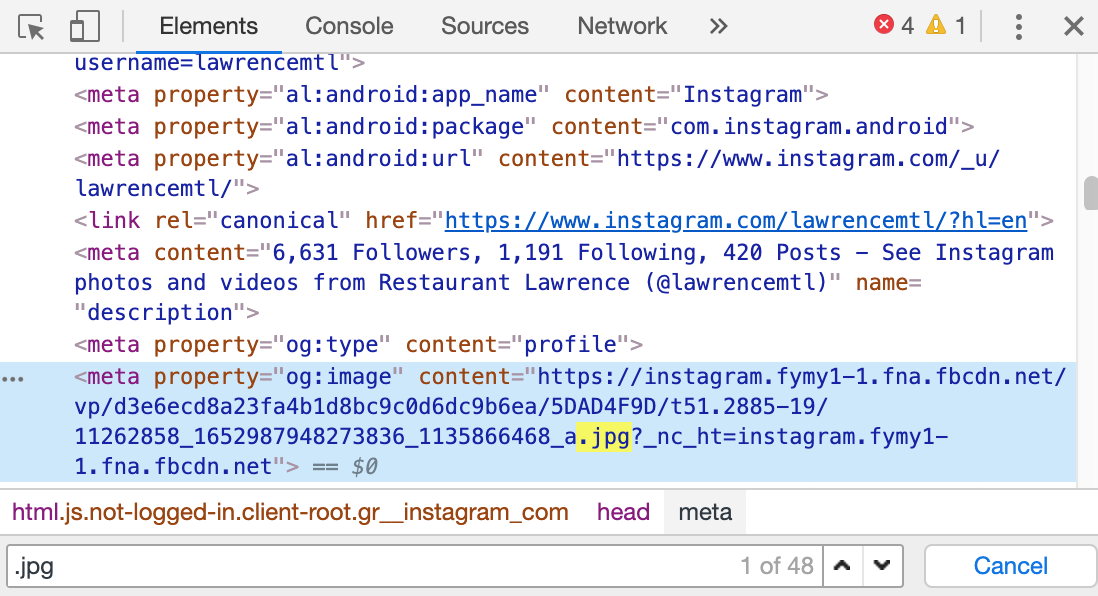 Finally, drag and drop the image onto your desktop, or right-click and select "Save image as".
Voila! You just saved an image from Instagram.
3. Ask for permission from the photographer
Before using an image someone else took, it's important that you reach out to them to ask for their permission. A friendly message is usually enough to get them to agree.

4. Save and upload
Once you have permission, login to your Lightspeed dashboard and upload the image to the corresponding menu item.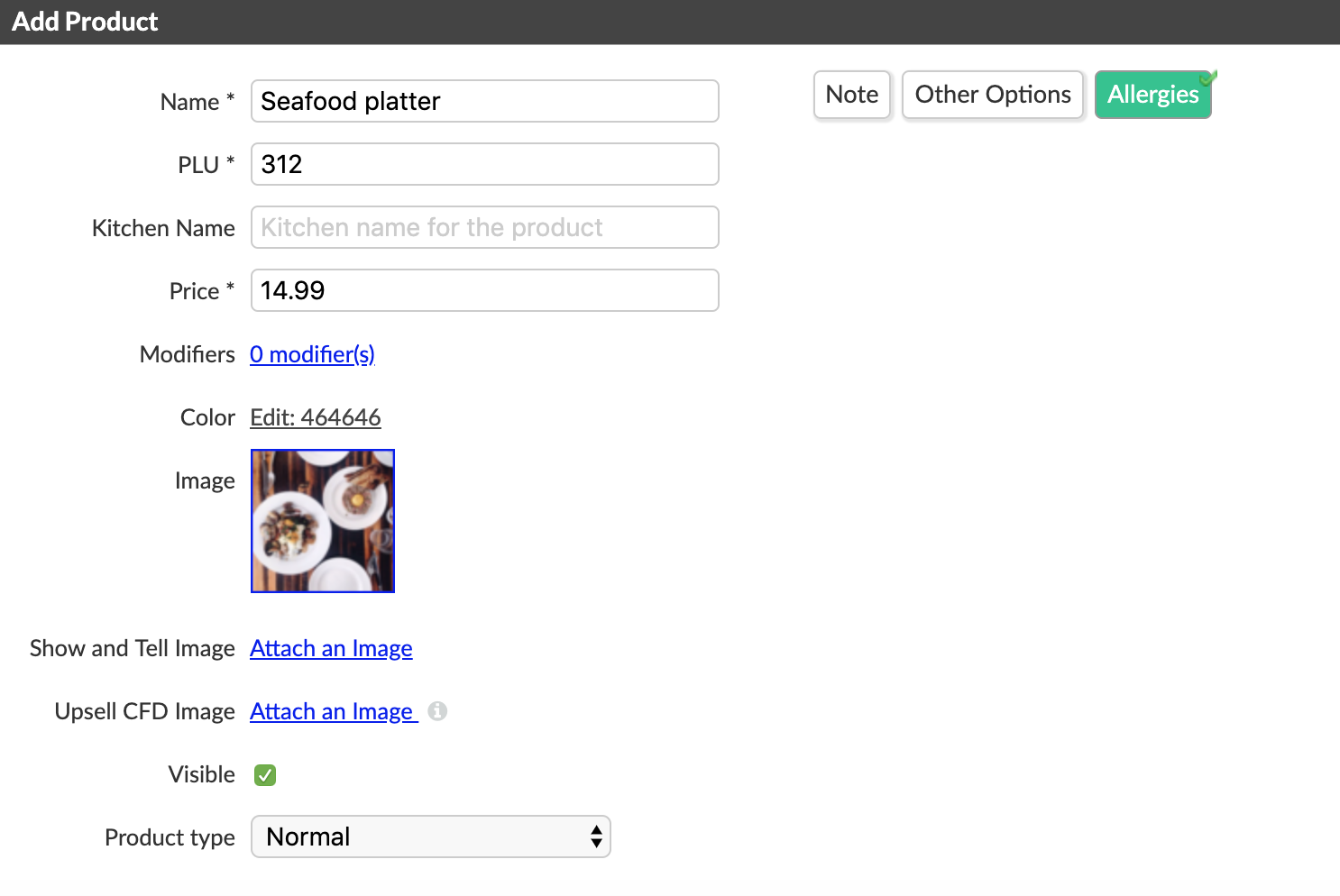 And there you have it! Now you know how to take the awesome shots that your community of customers takes in your menu.
Wrap up: User-generated content for restaurants
User-generated content marketing leverages the consumer's love of digital sharing and the psychology of social proof to create buzz for your restaurant. When you repurpose your customers' UGC properly, you're adding authentic content to your marketing mix.
In review:
User-generated content is multimedia (social media posts, blogs, reviews) created by your customers about or featuring your restaurant.

When repurposing UGC, make sure to do it legally. Always ask the customer for permission to use their content.

You can leverage user-generated content to create exciting new content on social media, on your restaurant's menu, website, and offline.
News you care about. Tips you can use.
Everything your business needs to grow, delivered straight to your inbox.