5 High-Impact Ways Retailers can get Ready for Black Friday 
Black Friday falls on November 29th this year; are you ready?
Studies show that shoppers no longer wait for Black Friday to start their holiday shopping, which is why it's critical that retailers have a plan in place months in advance.
But what if you don't have a plan yet? You're not alone.
With savvy email and social media marketing, a well-merchandised store, a fast checkout and (of course) great deals, you can still hit your pre-holidays sales targets.
The future of retail is here
Run your business with accuracy and speed with Lightspeed's cloud-based point of sale.
Black Friday is all about the deal. What are yours?
When customers think of holiday shopping, they're looking for specific products and deals.
How do you determine which items to markdown and promote? By understanding which products your customers want and incentivizing them to buy from you.
To achieve this, we suggest using Lightspeed's Recently out of Stock, Category Sales and Commonly Bought Together report.
The Recently out of Stock report shows high-selling inventory items you should consider re-stocking and discounting to incentivize customers to buy.
The Category Sales report tells you which item category (for example, shoes) generates the most sales over the timeframe you select. We suggest checking out what your top-selling categories were from October to December last year; that will help you twofold: re-merchandising your store and creating deals for those product categories.
The Commonly Bought Together report lets you know which items people usually buy at the same time. Use this report to find items you can bundle together for Black Friday deals, and consider featuring them in your point of purchase displays.
Promote your Black Friday deals intelligently
47% of shoppers claim that they'll only buy items on sale this holiday.
But having the best deals in town isn't enough.
If nobody knows about them, your Black Friday sales could flop.
According to Think with Google, 65% of holiday shoppers searched online before heading to a store to complete their purchase. Considering that retail experiences are only becoming more connected, we suggest focusing your Black Friday and holiday season promotional efforts to the channels that will have the biggest impact: Your email list, social media advertising and in-store signage.
Send promotional holiday emails to your mailing list
Food for thought: 68% of shoppers say they pay more attention to companies' emails during the holidays. If you've been creating collecting your customers' email addresses through your loyalty program, email newsletter or even to send them an e-receipt, you should definitely send them emails to let them know about your Black Friday deals.
It can be up to 25 times more expensive to acquire a new customer through marketing than it is to retain an existing one, and existing customers tend to buy more often and spend more than first-time customers.
While it may seem tempting to exclusively run paid ads on Facebook and Instagram to get more new customers, don't make the mistake of neglecting your existing ones; they're the ones that are more likely to buy more and recommend your store to friends and family. Black Friday is the perfect time to rekindle or strengthen your relationship with your existing customers.
Don't risk having your best customers shop at one of your competitors. Create emails that feature your holiday deals and send them to your existing customers, and don't forget to create a sense of urgency (this is a limited time offer!) so that they act fast. With Lightspeed Loyalty, you can easily create beautiful promotional emails with its built-in drag-and-drop email builder.
Pro tip: consider creating an exclusive promo code for your existing customers. Shoppers reference promo codes as the #1 factor influencing their holiday purchases.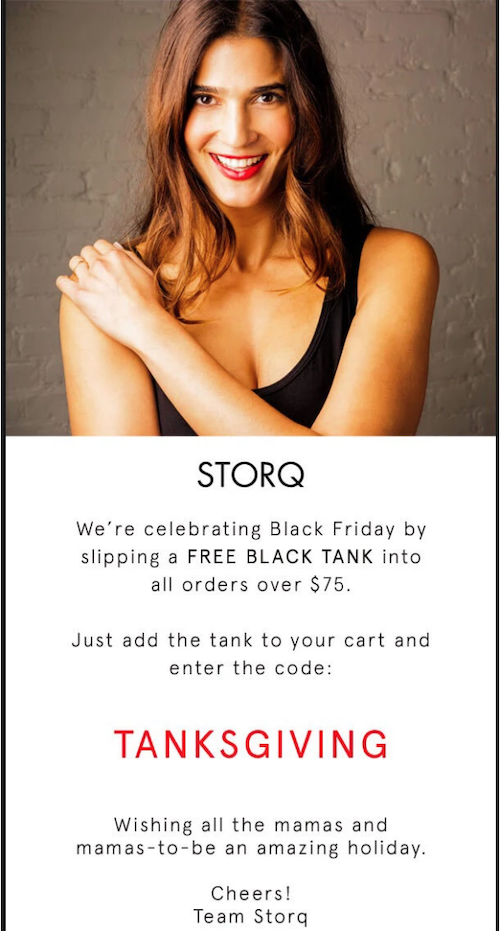 When it comes to social media advertising, think local
Social media marketing can be expensive and have a low impact—if you don't know what you're doing.
When you're setting up social media ads, we suggest narrowing your audience to be only within a certain distance from your store. We call the act of narrowing your ad's reach by state, province, city, zip or postal code is called geotargeting. This achieves two things:
The only people getting your Black Friday ads are located near your business and are more likely to visit your store and make a purchase.

You get a higher ROI for what you spend. Since your audience is highly-targeted, each person that sees your ad is more likely to convert into a customer.
It's a lot cheaper (and effective) to make your ads as targeted as possible.
Launch dynamic Black Friday ads on Facebook
Similar to geotargeted ads, it's also much more effective to remarket people who have visited your online store.
Think about it, they've already looked at products on your website, so why not send them a reminder to take action?
If you've installed Facebook Pixel on your website, you can create Facebook ads that feature the very same products someone viewed.
For example, let's say you were shopping for a pair of Mejuri earrings and saw these Cabochon Studs you liked.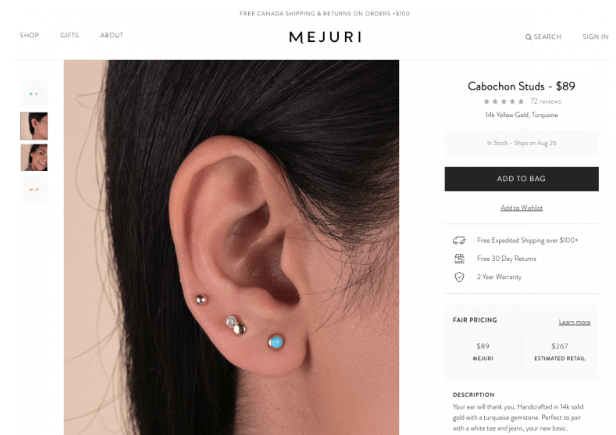 You don't buy them, but you did look at them. Next thing you know, you see this carousel ad on your Facebook newsfeed.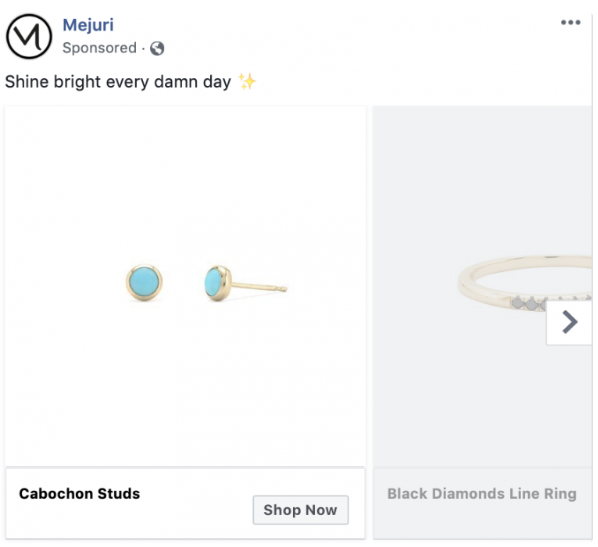 Next thing you know, you're adding them to your shopping cart and going from someone who was "shopping around" to a paying customer. Remarketing people that are visiting your online store is another trick for running Facebook ads that actually work.
Start using Instagram Shopping
If you're creating content on Instagram (which you should be), there's a cool feature called Instagram Shopping that lets people buy products featured in your Instagram posts directly through Instagram.
Considering that 20% of shoppers—and 37% of Gen Zers—say Instagram is their favorite channel for holiday shopping, you should definitely look into setting up Instagram Shopping.
While it's used by big-box retailers like Club Monaco, it's very accessible for independent retailers to set up as well.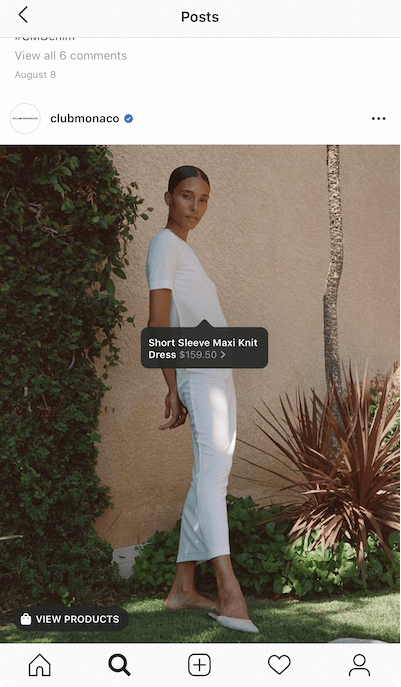 Once you set up Instagram Shopping and create a few posts, those posts are visible to any of the 200 million accounts that use Instagram's Explore tab daily. That's a lot of exposure and potential sales for not a lot of effort.
Create thoughtful in-store signage
While emails and social media are powerful ways to get the word out on your Black Friday promotions and make sales, you can't forget about how you advertise your deals in-store.
Use beautifully-designed flyers and signage to let your in-store shoppers know what deals you offer. Place them in high-traffic areas like your point of purchase, windows and next to your best-selling products.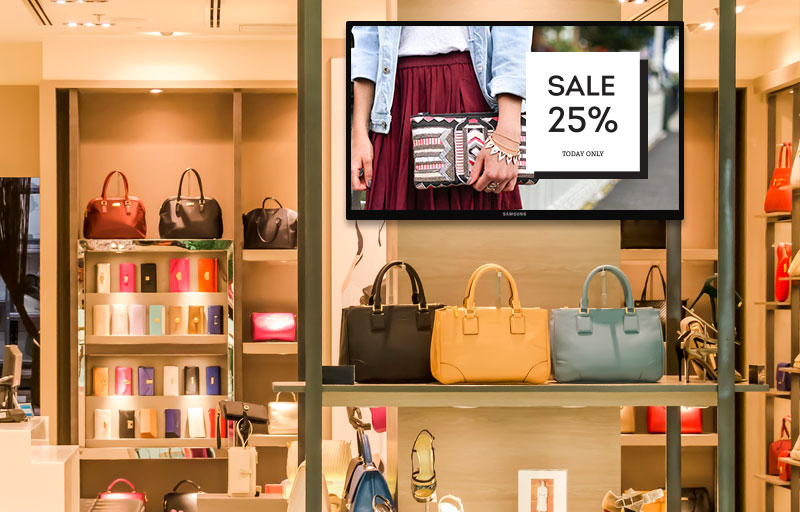 Revamp your retail merchandising for Black Friday
Retail merchandising is how you select, place and display your products within your store, and it can make a big difference for your in-store sales.
To start, consider how your products are used and create groups based on that logic. If you sell footwear like Lightspeed customer Exclucity, create displays that show off your latest, must-have sneakers and draw attention to related products like pants, tops and socks. To achieve that, try reviewing your Commonly Bought Together and Recently out of Stock reports.
A shopper's energy and interest level will fade as they move deeper into your store, so place visual displays of your trendiest, best-selling items near the front. This assures that your customers are seeing the best of what you have to offer while they're most engaged.
By the same logic, consider putting your oldest, least-popular items near the back of the store and aggressively discounting them. This can be a section where bargain hunters can shop to their heart's content.
For your low-cost items, we suggest placing them near your store's point of purchase (where a customer completes a transaction). That way, a customer's attention is drawn to those items as they proceed to checkout and the likelihood that they at an item to their cart increases ("I'm buying these awesome sneakers, maybe I should buy a shoehorn and shoe cleaner as well to keep them looking nice?")
Staffing: Are you ready for peak business hours?
Do you have enough staff scheduled to support Black Friday deal-hunters? Schedule too many and you risk spending too much on labor costs; schedule too few and you risk having long lineups to pay, lengthy wait times for customers to get served.
Consider this: A study from Irisys found that Americans will leave a store without making a purchase if they need to wait just six minutes or longer to get served.
If you don't have enough staff to support your customers, and your staff isn't equipped with tools that expedite the customer's shopping experience, they'll take their business elsewhere.
To anticipate how many sales associates you need to schedule throughout the holiday rush, we suggest using the Sales by Hour of Day report to pinpoint your busiest store hours. The hours with the most completed transactions are your busiest and you should schedule accordingly.
But even having enough staff scheduled can't fully eliminate wait times. To do that, you may want to consider eliminating checkout lineups altogether.
Faster checkout; better customer service
Barbara Thau, contributing writer for Forbes, suggests that the best way to avoid losing sales due to lengthy checkout lines is to "banish the wait in line, once and for all."
A cloud POS removes the need for lineups and traditional cash registers. With one, sales associates can ring up sales from anywhere in the store and accept any type of payment. Only if the transaction is in cash do you need to use a cash register, but people are using cash less and less these days.
Customers are busy—especially leading up to the holidays. A fast, frictionless in-store shopping experience is a surefire way to delight them, lose fewer sales due to lengthy wait times and serve more of them.
Be ready for Black Friday
Getting ready for Black Friday can feel daunting, but by focusing your energy on the things that have the most impact (like your deals, marketing and customer service), you can hit your sales out of the park.
Want to see how Lightspeed can help you this holiday season? Contact our retail experts today for a personalized consultation.