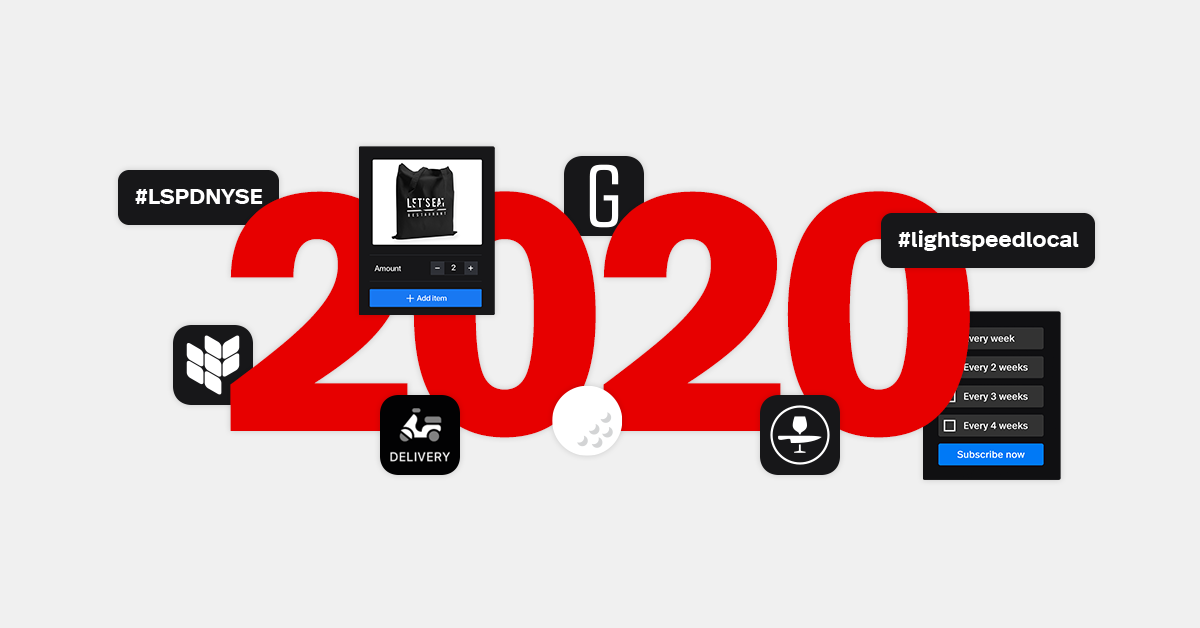 There's no way around it: 2020 was a challenging year. But amongst the challenges there were also opportunities.
COVID-19 and governmental policies led to a year of adaptation and accelerated digital transformation for hospitality and retail technology.
If we had one guiding philosophy this year, it was that cities and communities are brought to life by local businesses and access to state-of-the-art technology was going to be crucial to their continued survival and success.
"At Lightspeed, we strive to put the customer first in everything we do. Despite this year's challenges, one explicit goal stayed paramount: future-proof our customer's businesses," says Isabelle Bénard, Senior VP of Product at Lightspeed. "We wanted to empower Lightspeed merchants to redesign their business for tomorrow's world by creating a unique omnichannel experience."
So before we welcome 2021 and everything it has to offer, let's reflect on what new technologies and tools 2020 brought to Lightspeed merchants.
Lightspeed Retail 2020: Strengthening retailers' positions
Better ways to pay: Lightspeed Payments Canada, Mobile Tap and Digital Wallet
We kicked the year off by expanding Lightspeed Payments into Canada in early March. Canadian retailers joined American Lightspeed merchants to offer customers a faster checkout experience. With Lightspeed Payments, our merchants also gained improved reporting and new hardware designed for ambitious omnichannel businesses.
Then the world shut down and it was clear our merchants needed even more innovative retail technology that focused on new ways to pay. The rollouts of Mobile Tap and Digital Wallet enabled them to serve changing customer behavior.
Our merchants needed to offer a contactless payments experience to their customers⁠—and that's exactly what Mobile Tap was designed to do. With it, retailers in the United States were better able to pivot to curbside pickup, facilitating a growing market segment as lockdowns and social distancing protocols continued throughout 2020.
As for omnichannel merchants across North America, they were looking for a leg up on the competition. Digital Wallet helped them give their customers a frictionless checkout experience online and combat abandoned carts by giving customers with Apple Pay® and Google Pay™ access to secure checkouts in just one click.
Funding business growth: Lightspeed Capital
Lightspeed Capital powered by Stripe launched in summer 2020 and gave us a way to support our merchants as they adapted to their new realities.
By applying for funding through Lightspeed Capital, eligible merchants can get cash flow with fewer barriers than traditional financial institutions. With a convenient repayment plan⁠—the funded amount is repaid automatically through a percentage of daily sales⁠—Capital was designed to help retailers rebuild, not stress out.
With Lightspeed Capital supporting them, many Lightspeed merchants have already begun to set their sights on the future. We look forward to continuing to offer funding to eligible merchants in 2021.
Accessible access to in-depth data: Lightspeed Analytics Core
Making the right business moves in an era of uncertainty means going deeper than just trusting your gut, but a complex analytics platform has a learning curve if you've never worked with data before. And while that's fine if you've got the time to really dig into what Lightspeed Analytics can do, the nature of 2020 was such that some retailers new to using data wouldn't have the time.
That's why we went back to the drawing board to come up with a comprehensive, ready-out-of-the-box analytics platform for our retailers. Enter Lightspeed Analytics Core, a way to get comprehensive business data retailers can act on with a lower cost and in less time.
With Analytics Core, our merchants have the retail technology to measure their new efforts in their online and in-store sales channels, tweak what's not working and lean into what is. Being able to have that information on hand will be crucial to intelligently growing for years to come.
Expanding into new offerings: Lightspeed Subscriptions
We ended the year with the launch of Lightspeed Subscriptions, a way for merchants to quickly create new sources of stable revenue. It allows our merchants to set up automated recurring payment collection, which means Lightspeed retailers can go beyond the traditional ways of selling.
Some of our retailers, such as Allstar Guitar & Academy, are using Subscriptions to automate how they manage monthly lesson fees. Others are offering VIP subscribe and save programs for their customers. And more yet are using Subscriptions to start giving their customers access to recurring orders of important products, like monthly deliveries of pet food, with automated billing.
No matter how they're using Subscriptions, this recurring revenue means that even if 2021 brings more lockdowns and reduced in-store business hours, our merchants will still get paid⁠ and their customers can still get their products and services.
Lightspeed Restaurant 2020: Helping restaurants adapt and thrive
Reaching diners wherever they are: Lightspeed Delivery
Lockdowns and pandemic measures meant that a lot of restaurants saw their dining rooms closed but their kitchens could remain open. Even when on-location dining was allowed, many diners opted to stay home.
Restaurants needed a way to reach those diners, but handling delivery for multiple online services is a hassle without help.
That's why we launched Lightspeed Delivery powered by Deliverect. Delivery consolidates the orders our merchants receive from different delivery aggregators, making it simpler to manage the various services. This opens them up to more hungry diners and allows them to keep serving customers whether their doors are open or closed.
Pivoting hospitality brands: Lightspeed eCom for Restaurant
Many hospitality businesses found themselves expanding their offerings in response to the challenges of 2020. Lightspeed eCom for Restaurant gave our restaurant merchants a way to take their business online without needing to spend time and money learning the ins and outs of coding and web hosting.
eCom for Restaurant meant that merchants looking to diversify non-traditional revenue streams, such as meal kits, merchandise or virtual party hosting services, could focus on their offerings. Now that they didn't have to spend tons of time figuring out their site⁠, they could get going faster with our eCom theme tailored to hospitality businesses.
Having this online presence meant they can keep impressing customers into 2021 and beyond. The way people interact with hospitality businesses is changing and Lightspeed merchants using eCom for Restaurant have figured out one piece of the puzzle.
Embracing the new era of dining: Lightspeed Order Ahead
An increased interest in delivery was just one part of the new picture of dining in 2020. Hungry customers were also interested in more takeout options—all of the convenience of ordering online, but with full control over picking up their food.
Our answer? Lightspeed Order Ahead. With Order Ahead, customers can order takeout, pay contactlessly and get real-time order updates. They can schedule their order for a future time slow or order right away, and restaurants can facilitate takeout and curbside pickup without having to pay third-party fees.
Takeout isn't new, but having a better way to do it is. Order Ahead means our merchants can serve customers in even more ways when their doors are closed. This means that if 2021 brings the unexpected, their customers can keep ordering delicious meals on their own terms in a way that works for the merchant, too.
Introducing: Lightspeed Golf
In 2020, we became more than a restaurant and retail technology company. We added golf course management software to our family of products as Chronogolf officially became Lightspeed Golf.
Lightspeed Golf helps golf courses create a connected ecosystem. As they use Lightspeed for their restaurants, clubhouses, pro shops, online stores and customer management, they get the power of cloud-based tools that help them innovate and stay a step ahead of the competition.
Going cloud-based with Lightspeed meant that courses like Landscapes Unlimited were ready to tackle the challenges COVID-19 threw their way in 2020. Features like online pre-payment and self check-in kiosks meant they could keep their employees and customers safe alike.
Always growing to be your partner
2020 was an eventful year for Lightspeed.
In September, we began trading on the New York Stock Exchange. This momentous occasion came on the heels of our listing on the Toronto Stock Exchange in 2019. With the net proceeds from our US offering, we plan to pursue global growth strategies that help us maintain our position as the technology leader for the future of commerce.
We added three new companies to our family with the acquisitions of Gastrofix, a Germany-based leader in hospitality; ShopKeep, one of America's top cloud commerce platforms; and Upserve, a leading restaurant management software company based in Rhode Island. These acquisitions will allow us to further strengthen our offering through collaboration with some of the industry's most cutting edge players.
And we threw our support for our merchants with two rounds of #LightspeedLocal, where we gave our employees funds to spend at their favorite local Lightspeed retailers and restaurants.
Above all, though, we made sure to put our merchants first when developing restaurant and retail technology to face 2020. As Isabelle Bénard says, "we're in this together with them, since their success is our success. In 2020, we tried to be a partner on which our merchants can rely. Who continues to prioritize our merchants' needs through innovative and accessible technology with which they can help nurture their business. And our first-class support teams have been working around the clock to help our growing merchant-base adapt and change."
While 2020 may have brought a lot of challenges, we helped our merchants turn them into opportunities.
We look forward to going even further in 2021.
See you in the new year!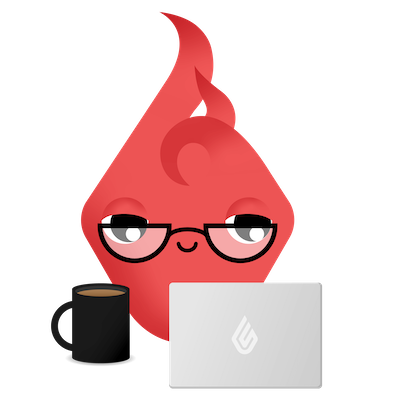 News you care about. Tips you can use.
Everything your business needs to grow, delivered straight to your inbox.