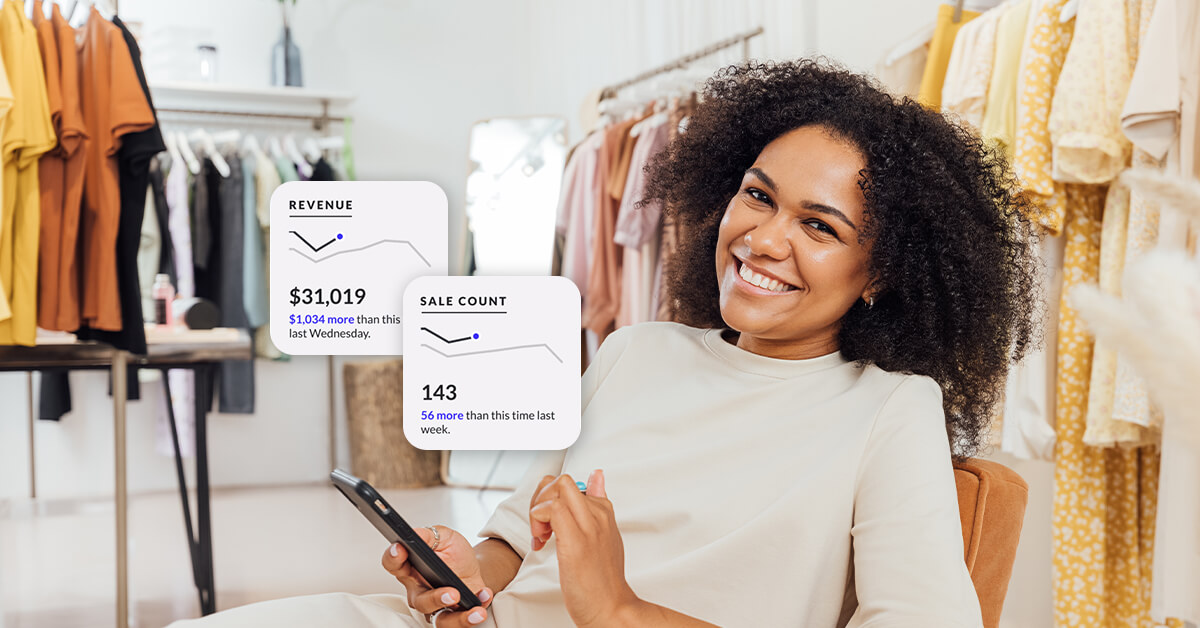 Starting a retail store is an enormous undertaking, especially for first-time retailers. Despite the perceived simplicity of the business model, a lot more goes into the process of running a retail store than some might expect.
Rather than jumping right in, it's best to be as prepared as possible. This guide can give you a better understanding of how to set up a retail business for success.
How to set up a retail business for success
Build a digital presence and diversify your revenue
An ecommerce website for your business has evolved from a "nice to have" to a must-have. Get started with picking out the best domain name for your store, the best shipping options and more with our free guide.
Have a plan
No business, no matter how great the underlying concept, can succeed without a plan.
Before securing funding or renting a space or any other step required to get your retail store off the ground, it's important to have a retail business plan in place. This goes beyond the surface level details and gets to the deep what's, when's, where's, why's and how's of your entire operation.
Writing a business plan should cover all of the major aspects of business development, including details like:
An executive summary that explains the overarching goals and objectives of your business

A description of your company, including how it will function and what products and services you plan on introducing to the marketplace

An overview of your products, including both a holistic overview as well as any specifically planned SKUs

A market analysis that encompasses details of the local metro area, economic trends, retail sales operations, competitor analysis and any other form of due diligence that may help you better understand your position in the market

An organizational chart summarizing management structure and team member responsibilities

Marketing and advertising plans that will be deployed to promote your business

Funding expectations, including your initial investment and any other funding you anticipate over the first two to five years of operation

Financial statements and projections, including an income statement and balance sheet

Any other relevant information, like permits or patents
Remember, a business plan is both for your benefit and that of potential investors; banks, angel investors and business partners will likely want to see your business plan before moving forward and financially backing your business.
A strong business plan makes you look trustworthy and intelligent which will help convince potential partners to work with you and financial partners to invest in your business. Take as much time as you need to research, go over critical details and outline financial plans and projections.
Seek financing
Unless you have a large amount of money you plan to invest in your retail store, you will likely need to secure third-party small business financing. For most entrepreneurs, this means a small business loan through a bank or brokerage firm.
When seeking a loan, determine exactly how much you will need and how long you will need access to outside funding before a loan will need to be repaid. This should be included in your business plan. Be prepared to discuss specifically how you will use your loan, like inventory purchasing, rent and utilities or marketing.
In addition, review your credit history so that you can accurately plan for the kind of loan terms to expect. Never sign paperwork without fully understanding repayment options, loan duration, interest rate and any penalties associated with early or delayed repayment.
Secure a proper space
The place you establish your brick-and-mortar shop can make all the difference. A remote location far outside of town that's hard to get to will not yield the same results as a retail space located in a desirable spot in the city center; nor will the price tag be similar. When evaluating spaces, be sure to properly consider all factors, including:
Size:

how much room do you need to display inventory? While a prohibitively small store can limit your options, a space that's too large may feel empty and awkward. Work out your ideal

shop floor plan

ahead of time to ensure the spaces you visit will work.

Price per square foot:

Ranging anywhere from $10 to $1000 or more depending on your zip code, how much you're paying for your space is very important. Note that some areas are more expensive than others, and moving as little as one or two blocks can save you money on rent.

Storage and facilities:

Your store is more than just the retail area. In addition to a place to sell your items, you'll also require room for dressing rooms, a storage area, an office space and closets for things like cleaning supplies. If you need special space for shelving or display cases, you'll need to consider these aspects as well.

Renovation requirements or opportunities:

Not all spaces will fit your vision. While remodeling is an option,

renovating a retail store

can be extremely costly, adding thousands to your start-up costs. Additionally, some landlords are quite rigid on permissible renovations, so be sure the changes you have in mind fit into your rental contract. Check with your landlord if you're unsure.

Pop-up shops:

Since location can be tricky to navigate and securing a space generally requires a long-term commitment bound by your lease agreement, pop-up retail can be a great alternative. This allows you to test out different locations without the long-term commitment. Think of it as dating your location as opposed to marrying it.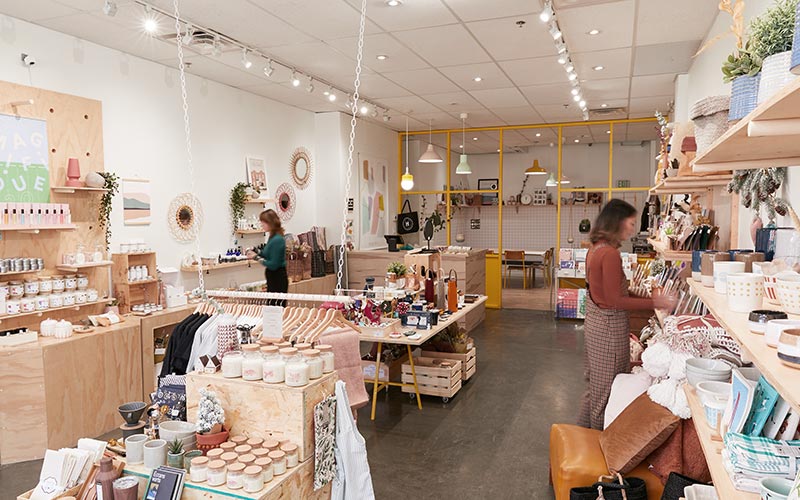 Acquire adequate materials
A lot goes into an effective retail store. Simply producing, manufacturing or purchasing inventory isn't enough; instead, you need a whole store full of furniture and accessories to properly run your business. Common retail store supplies include but are not limited to:
Shelves, full-size racks, rotating racks, hanging bars, mannequins and other places to hang and display inventory

Hangers, podiums and other tools for displaying merchandise

Security tags for protecting more valuable inventory

Counters and display cases, including those that lock for enhanced security

Pricing gun, price tag tape, stickers and barcode scanners

Cash registers, money drawers and receipt paper

Bags, including paper, plastic or reusable options

Mirrors, both in changing rooms as well as in clothing sections (for apparel stores)

Banners, flags and signs to advertise departments, aisle contents, sales and promotions

Shopping carts or baskets

Chairs and curtain dividers for fitting rooms, if applicable

Crowd control equipment to keep checkout lines organized

PPE like masks and gloves, as well as hand sanitizer

Cleaning supplies

Shelving for storage rooms

Desks, chairs, computers and office supplies for any office spaces
Hire a strong team
The team at your side can make or break your operations. A good team can assist customers, provide excellent customer service, increase the likelihood of a sale happening and build customer loyalty. A bad team can turn customers away by contributing to a poor customer experience, cause revenue losses and destroy your reputation. It's a lot easier to hire and train the right retail employees from the start rather than doing damage control six months from now.
When posting job ads, be explicit about duties and responsibilities, physical requirements, personality traits and any relevant experience or qualifications. Make sure you post job openings in places your prospective employees are likely to see, like social media ads for young adult employees and LinkedIn posts for experienced professionals.
Hiring is a marathon, not a sprint. Never hire someone with obvious red flags just because they are available or eager. Instead, keep interviewing until you find the right fit.
Manage your back office
The front of the house and on your floor isn't your only priority in running a successful retail business. Back office operations, like accounting, HR and inventory management are equally important. Proper treatment of your back office can have a lasting effect on the financial health and sustainability of your business.
Invest in a point of sale system
Few things matter as much as your retail point of sale system.
A retail POS system can take care of many of the front of house and back office tasks we mentioned above, like ringing up orders, tracking revenue, managing inventory and keeping an eye on all data related to your operations. Just make sure you also get the POS hardware that you'll need to accept payments, like a card reader, barcode scanner and cash drawer.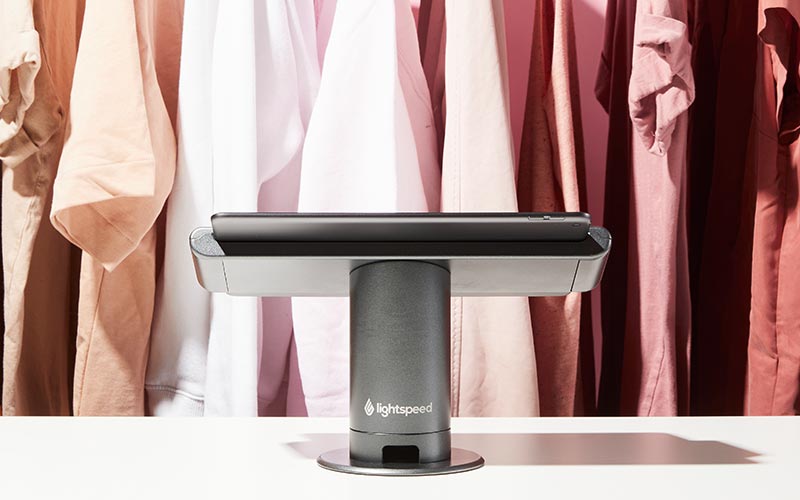 Organize your accounting and bookkeeping
No retailer can survive without a proper approach to small business accounting. Without a solid way to balance income and expenses, it's impossible to know whether you're earning a profit or losing money on a monthly basis.
There are plenty of platforms out there to stay on top of your books. To simplify the process, choose accounting software that integrates with your POS for hassle-free bookkeeping.
Manage and oversee your employees
Proper employee management is another key piece to set up a successful retail business. In order to help ensure your customers have a positive experience while shopping at your store, you need to make sure your business is properly staffed and that your staff are performing as expected. Nothing is more frustrating for customers than walking into a business to find limited or disinterested staff.
Here's how to ensure that your team has the teams and knowledge they need to succeed.
Have the right tools
Use a POS system to find your peak hours and monitor employee performance metrics. When are customers coming in the most? What days of the week do you have the most transactions and sales revenue? What time period do you experience a spike in sales?
The answer to these questions will allow you to identify peak hours so that you can make sure to schedule the right amount of staff to serve your customers in a timely fashion. They'll also help you identify top performers and under-performers so you can take the right actions.
Invest in onboarding
Once you have the right talent, you'll want to make sure their transition into the role runs smoothly. A major part of this is training staff to get them up to speed on everything from sales tips to how to keep in-store displays on-brand.
If you use tools and technology, remember to train new employees properly on how to use them. Perhaps the most important piece of tech you'll want them to master is your POS system.
To keep the onboarding process consistent and thorough, it could help to document exactly what that process is. This includes specific training sessions, milestones, performance goals and deadlines for new hires to meet.
This keeps not only you and your employees on the same page, but it also means that every staff member goes through the same training and has the same experience and expectations.
Play an active role in managing your shop and team
Just because you've onboarded your staff, it doesn't mean you can leave them to their own devices. As a manager, it's your job to continue to engage with them throughout their journey. Remember those performance goals we told you to set? Set up regular 1:1 meetings with your staff to check in on progress, and to set new goals when previous ones have been met.
And as much as it's your job to lead and to mentor, it's almost more important to remember to listen to your staff. Hear their challenges and address them, listen to their ideas and encourage them. Recognize staff strengths and delegate roles and responsibilities that cater to that.
Have a payroll system in place
All of your employees deserve a paycheck. Consider software that helps with managing payroll. It should integrate with your POS system, creating an efficient process that can generate checks, initiate direct deposit and calculate the correct taxes to withhold.
Track your inventory
Inventory management is a critical part of a successful retail operation. Without monitoring what's selling, what's not, average turnover and profit margin, it's hard to know how well your store is performing or to accurately make any necessary adjustments. While inventory tracking can certainly be managed by hand, inventory management software can offer a real-time look at what you have on hand, streamlining your internal processes and practices.
Speaking of which, here are some best practices to implement when managing your inventory.
Conduct physical inventory counts
Maintain a regular cycle counting practice. A cycle count, or physical count, is when you count a portion of your inventory to estimate your overall stock on hand.
Philip Pravda of SuitCafe.com would do a physical count every day when he was managing his store. "I would choose small sections of the store … [and] count them up with the style numbers and sizes, then walk over to my computer and compare. Doing the whole store for a small business is difficult because you're always helping customers and certainly don't want to close … to do inventory."
Mitigate theft
Research by Tyco Retail Solutions found that external theft/shoplifting contributed the most, at more than 35% of lost sales to shrink—closely followed by internal theft at nearly 25%. As such, keep your inventory in check by implementing theft-prevention practices such as:
Investing in retail security tools like cameras, signage, mirrors, etc.

Training your team to spot and handle shoplifters

Keeping your merchandise organized
Get your staff involved
Just because you're the store owner or manager doesn't mean you have to do it all. Work with your team and openly communicate why it's so important to stay on top of stock control, and provide education and training on how they can help.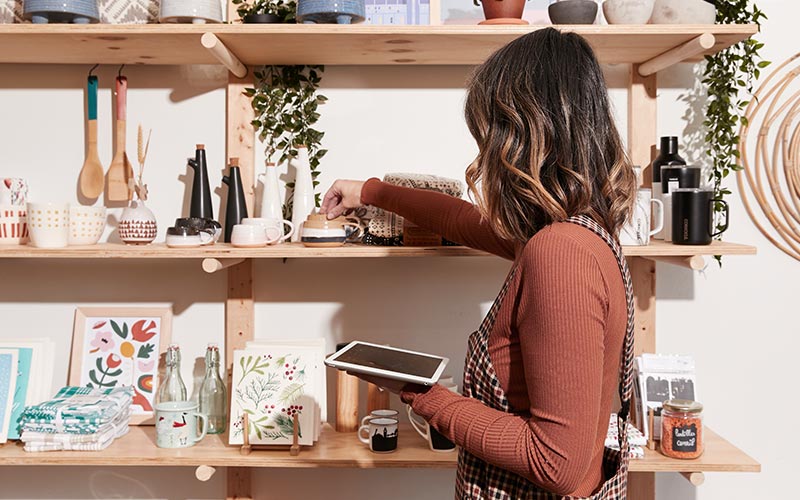 Build an eCommerce presence
These days, it's easier than ever for retailers to sell their goods online. Not only is it easier, but it's practically necessary. 67% of consumers have used buy online pickup in-store options and eCommerce transactions are expected to make up about 20% of all sales by 2024.
By adopting omnichannel retail software, such as a POS that integrates with your eCom store, you'll be able to have your product information sync across both channels in real-time.
Additionally, an ecommerce store paired with your brick-and-mortar presence allows customers to find you in the digital world and the physical one. It helps create an omnichannel experience for customers that can improve revenues and enhance reach.
Set up a marketing strategy
Opening a store is a good first step, but there's no guarantee that 'if you build it, they will come.' Digital marketing is a fast and affordable option that allows you to reach many potential customers. With an Instagram account, Facebook, Twitter and Pinterest, you can generate a buzz about your business before your grand opening event. These are also great platforms to engage with your customers and keep them informed of any special promotions or general communication that could impact them.
Learn More: 14 Marketing and Promotion Ideas for Retail Stores
Put customers first
Remember to put yourself in the shoes of your customers. If you were a customer in your store, how would you want to be treated? Would you want to be greeted when you walked through the door? If there was a problem with a recent purchase, how would you want the company to resolve it or provide compensation for the inconvenience? Good customer service can go a long way; after having a pleasant experience, 77% of customers are willing to recommend you to a friend.
Learn More: 26 Inexpensive Customer Appreciation Ideas
Adapt and stay flexible
When things are working, or working well enough, it's easy to stay the course and avoid taking chances. Rather than sticking with the status quo, keep a close eye on your business, monitor analytics and consistently evaluate opportunities and what they mean for the short and long-term success of your business. With strategic planning, a willingness to adapt and time-saving tools by your side, you'll be well-equipped to set up a retail business.
Looking for adaptable omnichannel software to prepare your business for the present and future? Watch a demo to learn more about how Lightspeed can help.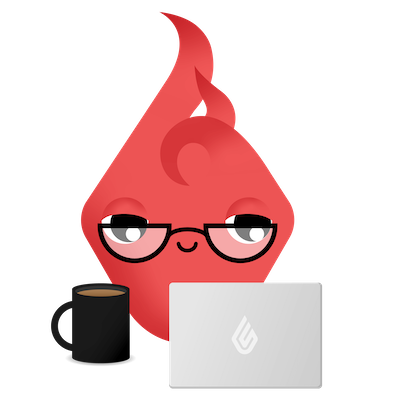 News you care about. Tips you can use.
Everything your business needs to grow, delivered straight to your inbox.