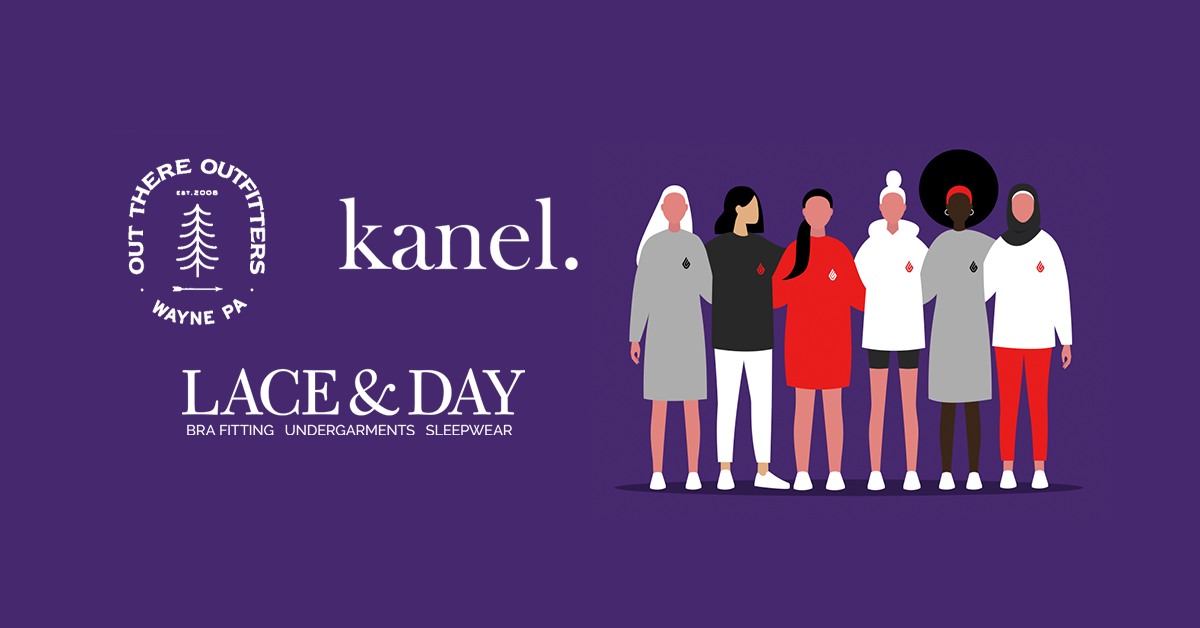 This International Women's Day, Lightspeed is proud to be celebrating women in business. Women-led enterprises help drive the economy, innovate in retail and bring a unique perspective to the business world.
With 4 of every 10 businesses in the United States owned by women, and with Canada on a mission to double the number of women-led businesses by 2025, it's time to make room at the table to hear from the fantastic female entrepreneurs among us.
We sat down with three successful women-led businesses for their perspective on innovating through challenges, and their advice for women looking to do it like them.
See what we learned from:
Out There Outfitters, an outdoor sports retailer leading with confidence in a male-dominated industry
Lace and Day, a lingerie and sleepwear retailer changing how women feel about their bras and their bodies
Kanel, a specialty spice retailer extending their reach beyond their four walls
Women-led businesses are growing faster than ever, but still need support
The number of women heading up established businesses is growing, according to the Global Entrepreneurship Monitor. 6.2% of women worldwide own an established business, compared to 9.5% of men, and the rate of new female entrepreneurs intending to start a business with the next few years is approaching parity with their male counterparts. By all accounts, women are more involved in business than ever.
However, funding and support for women-led businesses are still lagging behind. While resources and communities for women-owned businesses do exist, a study of Canadian businesses found that women are less likely to receive funding than men; firms owned by men are more likely to receive venture capital funding, angel investing, trade credit or capital leasing. Canadian women starting a business make 58% less than men in the same position.
American female entrepreneurs run into much of the same troubles. While there are 114% more women leading businesses now than 20 years ago, 66% still say they have trouble securing funding.
Women are strong, motivated entrepreneurs, working hard to launch businesses and succeed in the small and medium enterprise space. But more needs to be done to support these businesses and inspire women to keep breaking into entrepreneurship.
That's why it's more important than ever to listen to female entrepreneurs on Women's Day and beyond—about their challenges, their successes and how they made it in the face of the odds.
Taking on a retail adventure: Out There Outfitters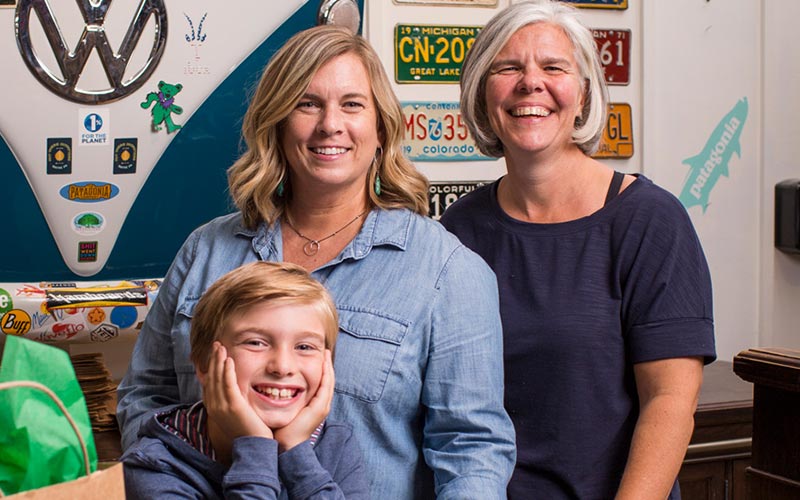 Out There Outfitters is an outdoor sporting goods wear and supplies store based in Wayne, Pennsylvania. Owners Sarah McDonald and Heidi Fenstermacher took over the store in 2018, purchasing it from previous ownership, who had opened Out There Outfitters in 2008.
For Heidi and Sarah, the first year of running Out There Outfitters went well—and then COVID-19 hit, and everything was turned upside down.
But Out There Outfitters is a story of evolution and overcoming challenges. While dealing with COVID-19 shutdowns and social distancing policies was tough for business, Out There Outfitters' dedicated following was ready to step up and support their favorite local outdoor sports retailer.
"We didn't see our community for three months when we were closed," says Sarah, "but it felt like we grew even closer to them during that time." With the support of their community, Sarah and Heidi pivoted their business strategy to incorporate eCommerce and were able to come out the other side strong.
On pivoting for the new omnichannel retail era
Surviving the COVID-19 pandemic has been Out There Outfitters' biggest challenge, and its biggest gain.
Opening an eCom store and going omnichannel has become a way for local retailers like Out There Outfitters to keep in touch with their customers. "COVID did make us take the leap to eCom sales," says Heidi. "Originally, we didn't ever want to do that, because we were really experienced in the brick and mortar retail sense, where you know your customers that come in the door. And with COVID, that just changed." Now that they're up and running, Sarah and Heidi are thankful they made the leap. They're even looking to expand their eCom base beyond their hometown with ad campaigns.
Beyond eCom, Out There Outfitters runs newsletters to keep subscribers in the loop, is active on social media to be a part of their community's lives and hosts virtual 5k runs to encourage outdoor sports enthusiasts to stay active, even when apart.
On advice for taking on challenges as an entrepreneur
Before taking over Out There Outfitters, Sarah built up two decades of management and buying experience, making key relationships and breaking barriers crucial to success. Heidi previously owned a landscape design company, gaining an understanding of design and merchandising. Their knowledge helped them take on the challenge of navigating a retail business through an unprecedented time.
As a women-led business, they're a minority in the male-dominated outdoor sports retail industry—but they're seeing more female store owners join them. Their advice for their fellow female entrepreneurs looking to replicate their success? Go for it.
"When a man is asked to join a board, he often assumes he has something to contribute. A woman often doesn't. I do that a lot," Sarah says. "I knew I could do it, but I had to talk myself into it. You need to believe in yourself more than you're allowing yourself to and just go for it."
"Try to lead with confidence," says Heidi. "Utilize people who have the skills to help you to be more efficient."
Ultimately, according to Sarah and Heidi, you should allow yourself to figure out some things along the way. Things that feel like a huge obstacle always have a solution—and the way forward is to dive in and find out what that solution is.
Making retail fit: Lace and Day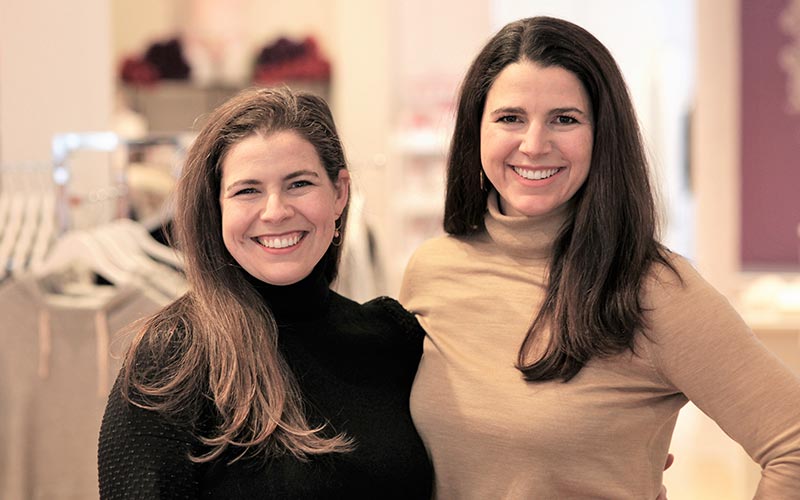 Based in Buffalo, New York, Lace and Day is a specialty lingerie and sleepwear retailer with a focus on expert bra fittings. Owner Emily Constantine Doren started the business in 2015 with her sister, Holly Constantine Ortman.
While both women had previously seen success in the corporate world, they had a particular passion—bras that fit. Emily's past experience working in a bra store taught her that women struggle to find the right bra. "It's a slippery slope from I hate my bra to I hate my boobs to I hate my body," says Emily. "I want to stop that and make people feel better. The confidence from a good bra helps you become the best version of you."
The women of Buffalo responded with enthusiasm. On opening, Lace and Day surpassed their initial sales metrics by leaps and bounds. Their success, and everything they learned, meant they were able to weather 2020 intelligently and come out the other side with new knowledge and strength. Emily and Holly listened to their customers and their needs, and their customers stood behind them in turn.
On adjusting a uniquely personal business strategy to the pandemic
Bra fitting is a particularly personal experience. Prior to the COVID-19 pandemic, Lace and Day's strategy had been focused on in-store contact.
But with the pandemic came shutdowns and social distancing. Lace and Day responded by going online—and not just for eCom sales. They took to social media, even teaching bra fitting virtually so women could still try for a good fit without being able to visit them for advice.
Their customer base responded well. Regular customers would call Emily and Holly up just to see how they were. "We put ourselves out more, and people responded in a phenomenal way," says Emily. They listened to what their customers needed, and shifted their inventory to incorporate more work-from-home styles; more comfortable bralettes took over their sales.
In addition to listening to their customers and adjusting their inventory, Emily and Holly wanted to take the outpouring of energy they were receiving and use it to make a difference. To that end, Lace and Day helped their community pay it forward with the Comfort Project. Customers can sponsor a gift for a local nurse caring for the community through COVID as a way to thank them for all the hard work they're doing on the frontlines.
On succeeding as a women-led business
The lingerie and sleepwear retail industry is a very women-focused industry. Emily and Holly's fellow business owners are more likely to be women as well, though there are a number of men on the purchasing side of things.
Operating a business in a largely female-led industry doesn't mean Emily and Holly haven't seen their share of challenges, however.
Being a working mother means juggling parenthood and the demands of the business. And there can be a lack of societal respect in the perception of retail for women, something that Emily pushes back against. "We won an award—and we were very excited about it—but it was Best Indulgence. At what point did owning a properly fitting bra become an indulgence? It's not an indulgence to have undergarments that fit you properly."
For other women looking to break into retail amongst the challenges, Emily says it's important to stay positive. "Be friendly. Don't be cutthroat," she advises. "You're going to go farther if you build positive relationships. Find your mentors, find your peers, find your communities and collaborate with other businesses."
Appetizing retail potential: Kanel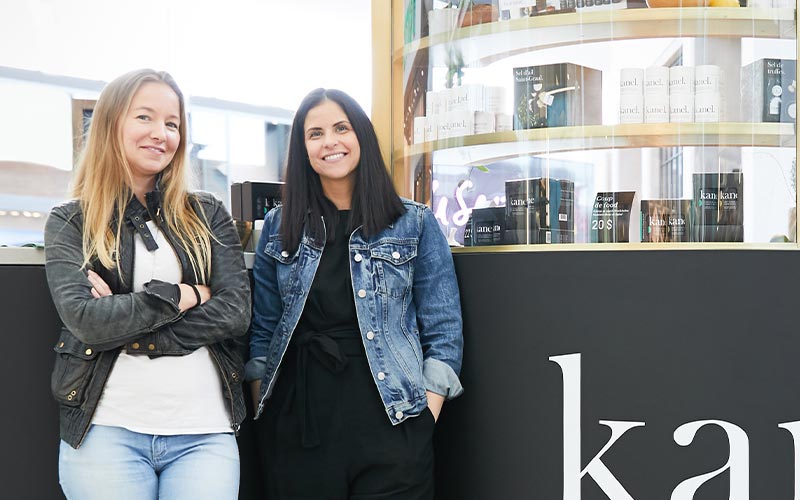 The saying goes that necessity is the mother of invention, and the need to make delicious meals in minutes is what drove this time-strapped mom to come up with the idea for Kanel Spices. Before having kids, Kim Wiseman was passionate about creating elaborate recipes and blending her own spices. But after the birth of her little ones, she had less and less time for creating flavors from scratch. She turned to grab-and-use grocery store spice blends, but those left a lot to be desired. And so, Kanel was born, specializing in premium seasonings and sea salts with no fillers, hidden allergens, or preservatives.
"I couldn't help but notice that the average spice blend had a lack of taste and freshness—and an abundance of fillers," says Kim. "I saw an opportunity that would make my life and the lives of many others easier and more delicious."
Kim tapped her friend and fellow entrepreneur, Camille Traill, to launch Kanel and fill the spice gap. Since launching in 2018, the company has become a big hit among Canadians looking for an easy, healthy way to eat without compromising on flavor.
On responding constructively to business challenges
Like many small businesses, the COVID-19 pandemic was challenging for Kanel—but the team took charge to ensure the uncertainty of the situation could transform into an opportunity. Kim and Camille took the chance to diversify their business and strengthen Kanel's omnichannel footprint.
"Our biggest opportunity on that front has been recreating our unique, personalized in-store experience in a digital space," says Kim. Selling Kanel blends online means finding ways to bring a sensory experience to customers that have potentially never smelled or tried the Kanel product line. "We've been investing in tools to enhance customer communication and education, and we're optimistic about building a best-in-class online experience for our community."
Kanel spices are a part of a lifestyle, and so Kim and Camille are looking to make that experience clear and accessible to customers on their site. The Kanel webshop doesn't just sell spices, salts or a selection of local, artisanal kitchen tools—it offers customers delicious recipes they can follow, too.
In addition to fine-tuning their eCommerce approach, the pandemic was a push to expand wholesaling their products. Busy home chefs can pick up Kanel blends from not only Kanel's webshop or Quebec City brick and mortar store, but from retailers across Canada.
On entrepreneurship and succeeding as a woman-led business
Operating a women-led business has its challenges. There are gender gaps in obtaining funding, and a lack of access to childcare presents a significant challenge to many female entrepreneurs.
Paying it forward can help uplift fellow female entrepreneurs, and as a culture, we can do more to show women they have a place in business. "On a societal level, we need to normalize female entrepreneurship and instill a sense of confidence in women early on to show them that entrepreneurship is viable and within reach. Female entrepreneurs are creating jobs and fueling the economy, we should be celebrating this loudly and inspiring future generations," says Kim.
"As we've grown our brand, the support and inspiration we received from other women has been invaluable. And now, it's gratifying to be in a position to support other women that are just starting out," remarks Kim.
Kim has advice for women wanting to be in her position: put in the hours and work harder than you've ever worked before, be passionate and obsessive about your product and customers, and stop finding reasons not to take the plunge! The past year has shown that being adaptable and listening to and responding to what customers want is absolutely critical.
From Kim and Camille's experience, it's also important to be on the frontlines when you're launching your business, not sitting at a desk behind the scenes. Not only are you the best ambassador for your brand, but you'll gain critical insight to understand what's working (and not). Building a community by connecting with customers makes it worth the while.
We can all support women-owned and led businesses this Women's Day
We'd like to issue a call to action—this March, make it a priority to shop at women-owned businesses around you to celebrate Women's Day. Our local businesses are the heart of our community, after all! Support starts at home.
If you're a female entrepreneur using Lightspeed, we want to tell your story. Please reach out to us using the form on this page so we can celebrate your success.
News you care about. Tips you can use.
Everything your business needs to grow, delivered straight to your inbox.