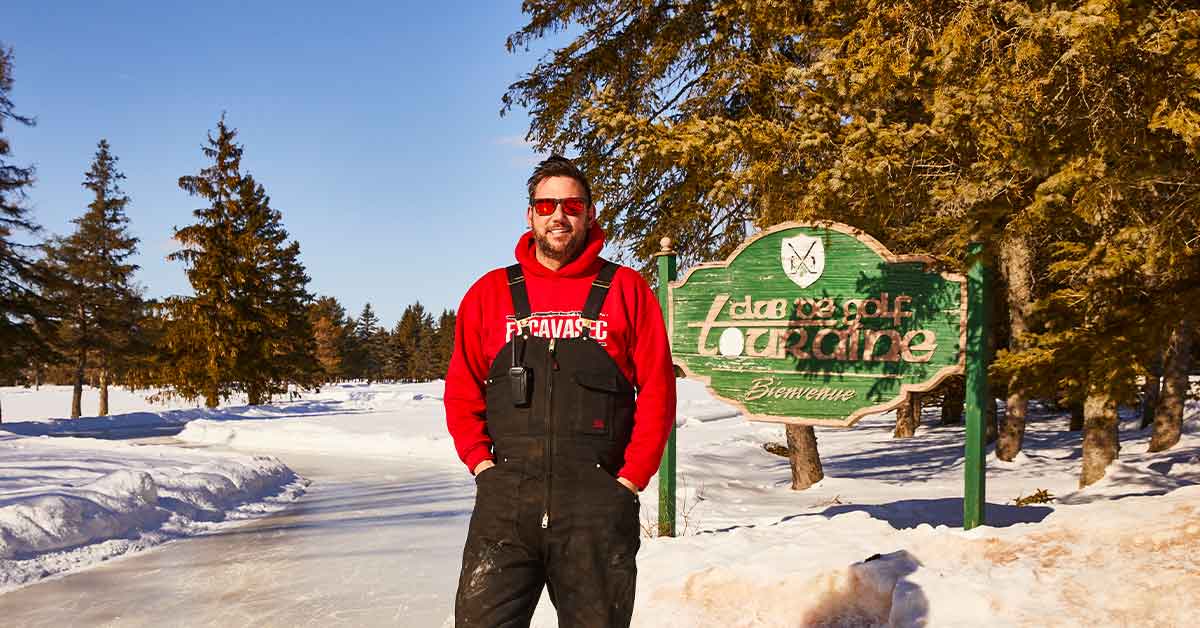 The 2020 season was full of surprises and challenges for the entire golf industry. Many facilities were very concerned with the pandemic at first, but in the end, the golf industry had its best years in recent history. Many facilities had a season filled with overwhelming demand and an unprecedented wave of new golfers. However, if there's one thing last season has taught golf operators is that it's important to be flexible and find new ways to generate revenue. This is especially true for northern golf courses as the golf season is much shorter due to cold weather.
Golf La Touraine is a semi-private 18-hole facility located in Gatineau—just a few minutes away from downtown Ottawa. As the unpredictable 2020 season ended, the new owners were trying to figure out a way to have people on the course year-round. And of course, being a Canadian golf course, the first thing that came to mind was opening up a skating rink. To learn more about their initiative, we sat down with Carl Chenier, owner of Touraine Golf Club, to discuss their newest initiative.
(This interview has been edited and condensed for clarity)
How did this project come to life?
Chenier: At first, our plan was to build a small ice rink for friends and family and if everything went well, possibly open it up to the public next season. Doing so would allow us to practice creating a quality surface and familiarise ourselves with the workload and logistics. I had never built one before and I do not skate either so I didn't want to open up to the public if I wasn't able to supply a quality product—I'd rather wait and have something nice to offer than try to rush things and receive negative feedback.
After a trial period, we received tremendous feedback from our loved ones and we were able to maintain a good surface quality so we decided to move forward and expand the skating surface. We started off by stretching the ice rink by half a kilometre and to our surprise, it didn't compromise our ability to maintain a quality skating surface. Once that was done, we opened our doors to the public and branded our new business as "Le sentier du petit Pingouin". We were blown away by the response—we never thought we'd attract so many people from our community. Consequently, we decided to ever further expand our skating rink which is now 4.5 kilometres long and crisscrosses through the entirety of our 18-hole facility.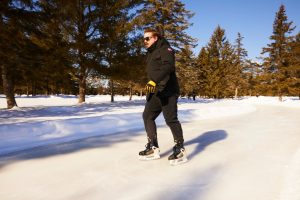 What inspired you to make this rink?
Chenier: As I previously mentioned, I'm not a skater so obviously this idea didn't come during a eureka moment while strapping on a pair of skates. I was inspired by another golf course, about one hour away from ours, that does something similar at their facility. I also know that there are a number of golf courses across the province of Quebec that have ice rinks during winter. I thought this was a great idea and the perfect way to get the whole family outside—especially with the limited number of activities offered during the lockdown. Skating is one of those activities that can be done in groups of people of different ages and skill levels without compromising the level of fun which is refreshing because that isn't always the case for golf.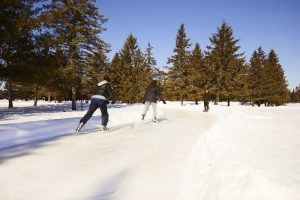 What kind of challenges did you face when pivoting your business?
Chenier: We faced a number of challenges when pivoting towards an ice skating facility. First off, once we decided to expand the skating surface and open it to the public, we needed to act very quickly as optimal winter conditions only last a few weeks which was a challenge in itself. In addition, making a quality skating surface was also a challenge due to our inexperience—there was a lot of trial and error and learning from our daily mistakes.
Another thing that was a little harder for us was the lack of snow caused by a mild winter in our region. A lot of snow is needed to make the base and when we first started, there were only a few inches on the ground. To resolve this issue, we had to upgrade the way we worked and fortunately for us, we were able to borrow equipment for the entire winter from friends and family. However, even with this helping hand, we had to invest in some machinery such as a Zamboni to ensure we had a smooth surface.
Did you encounter any marketing issues with attracting a new customer base?
Chenier: Our marketing is quite basic for the time being, we just have a simple Facebook page. However, we did make sure that we posted frequently and had quality content to share with our audience. I started off by shooting a drone video that gave an overview of our skating rink. That was probably our best move because that video alone got over 30,000 views on Facebook which skyrocketed the number of people that liked our page. I also shared this video with a few local groups so the word was getting out pretty quickly.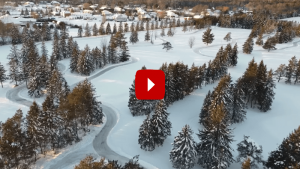 While the drone footage was an unexpected success story, this was our first year attempting this type of initiative and we didn't want to make a big deal out of it before we ironed out our little kinks. We didn't want to have hundreds of people on the first day and encounter any issues that would tarnish what we were trying to do for the community. We were still able to attract an impressive amount of people but most of them came organically or through word-of-mouth.
Did you feel the local community appreciated your project?
Chenier: Yes, I was happily surprised by the overwhelmingly positive feedback received—I never managed a business that brought so much joy to the people from my community. Some people even took the time to write me personal messages to thank us. I even received letters from members of our local government to applaud our facility's initiative.
Do you think this initiative will have a positive impact on your golf business?
Chenier: We have had some of our regular golfers come down to the skating rink—time will tell if this also translates the other way around. To be quite honest, our facility isn't the most popular in the area so being top-of-mind year-round is definitely good for us. If people have a positive experience skating at our facility and like how our management team operates, they might be tempted to come back during the summer and give our golf course a try.
Do you see this becoming an annual tradition?
Chenier: Absolutely! While this project was very time-consuming and we spent countless hours trying to figure out how to make this work, we are getting pretty good at it. I'm also extremely lucky to have such an outstanding crew. Our staff, they don't just come into work, they genuinely enjoy what they're doing and they constantly strive to better themselves. The positive response we received from our community is also very motivating and incentivizes us to keep it going. We strongly believe the enthusiasm towards our initiative transcends the pandemic and will persist for years to come.
With the pandemic gone, we will also be able to improve the customer experience. We plan on allowing people to go inside the clubhouse so they can change, eat and warm up on cold days. This year, we made a big fire pit and installed a food stand that sold coffee, hot chocolate and beaver tails to help endure the cold but nothing quite compares to a heated clubhouse. While we will keep these installations next year, people will also have the ability to sit down comfortably inside and spend more time at our facility.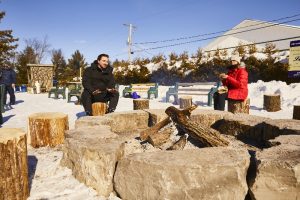 What advice would you give to other golf courses that are looking to reinvent their offerings?
Chenier: Staying up to date with industry trends and listening to customer input are definitely the most important things to do. The previous owners of the golf course were very old-fashioned in the way they operated which forced us to adopt modern technology to quickly adapt and set ourselves up for the future. Once we adopted the Lightspeed Golf system we quickly saw that we could use the Online Booking feature for the ice rink as well. We're always trying to improve our customer experience and we can't wait to try out all of Lightspeed Golf's features during the golf season.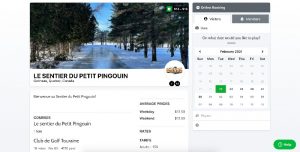 Is there anything you'd like to add about your experience/golf course?
Chenier: The only thing I would like to say is that, since we're the new owners of the golf course, we will implement many improvements to our golf course next season. We want to bring back the golf course to its former glory and make Touraine Golf Course a centrepiece of our community. There's a lot of work to be done both on the course and inside the clubhouse, but we feel we'll be able to reach our goals through customer feedback and the use of powerful management technology.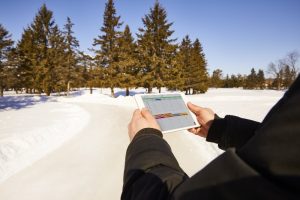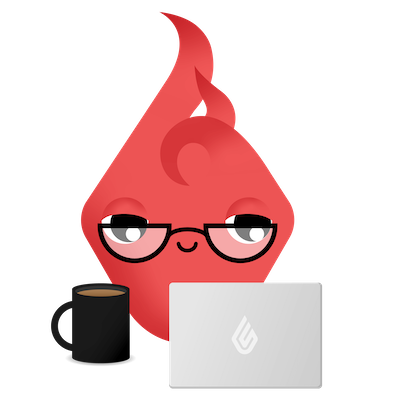 News you care about. Tips you can use.
Everything your business needs to grow, delivered straight to your inbox.