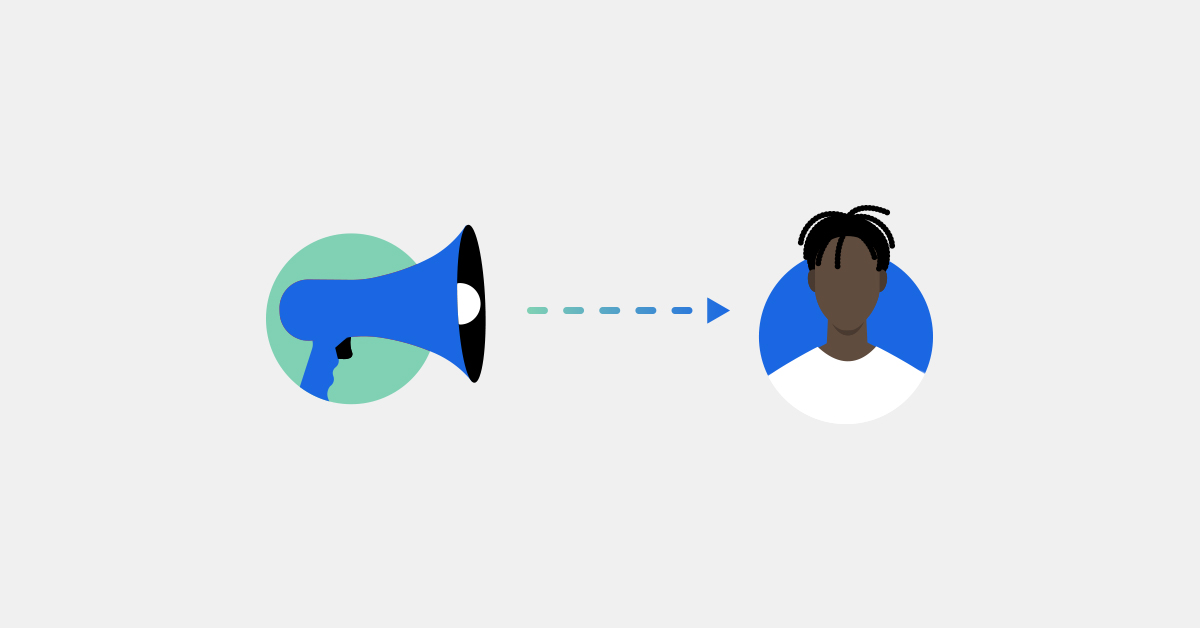 In the not-so-distant past, if you had a business idea and wanted to make your product a household name, your best bet was to go through the biggest resellers in your industry.
Want to launch a fashion label? You'd hope that Macy's or Bloomingdale's would make room for you on their sales floors. Have a food product that's going to revolutionize how people eat? You better get the attention of buyers at Safeway or Whole Foods.
These resellers acted as gatekeepers, and quashed the dreams of many budding businesses. And even when they got a purchase order from buyers, brands had little control over how their products were sold and would rarely get access to customer data.
The rise of ecommerce and digital marketing platforms, however, enabled businesses to skip the reseller and reach their customers directly. The advent of direct-to-consumer (DTC) brands led to a new type of marketing that would help these companies engage with customers: DTC marketing.
In this guide to DTC marketing, you'll learn:
Run your store smarter
Let's face it, the retail world is evolving fast. Our free guide can walk you through the steps to future-proof your business and keep it thriving.
What is DTC marketing?
DTC marketing stands for "direct-to-consumer marketing" and refers to marketing strategies used by businesses that sell their products directly to customers, circumventing middlemen resellers like department stores and third-party online retailers. Examples of such strategies include social media, email marketing, influencer marketing and having a retail presence.
It can be helpful to compare DTC marketing to a more traditional marketing method: B2C marketing. B2C marketing stands for "business-to-consumer marketing" and refers to resellers promoting their vendors' products to customers.
In a B2C business model, brands sell their products through third-party resellers. When it comes to B2C marketing, the resellers are responsible for also promoting these products. DTC marketing, on the other hand, is done directly by the brand and allows for access to customer data.
DTC marketing strategies
The most successful DTC brands take an omnichannel approach to marketing: one that's implemented across various channels, including offline marketing, social media, mobile and more. Consider implementing as many of these marketing tactics as possible.
Retail stores
Many DTC brands start out by selling online. After they gain a loyal following, opening a retail store is a logical next step for connecting with customers and gaining new fans. Stores are an excellent DTC strategy that exposes your brand to new customers who walk by and may not be familiar with you otherwise.
Where should you open your first store? Check your ecommerce platform data to see where most of your customers are concentrated, then look for commercial spaces there.
Pop-ups and experiences
Pop-up shops, temporary experiences, and events are great DTC marketing tools for testing how well your business would do in a new market before committing to a permanent store. They also boost business. Research shows that the limited-time nature of retail experiences, and the promise of exclusive products, drives purchases.
Capitalize on this buzz by creating photo ops at your events and pop-ups to entice shoppers to take selfies and spread the word about your brand with friends.
Influencer marketing
Many of the most successful DTC brands have collaborated with social media influencers or have had celebrities photographed using their products. Influencer and celebrity endorsements can give your brand a seal of approval that will make customers covet it.
On a budget? Most influencers expect payment to share your products with their audiences. However, some influencers may feel compelled to give you a shout out if you give them free products that they love.
Social media
Posting regularly on social media is one of the best ways to stay atop customers' minds. While you should definitely have an Instagram presence, experimenting with TikTok is also worthwhile, especially if you want to reach younger audiences.
Social media is also a great tool for engaging with customers. Use Instagram Stories' polls and Q&A features to crowdsource ideas for new products and get feedback on existing products.
Email marketing
While social media has its place in DTC marketing, email marketing is even more important because it doesn't rely on algorithms that limit who sees your messages. Send regular updates to a general audience and send targeted messages to specific segments of your email list.
For example, if you sell 30-day supplies of laundry detergent, send reorder reminders to customers who have this product a week before they run out. Most email marketing platforms can automate this reminder for you.
Advertising
Beyond organic direct-to-consumer marketing strategies, there's also value in investing in paid advertising. Use data from your POS and ecommerce platform to see what kind of media your customers consume, then look for advertising opportunities accordingly.
For example, if your customers spend two hours each day scrolling on Instagram, you should invest in social media ads via Facebook's Ads Manager (you can set up ads for both Facebook and Instagram through here). Or, if your customers listen to political radio programs, consider recording audio commercials and sponsoring relevant podcasts or live programs.
Examples of successful direct-to-consumer marketing
Take inspiration from the marketing successes of these real-world DTC brands.
Warby Parker
The idea for Warby Parker was born when one of the eyewear brand's co-founders lost his glasses on a backpacking trip and couldn't afford to replace them. The founders realized the eyewear industry was controlled by a monopoly, which could demand prices with crazy markups.
In 2010, Warby Parker began manufacturing affordable-yet-stylish frames and selling them online directly to consumers. Three years later, the business opened its first store. Today, Warby Parker is a classic DTC success story.
Warby Parker's most successful direct-to-consumer marketing strategy has been building a strong, recognizable brand that's synonymous with great style and great value. Its home-try-on program and virtual try-on app have also helped differentiate the business.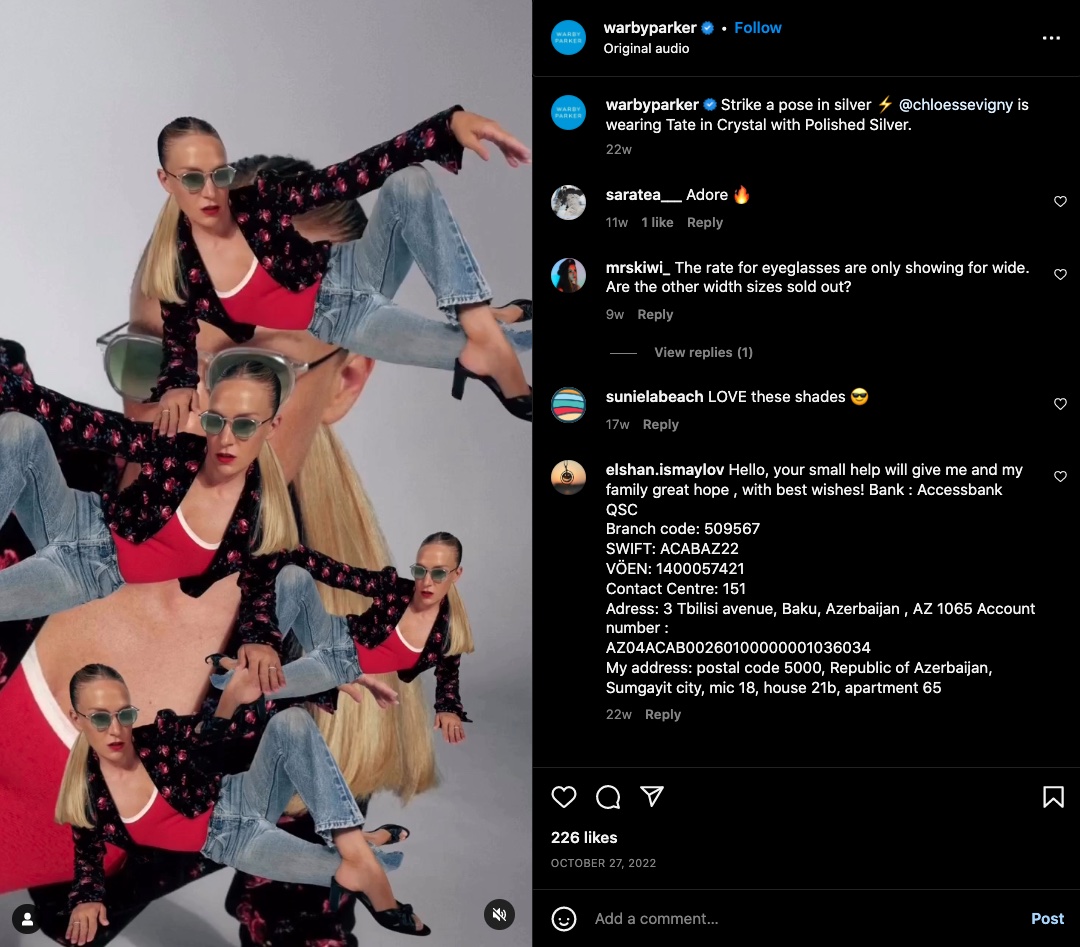 Celebrity collaborations, like this one with actress Chloë Sevigny, are another DTC marketing tactic Warby Parker employs.
Glossier
After Emily Weiss's beauty blog, Into the Gloss, gained a cult following, she capitalized on its success and built beauty brand Glossier. What started out as an online-only DTC brand now has stores around the world that often garner long queues to get in.
A refreshing focus on emphasizing natural beauty has resonated with Glossier's Millennial and Gen Z customers and is a big part of its marketing success. Beyond word-of-mouth referrals from customers, Glossier spreads the word through their instantly recognizable pink pouch packaging and collectible stickers that come with each purchase.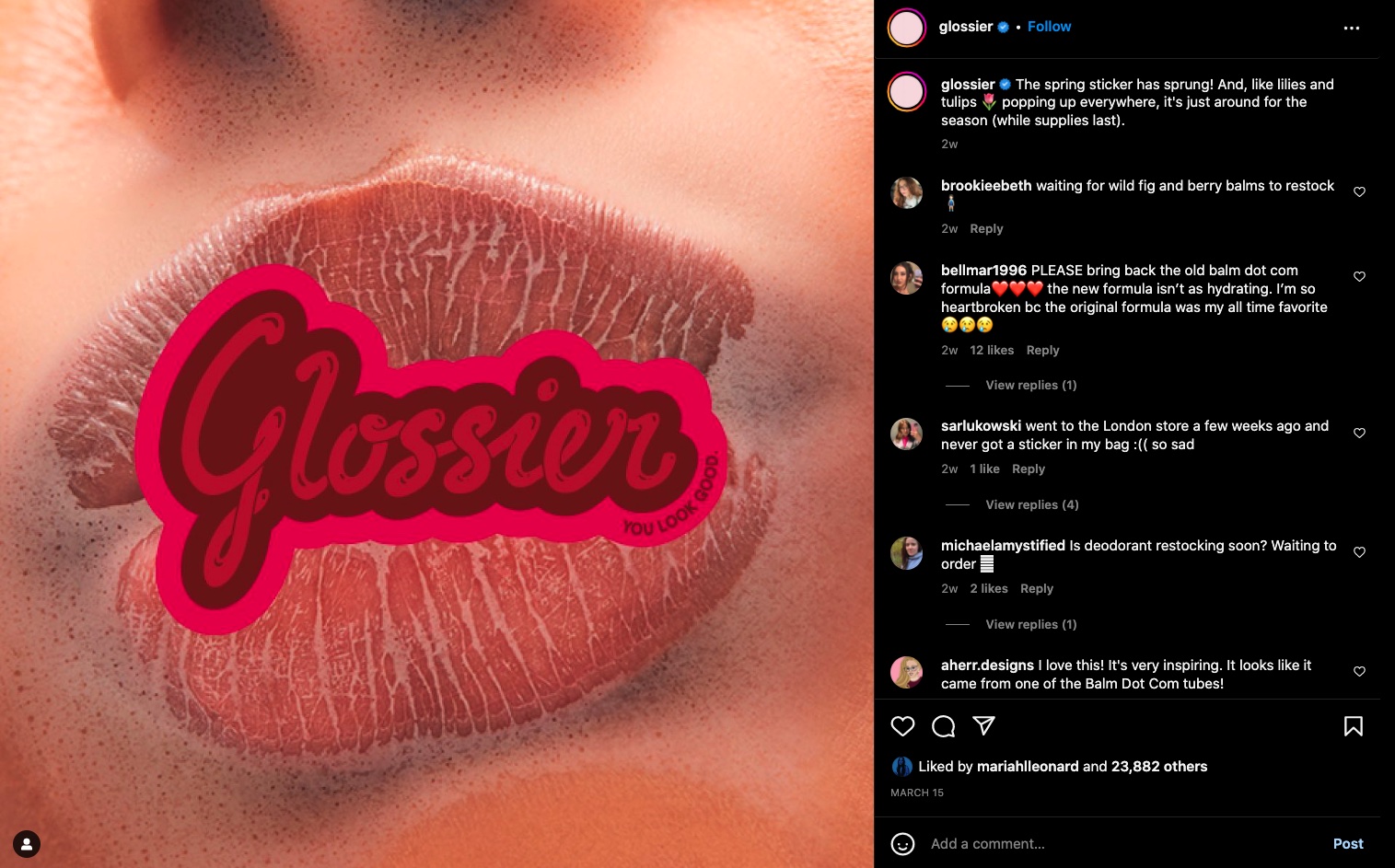 Glossier releases new stickers each season.
Challenges of DTC marketing
Promoting a direct-to-consumer brand can be a rewarding endeavor, but it comes with plenty of challenges. Consider these obstacles before diving into the world of DTC marketing:
Expensive
Challenge: When you spread the word about a DTC brand, you need to build brand awareness from scratch, because you're not latching onto a recognizable department store or retailer.
Solutions: Some ways to overcome this challenge include crowdfunding and working with investors to gather the money you'll need to invest in marketing. Another option is to get creative with low-cost guerrilla marketing ideas.
Risky
Challenge: Because you don't have resellers to rely on, the brunt of getting the word out about your brand relies on your internal team and resources. You need to educate customers about your products and explain their value to keep customers coming back for more.
Solution: The best way to mitigate the risk of DTC marketing is to take an omnichannel approach. Implement every DTC strategy available to you and adjust after you see the ROI of each channel.
Vulnerable to imitation
Challenge: If an established reseller catches wind of your products' successes, it's all-too-easy for them to copy them and drive you out of the market. After all, they already have the brand-name recognition and financial resources to do what you're doing.
Solutions: The best way to beat the competition is to be better than they are. Invest in the quality of your products and on building a brand, not just a product, that people are loyal to. Obtaining patents is another way to protect your business from imitation.
The future of direct-to-consumer marketing
Ecommerce technology and digital marketing platforms have made it possible for businesses to target customers directly and forgo the middleman altogether. This direct connection to consumers gives brands the ability to collect data about customers and give them more of what they want. DTC marketing will continue to take a customer-focused approach.
Another prediction is that DTC brands that have already established reputations independently of third-party retailers will begin using resellers as part of their marketing mix. For example, DTC sustainable fashion brand Reformation has partnered with Anthropologie. The women's clothing retailer will carry Reformation's clothes in its stores and on its website. DTC brands are entering the traditional retail landscape on their own terms and after establishing themselves as household names.
Lightspeed's suite of POS, ecommerce, and marketing solutions can set your direct-to-consumer brand up for success by helping you get to know your customers and better understand your business. Start your free trial today.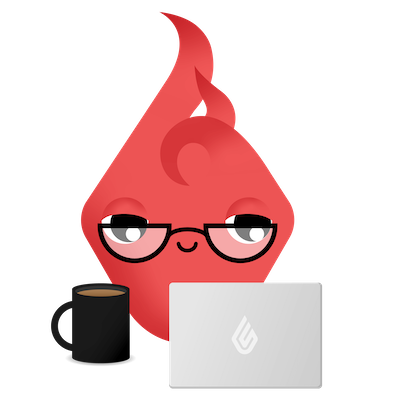 News you care about. Tips you can use.
Everything your business needs to grow, delivered straight to your inbox.