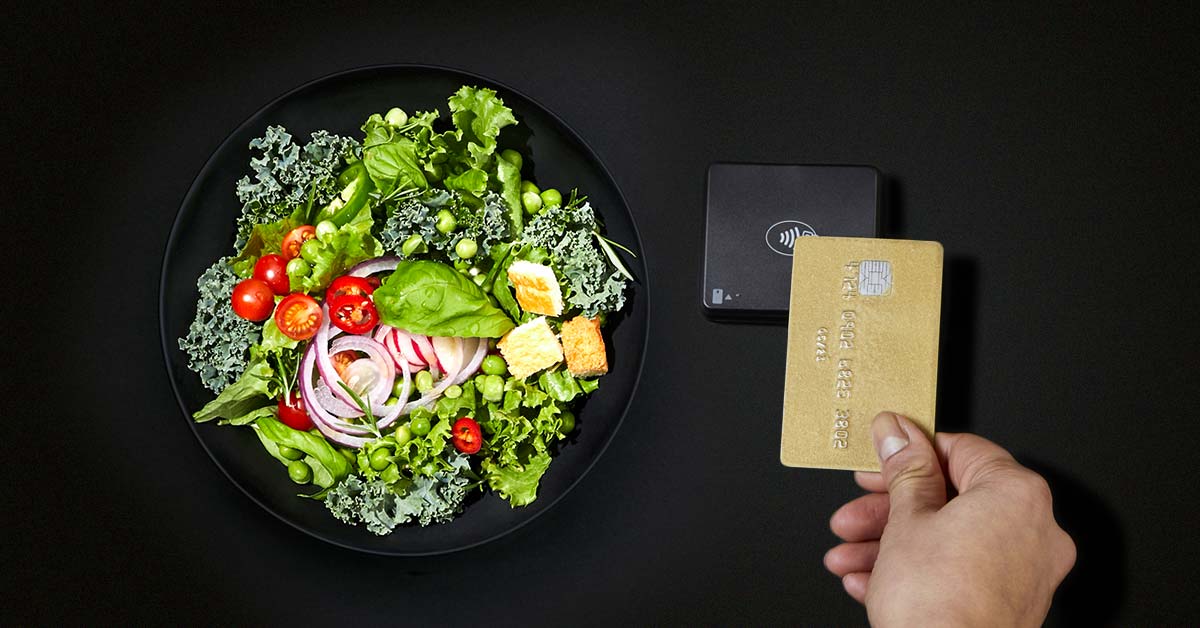 When cloud-based point of sale (POS) systems first emerged, they were met with resistance from restaurant industry purists who worried that technology would reduce the hospitality experience by making it less personable. However, as the industry traded their cash registers and old school POS systems for cloud-based ones, they could no longer deny their positive impact on the industry.
COVID-19 has accelerated the potential next step of the restaurant industry's digital transformation: contactless dining.
Restaurants had to pause on-premise dining and focus on delivery and takeout. Savvy restaurateurs introduced curbside pickup and contactless delivery to accommodate social distancing. As restaurants around the United States and Canada start to welcome guests back for restricted on-premise dining, they're implementing creative ways to limit contact between guests and staff and actively demonstrate their commitment to safety and sanitation.
The question is, is contactless dining just a phase to get us through the pandemic, or is it here to stay?
We're exploring the contactless dining trend with input from restaurateurs from around the United States and Canada. Keep reading to learn:
Reinvent your business for the future
While the hospitality sector reopens across North America, owners and operators face a whole new set of challenges. Download our free playbook and learn how to build a more resilient business post-pandemic.
What is contactless dining?
Contactless dining minimizes physical contact between restaurant staff and guests by facilitating social distancing to help slow the spread of COVID-19.
According to a McKinsey survey, seven in 10 consumers don't feel ready to participate in activities outside of their homes like they did pre-pandemic.
According to a McKinsey survey, seven in 10 consumers don't feel ready to participate in activities outside of their homes like they did pre-pandemic.
Contactless dining can "bring back some of that normality," said Coupa Cafe Co-Founder JP Coupal. "It gives people a taste of that old experience while minimizing contact and helping them feel comfortable."
Contactless dining mitigates diner worries by creating an environment that reduces the risk of COVID-19 transmission by keeping interactions to a minimum.
Is contactless dining new?
While it seems like contactless dining arose out of the need to cope with COVID-19, it has actually been around since the late 19th century.
The world's first waiterless, automated restaurant opened in 1895 in Berlin. The "automat" was the first incarnation of the contactless dining experience. Quisisana served sandwiches, coffee and wine through vending machines.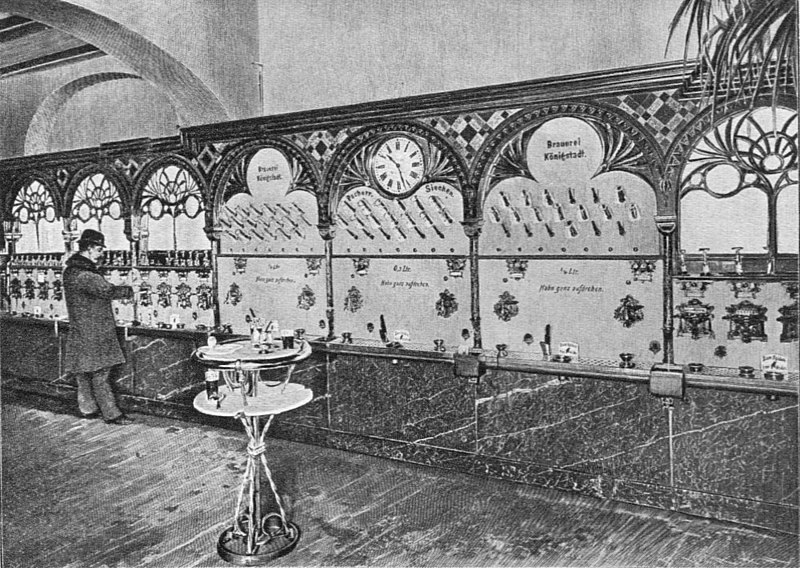 Image of Quisisana, circa 1895
The automat concept rapidly gained popularity around Europe and eventually made its way to the United States. America's first automat, Horn & Hardart, opened in Philadelphia in 1902. It expanded to New York City and eventually grew to more than 100 locations.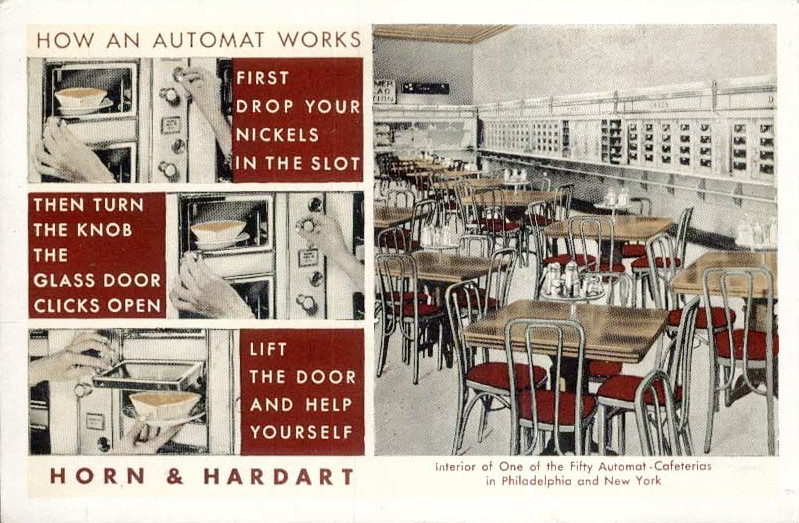 Image of Horn & Hardart, circa 1902
The automat concept eliminated the need for waiters. The only front-of-house staff with whom guests interacted were the "nickel throwers" who sold meal tokens. Back-of-house staff refilled food lockers.
The rise of fast-food chains and other societal changes led to the eventual demise of automats in the United States and Europe. Horn & Hardart closed their last restaurant in 1991.
30 years later, the COVID-19 pandemic is causing restaurateurs to explore balancing contactless dining solutions like the ones that automats provided with the face-to-face, interpersonal service that customers love.
The state of contactless dining in 2020
While many restaurateurs are in a rush to create a contactless dining experience, others had plans for contactless dining long before the pandemic.
Restaurateur Stratis Morfogen wrote the business plan for an almost fully automated dumpling shop a year ago. When it opens in September, the Brooklyn Dumpling Shop will resemble an Amazon locker pick-up location. The idea for a modern automat originally appealed to Morfogen because it eliminated the need for front-of-house staff. With lower labor costs (one of a restaurant's biggest expenses), the restaurant would have a greater chance of long-term survival.
While the financial viability of an automat appealed to Morfogen first and foremost, the concept became a clever strategy in more ways than one when the pandemic spread.
"I wanted to go a step further when COVID did strike," Morfogen explains. "We added UV lights that splash each locker after they're used".
UV lights are just one component of Brooklyn Dumpling Shop's Zero Human Interaction (ZHI) concept. Morfogen also came up with an unobtrusive solution for conducting customer temperature checks.
"I converted a metal detector into a thermometer. I took a metal detector and removed all of the elements that detect metallics and put thermoscanners on it," he explained. You can see how it works in Morfogen's Instagram post.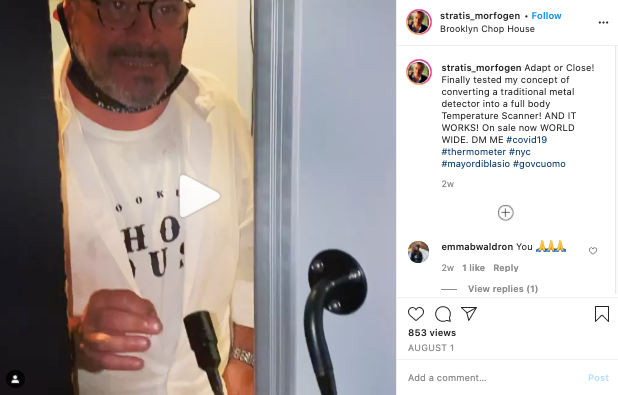 Stratis Morfogen tests his newly-developed thermoscanner
While the Brooklyn Dumpling Shop is an extreme example of what contactless dining could look like, it shows how technology can facilitate such an experience.
Types of contactless dining solutions
Contactless dining has come a long way since the automat and in a relatively short time. It's no longer just a novelty concept; it's necessary for the longevity of the restaurant industry.
So what modern options do restaurateurs have for contactless dining? There are plenty of options available to restaurateurs along the entire guest journey, notably online order-ahead.
Contactless off-premise dining: delivery and takeout
92% of restaurant transactions are happening off-premise, as diners see delivery and takeout as safer alternatives to on-premise dining.
Restaurateurs can minimize contact via delivery and takeout by accepting payments and tips online or over the phone, and by letting customers provide instructions for where and how delivery drivers can drop off food.
Learn the right way to offer delivery and takeout
Now more than ever, consumers are turning to delivery and takeout, but many restaurants are reluctant to embrace those sales channels because of potentially lofty service fees and increased operational complexity. Download our playbook for a detailed look at how to support delivery and takeout and boost off-premise sales.
Curbside pickup to limit person-to-person contact
The Bay Area's Coupa Cafe chain recognized the value of curbside pickup early on during the pandemic.
"When the shelter in place order kicked in, we enabled a functionality [on the Coupa Cafe app] called 'curbside.' It's very similar to pick up but the difference is it prompts customers to enter their vehicle details," explains Co-Founder JP Coupal. "That way, when the order gets submitted, we know that we have to take it out to the customer. They don't even have to leave their car."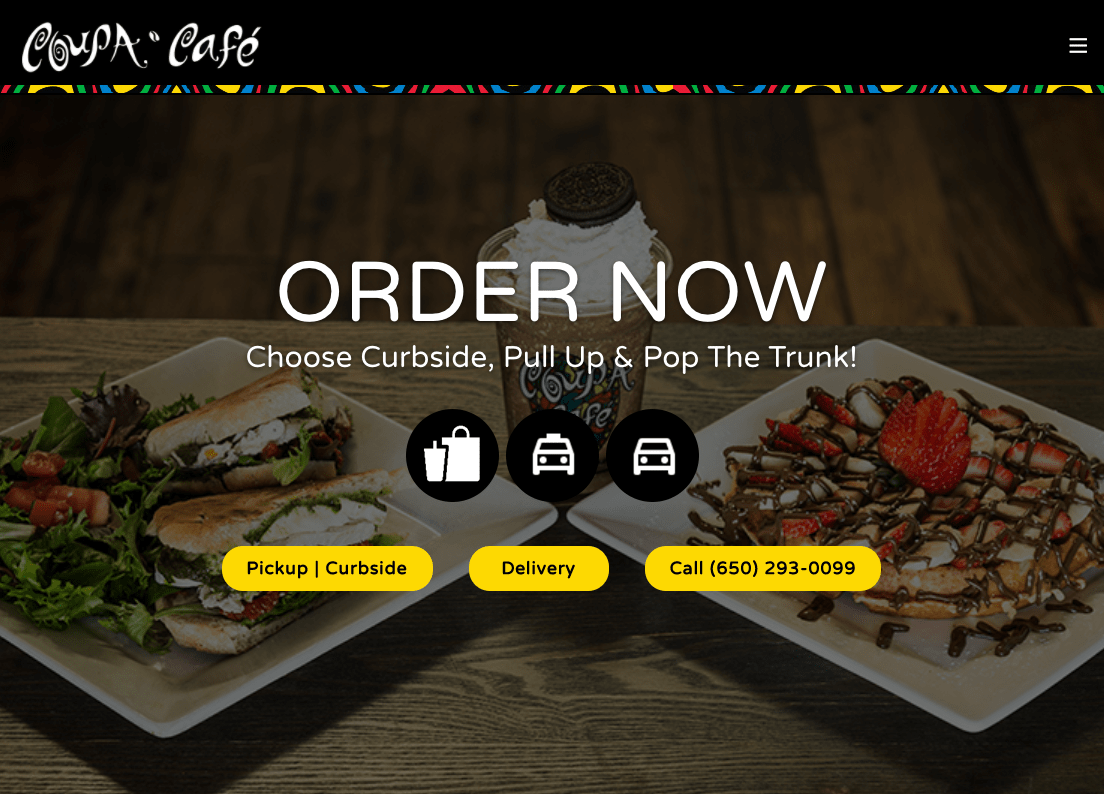 Contactless menus and ordering
QR codes make it possible for customers to see their options without touching reusable menus. Takeout or dine-in guests can use their phones to scan QR codes to pull up menus. Some restaurants have taken this feature further by enabling on-site guests to order and pay from their phones.
Coupa Cafe recently implemented a QR code system that lets guests place and pay for orders on-site without interacting with staff.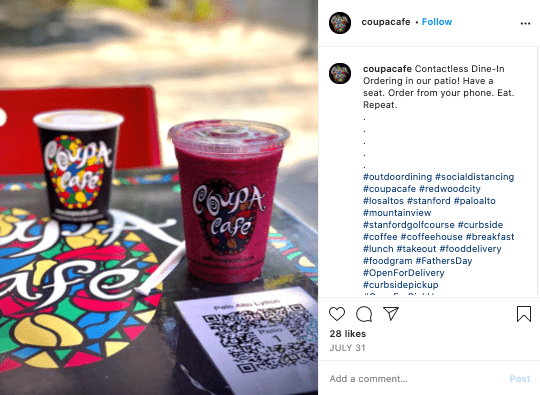 "You can sit at a [socially distanced] outdoor table and scan the QR code [found on your table], which loads our menu [on your phone]," Coupal explains. "As soon as you submit the order, it automatically submits the order into our POS system the same as if you were standing at the register and being rung up by a cashier."
"The only contact is the hand-off of the food, which lasts maybe five seconds. It's a great way of giving people that cafe experience without needing to come into the cafe to order," he says.
Contactless payments
It takes up to nine minutes—and multiple interactions between staff and diners—to close out a tab. With contactless payments, contact between staff and customers is removed and tables turn over more quickly.
On-premise contactless payments for FSRs can be accomplished via a QR code. Barcelona Wine Bar, a full service tapas restaurant with several locations around the United States, has tailored their dine-in experience for COVID-era dining. This experience includes scanning a QR code to place and pay for orders.
Contactless payments are also beneficial for takeout. Let's say that a customer places a curbside pickup order but didn't pay ahead of time. Instead of coming into the restaurant to give the cashier their card or cash (which would defeat the purpose of the curbside concept), a server could bring the guest their meal and let them pay with a quick tap or swipe through a mobile payment processor.
Contactless payments reduce friction and person-to-person interactions.
Is contactless hospitality a paradox?
Is hospitality possible when you remove human contact? We asked restaurateurs their thoughts.
JP Coupal of Coupa Cafe says that while today's restaurant experience isn't the same as it once was, contactless dining gives people a taste of the hospitality that they're used to while keeping safety top of mind.
"Safety is the number one priority right now," he says. "You are losing that contact with our staff, but you still get to see them for the 5-10 seconds that they deliver your product to your table. [Contactless dining] is necessary at this moment and the whole point is to do business in the safest way possible."
Coupal says that the measures his cafes are taking to make guests feel safe through contactless dining gives them an advantage over the competition.
"I think if we give [customers] that confidence [by offering] contactless dining, people will be like, 'I'd rather go to Coupa Cafe than someplace else because they have these [contactless] options, and they seem to be running things in a safer way. They're minimizing my contact."
Stratis Morfogen of the Brooklyn Dumpling Shop says, "technology should be there to assist hospitality."
"I need to know the dining habits of Mr. Jones. He likes a martini with two olives. I want that martini with two olives at his table as soon as he sits down. I can only know that with technology. I can't remember 600 customers a day. [Technology] should never take over hospitality, but should assist in fine dining. In QSR, it should make [running a restaurant] more cost-efficient."
Overall, technology can enhance the hospitality experience, even while guests and diners keep their distance from each other.
Is contactless dining in your future?
The restaurant industry is often reluctant to change. Restaurateurs doubted that machines would help them make better decisions than they were to make them on their own. The widespread adoption of cloud-based POS systems proved them otherwise. Staff were suddenly free to focus on service., not back-end logistics.
Contactless dining is the next wave of the digital revolution for restaurants. Contactless dining can help create time and room for serving guests in new ways that emphasize hospitality. Instead of focusing on merely taking orders, servers can focus on customizing the experience or accommodating special requests.
Hospitality can be shown online, over the phone or in person. The restaurant industry must continue to adapt and innovate to customer needs to stay relevant.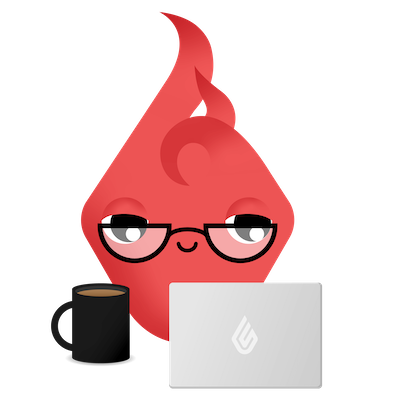 News you care about. Tips you can use.
Everything your business needs to grow, delivered straight to your inbox.