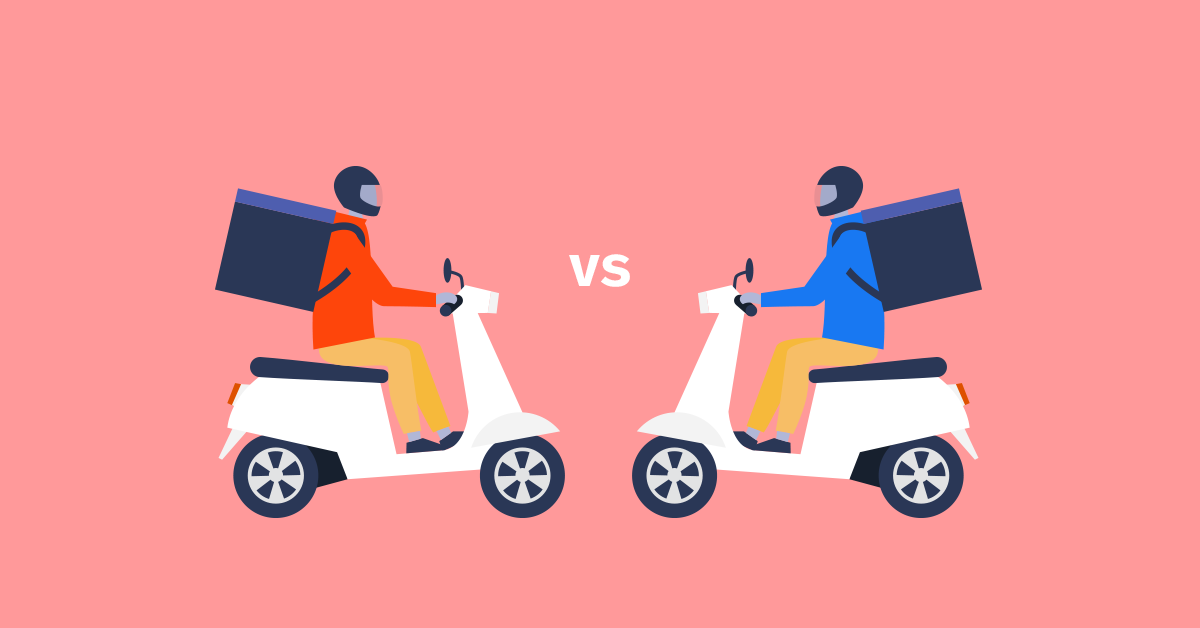 The onset of COVID-19 and resulting lockdown restrictions have put the debate over offering in-house delivery versus using third-party providers into stark relief for restaurant owners. With a record number of restaurants forced into offering delivery if they weren't already, the question of which delivery model is better is on the mind of most restaurant owners and operators.
Reports of delivery services listing restaurants without their permission and some cities capping delivery fees to protect restaurants have not helped the third-party delivery cause. But many restaurants depend upon the revenue generated by these platforms for their survival. And the popularity of these services among consumers coupled with the level of venture capital investment pouring in suggests they are filing a genuine demand for convenience.
Market data from Statista sees both delivery types growing relatively evenly. With direct-to-consumer delivery maintaining a larger share of the market.
To help you decide whether to hire your own drivers and take control of the entire delivery experience or partner with one or more delivery providers, we talked to restaurant owners and delivery partners to get the pros and cons from each side. There's also a third option of a hybrid delivery model, where restaurants seek to get the best of both worlds of each model while avoiding their less desirable aspects.
Learn the right way to offer delivery and takeout
Now more than ever, consumers are turning to delivery and takeout, but many restaurants are reluctant to embrace those sales channels because of potentially lofty service fees and increased operational complexity. Download our playbook for a detailed look at how to support delivery and takeout and boost off-premise sales.
Third-party delivery platforms
Third-party delivery services offer convenience to both customers and restaurateurs by connecting them via technology platforms. The biggest advantage for restaurants is the ability to quickly get set up and outsource the entire delivery process with little or no upfront investment.
Although it's a highly competitive environment, restaurants also benefit from exposure to the platform's audience of hungry patrons. What the restaurants give up for access to that audience is a portion of their profit margin which, for many restaurants, are already razor-thin.
There is also an issue of the quality of service, delivery times and the integrity of the food when it arrives. Given that many of the delivery couriers are gig-workers that aren't incentivized to provide excellent service, many restaurant owners prefer to take control of the entire experience as a means of quality control.
Greg Kwan, Head of Corporate Affairs at Deliveroo, which operates across Europe, Asia, and Australia, claims the platforms help restaurants achieve ambitious goals. "Restaurants who partner with Deliveroo see their revenue increase by up to 30%, helping them and their suppliers grow and expand, creating thousands of jobs in the restaurant sector," he says.
He argues services like Deliveroo help restaurants "reach new customers, generate more orders and increase their revenues, all contributing to the creation of new jobs for chefs, restaurant staff and owners. It also saves on manpower and allows them to focus on food creation."
Many restaurateurs avoid high-margins and service issues by using smaller local delivery platforms. These are more community-focused and attempt to offer restaurants a better quality of service. Adam Mortensen represents a smaller delivery partner which takes less of a margin on each order than the larger players.
"Restaurants that have high margins can generally absorb the cost of delivery platforms that charge 20-30% or higher," he claims. "However most smaller restaurants don't have that large of a profit margin. So picking delivery platforms with lower costs provides long-term, sustainable services. Additionally, different platforms have other features that may offer additional benefits that can help restaurants."
It makes sense for larger chains to fulfill their high order volume with delivery platforms. And for small businesses, it's a question of the tradeoff between the costs involved on either side, the control over service quality and the resources required to manage the added operations involved.
Third-party delivery service pros
Easy to set up and start taking orders

Reach more customers without the marketing spend

Ability to fulfill more orders at busy times
Third-party delivery service cons
Highly competitive environment on the platforms

Reliance on platforms is risky

Operations complicated with orders coming from multiple platforms
Best for:
Larger chains and franchises with high margins and high order volumes

Fast food outlets with the ability to fulfill a high volume of orders

Takeaway restaurants with the potential to reach millions of homes
In-house restaurant delivery services
Offering your own delivery service presents a fundamental tradeoff between control over the delivery process in terms of speed, service, and quality, and the fixed and variable costs of running it yourself.
Many customers prefer to cut out the middleman and order directly from restaurants. But if you deal with a high volume of delivery orders, providing an in-house delivery service means a big upfront investment in staff and vehicles and means operating a completely different type of business with more logistical considerations.
So for a busy restaurant, operating your own delivery service on top of day-to-day operations is a drain on time and resources. But it allows you to have complete control over the customer experience, from the order coming in, to when the customer receives it.
This is a double-edged sword as it also means that you are solely responsible for not letting standards slip at busy times. You must cover the ongoing costs of the delivery drivers and running and maintaining the vehicles, but you don't have to give up a portion of your margin on each order.
Another benefit is that you have access to the customer data which can be used for retargeting and promoting loyalty with a rewards program. For restaurants looking to build a strong relationship with their local customers, this is a major plus.
Michelle Bouzid is the chef and owner of the 30-seat Lebanese restaurant Little Sito, located between Toronto's Bloorcourt and Koreatown dining hotspots. Michelle has experience of using a variety of delivery apps and found that they didn't work well for her restaurant.
She says that in general the restaurant rarely got complaints, but with the delivery partners, that changed. "It became an exercise in frustration for me to deal with people who were upset, but they'd never stepped foot in our restaurant," she claims.
She adds: "Besides I was losing money on every order. There was a 30% commission and we don't even have a 30% profit margin."
Michelle explains that she used the platforms despite knowing this because she thought the restaurant would benefit from the exposure and the expanded reach of the platforms. But she says, "I realized there isn't much of a reach after a while. They put you on the front page for a while, then you're getting three orders a night and it's just not worth it."
"Now the majority of our orders come in through our website," she continues. "We keep all the money except for the processing fees, I have complete control over the menu changes and specials, pictures, etc. I don't need to email someone with my menu changes and get them approved."
Michelle admits that there are chaotic moments, but she says, "On busy nights we're bringing more people in to help with the packing and labeling, so it's getting smoother."
On the question of running your own delivery service on top of everyday restaurant operations, she says, "It was easier than I thought, but we're not running a huge operation. Our sales are edging up towards 40% of where they were. So basically I'm really happy."
David Thompson, owner of Valley Pizza in Golden Valley, Arizona, has been working with pizzerias for over 50 years. He believes in-house delivery is the best approach, especially for small businesses.
"The only good way to deliver is to have delivery people who work as independent contractors," David claims. "They make whatever the delivery charge is, plus any tip. If you form a co-op with other restaurants, that might work also. You have to start out like all pizzerias do, with the owner delivering, until they have enough deliveries to get a delivery guy. It's the only way that works."
In-house delivery service pros
No loss of margins

Own the delivery experience

Keep customer data and maintain direct relationships with customers
In-house delivery service cons
Cost of setting up and running delivery service

Ongoing upkeep of vehicles and management of drivers

Risk of being overwhelmed at peak times
Best for:
Smaller restaurants that want to control the customer interaction from start to finish

Neighborhood restaurants with a loyal customer base

Small town restaurants where the customer relationship is paramount
Montreal-based restaurant Alma recently launched an online ordering option on their website using UEAT. Naming their virtual restaurant Tinc-Set, their venture into the takeout space has come with positive results. We sat down for an interview with co-owner Lindsay Brennan to learn from her experience getting started with off-premise sales, the challenges she's faced and how she plans to grow her business with that model. Read the full story here!
What about a hybrid delivery service model?
While it's a useful exercise to list out the pros and cons of each model, the reality for many restaurant owners is some kind of hybrid model in which they offer their own delivery service alongside using one or more ordering apps.
This might sound even more complicated and there is a risk that it becomes a complete mess. But set up in the right way with the right tech stack, this model could give you the best of both worlds: the reach and capacity of the larger platforms at busier times and the ability to offer a personal touch to those that want to order directly.
There are many restaurants that offer takeout, curbside pickup, order-ahead and delivery options on their website, but partner with third-party delivery services to leverage their couriers. The advantage of this model is that restaurants can own the ordering experience through their website while outsourcing the logistics of delivering orders. There are many ways to blend the benefits of in-house and third party delivery services, but this is certainly one of the most popular.
Choose the best option for your restaurant
Many factors are at play in this debate. Which is better, selling through third-party delivery apps, launching your own ordering platform on your website, or maybe a mix of both?
The size of your operation will have an impact on your decision, as will the volume of orders, the amount of capital you're able to comfortably invest in delivery and the nature of your business. Ultimately, you'll have to decide how the tradeoffs between the pros and cons of each model stack up. Ask yourself how each model fits with your ethos and the needs of your customers.
Generally speaking, small and higher-end restaurants may benefit more from keeping delivery in-house, while casual, quick-service restaurants that deal with a higher volume of orders may find third-party delivery partners are the best option.
Do the legwork, talk with third-party delivery service representatives as well as reps for white-labeled website delivery platforms and determine which delivery options are best for you. When you're ready to get started, read our guide on how to implement delivery and takeout service to assure you're launching the right way from the get-go.
Regardless of how you choose to support delivery orders, you need your point of sale system to triage incoming orders from either your website or third-party apps, just like it would for orders from the dining room. Talk to our team of restaurant experts to learn how Lightspeed, our POS integration, will streamline your delivery order workflow and assure you can scale off-premise sales without increasing operational complexity.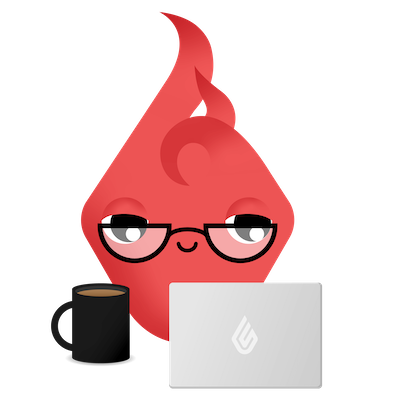 News you care about. Tips you can use.
Everything your business needs to grow, delivered straight to your inbox.