9 Restaurant Startup Costs to Budget For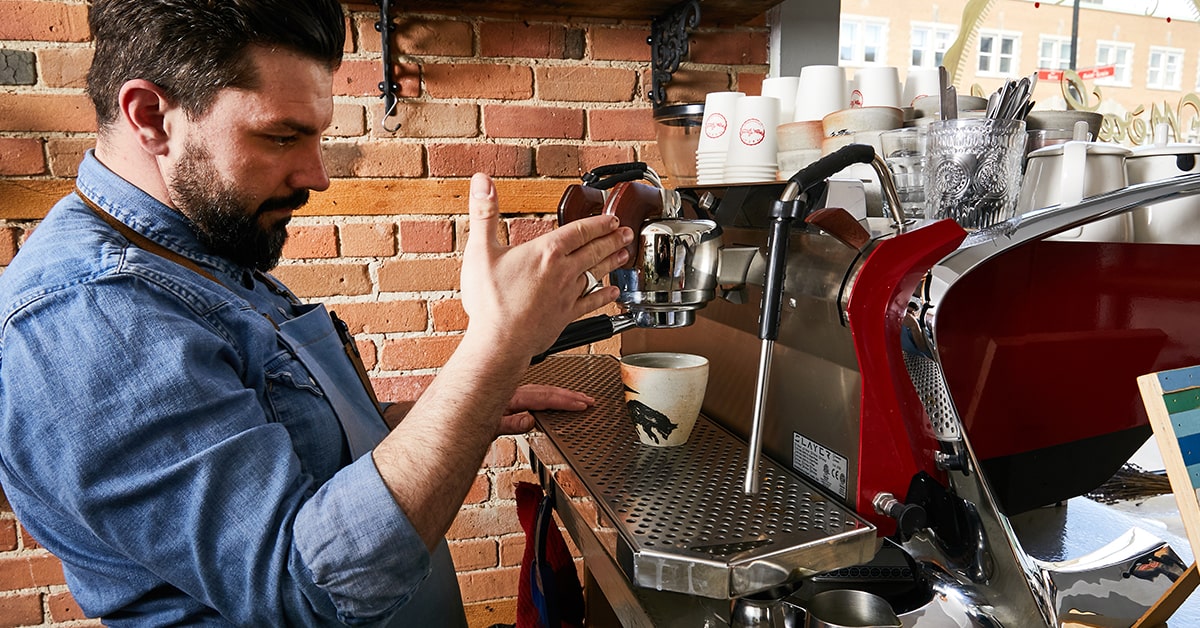 Did you know that it costs an estimated half a million dollars in startup costs to open a restaurant?
For most people with dreams of opening a restaurant, that's a lot of money. Aspiring restaurant owners need lots of resources—their own and borrowed—to get their dream off the ground.
While some restaurant startup costs are obvious, others aren't. As a result, inexperienced restaurateurs overlook them when they create their initial budgets, which can cause budget constraints down the line. In fact, insufficient operating capital and poor financial planning were cited by restaurant experts as one of our 12 reasons for restaurant failure.
That's why we spoke with experienced restaurant owners and consultants to curate a list of the top nine restaurant startup costs to plan into your initial budget.
Commercial space
Kitchen supplies and equipment
Furniture
Franchise fee
Technology
Staff
Inventory
Operational licenses and permits
Marketing
Want to run your restaurant at full speed?
Learn more about Lightspeed's complete restaurant management system
1. Commercial space
There are two ways to secure a commercial space for a restaurant: leasing and buying.
When you sign a commercial lease, you'll need to commit to several years of occupancy at once and pay a refundable deposit—usually three to six months' worth—to secure your spot.
So how much should you save for a deposit? Well, that depends on where you're setting up shop.
The average rent for a restaurant space in downtown Los Angeles, for example, is $2.95 per square foot. For a 2,000-square-foot space, this rate translates to $5,900 each month. In this scenario, you'd need to have between $17,700 and $35,400 for a deposit.
If you're buying a commercial space you should expect to pay a downpayment of between 15% and 35%. A space valued at $1 million, for example, would require a $150,000 to $350,000 down payment.
Once you secure a space, you'll need to make some renovations to either fix up the space, customize it for your restaurant's concept, or both. Renovation costs vary greatly depending on how much work needs to be done.
Lastly, don't forget to set aside money for utilities like electric, gas, internet, etc.
2. Kitchen supplies and equipment
You can't run a restaurant without proper equipment. Your biggest expense in this category will be kitchen appliances.
Most commercial kitchens need at least a fridge, stove, oven, fryer and preparation surfaces. Expect to spend several thousand dollars on these major purchases.
You'll also need to stock up on table settings—dishes, silverware, glasses, linens, etc. Depending on the quality and quantity of table settings, you could need anywhere from several hundreds of dollars to several thousands of dollars for this investment.
3. Furniture
When it comes to furniture, you'll need tables and seating for the dining room and bar furniture.
You'll also need lighting and decor to complete the space. You don't need to hire an interior designer to make your restaurant look great. With some creativity and elbow grease, you can achieve great design on a budget.
We love looking for cool DIY restaurant and bar decor ideas on Pinterest. Oftentimes, you can find something that looks great and that you can achieve on a budget.
4. Franchise fee
If you're opening a franchise, you'll need to pay a franchise fee to license the restaurant's name and intellectual property. McDonald's, for example, charges a $45,000 franchise fee, while Cold Stone Creamery's franchise fee begins at $12,000. Contact your franchise's corporate headquarters to learn more about its fees.
5. Technology
Modern restaurants need technology to operate efficiently. Tech helps restaurants run more efficiently by automating processes and collecting data that can help optimize both front-of-house and back-of-house operations. You'll need both software and hardware to run a successful, modern restaurant.
Restaurant software
Restaurant hardware
iPads

for your POS, online ordering tools and kitchen display systems – current models start at $329

Payment terminal

– prices vary greatly

Receipt printer

– $100+

Cash drawer

– $20+
Expect to spend at least $1,000 purchasing new hardware for your restaurant and set aside about $400 each month for software licenses.
6. Staff
Don't forget to include labor costs in your restaurant's startup expenses. Since the restaurant won't be profitable immediately, it's wise to have the equivalent of several weeks of payroll saved up.
Not sure how much staff to hire from the outset? Your staffing needs will depend on your service style and the size of your dining room.
A quick-service restaurant will need more back-of-house (BOH) staff than front-of-house (FOH) staff. Nestle Professional recommends one FOH employee per shift for every dozen tables and one BOH employee per shift for every dozen customers at this type of venue.
At full-service restaurants, Nestle recommends one FOH employee for every five to six tables and one BOH employee for every dozen tables.
Double up on staff at fine dining establishments, where the focus is on attentive, personalized service.
7. Inventory
You can't open a restaurant without food. Stock up on non-perishable goods, like pantry items, soft beverages, and liquor, in bulk. Purchase perishable items, like produce, meats, and dairy products, on a regular basis. You can spend anywhere from several hundreds of dollars to several thousands of dollars on your initial inventory.
8. Operational licenses
In order to legally operate a restaurant, you'll need to obtain certain licenses and permits. Since licensing requirements can vary from state to state and even city by city, check your local regulations to make sure that you're covered.
Most municipalities require restaurants to have a food service license. This license is governed by the local health department, which will stop by your restaurant from time to time to ensure that your kitchen is up to code. Food service licenses cost between $100 and $1,000.
If you plan to serve alcoholic beverages at your restaurant, you'll need a liquor license. These licenses can take up to six months to be approved, so don't wait until the last minute to apply for one. A liquor license can cost between $12,000 and $400,000.
Any employee who works with food in your restaurant will need a food handler's permit, which ensures that they know how to safely handle and store food. In the United States, a food handler's permit costs between $100 and $500 and can be obtained online in most municipalities. In Canada, the cost and process vary by province.
Other permits and licenses that you might need to open your restaurant include a business license, certificate of occupancy, sign permit, building health permit, live entertainment license, music license, resale permit, dumpster placement permit, seller's permit, and valet parking permit.
For more information on all the licenses and permits you need to open a restaurant, how much they cost and how to get them, we suggest reading our blog that covers the subject in depth below.
9. Marketing
Build it and they will come…right? Unfortunately, it's not that simple. Your brand new restaurant will need marketing help to draw customers on opening day and beyond.
Not setting a budget for marketing and PR is an oversight that many new restaurateurs make. You'll need someone who can create your restaurant's website, manage its social media presence, respond to customer reviews, run direct mail and email marketing campaigns and work with influencers.
How to raise funds for restaurant startup costs
While the magnitude of these nine restaurant expenses varies from concept to concept and city to city, one thing is clear: it costs a lot of money to open a restaurant. Do you have enough cash to open the restaurant you've been dreaming of?
If not, you're not alone. Most restaurateurs don't have enough saved up to self-fund a new restaurant, so they have to get creative with fundraising. Here are several ways to raise the funds you need to open your restaurant:
Go to friends and family
In any kind of business, most entrepreneurs ask friends and family for funds before seeking formal loans from banks or investors.
The upside of approaching friends and family is that you have existing relationships based on trust, so you probably won't need to pay interest when paying them back. The downside is that money can cause tension when it comes between family and friends.
Get a small business loan
The U.S. Small Business Administration (SBA) connects aspiring entrepreneurs to lenders who understand the challenges that small business owners face. The SBA "reduces risk for lenders and makes it easier for them to access capital."
Bring on a business partner
You may have substantial savings, but they may not be enough to fund a restaurant. Consider teaming up with a business partner who has cash and expertise in an area where you fall short. As with any business agreement, draw up the terms of your partnership in a contract to protect yourselves legally.
Seek investors
Investors aren't just for tech companies. Look for local investment firms that have supported restaurants you admire. Don't approach investors without a rock-solid business plan and pitch deck. When investors see that you have a strong vision, they'll know you mean business.
Crowdfund
Open your restaurant up to good-willed members of the public through crowdfunding. Create a page on Kickstarter and offer investors incentives for funding your dream.
Most restaurateurs can't afford to start a business on their own. Find a fundraising method that works for you.
Restaurant startup costs checklist
Opening a restaurant is an exciting venture…and an expensive one. Use this restaurant expenses checklist to plan for and create budgets for each of these key investments.
Space – Budget $________

Kitchen equipment and supplies – Budget $________

Furniture – Budget $________

Franchise fee – Budget $________

Technology – Budget $________

Payroll – Budget $________

Initial inventory – Budget $________

Licenses and permits – Budget $________

Marketing – Budget $________
If you need more money to open your restaurant, approach friends and family, seek out a small business loan, pitch investors, find a business partner or run a crowdfunding campaign.
Best of luck in your entrepreneurial endeavors!