Restaurant
Off-Premise Alcohol Sales: What Restaurants & Bars Need to Know about Cocktails-to-Go and Liquor Delivery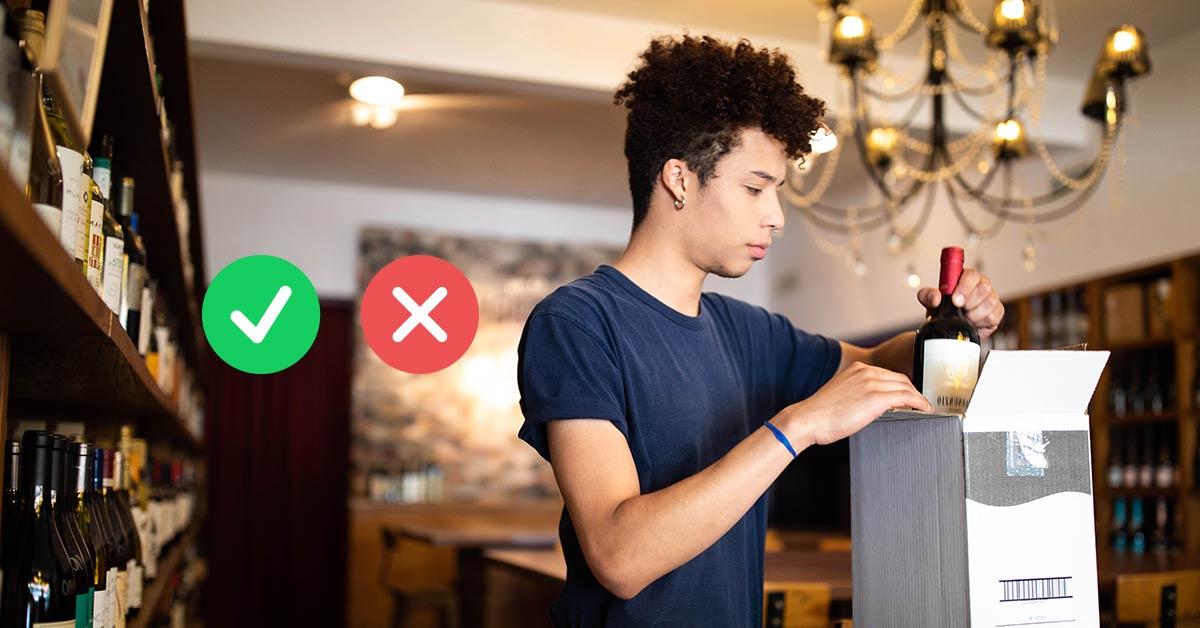 Last updated on September 22, 2020.
There have been strict rules and regulations tied to selling alcohol in the United States and Canada for as long as anyone can remember.
Restaurants and bars have to go through complicated—and often expensive—processes to get a liquor license. And even when venues have these licenses, they are limited in when, where and how they can serve alcohol.
But when the COVID-19 pandemic hit North America in the spring of 2020 and forced restaurants to shut down their dine-in services, lawmakers eased restrictions on off-premise alcohol sales and alcohol delivery services. In many states and provinces, restaurants and bars were allowed to sell alcohol with takeout meals and even offer liquor delivery services for the first time.
While consumers could have purchased alcohol from liquor stores, most don't carry the private labels restaurants do. Consumers started buying alcohol from restaurants and bars not only to support them through the pandemic but because they carried inventory that traditional liquor stores didn't.
"It was an incredible thing to see people just wanting to support you. You can tell people were coming on purpose to make sure you made it," said Brian Grummert, co-owner of New York City cocktail bar Subject, in a phone interview.
Restaurants and bars also offered something that liquor stores did not: fresh, gourmet cocktails. And so, thanks to the easing of restrictions, bars and restaurants began selling cocktails, beer, and wine for takeout and delivery.
If you want to introduce this exciting new revenue stream to your business, you've come to the right place. This guide to off-premise alcohol sales and liquor delivery can help.
Keep reading for exclusive insights from New York City's top bar owners and bartenders on:
Learn the right way to offer delivery and takeout
Now more than ever, consumers are turning to delivery and takeout, but many restaurants are reluctant to embrace those sales channels because of potentially lofty service fees and increased operational complexity. Download our playbook for a detailed look at how to support delivery and takeout and boost off-premise sales.
What are the rules for off-premise alcohol sales?
While the rules and regulations for off-premise alcohol sales vary from state to state and city to city, there are some overarching trends.
Liquor vs. only beer and wine
In the United States, some states (like Alaska and Idaho) only allow off-premise beer and wine sales, while others (like California and Massachusetts) also allow off-premise liquor sales.
Most Canadian provinces allow liquor, wine and beer sales.
Container requirements
In most parts of Canada, restaurants and bars can only sell unopened alcoholic beverages. This rule means they can't make cocktails and sell them unless they're factory sealed.
Regulations vary greatly stateside. In states like Delaware and Connecticut, restaurants can only sell alcohol for off-premise consumption in their original, sealed containers. In California and Colorado, where takeout cocktails are allowed, restaurants have to seal cups with tape and can't place straws in them.
Food with purchase
In most Canadian provinces, customers can only buy alcohol to accompany their food takeout or delivery order.
In the US, though, the rules are less consistent from state to state. For example, New York and California require customers to purchase food with their alcohol orders, while Arizona and Delaware don't.
What counts as "food" varies, and most laws are vague with their definitions.
Subject's Brian Grummert explains how difficult it was for his business partner, co-owner Leslie Feinberg, to get clarity on this when New York's governor mandated a food-with-purchase rule.
"Leslie called the [New York Liquor Authority] on the day that Governor Andrew Cuomo said you have to serve food to everyone. She got through and talked to this awesome woman who was just really honest and said, 'look, decisions are made fast in response to the situation as it evolves. I don't have all the answers, but I can tell you what I know so far."
So Feinberg asked a series of yes or no questions and found out that chips, wings and nachos didn't count towards the new requirements, but French onion soup, sandwiches and hot dogs did.
Check your provincial, state, city, and local laws and check them often, as they are subject to change. The National Restaurant Association's list of off-premise alcohol sales rules is a great resource, as it's updated regularly.
How to run a successful alcohol delivery service
Here's how to set up and run a successful off-premise alcohol sales revenue stream.
1. Choose your drink menu wisely
Create a beverage menu that is easily transportable and will entice customers to order from you instead of making drinks at home.
Create an attractive cocktail menu that travels well, has some surprises and also includes fan-favorites.
"We did a lot of testing to figure out what was gonna both look the best and travel well," said Ali Martin, head bartender of New York City cocktail bar the Up & Up, in a phone interview. "Stirred drinks are the way to go," Martin advises, for a longer shelf life and better experience when drinks aren't being consumed immediately.
Create your menu in minutes
You don't need to be a designer (or hire one) to create a beautiful menu. Download your free, easily-customizable menu templates today.
The menu at New York City's Amor Y Amargo, a cocktail bar and bitters tasting room, translated well into its new takeout format because everything on the menu was already shelf-stable. How? Their drinks don't use perishable mixers like fruit juices. Instead, they're made solely of alcohol-based components like liquors, bitters and shrubs.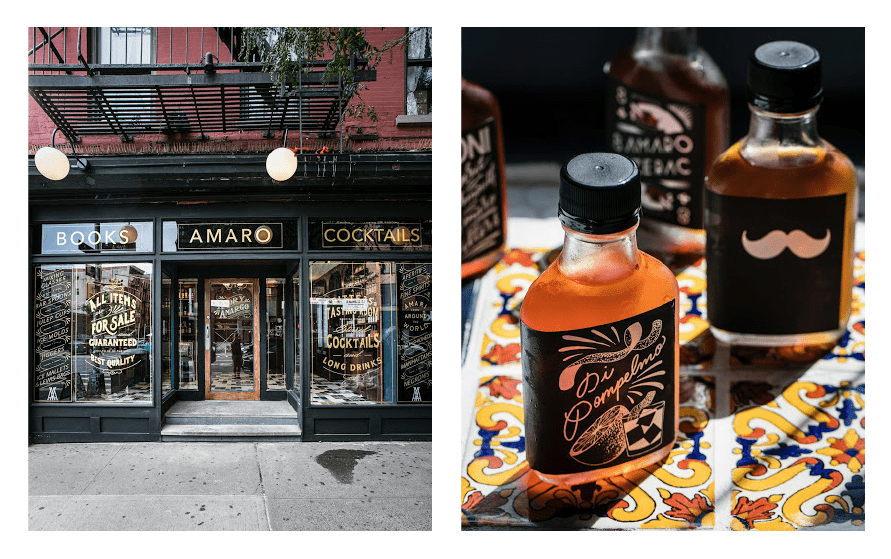 Amor Y Amargo took over neighboring cocktail bar Mother of Pearl's space and set up a storefront for their premade cocktails, bitters, and other bar essentials. Photos courtesy of Amor Y Amargo.
While you can get creative with your cocktail menu, Subject's Brian Grummert recommends also offering classic options.
"What I would see in the early stages [of lockdown] was a lot of nostalgia, which was probably why we were selling a lot of margaritas and a lot of old fashioneds—things that made people feel comfortable," he says.
Create an attractive cocktail menu that travels well, has some surprises and also includes fan-favorites. Not sure what your best-sellers are? If you use Lightspeed, check your Product Reports and filter by Ordered Amount to see which cocktails you sold the most over a period of time.
2. Come up with a snack menu
If you run a bar that only serves drinks, you'll likely have to add some food to your takeout menu to abide by local laws. Add items that meet regulations and that you can sell cheaply so that customers don't feel upset that you're requiring them to buy food.
If you run a bar that only serves drinks, you'll likely have to add some food to your takeout menu to abide by local laws.
"You came here for a drink, but you have to order something else. Nothing on our food menu is more than $10," said Sother Teague, beverage director of Amor Y Amargo, in a phone interview.
The bar, whose name translates to "love and bitters" in Spanish, introduced a vegan tapas menu to satisfy New York's food requirement.
3. Create beautiful packaging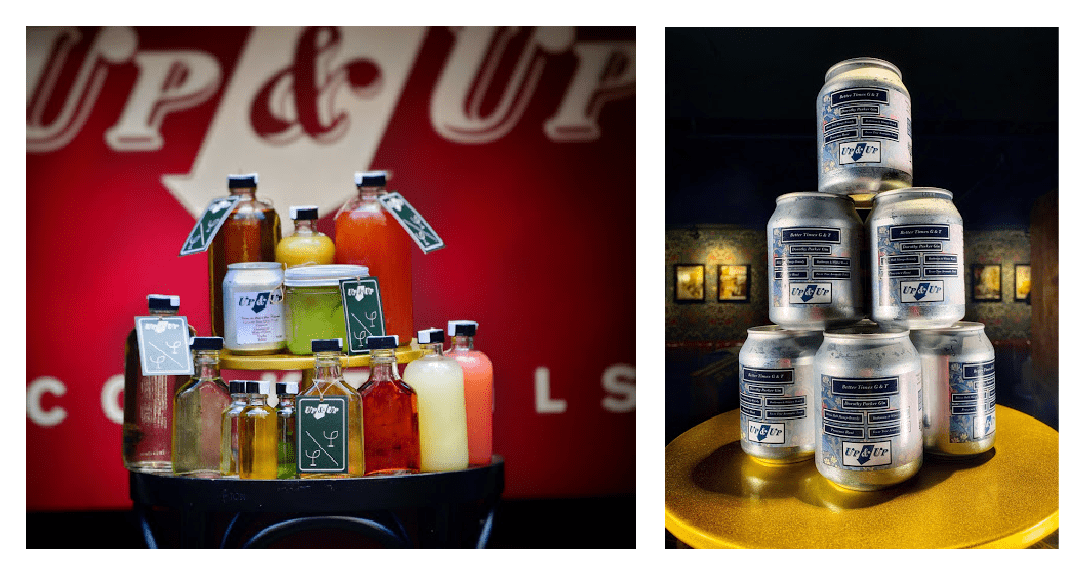 The Up & Up's assortment of portable cocktails. Photos courtesy of the Up & Up.
Put care into how you package and present your takeout cocktails.
"We focus so much on aesthetics at our bar that to not focus on it for takeout would've been kind of antithetical to what we do," explains the Up & Up's Ali Martin.
"We're just trying to keep our takeout experience as close to indoor dining experience as possible, while making it portable. We're focusing on making everything pretty and to order. The idea is that you can carry the inside [of the Up & Up] outside," Martin says.
Your portable cocktails are an extension of your brand, so think beyond generic plastic cups for your on-premise and online alcohol sales.
Your portable cocktails are an extension of your brand, so think beyond generic plastic cups for your on-premise and online alcohol sales. The Up & Up uses assorted glass bottles, jars, and cans for their cocktails. Amor Y Amargo uses flask-like glass bottles for all their portable beverages and labels them with simple-yet-eye-catching stickers.
4. Plan your alcohol delivery service operations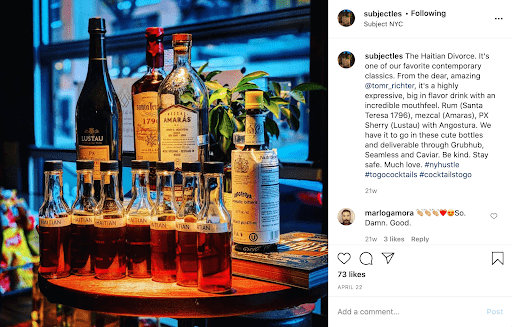 Subject uses a combination of Grubhub, Seamless, and Caviar to deliver their carefully-crafted cocktails to customers' homes. Image courtesy of Instagram.
If you decide to offer online alcohol delivery in addition to takeout, plan your operations strategically.
First things first: check local laws to make sure if and how you can offer liquor delivery and make sure your current point of sale system integrates with delivery services.
Next, decide whether you want to take your takeout and delivery service in-house, sell through a third-party delivery service, or a mix of both. We explore the pros and cons of each in this post.
Then, take high-quality photos of your cocktails to publish on your website and online alcohol delivery platforms. Craft appealing descriptions for each drink.
Finally, plan delivery logistics. Decide whether you'll employ delivery drivers directly or use third-party delivery drivers. Invest in tools that will ensure drinks don't spill during the delivery and stay the right temperature, like coolers, insulated bags and drink carriers.
5. Market your alcohol delivery service
Follow these marketing tips to make your to-go cocktail menu known to the masses:
Show off photos of your to-go drinks on social media and ask customers to tag you in posts that show them enjoying their drinks at home.

Send your cocktail menu to your email subscribers to let them know about your new offering.

Put signs up on-premise to promote your liquor delivery and takeout options.

Encourage on-premise customers to take a beverage home with them to enjoy at a later time.

Put a banner on your website that links to your online alcohol delivery platform.

Send local food media like

Eater

or

the Infatuation

a press release about your takeout cocktails.
Combine these marketing tactics for maximum impact.
The long-term viability of off-premise alcohol sales
How successful have off-premise alcohol sales been for bars and restaurants so far?
While this revenue stream has been more of a survival mechanism than a cash cow, according to the restaurateurs we spoke to, it's been a good way to stay relevant with consumers through the pandemic.
"The most important thing is keeping our name in the hat and staying relevant," says the Up & Up's Ali Martin.
So is there a future for takeout cocktails, beer and wine? Some restaurateurs are hopeful.
"I love the idea of sitting at last call and then being able to take cocktails home if you're having great conversation and want to continue it," Martin says.
But what do legislators have in mind? In New York, lawmakers are working on a bill to extend off-premise alcohol sales two years after the pandemic has passed.
"Hopefully this [law] would somehow retroactively generate revenue for the months that we've been crippled from the lockdown," says Amor Y Amargo's Sother Teague.
Keep a close eye on local laws to know what to expect in your area in the coming months and years.
Off-premise alcohol sales can help your business make it through tough times
"Bars and restaurants are the heart and soul of New York City. If we don't have that, then we're just a crowded disaster," says the Up & Up's Ali Martin.
Restaurants and bars all over the world have struggled through the COVID-19 pandemic. Here's the good news: measures like expanded off-premise alcohol sales and patio dining give these venues ways to operate safely until life normalizes. By making small adjustments to your recipes, packaging, delivery and marketing, you can take advantage of loosened alcohol sales restrictions.
Want to get your alcohol delivery service off the ground? Talk to our restaurant experts today and learn how Lightspeed Delivery and eCom for Restaurant can empower your off-premise alcohol sales operations.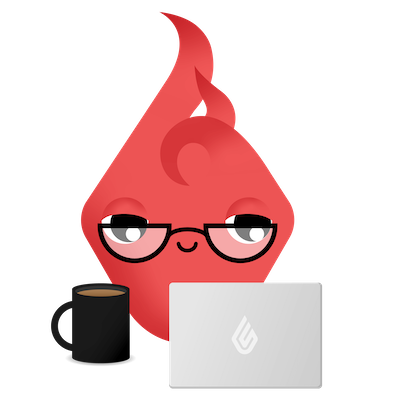 News you care about. Tips you can use.
Everything your business needs to grow, delivered straight to your inbox.