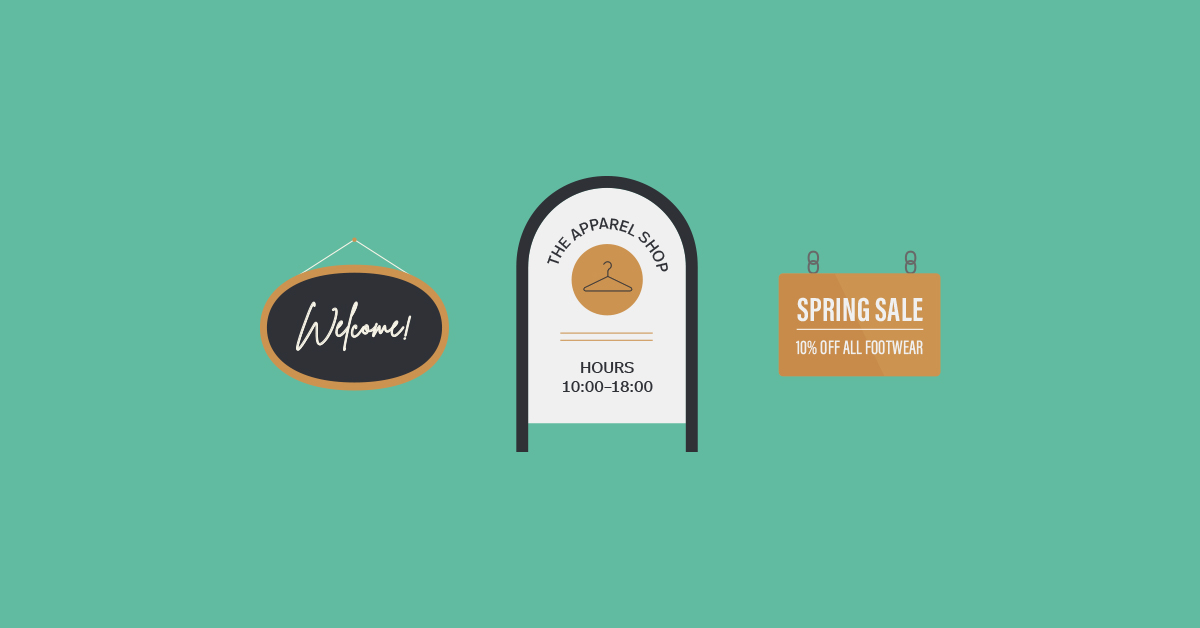 Retail signage is a critical component of visual merchandising and a powerful tool for advertising your business, reinforcing your brand, informing guests and so much more. If it's been a while since you've thought about your store's signage, you could be missing out on opportunities to enhance the customer experience and make more sales.
Fortunately, you've come to the right place. Keep reading this guide to making the most of your retail signage to learn:
11 ways to turn window shoppers into buyers
Get actionable tips on how you can turn casual browsers into loyal customers.
Why retail signage is important
Retail signage is important for three primary reasons: marketing, customer experience and regulatory compliance.
Marketing
External signs get your store noticed. Your storefront sign, the one that has your business' name and/or logo on it, is arguably the most important signage you'll display. It tells potential customers that you're there and ready to serve them. Other external signs, like one that displays your store hours, give customers critical information about your business.
Signs are also useful for highlighting promotions. For example, an A-frame sidewalk sign can let passersby know about a limited-time sale. Or, a buy-one-get-one 50% off poster hanging inside your shop can let customers know about a good deal.
Customer experience
Signs enhance the customer experience in several ways. First, they give shoppers critical information about the store, such as when it's open, or which types of credit cards you accept.
Signs also help with wayfinding. A sign hanging over an aisle, like in a grocery or department store for example, helps customers find what they're looking for faster.
Finally, retail signage can improve the health and safety of customers and employees. Emergency exit signs, for example, help visitors and staff find their way out quickly in case of trouble. Social distancing and masking reminders also protect people.
Regulatory compliance
While most signs are nice-to-haves, there are some that you need to put up to notify customers and employees about certain things. The aforementioned emergency exit signs, for example, aren't just helpful. They're required to be put up by law.
Beyond signage you must hang up, you need to check with your local government to learn which kinds of signs you are allowed to put up. There may be limits to the size and type of signage you can display externally, or you may need to apply for and obtain a permit to replace an existing sign.
Types of store signage
With so many types of store signage out there, it can be overwhelming to decipher what's what, what you need, and what you don't. Here's a quick guide to some of the most popular retail signage ideas.
Storefront sign
As both the first sign customers see, and the most prominent sign in your store, your storefront sign is the most important one you'll ever put up. Carefully consider its design for maximum visibility. It should have your store's name and/or logo on it, be legible, follow your brand guidelines and stand out. If possible, consider backlighting this sign to make it more prominent.
Digital retail signage
Digital retail signage has three components: content (the images and text on the sign), hardware (usually a television or other kind of screen), and software (the backend technology that lets you control the sign). While digital signage for retail is more expensive at the outset than printed signs, they can make up for the costs by generating more sales.
Banners
Banners, which are usually made of vinyl, are affordable to create and easy to fold up and store. These weather-resistant signs are suitable for both indoor and outdoor use.
Posters
Because they can be printed quickly and cheaply, posters are ideal for advertising temporary promotions. Depending on their size, you could print posters in your store, making them a highly flexible option.
Wayfinding signs
Wayfinding signs come in all shapes and sizes. If your store is in a difficult-to-find location, such as tucked away in an alley, you can place a sign outside nearby to help customers find you. Inside your store, you can hang signs over aisles or sections to indicate what customers will find there. Stickers on the floor are also great for pointing to seasonal products or the bathroom.
A-frames
Printed and chalkboard A-frame signs are a popular retail signage idea to put outside of your store, such as on a sidewalk. A-frames are affordable to buy and come with endless possibilities because they can be changed often.
7 tips for making the most your retail signage
Before you set out to make new signs, read these tips to make sure you get the most bang for your buck.
1. Prioritize legibility
While it may be tempting to place as much information as possible on a sign, less is more when it comes to creating an effective sign. Instead of using the fanciest font and brightest colors you can find, opt for a simple, easy-to-read font and use high-contrast color combinations. After all, signs are no good if people can't read them!
Consider customers with low vision, especially if your store's demographics include older customers. Make sure your signs, and the text on them, are large enough to read from far away. If needed, backlight your signs to make them stand out.
2. Follow brand guidelines
Retail signage is an extension of your brand. The fonts, colors and images on your signs should therefore adhere to your brand guidelines so that they enhance the shopping experience instead of taking away from it.
3. Take advantage of your windows
Window displays are a great place to show off new products, share promotions and inform customers of hours, store policies and more. Vinyl decals are a professional-looking and affordable way to add signs to your windows.
4. Invest in digital retail signage
If you've only used vinyl or paper signs thus far, consider investing in digital retail signage. They're easy to swap out and update regularly, making them a good option for stores that have frequent promotions.
5. Maximize your real estate
If your store sits on a corner, make sure you cover your bases by having signs on all sides of the building. This could mean having multiple storefront name signs.
6. Create a photo op
Making signage that doubles as a photo op will help you generate user-generated content for social media. In other words, your customers will do your advertising for you.
By photo op we mean an eye-catching sign or retail display that begs people to take a picture. Examples include a mural inside or outside of your shop, or decal signs on fitting room mirrors that encourage customers to share pics of their finds.
7. Be funny
Signs that are both attractive and funny can go viral and bring in business. Many a clever A-frame has gone viral on the internet. Looking for inspiration? Check out this collection of the funniest sidewalk signs.
Where to get signs
There are two routes you can take when you want to make new signs for your store: the do-it-yourself method and working with a professional sign company. Which option is the best for you? These insights should make it easier to decide.
DIY retail sign production
If you're going to make your own signs, you'll need to start by creating a design. If you're new to graphic design, look up best practices to get started on the right foot. A beginner-friendly design tool like Canva is a great option if you're not versed in Adobe Illustrator or Photoshop. It's critical to pay attention to the size of the image you're creating so that it's not pixelated when it goes to print.
Once your design is ready, the next step is fabrication. You can either work with a local printer or upload your design to a printing website and have your sign(s) shipped to you. Printing websites like Vistaprint and Moo are affordable and accessible.
Working with a sign vendor
Your other option is to work with a sign vendor on every step from design to fabrication. Working with a professional makes the most sense when you have the budget but don't have the skills to design signs. While this method is pricier, you won't have to spend money fixing mistakes you might make if you're inexperienced.
A local sign company may also be familiar with local signage regulations and can guide you through permitting, where necessary.
Wrapping up: Retail signage tips
Advertising is just the tip of the iceberg when it comes to what retail signage can do for your business. Signs can also improve the customer experience, help with wayfinding, protect staff and customers, and much more.
If you've been putting signs up at your store ad hoc, it's time to come up with a strategy. Create signs with intention to maximize your return on investment. When your signs start bringing in an influx of sales, you'll need a retail POS system that can keep up. Watch a demo of Lightspeed POS today.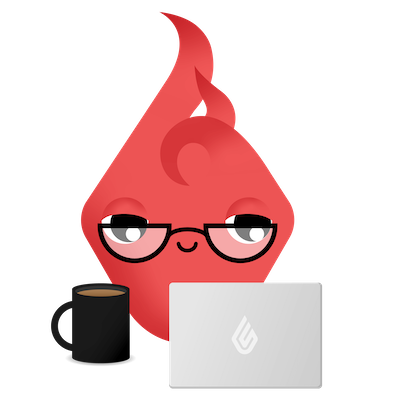 News you care about. Tips you can use.
Everything your business needs to grow, delivered straight to your inbox.