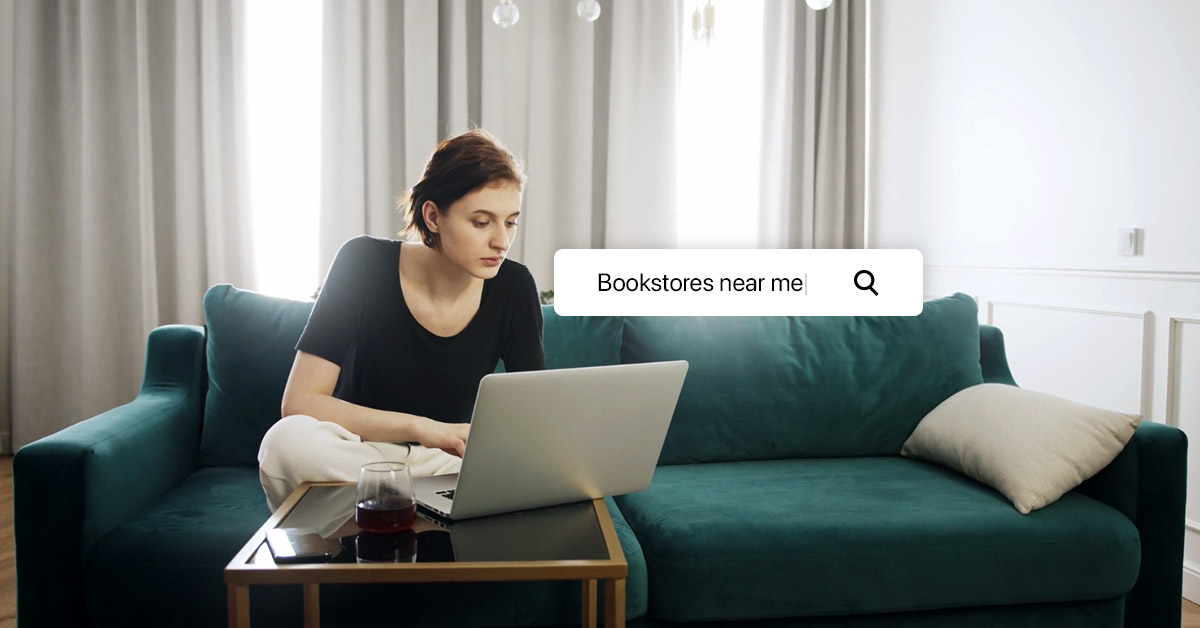 Local marketing is all about being seen, heard and found by your ideal customers.
Great products, a great location, and yes, even competitive prices, are not enough to drive sales if you can't get the word out about your store.
Whether you've just opened your first store or you're looking to refresh some of your marketing tactics, this article will explain what you can do to promote your retail business. You'll hear from local retail store owners like you, marketing experts and PR consultants. We'll cover:
Effectively market to your local community this holiday season
Learn everything you need to know about preparing your retail store for the holiday season, including how to best market to and serve your local community.
What is local marketing and why does it matter?
Put simply, local marketing is important because it drives leads and sales. When it's done well, it can help potential customers remember you the next time they need a product that you sell. Because your business has a physical location, local marketing is particularly important. Capturing the demand around your brick and mortar shop is a key way to drive sales.
Top local marketing tactics
And the good news is that you have an almost endless number of marketing options to choose from. What works best will depend heavily on the type of business you're in, but most of these tactics will yield results from retail businesses as diverse as clothing to jewelry.
1. Be easy to reach
Sometimes the simplest tips are the most useful.
That's why we're going to suggest you list your store's address and phone number where people can see it online. "One of the quickest ways to increase leads and revenue for a brick-and-mortar is to make your business phone number and address front and center on every page of your website," said John-Paul Cody Trends & Tactics.
We can see this tip in action on Grain & Vine's website. Not only do they have their store address and phone number on the footer of their website, they've also listed their operating hours, ensuring that shoppers can come in when the shop is open.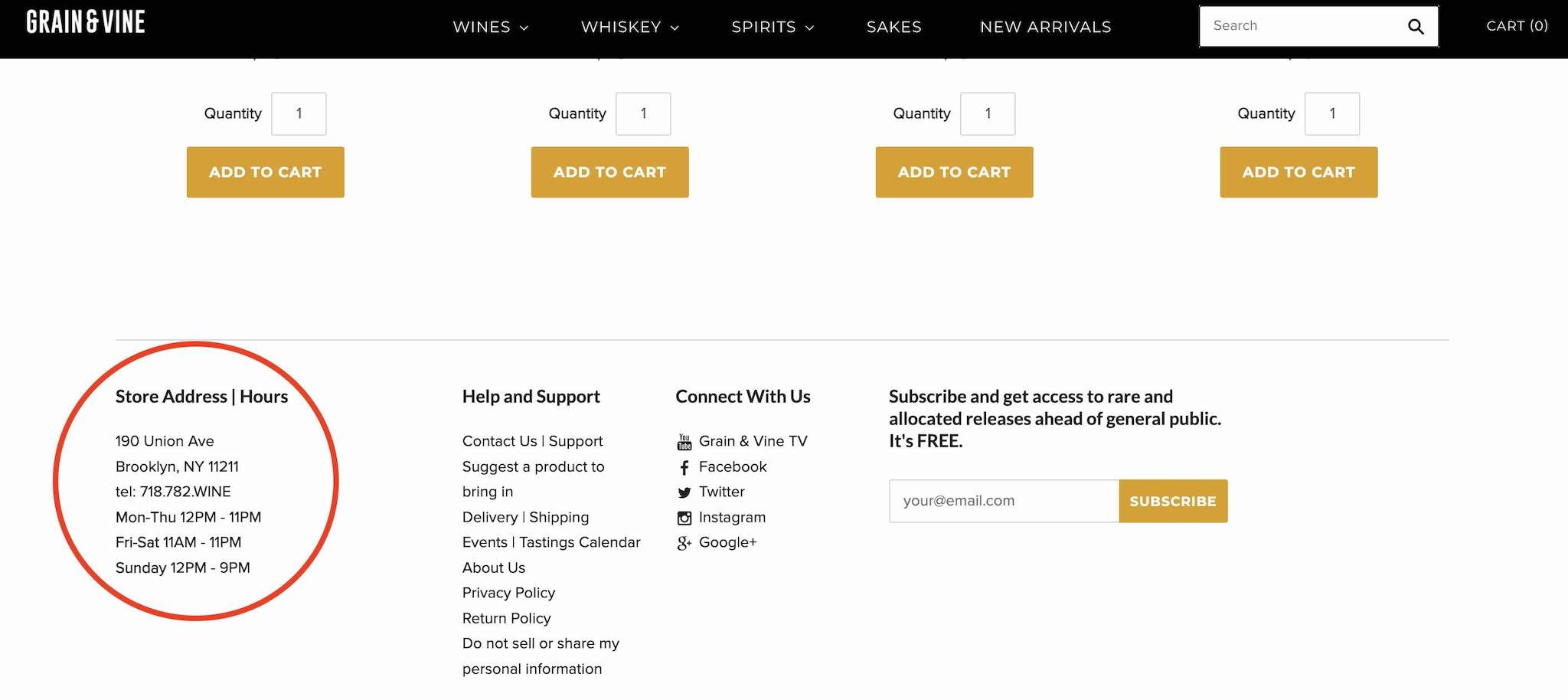 2. Attract foot traffic
But it's not all about digital these days. The main marketing strategy for local retailers and brick-and-mortar businesses must engage in is old school "'we are open visual tactics," suggests Baron Christopher Hanson, lead consultant and owner of RedBaronUSA.com, a consulting and coaching firm based in South Carolina and South Florida.
That can mean a new coat of paint, a brand new sign or awning or flag, and perhaps a smiling person outside handing out business cards or a free sample. "So many businesses have closed down, moved or operated remotely over the last 16-18 months that customers simply need to know your business physically exists," he said.
3. Entice customers back
Once you've enticed that foot traffic to step through your door, you also want to give them a reason to come back again. This is a great way to leverage digital and traditional marketing, according to Christina Rath, a partner at Bel Air Branding Agency, an L.A.-based digital marketing firm for small local businesses.
One of the agency's clients is doing this by handing out vouchers for a free item on a return visit in exchange for signing up for their email list.
"This allows the business to not only entice the customer to return again for a free item but track whether or not these promotions create loyal customers. Loyalty programs can be used in the same way to segment out groups of customers and create rewards or promotions based on past behavior," said Rath.
4. Set up Google My Business
To begin this process, visit google.com/business and verify ownership of your business.
Ravi Davda is the CEO of Rockstar Marketing, a digital marketing agency based in the UK. He believes Google My Business is a must-have for local retailers.
Post product photos and seek reviews
"Every section must be filled in," said Davda. "Make sure you have regular reviews and posts from your business. This is what will get you to the top of Google Maps, which is what matters for local businesses. Next, use Facebook and Instagram Ads to promote your business to your local area. Offer discounts. Get your brand out there," he added.
Check out Taverne Atlantic's Google My Business profile. It contains the necessary info about the business—such as their address and operating hours. Plus, the Taverne Atlantic team added vibrant pictures of the location, so customers can get a glimpse of the restaurant and the food offered.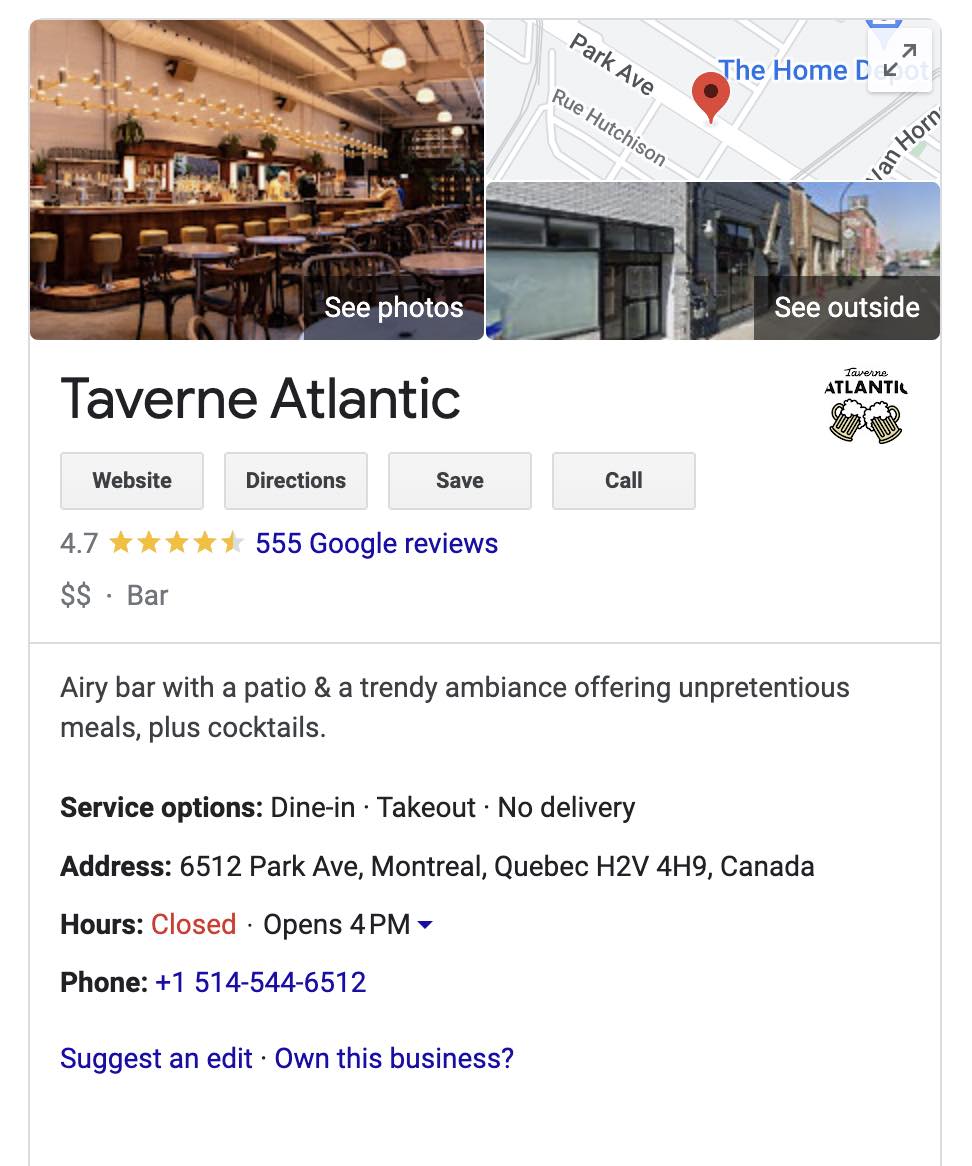 Getting those reviews is particularly important, according to Brian Robben, the CEO of Robben Media. "Over time, you'll start to rank for what you sell in Google Maps and maybe Google Search," said Robben. "This will bring in hundreds of new customers to your store alone for free.
We can see the power of reviews in action on Taverne Atlantic's Google profile. At the time of writing, the business has over 500 positive reviews and the team at Taverne Atlantic makes it a point to respond to all of them.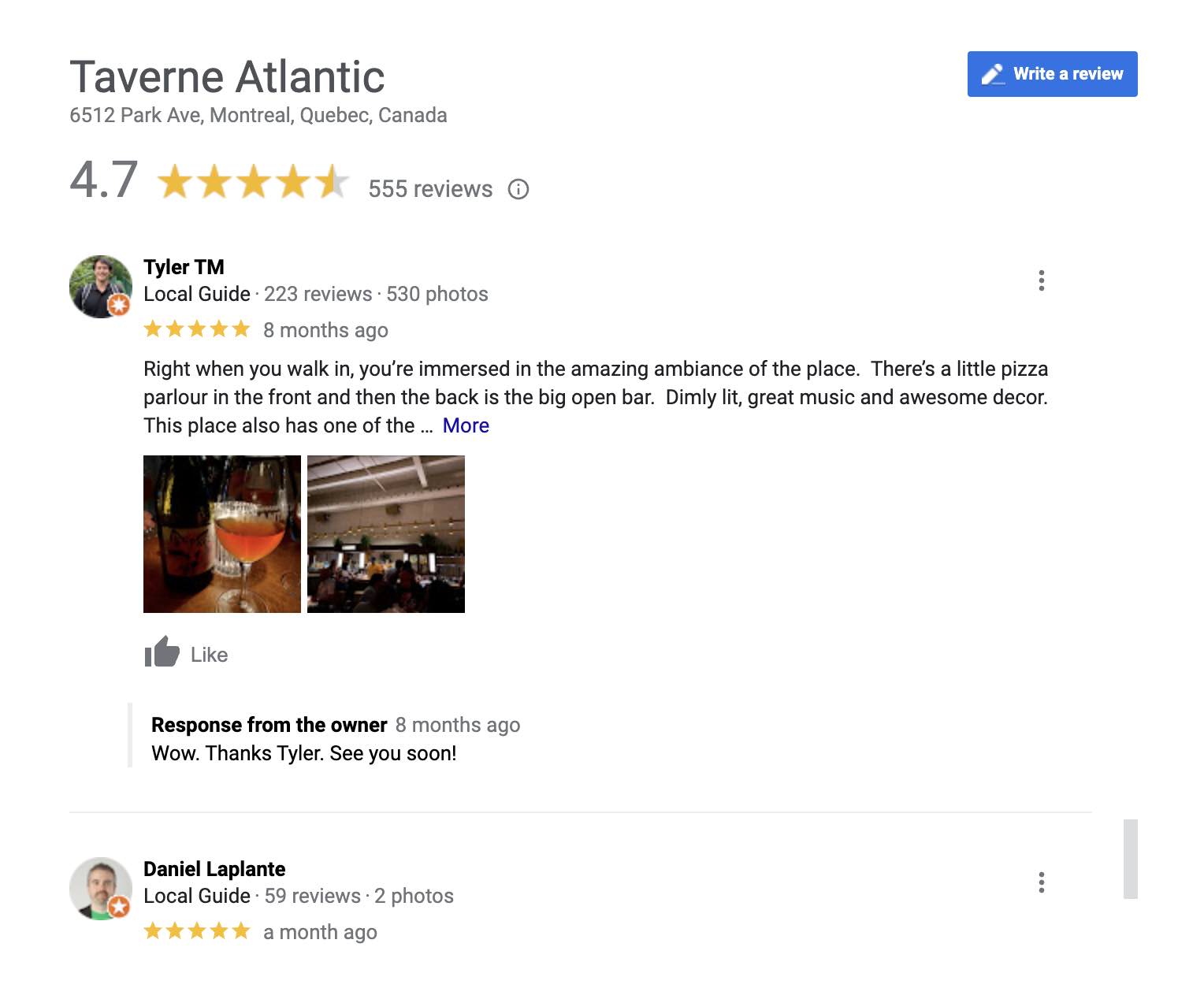 READ: The Small Business Guide to Getting Found on Google.
5. Create website content
While Google My Business is very useful, your own website puts you at a greater advantage, according to Jenny Winter, Head of Marketing at Degree 53, a user experience, design and software development company in Manchester, UK.
Having your own store website means you can promote your products and expertise without having to spend on advertising. This is where content comes in. "You can optimize your content to include product and location, such as 'Wedding Cakes in New York'. Continuously generating content that offers value to your customers will soon result in relevant traffic," said Winter.
Tip: Come up with a list of the most frequent questions you get in the store. Then write a blog post to answer those questions, add context, and do a soft sell pitch at the end.
6. Infuse local elements into your in-store displays and merchandising
Incorporate local elements into your in-store displays and merchandising. Incorporate the name of your city or community into your displays and decor. You can do this through signage, artwork, or creative displays that highlight local landmarks, cultural symbols, or even local sports teams.
Showcasing a strong connection to the local area, creates a sense of familiarity and resonance with your customers. It helps to foster deeper relationships with the locals, making them feel that your business is a part of their community.
Not to mention, this local touch adds a unique charm to your store and can be a powerful way to attract and engage local customers.
Check out this example from the large, national chain HomeGoods. The home decor store has locations all over the United States, but the company makes it a point to add a local touch to each store.
Here's a photo of HomeGoods' checkout area in Cerritos, CA.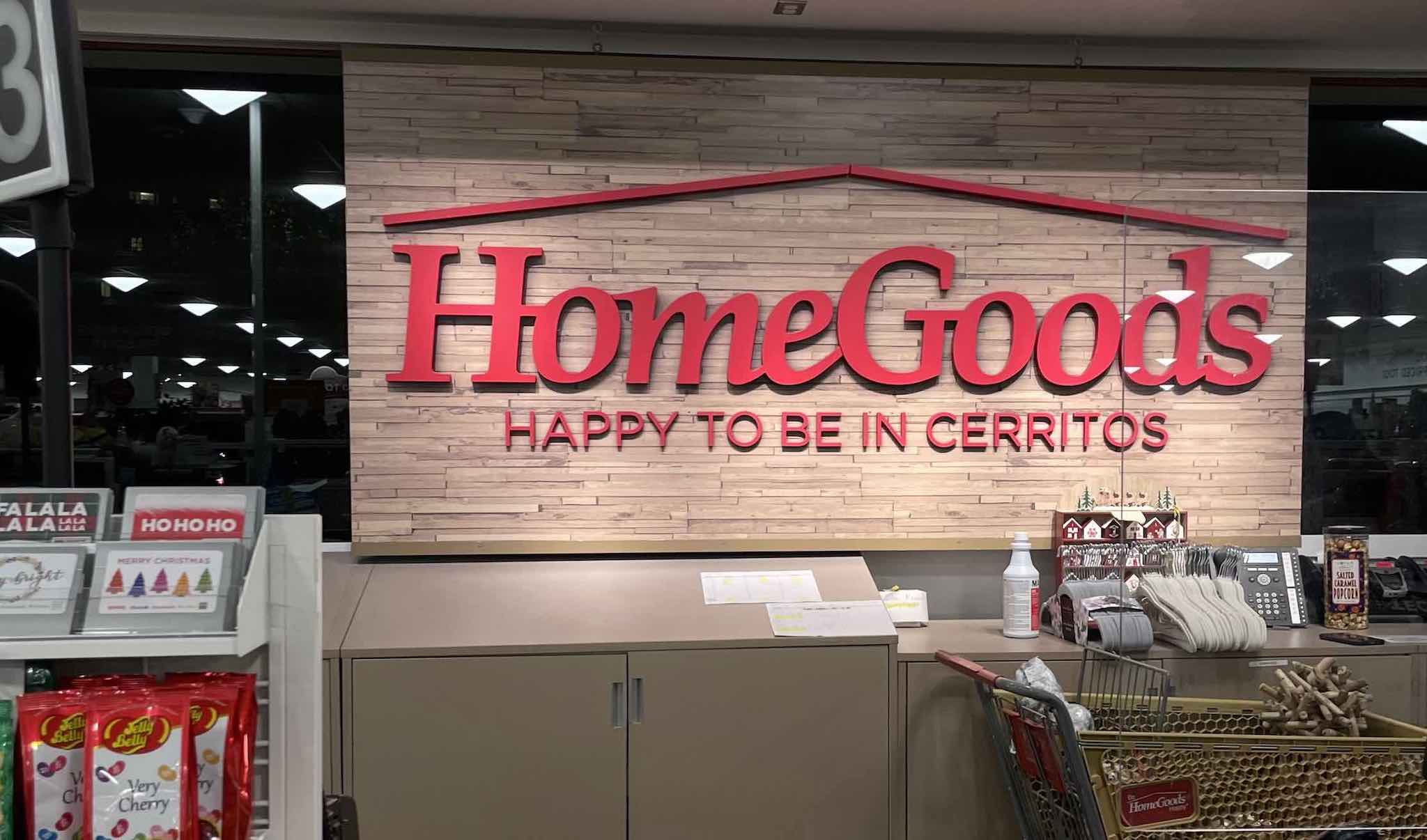 7. Be seen on social media
As Moriarty's success with video shows, you need to put as much if not more effort into promoting your content as you do producing it. Social media can help you do this. And it has other payoffs too, according to Rob Swinburne, a digital marketing apprentice from Surge Marketing Solutions, a digital agency based in the UK.
"Announcing sales and specials online can bring more customers into your store and raise your local profile. Also, show support for local causes and interact with them, not only does this help your brand seem more personal but you can strike up conversations and potential partnerships," he said.
Encourage Facebook referrals
Above all, good local marketing means knowing your community and its interests and priorities. And that means ensuring the community knows you too, said Polly Kay, Senior Marketing Manager at English Blinds.
Facebook is one way to do this. For example, have you ever noticed that when someone asks for a recommendation in a Facebook group, it usually leads to a few businesses being suggested? Kay said these recommendations often come with a brief comment about the business. Maybe it's been a feature of the community for a long time. Maybe someone had a good customer experience. Or maybe the business added a thoughtful personal touch.
"This means that if any of these things apply to you—a long tenure, a family business, or excellent service, the latter of which all businesses should be providing—highlighting and playing up these points should be a priority," said Kay.
Be picky about your platforms
Whether it's Facebook or Youtube, try to find a social media platform that is best for you. "From Instagram to TikTok to Clubhouse, it can be overwhelming with the number of platforms out there now," said Bailey Floyd, founder of Bais Creative and Public Relations. That's why it only makes sense to be active on the same platforms as your audience.
8. Hold a promotional event
Holidays also present another opportunity for marketing your store to your community.
Businesses should look for ways to package their existing goods for in-store or at-home experiences that can be promoted seasonally.
"While there may be a subset of customers that feels comfortable attending an in-store event, having contactless curbside pick-up or at-home options that allow them to take part in the celebrations is a great way to augment in-store promotions," said Rath of Bel Air Branding Agency.
9
. Ramp up your local PR efforts
Public relations plays a crucial role in building brand awareness, credibility, and trust within your local community. So to improve your local marketing efforts, consider ramping up your local PR marketing strategies.
One effective way to implement this tip is by actively engaging with local media outlets. Reach out to your local newspapers, radio stations, and online publications to share your newsworthy stories, product launches, community involvement or special events.
Craft compelling press releases and personalized pitches tailored to each outlet to help garner media coverage and generate buzz about your business.
As for what types of pitches to send, here are a few ideas.
New product or service launches:

Pitch the release of a new product or service, emphasizing its benefits, unique features, or relevance to the local community.

Community involvement and sponsorships:

Highlight your business's involvement in community initiatives, partnerships, or sponsorships, showcasing how you contribute to the local area.

Expert insights or commentary:

Offer your expertise on a relevant industry topic or provide insightful commentary on local news or trends, positioning yourself as a go-to resource for the media.

Company milestones or anniversaries:

Share news about significant milestones, such as business anniversaries, expansion plans, or major achievements, inviting local outlets to celebrate with you.

Human interest stories:

Pitch heartwarming or inspiring stories about your employees, customers, or local individuals whose lives have been positively impacted by your business.

Events and promotions:

Alert local outlets about upcoming events, sales, or promotions, inviting them to cover the event or share the news with their audience.

Local initiatives or sustainability efforts:

Highlight your business's commitment to the environment, social responsibility, or local initiatives, demonstrating your dedication to making a positive impact.
10. Sponsor a local event
Another effective local marketing tactic is to sponsor local events.
Start by identifying events that align with your brand values and target audience. Reach out to the event organizers and express your interest in becoming a sponsor.
Discuss the available sponsorship opportunities, which may include financial contributions, providing branded merchandise, or offering services during the event.
Ensure that your business receives proper recognition and exposure at the event through signage, mentions in promotional materials, and social media coverage.
Need ideas on which types of events to sponsor? Consider the following.
Local community festivals

Charity events

Sporting events

Business networking events

Chamber of Commerce functions

Community fundraisers

Cultural celebrations

Youth programs and school events

Local arts and music events
11. Partner with other businesses in your neighborhood
To boost your local marketing efforts, consider partnering with other businesses in your neighborhood.
Collaborating with complementary businesses can create mutually beneficial relationships and expand your reach within the local community.
Seek out businesses that share a similar target audience or offer complementary products or services.
Explore joint marketing initiatives, such as:
Co-hosting events

Cross-promotions

Sharing advertising space
When you and another merchant leverage each other's networks and customer base, you can increase brand visibility, attract new customers, and foster a sense of community support.
The bottom line: strong local partnerships can lead to long-term growth and success for all involved businesses.
12. Implement local SEO
Optimize your website and online presence to target local customers searching for your products or services.
Here's a low-hanging fruit: identify location-specific keywords then incorporate them throughout your website content, meta tags, and headings.
If you're running multiple stores, create dedicated landing pages for different local areas you serve.
For example, the Chicago-based hospitality and event group Atomic Hospitality, has a number of restaurants and concepts across the state.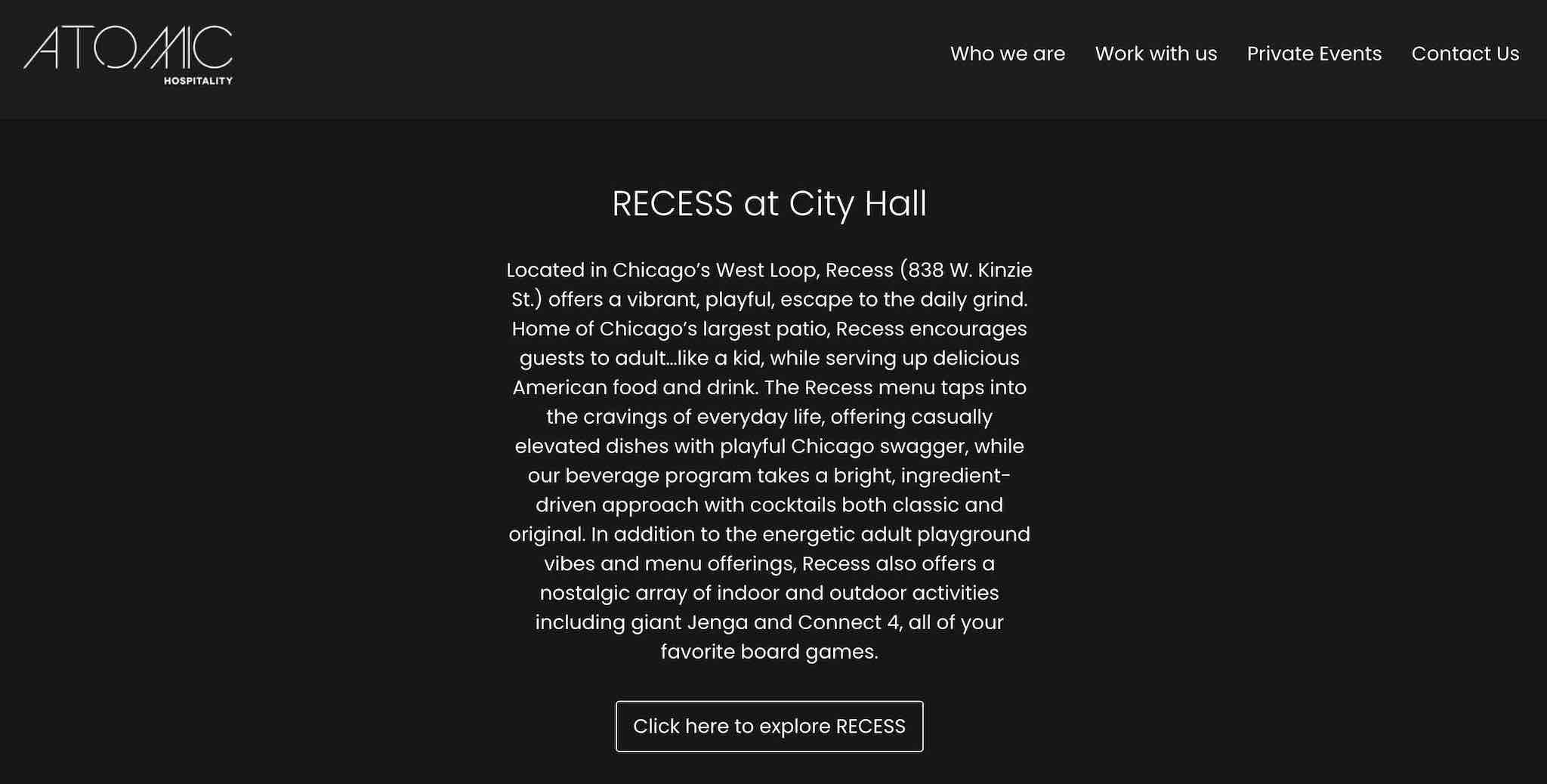 One thing we love about Atomic Hospitality's website is that each concept has its own dedicated page. This ensures hat customers searching for specific locations or concepts can easily find the relevant information they need. Each dedicated page includes location-specific details, customer reviews, photos and more.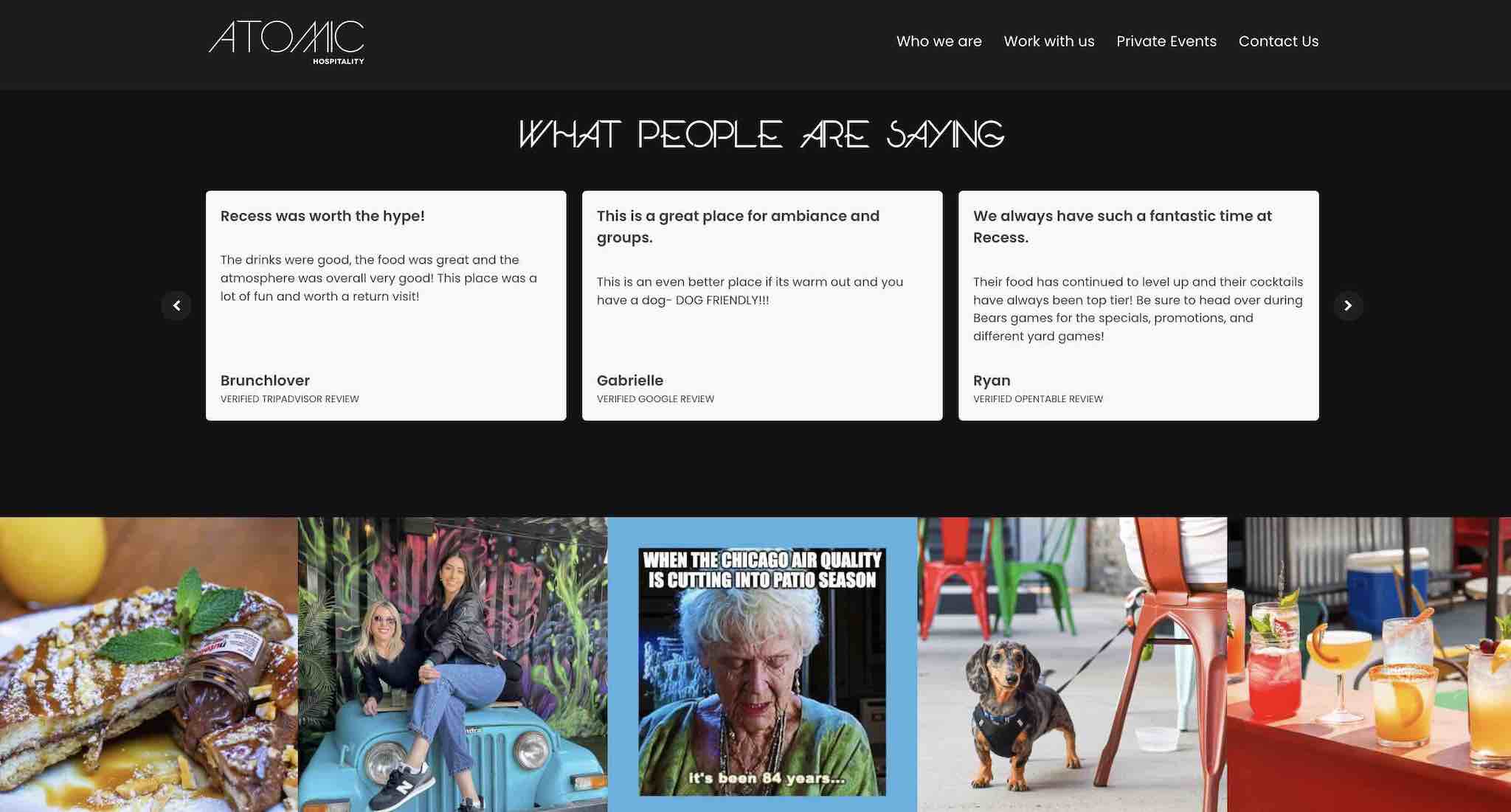 13. Double down on local directories and review sites online
Another powerful way to boost your local marketing? Improve your presence on local directories and review websites.
In addition to beefing up your Google business profile, claim and maintain your listings on platforms like Yelp, TripAdvisor, and industry-specific directories.
Optimize your listings by providing accurate and consistent business information, including your address, phone number, website, and operating hours.
Atomic Hospitality, once again, does an excellent job here. Check out their Trip Advisor page for RECESS (one of the company's concepts), which has complete business and vibrant photos to boot.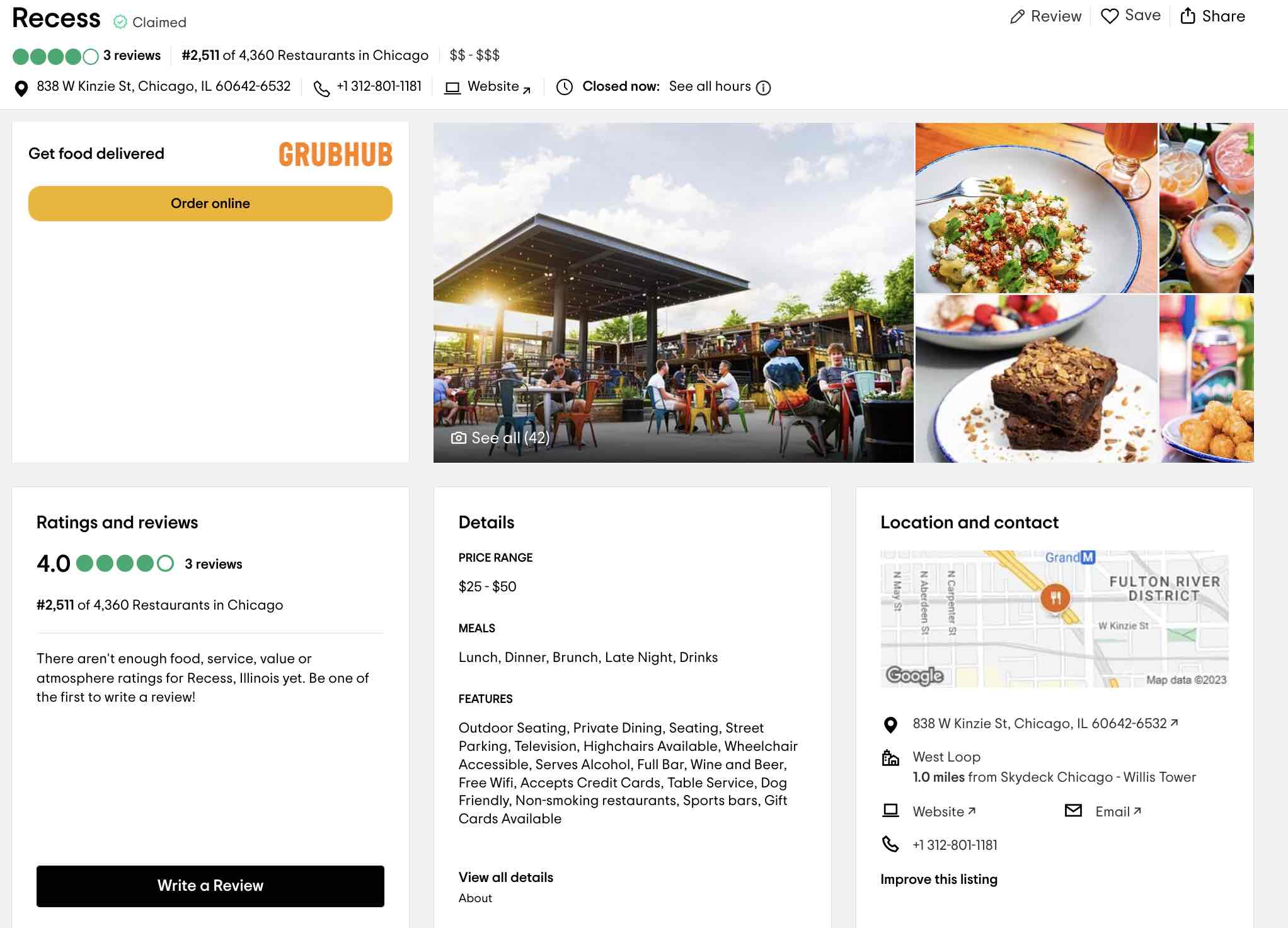 14. Host a live video stream
And videos can be really effective too. Jeff Moriarty is the marketing manager of Moriarty's Gem Art, his family-owned jewelry business. In March 2020 the company started doing live Youtube and Facebook streams.
"It was free, it just took time to implement. These live streams were both educational and commercial in nature. The live shows allowed visitors to view our items, buy online and ask questions. We advertised these live streams through emails, our website, and social media. We are now getting about more than 1000 viewers watching each show," he said.
15. Consider SMS marketing
Expand your local marketing tactics by adding SMS marketing into the mix. Collect your customers' phone numbers through opt-in methods like in-store sign-ups or online forms. Use a reliable SMS marketing platform to send targeted and personalized messages to your local audience.
From there, segment your customer base based on location, preferences, or purchase history to deliver relevant promotions, event announcements, or exclusive offers. .
The retail store T.C. Elli's did just that using Marsello—and saw tremendous results.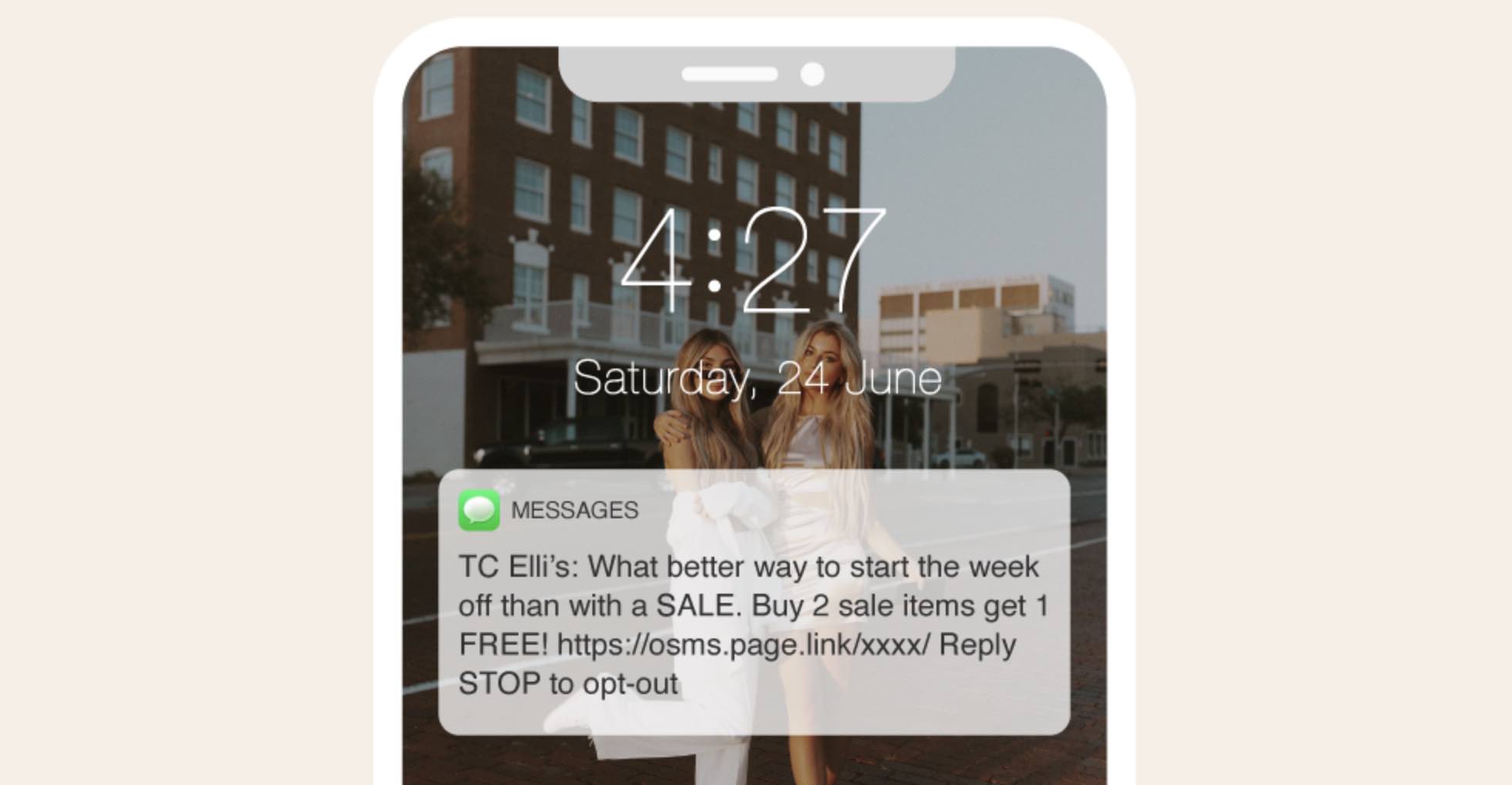 T.C. Elli's has effectively segmented their customers into distinct groups to better understand their behaviors and preferences. These categories included:
Lost

At-risk

Best

Promising

New

Loyalty program members
In doing so, T.C. Elli's can tailor their messaging and marketing efforts accordingly. For instance, when running promotions like a buy-2-get-1-free sale, T.C. Elli's takes advantage of the immediacy and high visibility of SMS messages to target their most engaged customers, including those in the "best," "loyalty program," and "promising" buckets.
This approach ensures that customers who are already actively engaged with T.C. Elli's receive timely and concise messages, increasing the likelihood of a successful response.
Merge in-person and online marketing
Taylor Ryan is the CEO of Klint Marketing, a Copenhagen-based digital marketing agency. He believes it's important to blend offline and online marketing activities. But to do so, you need to set clear and measurable goals.
"Tactics like geographically marketing your store on social media, online competitions leading to in-store rewards and discounts or free in-store samples that require email signup are all ways to combine online and offline marketing," said Ryan.
How your POS can support marketing
You can even use your POS to market to your customers right at that all-important point of purchase. You might place discounted products right beside the POS, for example. Doing this can be a great driver of impulse purchases.
By using POS software like Lightspeed, you can also run reports to see which products are moving and which are staying on the shelf too long. This can help you develop a point of purchase (POP) marketing approach.
Frequently asked questions
What is local marketing?
Local marketing refers to the strategies and tactics businesses use to target and engage with customers in their specific geographic area. It focuses on promoting products or services to the local community through various channels, such as local advertising, community involvement, partnerships, and localized online marketing.
What is the difference between global marketing vs local marketing?
Global marketing aims to reach a broad international audience and considers the cultural, economic, and social differences across multiple regions. It involves standardized marketing strategies that can be applied globally.
On the other hand, local marketing concentrates on a specific local area, targeting customers with tailored messages and campaigns that address local preferences, culture, and needs.
What is the difference between local marketing and national marketing?
Local marketing is centered around targeting a specific local area or community to attract customers, while national marketing aims to reach a broader audience across an entire country.
Local marketing focuses on tailoring messages and campaigns to suit the local market, while national marketing often employs more standardized approaches that can be effective across multiple regions within a country.
What is local SEO marketing?
Local SEO marketing is a strategy that aims to optimize a business's online presence to improve its visibility in local search results. It involves various techniques, such as optimizing website content with location-specific keywords, claiming and optimizing listings on local directories, managing online reviews, and ensuring consistent NAP (Name, Address, Phone number) information across platforms. The goal is to increase a business's visibility to local customers who are searching for products or services in their area.
What is local search marketing?
Local search marketing refers to the process of promoting a business's products or services through online platforms specifically designed for local searches.
It involves optimizing online listings, managing online reviews, and utilizing local directories and review websites to increase a business's visibility in local search results. The focus is on attracting customers who are actively searching for local businesses or services in their immediate area.
How do you implement local SEO marketing?
Implementing local SEO marketing involves several steps.
First, identify location-specific keywords relevant to your business and incorporate them into your website content, meta tags, and headings. Local SEO marketing also involves optimizing your website for mobile devices and ensuring fast loading times.
You should also claim and optimize your Google My Business listing, ensuring accurate and consistent information. From there, encourage and manage online reviews on platforms like Yelp and TripAdvisor.
Finally, actively engage with local customers through social media and other channels to build relationships and enhance your local presence.
What are some examples of local marketing?
Local Sponsorships: Businesses partnering with local events, charities, or community organizations to gain exposure and support the local community.
Local Advertising: Placing ads in local newspapers, radio stations, or television channels to target the specific geographic area where the business operates.
Local SEO: Optimizing a website and online presence with location-specific keywords and content to improve visibility in local search results.
Local Directories: Listing businesses in local directories like Google My Business, Yelp, or Yellow Pages to enhance visibility and provide accurate information to local customers.
Community Involvement: Participating in local events, hosting workshops or seminars, or organizing charity drives to engage with the local community and establish a positive reputation.
Local Partnerships: Collaborating with other businesses in the neighborhood to cross-promote or offer joint deals, leveraging each other's customer base and networks.
Local Reviews and Testimonials: Encouraging satisfied customers to leave positive reviews and testimonials on review websites, social media platforms, or the business's website to build credibility and attract local customers.
Local Social Media Marketing: Leveraging social media platforms to connect with and engage the local community through targeted content, location-based promotions, and community-centered campaigns.
Standing out in your local community
Local retail marketing will always be important. How you go about it may change over time, but it all boils down to building a strong local brand, creating relevant offers for customers and driving sales plus repeat business for your store.
To learn more about how Lightspeed can help you execute a local marketing strategy, talk to one of our retail experts.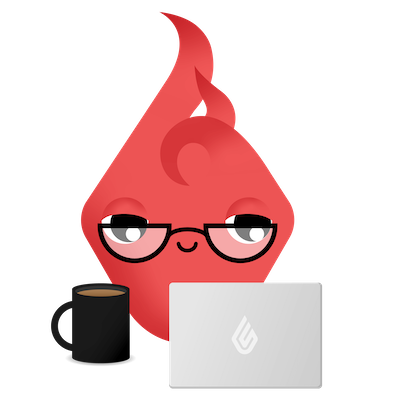 News you care about. Tips you can use.
Everything your business needs to grow, delivered straight to your inbox.