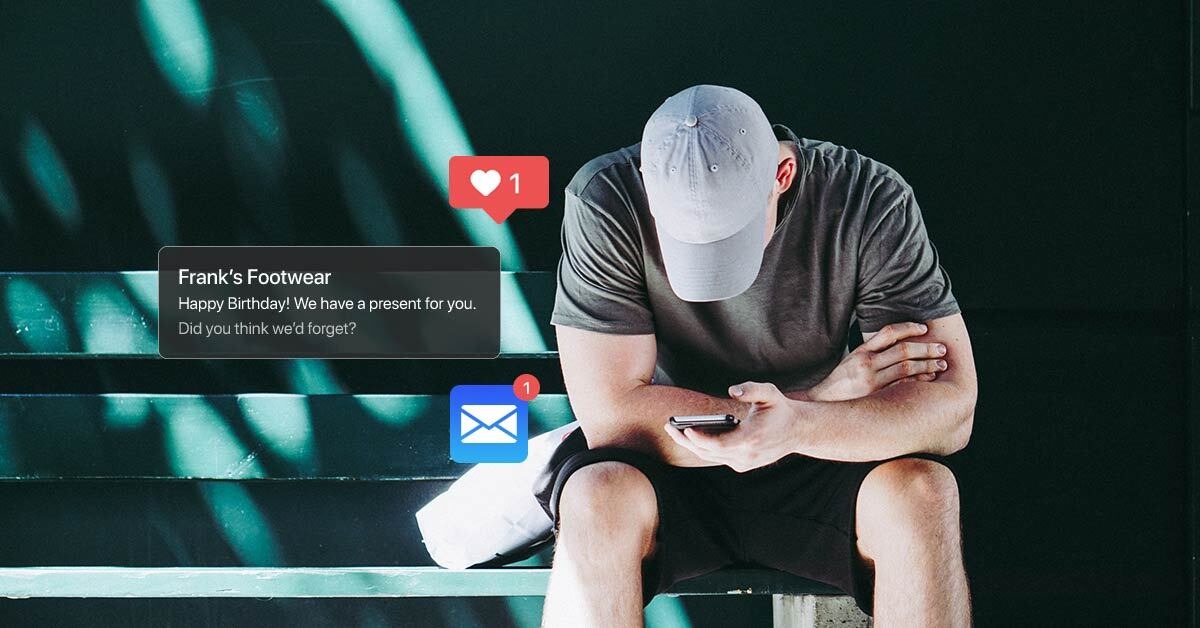 Emails are a powerful tool for communication that have a high potential ROI. According to data from McKinsey & Company, emails are 40 times more effective for acquiring customers than Facebook and Twitter, with an average ROI of $38 for every $1 spent. While it shouldn't be your only digital marketing tool, emails are definitely a part of the marketing mix you shouldn't neglect.
In an era of social distancing, email marketing can help retailers overcome new barriers to purchase and nurture relationships with customers—but just as email marketing had applications before the pandemic, it'll have important applications after as well.
In this post, we'll go over:
Let's get into it!
Reinvent your business for short and long-term success
While the retail sector reopens across North America, owners and operators face a whole new set of challenges. Download our free playbook and learn how to diversify sales and build a more resilient business post-pandemic.
Why is email marketing important?
Like many merchants, you may be in the process of reopening your store—it's very likely that you're opening with limited hours, implementing social distancing and safety measures, mask policies and more.
The bottom line is that the way you serve customers has probably changed in some capacity. How do you let your customers know?
Maybe you're thinking of making a series of posts on social media. Great—anyone who follows you or finds your account will see it. Is that all you need to do, though?
With the right email campaign, you can let customers know about your reopening plans and invite them back into the store with targeted messaging. You could segment your customer base by loyalty program status, by purchase history, by gender—any information that your point of sale system or loyalty program captures can be used to segment customers. By tweaking the messaging based on each segment's interests and sensibilities, you can appeal to the different reasons why customers want to visit your retail store.
Email marketing isn't just useful for letting customers know you're open for business, though. It's a powerful way to keep in touch with your customers and bring them personalized marketing messages to strengthen their connection with your retail business at any time.
By taking the time to set up an email marketing strategy for your store, you can close the distance and take your messaging to customers. When used in combination with a robust social media marketing plan, you make sure your store is top-of-mind when customers feel the impulse to shop.
Use these KPIs to track email campaign performance
As you plan emails into your business's marketing mix, it's important to not send them blindly. You can't get better at something you aren't tracking. The good news is there are plenty of platforms to help you create, automate, send and report on email campaign performance. Perhaps the best known and most comprehensive of them all is Mailchimp, which can integrate with your point of sale system, providing you with a holistic overview of all your business data and its impact on sales.
You might be asking yourself "but what's a good indicator of email campaign performance?" The truth is that there's no one-size-fits-all answer. It all depends on the objective of the email. Let's go over the essential metrics for measuring an email marketing campaign's effectiveness.
Open rate

Clickthrough rate

Conversion rate

Bounce rate

Unsubscribe rate
Open rate
This refers to the number of people who open your email divided to the number of people you sent it to. High open rates indicate a level of interest from recipients that you can use to reasonably conclude the strength of the email's subject line, for example.
Clickthrough rate
CTR is the percentage of email recipients who on one or more of the links in an email. A link us usually attributed to an action you want the recipient to take, like signing up for a free trial or completing the checkout for their abandoned cart, for example. This is a solid indicator of whether or not an email was engaging and successful at getting recipients to take the first step to perform the action you wanted them to take when sending the email.
Conversion rate
While clickthrough rate will tell you the percentage of email recipients that clicked a link or button, it can't give you visibility on the percentage of people that actually took the desired action once they clicked that link and were taken to a page on your website.
What's considered a conversion, though? Well, that's entirely up to you. Is the goal of the email for the recipient to buy from your newest collection? Sign up for an event? Use a promo code on their next purchase? Use the defined objective of an email as it's conversion.
Since your definition of a conversion is directly related to your email's call-to-action (CTA), your CTA should also directly relate to the goal of the email. Conversion rates are one of the most definitive ways to determine whether or not an email was effective.
Bounce rate
For an email to have a chance at being effective, it needs to actually reach someone's inbox. Your bounce rate refers to the percentage of emails sent that couldn't be successfully delivered to a recipient's inbox. When thinking about bounce rate, it's important to understand the difference between hard bounces and soft bounces.
Hard bounces are the result of an invalid, closed or non-existent email address, and your email didn't reach the recipient because of those reasons. You should remove the email addresses resulting in hard bounces from your email list. Internet service providers (ISPs) use bounce rates to determine an email sender's reputation, and you don't want hard bounces artificially inflating your bounce rate.
Too many bounces can make ISPs thing your business is spamming its email list and send all subsequent emails to their junk folder, which will impact your email campaign's effectiveness.
Soft bounces are a result of a problem with a valid email address that's impacting deliverability. Things like a full inbox or a problem with the recipient's server can be the cause of a soft bounce.
5 types of marketing emails you need to be sending
Before you start thinking about your tailored email marketing campaigns, step back and think about the other touchpoints where emails can help market your business.
Your business should be omnichannel (transactional both online and in-store)—there's no way around it. Without a way for your customers to shop with you online, you miss out on sales. And just as important as having an easily-navigable eCommerce site is having a strategy to keep communicating with online shoppers.
Think about how (and more importantly, when) you use emails to communicate information to customers. There are several touchpoints, however, that are must-haves for merchants with an online store.
Abandoned cart emails

Order confirmation emails

Shipment confirmation emails

Birthday emails

Rewards and loyalty program notices
Abandoned cart emails
Cart abandonment is a real problem for retailers—Statistica reports that up to 69.5% of carts are abandoned, which means a customer added an item to their cart but didn't complete a purchase. You can make a dent in your own abandonment rates by setting up triggered emails that remind a customer of their cart. Beyond just giving them a nudge, though, these emails should be tailored to close a sale—so think about adding in free shipping or time-sensitive offers to influence decision-making.
Order confirmation emails
An order confirmation email is sent out soon after a customer completes a transaction online. In it, merchants should think about the context of the email and what information they should include to improve the customer's experience. Shipping number, a summary of the products purchased, the cost, shipping timelines and a CTA to cancel or modify the order is the standard.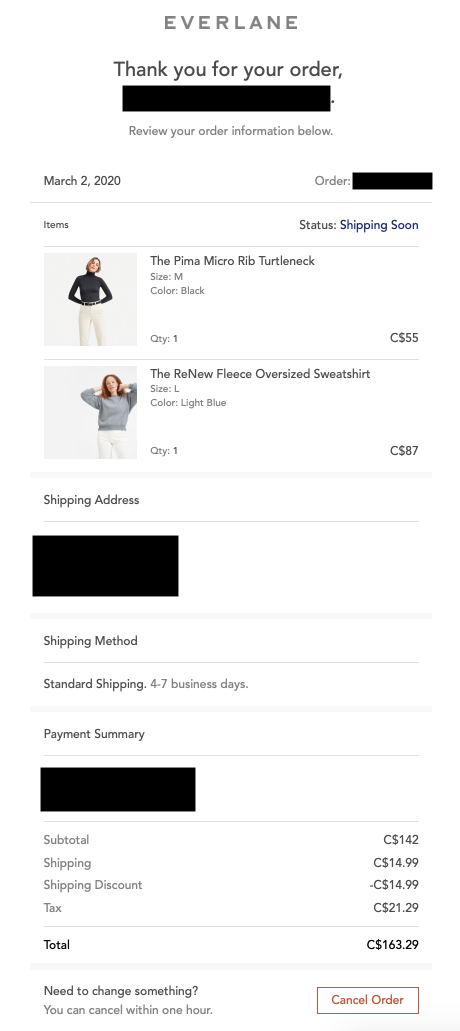 Shipment confirmation emails
An Experian study found that transaction emails, like notifications that inform your customers that their order has shipped, have the highest click rates. In it's most basic form, a shipment email must help customers track their orders, read any FAQs, confirm the shipping and billing address and contact support.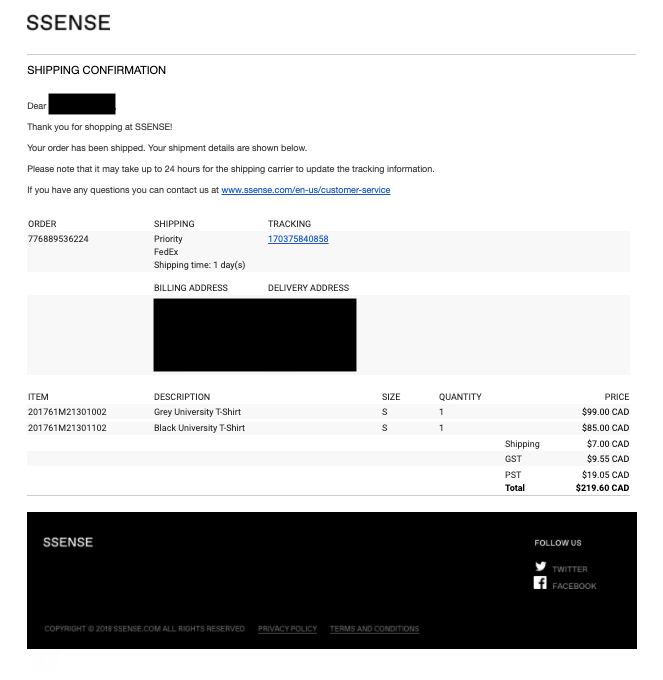 Birthday emails
Birthday emails are a simple way to show customers that you value them. To turn these into a more direct marketing opportunity, include a limited-time gift of some sort. In the example below, Nike is offering its members a one- time use 25% discount on any full-price items.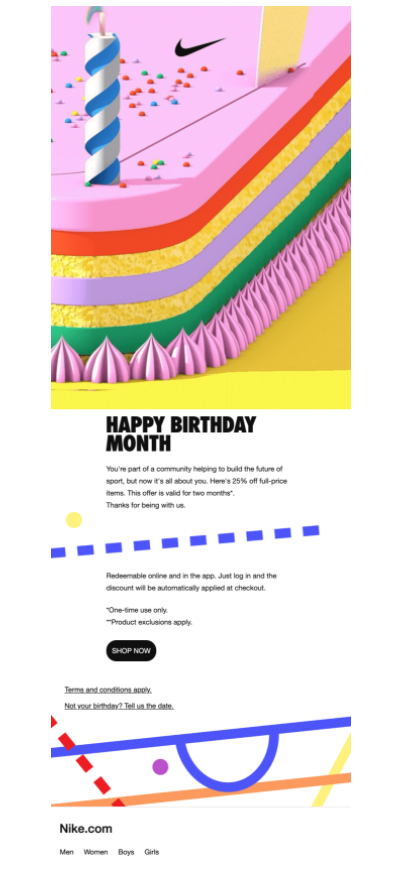 Rewards and loyalty program notices
Tiered rewards programs give merchants an additional opportunity to use emails to incentivize purchases. Take this email from Starbucks, for example. It's goal is simple: let you know how many points you have, what benefits you have, what benefits you unlock once you reach the next tier and how to get to the next tier.
Although it's not expressly suggesting that the recipient purchase something, this email is communicating the value of the rewards program to customers, which they unlock by making purchases. Indirectly, this incentivizes customers to make purchases through benefit-driven messaging.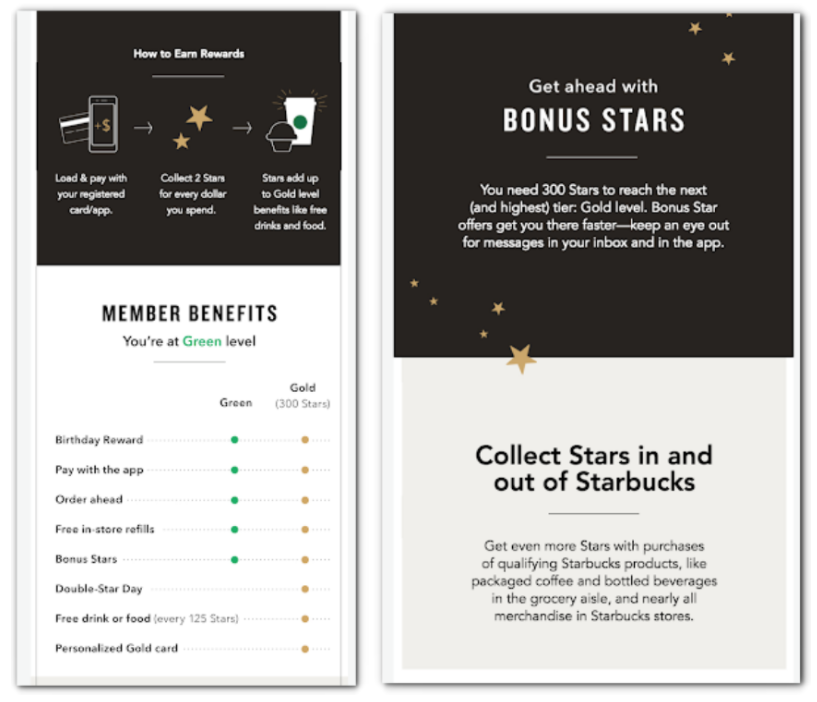 5 types of retail email campaigns
It's time to think about what email marketing campaigns would be valuable for customers. These campaigns will be where you build on the messaging from your other touchpoints—you are a customer-first retailer who has their best interests in mind.
Product launches
Seasonal promotions

Events

Win-back campaigns

Newsletters
Product launches
If you're releasing a new product, you need to make sure your customers know about it. In addition to in-store messages and posts on social media, email marketing can help get the word out. When Montreal streetwear apparel store Off the Hook receives the latest collections, they frequently send an email to let newsletter subscribers know about it.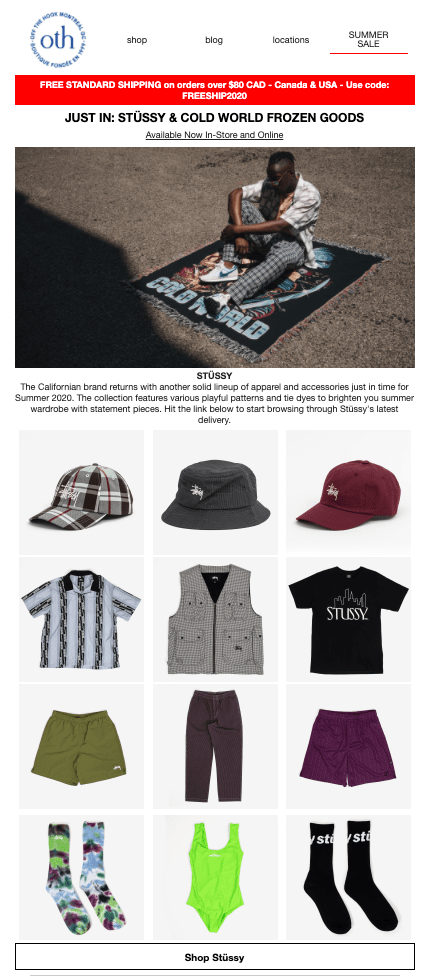 Seasonal promotions
Let your customers know about your seasonal promotions and sales with campaigns highlighting what you're offering. Throwing a summer sale? Let the people subscribed to your newsletter know about it.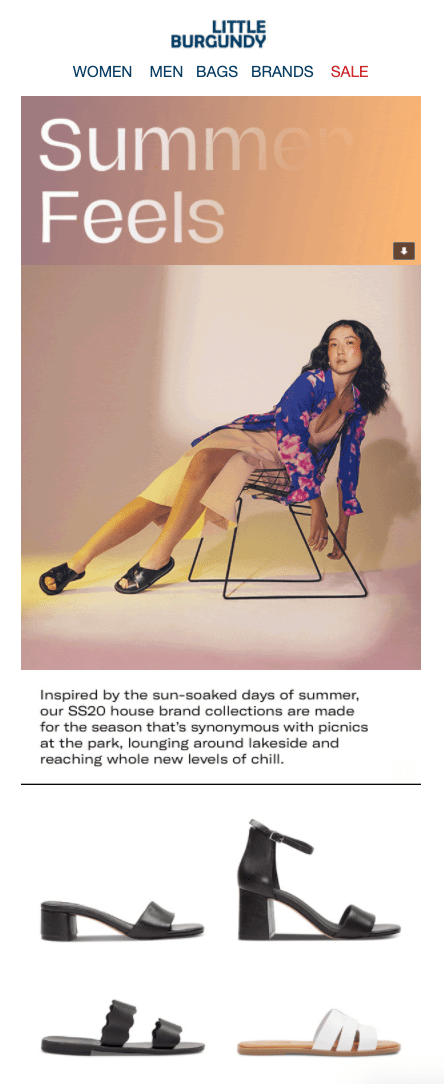 Events
Once allowed, in-store events are an excellent way to foster a community around your business, engage with customers and create brand evangelists. Sending invitations to these events to your mailing list is a surefire way to drive attendance from your biggest supporters.
Win-back campaigns
A win-back campaign's objective is to re-engage with customers who've shown that they're not interested or engaging with your brand anymore.
You could consider including a special win-back promotion or discount to encourage them to make a purchase. Customers who open these emails can be funneled into other lists—opening the email is a signal they're not done with you just yet and can be remarketed—while those that don't engage with the email's content can be safely removed from your mailing list.
Newsletters
Newsletters are an excellent way to keep subscribers up to date on your latest products, events, publications and other initiatives. The main way we tend to see newsletters used is to showcase video or blog content and drive engagement, but newsletters can include any information you think your subscribers and customers are interested in. Don't think that the content can't be product-focused, though. If you have an upcoming collection you want to show off, newsletters are another place you can drive awareness and interest.
Start leveraging email marketing today
Email marketing is a smart way to engage and communicate with customers and drive sales for your business. While email marketing alone can't help you achieve your sales goals, it remains a critical touchpoint for consumers and a vital communications channel.
When defining your sales objectives and which marketing tactics you're going to implement to help you achieve them, assure that email marketing is a part of that mix. Track performance in relation to sales, keep iterating and testing new ideas and maximizing the value of your mailing list.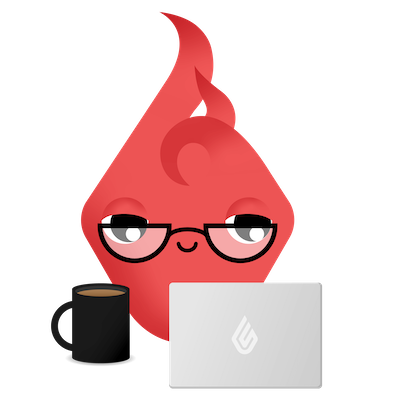 News you care about. Tips you can use.
Everything your business needs to grow, delivered straight to your inbox.