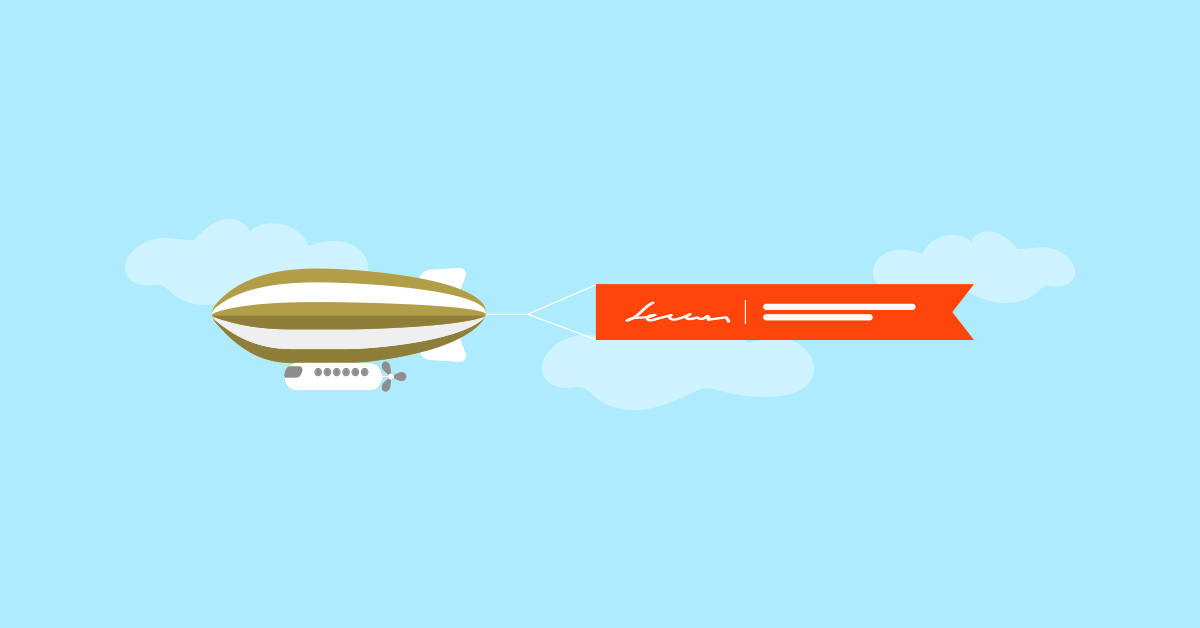 The adage "build it and they will come" may have been true centuries ago, when there was little competition in the retail space. With more than one million retail establishments in the U.S. and nearly 150,000 in Canada today however, retailers have to actively reach out to customers to see results.
That's where retail advertising comes into the equation. Retailers need to leverage paid promotions to differentiate themselves, stay atop customers' minds, and keep consumers coming back for more.
From in-store displays and social media, to online display ads and billboards, ads come in all shapes, sizes, and media, which can make it difficult to know where to begin. We've rounded up a dozen real-world retail advertising examples to inspire you to spread the word about your business effectively and creatively.
Table of Contents:
Ring up sales from anywhere
With Lightspeed's cloud-based POS, you can eliminate customer wait times, all while offering amazing service.
Print advertisement examples
Print advertising can be found in all kinds of paper publications, such as newspapers, magazines, trade journals, brochures, and pamphlets, to name a few. These ads can take up a corner of a page, or come in the form of a multi-page spread or insert.
Here are two standout print retail ads examples.
1. IKEA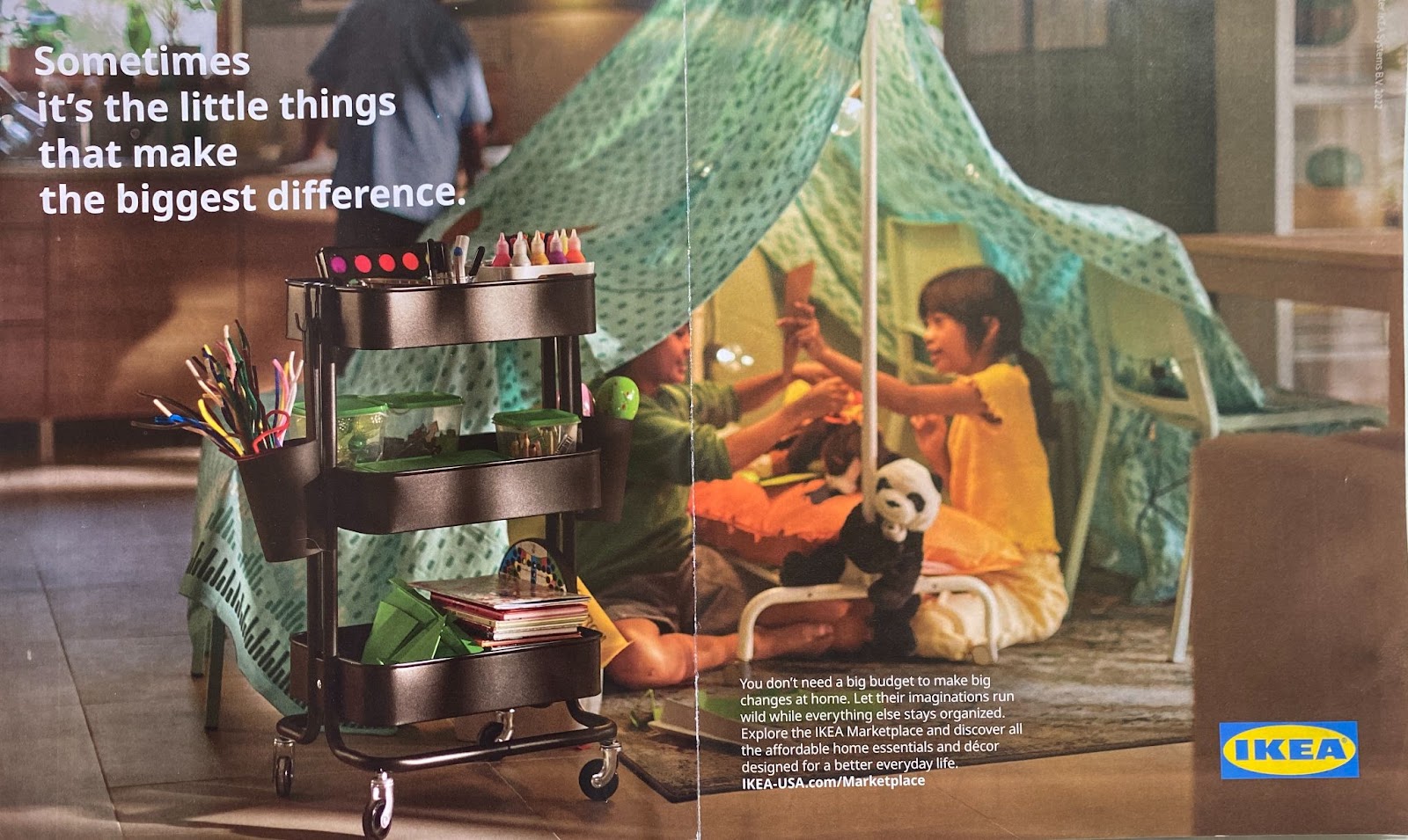 This two-page print ad from budget furniture retailer IKEA, found in REAL SIMPLE magazine's September 2022 issue, is powerful for multiple reasons.
First, the brand fits the magazine's readership. REAL SIMPLE is focused on being a "go-to source for practical, useful and clever solutions to make every aspect of your busy life easier." This ad focuses on a multi-purpose IKEA cart that's shown as a clever storage solution.
Second, the messaging emphasizes IKEA's value propositions of value and simplicity.
2. Love Beauty and Planet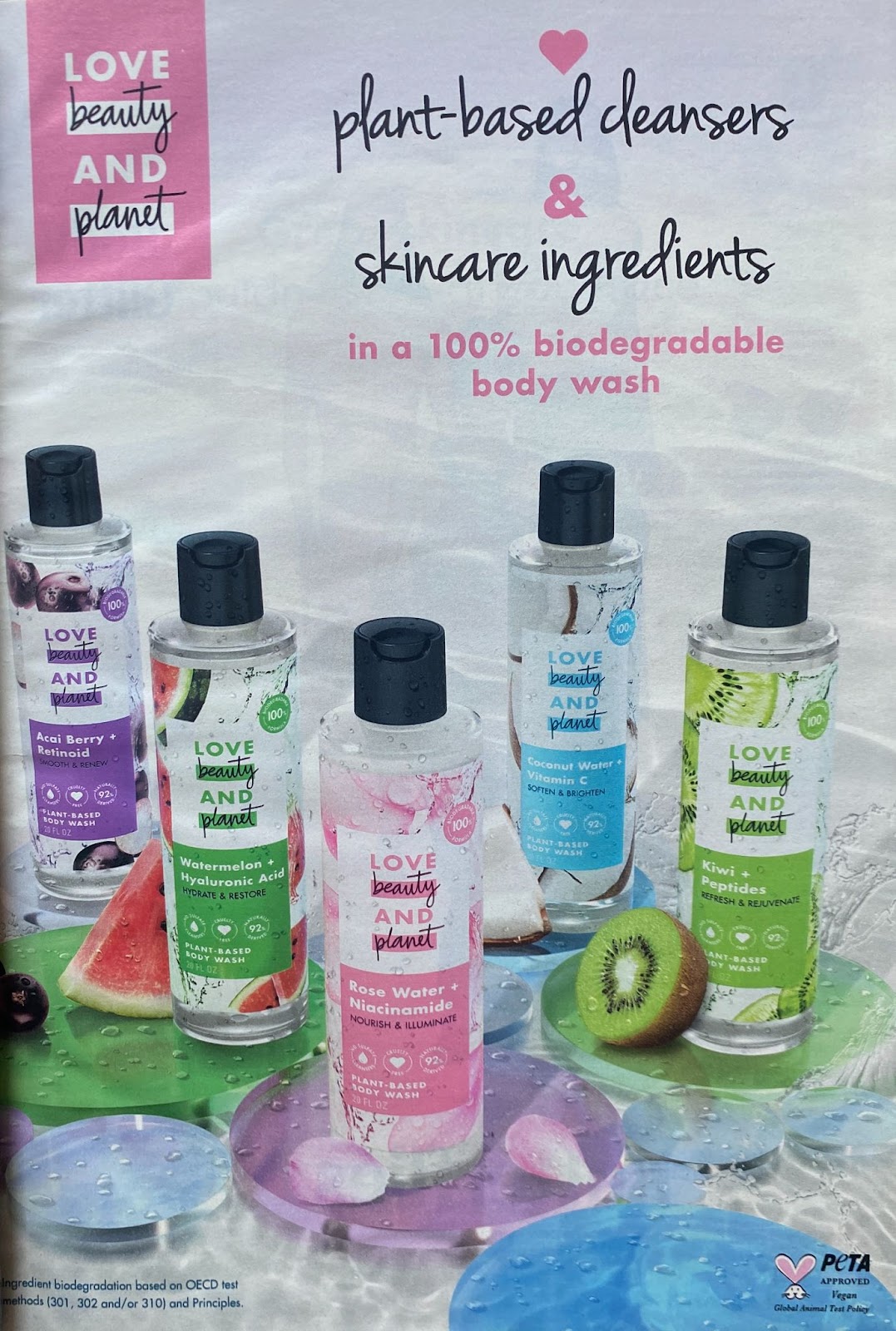 This ad, seen in a 2022 issue of Cosmopolitan magazine, features a collection of Love Beauty and Planet's body washes. This ad works well because it emphasizes the brand's values of beauty products that are good for its customers and good for the planet.
This ad does this by using language like "plant-based" and "100% biodegradable," featuring images of "natural" ingredients like fruits and rose petals, and using PETA's stamp of approval.
Social Media Advertisement Examples
While most people think of organic (unpaid) social media when they think of promoting their brand, there's also a time and place for paid social media ads. Pretty much any social media platform you can think of has its own advertising platform: Facebook (from which you can also manage ads for Instagram), Twitter, TikTok, Pinterest, etc. These ads let retailers expand their reach beyond their followers and target very specific audiences.
Check out these examples of two retailers hitting the nail on the head with their social media ads.
3. Cider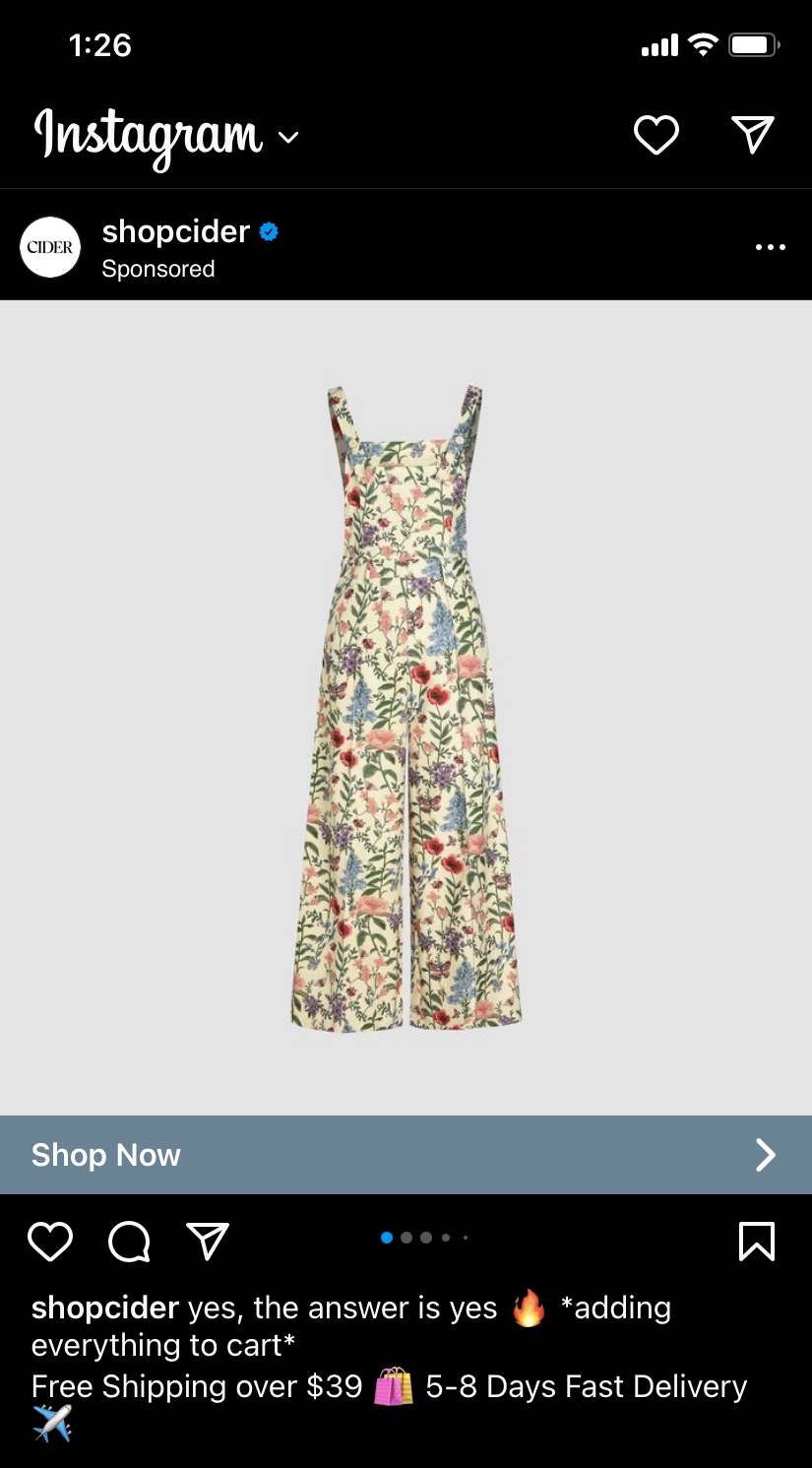 Budget online fashion retailer Cider knows to target its customers where they spend their time: on social media.
In this social media advertisement example, Cider promotes several of its products in a carousel image display. This type of retail advertising is successful because people can easily scroll through multiple products, and tap "Shop Now" to browse further or make a purchase.
The caption advertises free and fast shipping, which are value adds. And the emojis in the caption are as eye-catching as the featured products.
4. Hers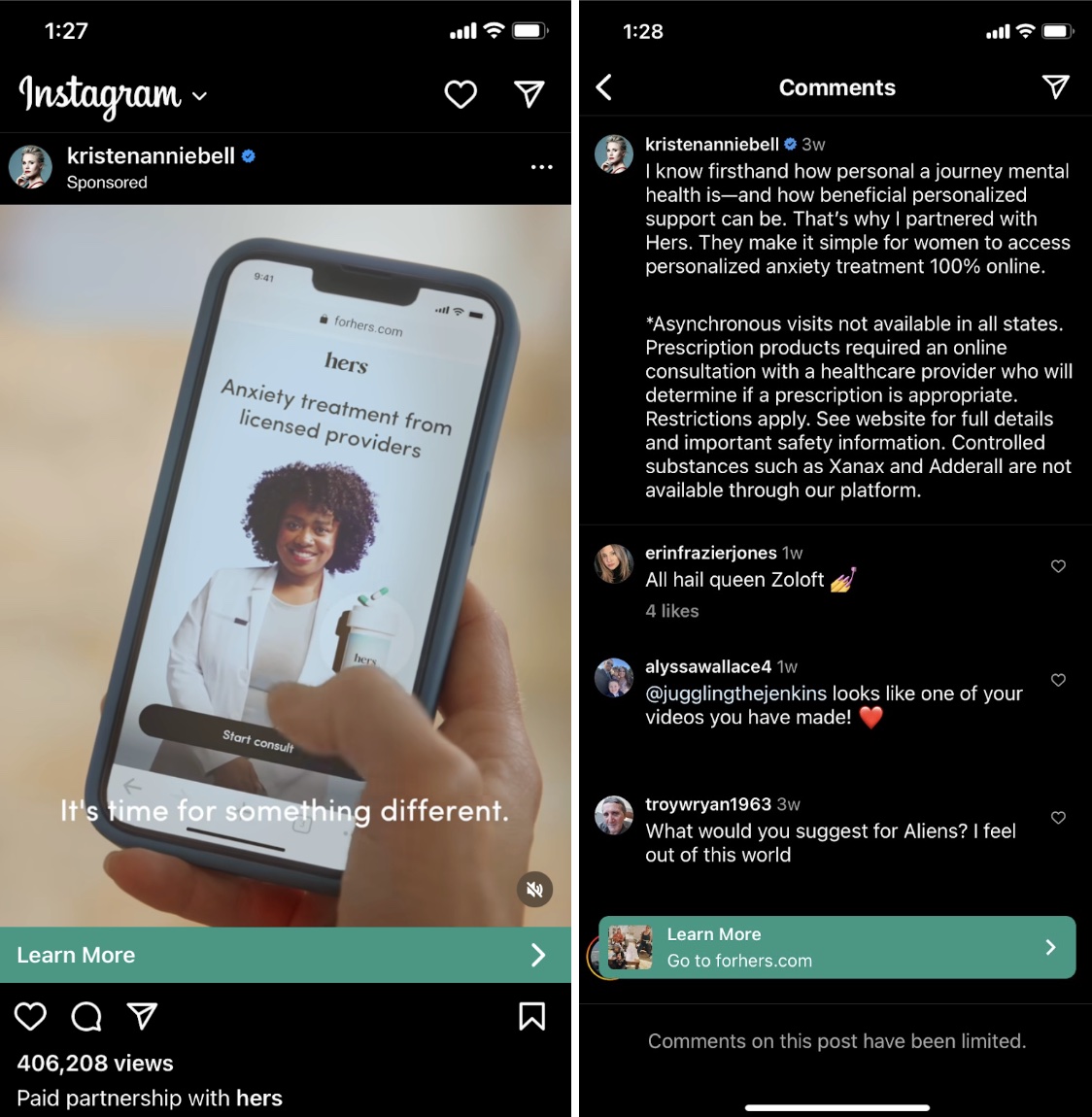 Female-focused wellness brand Hers has partnered with actress Kristen Bell on a campaign promoting its anxiety medication. The campaign features a commercial starring Bell, which is being aired on multiple platforms, including Bell's Instagram account.
This ad is a great example of influencer marketing. Hers is adding credibility to its brand and destigmatizing mental health concerns with its celebrity endorsement.
Email marketing examples
Sending your customers emails is one of the most effective forms of marketing because you control who sees your emails. If you have a subscriber's email address, your email will land in their inbox. Email marketing is also great because it's free to execute. Aside from the staff you pay to write and manage emails, and whatever you pay for your email marketing platform, you don't have to pay to reach customers.
Take inspiration from these email newsletter retail advertising examples.
5. Reformation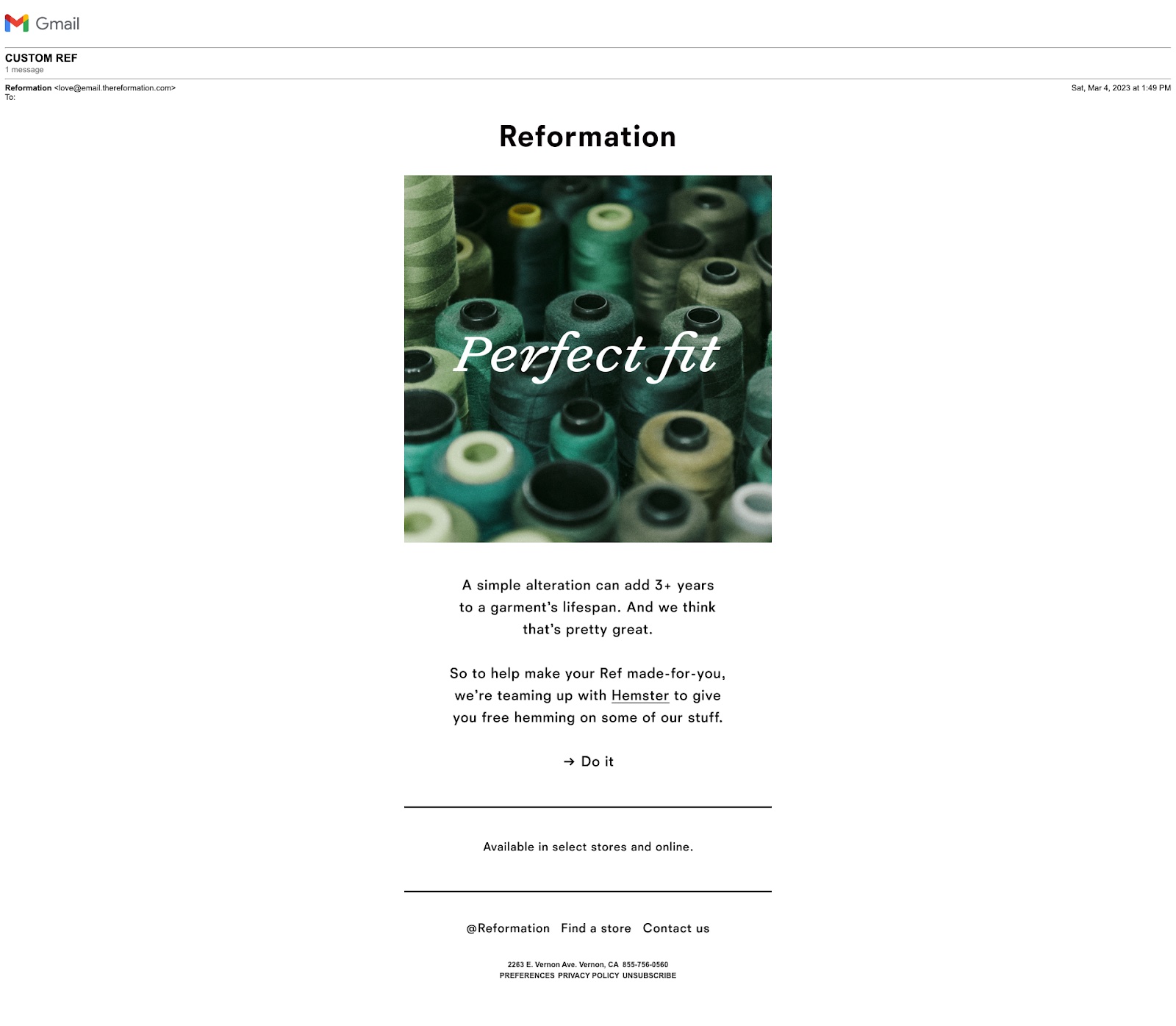 Direct-to-consumer sustainable fashion brand Reformation makes email advertising part of its marketing strategy. The brand sends an email newsletter to stay top of mind and give customers updates.
This update is particularly compelling because it highlights Reformation's focus on sustainability by explaining that alterations can prolong clothing's lifespan and announcing free hemming on its products. The email is simple, and its attention-grabbing subject line makes subscribers want to open it.
6. Home Depot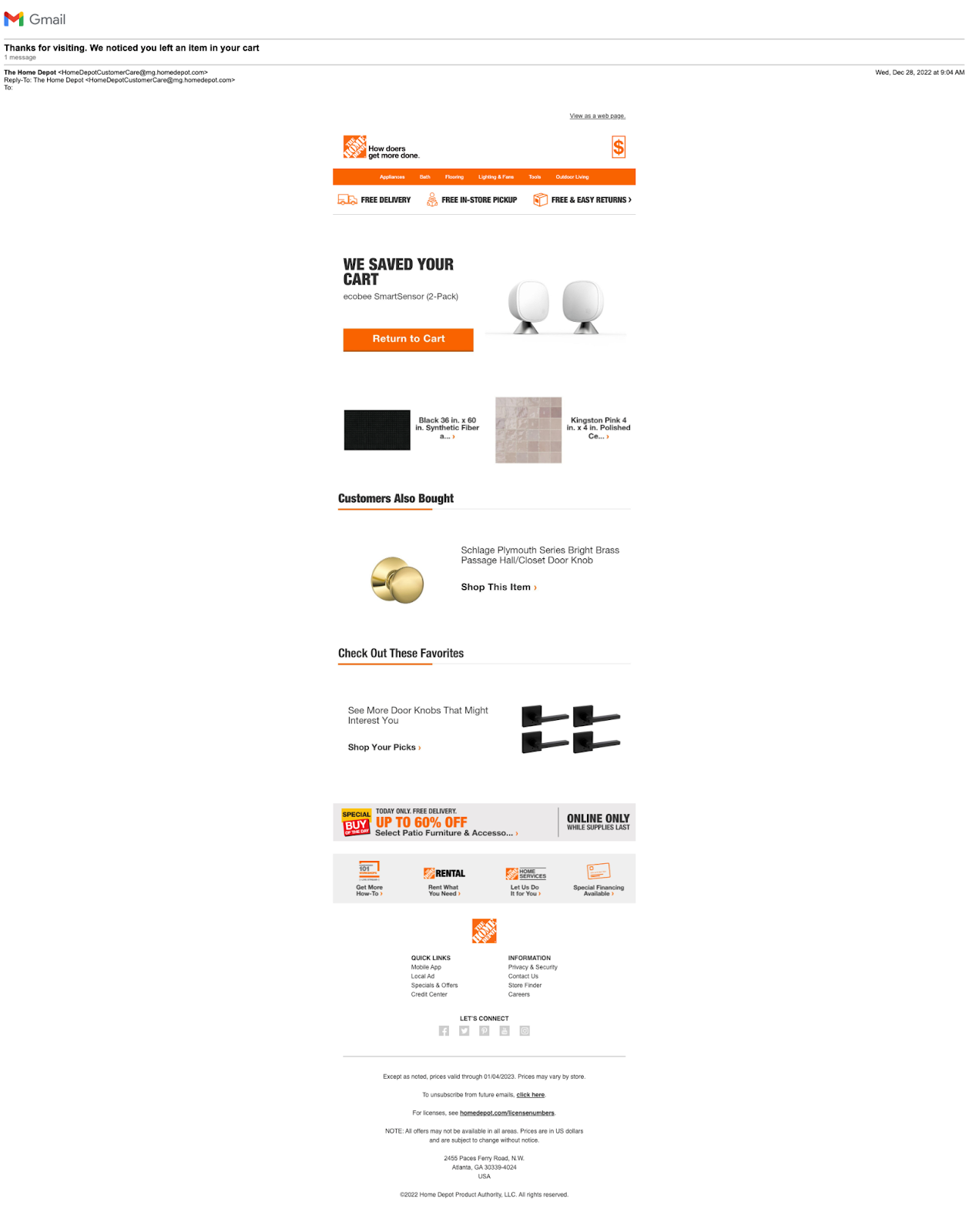 Home improvement retailer Home Depot reminds customers via email of items they've left in their carts to encourage them to complete the purchase. This email marketing strategy reduces cart abandonment rates.
This email also takes advantage of the recipient's attention by suggesting other products they may like based on their browsing history. This is a great strategy because it gives the customer multiple reasons to keep shopping.
Best in-store retail advertising campaign examples
Even after you've enticed customers into your stores, you can't stop advertising. Eye-catching in-store displays can help you drive sales towards your most profitable products. Or, if you sell products at third-party retailers, in-store ads can help customers choose your products over your competitors'.
Take some lessons from these examples of the best in-store retail advertising campaigns.
7. Splash Blast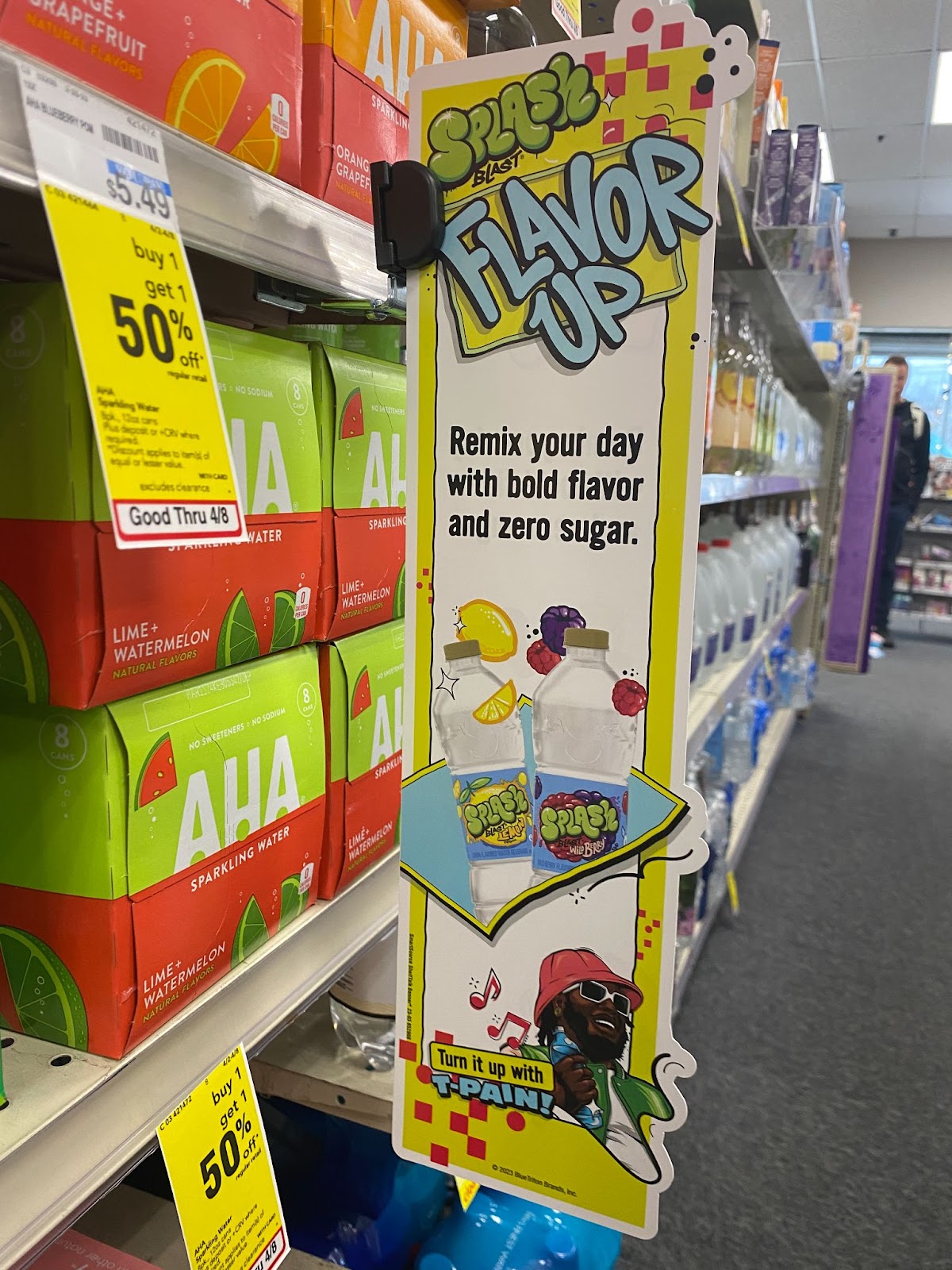 With the recent rise in popularity of flavored seltzer waters, the beverage aisle in any grocery or convenience store is bursting with options. Flavored water brand Splash Blast stands out from the competition at a pharmacy with this in-store ad.
This ad is strong for a number of reasons. First, its colorful design and fun, modern graphics make it hard to miss. Second, its placement among competing drinks in the beverage aisle makes this ad pertinent.
When you take a closer look at the ad, you see that the copy explains that the drink has "bold flavor and zero sugar," which appeals to the right type of customer. While the text is limited on this ad, it gets the point across and sells the product.
The celebrity endorsement from rapper and producer T-Pain brings the ad home. T-Pain's most well-known song, "Buy U A Drank," makes him the perfect ambassador for Splash Blast. This ad is part of the brand's new advertising campaign, which features T-Pain as Splash Blast's "Master of Splashermonies," which coincides with the rapper's new album release. The ad's nod to "remixing" also plays up its musical theme.
8. Milani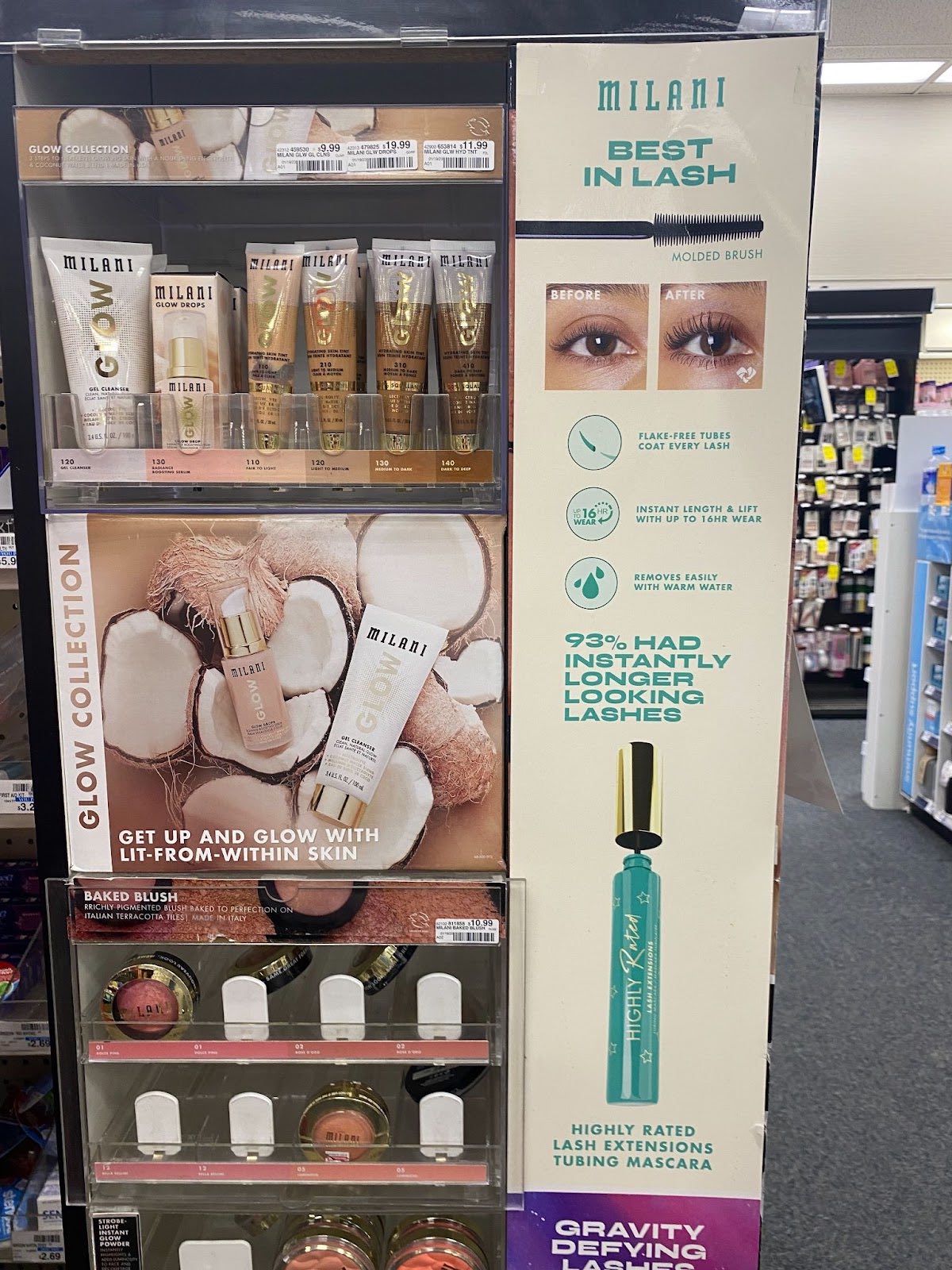 The cosmetics aisle is another highly-populated part of any drugstore. Makeup brand Milani makes its mascara stand out by highlighting its value propositions in an in-store ad.
In the ad, customers see before and after photos that show off the effectiveness of the product. They also learn about three benefits of the mascara: its flake-free formula, durability, and ease of removal. Finally, a user research statistic provides quantitative evidence that Milani's mascara is good quality.
Outdoor advertising examples
Outdoor advertising comes in many different forms: from simple A-frame signs to massive billboards. These examples show that even the simplest signs can be powerful.
9. Amelie's Bark Shop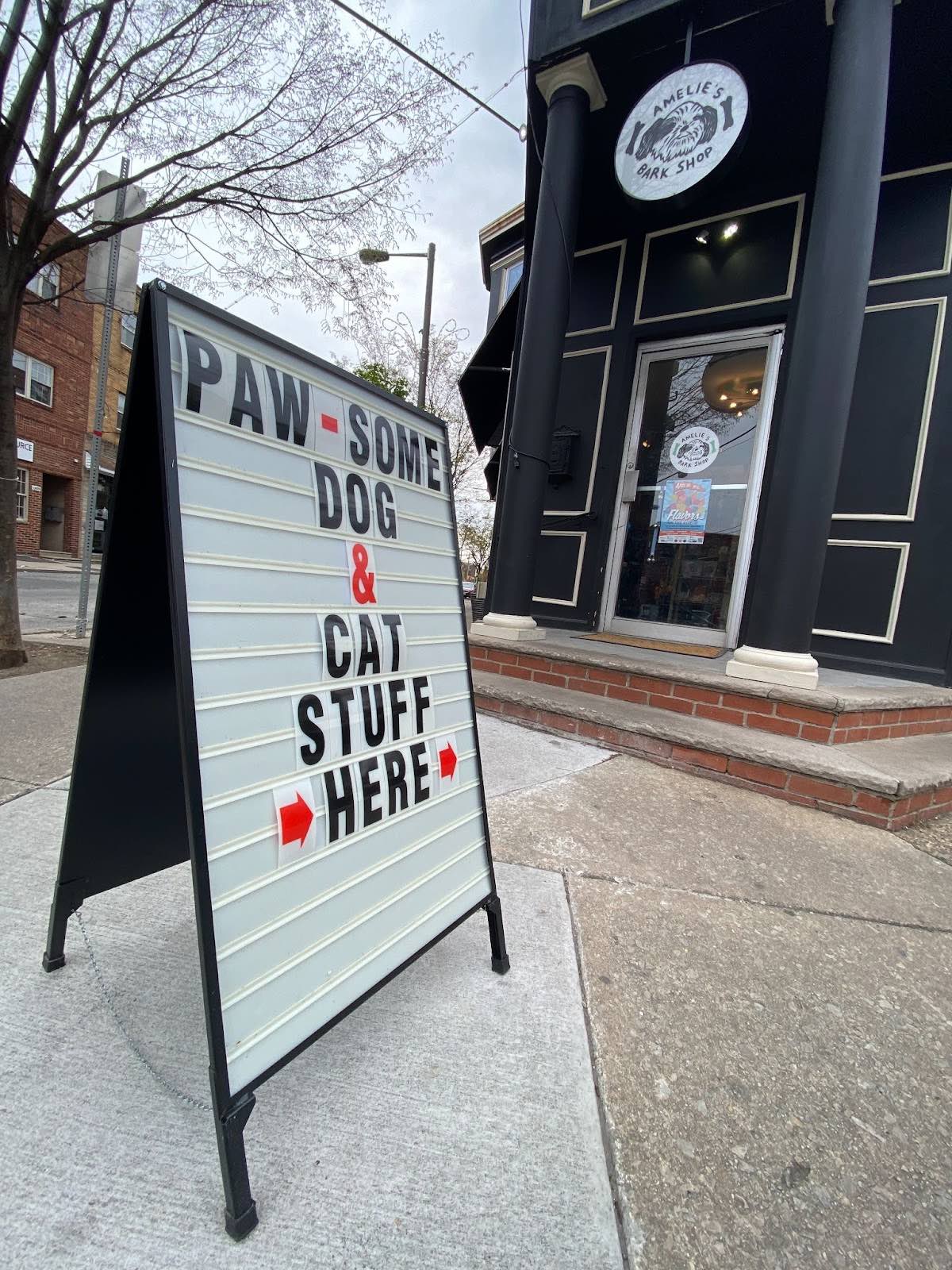 Amelie's Bark Shop, a boutique pet store in Philadelphia, proves that less is more with its simple-yet-clever sidewalk sign. This retail advertising example uses a pun and straightforward explanation to lure customers in.
On the other side, the sign displays practical information about the store's hours, and tugs on pet owners' heartstrings by reminding them that their pet deserves a treat.
10. Sweat Fitness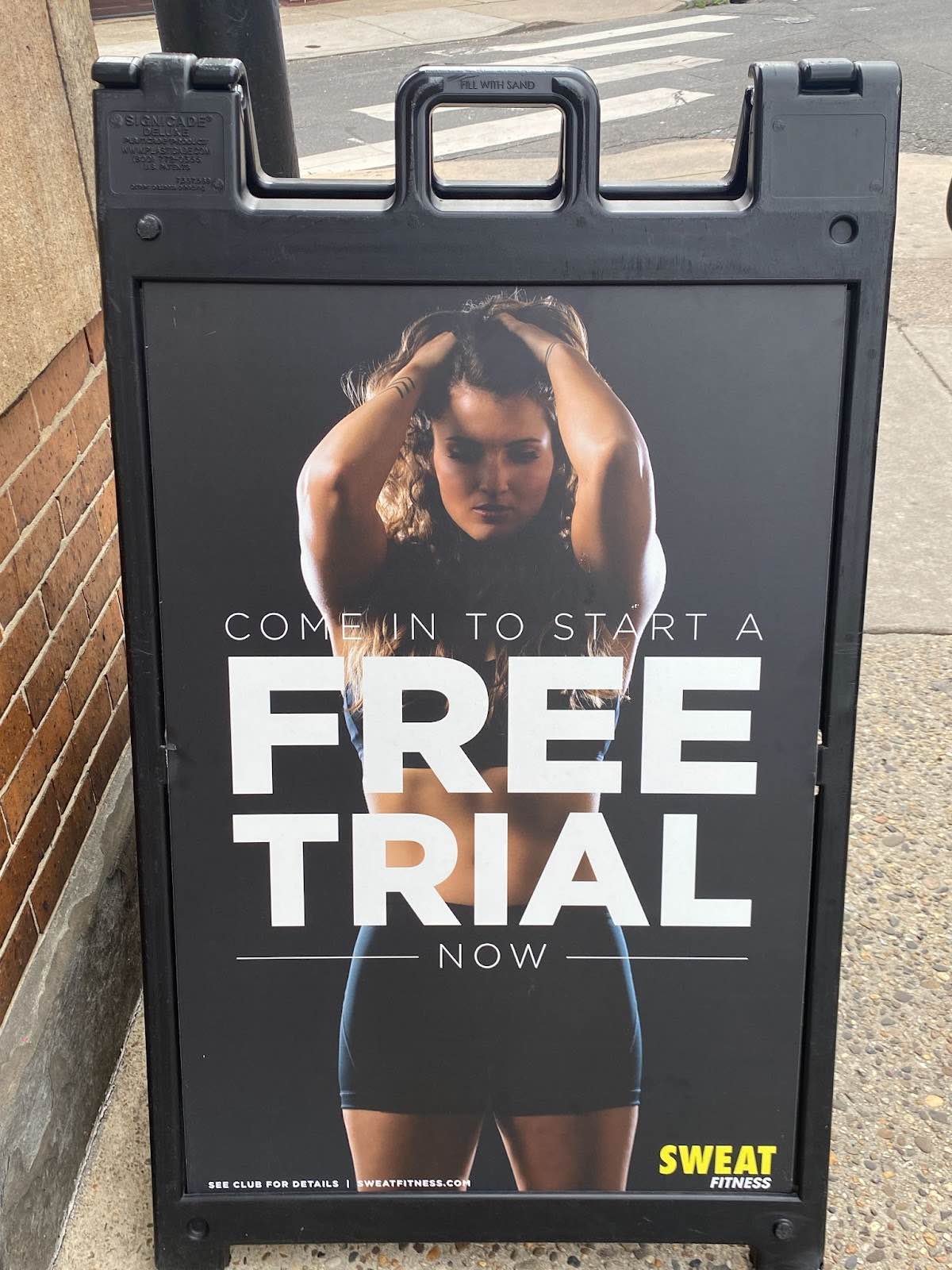 Philadelphia's Sweat Fitness gym uses this compelling sign to attract attention from passersby. The sign's design is simple and powerful because of the contrast between the text and background. Its offer for a free trial is also captivating, while the use of an in-shape model hints that you'll also look that good if you join the gym.
Online advertising examples
Disable the ad-blocker in your browser and you'll notice half a dozen ads on any webpage you visit. Check out these online retail advertising examples for inspiration for ads that get the job done without interrupting the web surfing experience.
11. Pottery Barn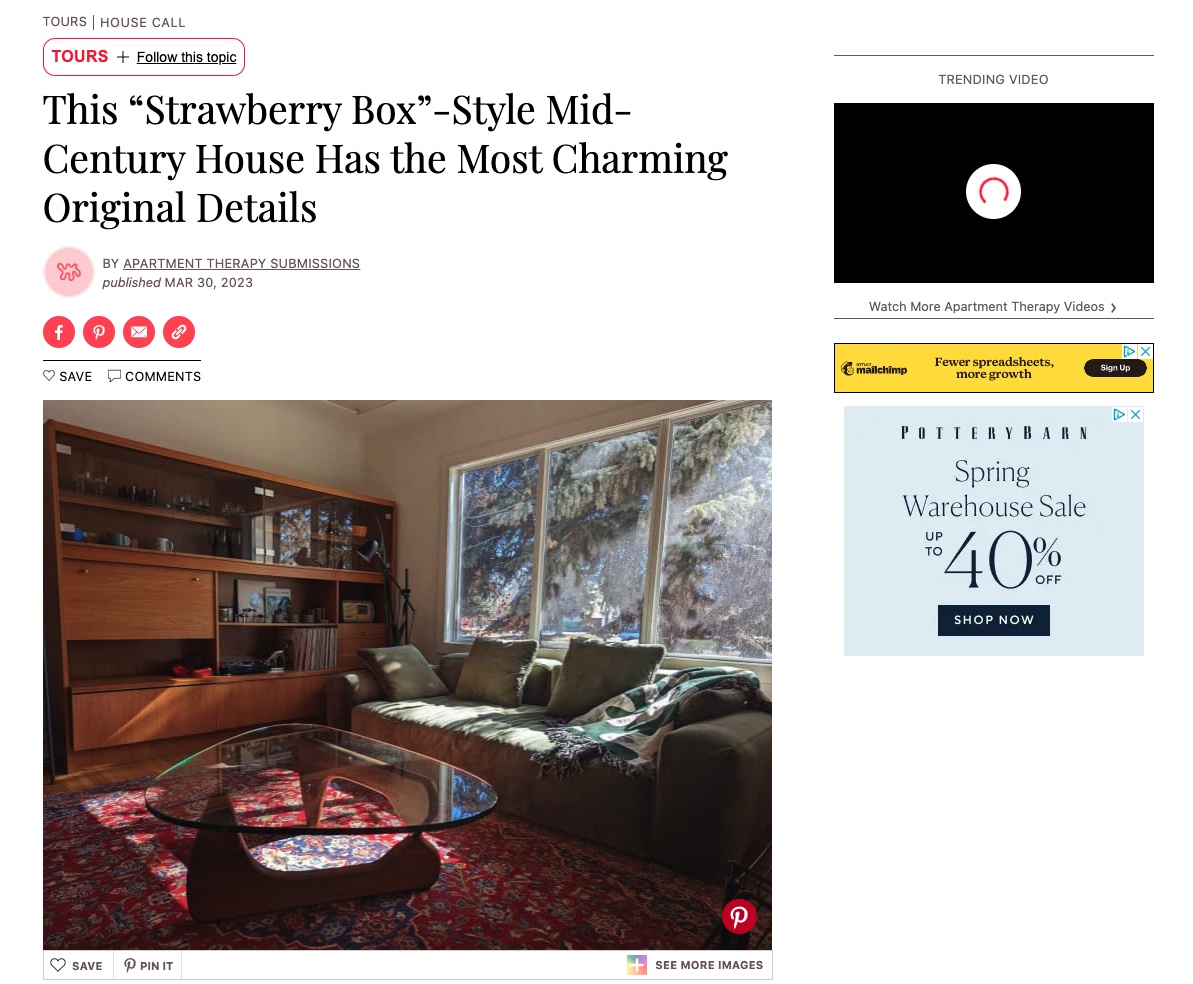 Furniture store Pottery Barn advertises its spring sale in a simple display ad alongside a house tour on Apartment Therapy's website.
This ad is successful first and foremost because of its simplicity. It uses two contrasting colors that highlight the 40% savings, make the call to action easy to find, and distinguish the ad from the article.
This is also a compelling online advertising example because of its placement. Pottery Barn sells furniture. Apartment Therapy is an online magazine for people interested in home decor and organization. Pottery Barn has found a perfect match for its products among Apartment Therapy's readers.
12. Lamps Plus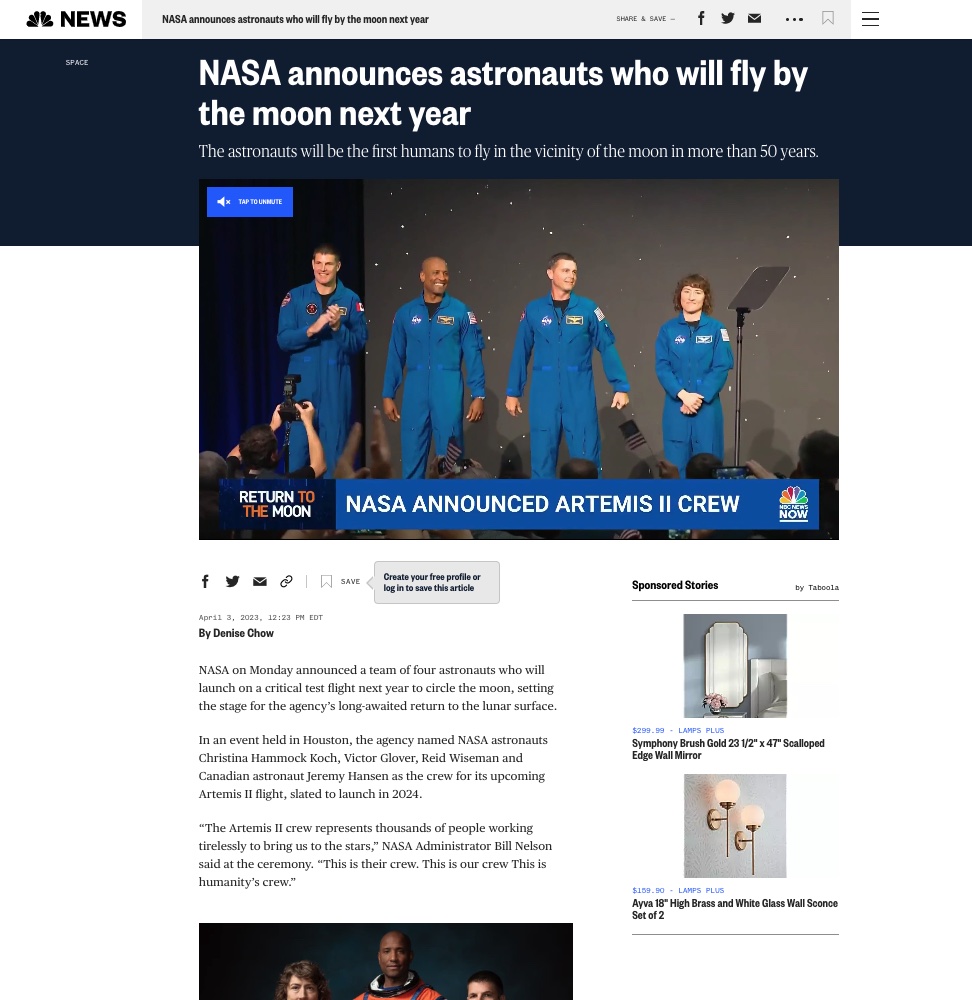 Lighting retailer Lamps Plus cleverly disguises ads for its products as editorial content on NBC's website. The ads, which simply show the product's image, name, price, and source, appear alongside a news story on NBC's website. They're labeled "Sponsored Stories" to make customers think they're related news stories. However, when you click on these "stories," you're taken to the corresponding product page on Lamps Plus' website.
Wrapping up: best retail advertising examples
As a retailer, you need to actively advertise your business to attract new customers and keep existing customers coming back for more. While we've shown you examples of several different types of retail advertising, advertising is best when it's combined with an omnichannel marketing strategy. Rather than focusing on one or two outlets, use as many advertising platforms as possible. After each campaign, measure the effectiveness of your ads to learn where to reinvest your resources for the most ROI.
Lightspeed's suite of retail marketing tools can help you catapult your advertising efforts. Start your free trial today.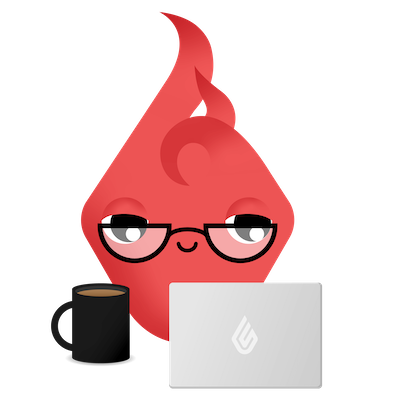 News you care about. Tips you can use.
Everything your business needs to grow, delivered straight to your inbox.