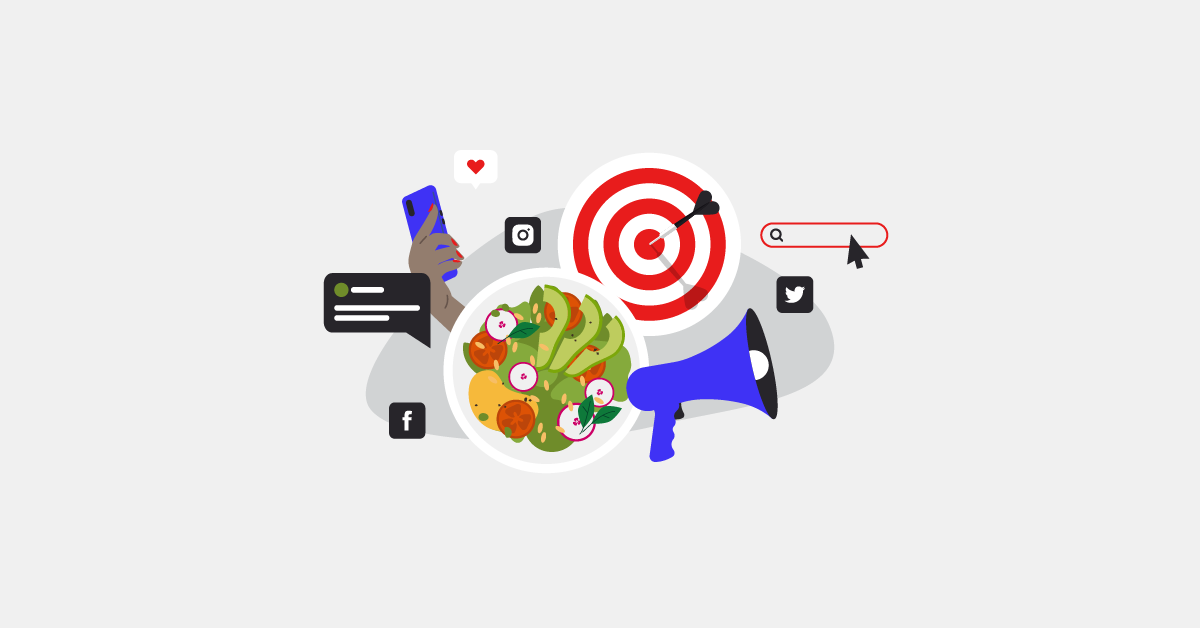 Succeeding in the restaurant industry would be much simpler if creating a great concept was all it took to sustain a business. However, with nearly 800,000 restaurants in the US and Canada, your customers have a lot of options when they dine in and take out. A comprehensive restaurant marketing strategy can help you stand out from the competition and stay atop customers' minds.
If you think marketing is something you should prioritize only when business is slow, think again. When marketing is an ongoing activity, it can help mitigate and even prevent dips in sales.
Rather than winging your Instagram posts, email newsletters, and influencer partnerships, establishing a strategy will help you stay on track and hold you accountable to your marketing goals. If you're ready to learn all about how to craft and implement a winning marketing strategy for your restaurant, you've come to the right place.
Specifically, you'll learn how to:
Discover the trends shaping the restaurant industry
A global survey of over 8,000 hospitality operators and guests reveals how operations and consumer preferences have shifted in the past year.
Define your target audience and positioning
Marketing is all about sending messages to the people who will be the most receptive to them. That's why the first step in creating a restaurant marketing strategy is figuring out who your ideal customers are.
Identify your ideal customer for your restaurant's marketing strategy
Start by thinking about who your regulars are. Are they busy professionals who come to your restaurant at lunch to grab a meal to go? Are they couples who choose your romantic spot for date nights? Are they families with young children who appreciate your family-friendly atmosphere and kids menu?
If you can't find patterns in your customer base, look at data. With a customer relationship management system that automatically generates tags for guest profiles, you can easily find commonalities.
Another option is to send customers surveys about their needs, preferences, and dining behaviors. Ask about their demographics, how often they dine at your restaurant, why they choose you, what factors they consider when they dine out or order in, and more.
Create customer personas
Use all of this information to create customer personas for various segments of your target audience. Customer personas are profiles of fictional customers who fit your ideal customer profile. Personifying demographics can make it easier to serve—and market to—that type of customer.
Need some persona marketing ideas for your restaurant? Here are some fictitious examples of personas that two different restaurants might use:
Lola is a high-earning 26-year-old tech executive who has a lot of disposable income and orders delivery from your restaurant multiple times per week because she has an active social life and doesn't have time to cook. She values healthy meals and convenience, and is willing to pay a premium for both.
Jack is a 70-year-old divorced, suburban retiree who loves taking his kids and grandkids out to meals when they visit. Because he's on a fixed income, Jack values a good deal and large portions. Jack has recently started learning about craft beers, so he enjoys frequenting restaurants with craft beer menus that also have a family-friendly ambiance.
Write your unique selling proposition
Now that you know who your customers are, you can write a unique selling proposition (USP) that explains who you serve and what makes you different from the competition. Follow this formula for writing a USP: What + Who + How.
Describe what your restaurant does.
Describe who you do it for. This one's easy: that's your ideal customer.
Explain how you're different. Look into what similar restaurants are doing, and describe how yours stands out.
Need inspiration? Hawaii-based coffee roasters Kona Joe Coffee take the USP a step further by dedicating a page on their website to explaining what makes them different. The owners took inspiration from their family's vineyard to take a similar approach to cultivating coffee beans.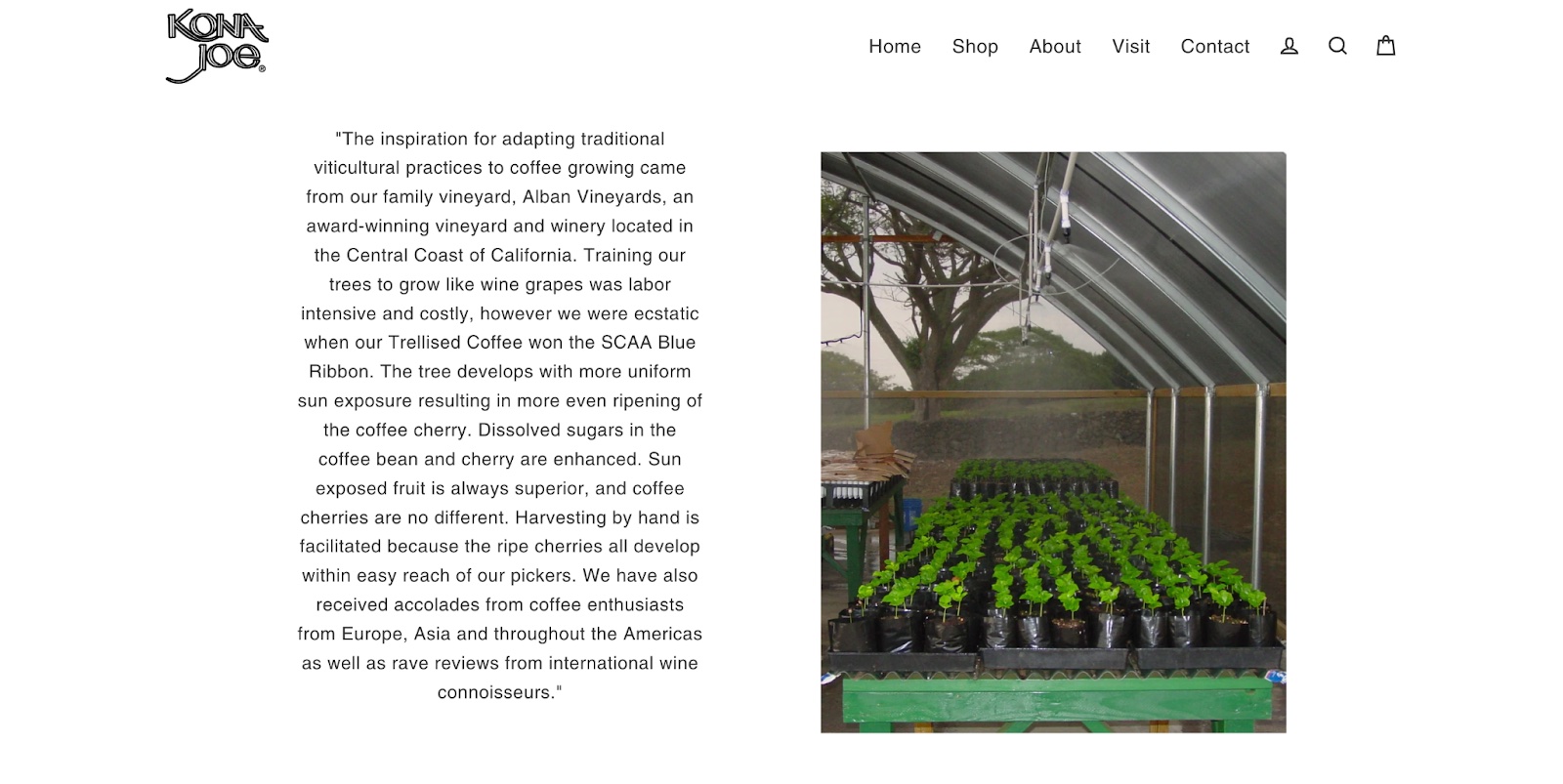 Establish your brand identity
After establishing your audience and writing your USP, you're ready to figure out your brand identity. This step consists of creating brand guidelines for visuals and written/spoken communications.
Visual branding

Establishing brand guidelines as part of your restaurant marketing strategy will help you maintain a consistent visual identity. Branding is essentially a visual representation of your unique value proposition.
Select colors, fonts, and graphics that convey what makes your restaurant stand out. Your branding should also make customers feel a certain way. Use these visual elements to inform the design of your restaurant.
Take for example, Shake Shack, which has a distinctive logo featuring a stylized drawing of a burger, with the restaurant name in bold lettering. Shake Shack's color scheme of green and white is also consistently used, giving the brand a fresh, clean, and inviting aesthetic. The brand's photography is also top-notch, featuring high-quality images of their delicious burgers, shakes, and fries that showcase the food's deliciousness.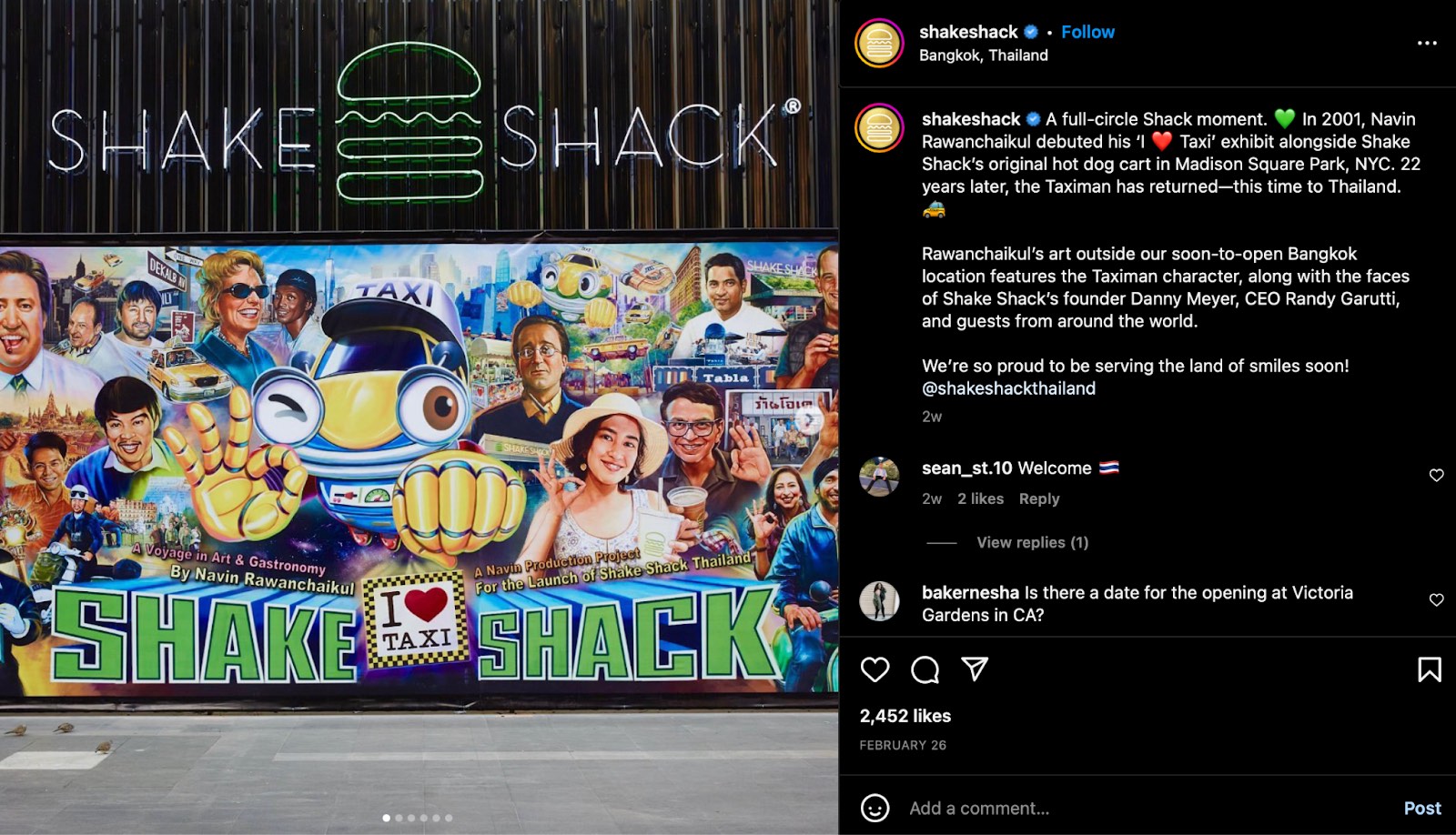 Voice and tone guidelines
The words on your website and menu, and how your staff speak with guests, is another part of your restaurant's brand. Establish voice and tone guidelines to accompany your visual brand guide.
Create examples of language that matches the tone and voice you want your restaurant to emulate. Select words you want to use often, and any words you want to avoid. Use those guidelines to inform everything from social media captions to scripts for servers.
Take inspiration for your visual and written brand guidelines from Il Villaggio Osteria, which boasts bringing "a little piece of Italy [to] Jackson Hole [,Wyoming]." From its decor to the language used on its website, the restaurant emulates the Old World with a rustic wine cellar space and statement pizza oven that "invite you to dine as you would in Europe, where meal becomes a complete experience, not just a dinner."
Restaurant marketing strategies: choose your marketing channels
The next step is to decide which tactics will be part of your restaurant marketing strategy. Depending on your resources, you can introduce them gradually, or go full steam ahead with a number of marketing channels at once.
Digital marketing
Digital marketing includes online strategies like:
Organic social media: Organic (unpaid) social media marketing involves posting to your social media channels regularly. Instagram has been the go-to platform for restaurants for a while because its visual nature helps restaurants show off their tantalizing options. TikTok is an up-and-coming platform for restaurants.
One brand that's making moves on organic social media is Chipotle, which regularly posts entertaining content on platforms like TikTok. They even team up with other brands and influencers in their content. Check out this example featuring Chipotle and Duolingo.
Email marketing: Unlike social media, which uses algorithms to limit who sees your content, any email you send will make it to a subscriber's inbox as long as you have the right address. Use an email marketing platform to schedule and manage your newsletter.
Otium, a contemporary restaurant in Los Angeles, stays top of mind by sending emails around special events and updates to the restaurant. Their emails also contain a call to action to make a reservation, thus making it easy for would-be diners to schedule a visit.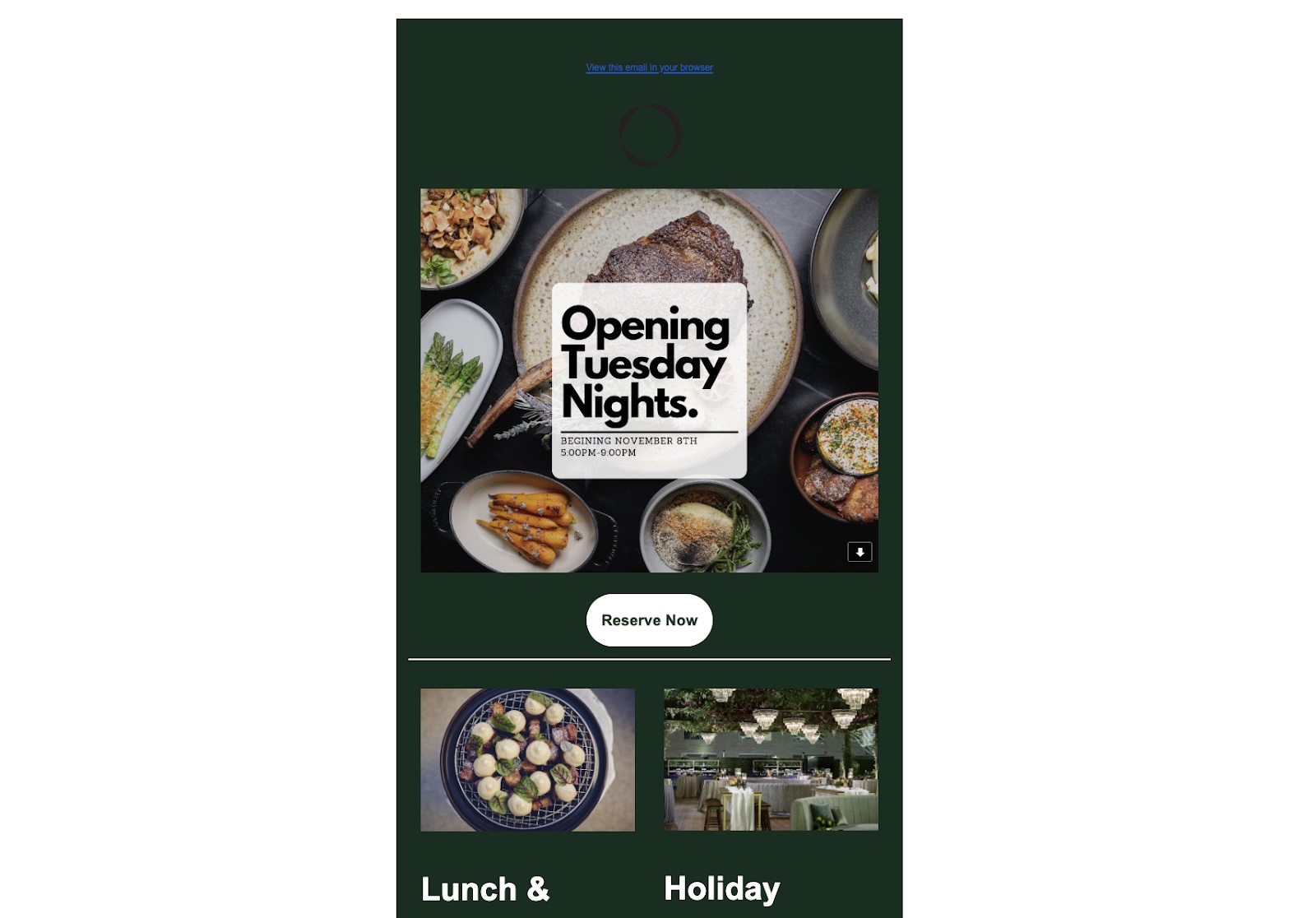 Influencer marketing: Through influencer marketing you partner with online content creators to promote your restaurant and influence your ideal customers. You can develop your own partnerships or use a tool like TikTok's Creator Marketplace to find influencers and facilitate collaborations.
Instagram is also a great platform for launching influencer campaigns. Many hospitality and consumer brands, for example, partner with influencers like food blogger @atasteofkoko to produce engaging content.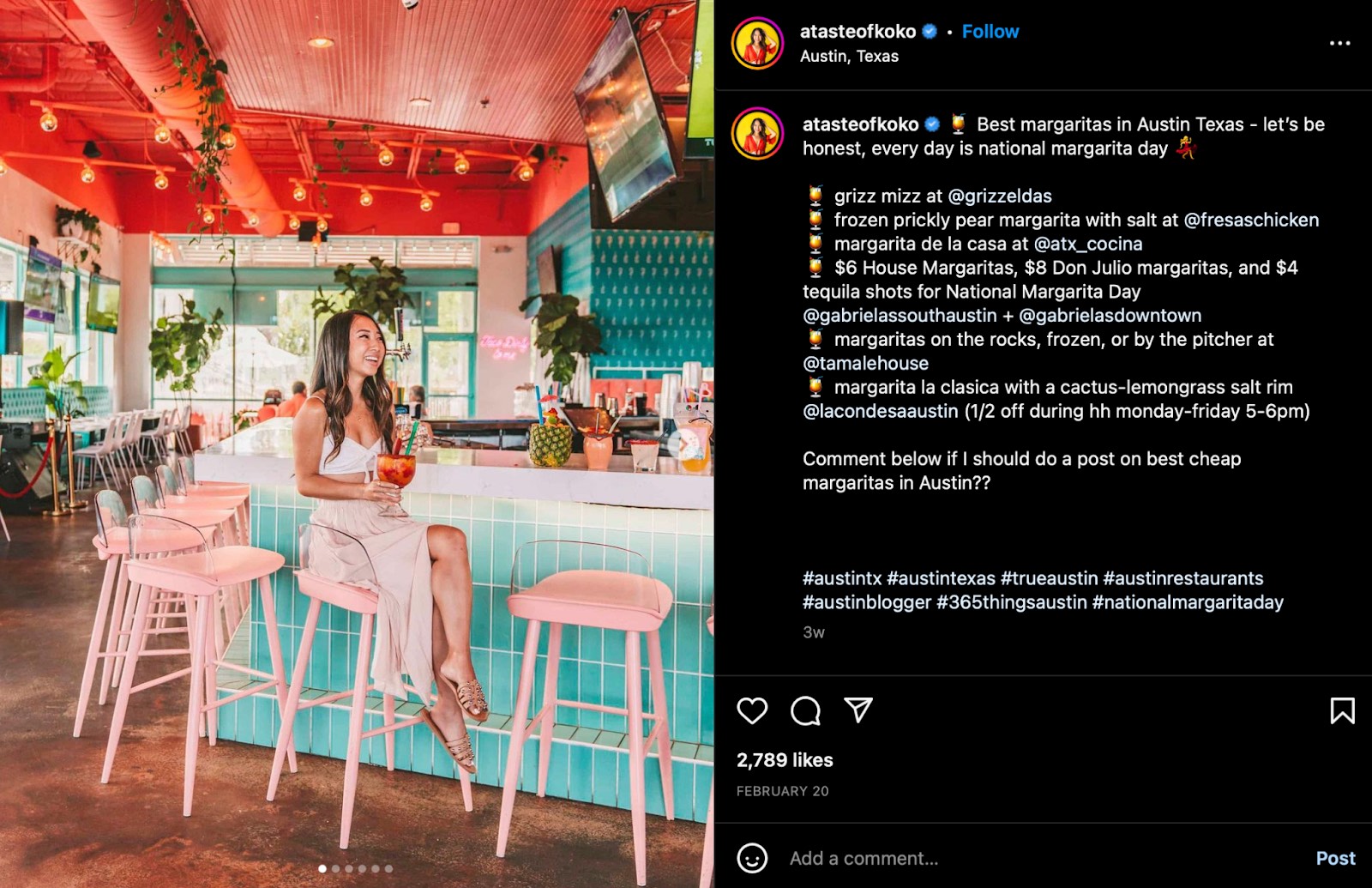 SEO: Search engine optimization means implementing keywords on your restaurant's website so that your website appears within the top results on search engine results pages for those keywords. Check out this guide to SEO for restaurants to learn more.
Digital advertising: The sky's the limit when it comes to what kinds of digital advertisements you can create and where you can display them. Popular choices include social media ads through Facebook Ads Manager, pre-roll and mid-roll video ads via YouTube Ads, and paid search ads via Google Ads.
Traditional advertising
While less popular and typically more expensive than digital marketing channels, these traditional advertising options may be a good fit for the marketing strategy of a restaurant:
Direct mail

:

Direct mail marketing

involves sending physical mail to prospective customers' mailboxes. Printed menus and coupons are examples of direct mail marketing ideas for restaurants. USPS has

resources for conducting direct mail campaigns

in the US.

Commercials

: Contact your local TV or radio station to put a visual or audio commercial on the air.

Print ads

: Local newspapers, magazines, and other local publications can be effective media for publishing ads that attract new customers and help you stay top of mind for existing customers.

Billboards

: If your restaurant is located near a major thoroughfare or highway, a billboard promoting your restaurant can help you generate traffic.
Create a marketing budget
As setting your operating budget, make sure you leave money to allocate toward your restaurant's marketing strategy. So, how much should you spend on marketing?

According to research from 7shifts, rent and utilities, food, and labor typically make up between 60-80% of a restaurant's operating budget. That means, depending on what other costs you have, you might consider allocating 20-40% of your overall budget towards marketing.
We recommend starting small and allocating funds into different marketing channels. You can try an even split to begin with, then adjust as needed. Divert more funds towards the marketing channels that give you the best return on investment (ROI).
Track and measure your success
As you create your restaurant marketing strategy, set measurable goals and objectives. Your goals should be SMART: specific, measurable, achievable, relevant, and time-bound. Look at past data from your point of sale system to understand what's attainable and what isn't. An example of a SMART goal is growing your email list by 50 subscribers every month.
After the time limits for these goals have passed, track and analyze key performance indicators, such as revenue, reservations volume, email list sign ups, or social media followers, to understand how successful your efforts were.
Use these findings to adjust your strategy, and keep going.
Wrapping up: launch your restaurant marketing strategy
Creating and implementing a restaurant marketing strategy will help you make marketing a regular part of running your restaurant, rather than an afterthought. Setting goals and being intentional with your marketing efforts creates accountability, which is a great motivator.
Begin by defining your audience and writing a USP, then establish brand guidelines, choose your marketing mix, set a budget, implement your strategy, and measure your performance against your goals.
Lightspeed's POS system integrates with marketing software that can simplify executing your restaurant's marketing strategy. Watch a demo today.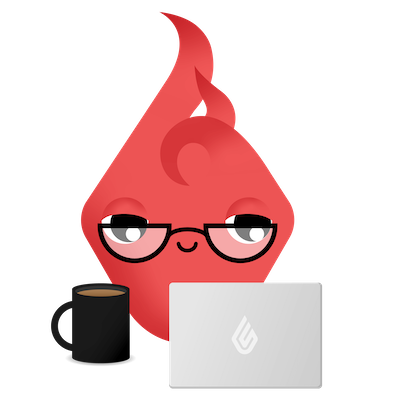 News you care about. Tips you can use.
Everything your business needs to grow, delivered straight to your inbox.