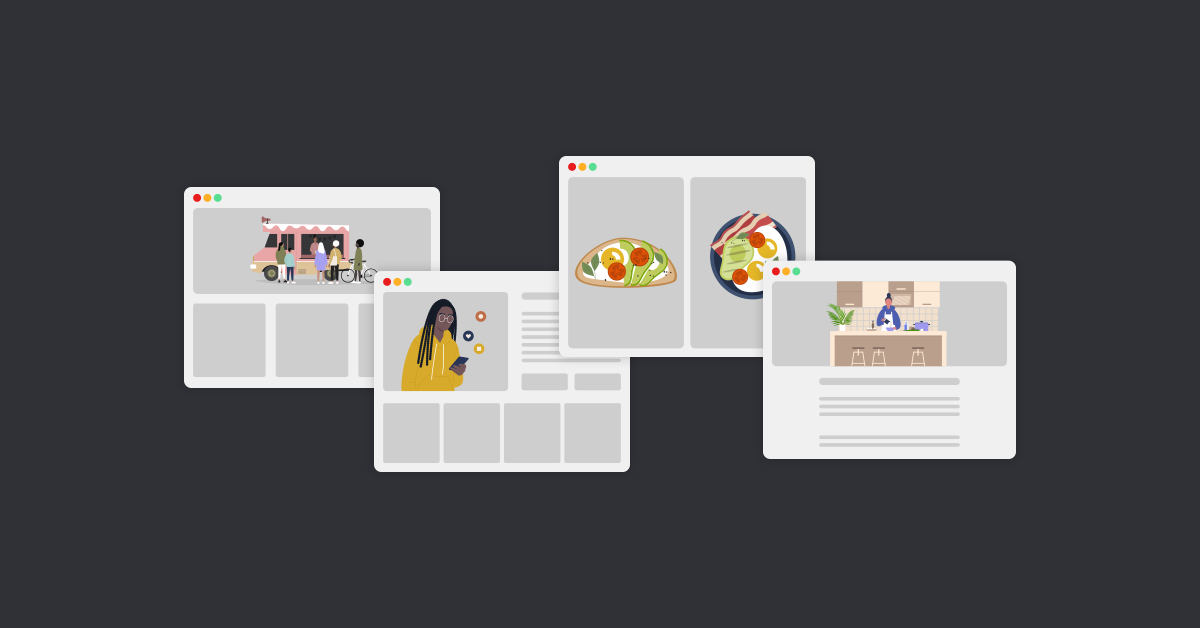 In the age of social media, restaurant email marketing might seem old-fashioned, but it is still the best way to deliver targeted and personalized offers, announcements and messages directly to the people who want to hear from you most—your loyal customers.
In this post, we'll cover:
Advanced Guide to Restaurant Marketing
How are you marketing your restaurant? Read this free guide full of effective tactics that you can start using today.
Restaurant email marketing best practices
Build your email list
The first step to restaurant email marketing is to generate a list of contacts. To build your list as quickly as possible, here are a few tips:
Offer an incentive for guests to add themselves to the list, like a discount or free item on their next visit.

Have your staff collect customer details at checkout.

Put a postcard inside the check presenter for dine-in guests to sign up.

Add an easy-to-find QR code (in-store) or a form (on your website) for email subscribers.

Include the email subscription link on your social media accounts.
Pinjarra Bakery is an excellent example of a hospitality business doing all of the above. The businesses use Lightspeed as their POS and they leverage Marsello to power their loyalty and marketing initiatives, which include restaurant email marketing and SMS.
Pinjarra Bakery covers all their bases to collect customer data. Their staff make it a point to prompt customers to sign up for their list.
Daniel Pantaleo of Pinjarra Bakery explains:
"We get a lot of people through and we're really amazing at signing people up when it's a little bit quieter when our staff have the time to say—Hey, do you mind giving me this? Would you like to sign up to our VIP program? Give us your name, email, phone number. And that works really well."
In addition, Pinjarra Bakery uses QR codes to make the sign up process easier. QR codes have been really handy, especially during busy periods, adds Daniel.

Online, Pinjarra Bakery has a page dedicated to their loyalty program, which lists all the great perks get including:
a welcome gift

special offers

freebies
People can sign up right on the page itself, enabling Pinjarra Bakery to build their list online.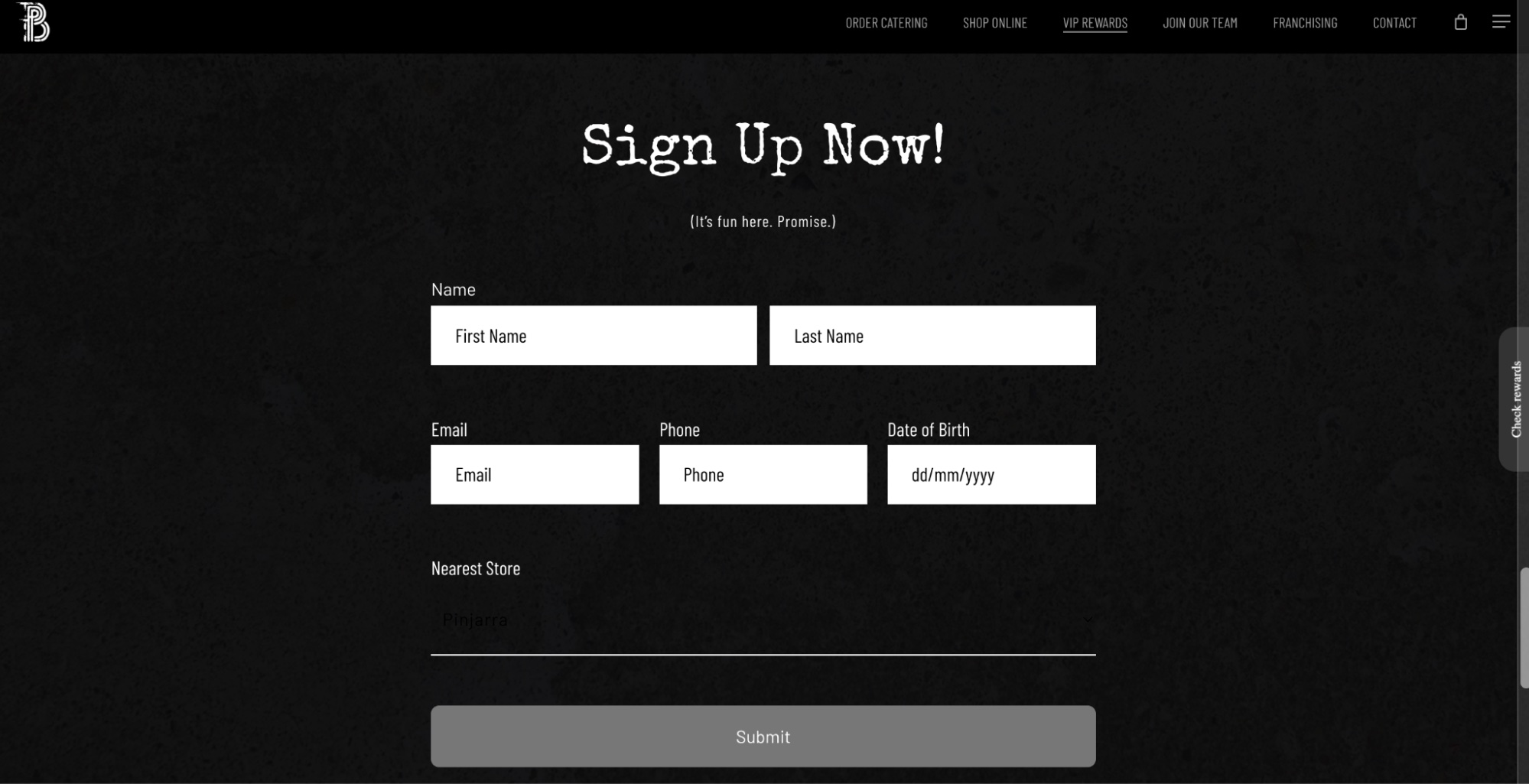 Welcome your customers
Eight out of 10 customers expect to receive a welcome email after they sign up for a mailing list. It's the first interaction your business has with your new subscriber and it's worth introducing your brand.
Sending a welcome email allows you to give new customers a positive perception of your restaurant before even entering the building. With hungry diners doing more and more research before they decide where they want to dine, this is a powerful way to sway them in your direction.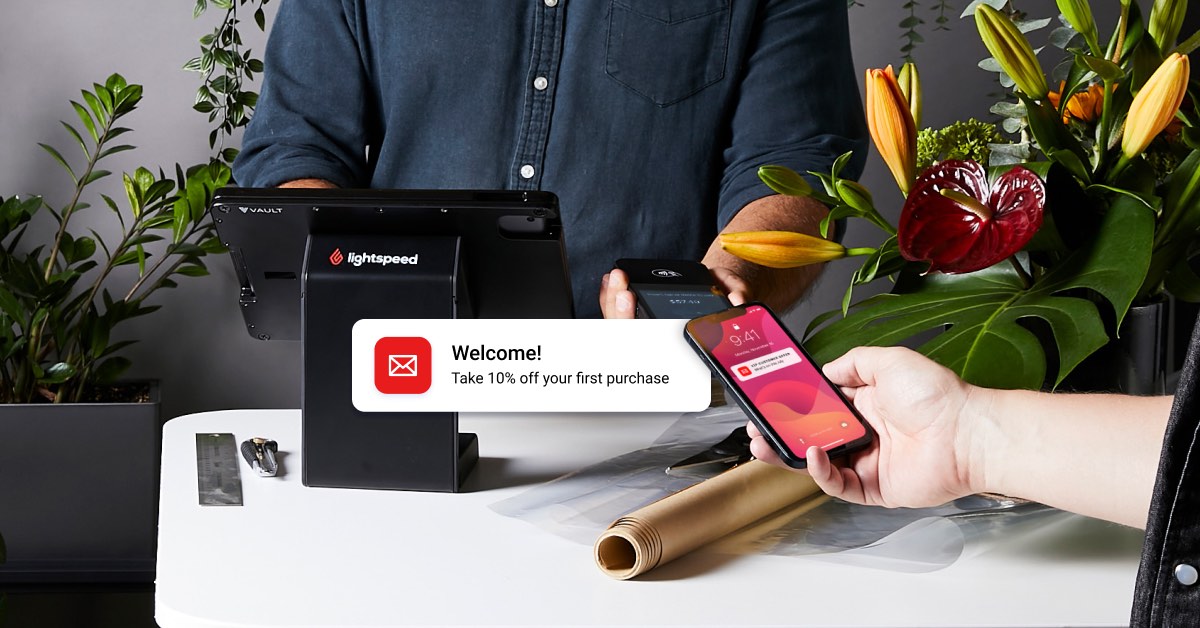 Don't overwhelm your customers' inboxes
Open rates for restaurant marketing emails are some of the highest compared to other industries, meaning your customers really do want to hear from you. They also trust that you'll only send a marketing email when there's something truly worth sharing. If you start bombarding them with too many emails, they'll be sure to unsubscribe quickly.
Don't just send an email because you feel like you have to stick to some arbitrary schedule—send it when you have something important, unique, or exciting to share.
Send your restaurant marketing emails at the optimal times
There have been a lot of studies done on the best and worst times to send marketing emails, and the data varies greatly depending on who you ask. The best thing any business can do is to test out sending emails at different days and times. Then, keep track of your open rates and clicks (more information on that below) and see what days perform best for you.
If you're looking for general advice for your restaurant email marketing campaigns, consider the following.
Weekdays and daytime:

Sending emails during weekdays, especially Tuesday, Wednesday, or Thursday, tends to yield better results as people are more likely to be actively checking their emails during regular working hours. Avoid sending emails on weekends when people may be away from their work routine.

Mid-morning or mid-afternoon:

Aim for sending emails around mid-morning (between 9 a.m. and 11 a.m.) or mid-afternoon (between 1 p.m. and 3 p.m.). By this time, people have likely settled into their workday and are more likely to engage with their inbox.

Avoiding busy times:

Avoid sending emails during early mornings or late afternoons when people are just starting their day or wrapping up work. During these times, inboxes can be flooded with emails, increasing the chances of your message getting overlooked.

Time zone considerations:

If your target audience is spread across different time zones, consider segmenting your email list and scheduling emails based on the recipients' local time. This way, you can increase the likelihood of your emails being seen at an appropriate time.

Testing and analysis:

Experiment with different send times and track the open and click-through rates of your email campaigns. By analyzing the performance metrics, you can identify patterns and trends specific to your audience and make adjustments accordingly.
All that being said, know that these guidelines are a starting point. Always monitor your email analytics and adapt your strategy based on the behavior and preferences of your specific audience.
Implement seasonal restaurant email marketing campaigns
Great email timing isn't just about the time of day or week; you should also consider notable periods or seasons throughout the year—such as holidays, special events, or seasonal menu changes.
Craft email campaigns that align with these occasions, offering exclusive promotions, themed menus, or special offers.
Check out this example from Cracker Barrel.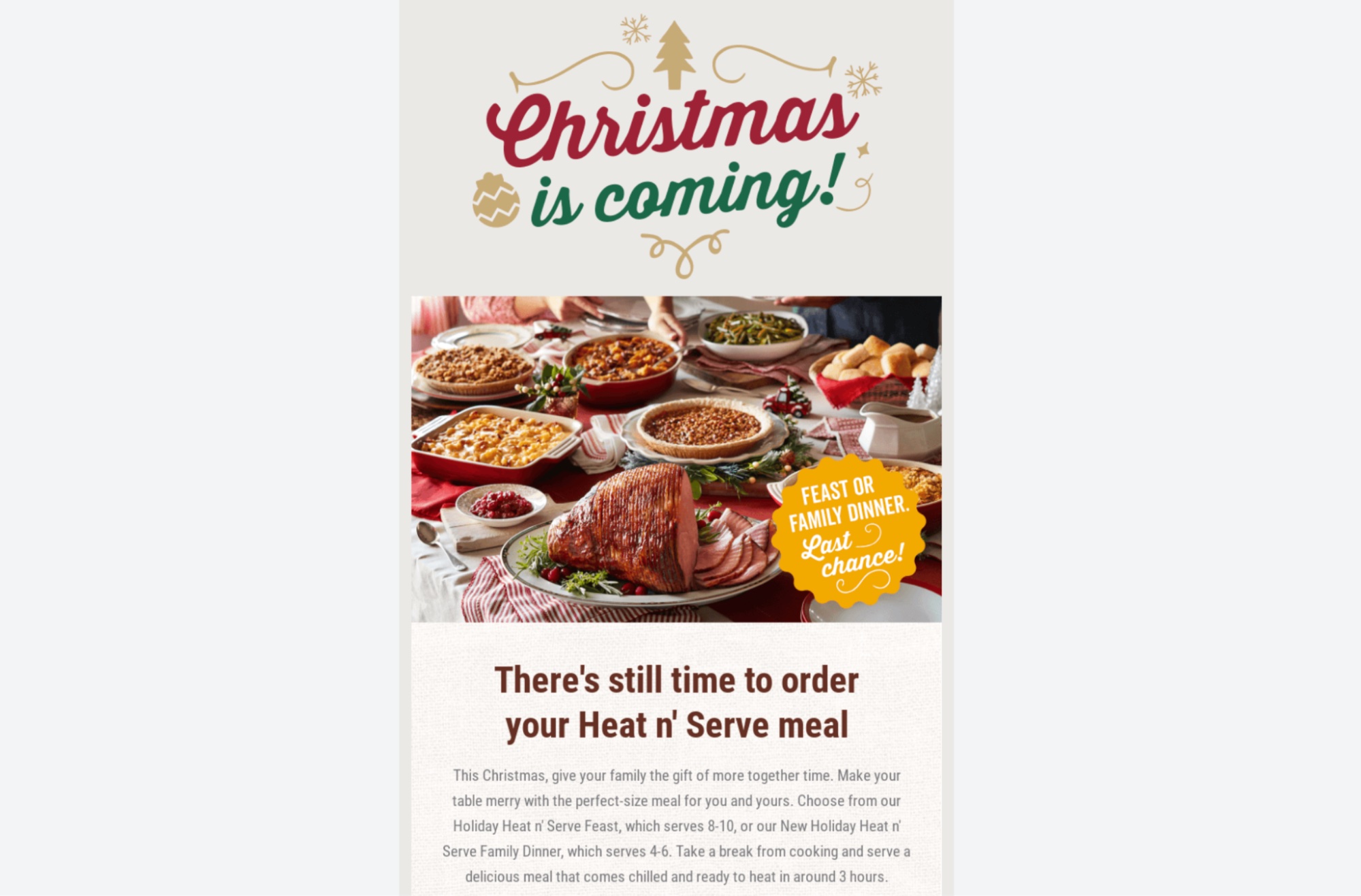 Write a click-worthy subject line
Getting customers to open the email is the first step. The trick to email subject lines is grabbing their attention with language that won't get you sent to the spam folder. You also want to keep it short (between 35-50 characters), since that is the limit for many email clients before the tail end of the subject line is cut off.
Take a look at this email from the Japanese BBQ restaurant Gyu-Kaku. The email's subject line, "Dining out on July 4th? We're Open!" clocks in at just 37 characters. We love that it's:
Concise and straight to the point

Short enough to not get cut off on mobile

Tells you exactly the info you need
The email itself contains a clear message and call to action that prompts users to make a reservation.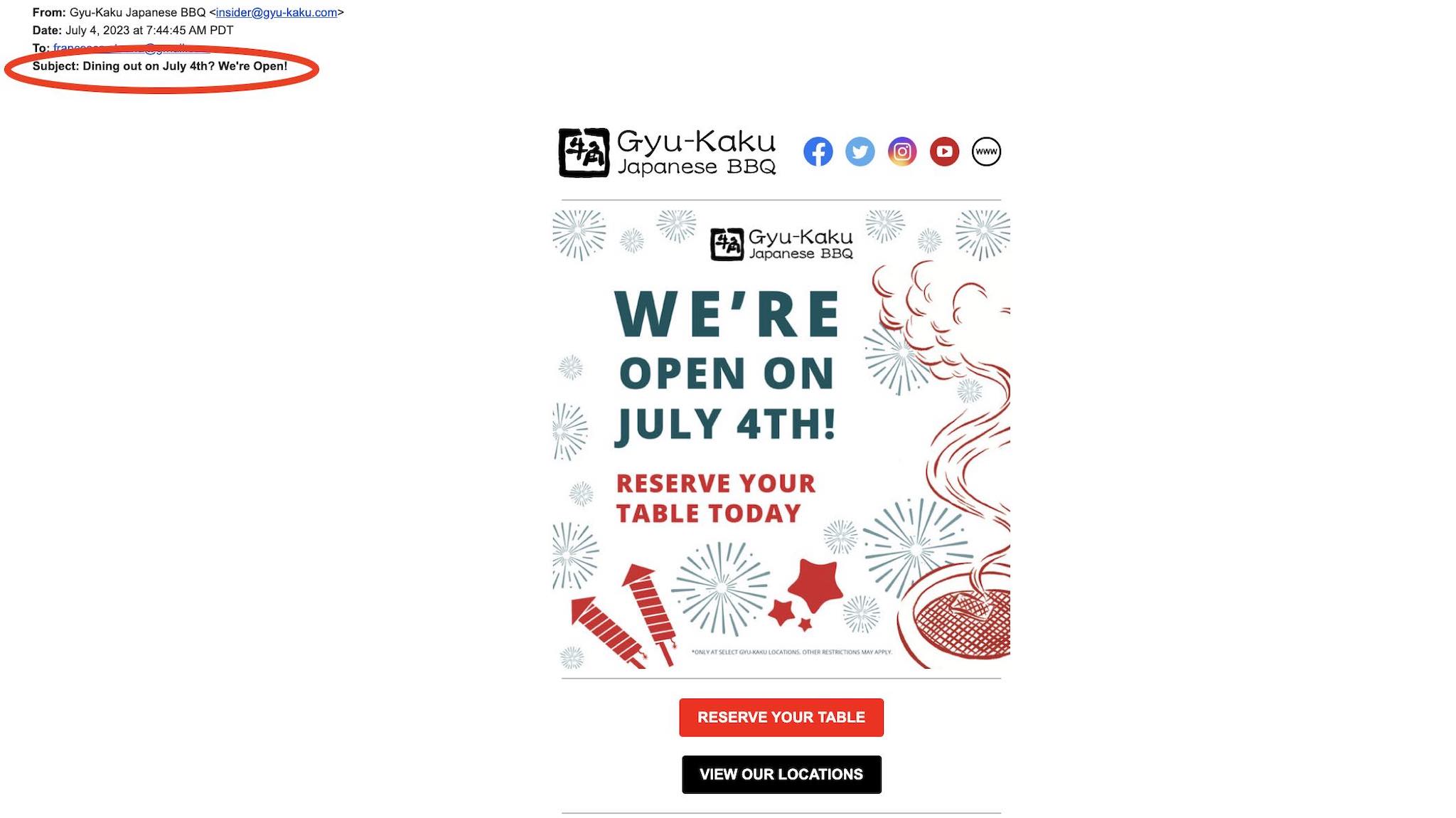 Basic email marketing structure
To capture your guest's attention, an email should have three basic elements. If you're using an email marketing tool (like the ones listed below), the templates you choose will have this structure set up for you.
Headline: Encourage the reader to keep scrolling with an eye-catching headline. It should be different from the subject line, but related in some way so as not to confuse them.
Pre-header: Grab their attention with a compelling pre-header that complements your headline. Use this space to provide a sneak peek of the valuable content awaiting them, leaving them eager to delve deeper into your email.
Body copy: This is the "meat" of your email, where all the important information lives. Be sure to still keep things sweet and simple, as attention spans for reading emails are fairly low.
Call to action (CTA): Try to include a call to action in every email. This can be a normal link, but people are more inclined to click on a button with a short command (the call to action button). This can be whatever action you want them to take, like "Reserve a Table Now," "Order online," "View the new menu" or "Get 15% off."
Personalize your messaging
Customers want to frequent small businesses as a way of supporting their community and neighbors. Put a human face on your business by including a personal note from the owner, by featuring a star employee or having the executive chef write to inform them about exciting menu changes.
Use high-quality images to entice hungry readers
Photos of your new menu item or a haul from a recent farmer's market trip can be the difference between someone just reading your email or clicking the "order now" button. You don't have to hire a professional photographer to get great photos, either—just make sure you have some natural indirect lighting, a relatively new smartphone camera and brush up on some composition tips from the pros.
Take inspiration from sushi restaurant ROL, who showcased their mouthwatering rolls in a recent email. The vibrant colors and appetizing presentation immediately catch the eye, enticing the reader to learn more or take action.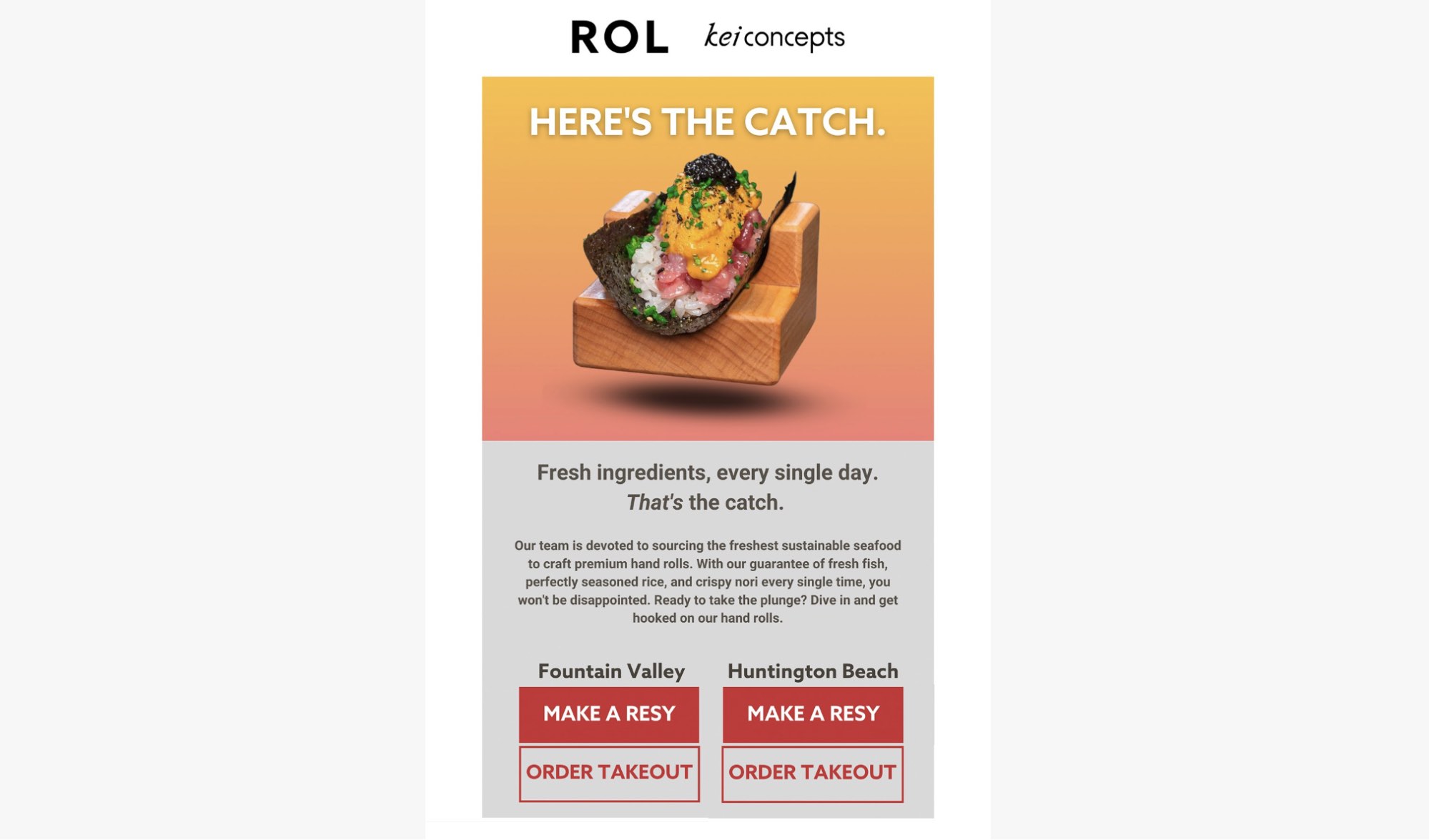 Include contact information
Sure, customers can find the contact information on your website, but why should the reader have to click through? You have their attention now, so it's time to grab their business as quickly as possible.
Try listing your phone number prominently in the header or just below your logo, with a link to your website, social networks, online ordering and/or reservations link. If the email isn't too long, you can include these details at the bottom, just make sure they are clearly featured. If space allows, including contact info and address is also a nice touch.
That's exactly what Shade Hotel does. Their email footer contains all the info users need to get in touch with the business.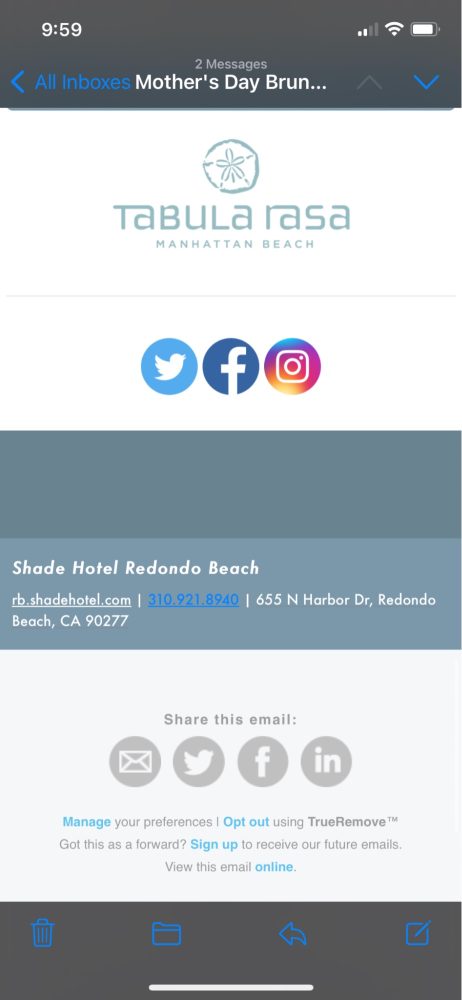 Be aware of email marketing laws
There are a number of laws in the UK, Canada and the state of California that aim to protect consumers from predatory or spam marketing. A good restaurant email marketing program should help you to avoid making any unintentional mistakes, but it's good to be aware of the rules before getting started.
Restaurant email marketing terms
There are a lot of terms and acronyms specific to email marketing, but these are the ones that will be most important to you as a restaurant owner. These insights will tell how your emails are performing and help you implement some of the email best practices below.
Open rate: The percentage of recipients who open the email.
Click-through rate (CTR): The percentage of people who clicked on your email—tied to the number of recipients, regardless of whether they opened the email or not.
Click-to-open rate (CTOR): The percentage of people who clicked on your email, tied to the number of people who opened the email.
Conversion rate: The percentage of recipients who took the desired action after clicking on a link or call to action in your email. This action could include making a reservation, placing an order, or signing up for a newsletter.
Unsubscribe rate: The percentage of recipients who opted to unsubscribe from your email list after receiving a particular email. This metric helps you gauge the effectiveness of your email content and frequency.
Bounce rate: Emails that do not make it into the recipient's inbox. They could have deleted that email account, their inbox could be full or a number of other reasons.
Acceptance rate: The number of emails that were delivered to the recipients (not bounced back). This doesn't mean the email landed in the inbox, as it includes emails filtered into the spam folder or a promotions tab.
List segmentation: The practice of dividing your email list into specific segments based on various criteria such as demographics, preferences, or past interactions. By segmenting your list, you can send targeted and personalized emails, resulting in higher engagement and conversions.
Spam complaints: The number of recipients who mark your email as spam. High spam complaint rates can negatively impact your deliverability and sender reputation. It's important to ensure that your emails comply with anti-spam regulations and provide valuable content to avoid being marked as spam.
Deliverability: The rate at which your emails are successfully delivered to the recipients' inboxes. Good deliverability is crucial for reaching your audience effectively. Monitoring your deliverability metrics helps you identify any issues or areas for improvement.
Engagement metrics: These include metrics like time spent reading an email, forwarding or sharing it, or replying to it. These metrics provide insights into how well your email content resonates with your audience and can help you refine your email marketing strategy.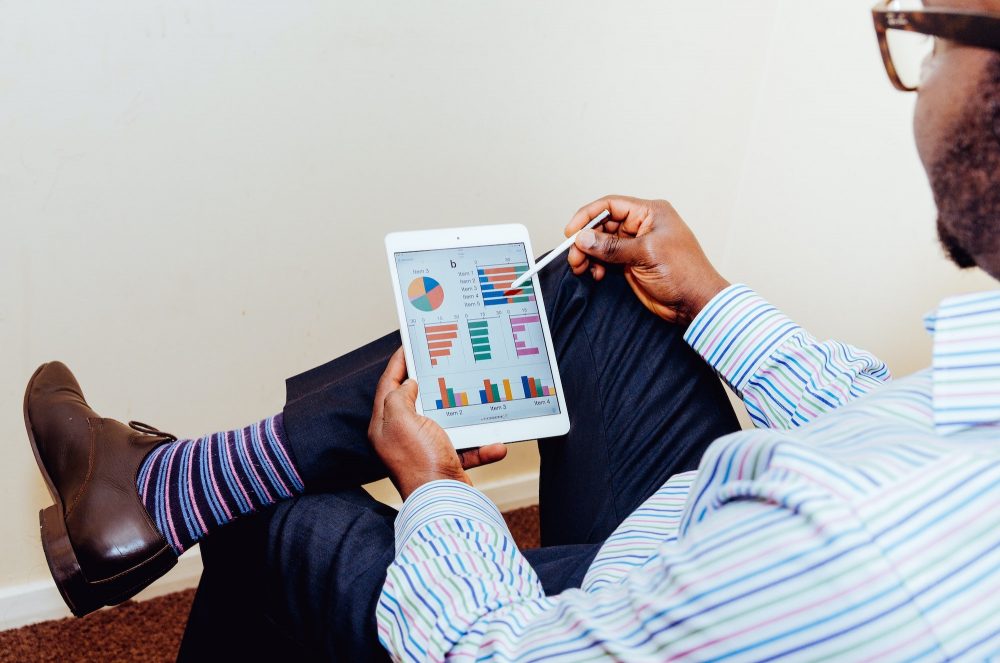 Examples of restaurant email marketing tools
There are hundreds of email marketing tools available, but not all of them work for small, independent businesses. Below are some top picks for quality programs that won't stretch your budget too thin.
Marsello is a comprehensive marketing platform that empowers businesses with robust email marketing features. With Marsello, businesses can effortlessly create and send targeted email campaigns, leverage automation tools for personalized customer journeys, and track key metrics to optimize their email marketing strategy for increased customer engagement and conversions.
Mailchimp is a favorite amongst small-to-medium-sized businesses, freelancers and artists. Their free account allows you to store up to 2,000 contacts and send up to 10,000 emails per month. From there you can upgrade as your business grows, with higher-tier plans ranging anywhere from $9-299/month.
Their free plan only allows for 250 emails per month, but upgrading to unlimited emails is just $13 per month, and also comes with advanced support, reporting and other features. For their highest plan, which includes all the bells and whistles, you'll need to contact one of their sales reps for pricing.
While there is no free option, you can try Flodesk free for 30 days, no credit card required. As a newer player on the market, they only have a single option which you can pay for monthly ($38) or upfront for the year ($418, a savings of $38 over the course of the year). A nice feature they offer is their Flodesk University, with video lessons from experts on how to create great emails using their software.
A leader in marketing, Hubspot is used by small businesses, Fortune 500 companies and nearly every other type of business inbetween. While their paid accounts can be very pricey, especially for small businesses, their free account includes email templates, up to 2,000 sends a month, contact management and post-send analytics. This would be a better choice for a larger restaurant group that may want to test things out before diving into one of Hubspot's more robust offerings. Like Flodesk, they also offer free marketing lessons online via the Hubspot Academy.
Looking for a tech partner to help you create even more buzz about your restaurant? Talk to one of our experts to find out how Lightspeed can help.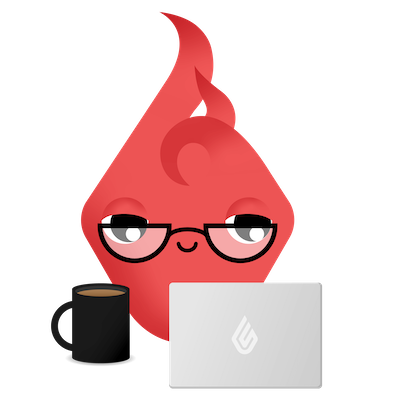 News you care about. Tips you can use.
Everything your business needs to grow, delivered straight to your inbox.